A recipe for cream of celery soup without the cream? Yup! cause who needs it? I'd rather get all the fiber and nutrients from cauliflower and the nice fats from olive oil or coconut oil.
Cream of "fill in the blank" soups used to be a staple for a lot of us in the good-old Campbell soup recipe days. And I personally used to eat a lot of Campbell's soup.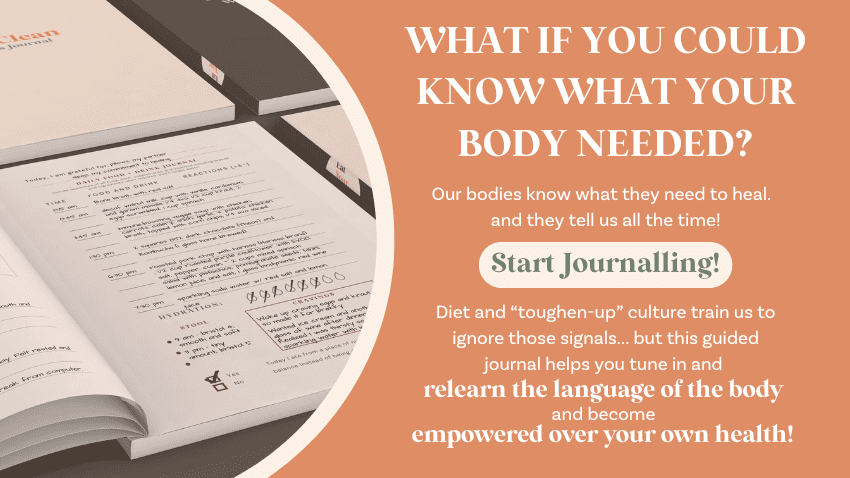 Remind me to tell you about that college Campbell's soup budget another day. I think my sodium was probably off the charts, but I saved a whole lot of cash eating nothing but Campbell's soups for a month. (NOTE: do not try that. I've learned a lot about food and health since then and it is NOT worth it!)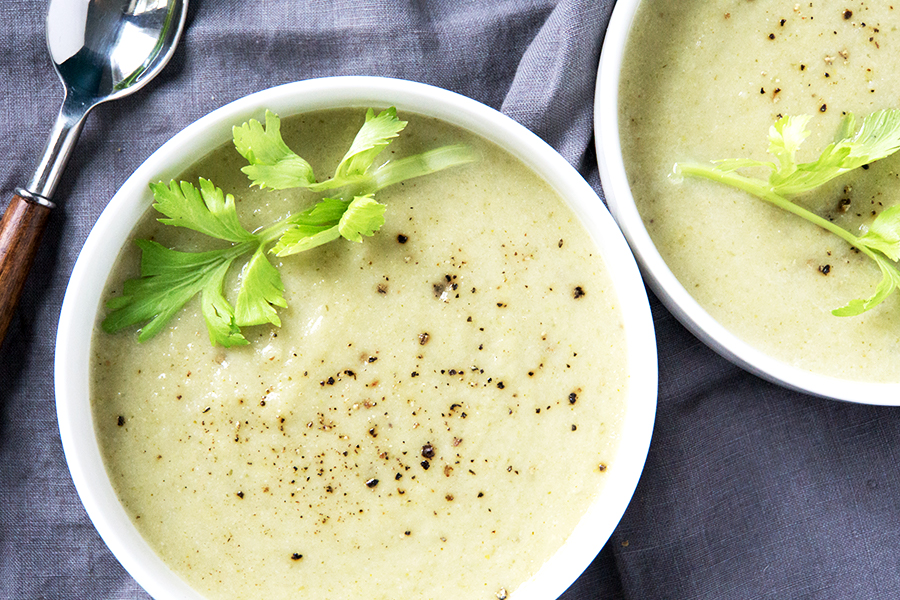 The transition to homemade soups – and why it's one of the easiest healthy tweaks you can make to your diet
When I discovered I could no longer eat wheat, it meant no more Campbells. They have modified food starch in every variety which often means gluten wheat starch.
It also meant learning more about what's in my food, because I was forced to read all labels to see if gluten was hiding inside. What I found was a lot of other crap. And this is why I'm actually somewhat grateful for needing to go gluten-free.
It was a trigger to start paying attention to what I put in my body.
After shifting to real foods, I feel more nourished and healthy. Plus my food has a lot more flavor! And that's flavors other than salt and sugar.
Learning to transition to healthy homemade soups can be one of the easiest and most impactful tweaks to your diet if you are trying to switch to clean eating. They freeze well so they are great for meal prep. And most soups are easy to make. You can take leftovers and throw them into a pot with broth, and you're bound to get a pretty tasty soup.
If you're looking for more soup recipes, check out the recipe archives here.
Other Soups you might enjoy making at home:
So, what I'm trying to say is I think I have a better version of that cream of celery soup you might be used to. And while it's a little more work than opening a can, it's not too much work. And I think you'll agree that it's worth it.
Plus, unlike the canned version, I'd eat this all by itself for supper.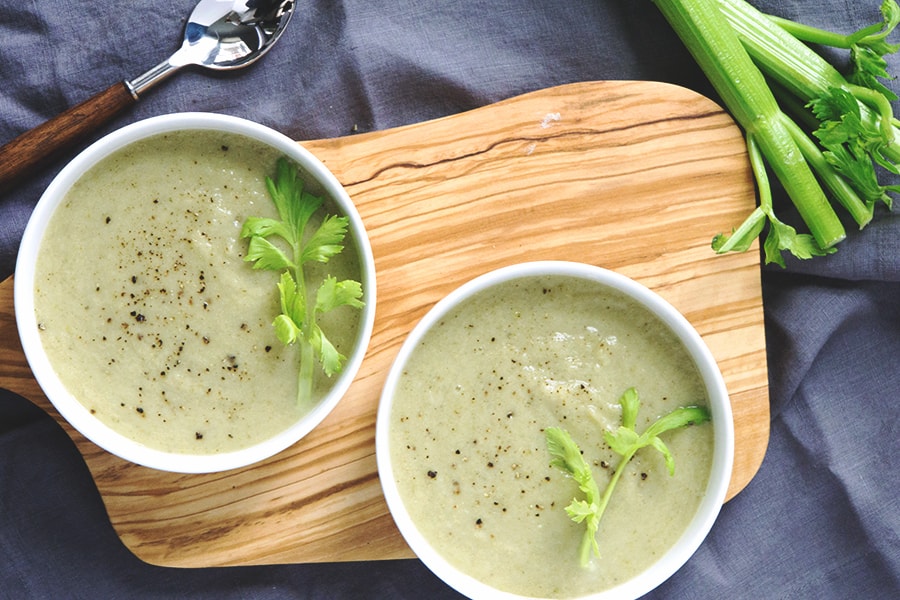 Making a homemade cream of celery soup
This homemade soup only requires a little chopping, some simmering, and a blender to do the heavy lifting.
I prefer an Immersion Blender
for my soups because it allows you to blend the contents of soup without transferring it to another container, but a regular blender will do as well. If using a traditional stand-up blender, you just might need to let the soup cool down a bit before transferring.
While heating oil in the bottom of a soup pan, chop the shallots, celery, and cauliflower and add to the pan one by one. Simmer with bone broth and spices until the veggies are soft, about 30 minutes, before blending.
That's it! Garnish with celery leaves, fresh parsley, and black pepper before serving.
This soup is great with celery fritters or sautéed ground Italian sausage. It's also great as a side dish to a good old-fashioned pot roast.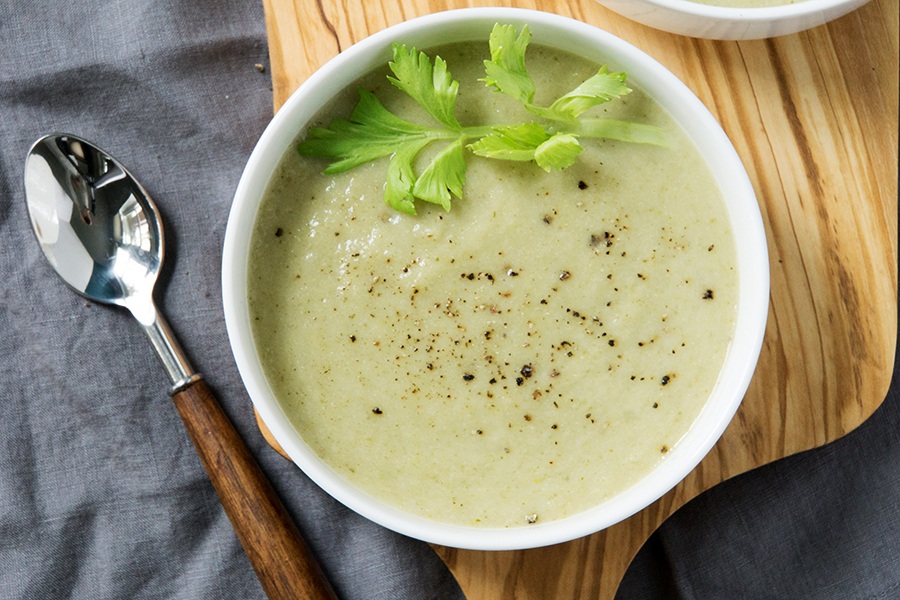 But… what about the cream?
If you've heard of cashew cream and cauliflower pizza, you know that there is a wild world of substituting veggies and nuts for other less-healthy foods.
In this case, I call on the foundation of dairy-free cauliflower alfredo sauce to give the creaminess. Because of that, this soup ends up being lower in calories and safe for our friends allergic to nuts.
The cauliflower thickens the soup much like cream. The combination of coconut oil and bone broth gives the rich, savory flavor found from heavy cream.
This soup can be made vegan by simply using vegetable broth.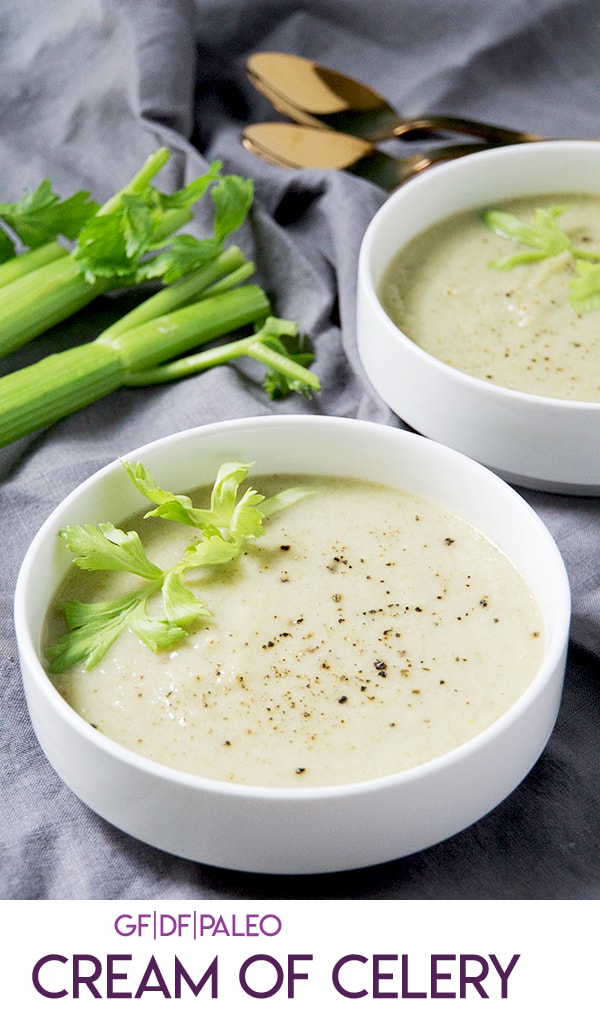 Paleo Cream of Celery Soup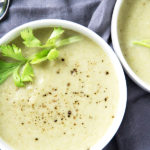 Cream of Celery sans cream. Life-changing gluten free and dairy free soup allows you to update favorite old recipes in a healthier way. It also makes a great side dish on its own.
2 tbsp coconut oil (can sub olive oil)
1 large shallot
1 head of celery
1/2 head of cauliflower
2 cups broth (bone broth or vegetable broth)
2 cups water
1/2 tsp coriander
1/4 tsp celery seed
1/2 tsp salt
1/4 cup fresh parsley (coarsely chopped)
heat olive oil in large soup pan on medium high on the stove
coarsely chop shallots and add to pan. Stir and saute until translucent, about 2 minutes
coarsely chop celery and add to pan, stirring to evenly mix in with shallots
coarsely chop cauliflower and add to pan, again mixing evenly with celery and shallots
Sautee for 3-4 minutes
mix in bone broth, water, and spices

cover, reduce to medium-low, and let simmer for 30-40 minutes or until the vegetables are soft

using an emulsion blender, mix until all smooth and one consistent thickness and consistency.

serve by itself or with meatballs, chuck roast, or short ribs. Garnish with celery leaves, fresh parsley, black pepper or celery fritters and enjoy!