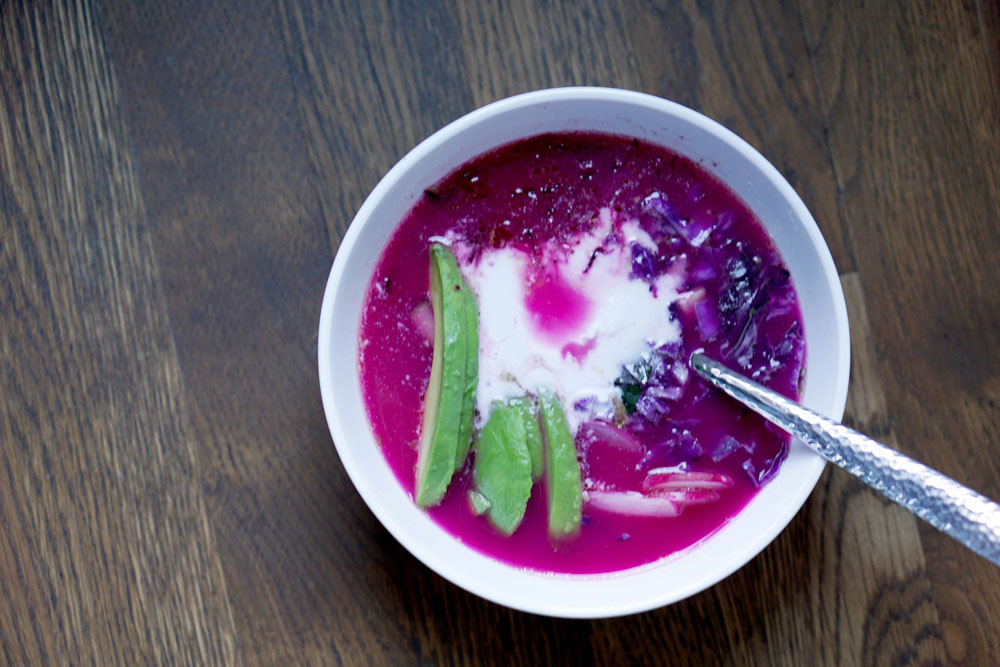 Pretty in pink bone broth bowl is ready in 15 minutes and full of anti-inflammatory flavonoids. Dinner is better when it's Pink, Paleo, and ready Pronto
It's cold outside. You're tired and feeling like the flu is creeping in. But, you also don't have a lot of extra time on your hands.
What do you make for dinner?
A piping hot bowl of bone broth with loads of fresh vegetables!
That's the idea behind this beautifully tinted bone broth bowl.
Not quite a soup and not really a salad bowl, this twist on a Buddha bowl is like new age pho.
Making the Pretty in Pink Bone Broth Bowl
This bone broth bowl is a celebration of natural pink and red veggies, with a healthy dose of greens added for good measure.
This bowl is beyond easy to make. Simply arrange the spiralized and sliced veggies in a bowl and cover with bone broth. Then top with avocado and coconut cream before serving.
When arranging the vegetables, I start with the cucumbers as a base at the bottom of the bowl and then put the other veggies evenly spaced on top.
The raw beets naturally color to the broth, giving the bowl's beautiful pink hue.
It looks kind of like a borscht but is way quicker to make and has lots of great enzymes from the warm, yet RAW and living veggies.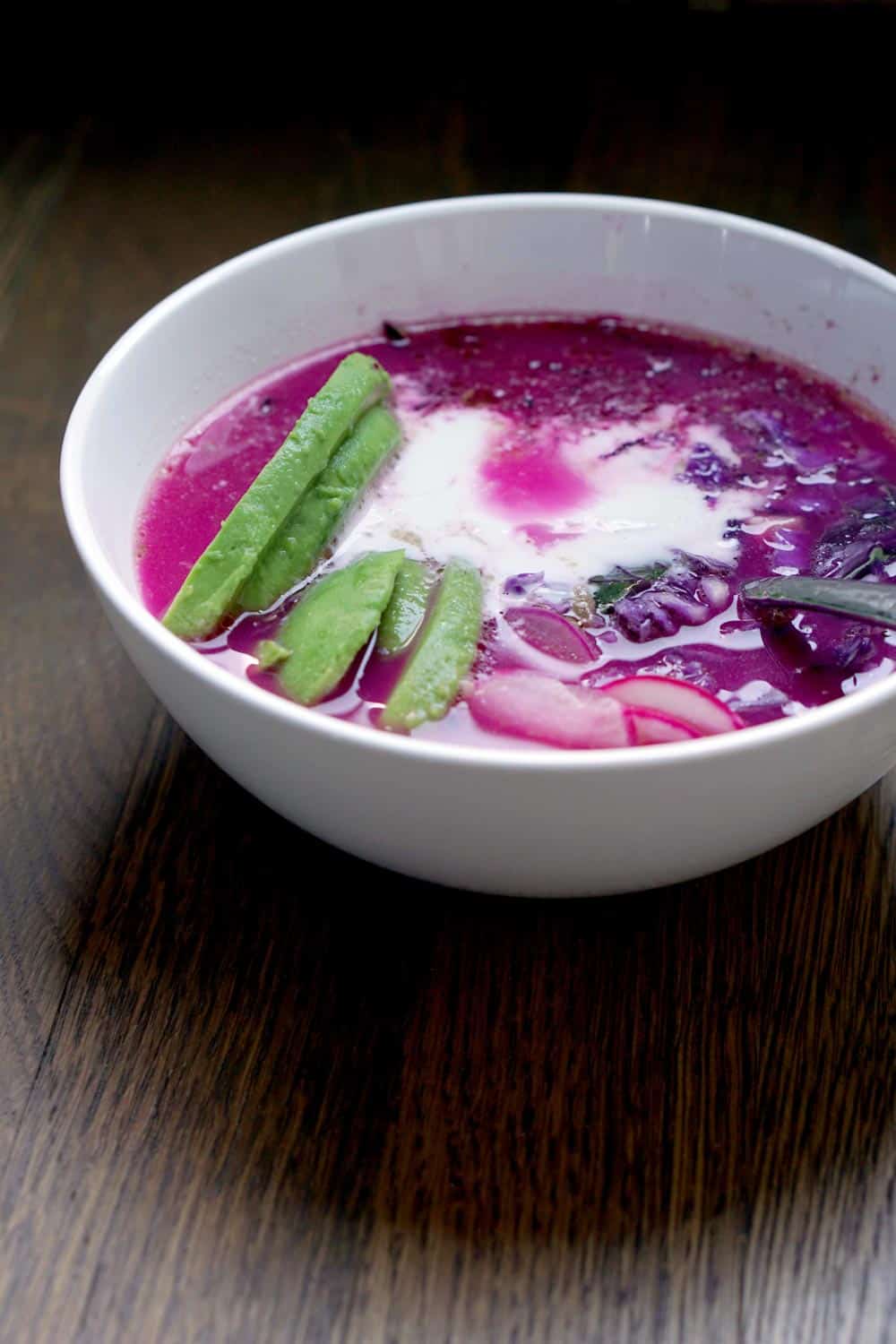 Why Pink?
Besides being adorable, red-colored foods are nutrition powerhouses. And it's always good to add a variety of natural colors to your diet.
Red vegetables, like the cabbage, radish, and beet in this recipe, are high in lycopene, ellagic acid, quercetin, hesperidin, fiber, Vitamin A and Vitamin C.
If that wasn't enough, they are also high in flavonoids which reduce inflammation.
What type of Broth should you use?
Bone broth has healthy glutamine and collagen, which can be very healing for the gut. I often use chicken, bison, or beef to make broth but you can use any type of bones.
Here's a recipe for Bison Keto Bone Broth that is great in this recipe!
If you need directions on how to make bone broth, here's how to make it at home in 3 simple steps.
This can totally be made vegan with a savory veggie broth instead of a bone broth.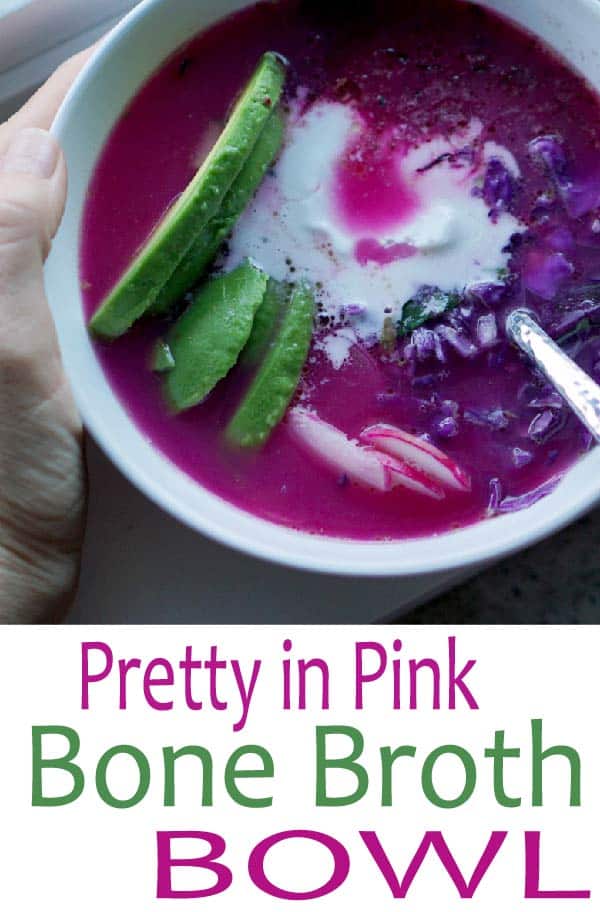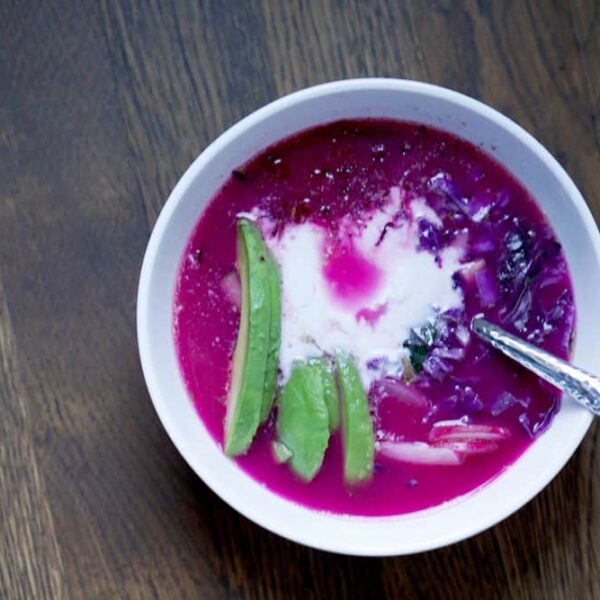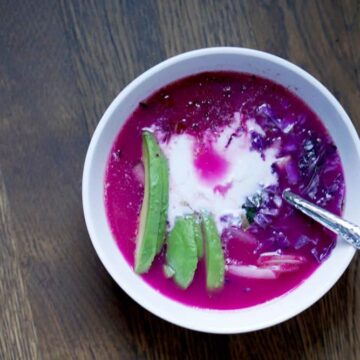 Pretty in Pink Bone Broth Bowl
Buddha Bowl Meets Pho in this nutrient-rich and quick to make Pink Bone Broth Bowl. Ready in 15 minutes, gut healing, and Paleo, Keto, Whole 30 compliant.
Print
Pin
Rate
Ingredients
1/2

cucumber

diced or spiralized

1/2

cup

spiralized or julienned beets

raw - this is what gives that awesome pink color!

1/4

cup

red cabbage

chopped

2

radishes

thinly sliced

1/2

avocado

sliced

1

tbsp

coconut cream

1.5

cups

bone broth
Instructions
Assemble cucumber, beets, cabbage, and radish in a bowl.

Ladle broth over top. Top with coconut cream and avocado slices

Serve and enjoy
This nutrition information does not tell the whole story of food's nutritional value! Make sure to use your gut intuition on what your body needs, eat your veggies and get 30 plants a week for optimal gut health. This nutritional data is calculated based on above values and standard brands. This information may vary.