I've been grilling all sorts of delicious things this summer (especially fruit inspired skewers) and there's something amazingly primal about sitting outside, eating fruit caramelized on open fire. That's what summer is all about: hanging outside with friends and family grilling fresh, delicious food. For me this summer, grilling is all about paleo kebabs (…or skewers… or Kabobs… or whatever you want to call them!) I've been scouring the internet for some new paleo kebab recipes to test out on the BBQ and there are so many more delicious recipes out there! I can't wait to share them with all of you!
There's fruit skewers, meat skewers, vegan skewers, dessert skewers and all of them are grain free, dairy free, and delicious. I combined my favorites here for you in one spot so you can try all of these great Paleo Kebab recipes! I know we will again and again and again. 🙂 That's what summer is for, right?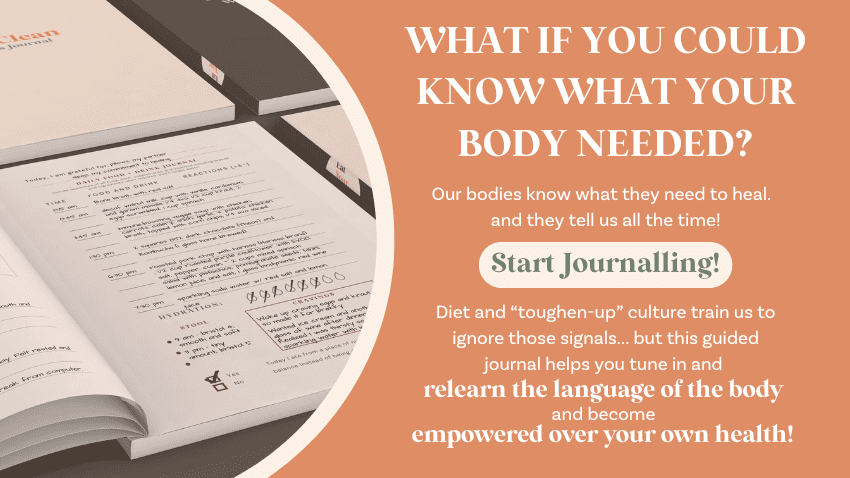 I love grilling in general, but there is something more entertaining about food on a stick. I guess I never learned the lesson not to play with my food. 🙂 Skewers are also way easier to eat at a BBQ, especially when you have more friends and family than chairs. You can hold onto your skewer and walk around and mingle. Or you can go fancy and eat your skewers with forks and knives off the plate. The versatility is what makes kebabs a BBQ favorite of mine.
As a kid, we used to have these metal skewers that we could reuse. We had different sizes to allow for large and small skewers, which is important because large metal skewers can break onions. I haven't yet sprung for the metal shish-kebab skewers so lately I've been using wooden skewers. They are easier for clean up but they take a little more prep work. You have to soak them in water for several hours before placing them on the grill so that they don't burn up. In a pinch, I'll throw the wooden skewers in a pan of water just before I start cooking. That way they get at least an hour of soaking while I prep the food. If I plan ahead, I'll soak the skewers for 8-12 hours so that they are more likely to stay moist and not burn.
The Best Paleo Kebab Recipes Keep it Simple
Once you have your skewers, you basically just load them up with your favorite ingredients and grill to perfection! I think the key is to keep it simple. Use natural flavors and herbs and don't put too many things on the skewer at once. Local, in season produce always plays well on skewers. Adding a delicious herb inspired sauce to accompany the skewers can make them even more beautiful and delicious, plus most herbs contain healing antioxidants. Win.
This summer I've been loving the combination of fruit and meat skewers, which you'll see a couple times in this list… hello Cantaloupe Prosciutto! I've also been loving the herb sauces, like chimichuri, mint chutney or cilantro sauce. There are so many options and the best part is they all feature real food with plenty of nutrition! Check them all out and let me know which ones are your favorites!
Paleo Kebab Recipes with Amazing Sauces
Thai Chicken Skewers with Peanut Sauce by Heartbeet Kitchen
Thai peanut sauce and chicken is one of the most unbeatable combos of all time. It's amazing to see it in skewer form for the BBQ in this recipe by Heartbeet Kitchen. Warning – this recipe does have tamari, but if you avoid soy just substitute with coconut aminos and an added dash of salt.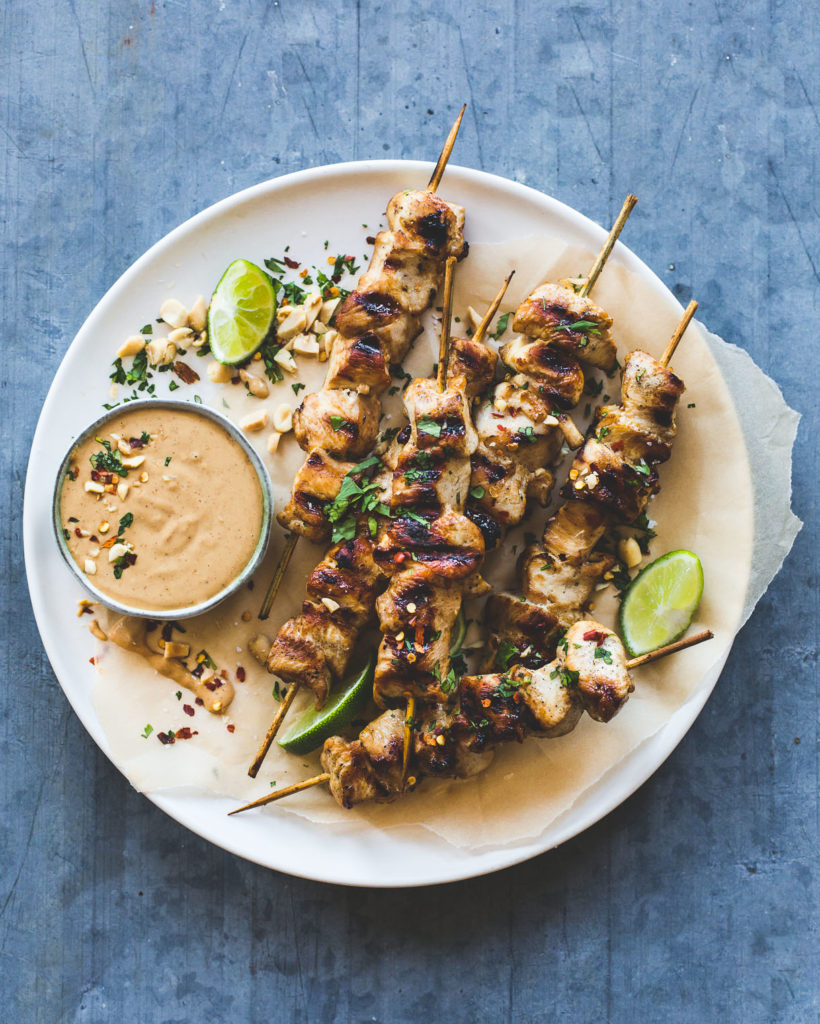 Grilled Cantaloupe Prosciutto Skewers with Mint Chutney
These lovelies take everything about summer and put it on a stick. The sweet fresh cantaloupe caramelizes next to the savory prosciutto. The mint chutney brightens it up and brings it all together. Don't miss out on these!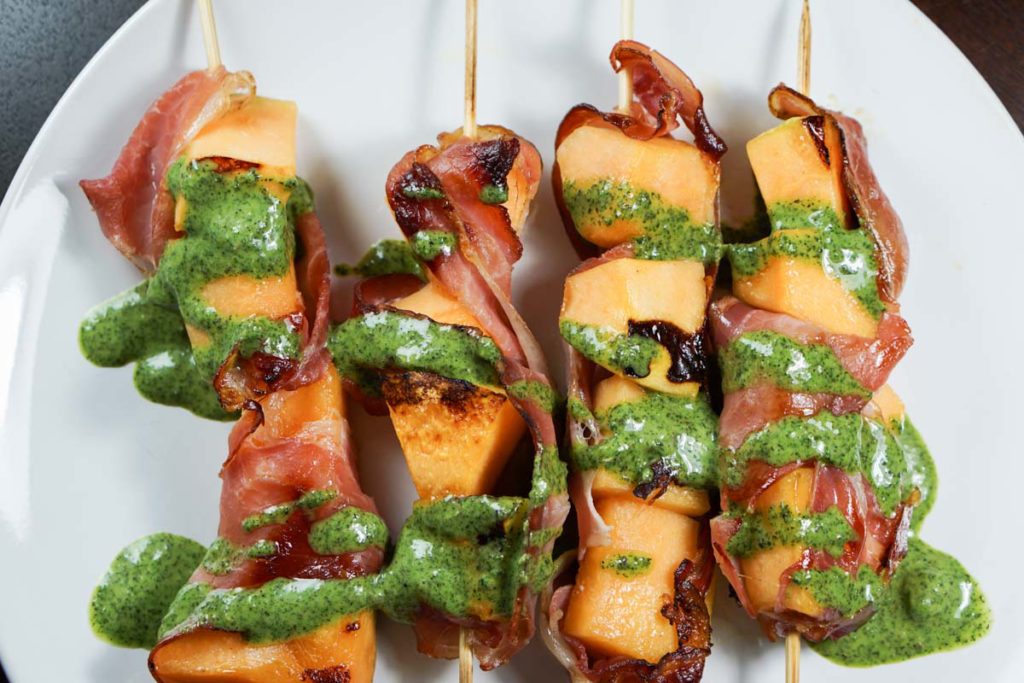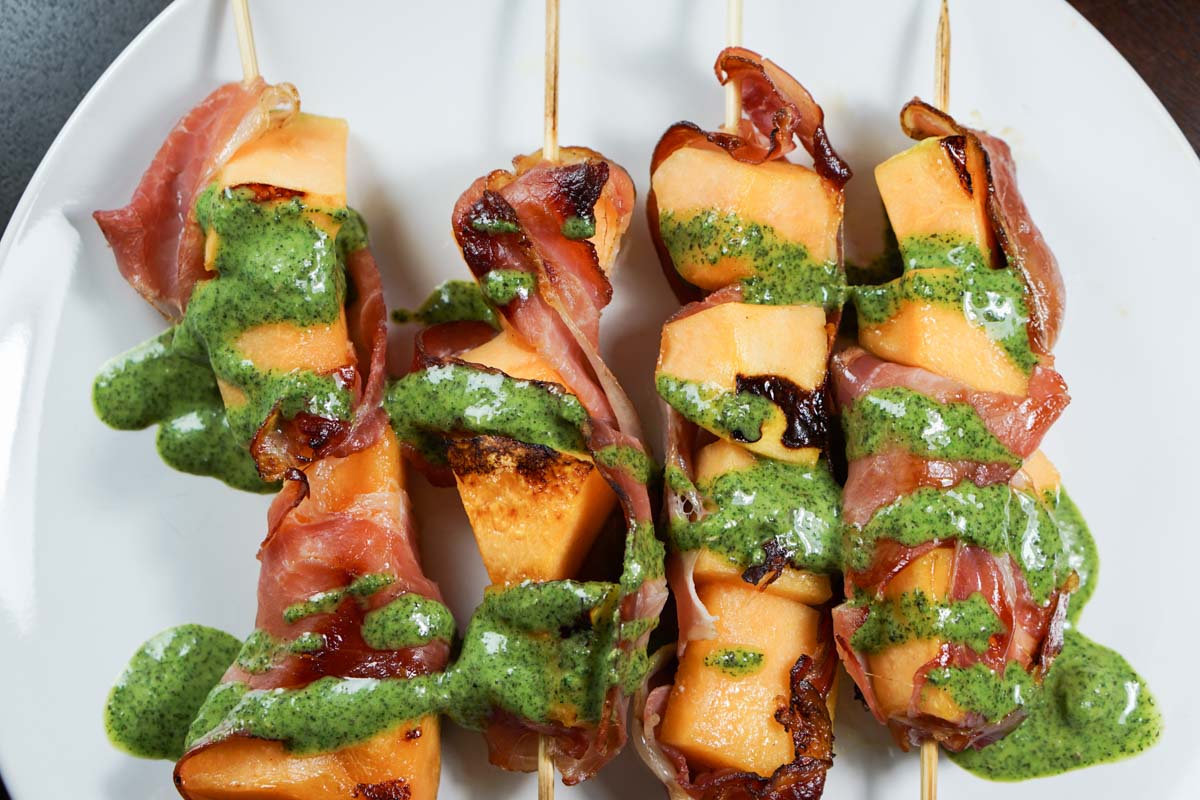 Grilled Chili Chicken Skewers with Cilantro Lime Pesto by Katie's Cucina
The cilantro, lime, chili and peanuts all come together to make a delicious burst of flavor. This pairs perfectly with fresh lime water or margaritas on a hot summer day. For a paleo version, use regular peanuts instead of honey roasted peanuts and sub honey or maple syrup for the brown sugar.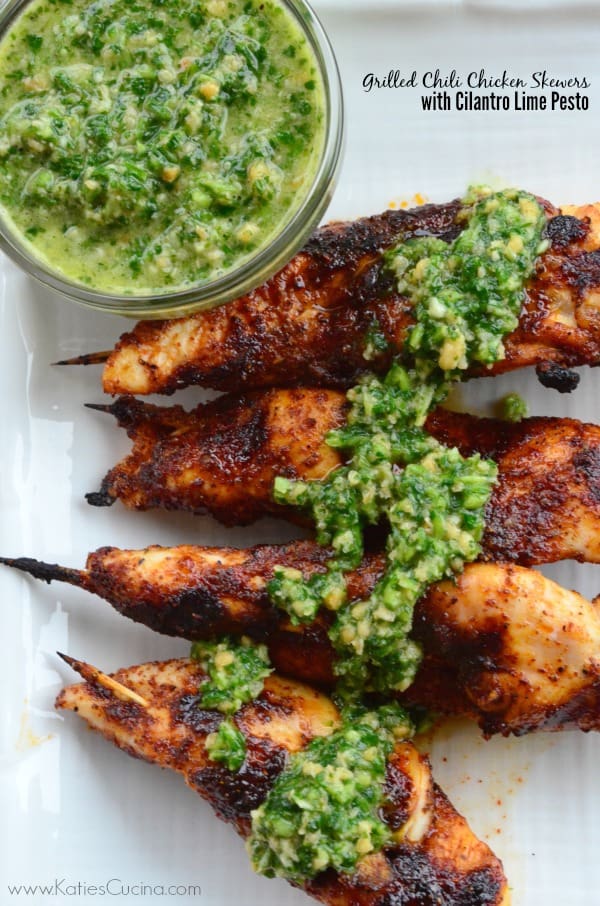 New and Fun Paleo Kebab Recipes
Bacon and Brussels Sprout Kebabs by Joy Filled Eats
I love that these only have 2 ingredients and that the bacon swivels around the brussels. Why add extra oil or salt when you already have all of the delicious flavor right in your bacon? Plus, how cool do these look?! 🙂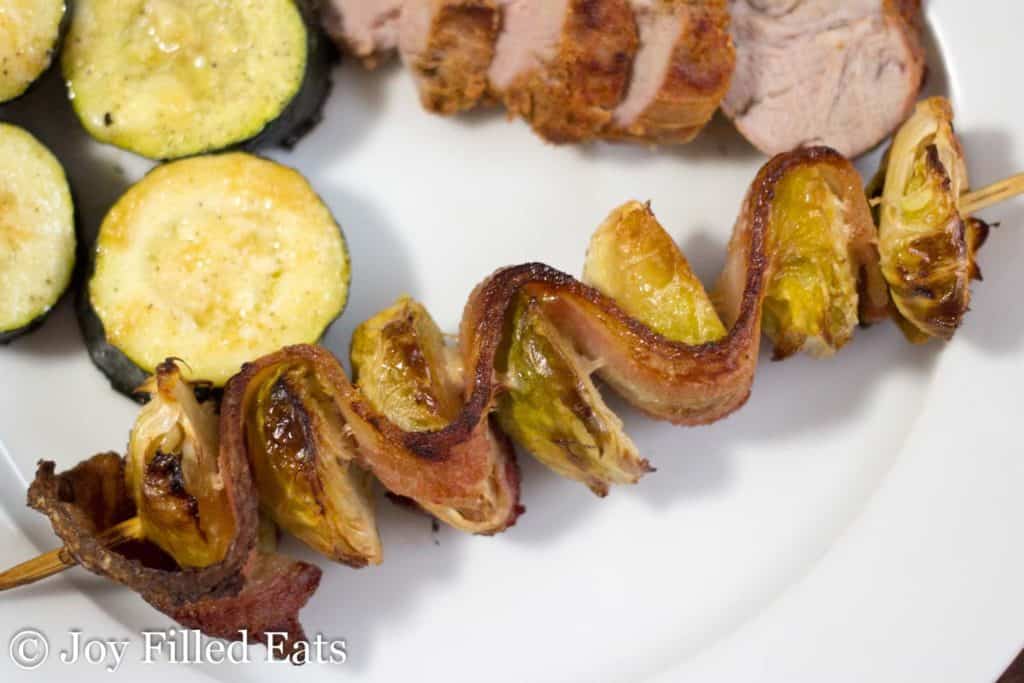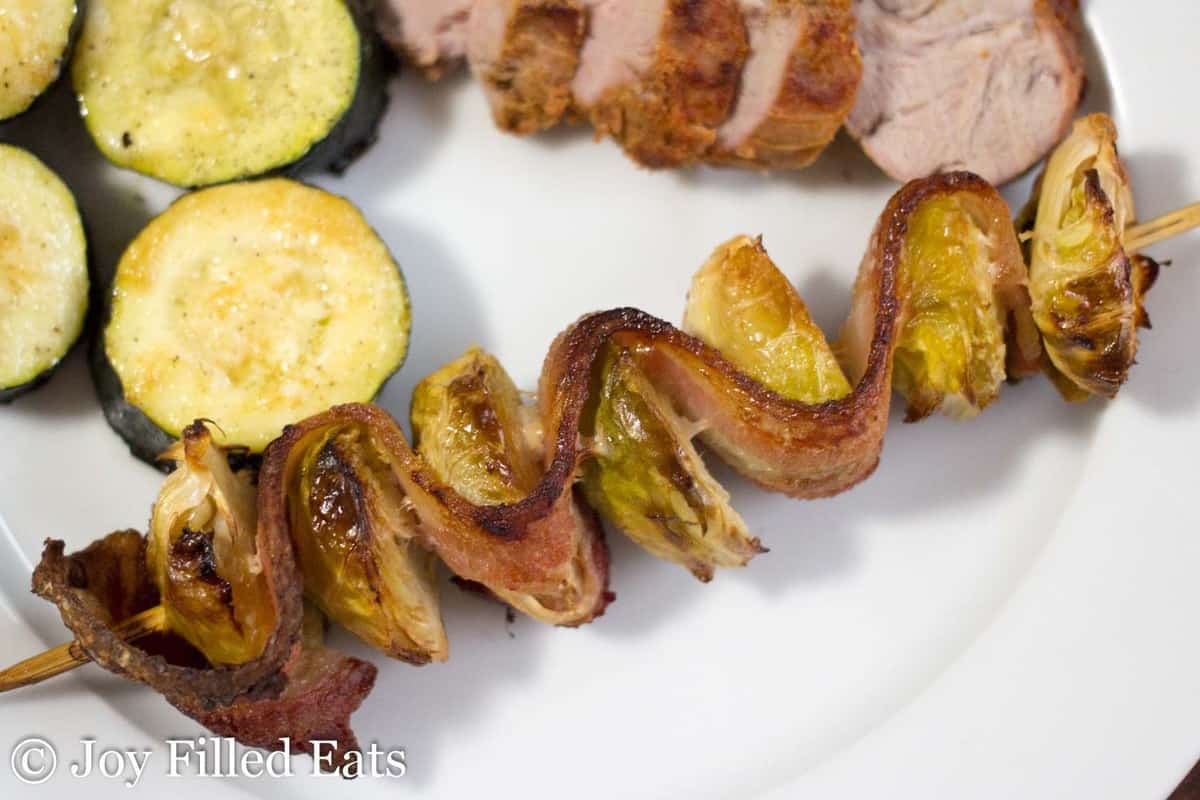 Grilled Chicken Cherry Peach Kebabs by Wholesomelicious
I can't tell if this is dinner or dessert but I know I want some. You know my love affair with peaches. I'm pretty much excited to eat anything with peaches included in the ingredient list, and these are at the top of my list for summer BBQs.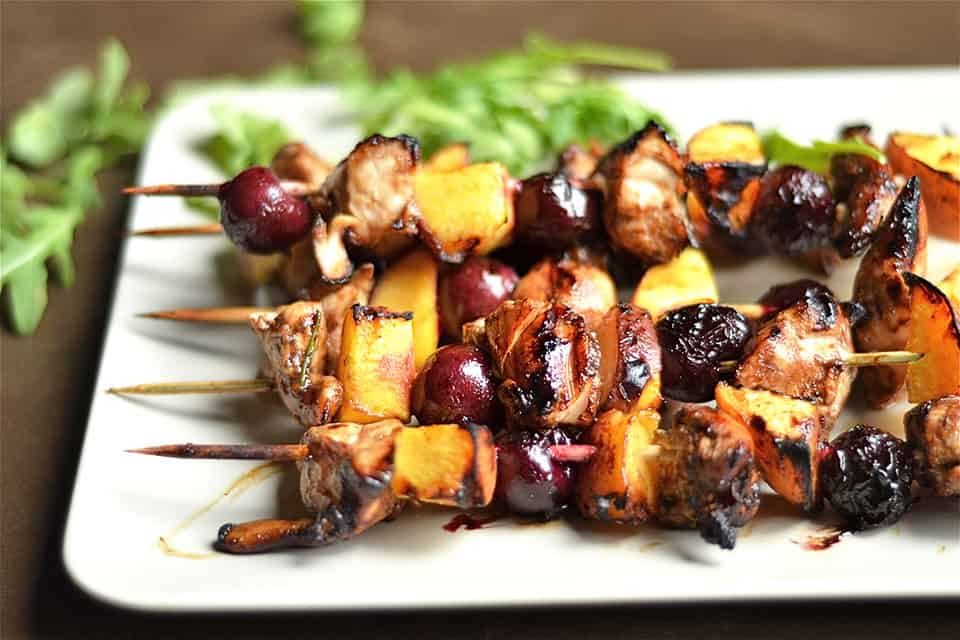 Bloody Mary Kebabs by Hungry Hobby
I can't think of a more perfect way to celebrate Sunday than bloody marys in shish-kebab form. This recipe has all the good stuff: shrimp, bacon, veggies, and horseradish. Great idea!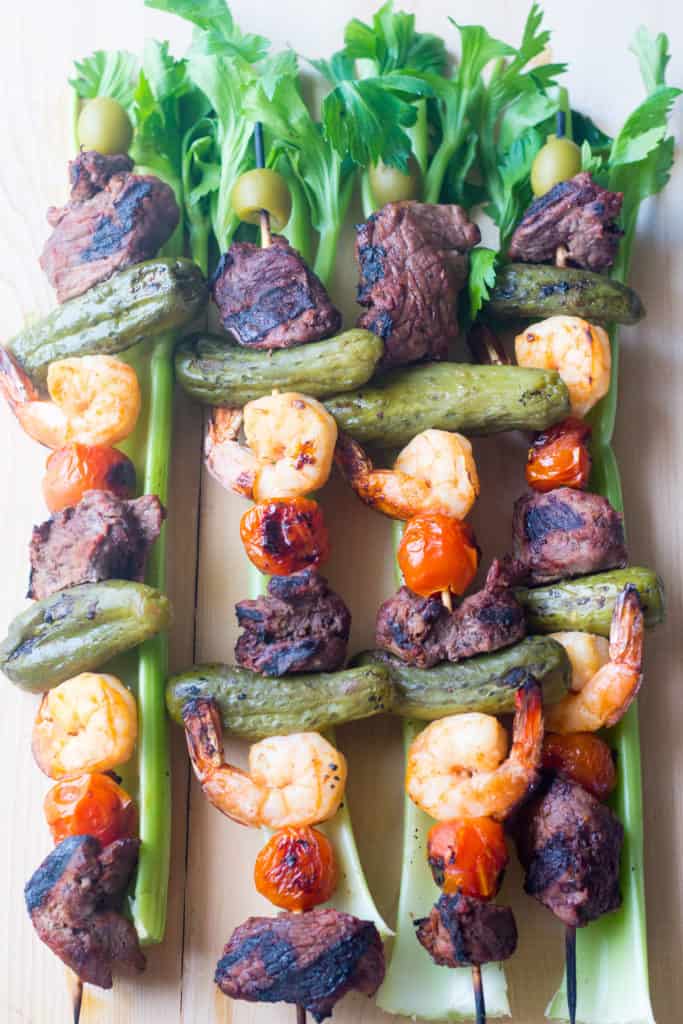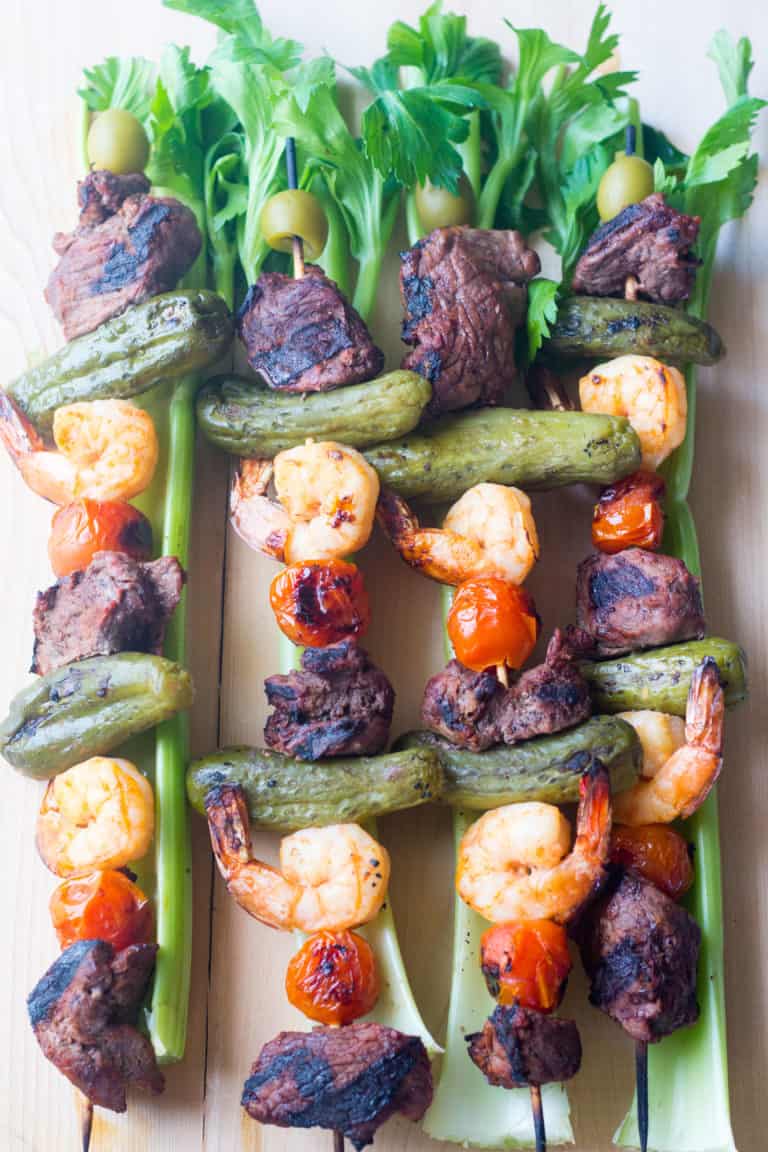 Classic Paleo Kebab Recipes
Grilled Beef and Asparagus Kebabs by A Farm Girls Dabbles
Steak, asparagus, parsley and garlic… need I say more? Plus you can learn about farming asparagus in her post! Warning: there is a lot of sugar in this recipe, so if you avoid refined sugar like me, substitute the 4 tablespoons of sugar for 1 tbsp of honey in the sauce.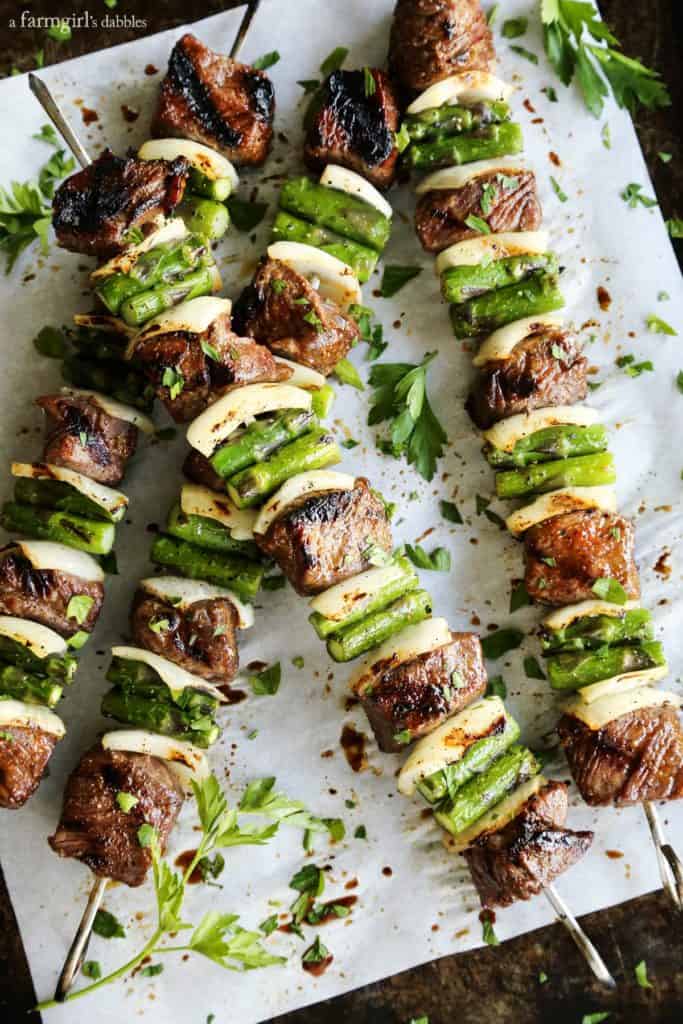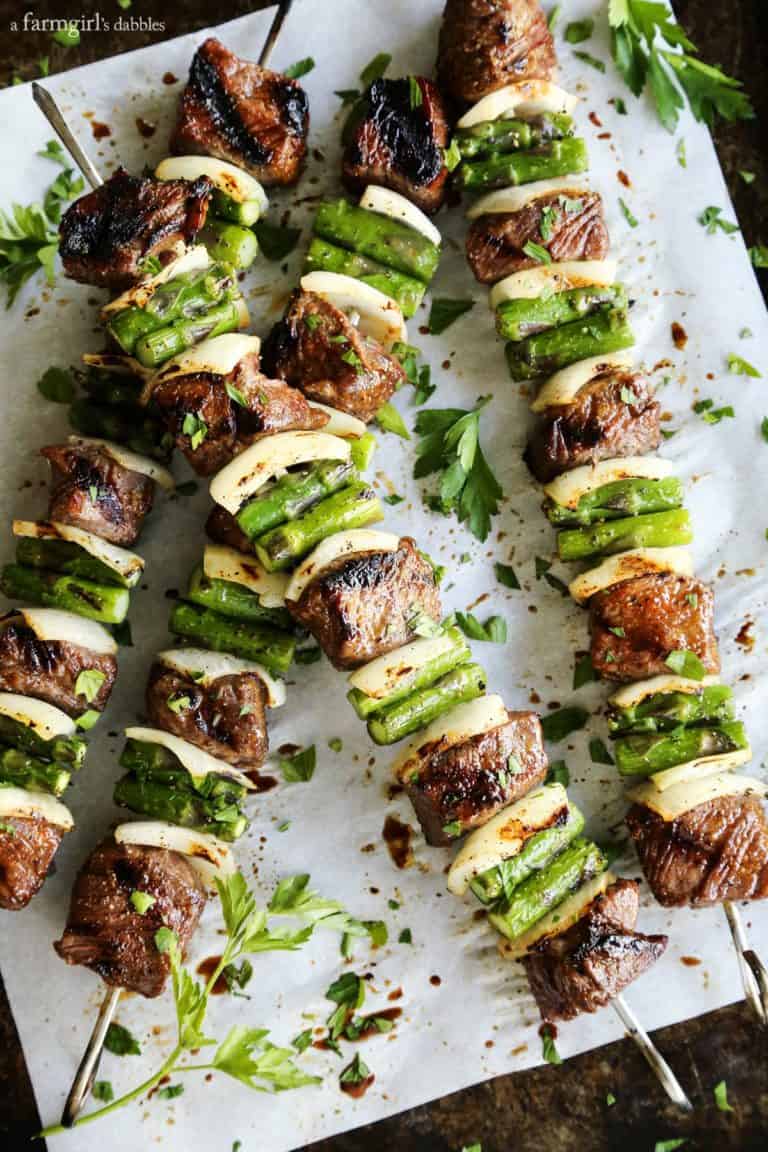 Rosemary Lime Salmon Skewers by Go Dairy Free
I feel like you haven't really experienced salmon until you've had it grilled. And why not grill it on a skewer? I love the simple elegance of these rosemary, lime salmon skewers that are naturally free of dairy, gluten, soy and nuts.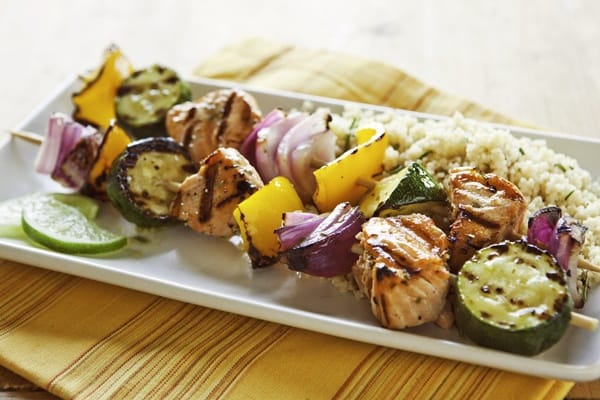 Rainbow Veggie Kebabs by Carrie Elle
BBQs always focuses on the meat, but the veggies and fruit really can steal the show if done well. I like how Carrie makes a rainbow out of her veggies. Perfect as a side dish or for your vegetarian friends 🙂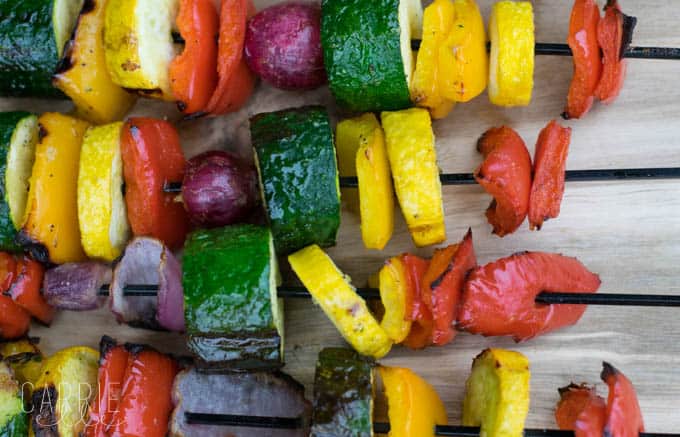 Lemon Garlic Chicken Skewers by What the Fork
These use one of my favorite sauce brands: Tessamaes. I love the simplicity of the paleo kebab recipe with only 3 ingredients. I bet these would be great paired with some grilled zucchini.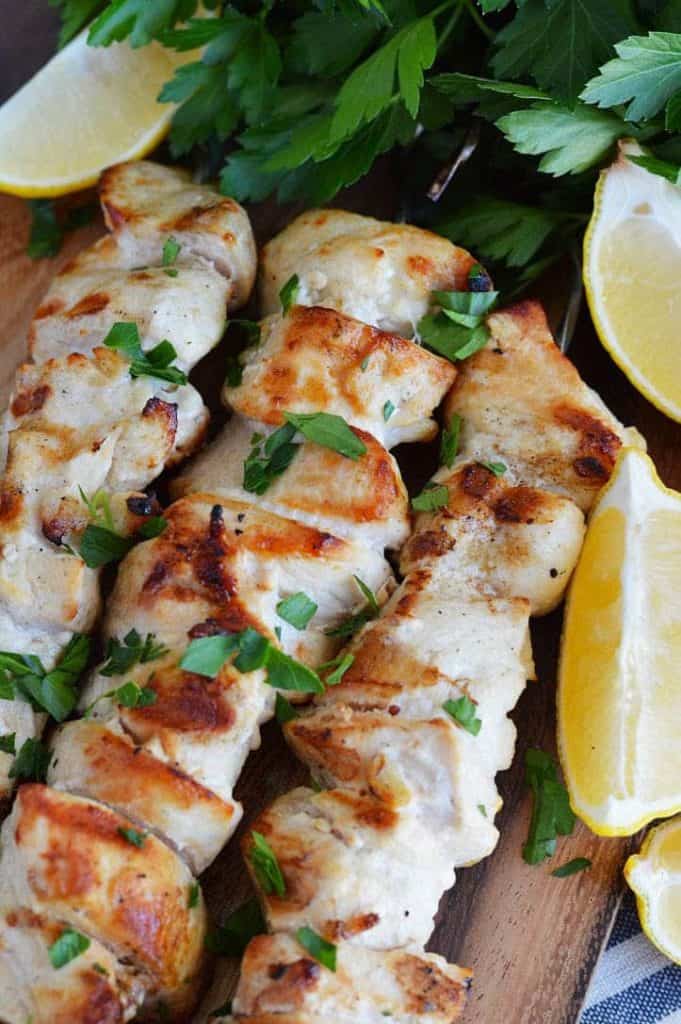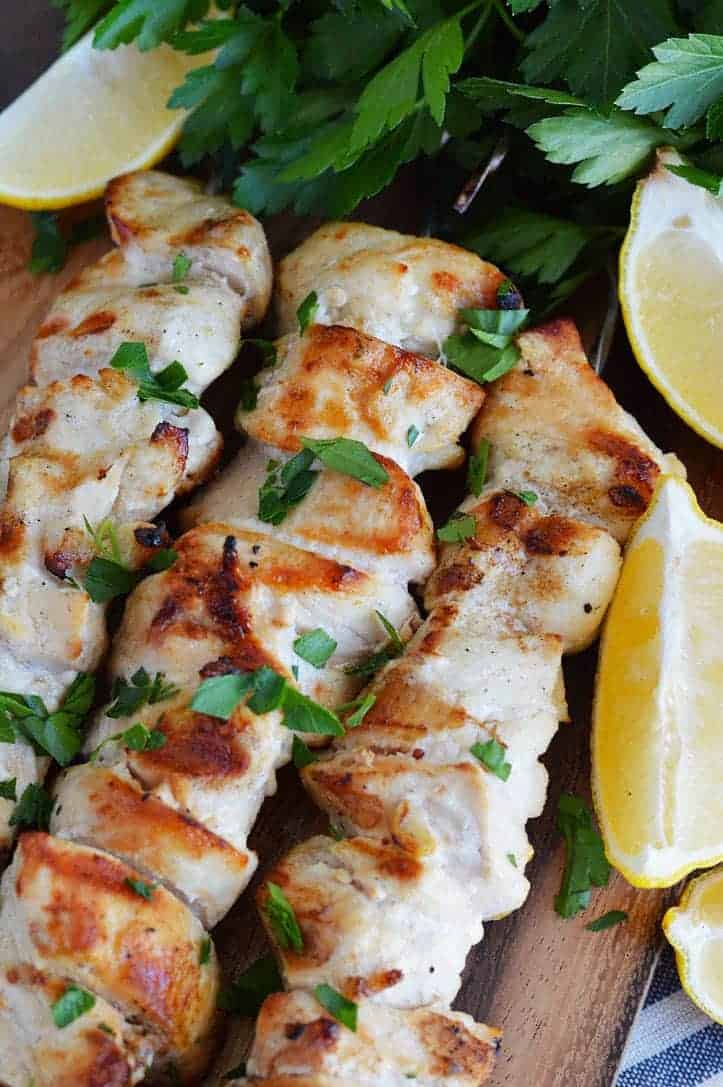 Easy Jerk Chicken Kebabs with Pineapple by Food, Faith, Fitness
The flavors of jerk chicken and juicy pineapple lend themselves to each other and that flavor profile intensifies on the grill. These would be an easy hit at your next grillin' get together. Plus, the ingredient list is pure as rain. I love it!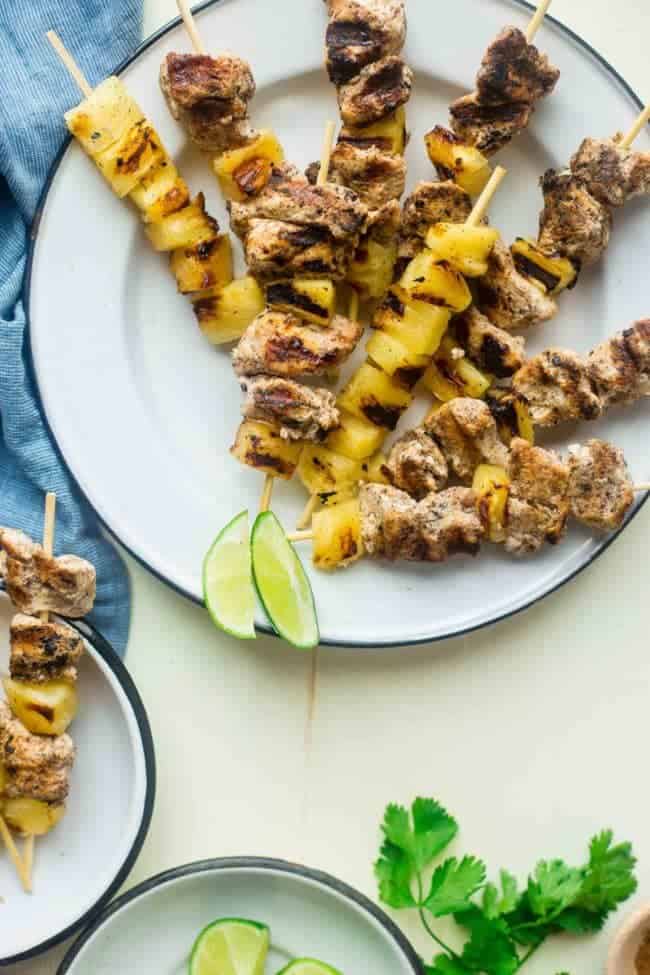 Dessert Paleo Kebab Recipes
Grilled Pineapple Skewers with Cinnamon
Cinnamon, pineapple and fire… that's all I need to end a hot summer day. The grilled pineapple is so sweet and the cinnamon adds the perfect amount of spice. Yums!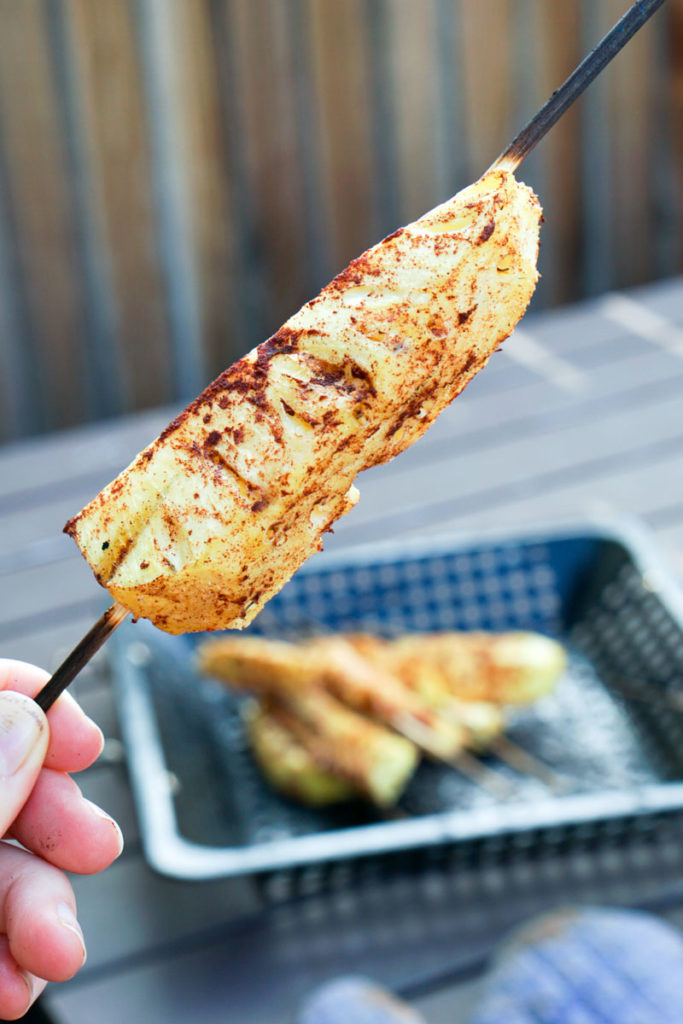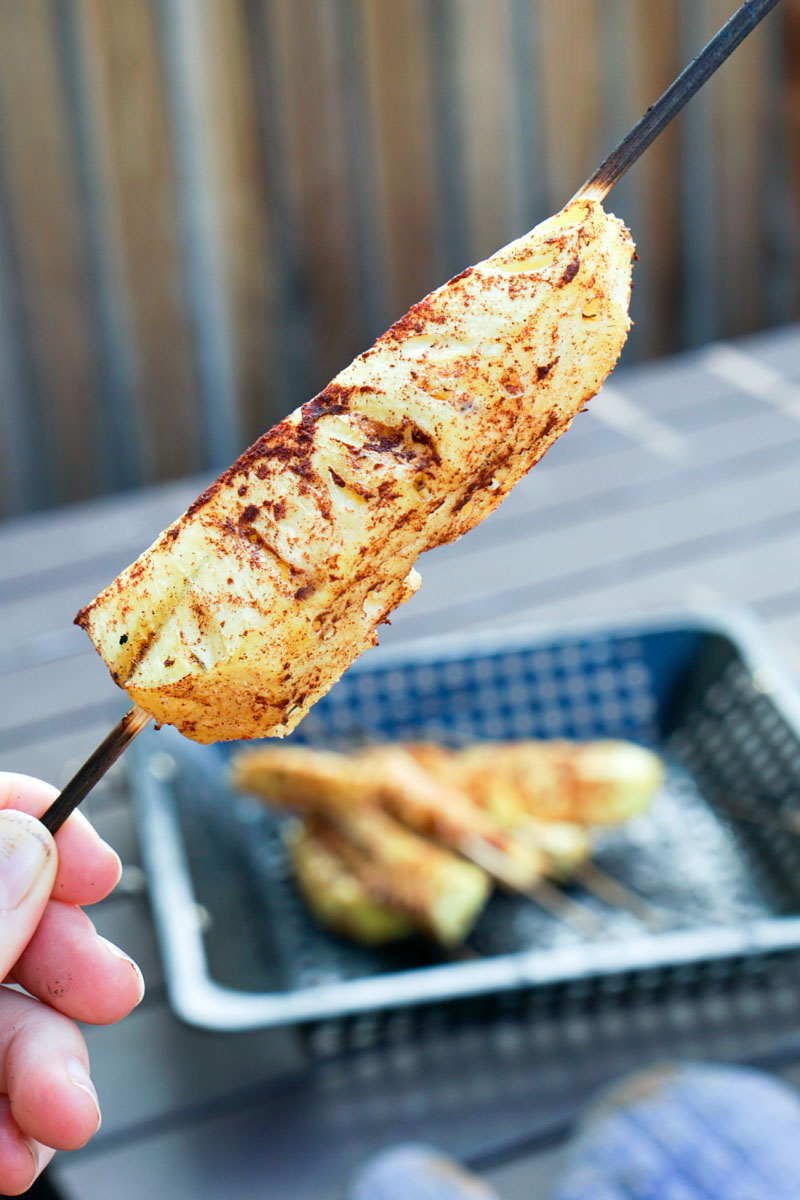 Grilled Strawberry Basil Kebabs by Cooking on the Weekends
Strawberries and balsamic reduction would have been good enough. Grilled strawberries would have been good enough. Combine the delightful aged balsamic with roasted berries and then add fresh basil and you've got yourself a crowd-pleaser.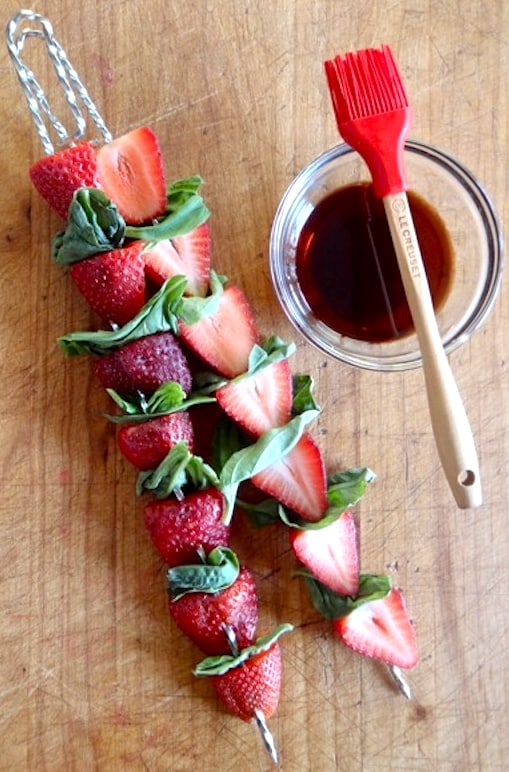 Have another favorite paleo kebab recipe that you love? Tell me about it in the comments!