The current Eat Your Way Clean eating philosophy
My food philosophy has morphed as more research and education has become available and as I have had time to experiment with different foods and how they impact my body.
Gluten and Dairy
I stay away from gluten but believe that the reason it harms me is because of the severely modified strains available that are often mixed with heavy levels of pesticides and other artificial stabilizers and preservatives.

I avoid dairy but will eat fully pastured grass-fed and grass finished butter as well as Ghee or make an exception when traveling.
Choose Meat Wisely
Meat sourcing is incredibly important. I eat grass-fed and grass-finished beef and dairy, source pasture-raised eggs, and try to purchase organic as much as possible.
Skip the Fillers and Preservatives!
Avoid all additives. Added sugars, preservatives, flavors and colors are harmful toxins that we don't need to eat and don't really add a lot of value to our foods. I avoid them and I wish more products were available without them. Clean ingredient lists!
Pay Close Attention to and Reduce Added Sugars
Avoid added sugars. The WHO recommends less than 25 grams of sugar per person per day. We eat way more than that and its hiding everywhere!

There are several scientific names to hide sugars, so look for the total grams of sugar. If it's above 7, think about it before moving forward.

When making your own sweets and treats, opt for natural sugars like maple syrup, local honey, dates, bananas, and other fruits. Occasionally coconut sugar works as well.

Avoid fake sugars!
We saw what happened with Aspartame. Other sugar alternatives like xylitol haven't had time in the market to be tested for long term effects. We know maple syrup and honey are good for you, so let's stick with those in moderation when possible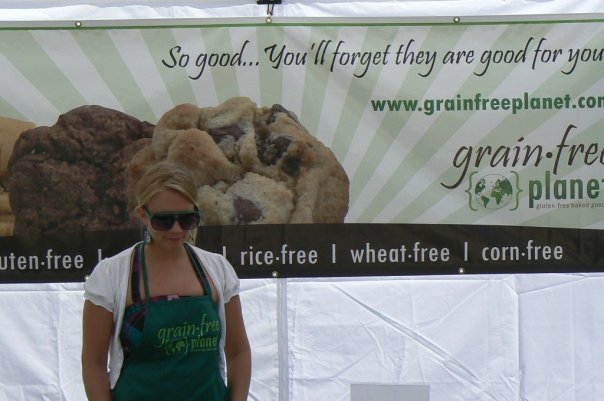 Selling Grain Free Planet Cookies @ local Denver Farmer's Market
Eat Your Way Clean Lessons Learned
Eat unprocessed food
Make things from scratch
Ingredients matter: skip all artificial fillers and additives, avoid natural flavors and gums
Still eat what you love, just clean it up
Fat is good! Eat good fats like olive oil, coconut, and avocado. Skip all hydrogenated oils
Refined sugar is pretty bad. Straight up. Reduce sugar, especially refined and artificial sugars.
Your body knows what you need and will crave things. For me, some examples are ice cream when I'm thirsty, chocolate for magnesium, steak for iron. Learn when to listen and when to ignore (yeast overgrowth in the stomach and stress both signal sugar cravings!)
Seek balance and intentional eating (aka eat what you crave when your hungry, within reason)
Head to tail eating reduces waste, makes eating more economical, and provides a wider nutritional profile. Do it!