You will often eat what you have in your pantry. So if you are trying to eat clean, the pantry is a good place to start!

Many of my recipes call for ingredients that I almost always have on hand. These are my staples. My pantry isn't very full these days as most of my food is fresh produce from the grocer, garden or local farm share, but I do need these items to finish the dishes off!
Baking and Dairy Substitutes
Coconut Milk or Coconut Cream – find the organic options and avoid the "light" because it just has added water. they are often found in the Asian foods aisle
Good Dark Chocolate 80% or higher – I love Theos and keep it stocked in packs of 10 bars 🙂
Chocolate Chips (dairy and soy-free)
You might have seen me go 'Forest Gump' on Coconut Milk in our last cooking video, and coconut cream and milk can really be used in so many ways! It's great for curries, coffee, soups, whipped coconut cream, frosting, popsicles, and so many other amazing things!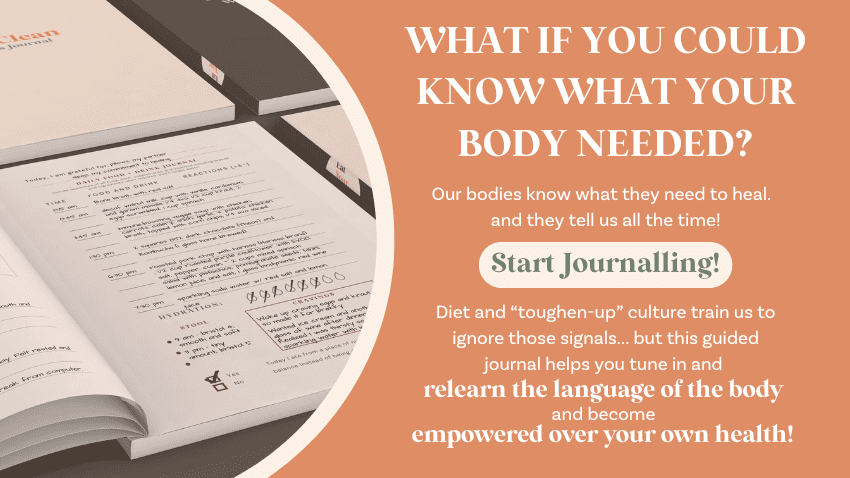 Nuts and Seed Butters
I didn't know how to categorize these, so I gave them their own category! They are that important, haha!

For all of these, the only ingredient should be the nut or seed. For example, peanut butter should have roasted peanuts. Almond butter should have almonds. And tahini should have sesame seeds. Salt is fine, but added oils and sugar are unnecessary and potentially harmful.
Peanut Butter, crunchy and creamy
Almond Butter, creamy
Tahini is an important staple for me. It's great on salads and as a dipping sauce for roasted vegetables. Plus it will upgrade your burger!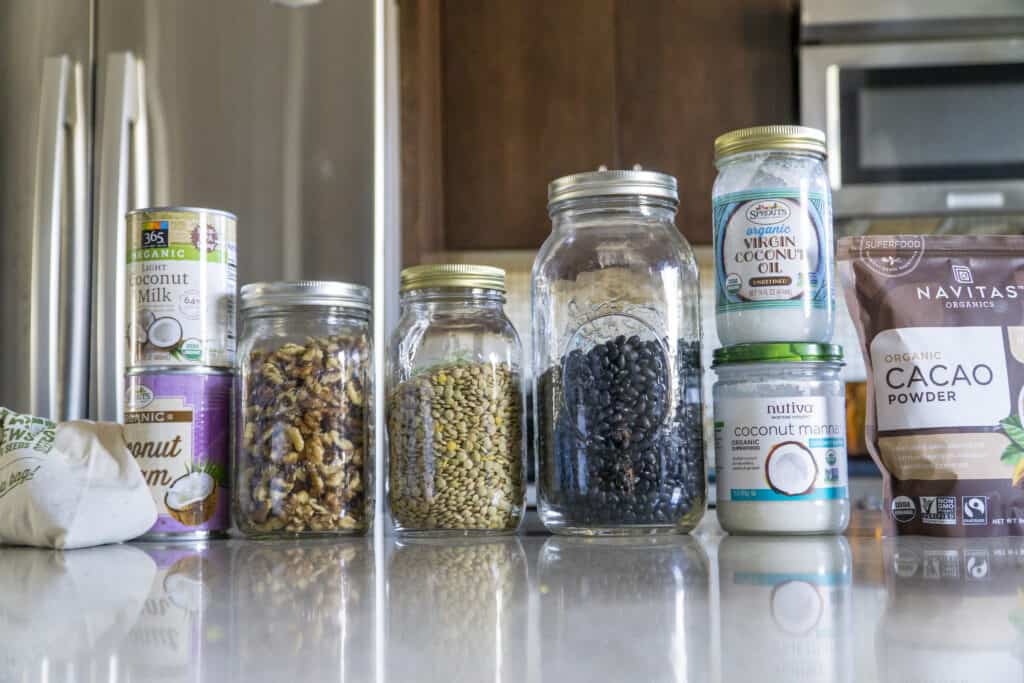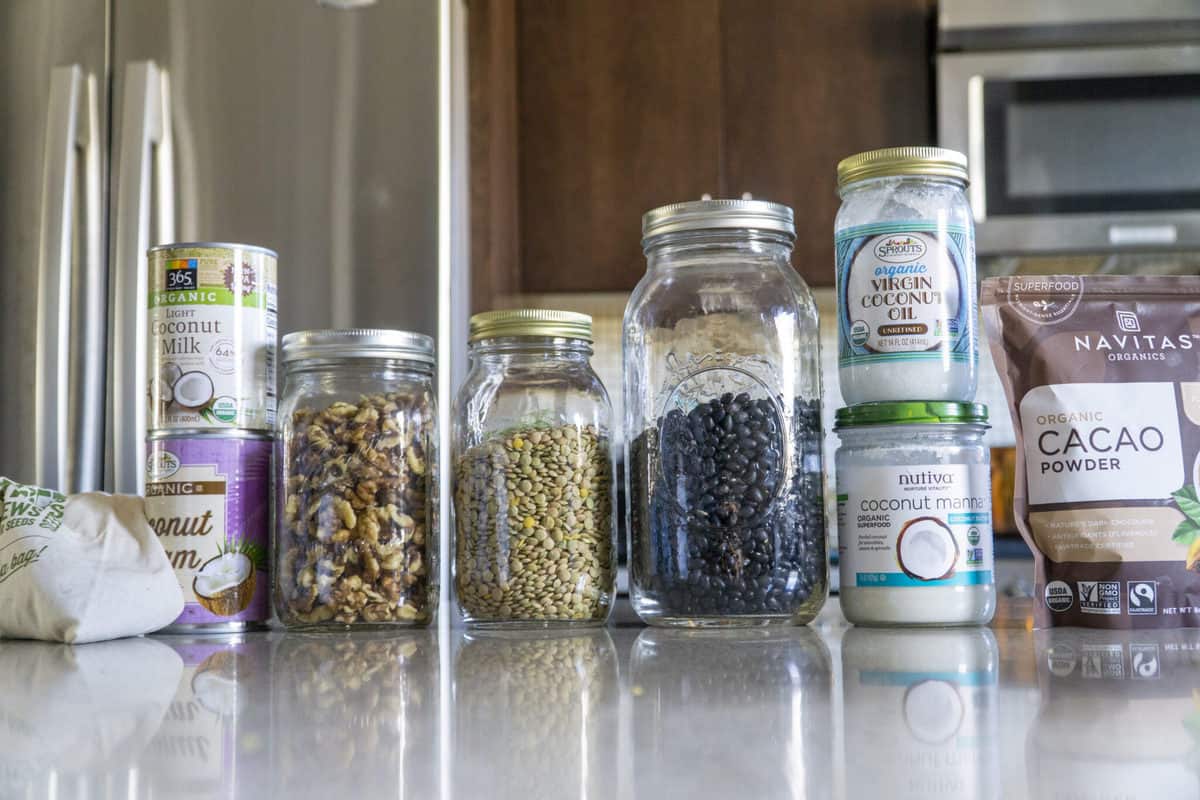 Flours
Gluten-free baking requires several different kinds of flours. The benefit of that is you can customize your dough to match your needs and your baked goods will end up having a more diversified nutritional profile.
Here are the flours I like to always have on hand:
Almond Meal
Coconut Flour
Arrowroot Starch
Cassava Flour or Tapioca Starch
I also love:
Hazelnut Flour
Millet Flour
Sweets
Maple Syrup
Raw Honey
Dates
Coconut Sugar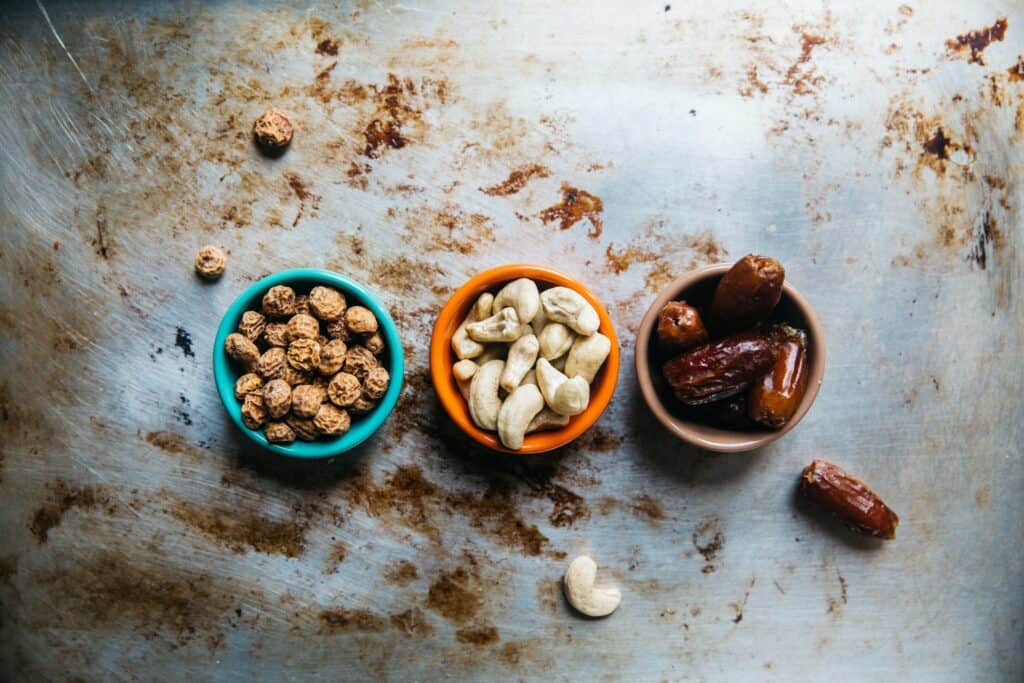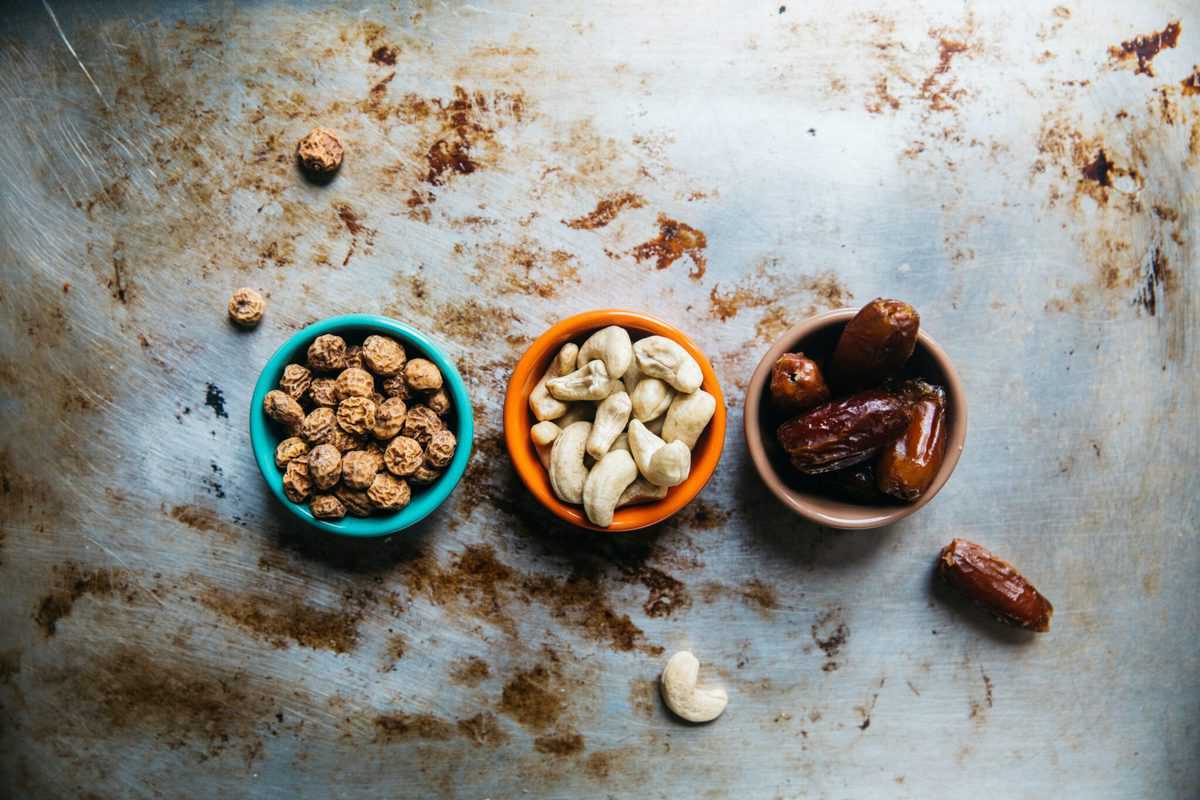 Spices and Flavors
Pure Vanilla Extract – don't get imitation flavors – loaded with chemicals, not that much cheaper and taste horrible.
Peppermint Extract
Cardamom
Cinnamon
Nutmeg
Clove
Allspice
Cumin
Black pepper
Redmond's Real Salt, Pure Sea Salt, and Himalayan Pink Salt
Italian Seasonings
Rosemary
Thyme
Oregano
Marjoram
Cayenne Pepper
Fats
Extra Virgin Olive Oil (EVOO) – make sure it is cold processed as heat can negatively impact the oils. For the same reason, buy oil in a glass jar that is darkly shaded to avoid sunlight exposure.
Coconut Oil – This is excellent for high heat cooking and frying, and as a butter replacement for baked goods.
Sauces
Sauces make or break the dish. These shelf-stable basic ingredients will give you the opportunity to make multiple meals in a pinch.
Coconut Aminos
Fish Sauce
Tamari
Siracha (refined sugar-free) and Hot Sauce
A good Thai curry paste! Thai kitchen has a pretty decent red Thai curry paste that is great to have on hand just in case. If I know I'm making curry soon I'll get one of the nicer curry sauces but this is a good one to have in the pantry as back-up for quick last-minute meals!
Bulk Aisle
If you don't have a bulk aisle in your store, you can find these in other sections of the grocery store. However, I opt for the bulk aisle for the most part because it tends to be cheaper and allows me to shop with less waste, using my reusable bulk-aisle bags.
White Rice (it's easier to digest than brown or wild rice, so better for people with sensitive tummies)
Dried Beans (red, white, black and pinto)
Walnuts, Pecans, Pistachios, and Cashews. All nuts are great for added crunch in a salad or curry. Additionally, nuts can turn into delicious cookies or a wonderful creamy dipping sauce. Nuts are versatile and a requirement for every pantry. Warning, these don't last that long on the shelf, especially in humid and hot climates.
Chia Seeds
Sesame Seeds, yellow and black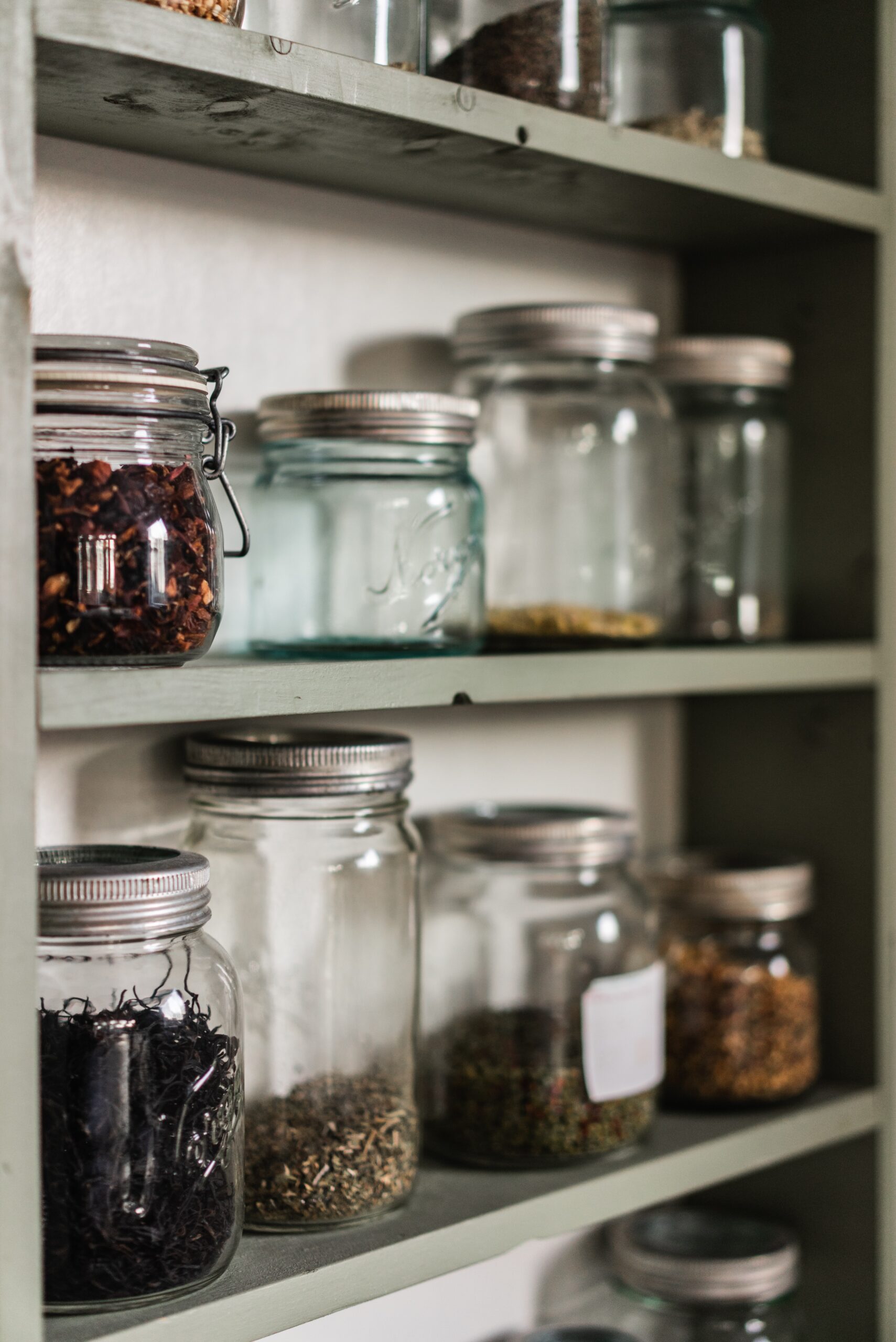 Snacks
Kale Chips
Tortilla Chips – organic and baked in coconut oil if available
Salsa – look for ones with minimal preservatives like citric acid
Vegetable Root Chips from Terra
Nori Sheets – for seaweed chips or sushi or for adding to beans
Drinks
Organic Green Tea – for Jun making
Herbal Tea – like Rooibos for drinking
Swiss water process decaf coffee
Notice what I left out
What we omit is often just as important as what we include. The things I listed above are not an all-inclusive list of every pantry item I've ever bought or will ever buy. It's not even a comprehensive list of what is in my pantry right now or any given day.

It is rather, an idea of the things I need most often and try to always have on hand. To be more clear, I want to list some of the things I purposely exclude.
Items that will are not staples of a clean pantry:
These aren't things that are staples of a clean pantry, however they do find their way into many pantries. This list isn't meant to be things that you can't have. Rather, these should be the types of things that you have in moderation on occasion.
Pantry Items to Avoid or Limit
Canned Goods (except coconut cream) – no canned beans, canned vegetables, canned soup or canned anything besides coconut milk.
Cereal, pancake mix, cake mix, or white bread.
Pre-packaged foods like flavored rice or wholemeal pasta packets. Do hamburger helper and rice-a-roni still exist? If they do, opt-out! You can make all of that stuff with fresh vegetables, meat, and spices.
Canned and pre-packaged soups. Soups are one of the easiest things to make in bulk and then freeze for later. No preservatives or BPA/BPS-lined cans needed!
Cookies, pop-tarts, or other sugary processed foods.
Soda, Snapple, Shelf-stable "juices" and other sugary drinks