Seriously. Two days of green green green. Ok, there were some blueberries in a salad and I ate some mangoes on the side. But so much green! I guess that is a good thing. It probably shouldn't be such a shocking thing for my system. Oops! But really, it's time to introduce some color.
Day 3 started off rough. I stayed up too late playing on the internet and didn't get the best sleep. I did wake up thinking I had solved the food, bathing and housing crisis for refugee camps with inflatable multi-purpose bubbles… but that quickly faded as a realized that people don't bathe in soup or sleep in bubbles and it was but a dream.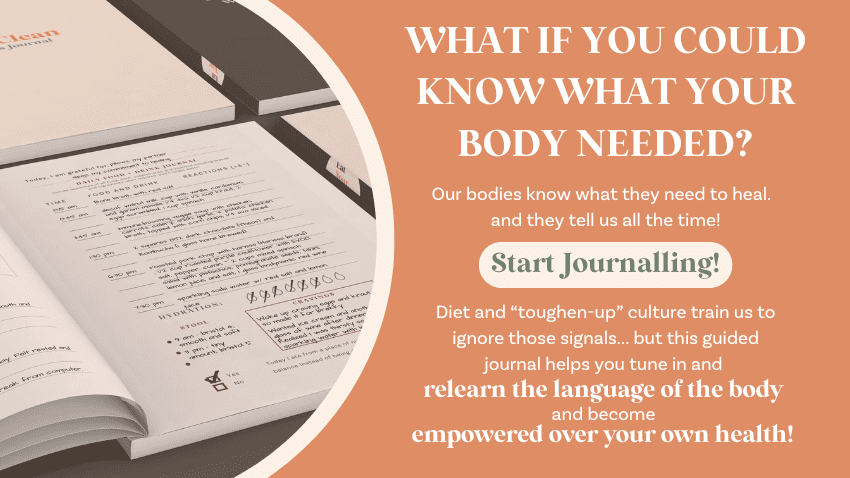 As per *new* usual, I needed to make some celery juice. 16 oz to be exact. It worked better than yesterday. No spilling this time. It wasn't half bad.. but it does take quite a bit of time to make in the morning. Like way more than I planned on. That's why I couldn't make my breakfast juice this morning. I found out at 7:39am that I actually needed to be at work for a call at 8am (instead of leaving at 8:15 am) which meant I had to drop everything and throw some fruit in a bag and hit the road.
Introducing the banana, kiwi, grapefruit fruit salad that I made for breakfast at my desk, with a date on the side for potassium. 🙂 I really like eating dates throughout this process because they are the perfect amount of sweet and filling. They are also pack nutrients which is super important in this phase: 1 cup of dates has 946 mg of potassium to sustain the nervous system and 15% of recommended magnesium, which will help prevent muscle cramps. It actually ended up being really exciting, because it is the first meal that wasn't overtaken by the color green.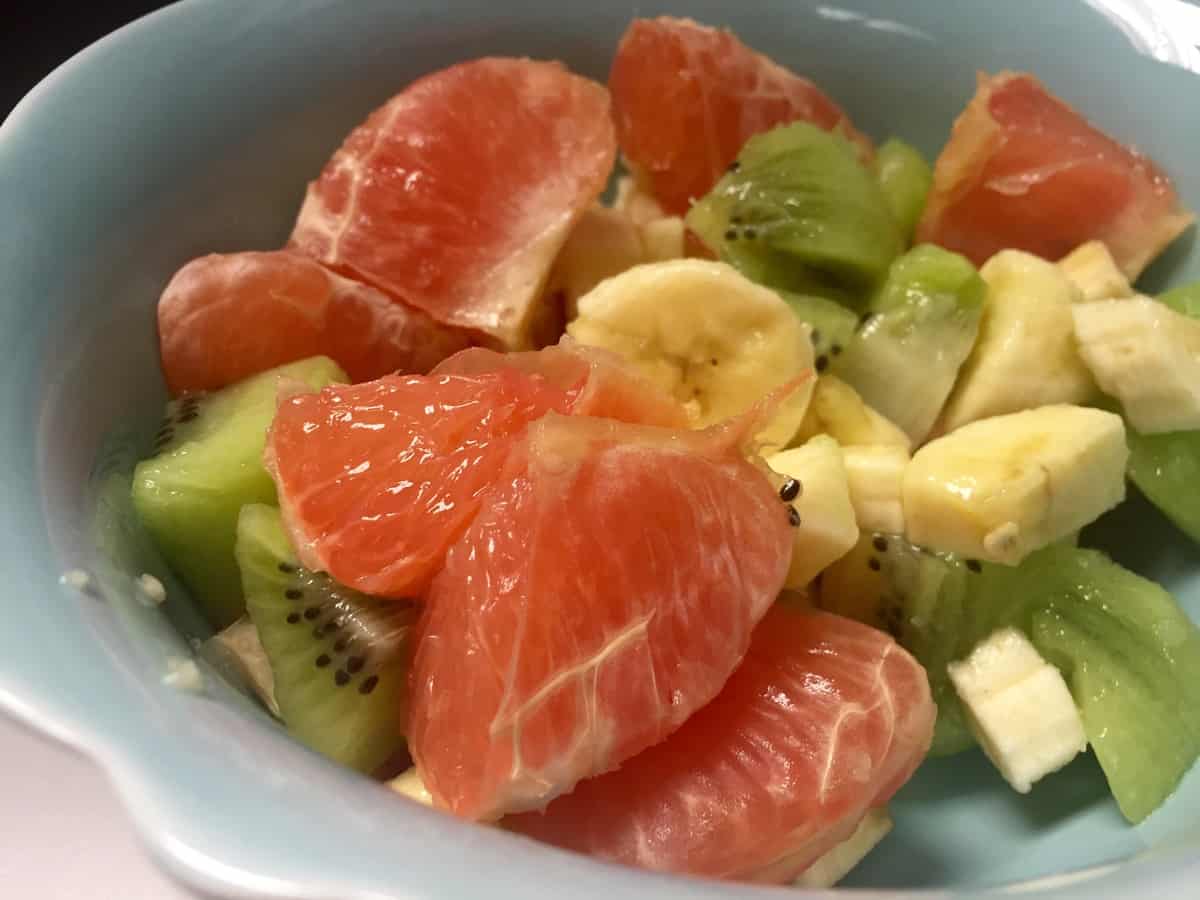 1 banana sliced, 1 kiwi (halved, scooped and cubed, ½ large grapefruit peeled, separated into slices and cut into ½ slices.
The theme of today seemed to be chopping/cutting/tearing apart fruits and vegetables at my desk. For lunch I used a dressing I made this morning over fresh greens. Then to make sure my brain has enough glucose to function, I added some blueberries and grapefruit.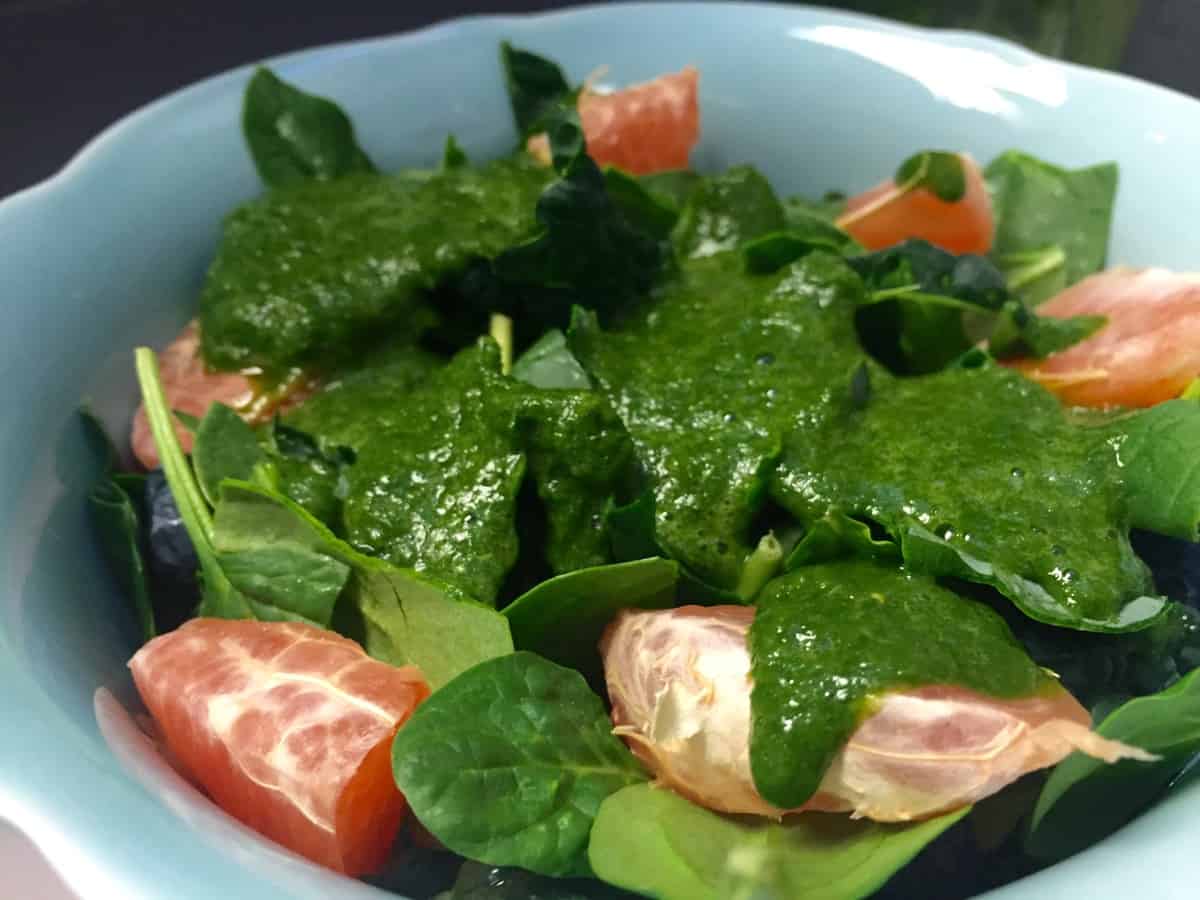 Salad: 2 cups Kale, 1/4 cup spinach, blueberries (1/4/ cup), 1/2 grapefruit slices.
Dressing (1/2 recipe): 2 cups spinach, garlic, shallot, cilantro (1/4 bunch), 1/4 cup cucumber, juice 1/2 lime
Dinner was an experiment in rearranging vegetable texture… as in how to make a salad not quite feel like a salad. I think it went pretty well. We'll call this the Rawesome Green Salad.
Crumble Cauliflower in a food processor or by dicing into small chunks. De-rib and chop Kale. Shave Apples with a grater, spiralizer or food processor. I used a spiralizer. Spiralize about a cup of cucumber noodles. Throw those all into a bowl with some peppered mustard greens and arugula and mix together.
For the dressing combine the following ingredients in a food processor and blend until smooth.
Juice of 1/2 orange
Juice of 1 lemon
1/8 cup cilantro (the leaves from about a handful of sprigs)
1/2 tsp shallot
1 tsp dill
Salt and pepper to taste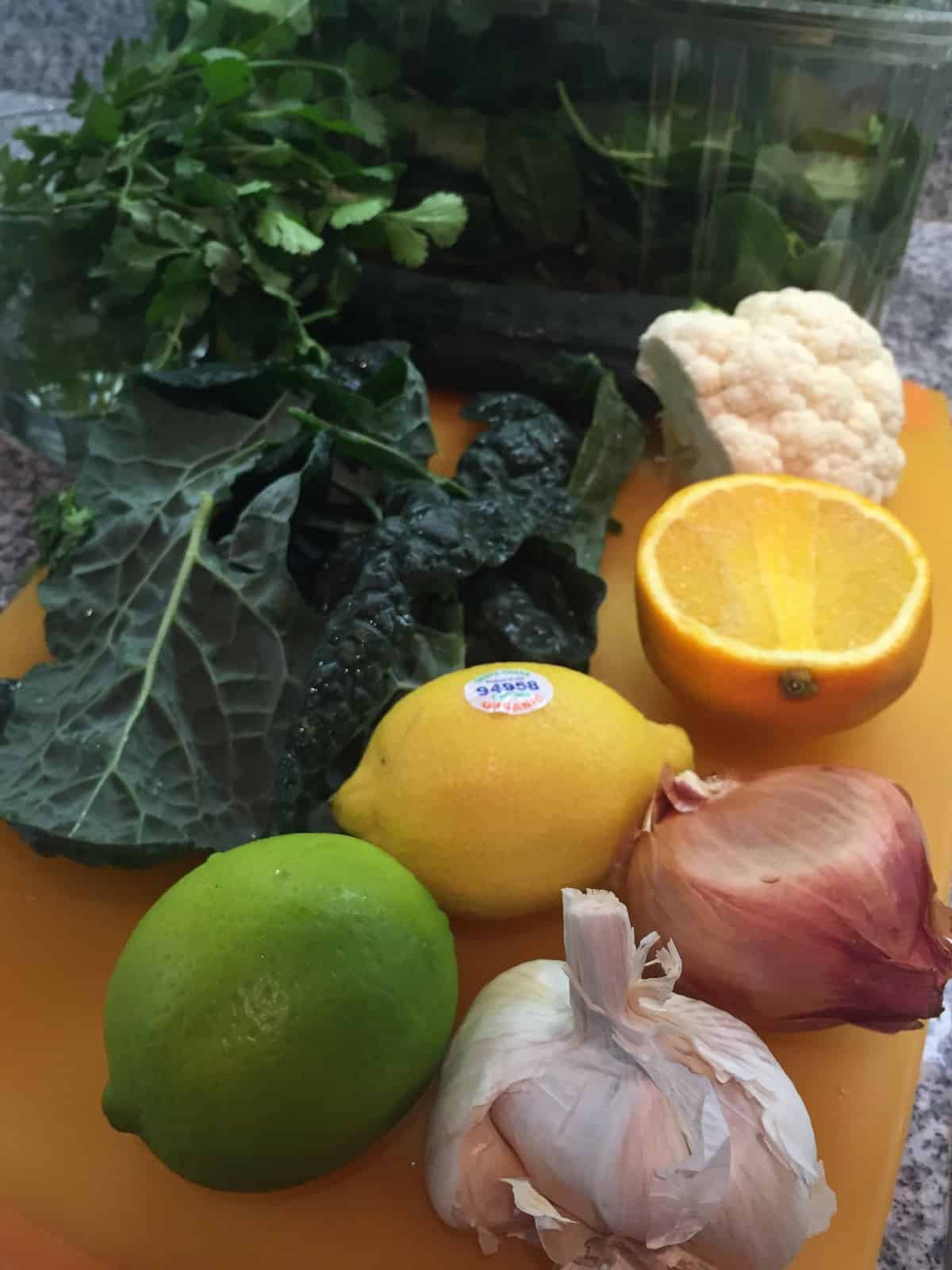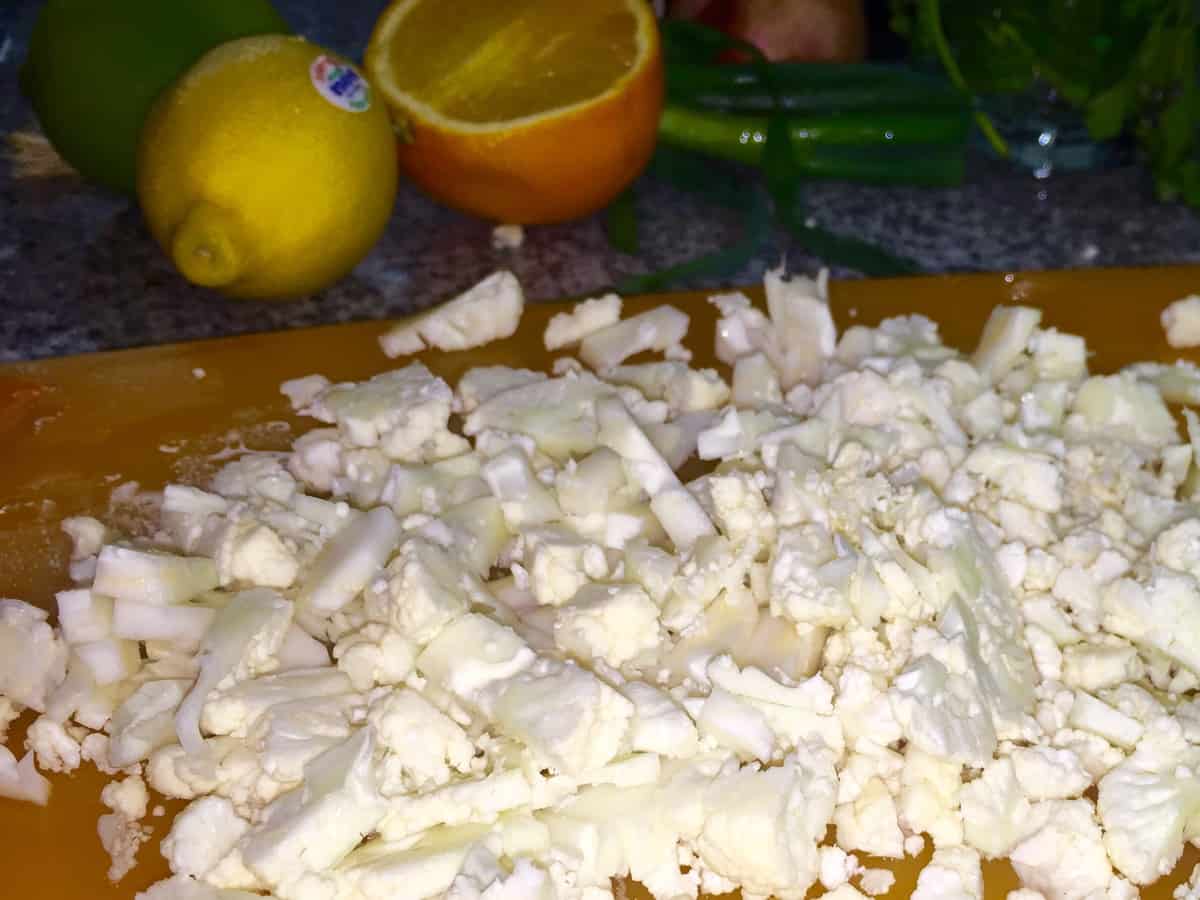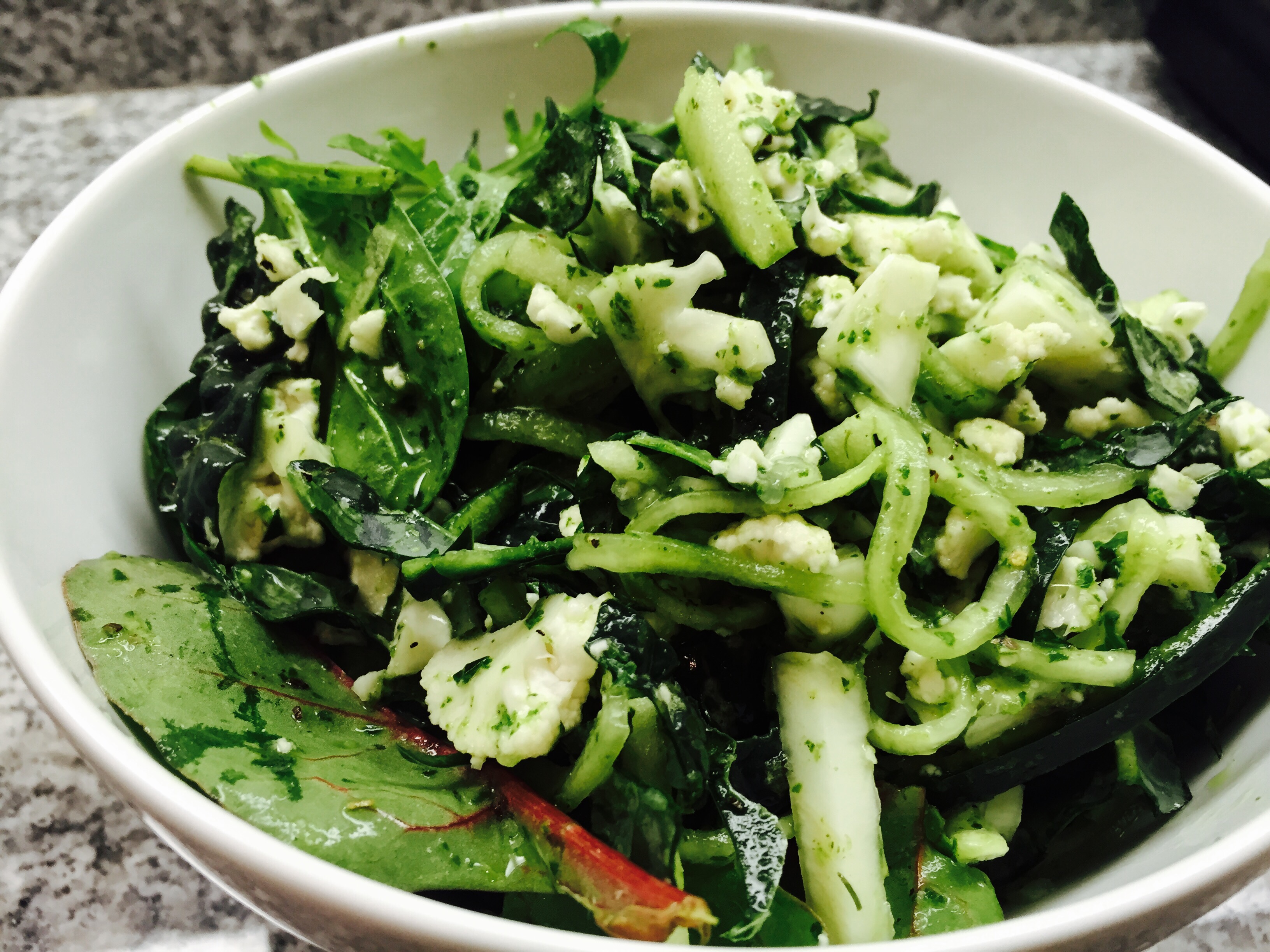 Because I was getting excited about "cooking" interesting things, I threw together this fruit medley for dessert"
Raspberries, mango and fresh coconut meat (from a coconut). If you're not restricting seeds from your diet, this would be great with Chia on top.