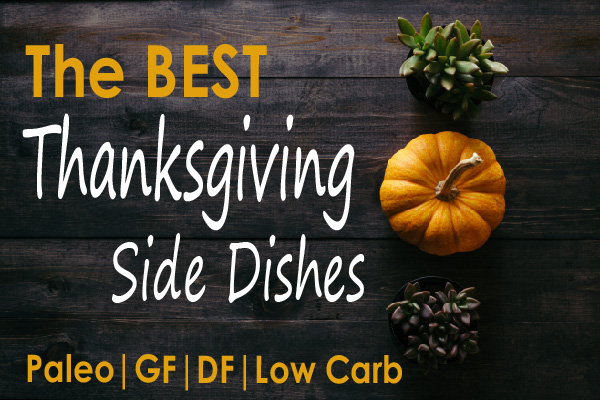 Photo by Patrick Fore on Unsplash 19 deceptively easy Thanksgiving side dishes to impress your friends. And they are actually healthy and good for you! Gluten free, dairy free, paleo and vegan options so everyone can enjoy!
I don't know about you, but I get more excited about the sides than the main dish. And not just for Thanksgiving, but for most get-togethers and potlucks.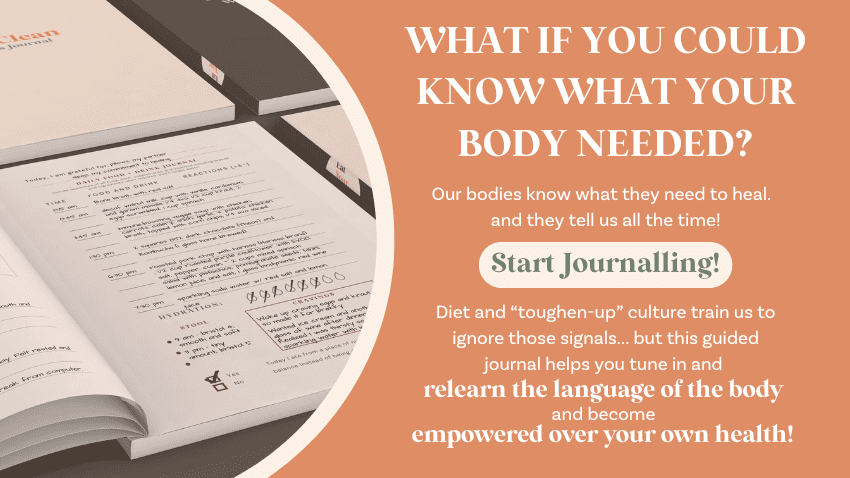 If I'm going to a potluck or big meal, I always opt to bring a side for two reasons.
One: they are the best place to put lots of healthy veggies.
Two: I know I can at least eat the side I'm bringing and not starve if there's nothing else that's safe for me to eat. #allergygirlproblems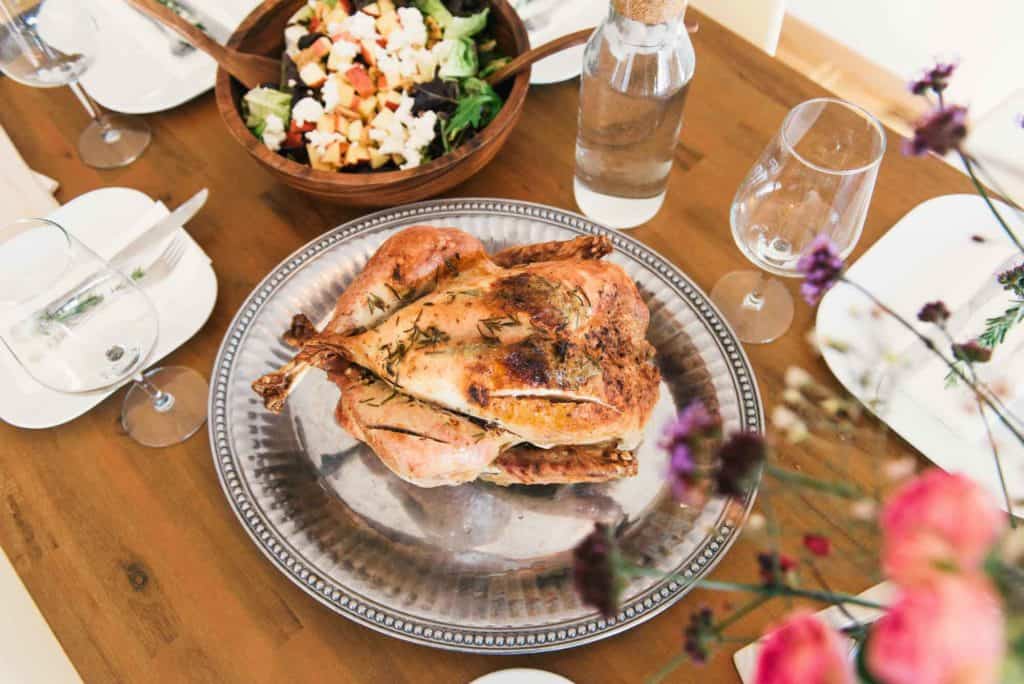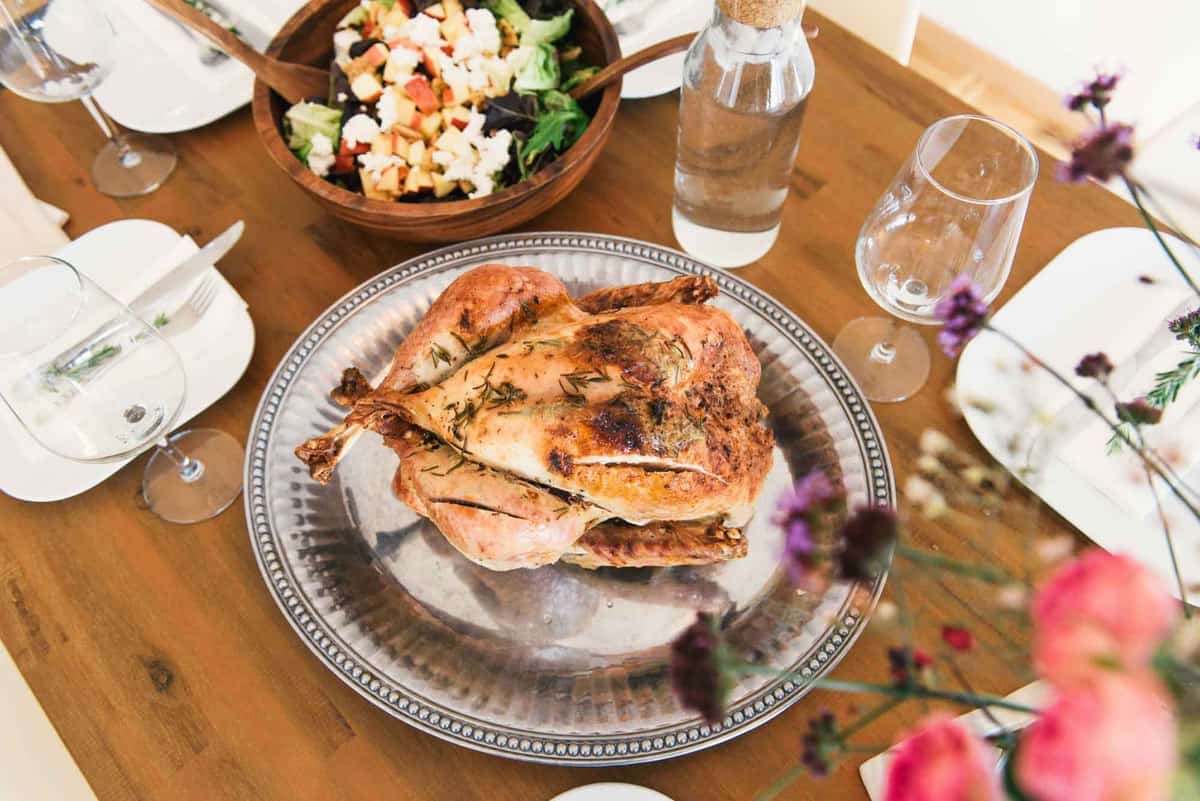 Photo by Gabriel Garcia Marengo on Unsplash
The host usually makes the classics: turkey, gravy, taters. That leaves room for everyone else to bring sides, desserts, and drinks!
And with 4 friendsgivings and 1 thanksgiving this year, I'm going to be making a lot of Thanksgiving themed sides this year! But what to choose from?
sweet potatoes, brussel sprouts, spiced pecans, asparagus, potatoes, baked cauliflower…
Sooo many options!
But how to find the delicious thanksgiving sides that are also healthy(ish)?
I did the research for you!
If you're looking for a great Friendsgiving side, here are a few that are delicious, perfectly fall themed, and healthy! They are all gluten, dairy, and refined sugar free (and quite a few are vegan) so you can leave room for dessert and that extra glass of wine.
Because after all, the whole point is to enjoy the company of friends and be grateful for the day.
Creative and exciting Thanksgiving sides
AIP friendly Turmeric Cauliflower Bake
This baby is backed with the good stuff: turmeric, celery, cilantro, cauliflower. Plus – it comes with creamy avocado sauce on top? Yes, Please!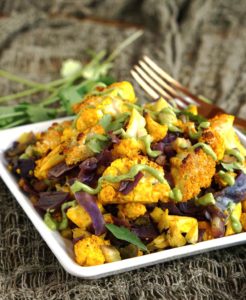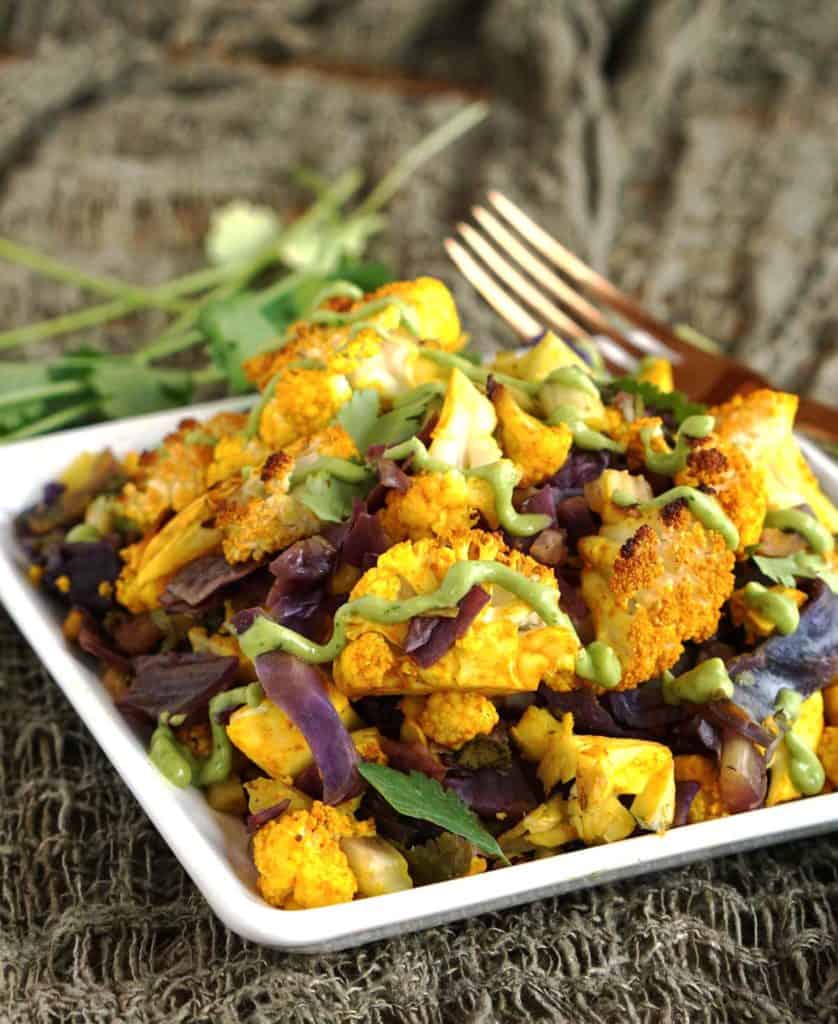 Balsamic Baked Red Onions by Whole New Mom
These basked red onions are AIP, low carb, and fun! I've heard of creamed onions, but this sounds better. I recommend using maple or honey as the sweetener and cutting that in half (1 tbsp instead of 2).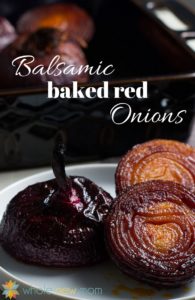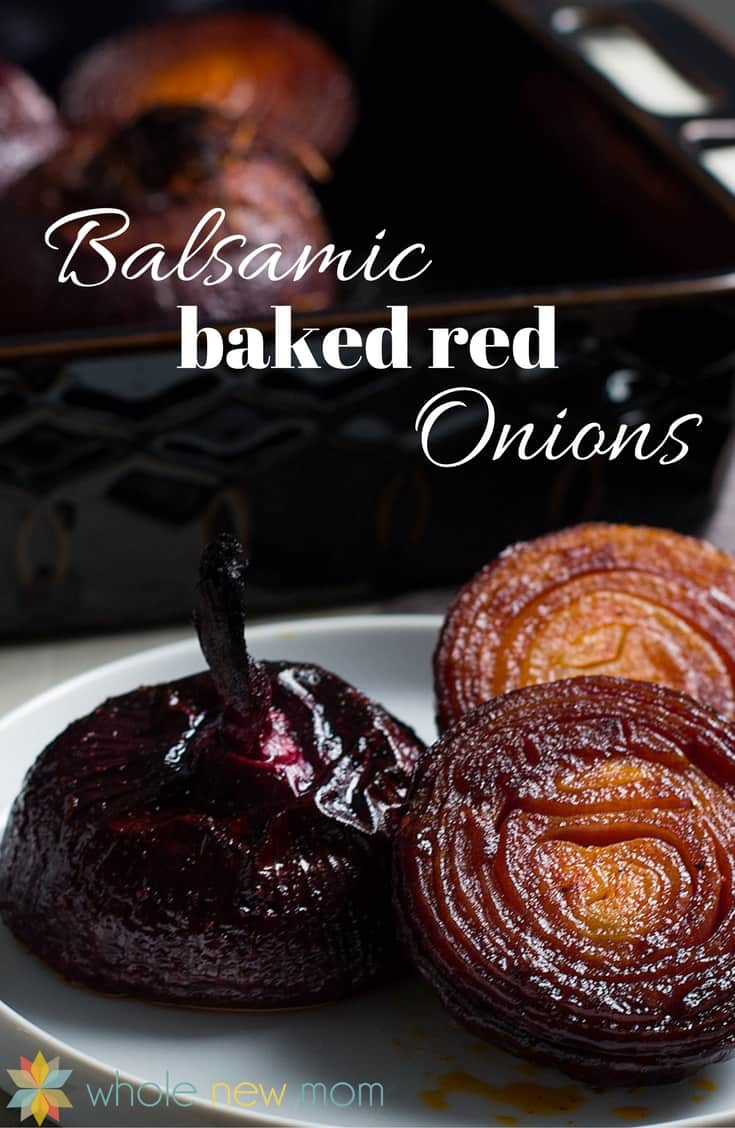 Sweet Potato Pumpkin Fritters by Tasting Page
Do I need to say more? These are practically a dream. I want them every day, not just Thanksgiving. I think you might need to make a double batch!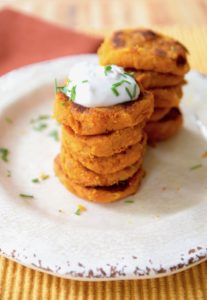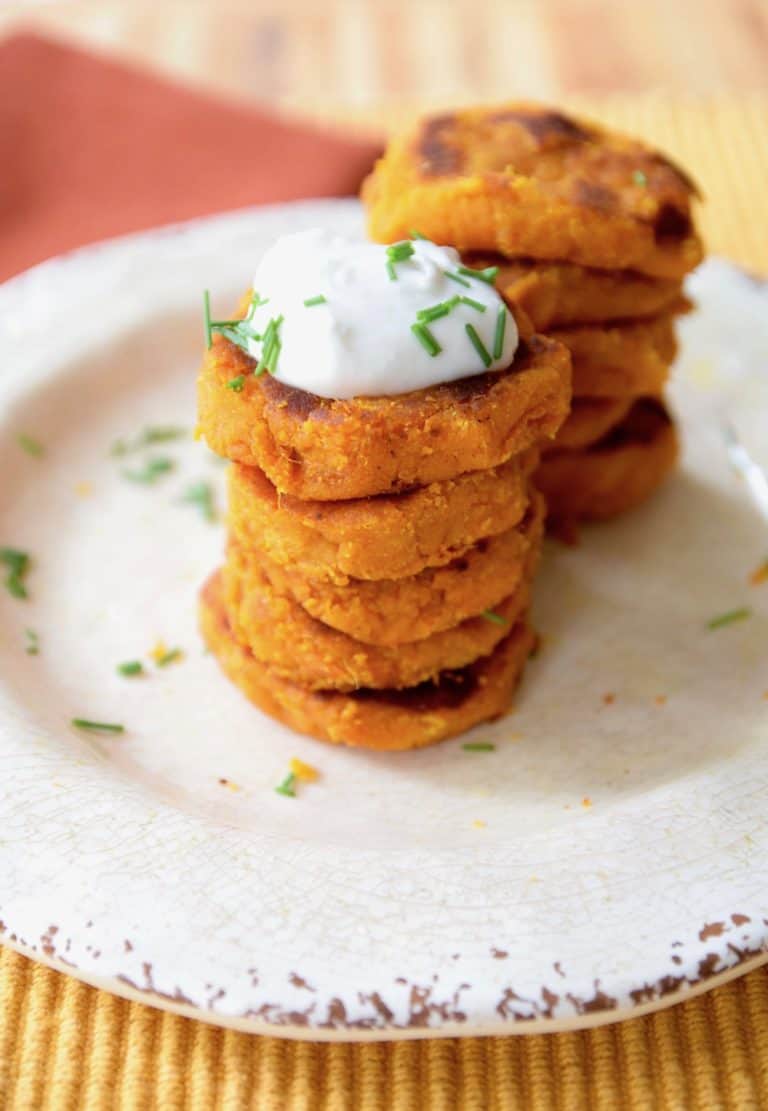 Morrocan Carrots by Whole New Mom
How 3 ingredients can be so delicious and beautiful, I do not know. But I'm loving every bit of this healthy, eastern-spiced side dish.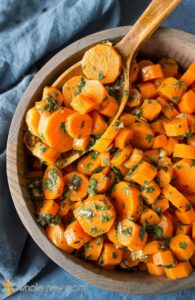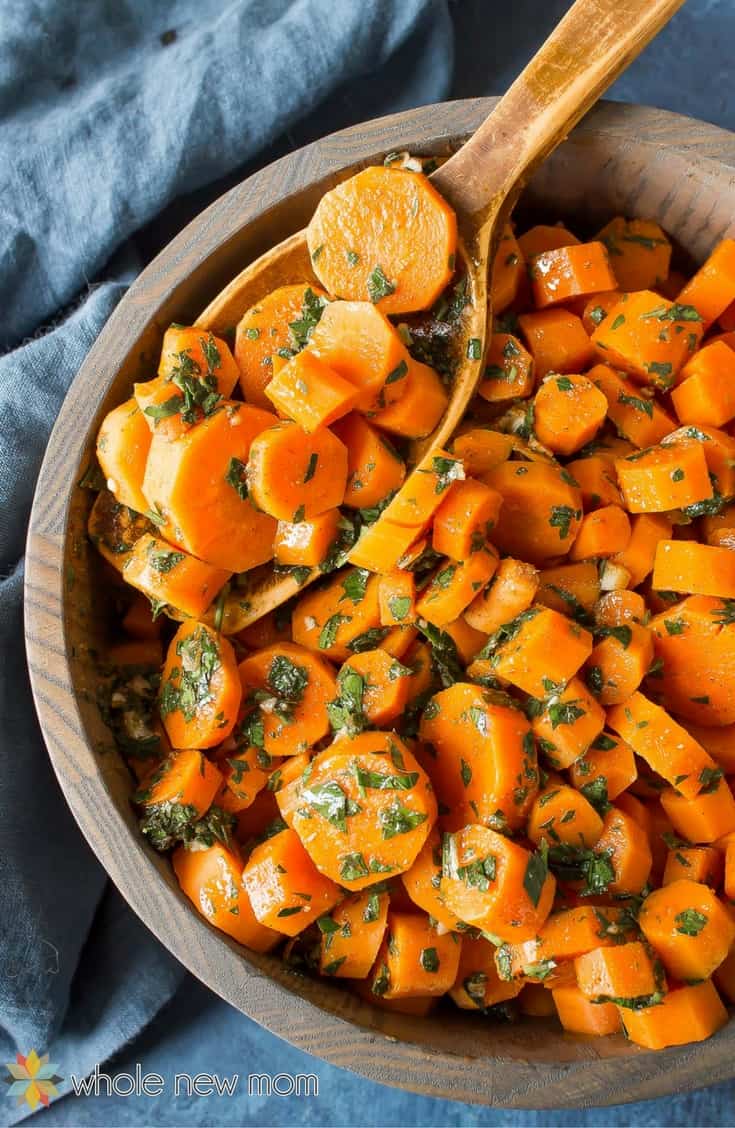 Asparagus Potato Salad by Allergy Girl Eats
The purple and green in this healthy side salad will make a beautiful addition to any spread. Eat up!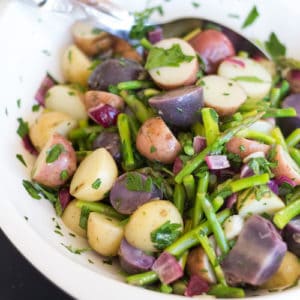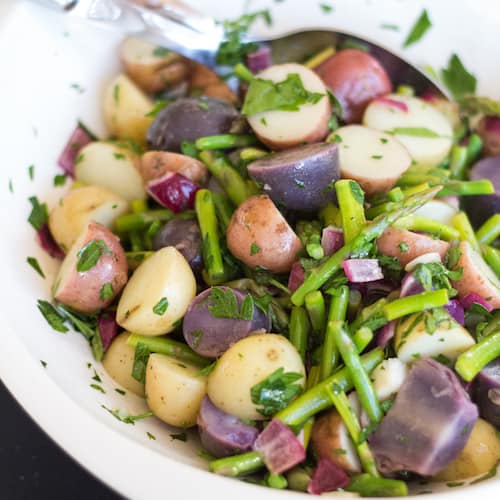 Truffled Purple Hyacinth Green Beans
Speaking of color… these purple hyacinth beans are beautiful! And what brings elegance to a Thanksgiving table like the savory flavor of white truffles?!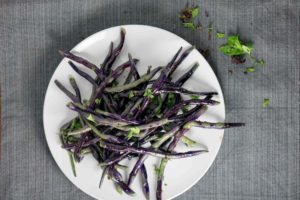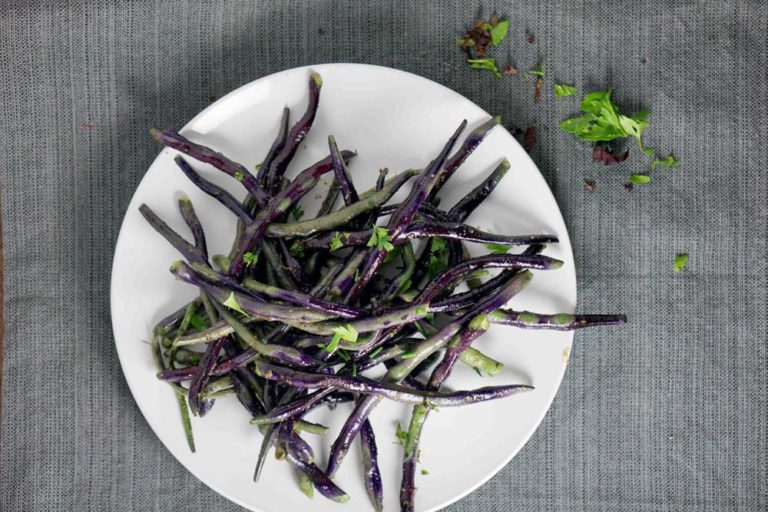 Roasted Pear Walnut and Kale Salad by Tasting Page
Because every healthy friendsgiving needs a little Kale.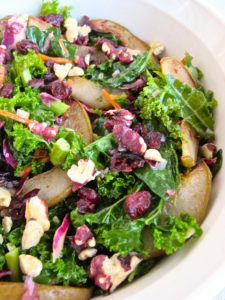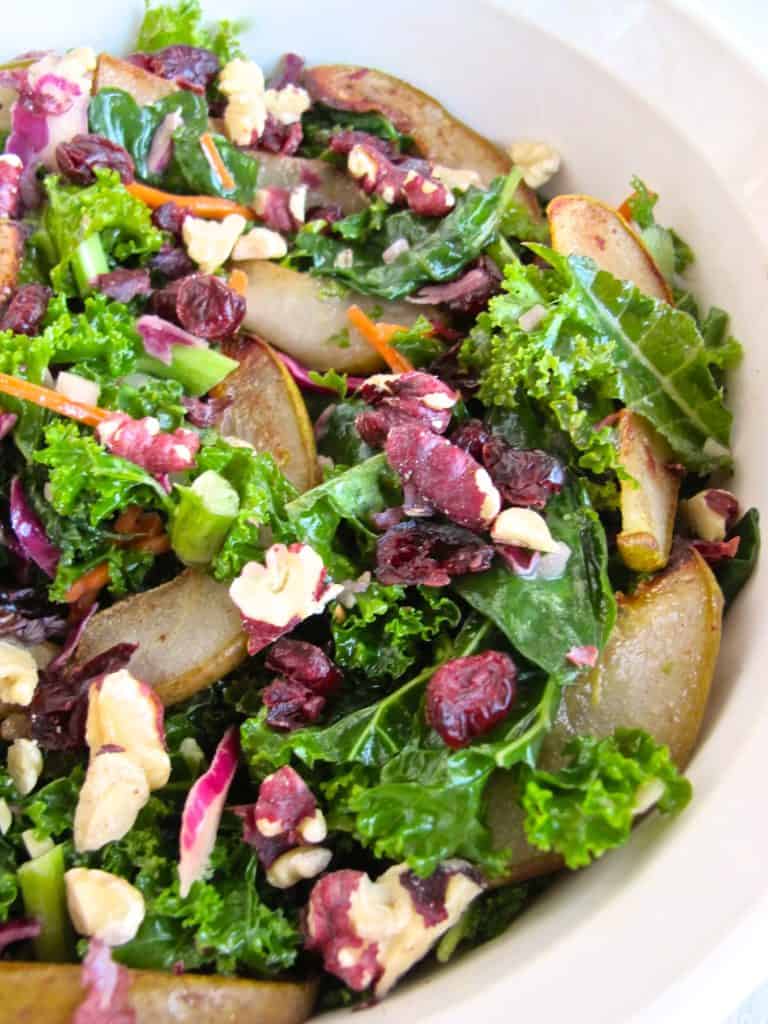 Classic Friendsgiving sides turned healthy
Cranberry Pecan Green Beans by Gluten Free with Emily
These are a classic and so simply dressed. They really let the natural flavors of the food shine through. And I'm with you girl… I hate green bean casserole. This is so much better!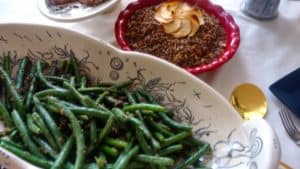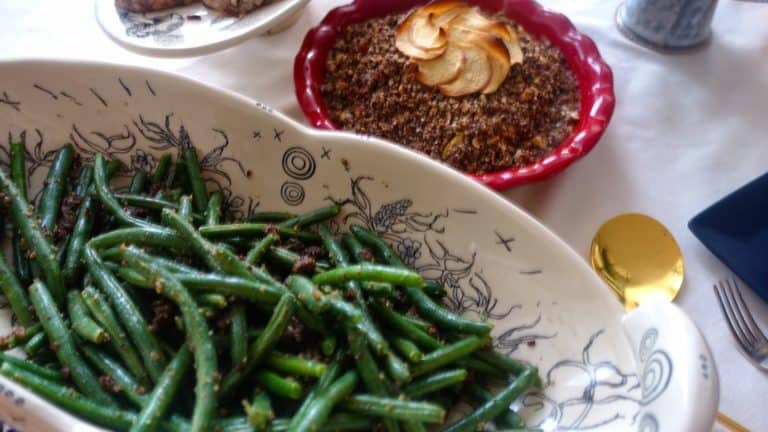 Cauliflower Stuffing by Wholesome Yum
Just. Wow. Not only is cauliflower better for you, I think it tastes so much better than bread! And to add all the other delicious stuffing vegetables. This is going to be a great addition to any spread.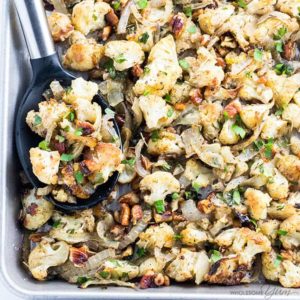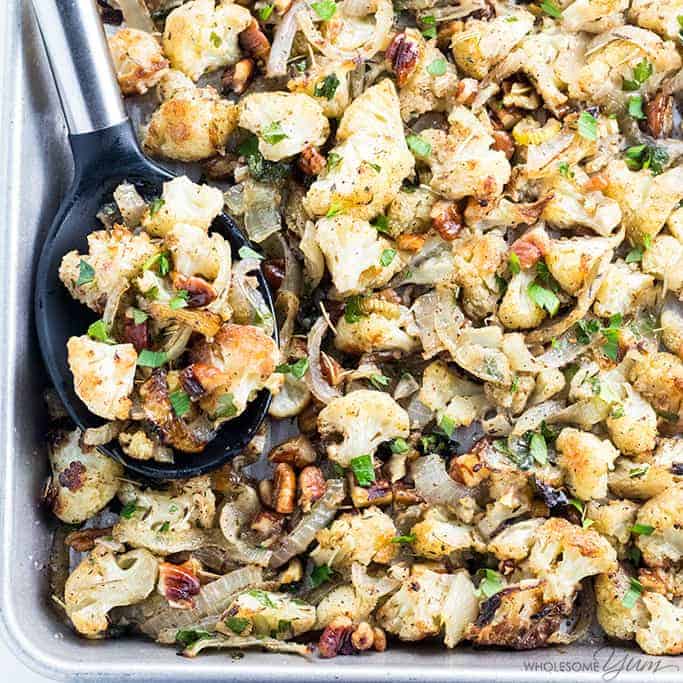 Healthy and Paleo Starches
Sweet Potato Mash with Caramelized Onions by Allergy Girl Eats
Everything in here is delicious and nutritious. This is the perfect paleo (yet starchy) side dish, complemented by onions, rosemary, olive oil and a little salt and pepper.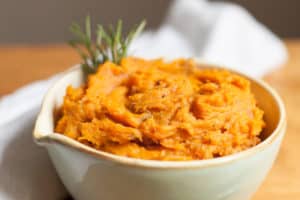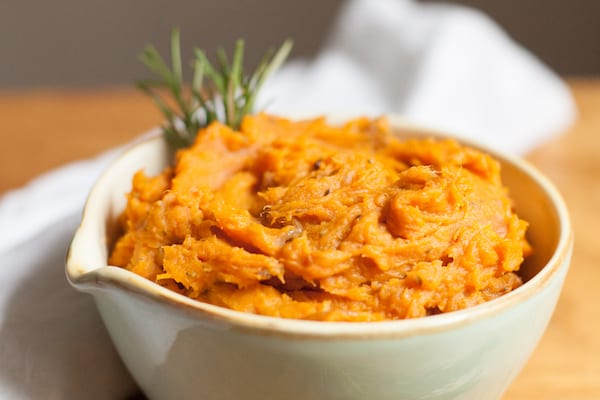 Caramelized Butternut Squash by What the Fork
This simple 5 ingredient recipe is a perfect dish for anyone intimidated by presenting a dish to friends and family. Delicious.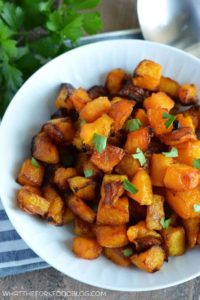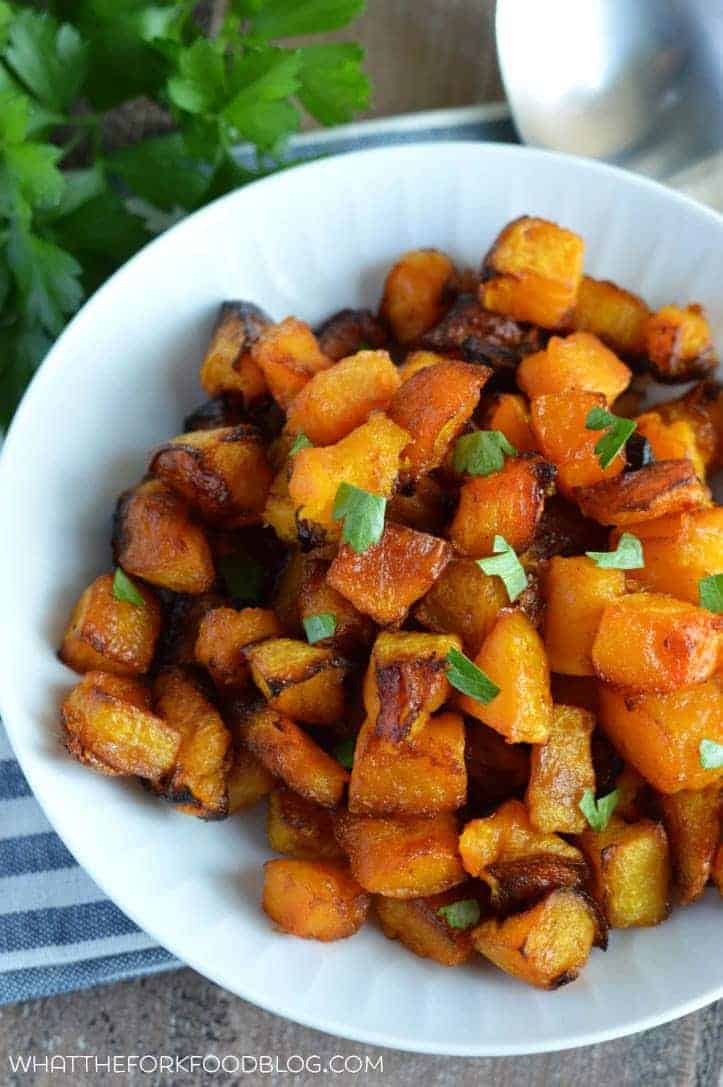 Smashed potatoes and Parsnips with Garlic Olive Oil by Go Dairy Free
There are so many delicious words just in the title alone. And this is flavored with spices, olive oil and garlic for a tastier and healthier outcome. Yum!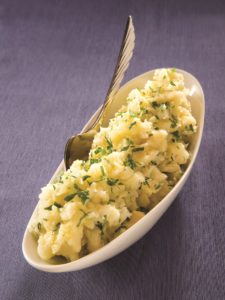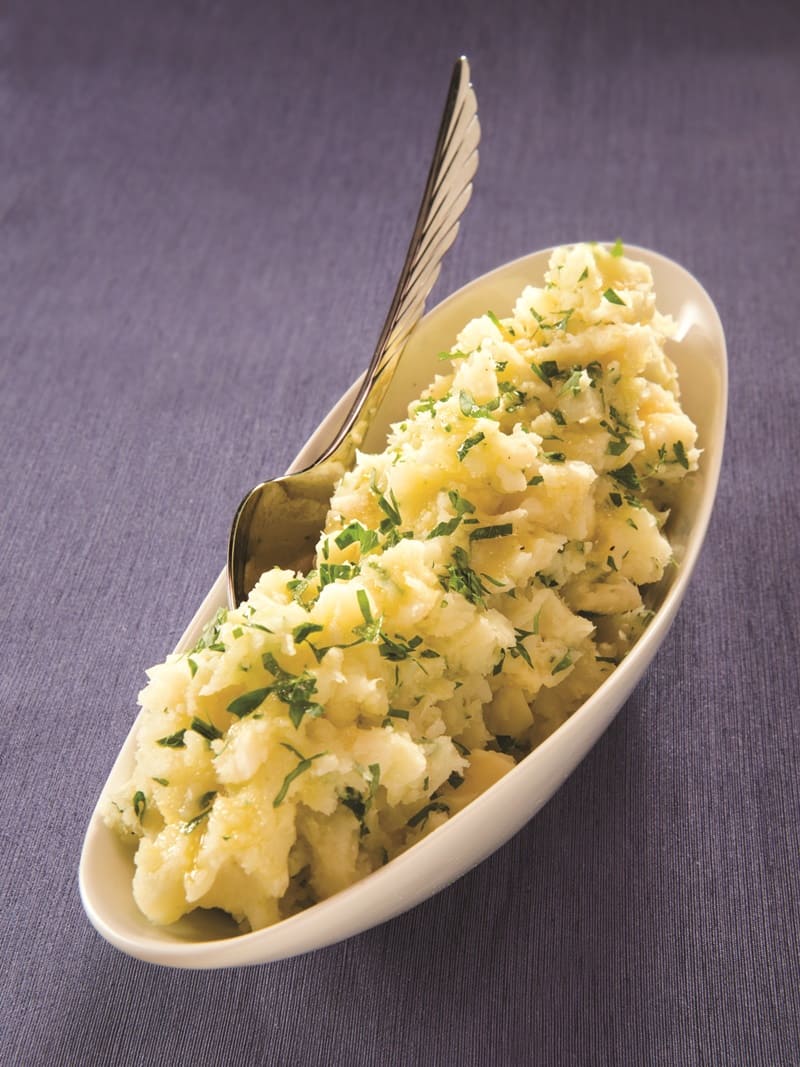 Dairy Free Bacon Mashed Potatoes by Celiac Mama
Because… Bacon! And Thanksgiving basically means you have a free pass to eat all the carbs. So, dig in on this healthier version of an indulgent side.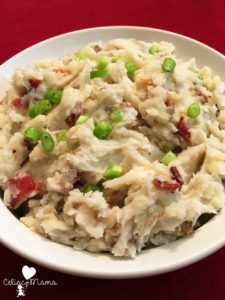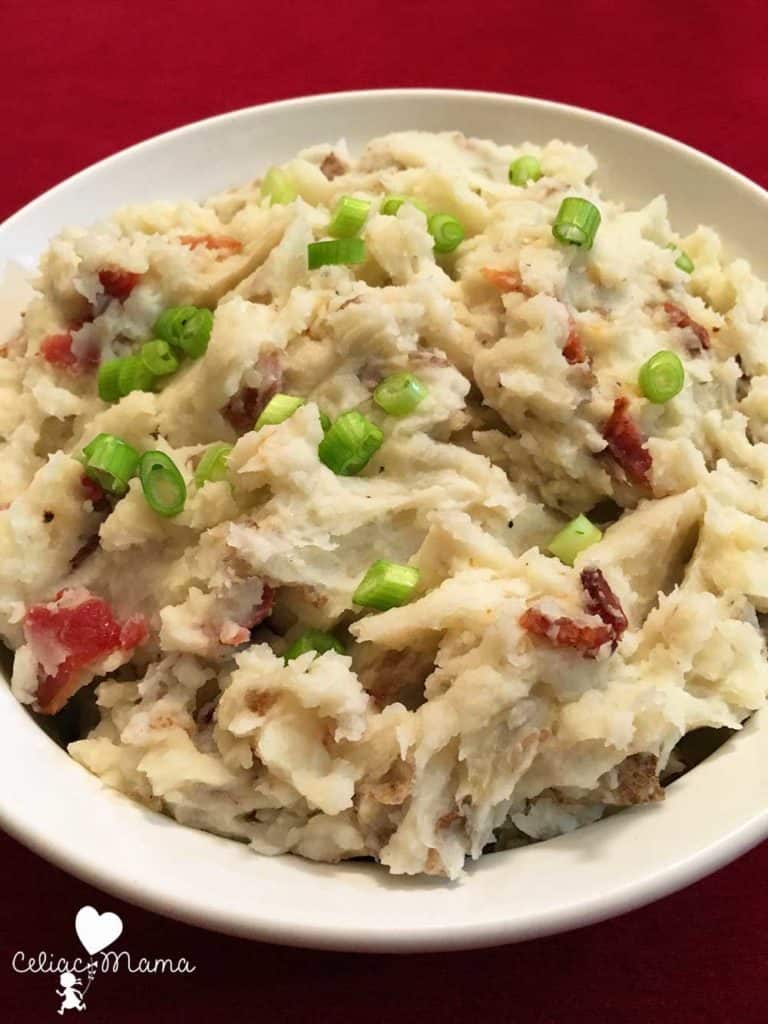 Creamy Mashed Rutabegas by Fearless Dining
Rutabagas are an awesome substitute for potatoes! Substitute butter with coconut oil and heavy cream with wither cashew cream or coconut cream for a dairy-free version. If Paleo, Ghee would be a good substitute for the butter.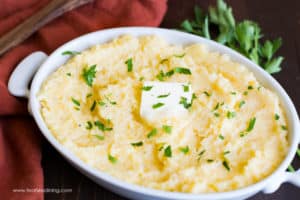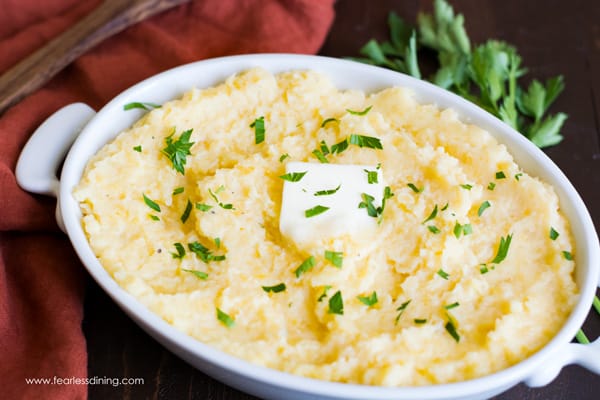 The sweeter sides
Healthier Sauteed Apples by Texan Erin
Baked apple goodness accented with some all natural maple and cinnamon. This I could dig into. I also recommend trying with a little less maple since the apples already pack a lot of natural sweetness.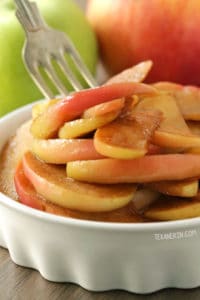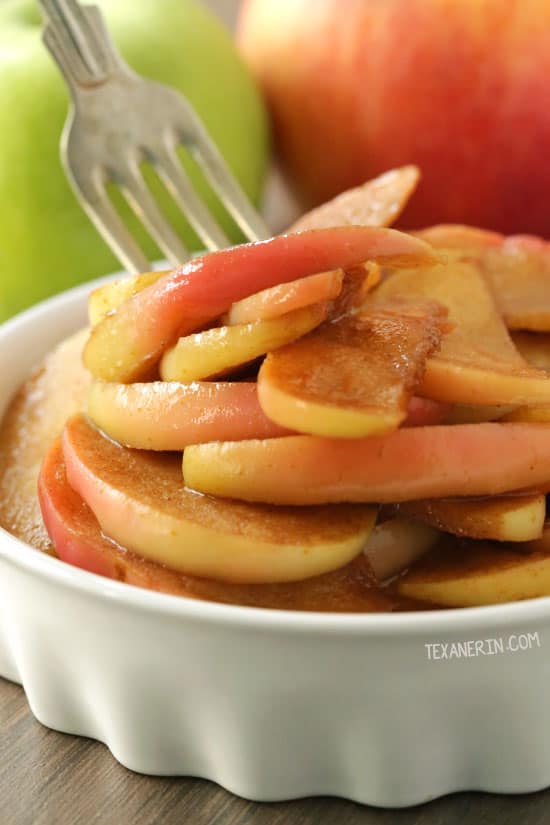 Molasses, Maple and Miso Candied Sweet Potato by Go Dairy Free
I am so excited about the miso in this recipe. What a great way to add depth of flavor. These will be a hit at any Thanksgiving or friendsgiving. For. Sure. Make sure to use GF tamari in the recipe.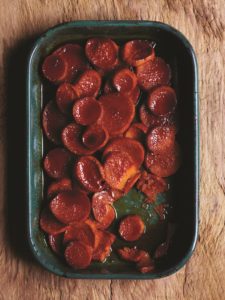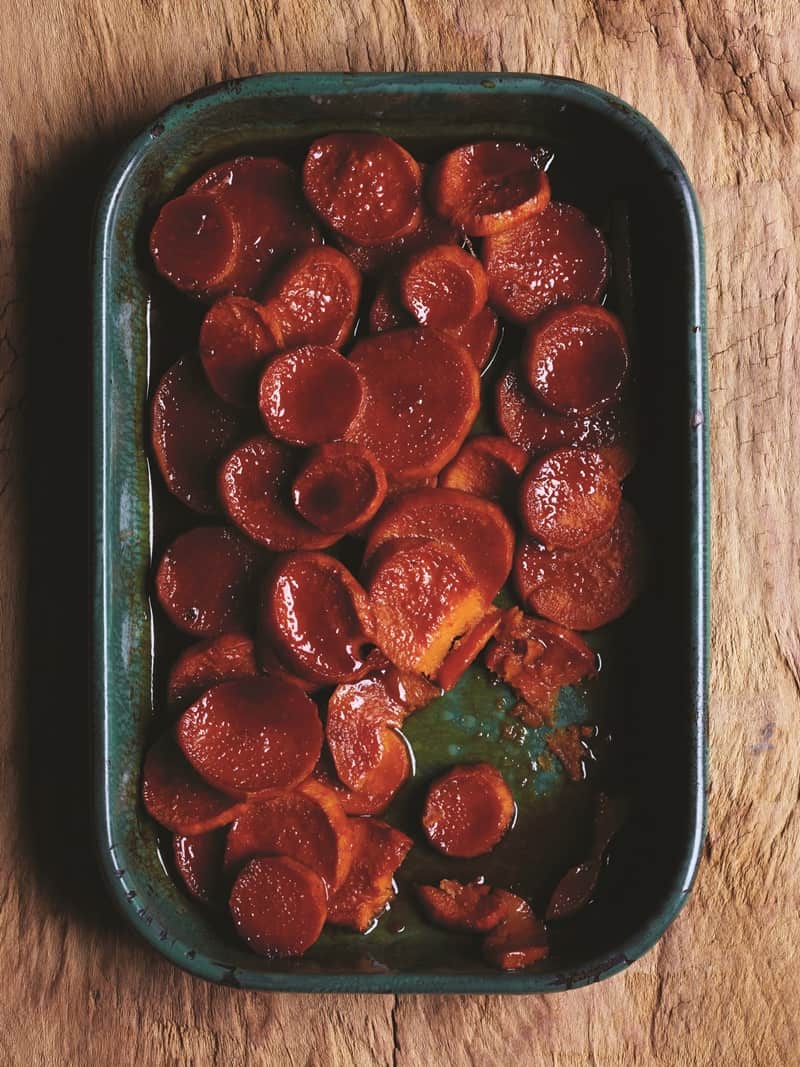 Paleo Sweet Potatoe Casserole by Mama Knows Gluten Free
This is a gluten-free southern girls dream! tons of sweetness and toasty nuts. I would use coconut butter to keep it dairy free and natural and cut the sugar quantities in half.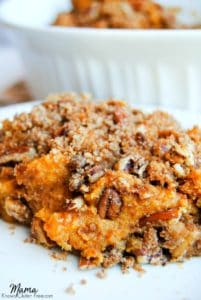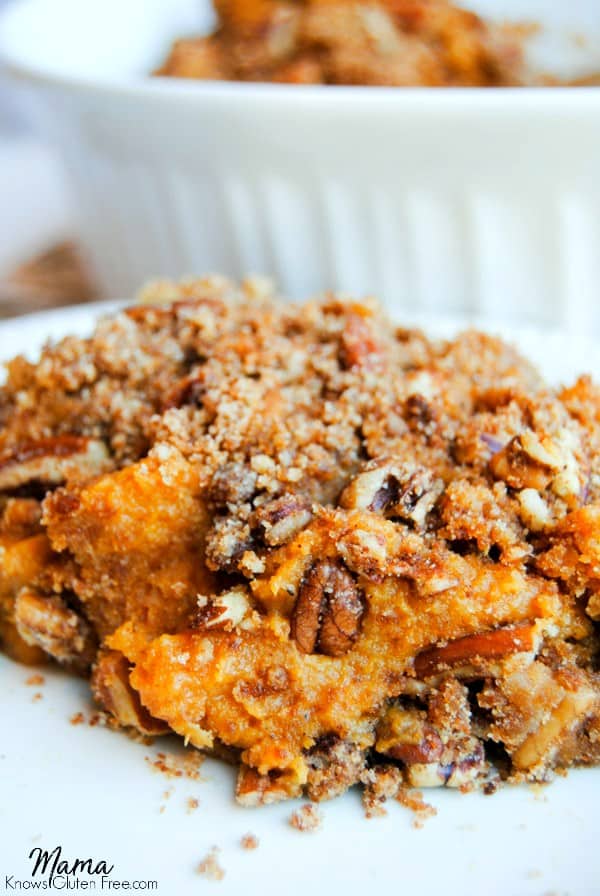 You had me at Yams… but then you added blueberries?! can't say no to this one. Use maple syrup to keep it refined sugar free.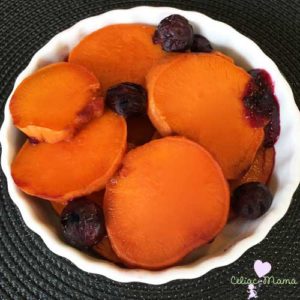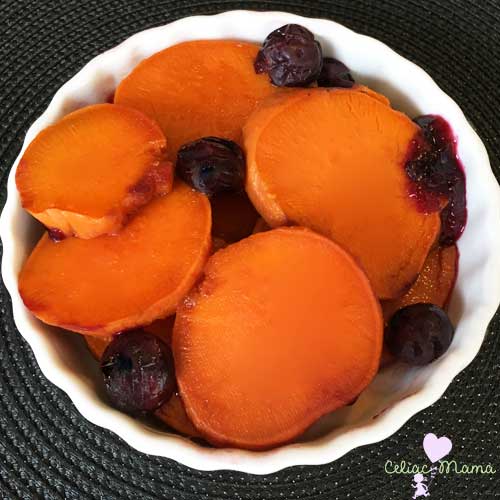 Sweet Potatoe Casserole with pecan praline topping by Meaningful Eats
One sweet potato casserole just isn't enough. 🙂 Make sure to use the coconut oil and gluten free flour in this recipe.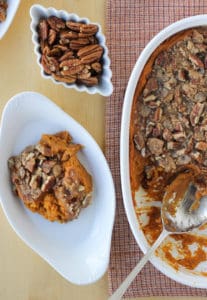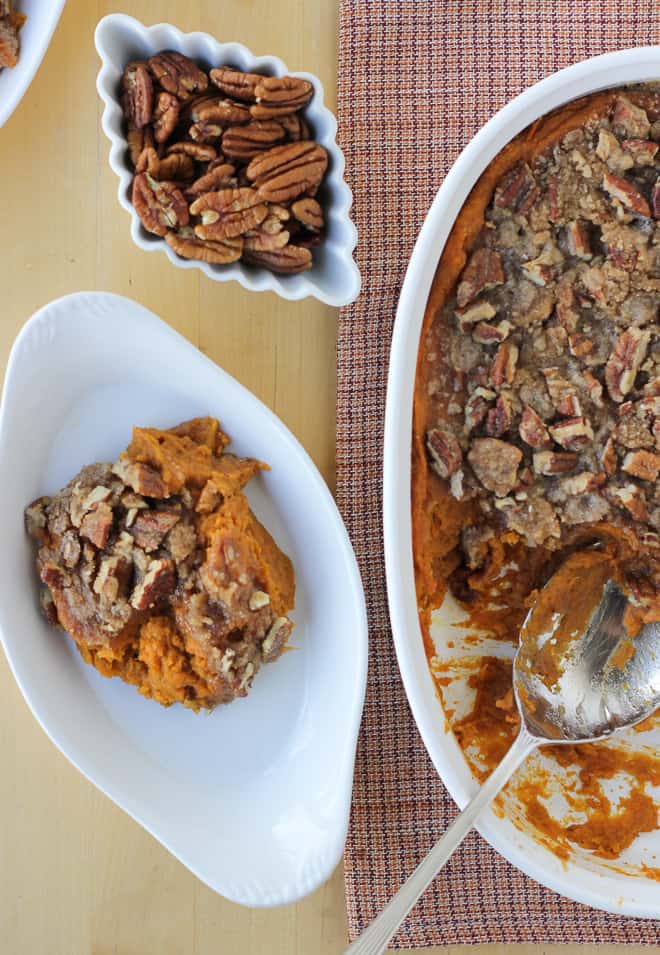 Follow our Thanksgiving Board on Pinterest!
Sharing is Caring! Pin this for Later and for your Friends!