Blistered and truffled purple green beans sautéed in white truffle paste create a purple and green tie-dyed plate that's the perfect savory accompaniment for any ketogenic or paleo dinner.
I love purple foods but it drives me crazy that when you cook them, the purple goes away. It's like there's no proof of how beautiful they once were.
But there's a solution to keeping them purple!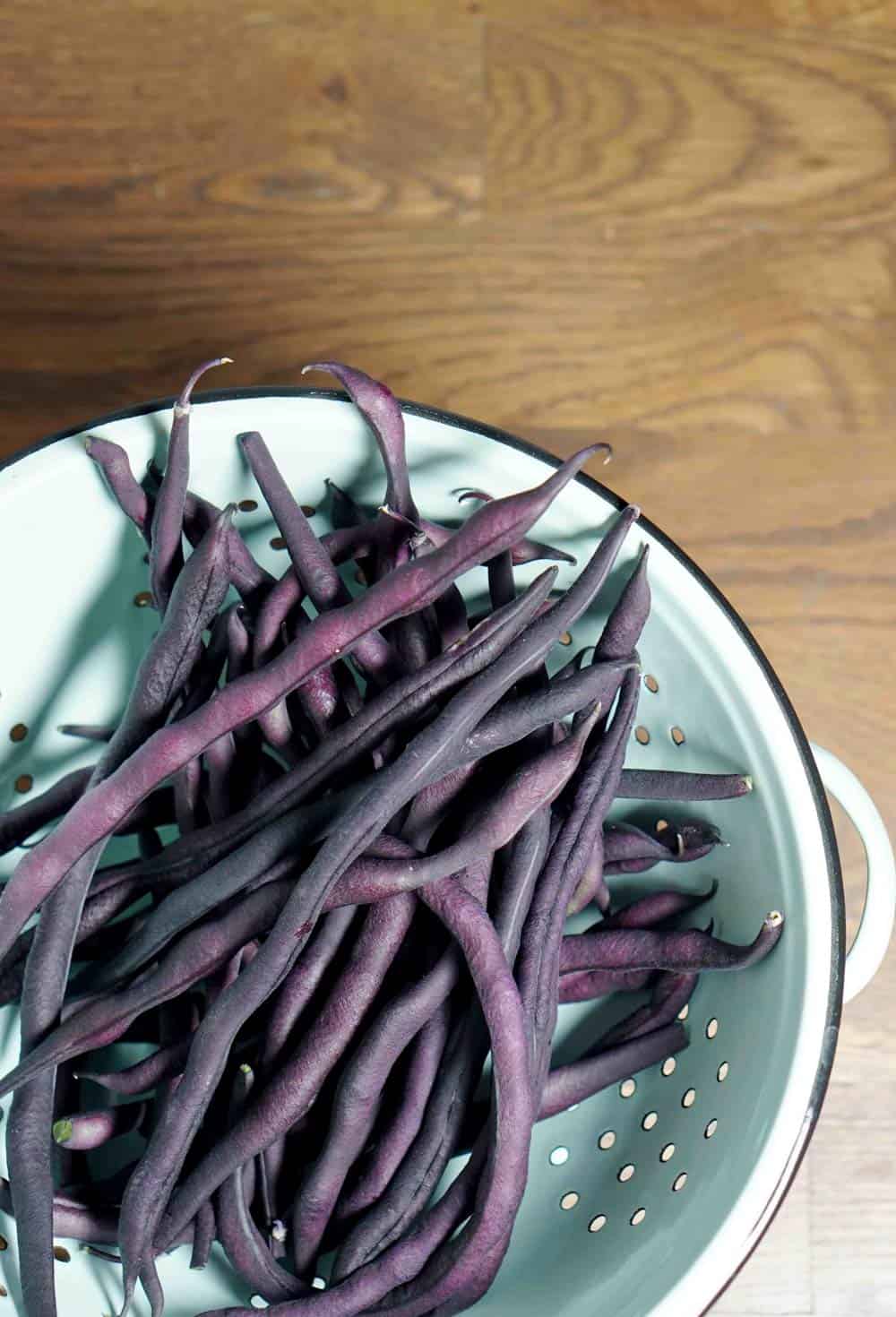 What gives that purple color?
A molecule called anthocyanins gives that vibrant purple color to beans and other vegetables like purple cabbage, purple asparagus, and purple bell peppers.
When the beans (or peppers, cabbage) cook, the heat breaks down the anthocyanins and leaves the green color from chlorophyll. So they become just a regular green bean instead of a purple green bean.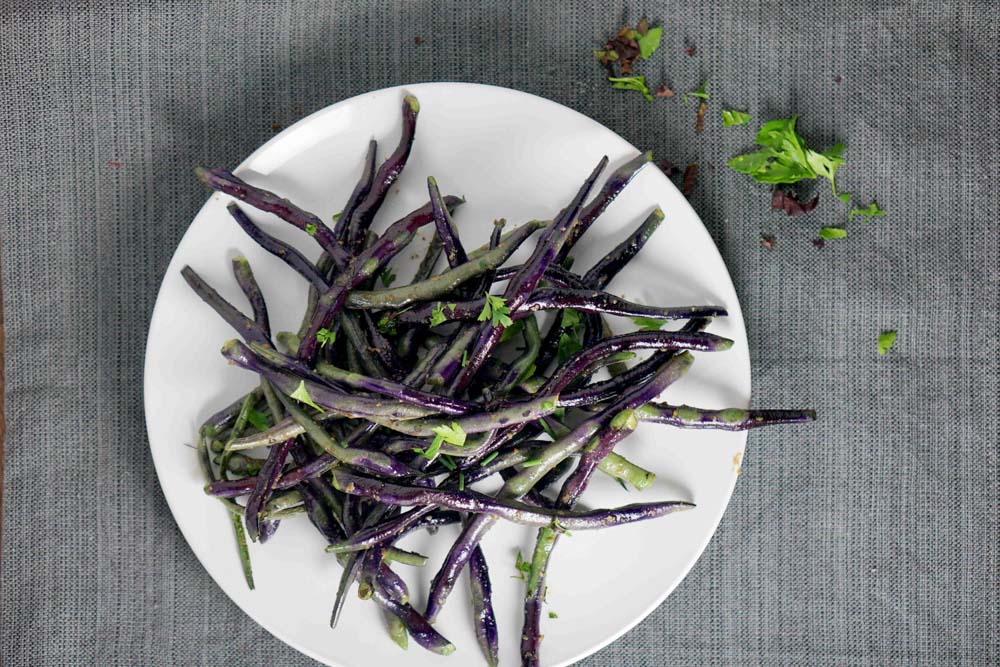 The answer to preserving that lovely color in the Hyacinth Beans?
Cook purple veggies al dente or eat them raw.
Blistering green beans on the stove top leaves an awesome tie-dye effect with winding swathes of purple and green flowing across each other. What you get is a purple and green bean, which looks pretty cool, IMHO.
And it's pretty appetizing.
Truffled Purple Green Beans
I blistered these babies on the skillet to give the tie-dyed look and preserve some of the purple. I wanted a really savory taste so I added white truffle paste to the beans as they sautéed.
They are a delicious side to any protein, but they are especially good with a nice steak or roast chicken.
Sharing is Caring! Pin for Later!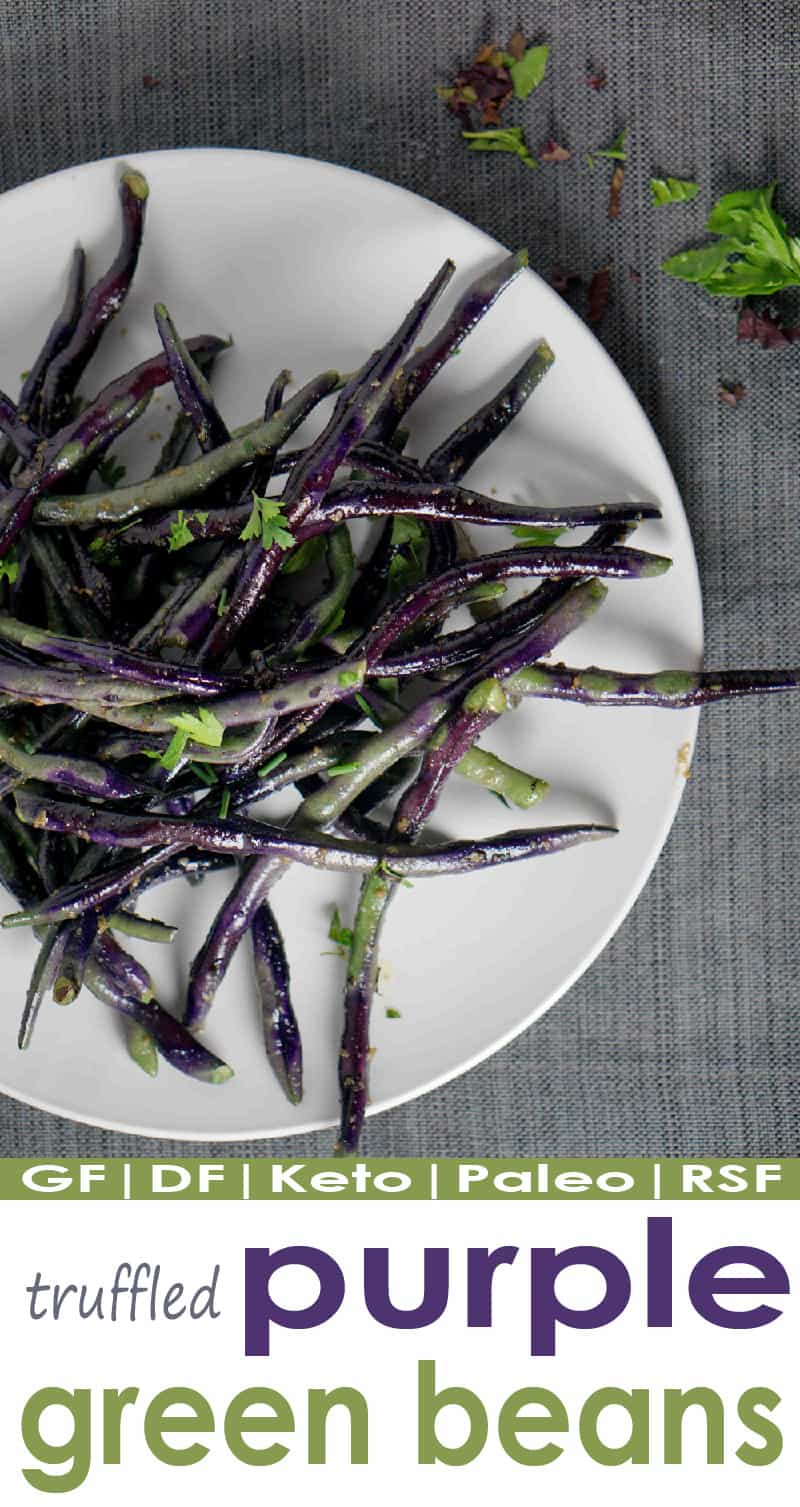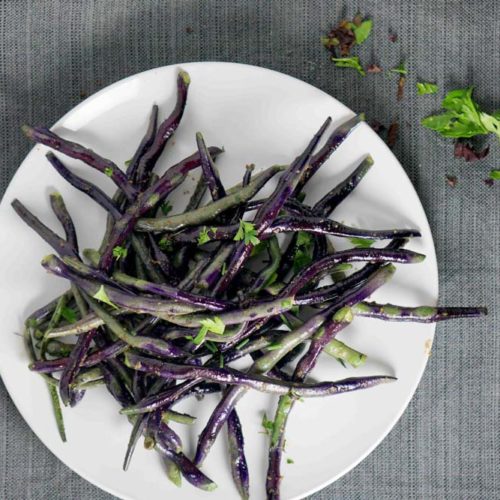 truffled purple green beans
Blistered Purple Hyacinth green beans sauteed with white truffle paste create a purple and green tie-dyed plate that's the perfect savory accompaniment for any dinner.
Print
Pin
Rate
Ingredients
1

lb

purple green beans

washed and trimmed

1/2

tbsp

white truffle paste

1

tbsp

extra virgin olive oil

Few turns fresh ground Himalayan salt to taste
Instructions
On medium-high heat, heat oil and truffle paste for about 60 seconds in a skillet

Add green beans and stir until the oil and truffle evenly coat all the beans.

Let cook, stirring regularly, allowing some parts of the green bean to cook more than others.

After 5-7 minutes, remove beans from skillet and serve

The beans should be part green in the more cooked areas and part purple in the less cooked areas.