Pumpkin season usually means pumpkin pies, lattes, whipped cream and sugar hangovers. But not this year! There are tons of absolutely amazing ways to enjoy pumpkin with no sugar, dairy or grain at all! From soups and curries to no bake bites, see how these awesomely creative and healthy pumpkin recipes can improve your holiday season. Maybe you'll have a new treat for the family at Thanksgiving this year 🙂
11 of the Best Healthy Pumpkin Recipes
Pumpkin Bars: These pumpkin bars look like perfection and only have 11 real food ingredients, making them good for you and easy to eat morning, noon or night. Plus, I love the idea of adding frosting to these to make something a little sweeter. I think I'm going to try them with chocolate sweet potato frosting. 🙂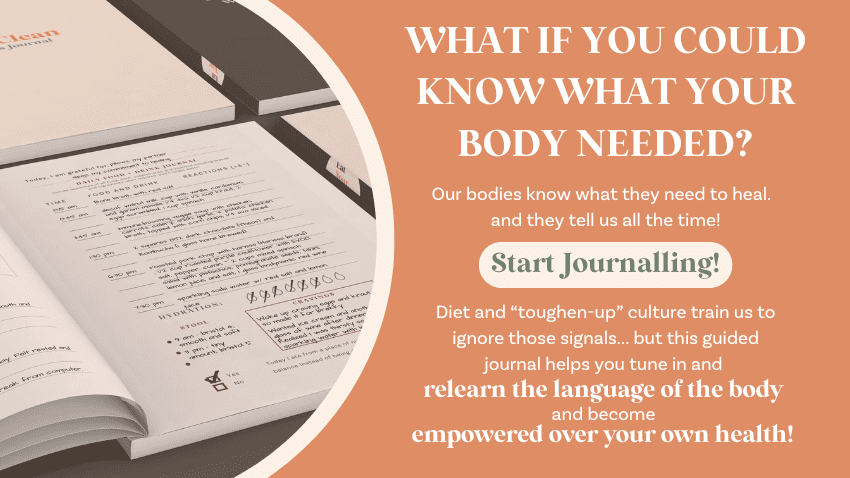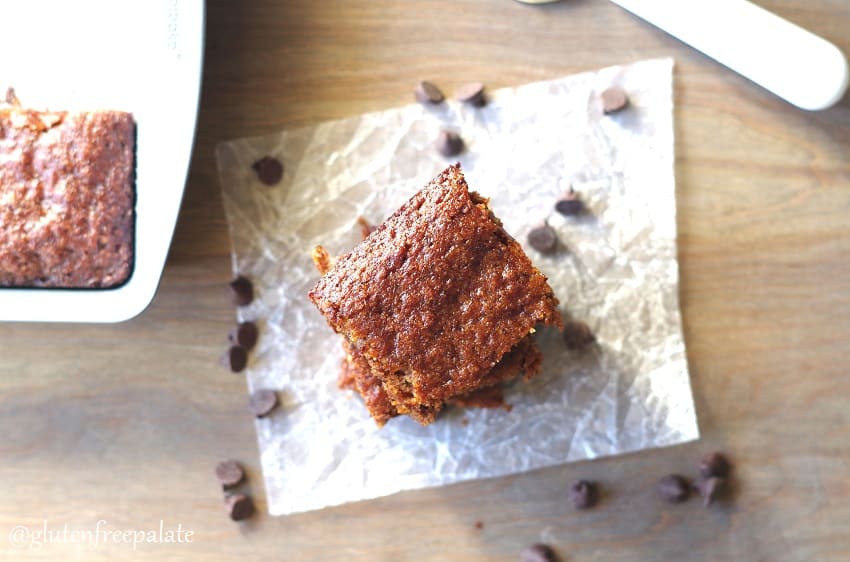 Look for the Pumpkin Bars Recipe by Chrystal at Gluten Free Plate
5 ingredient slow cooker Pumpkin Curry Soup: Pumpkin soup is one of the most delicious ways to enjoy pumpkin – it utilizes the natural richness of the filling squash and is usually free of sugars and grains, making it a naturally healthy choice. But so many pumpkin soup recipes include cream or cheese. I love this pumpkin soup recipe because it's naturally dairy free and full of flavor and pumpkiny creaminess. Everything about this 5 ingredient slow cooker pumpkin curry soup says fall. It's beautiful to look at and you can start it and not worry about it all day which is great for a busy fall weekend or Thanksgiving day. And doesn't it just look beautiful? That plaid napkin, those bowls… I feel like I'm in a cozy mountain cabin next to the fire in my flannels just looking at it.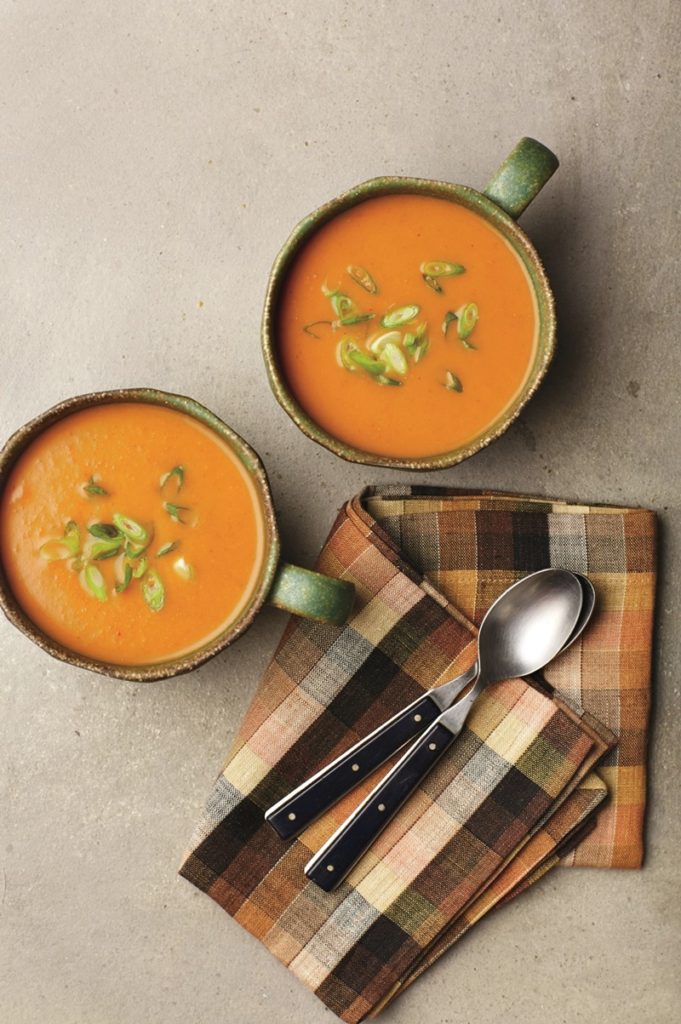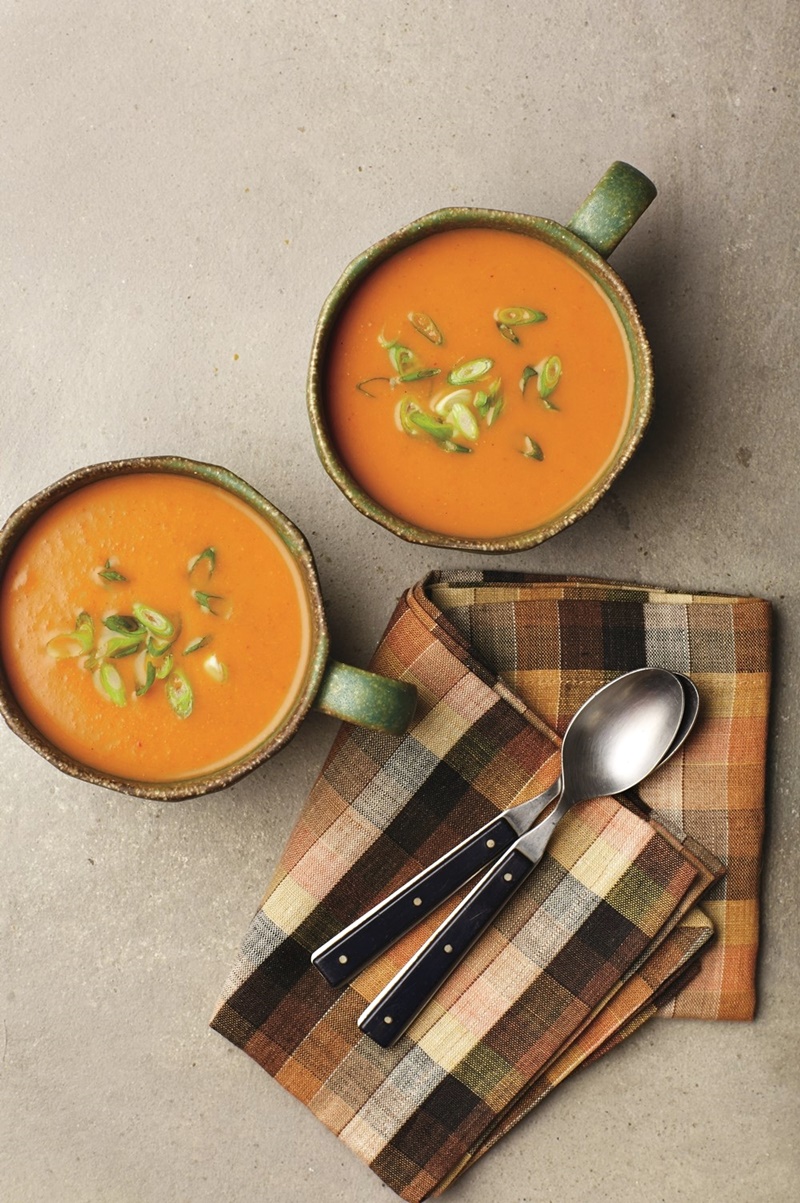 Find the Pumpkin Curry Soup Recipe by slow cooker expert Stephanie O'Dea at Go Dairy Free.
Roasted Pumpkin Curry: Taking the Thai curry just a little bit further, we can make a full roasted pumpkin curry using pumpkin, cilantro and Thai red curry paste. A delicious way to use fresh pumpkin instead of pumpkin puree. Also great with chicken and toasted pumpkin seeds.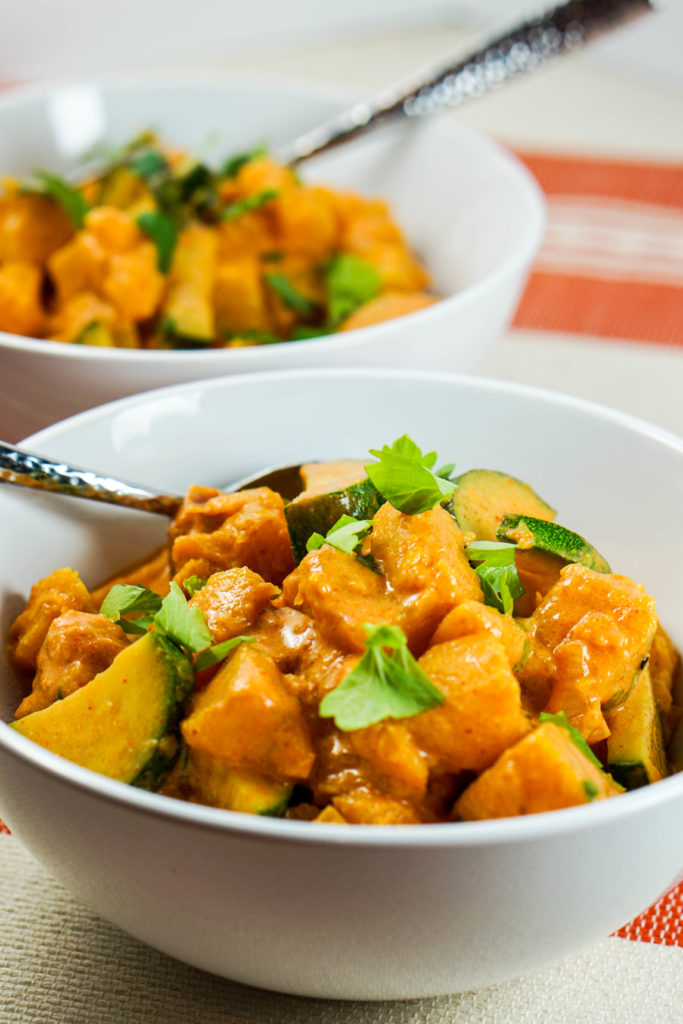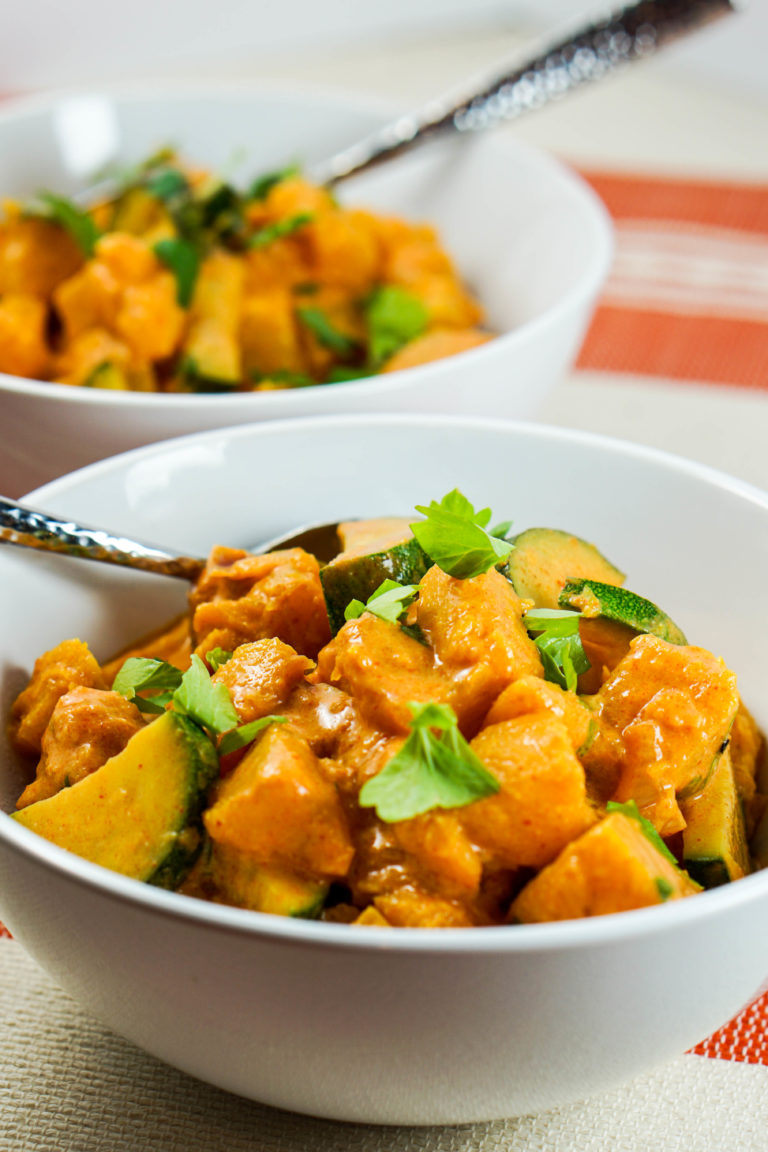 Try the Roasted Red Pumpkin Curry Recipe here.
Pumpkin Pie is a classic – but you can clean it up and make a healthier version for you and your family. I love Erin from Texanerin's Paleo Vegan Pumpkin Pie Recipe because it looks exactly like the real deal! … And because it has coconut whipped cream on top. I'm a sucker for coconut whipped cream 🙂 That texture is spot on! If you try to avoid coconut sugar then you can swap out with honey or remove for a slightly less sweet version.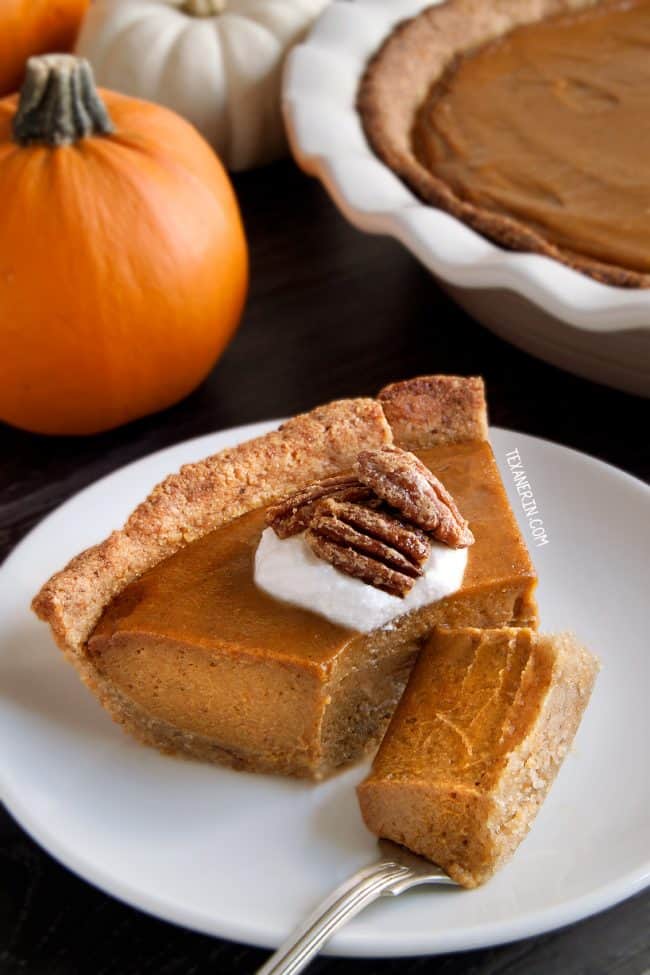 Find Erin's Paleo Vegan Pumpkin Pie Recipe at Texanerin
Pumpkin Rum Tart: This simple and decadent pumpkin tart has rum in it… need I say more? Almonds, coconut oil, pumpkin, spice… and rum. I'm sold. This is the perfect dessert for Thanksgiving in my humble opinion. Adults only please 😉 Sandi at Fearless Dining knows how to make things gluten free without a sacrifice.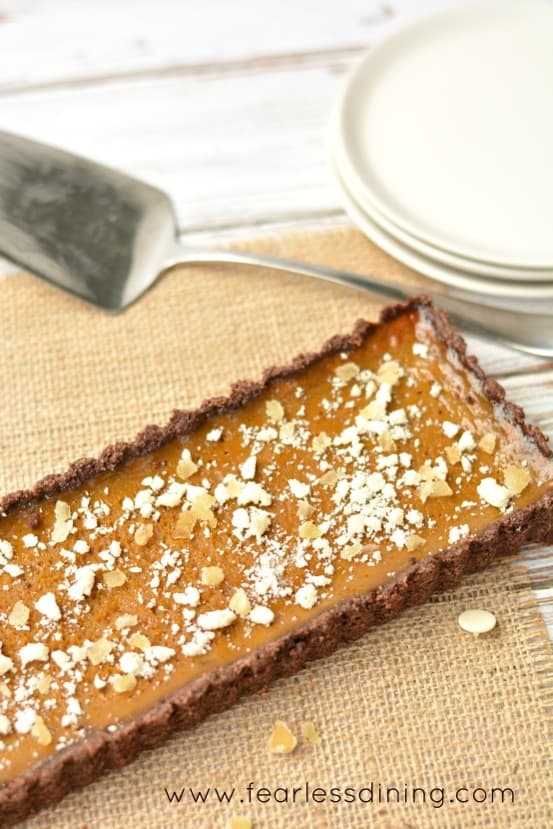 Find the Gluten Free Pumpkin Tart Dark Rum Recipe Recipe at Fearless Dining.
Pumpkin Spice Latte Cookies: Did you know that pumpkin flour is a real thing out there on the market? Me neither… which is why I was so so stoked to see Rebecca from Strength and Sunshine share this awesome soft grainless pumpkin spice latte cookies recipe. You can make deliciously amazing pumpkin flavored treats using pumpkin flour – so they are naturally grain free! She uses actual pumpkin flour along with fresh pumpkin puree for these soft and fluffy cookies. I think these would also be good with honey instead of stevia 🙂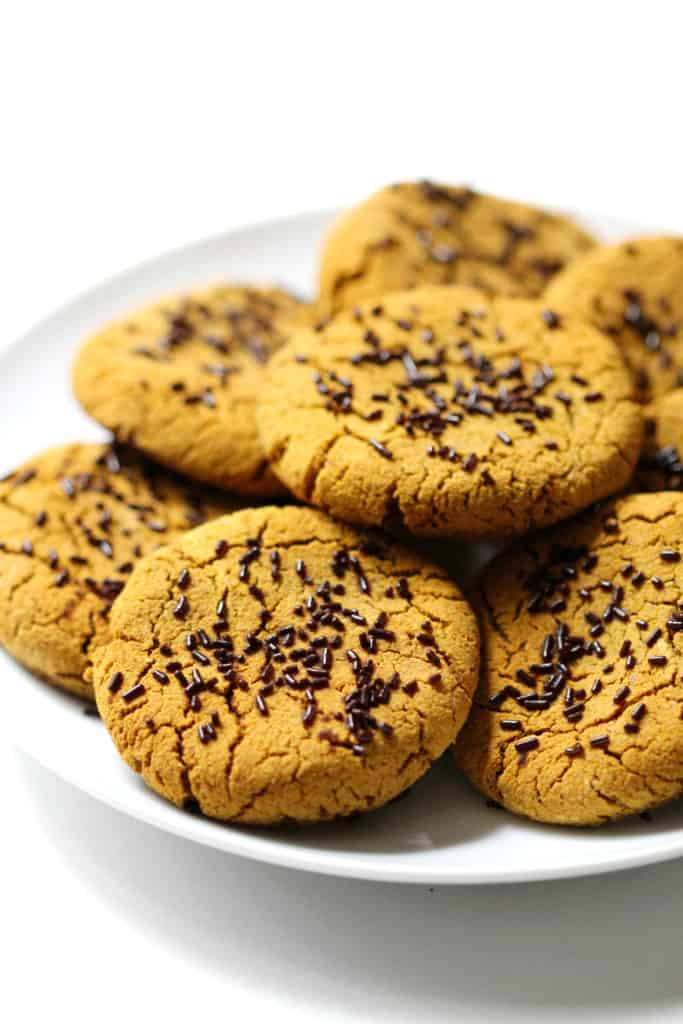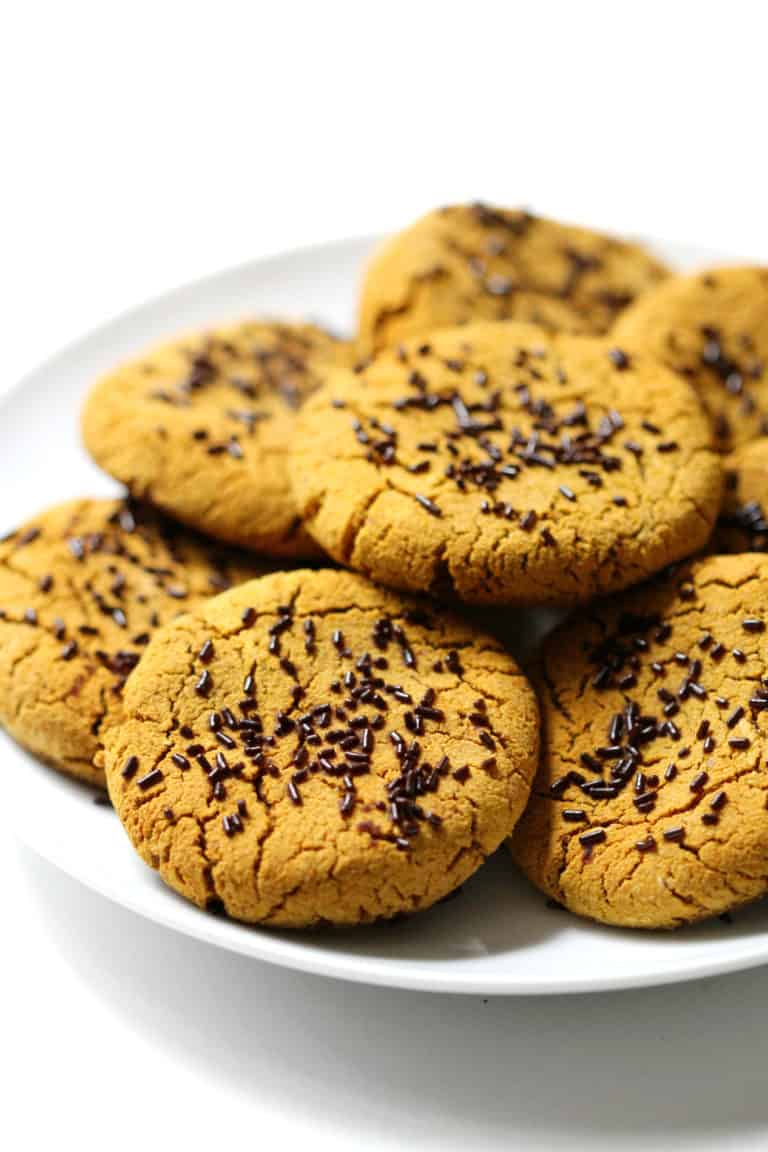 Find the soft grainless pumpkin spice latte cookies recipe at Strength and Sunshine.
5 More!
Pumpkin Pie: It's such a classic, we included it twice! Alexa from Flo & Grace has the most beautiful picture perfect pie. Do you see those crust acorns and maple leaves? Out of control. Try her recipe here for a delicious gluten free and dairy free pumpkin pie filling using coconut milk and see her suggestions for great gluten free crusts.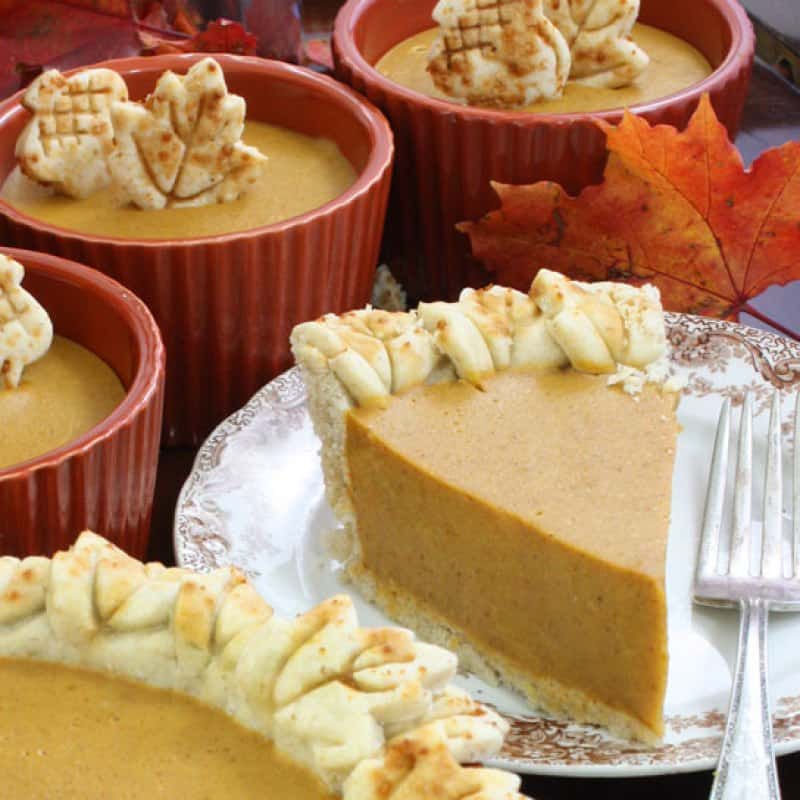 Try Alexa's Healthy Allergen Friendly Pumpkin Pie Filling Recipe at Flo & Grace.
No Bake Pumpkin Walnut Bites: Pumpkin, cinnamon, and red walnuts! I didn't even know red walnuts were a thing. Now I'm all about them. These treats from Kelly at Tasting Page are amazingly easy and full of fall flavor. What a perfect way to add some color to your dishes this year!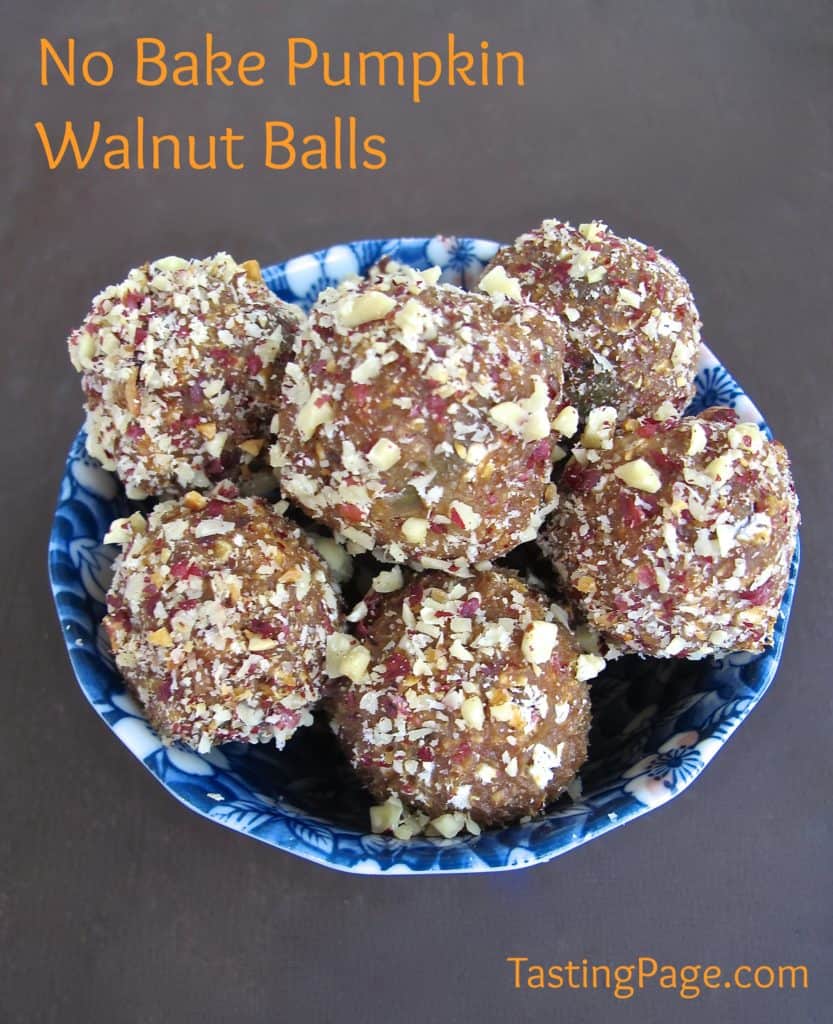 Find the No Bake Pumpkin Walnut Bites Recipe from Kelly at Tasting Page
Toasted Salted Pumpkin Seeds: For a quick healthy nut free and grain free snack, roast the fresh seeds until you get these delicious toasted pumpkin seeds.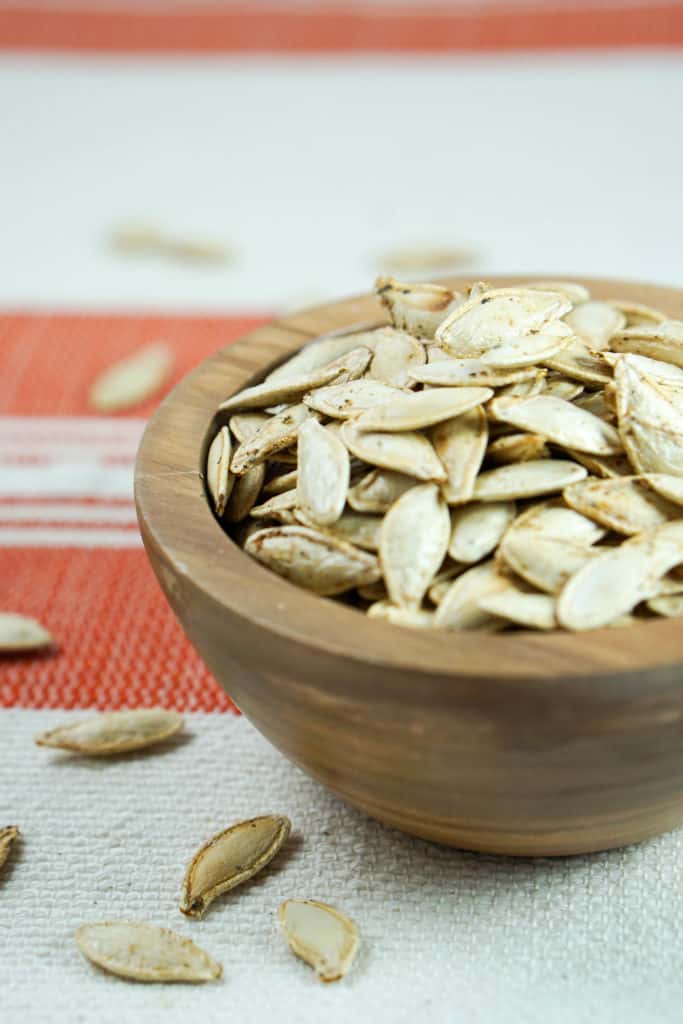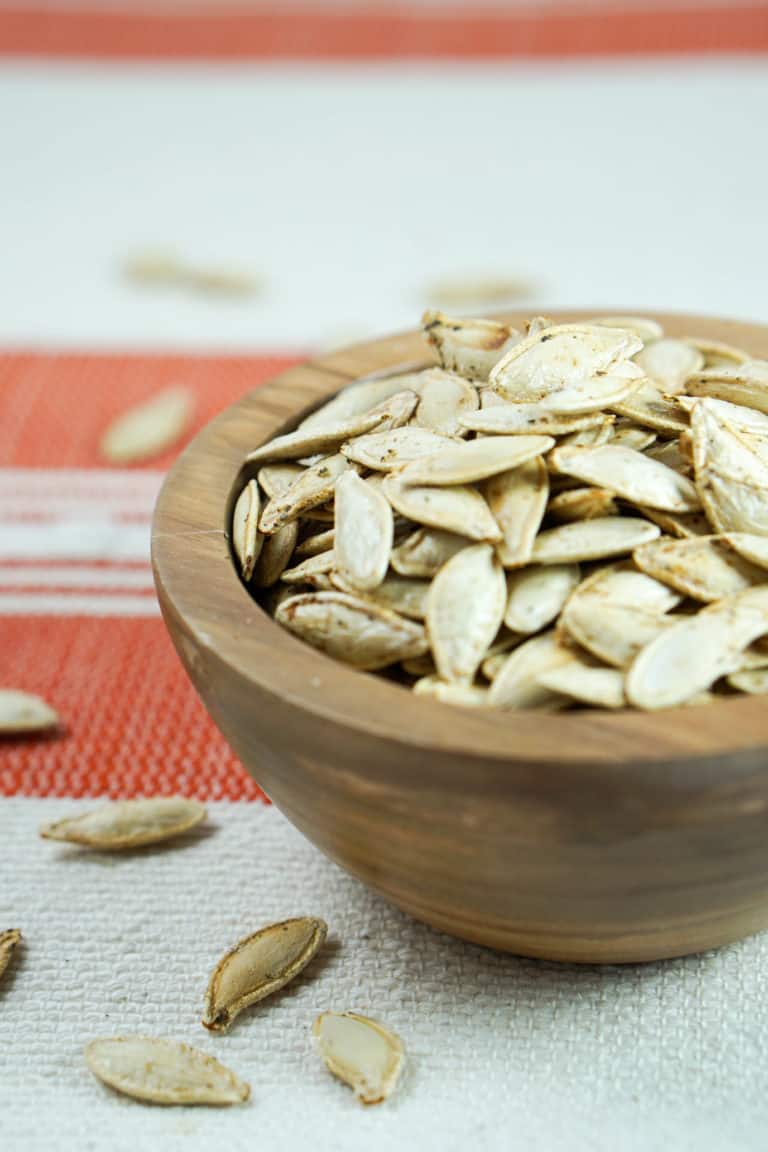 Find the recipe for toasted salted pumpkin seeds here.
Pumpkin Smoothies: This Pumpkin Pie Oatmeal Smoothie is a wonderfully healthy yet decadent way to start your day. I don' t usually use oats because I try to stay grain free.. but I might just make an exception for this amazing smoothie. It tastes like pie but is a healthy way to start or end the day – I'm sold!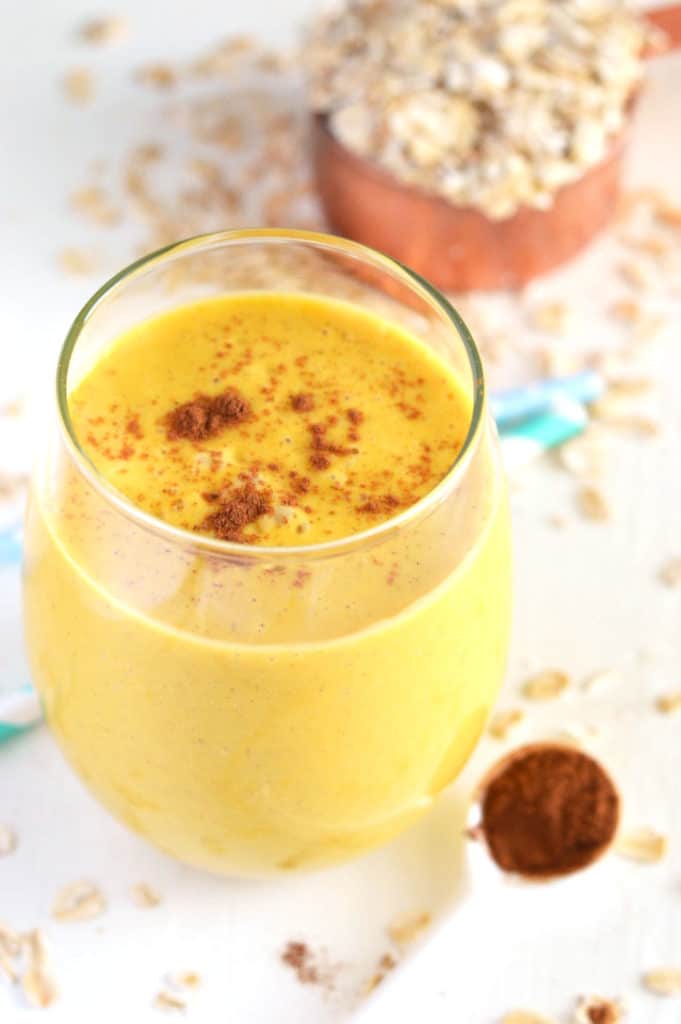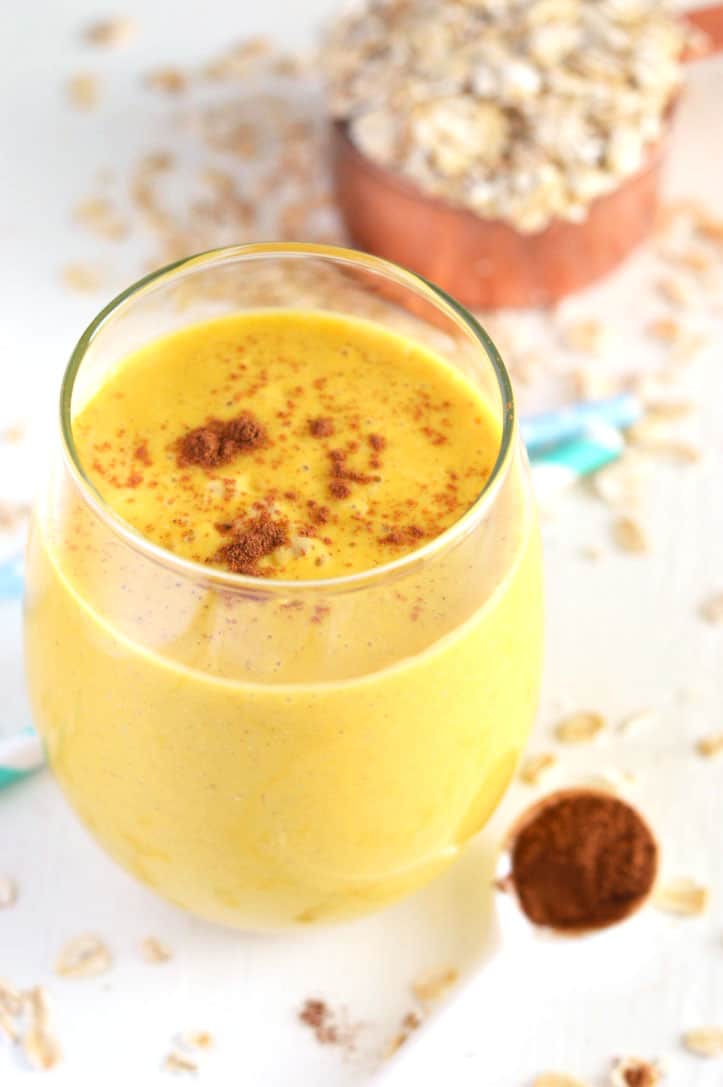 Find Sharon's Pumpkin Pie Oatmeal Smoothie Recipe at What the Fork
Pumpkin Pie Parfait: Shake up the pumpkin pie this year with a gluten free and vegan pumpkin pie parfait recipe from Emily and Gluten Free with Emily. I love this recipe because it involves coconut whip cream – one of my favorite things – and you can make it ahead of time.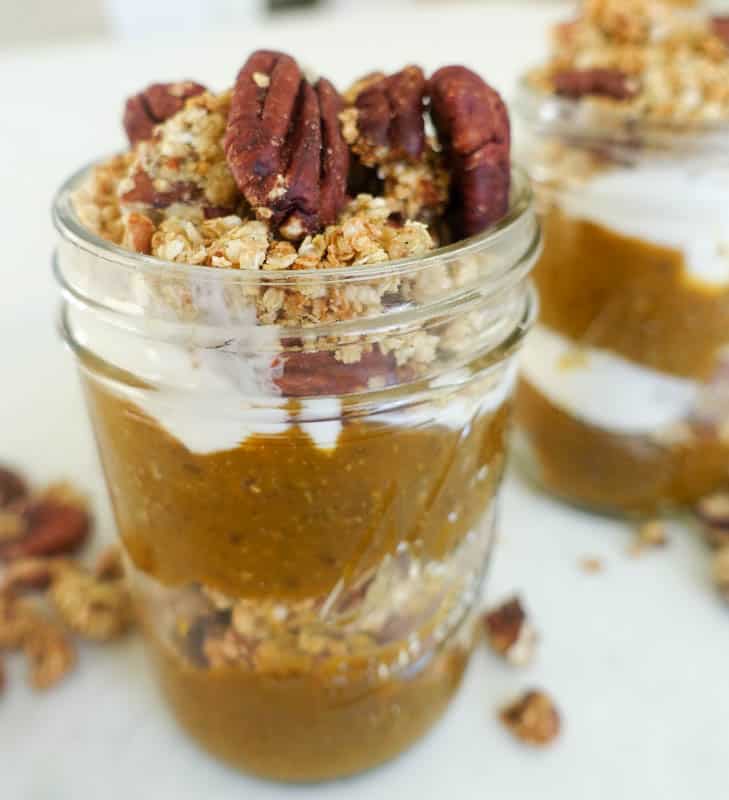 Find the pumpkin pie parfait recipe and other holiday recipes at Gluten Free with Emily
Like it? Share!