Ever since I saw a food network show dye frosting with blueberries, I've been dying to try it. I'm pretty sure food dye is most commonly found in frosting, and I just don't make that much frosting. I'm gonna go ahead and call that a good thing, but I needed to find a different place to use these real food colorings.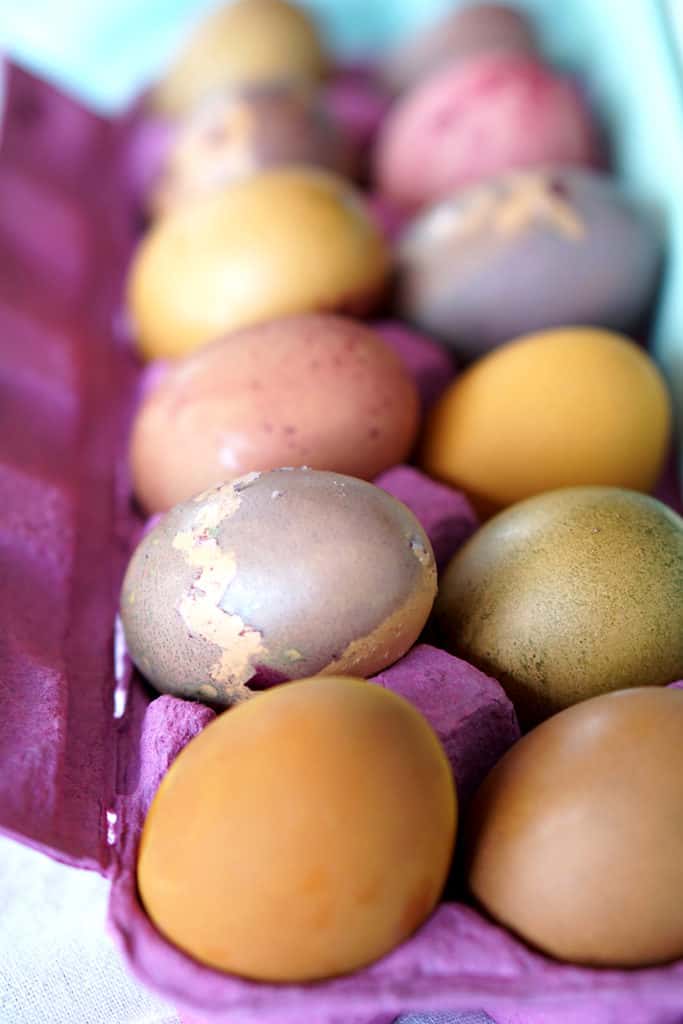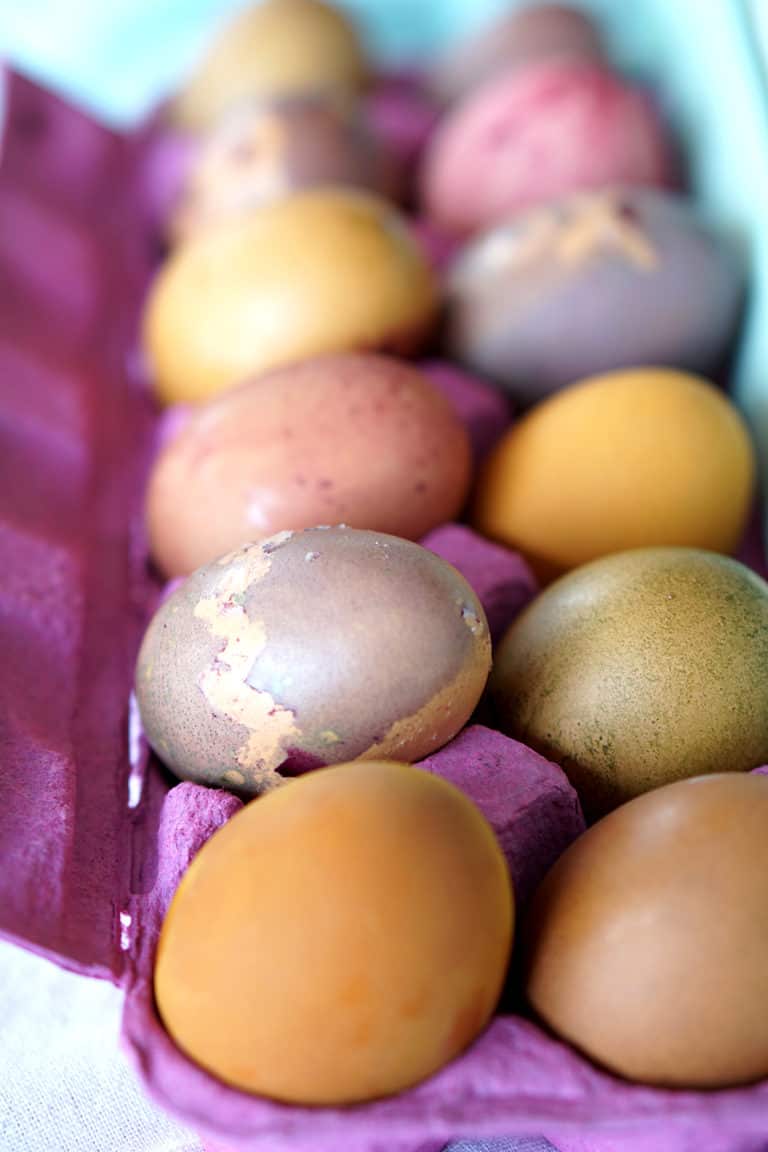 These natural food coloring made from food also makes it easier to maintain a detoxed life-style, cutting out
most of
the unnecessary preservatives and fillers in food and skin products.
It felt like a long time coming, and these Naturally Dyed Easter Eggs arrive just in time for the upcoming Easter holiday!
Brown or White Eggs?
Either brown or white eggs will work for this recipe. White eggs will be brighter after coloring and brown eggs will maintain an earthy brown hue.
Growing up we always had white shelled eggs and artificial dyes, so the eggs were very bright. Now, my go-to eggs tend to be brown as I always choose pasture-raised eggs. I didn't even think about how the brown tinted shells would impact the dye until I'd already purchased two dozen.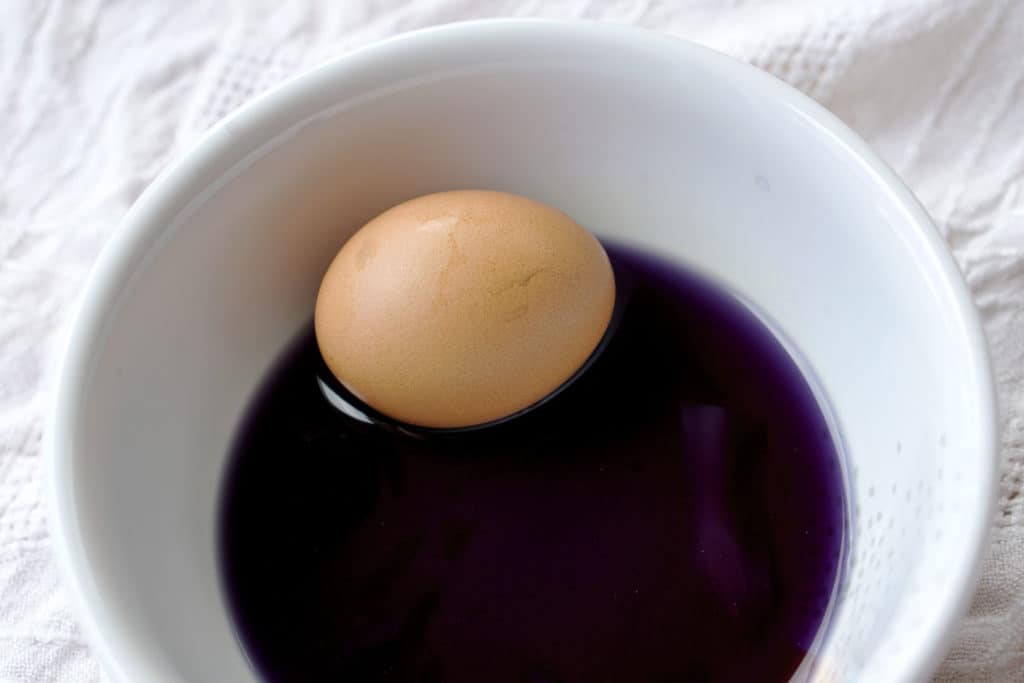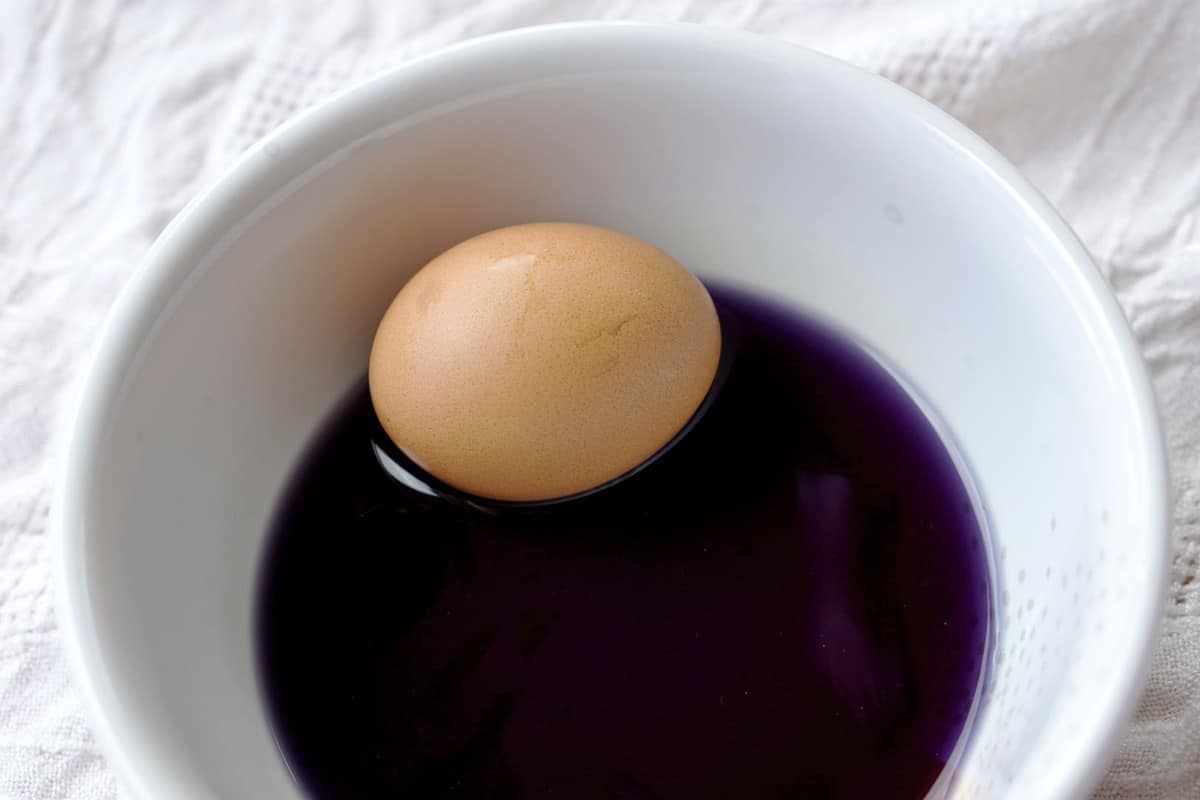 But I'm glad I went with the usual brown because they give the finished product an earthy, natural look that I love!
But I'm glad I went with the usual brown because they give the finished product an earthy, natural look that I love!
I imagine these dyes would be even more intense on standard white shelled eggs or in whipped coconut frosting like the one I use on this
lemon orange scone cake
.
The Natural Dyes made from Real Foods
I went into this mini-experiment with the intentions of finding the best natural dye. Some of the outcomes were expected and obvious, but others were surprising. For example, I already expected turmeric and beets to be great dyes. I also expected spirulina to lend much brighter and richer green than it did.
Here are some things I didn't expect:
Parsley doesn't dye anything green. Neither does Cilantro
Despite how intensely green Spirulina Powder is, it doesn't transfer pigment very well. It took a while for the green to soak into the eggs, and it worked better when mixed with oil than when mixed with water.
Blueberries and blackberries are the best natural food dyes!
Another somewhat unrelated lessons learned: don't soft-boil eggs and neglect to tell the consumer. Apparently, when biting into something you expect to be solid, liquidy egg yolk is not pleasant, and borderline terrifying. Sorry, J!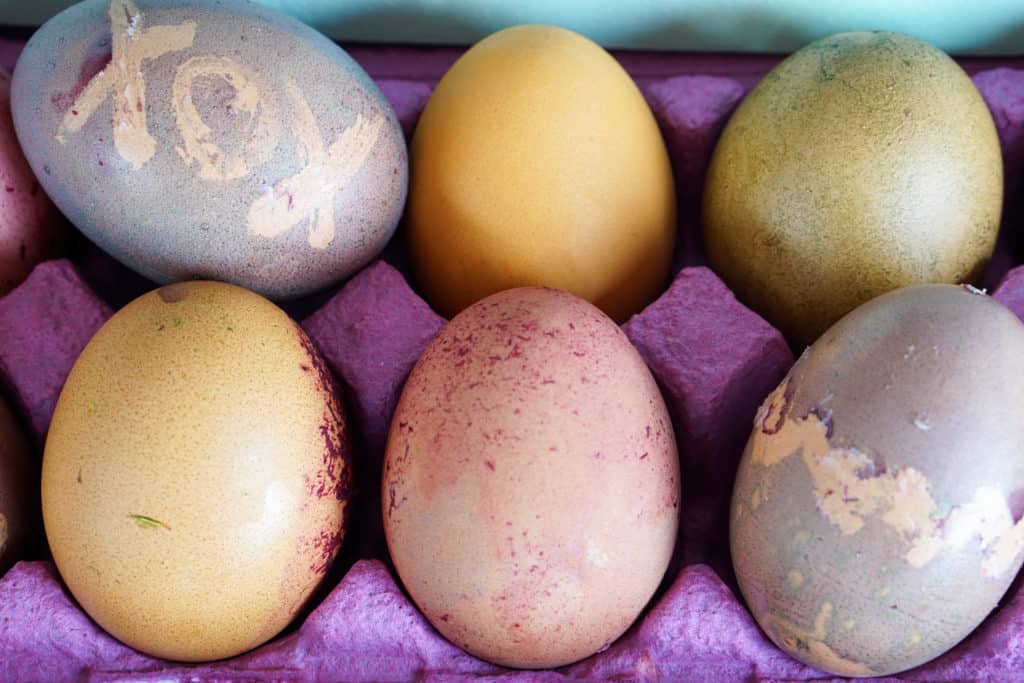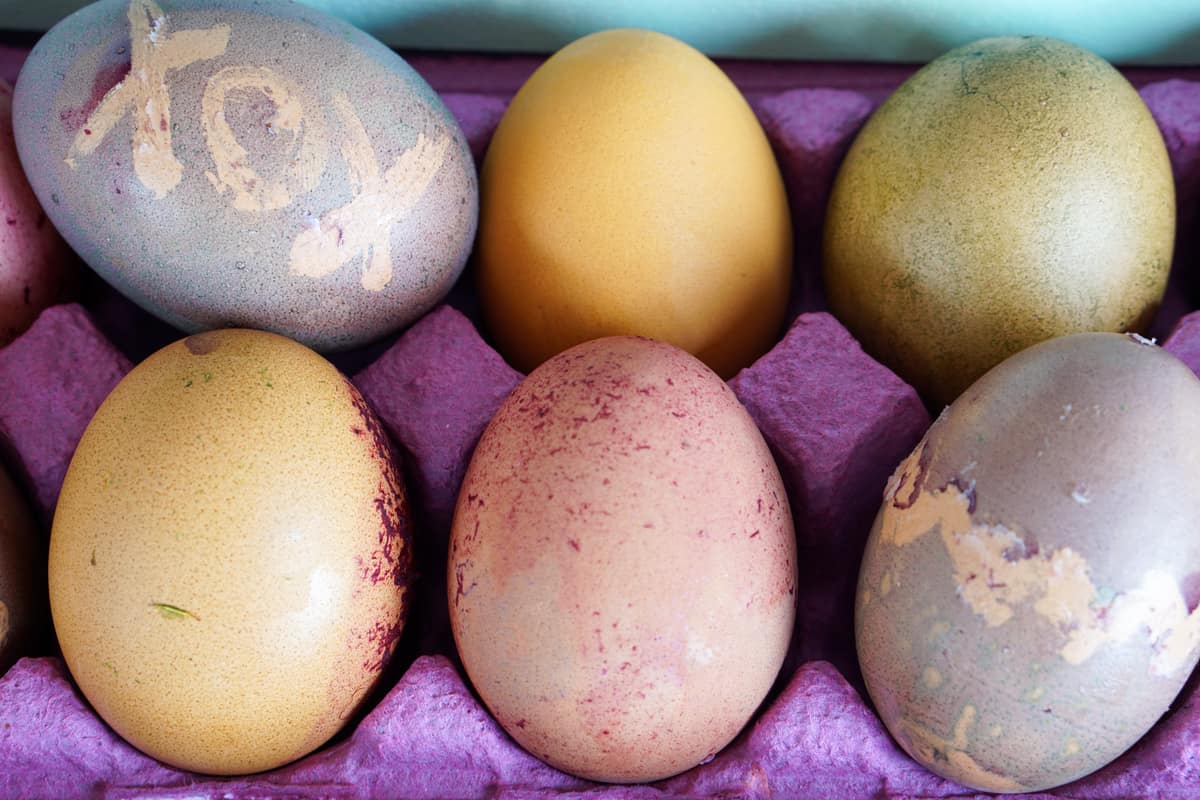 Making the Natural Food Coloring Mixtures:
Blue: Blackberries and Blueberries
Mix 1/2 cup each of blueberries and blackberries in 1 cup water in a small soup pot
Boil on medium-high for about 15 minutes, then let cool
Yellow: Turmeric OR Yellow Onion Peels
Mix 1 tbsp Turmeric Powder or 1 handful of yellow onion peels with 1 cup water in a small soup pot
Boil on medium-high for about 15 minutes, then let cool
Red: Beet Puree
Boil 2 beets for 30 minutes until cooked
Juice the beets and reserve the juice in a bowl
Pink: Beet Water
Boil 2 beets in water for 30 minutes or until cooked
Reserve the beets for something else, like the red dye above or beet dandelion flatbread
Let the beet water cool to use as a dye
Green: Spirulina and Oil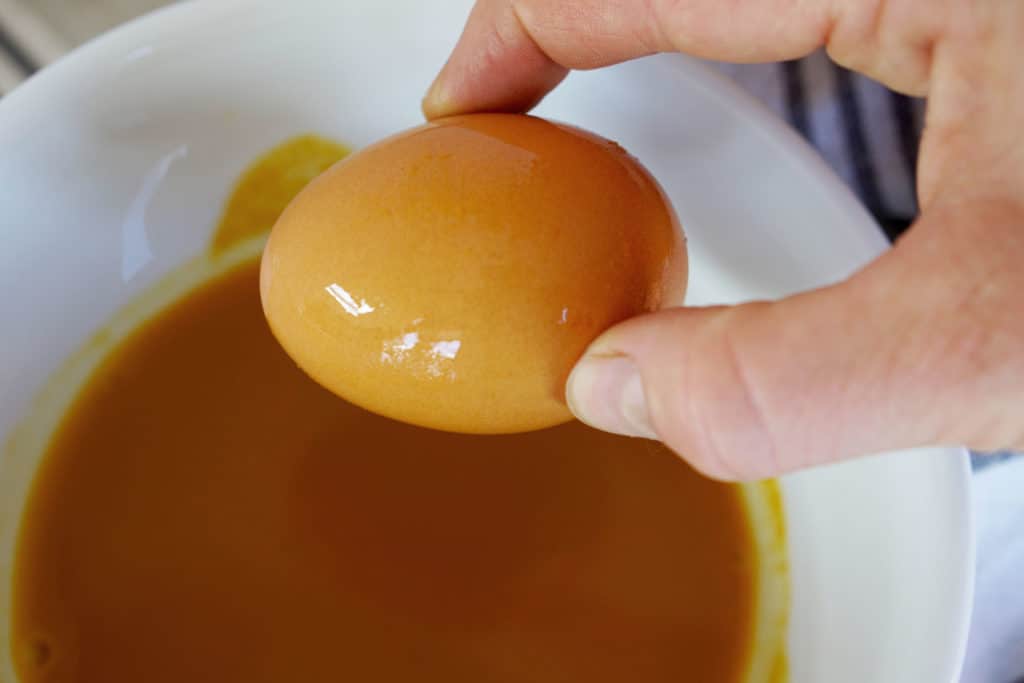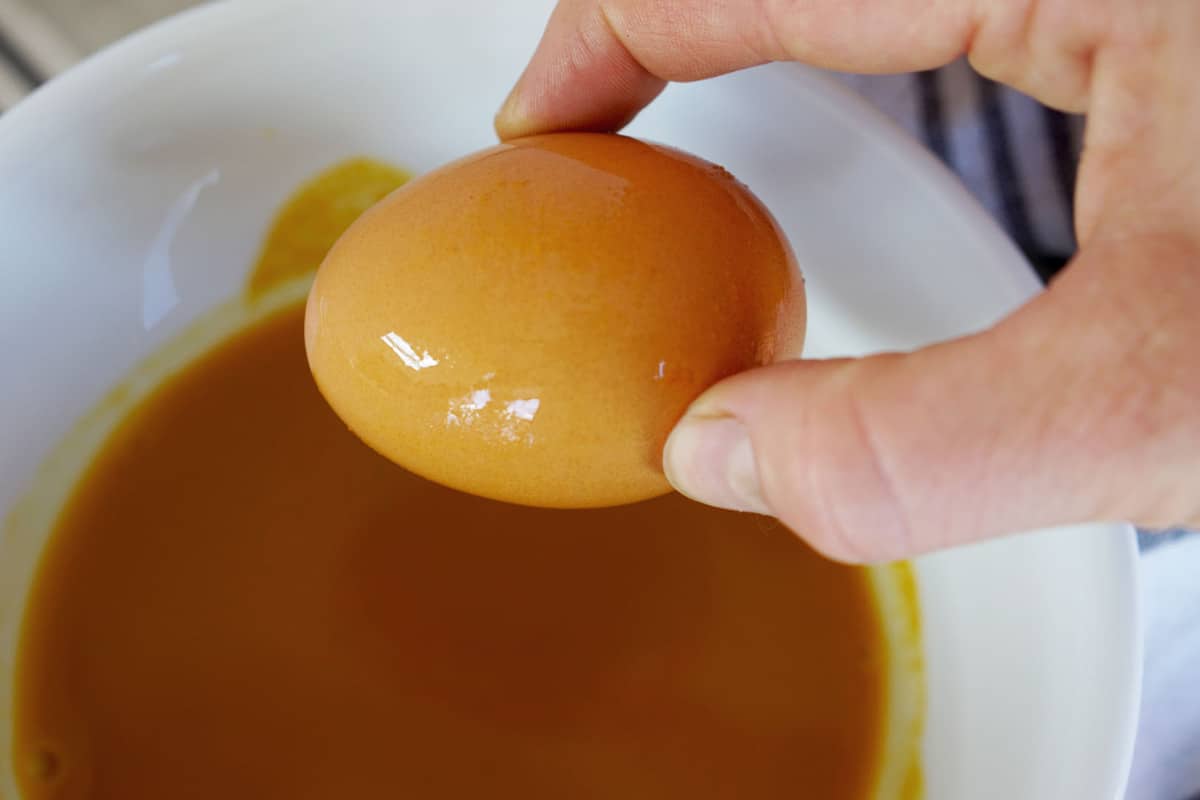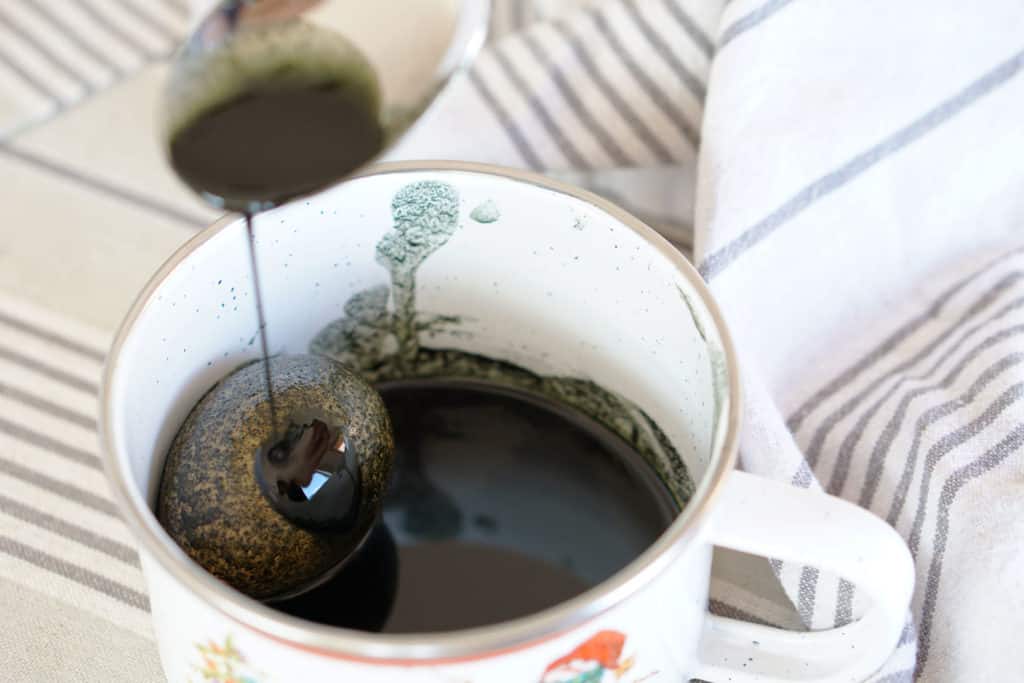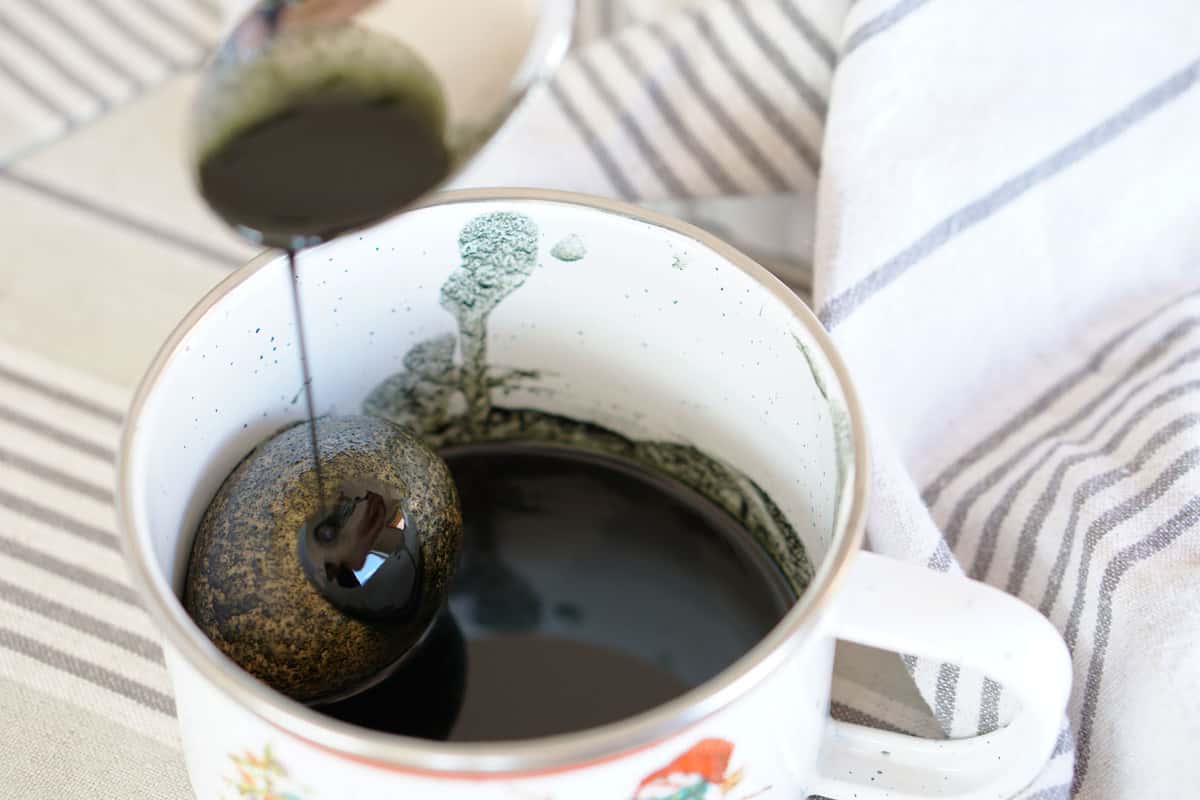 How to Dye Easter Eggs with the Natural Food Coloring
Make the food dyes following the recipes above and let them cool
Hard boil eggs:

Place eggs in water and turn heat to medium-high. Once boiling, boil eggs for 12 minutes for soft boiled or 15 minutes for hard-boiled eggs
Run cool water over the eggs until the water is lukewarm, then set aside to let cool.

Paint coconut oil into shapes or letters on the egg to block the dye and create designed eggs
Pour the dyes above into small, deep bowls. Dip eggs in the natural dyes and let sit until dyed, about 30 minutes. I soaked these eggs for about 15 minutes on one side and then flipped them to dye the other side.
Have fun!


Then don't forget to make a
tasty egg salad kale wrap
with radishes and these colorful eggs after the egg hunt!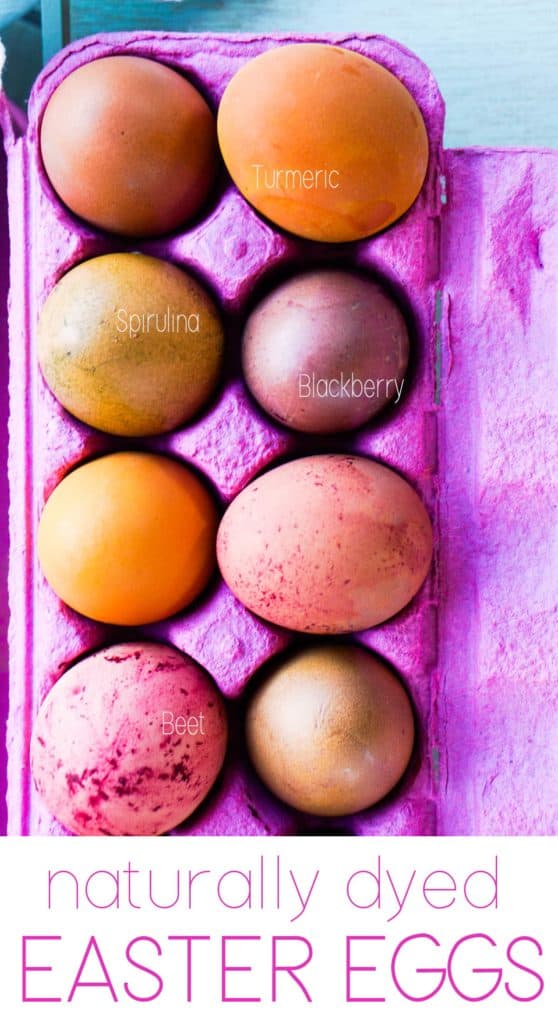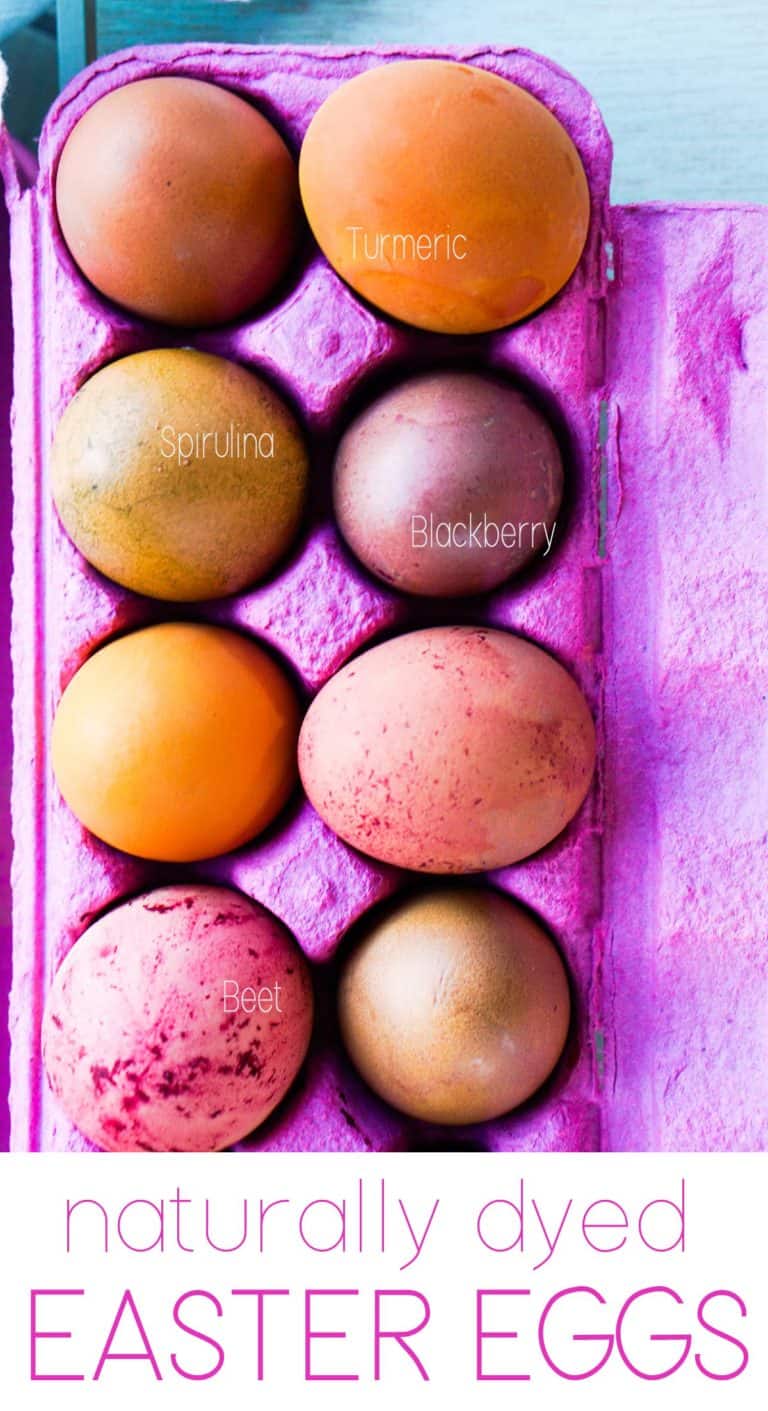 Naturally dyed Easter Eggs using completely safe food-based products. These DIY food colorings are safe for kids and fun for the whole family.