Considering attending ShiftCon? Or did you miss it this year? Read on to find inspiring stories of real people creating positive change at the local level by healing the store, healing the soil and voting with our dollars. I also share my favorite brands supporting the mission and good resource to learn more.
It's easy to get discouraged these days. I sometimes feel like whatever I do, it's not going to have an impact, so what's the point. And that's exactly how I was feeling before I went to ShiftCon.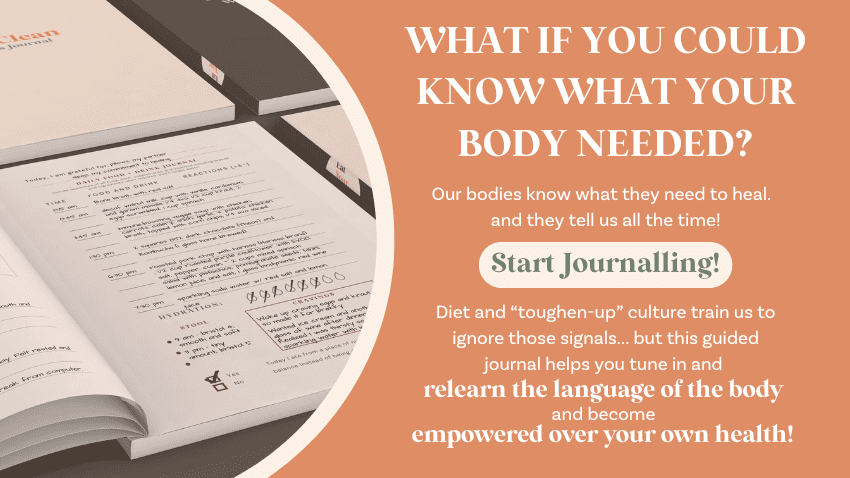 But the special thing about ShiftCon is it brings together people who are actually making a positive change.
And it wasn't just people with a lot of resources, like politicians or people with multi-million dollar grants to help them do it. It also wasn't only people fully dedicated to the cause working in non-profits. It was real people with a passion who worked hard on the side and brought a few passionate people together to make progress.
It gave me faith that I can actually make a difference. That YOU can too, and that together we can make positive changes to our world. And I'm talking change that I previously thought was impossible without a congressional seat or a million-dollar lobbyist.
When you get asked what you would do if you won the lottery… what do you say?
Everyone has their answer, of course.
Mine is to give Michelle Obama a call and figure out a way to help fix the food in schools. After paying off my house that is 🙂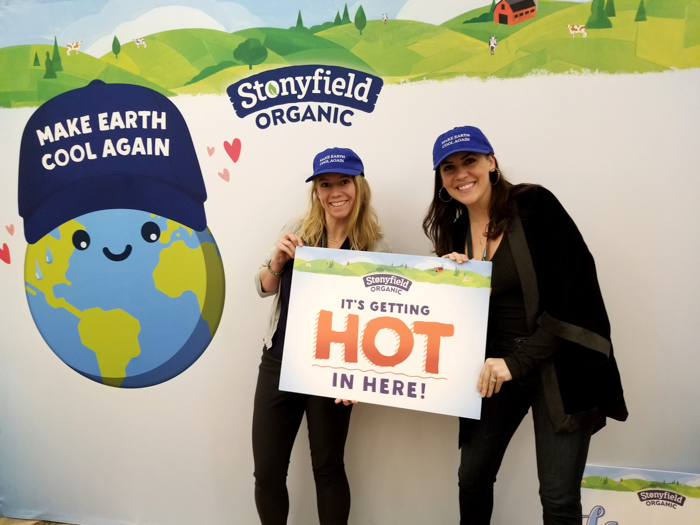 That's the thing though, I always thought I needed some sort of financial windfall to make it happen. Basically, I was giving myself an excuse to just say I didn't have the power or money to make a change.
I was letting myself off the hook.
ShiftCon changed my vision of possibility
What was so inspiring about shiftcon, and the reason why I plan to go again next year, was seeing those people who actually made changes without winning the lottery! These people proposed legislation, started companies, passed bills, and saw actual shifts in their local culture.
They did it by getting people from multiple sides of the issue together to find common ground. A story close to my heart is when Good Food LA brought parents, farmers, and school administrators together to find solutions that make sense at the local level outside of bureaucracy. They found a way to improve nutrition for kids lunches while keeping administrators and farmers happy.
I summarized some of the most exciting examples below under Inspiring Shifters and ShiftCon Resources.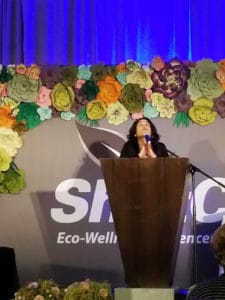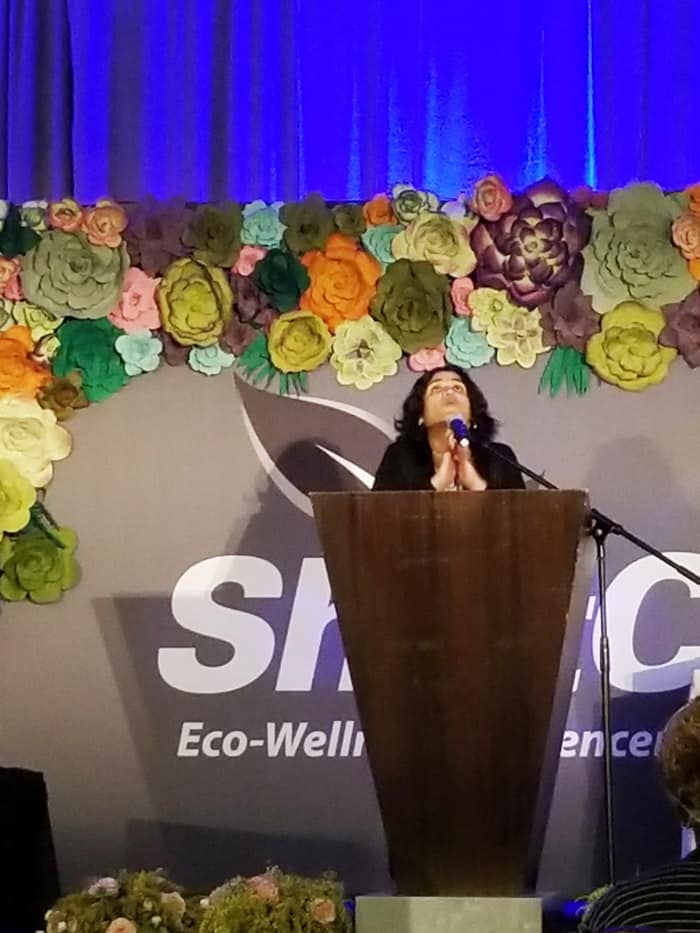 A mission to shift the culture and expectations
Maybe most importantly, the conference inspired me to do keep on truckin.
I'm reinspired to learn more about the dangerous practices common to food, beauty, health, clothing, and farming industries. I'm motivated to spread the word and vote with my dollars. And most importantly, I've let that lotto excuse die. I started laying the initial groundwork to build a community garden that can donate a large portion of the food grown to local populations in need, including schools!
Here's to grassroots movements getting actual vegetables in schools! (news flash – a parsley flake should not be counted as a vegetable serving!!)
Outside of inspiring people to make a difference, the ShiftCon theme this year was all about healing: healing the store, healing the soil, and in turn, healing our bodies and culture. I'll go through a high-level summary of each of these topics in future posts and then share my favorite brands that are supporting these missions below.
Vote with our dollars
Something I've always believed is that we have an immense power as a people to vote with our dollars.
If we decide to say no and stop purchasing toxic and unhealthy foods, the manufacturers will be forced to change their practices to stay in business. I'm not anti-business, and we need these companies to succeed. We just need them to be transparent and provide products that aren't harmful.
If even half of us made it a priority to learn about the ingredients in our daily products and took a stand against toxic ingredients known to cause cancer and auto-immune disease, we could shift the TYPES of products available to us.
And we must keep on making the choice to choose healthier and more environmentally friendly products because whatever we do at a small level can have a big impact. If we can all spread the word to just one other person, the movement will grow.
Eventually, we can actually make a sustained difference which can begin by voting with our dollars, especially if voting with our ballots hasn't worked or if our calls and letters land on deaf ears.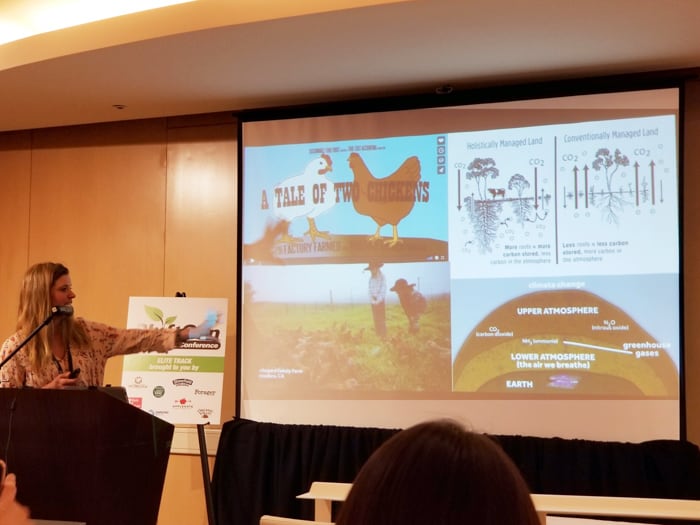 We can make a difference!
Even though I'm just at the beginning of this journey, I'm really excited about it. I wasn't sure I was going to find what I was looking for at ShiftCon, but I was pleasantly surprised. I found more than I could have ever expected.
Hopefully, together we can find a way to make a positive change in the world around us for the things that matter to us.
For me that's going to start with better access to healthy food for people in less privileged areas, more education so people understand what's in their food and what they should and shouldn't be eating, research into the damage that some of these neurotoxins in processed foods can cause, and a personal goal to learn more about the chemicals outside of the food world in the sunscreens, deodorants, makeups, paints, and fire-retardant-couches of the world.
Favorite Brands I learned about at ShiftCon helping to Heal the Store
ShiftCon was full of brands helping to shift our communities. These brands sell food and beauty products that are safe and help educate consumers on what is in products.
Here are some of my favorites.
Beauty and Body
Earth Mama makes effective, natural herbal care for the whole journey of motherhood: pregnancy, postpartum, breastfeeding, baby care or even the loss of a baby. Because you have enough to worry about as a new mom.
They also have non-toxic deodorant with delicious natural fragrances.
An awesome blog on how to make your own beauty products. She gave a workshop and taught us all how to make our own beauty products with natural ingredients for cheap.
We got to sample her coconut milk shampoo, vinegar rinse, body oil and oil cleanser. My skin and hair feel marvelous after using her products!
She has a book with the recipes: The Handmade Mama: Simple Crafts, Healthy Recipes, and Natural Bath + Body Products for Mama and Baby
This company supplied many of the raw ingredients to make Mary Makes Good's recipes, including castile soap, jojoba oil, and essential oils.
Goddess Garden is based out Boulder and makes safe products that you can feel good about slathering on your skin. My favorites are:
Natural Zinc moisturizer – facial moisturizer with polished Zinc (so it absorbs better, and you don't have visible zinc on your face)

I've been loving this for ski days!

Sport and regular sunscreen – using Zinc
SPF lip balm, lavender – which is great for ski days in the mountains
Everyone got a lipstick and they had samples to try. So far my favorite is the tinted moisturizer with SPF.
More impressive, is the work this company is doing to bring transparency to the consumers. The company regularly meets with legislators and is pushing for laws requiring companies to disclose known carcinogens and endocrine-disrupting chemicals and to ban them when necessary.
This brand is bringing hair care back to the roots, literally. Apparently, most hair treatments only target 1 out of 20 pathways that help your hair grow. This brand is looking at the nutrients required to get and sustain growth cycles.
They have a complete package with shampoo, conditioner, follicle treatment, and supplements. I'll be trying this out and will report back later!
General Health
Natural oral care, using the salt and minerals from the dead sea. Remember when you were little and had a sore throat? You were told to gargle with salt water. That salt helps create an environment were only helpful bacteria thrive. This LA dentist is using the science behind that to create holistic and healthier oral care that protects the protective bacteria in your mouth and the downstream rivers and oceans where the toothpaste eventually ends up.
Toothpaste
Whitening strips
Mouthwash
Supplements
Certified USDA organic supplements where everything is sourced from real food. When you shop for supplements it can be hard to know how the vitamins are derived, and if the bottle actually contains what's listed on the label. Bottles can say "whole food" without sourcing all of their ingredients from whole food, which means they are likely primarily sourced from petroleum products. And some studies have shown that supplements don't actually contain what they promise to contain.
NurtiGold was founded by a pregnant PhD who stumbled into the confusion of this industry and got so frustrated she started a company to do the right thing.
They are doing the right thing, because that's what you are supposed to do, and I love them for it!
I am trying the Women's Multi Gold
Most probiotics don't make it through the stomach's acidic environment and the small intestines bile-heavy environment to the colon where they need to set up shop. Even if they do make it, it's hard for them to actually attach to the colon walls and thrive. That means they don't live and stay and grow. Which means they don't change your microbiome
Interestingly, people still experience positive effects even from dead probiotics in the colon. However, this will not change the microbiome and create a long-lasting change
Thrive uses the type of bacteria that could colonize the gut naturally and is made to survive these types of conditions. They use spores that activate in an acidic environment and are proven to attach and colonize the large intestine.
Just 30 days of Thrive probiotics should actually change your microbiome.
Food
You all know I'm not a fan of food waste, which is why Forager is on the top of my list for good brands. They make delicious cashew milk and the use that cashew pulp as the base for grain free chips. Plus they have great flavors!
This is the only store-bought kombucha I'll regularly buy off the shelves. They have low sugar, coming in at 2 grams per serving on most of their flavors. That's the best on the market where most booches sit in the 6-13 grams per serving range. Considering the World Health Organization recommends no more than 25 grams total sugar per day, you really want to stay on the low-end.
Plus, there's more flavor when they aren't just relying on sugar to make it taste good.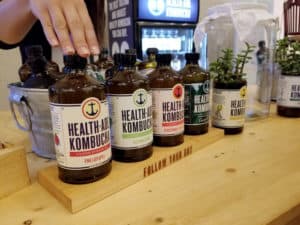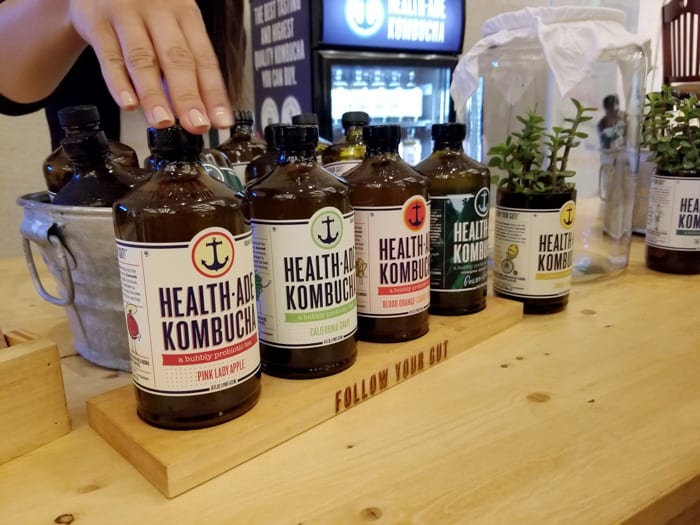 Their. Coconut. Chips. That's basically all you need to know. Buy one in every flavor. I love these guys and what they stand for.
They also have new figgy pops that are basically like power balls made for you.
These are probably the best on-the-go savory snack. I always keep them at home and at my desk. Deliciously baked seaweed with a variety of flavors. My favorite is the Wasabi and the sea salt.
See all sorts of neat ideas to use them on their Instagram feed.
Helping the world make and brew their own fermented bevvies, whether that's Kombucha, Jun, or Kefir. She also has tips on how to make other fermented foods like sourdough.
You can buy a scoby from her to get started. I got a Jun scoby and have been brewing ever since.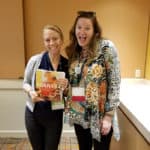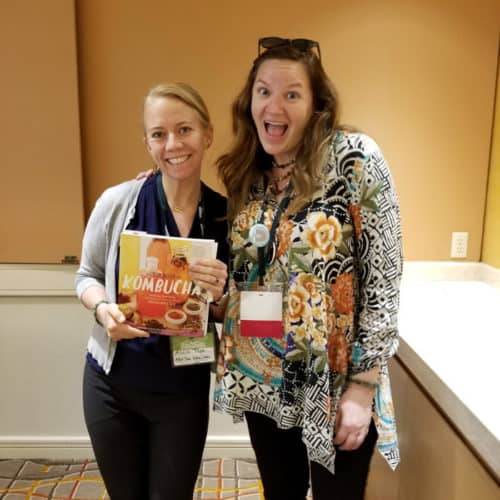 People and Brands working to Heal the Soil
They presented on how to raise a holistic farm and reviewed the latest science in organic farming versus conventional farming. You can follow Doniga on her Instagram or read her book: Dawn Again: Tracking the Wisdom of the Wild
. I'm halfway through and she has a great tale to tell, from running away to animal tracking and eventually to finding her way on the farm.
They are bringing back an indigenous berry that grows naturally in the climate and has incredible anti-oxidant properties. Look into the Aronia Berry.
If you're in Iowa, they do special events and the farm looks beautiful!!!
Inspirational Shifters + Shift Con Resources
If you're interested in making sure your community has better food for kids, make sure to follow along with their journey. They've already changed the food plans in 13 counties and have plans and tools for you to do it in your own district.
This will blow your mind. And also make it hard to go shopping.
This organization certifies products that are made from safe chemicals and ingredients. Look for their stamp to know what you're buying is safe.
an organization dedicated to giving consumers information about what's in their products and how it affects their health. Follow them to stay up to date and learn what products are safe.
Written by Leah Segedie, the founder, and organizer of ShiftCon
And of course, the ShiftCon conference site, so you can learn more, read about the sponsors and speakers, and sign up for next year!