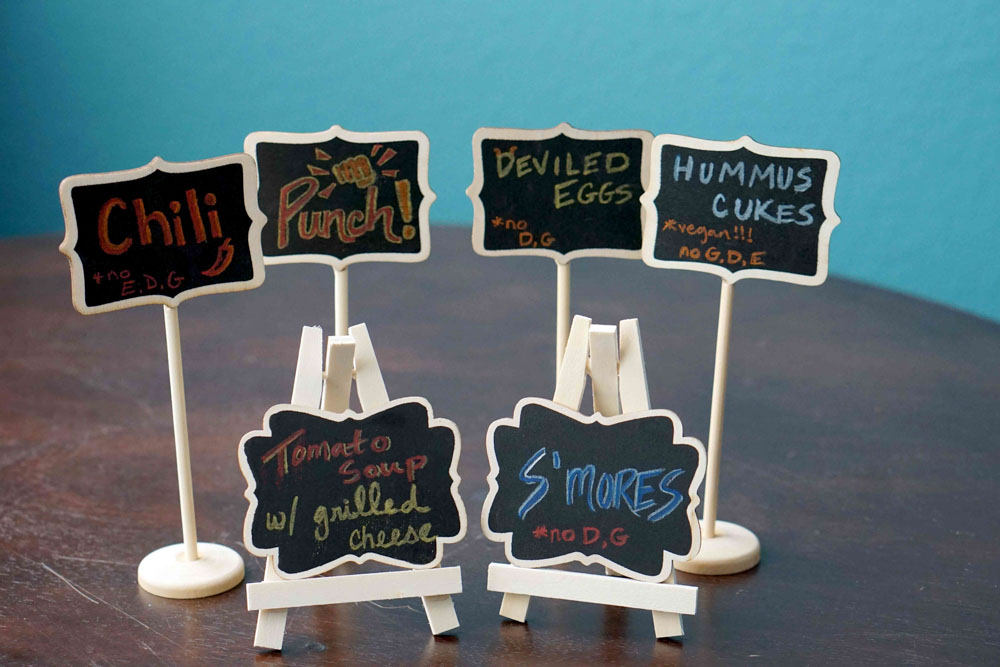 Why brave the long lines and cold weather on new years? Instead, make some delicious comfort food and snuggle in with plaid suits and rompers. Here's the New Year's Eve Party menu to ring in the new year lumberjack style.
New Years Eve!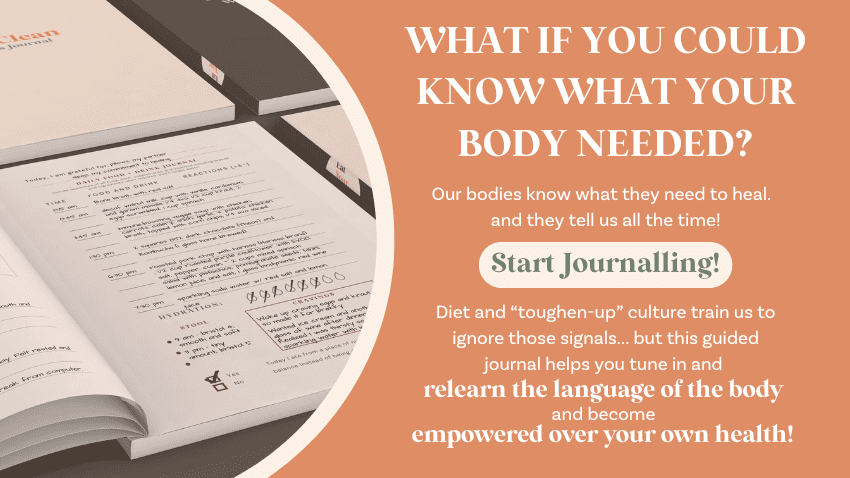 The time for skimpy dresses in the cold, long lines, crowded bars…
wait a minute… that doesn't sound fun.
OR… if you choose… for plaid flannel onesies!! Next to the fire, indoors, with lots of healthy and yummy treats.
Way better.
I much prefer buffalo flannel rompers, plaid suits, a cozy fire, plenty of delicious food and a bar inside your home!
Last year we planned an NYE party at our house and it was the best thing we could have done. It felt so nice to be in our home, surrounded by our closest friends. And we didn't have to brave the weather, crowds or roads.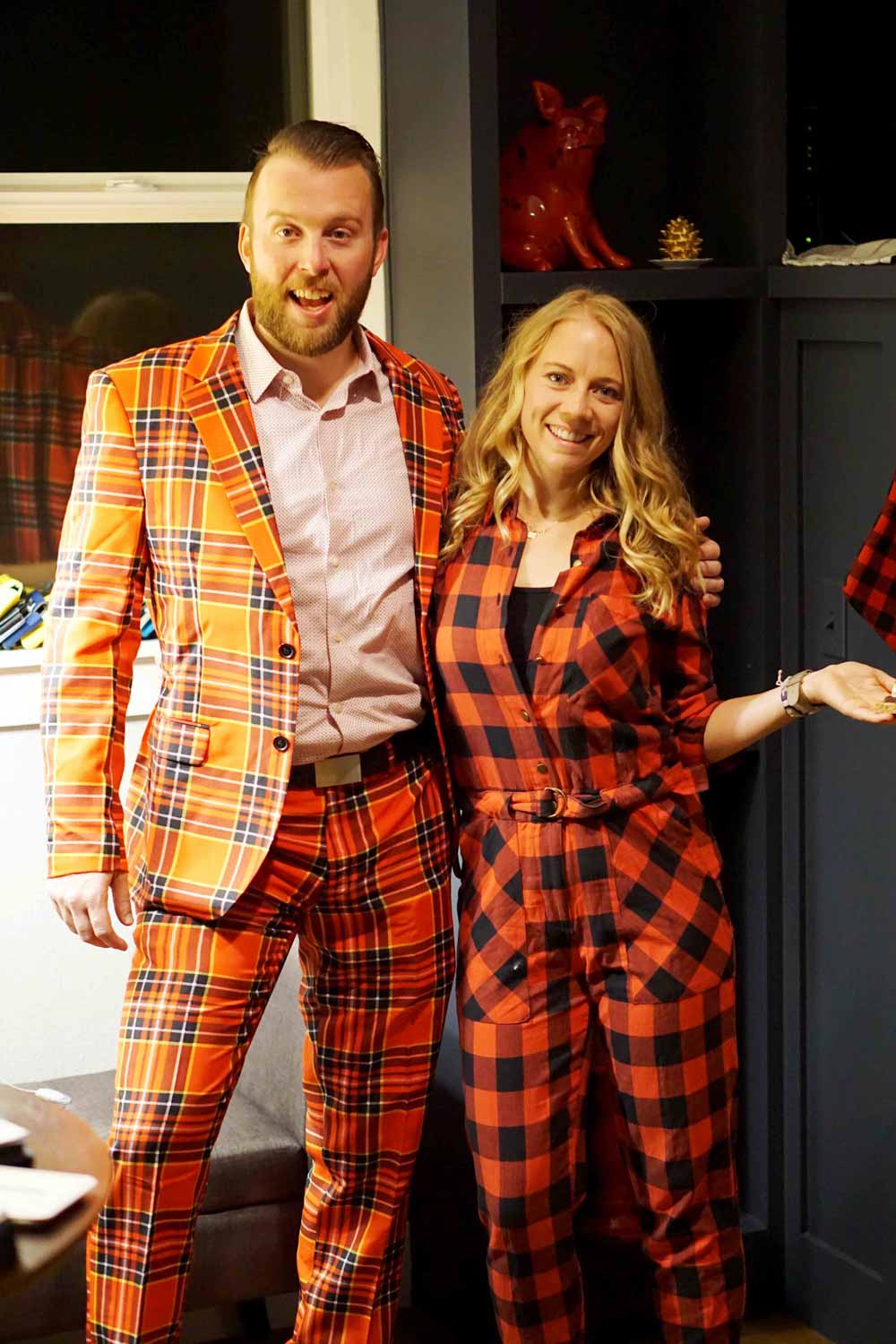 Most of the food we made ahead of time so the day was left to be enjoyed, save for a few minor last minute details.
Getting a bartender was also the best idea. My recommendation is to get one where you can provide the glasses, booze, and drinks and they make just the drinks. That is usually a more economical option and then you also get to keep the leftovers.
The NYE Menu
Appetizers

Charcuterie Board
Deviled eggs
Sprouted Almonds or Mixed Nuts

Morrocon Meatballs
Hummus Cukes
Chili bar
Homemade tomato soup with grilled cheese sandwiches (J's choice ;))
Indoor S'Mores
Holiday Punch
The morning after: quiche for brunch
Labelling Your Food
Not only am I gluten-free, avoid dairy and refined sugar, we had vegans, other celiacs, and a few egg and milk allergies at the party. It's a world full of food restrictions this world of ours.
So labeling is important. I know I would appreciate knowing what is in food at a party, so why not share that courtesy when hosting?
And these chalkboard
and tree stump
signs are just too adorable and fitting for them to pass up.
Make sure everything has a name and also clearly outlines what allergens it includes. You can see we labeled nuts, gluten, dairy, and vegan.
Sustainable Serving
You don't want to be stuck with dishes, but you also don't want to be wasteful. I found these products to be a good mix of those two conflicting desires. Most are biodegradable and/or compostable.
The chalk markers are great for writing on glasses. That way you can use real glass champagne glasses and everyone can keep there's separate. The marker washes off with a little soap and warm water and everyone gets to decorate their own glass.
It's also fun to get a big piece of paper so people can write their new years resolutions down for everyone to see. My favorite of last year?
"continue being awesome"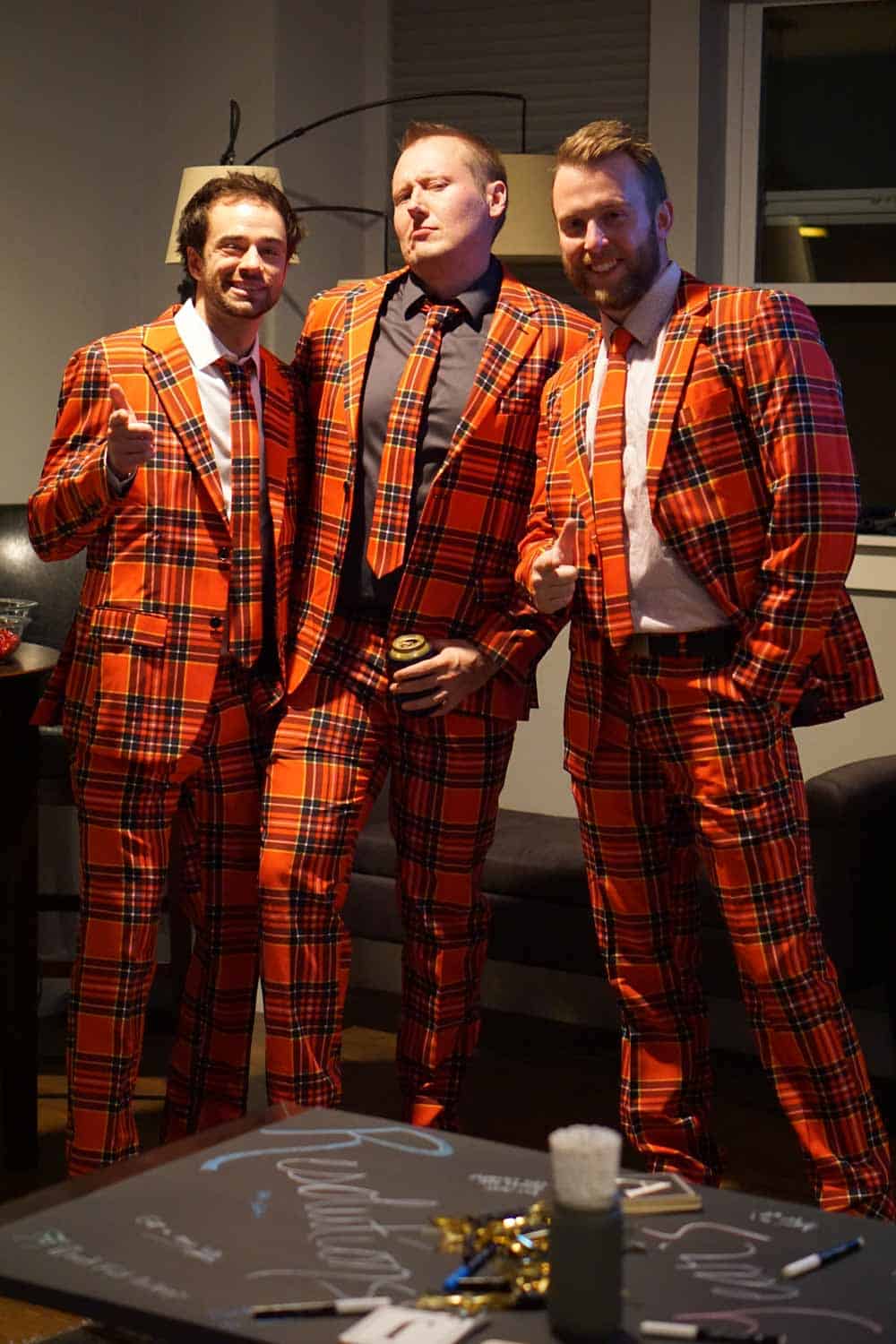 Appetizers
It's important on a long night of drinking to have lots of little snacks to line the stomach. Charcuterie boards and bowls of sprouted nuts do the job perfectly, in addition to all of the other snacks we'll have on hand.
Charcuterie
For the charcuterie board, use a wood cutting board or a nice wooden board like this one from Etsy to give that woodsy vibe. Include a mixture of salamis and prosciuttos, fermented veggies like cucumber, carrot, and ginger, and some dried fruits like apricot and cherry.
You'll notice that even though I don't eat cheese, we had some nice cheeses on our board.
Deviled Eggs
Deviled eggs are one of my go-to's for parties. When you are serving food to people over a long time, you need to make sure they get some sustenance.
Deviled eggs, made with real mayo, give protein and omegas to keep people satisfied throughout the evening.
Mixed Nuts
No brainer. The preparation is easy. Just pour them into a bowl and set them on the table.
Go for roasted and sprouted
if available, as they are easier to digest.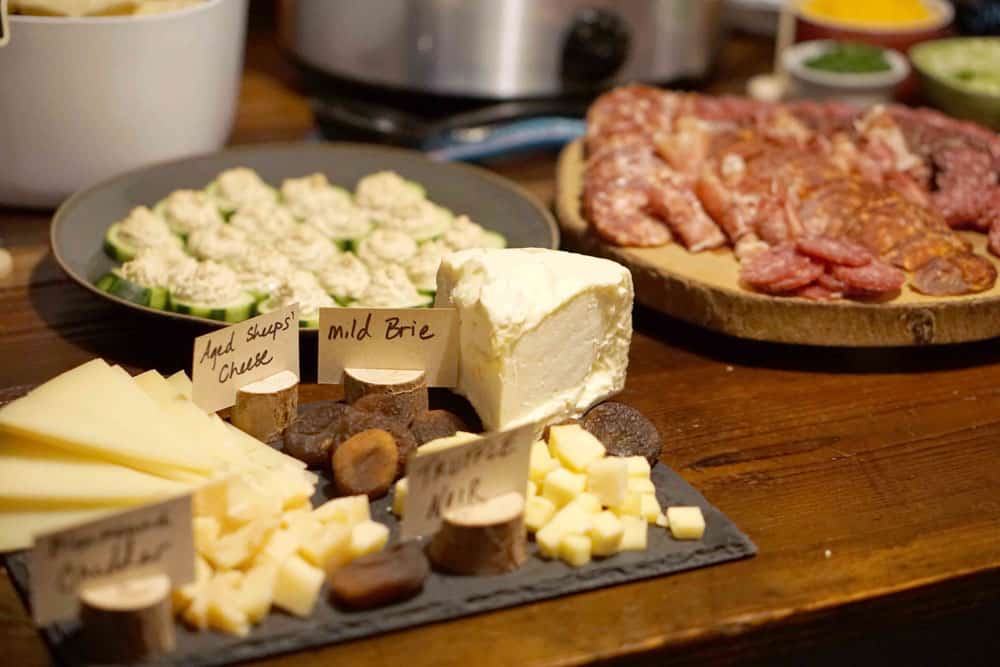 Morrocan Meatballs
These are delicious and so easy to make! You can also make them ahead of time and just pop them in the oven to heat up before guests arrive.
I served them in an oven-safe pan like this one. It was great because I could store them, reheat them, and serve them from the same pan. To keep them warm throughout the party, the pan rested on a cast iron dish warmer
with a tea light underneath.
Ingredients:
1 lb of grass-fed ground beef
1/4 cup diced onions
1/4 cup diced parsley
2 tablespoons Moroccan spices
1 tsp salt
Directions:
Form into balls and bake on a cookie sheet at 350 degrees for 20 minutes. You can make these 1-3 days ahead of time and store in the refrigerator.
Hummus Cukes
These are great finger foods! And you can make the hummus days in advance. The great thing about these is that they are a healthy and light snack, which can be a good contrast to typically heavy holiday foods.
I make the hummus ahead of time, but prepare the cukes day-of so they stay fresh.
To prepare, simply slice cucumbers and using a piping bag, pipe a little pyramid of hummus on each cucumber slice. To get fancy, top with caviar, trout roe, or cilantro micro greens. Or just dust with a little paprika for color.
Chili Bar
There's little better than a chili bar on a cold snowy night. It's warm, filling, easily portioned, and easy to customize with green onions, seeds, tortilla chips, and hot sauce.
If you are looking for an easy way to feed people, a chili bar is the way to go. And it can't get much easier as far as preparation goes. Chili improves the longer it sits, giving the flavors a chance to meld together. And you can serve it in a crockpot.
We used a red chili and served it with sides of green onions, cheddar (for the non-dairy-free-crowd) and fresh chives.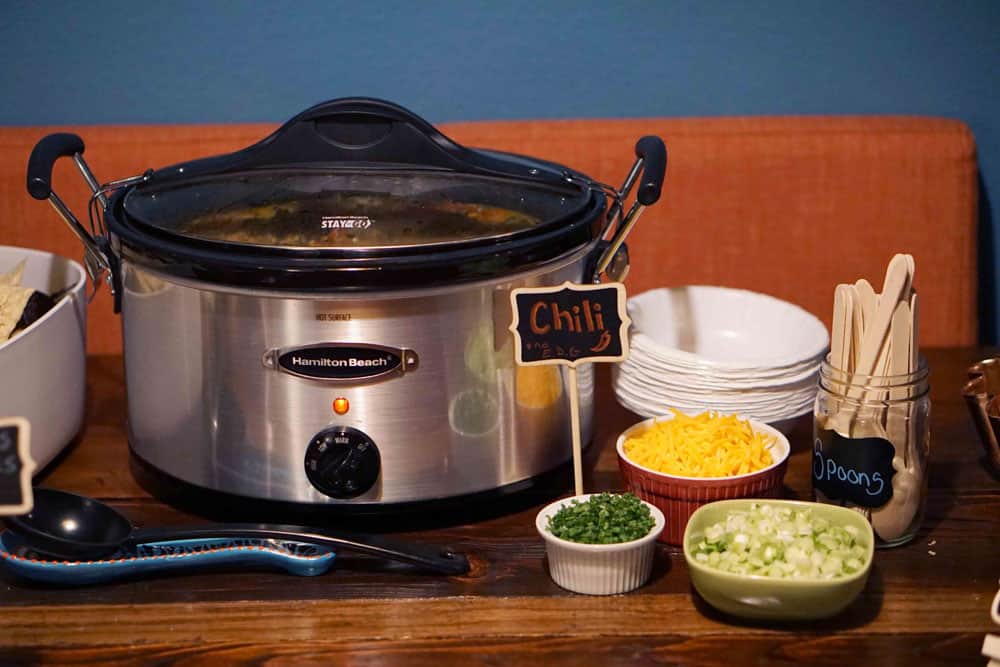 Homemade tomato soup with mini grilled cheese sandwiches
Now, I couldn't eat these because we used real cheese, but it didn't stop me from at least making a healthier and delicious version of the soup.
And parties are for everyone, so I think it's important to be inclusive of those without restrictions when possible, too.
Homemade tomato soup is one of the easier and tastier things to make. When you simmer tomatoes over a long period of time, they disintegrate into a delicious and rich sauce. Just a little salt and oil along with a decent amount of basil is all you need.
Making the grilled cheese sandwiches needs to be coordinated. This is the one thing that shouldn't be made ahead of time. Butter the GF bread and toast before adding the cheese and flipping. To cook several at a time, toast on a cookie sheet in the oven.
Each sandwich should be cut into fours and speared into a serving mug. I like the little red cups
for the lumberjack theme.
These were by FAR the favorite at our party. Good idea J!
Indoor S'Mores
It's not a party without some dessert. I mean, I guess technically massive amounts of champagne could count as dessert. But why not have a traditional dessert as well.
I love the indoor S'Mores because they are so festive and give the laid back, camping vibe I was going for. Plus, I get to use a blow-torch. Before champagne, I promise!
Find the full recipe here: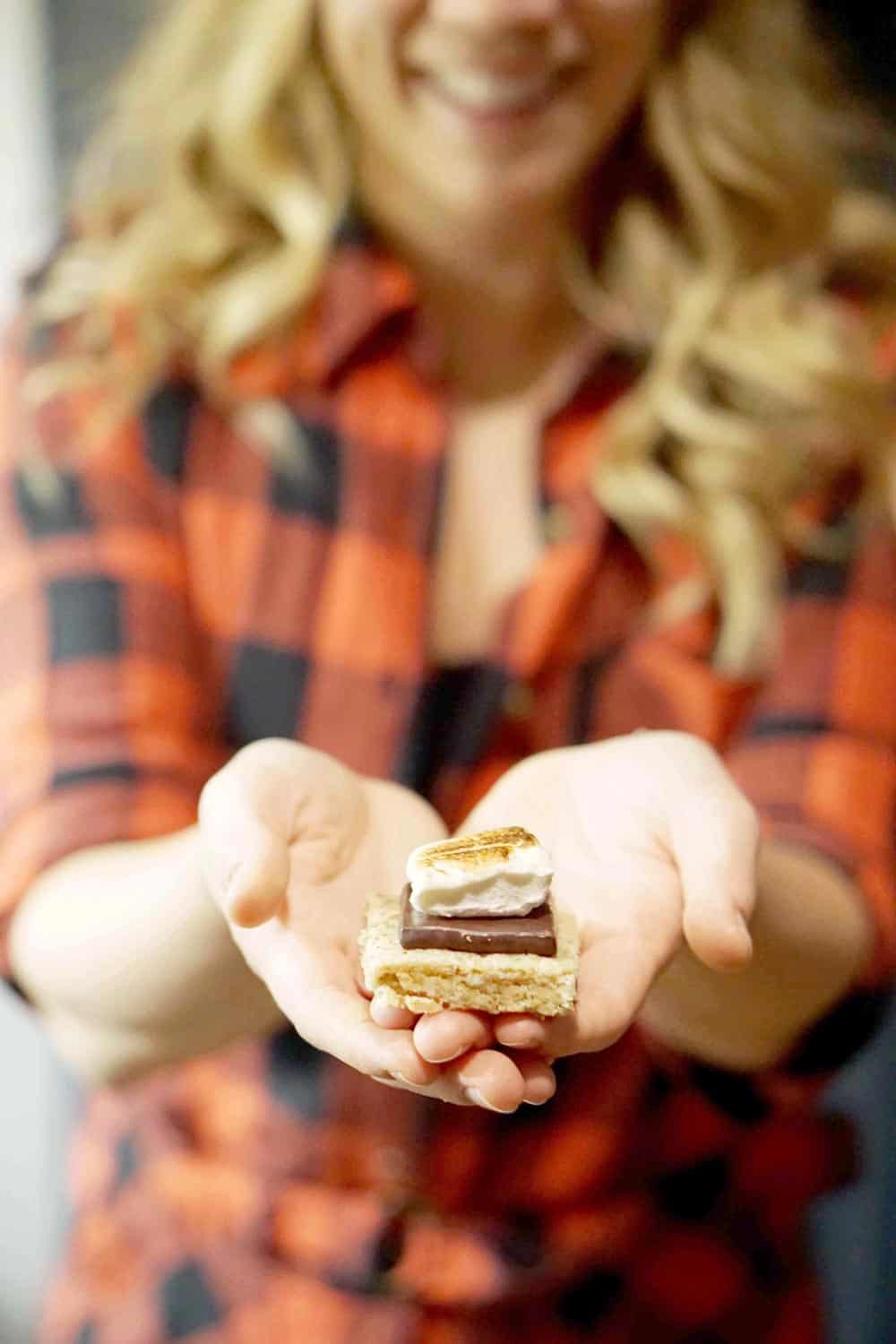 Holiday Punch
Even with a bar, it's always a good idea to have a punch. We made a recipe that included champagne and it was quite good. I love the mix of juices and bubbles.
The most fun part of this recipe was finding the punch bowl! There's an amazing thrift store down the road in Denver that has amazing finds. I was able to get this crystal punch bowl, spoon, and a full set of adorable little punch glasses to go with it.
While totally unnecessary, it was quite fun. And since the rest of the decor was wood and plaid, it offered a nod toward the traditionally more elegant new year's themes.
I found a similar one here and here if you can't find one at your local thrift stores.
Serve it with fresh cranberries, blueberries, and pomegranate seeds for garnish.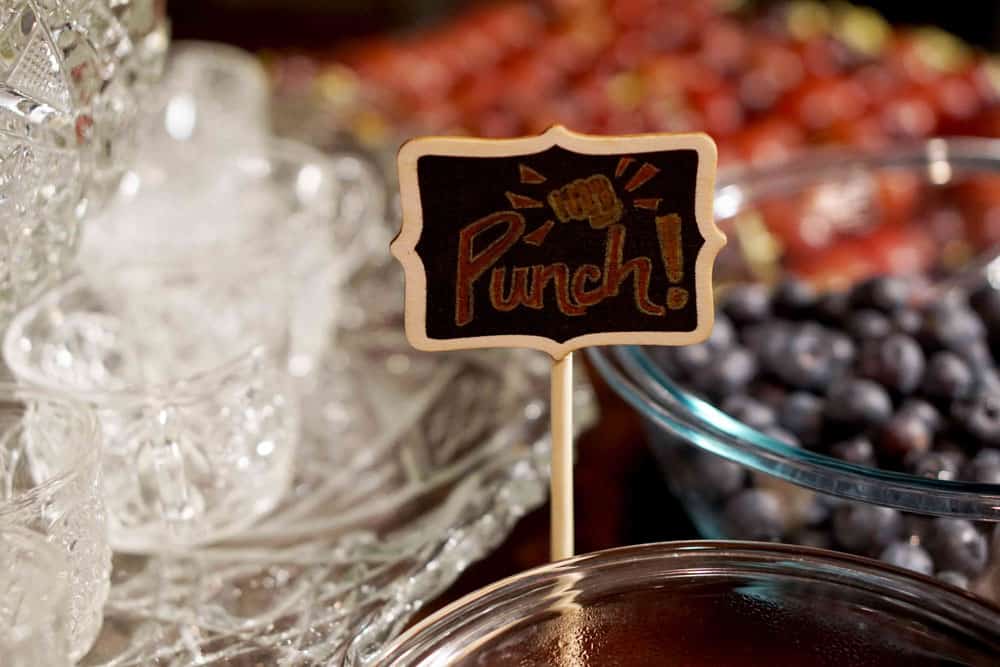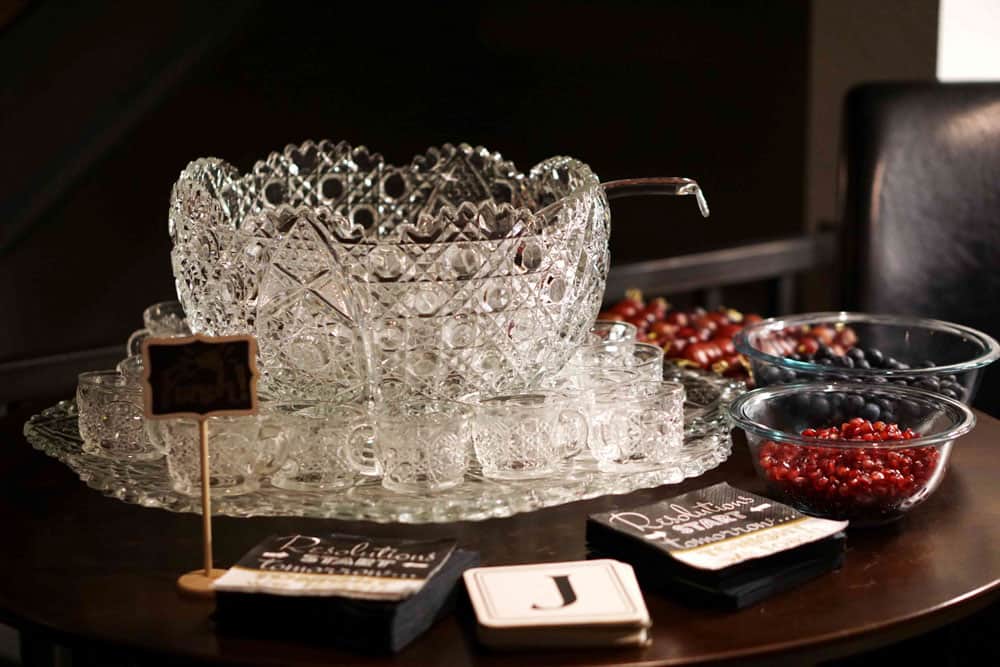 Plan for the morning after: make ahead Quiche
We had 9 people from out of town staying at our house, so planning for the next morning was key!
Now you don't have to go that crazy and invite the whole neighborhood to have a sleepover, but the last thing you want to do after a long night of French 75s is to make a huge breakfast.
Hence, the make-ahead breakfast of quiche.
1 made three quiches: spinach bacon, spinach bacon and cheese for the non-dairy-free folks, and salmon, asparagus, and arugula.
Each of them has a potato crust. You could use red, golden, new, or purple potatoes for a healthier alternative to russets. The sweet potatoes are just a little too sweet so I avoid them for this recipe.
Get the recipe here.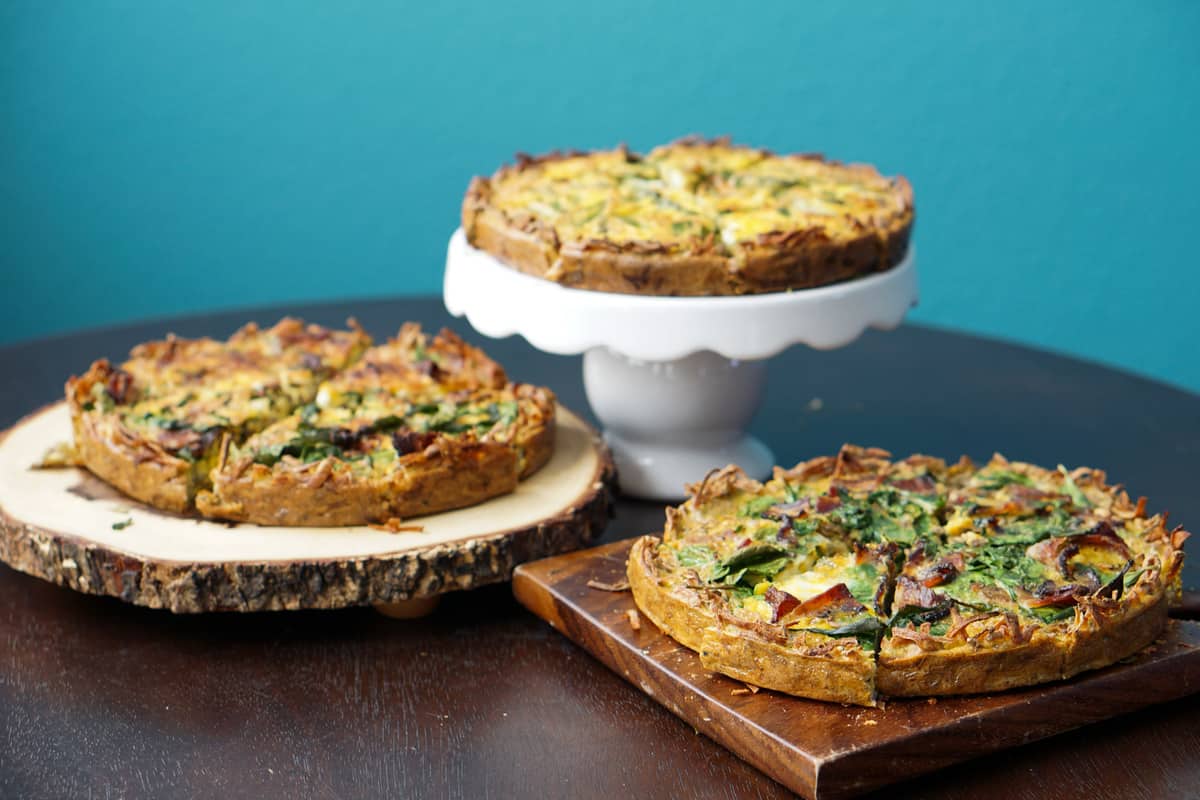 Enjoy!
The most important part of having any party is to actually take time to enjoy it!
After everything is ready, try not to fuss about details and just enjoy your friends and the delicious snacks you put together. After all, the whole reason you threw the party was to see your friends.
Cheers!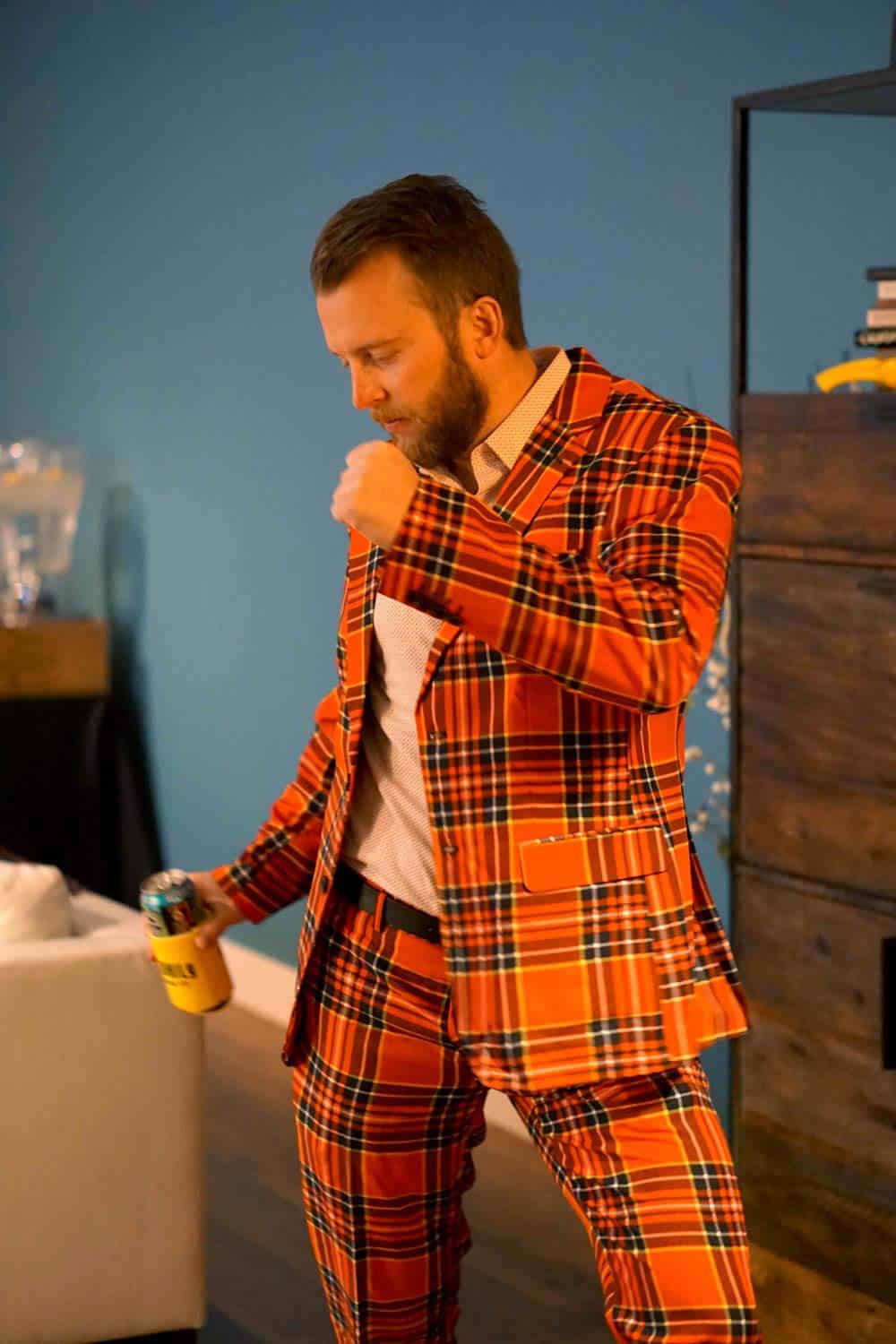 *some of these links are affiliate links, which means EYWC gets a little share of the sale at no extra cost to you. That means we can keep making recipes and menu plans for you 🙂 All opinions are my own and I only recommend products I believe in.