What's for dinner (or lunch)? Why not this fresh Kale Caesar salad with toasted pine nuts, roasted carrots, creamy avocado, grilled chicken and from-scratch Caesar dressing made from cashews and tahini?

I love this superfood Kale Ceasar salad because it's great for dinner and the Kale holds until lunch the next day, even after being dressed! It's the only make-the-night-before salad I know of that doesn't require tossing with the dressing later.

Getting the Kale Ready
First, make sure you are getting organic Kale. Kale is now on the dirty dozen list and is one of the vegetables most likely to be contaminated with harmful pesticides that can negatively impact your gut bacteria.

Kale is delicious and so good for us, but it takes some coaxing to bring out the best flavors and textures. Kale needs a good massage before being served raw. If that sounds intense, don't worry. It's as simple as rubbing the dressing or some lemon juice into the kale with your hands before adding the other toppings.

In this case, I used freshly harvested Kale from our CSA. The strain is Blue Russian kale, which you can identify by the stem's blue tint.
The steps to preparing Kale
de-stem
coarsely chop
wash
dry using a salad spinner
massage the juice of 1/2 a lemon into the Kale, making sure to rub with a decent pressure

You might also like
Burger bowls with wild elk on greens with lots of vegetables added for nutrition and satisfaction.
Salmon Kale Caesar which swaps the Chicken for Wild Alaskan Salmon and adjust the dressing slightly
The Loaded SuperFood Kale Salad which is loaded with mouth-watering flavors and easy to make for lunch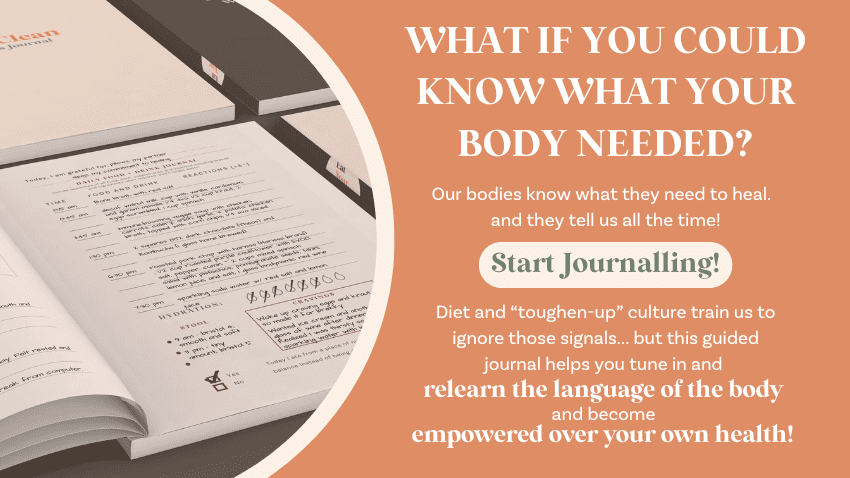 Making the Cashew + Tahini Ceasar Dressing
Typically Ceasar dressings are based on Mayo and parmesan to create the creamy texture we all know and love. However, in this case, I use cashews and tahini instead. They add a nuttier flavor profile and make the dressing vegan and dairy-free.

I love homemade aioli, but storebought mayo often has lots of unnecessary additives and preservatives. This recipe makes it easier to use whole food ingredients without having to make your own mayo from scratch ahead of time or relying on heavily processed mayo.

In other words, this dressing is fresher and has fewer preservatives than the store-bought variety with minimal effort and time.

If you're not into Caesar dressing, you might like this other version of tahini sauce that is fantabulous. And this cashew-based cream sauce is also excellent with Sweet Potato fries or Roasted Carrots.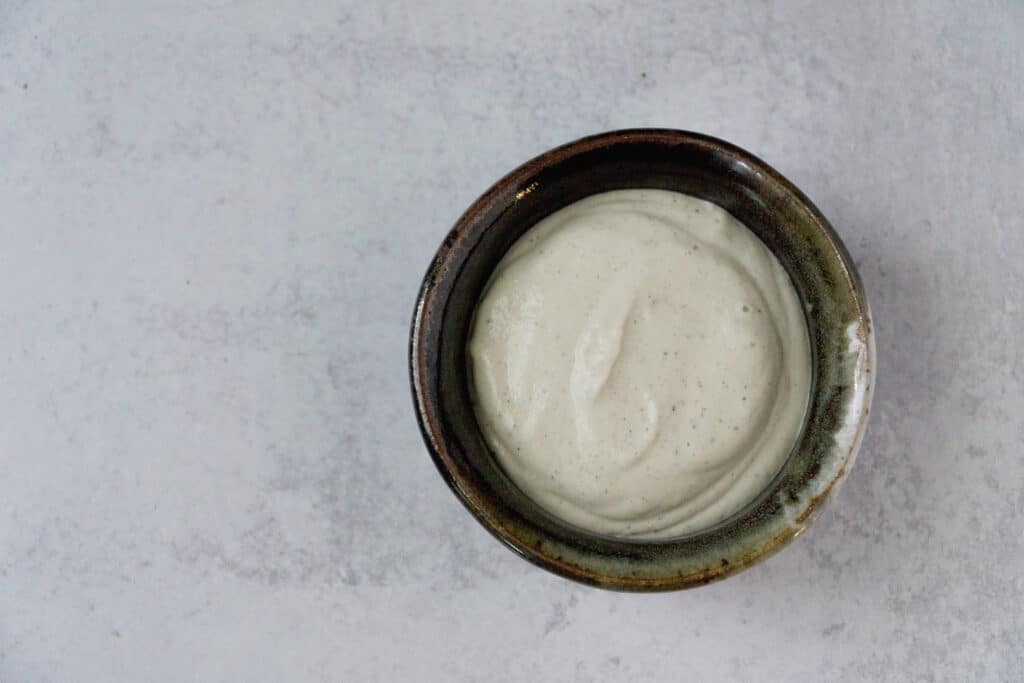 Prepping Cashews
The first step is to soften the cashews. There are 2 options to do this. Soaking and sprouting the cashews is best, but if you are short on time, a quick boil will do.
Option 1: Soak and Sprout
If you have time, soak them overnight and sprout them during the day.

To soak the cashews place them in a glass mason jar and cover with a dishtowel overnight. In the morning, drain the water from the jar leaving the soaked cashews in the mason jar covered in a dish towel to reduce light exposure. Let the cashews sit for 8-12 hours or until little sprouts emerge.

The soaked and sprouted cashews are not only easier to digest and less inflammatory, but they also will blend into a much smoother dressing.

Prepping Cashews Option 2: Boil and Cool
If you're short on time or just forgot to soak the cashews, there is a workaround. You can boil them in water in a saucepan on the stove for about 4 minutes and then let cool in the water.

This method will be ready in about 10-15 minutes.

Blending the Caesar Dressing
Now that you have softened cashews, the rest is easy peasy. Simply put all dressing ingredients into a blender and blend until smooth. I use the magic bullet which is great for blending small volumes of liquidy substances and it took about 2 minutes to blend.
Add Tahini, soaked cashews, mustard, spices, water, and lemon to a small blender
Blend until smooth
Making the Superfood Kale Ceasar Salad
Roasting the Carrots
You'll want to start with the carrots as they take the longest to make. First, preheat the oven to 350. Then wash and dry the carrots before cutting into fry shape. In other words, individual spears about 1/4 inch thick and 4 inches long, like traditional french fries.

Using your hands, make sure each carrot fry is equally covered in olive oil, salt, and Italian seasonings. Spread the carrots out evenly on a cookie sheet, making sure no pieces touch each other.

Bake the carrot spears at 350 for 20 minutes and then increase the temperature to 450 and change the setting to broil to roast another 15 minutes. Make sure to check on the carrots and remove them before they blacken.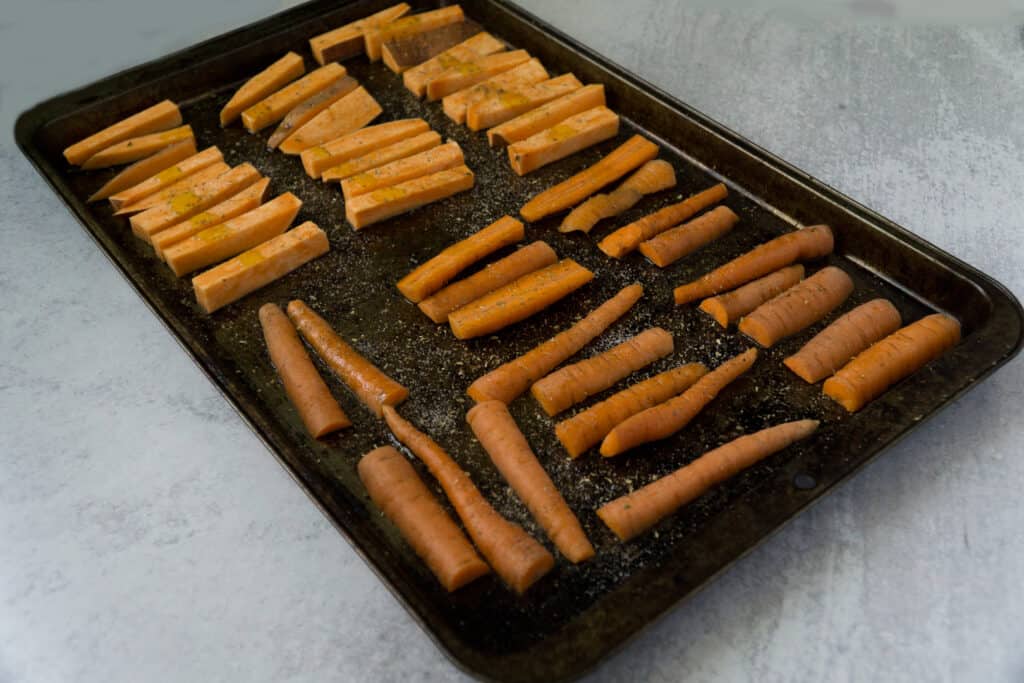 Grilling Chicken Thighs
I think thighs are tastier than breasts and they have a higher nutritional profile. For sustainability purposes, it's also important to buy other parts of the chicken besides just the breast! It's important that chicken farmers can make money to survive and continue existing by raising proportional and healthy chickens, which means they aren't all breasts. After all, I want my chickens to be able to stand up straight!

These whole chicken thighs only need to be salted and peppered before grilling. Once done, slice into little strips to top the salad.

Toasting the Pine Nuts
Pine nuts are my replacement for croutons in this healthy Kale Ceasar salad. Because there's no true Ceaser without croutons or fake croutons. They are more nutritious, naturally gluten-free, and easier to make than croutons.
How to toast the pine nuts
simply heat a skillet to medium-high heat. Add the pine nuts and stir occasionally until golden brown. This should only take 2-4 minutes so pay attention. Nuts can burn quickly so keep an eye on them, stirring frequently, and remove the pine nuts from the heat if they start to blacken.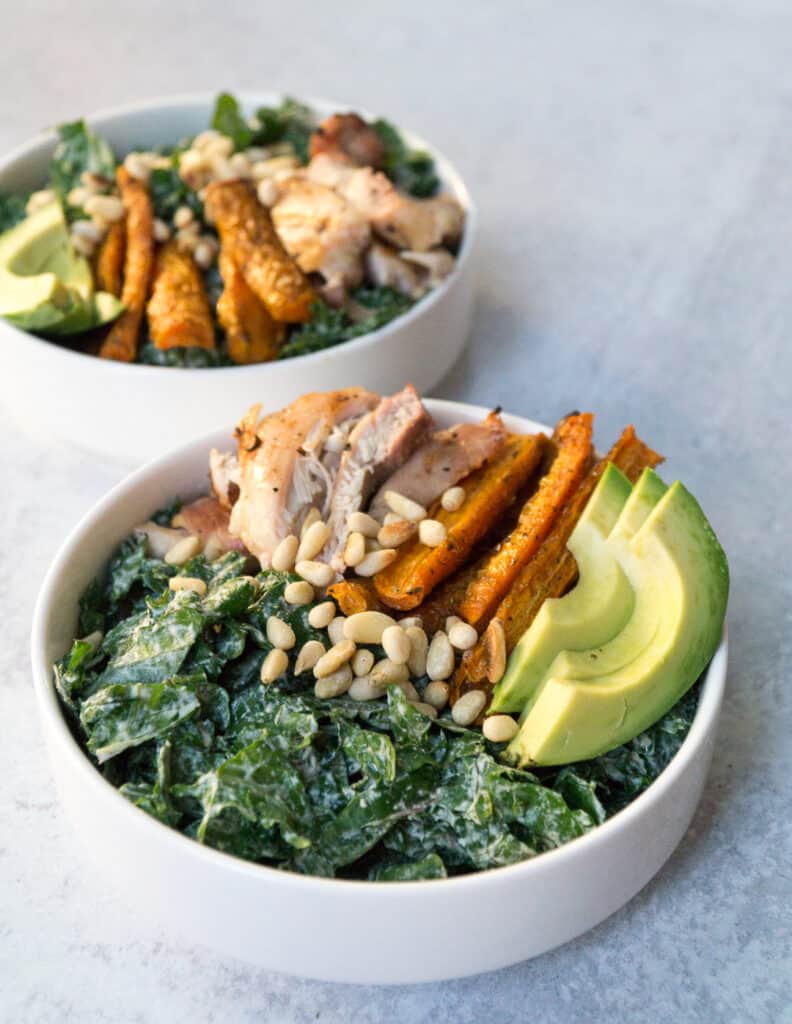 Put it all together – superfood Caesar
After massaging the clean kale with lemon juice, toss in the Ceasar dressing. It will be best to massage the dressing into the Kale with your hands.

You'll need to slice the avocado pieces. The best way to do this is by first cutting the avocado in half and de-pitting it. The pits come out easily if you slice a knife into the pit and then twist it out of the fruit. After de-pitting, use a knife to make long-lengthwise cuts into the avocado and then scoop those slices out of the avocado peel with a spoon.

Evenly distribute the dressed Kale into bowls. Top with sliced avocado, chicken thighs, and roasted carrot sticks. Then sprinkle with toasted pine nuts before you serve this delicious superfood Kale Caesar Salad and enjoy!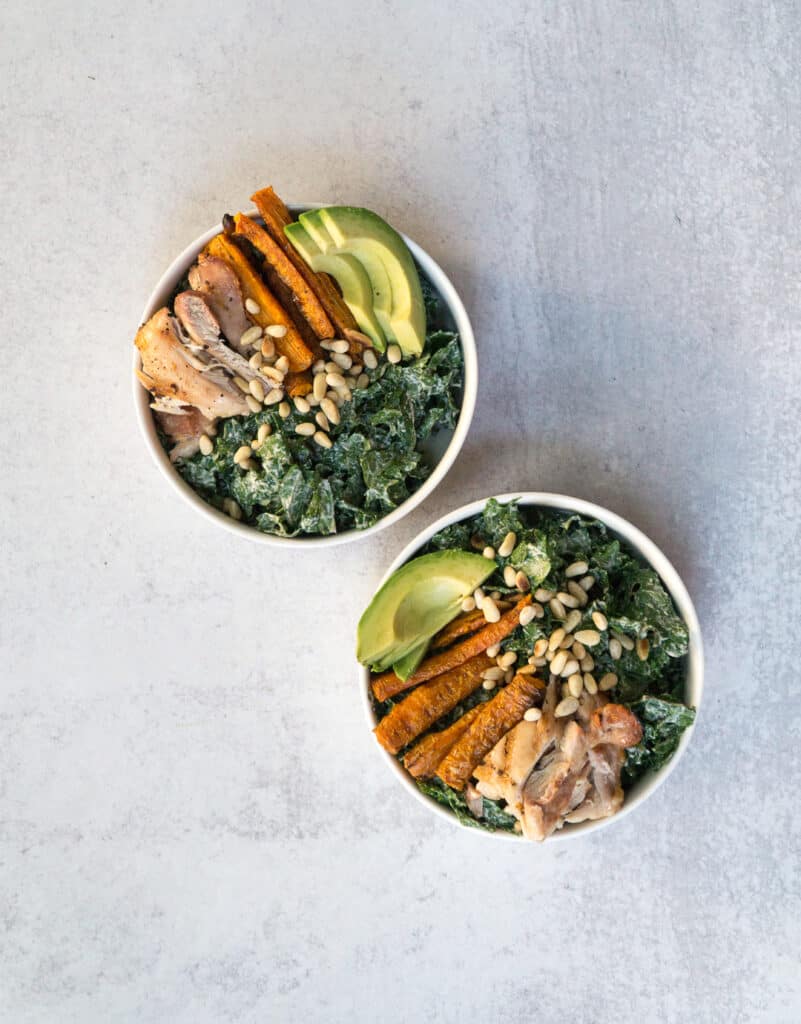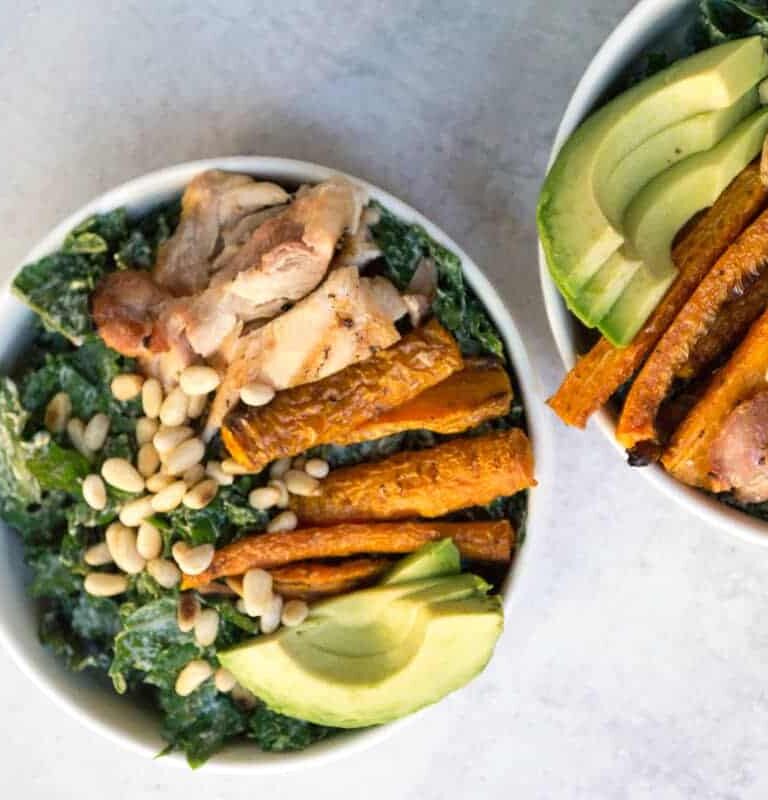 Superfood Kale Ceasar Salad
Description
Good for dinner and strong enough to last as leftovers, this fresh Kale Ceasar salad with toasted pine nuts, roasted carrots, creamy avocado, grilled chicken and from-scratch tahini-cashew Caesar dressing will nourish you!


Superfood Kale Ceasar Salad
Cashe Tahini Ceasar Dressing
Instructions
Coat carrots with olive oil, Italian seasoning, and salt. Bake at 350 for 20 minutes and then broil at 450 for another 15 minutes until lightly browned.

Massage lemon juice into washed kale

Add all dressing ingredients to a blender and blend until completely smooth, about 2 minutes

Salt and pepper chicken and grill until cooked. Slice into strips

Slice avocado

Toast pine nuts for 4-5 minutes in a skillet on medium-high until golden brown

Toss Kale with dressing

Distribute dressed kale evenly into bowls and top with avocado, grilled chicken slices, roasted carrots, and pine nuts
Caesar, Kale, Superfood Kale Caesar Salad