I'll never forget the first time I tasted the award-winning combination of creamy caesar salad with crisp wedges paired with warm and flaky salmon. I think it literally made me like salads. This spin on the classic Salmon Caesar recipe turns it up a notch.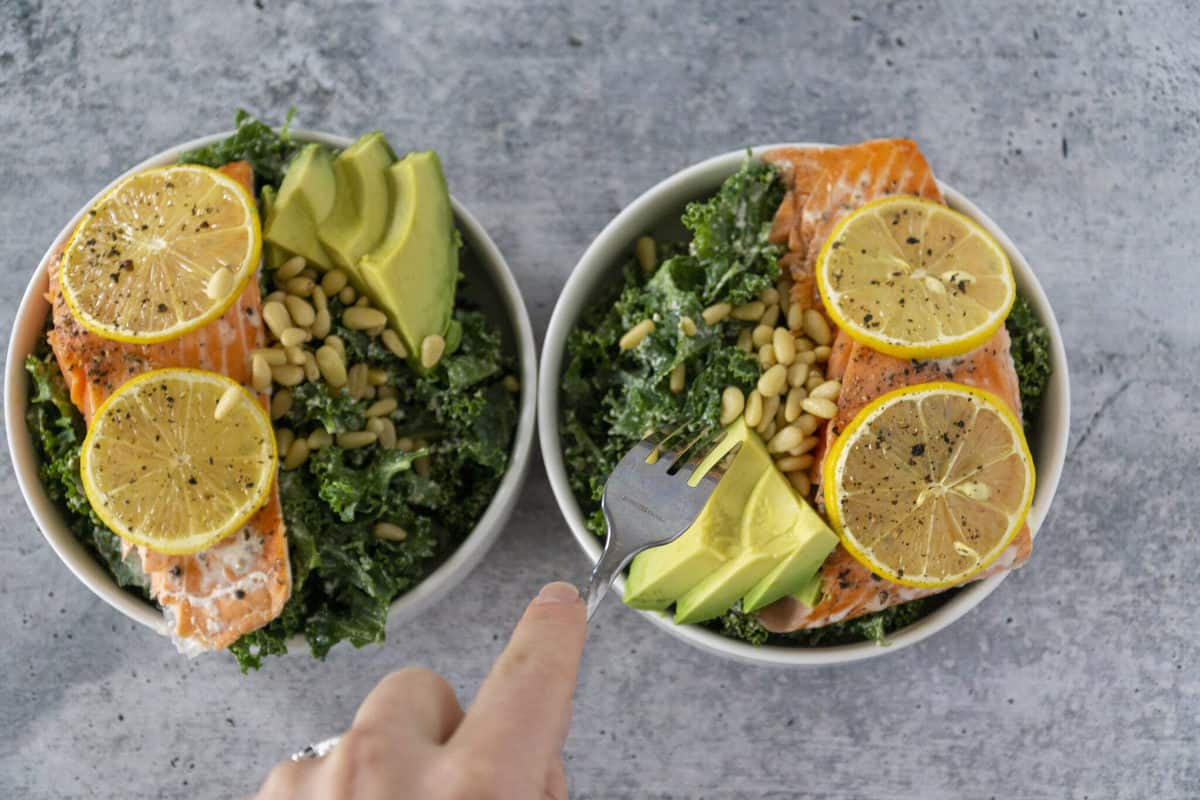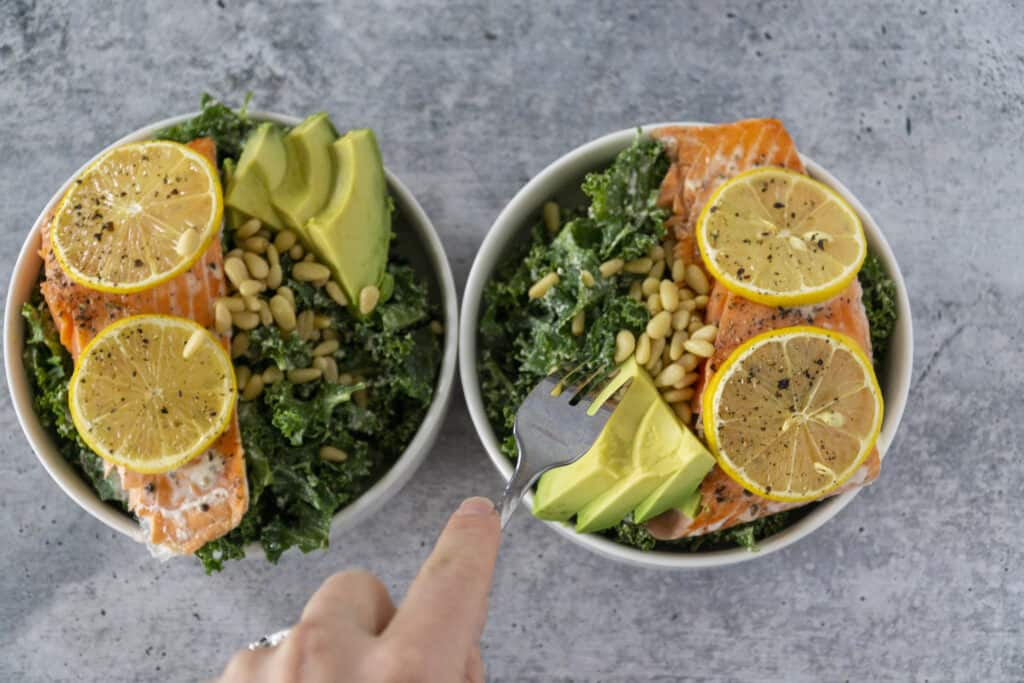 What Makes This Recipe Work
Kale not only has higher nutritional value than the standard romaine, but it also keeps better so the base of this salad can be made ahead.

The salmon is sustainably caught from small-catch fishermen and the plant-based and homemade Caesar dressing is full not just of flavor, but nutritious and healthy ingredients.
The Baked Salmon & Kale Caesar Ingredients
The Salmon and Kale are clearly the stars of the show in this meal, so choose them wisely.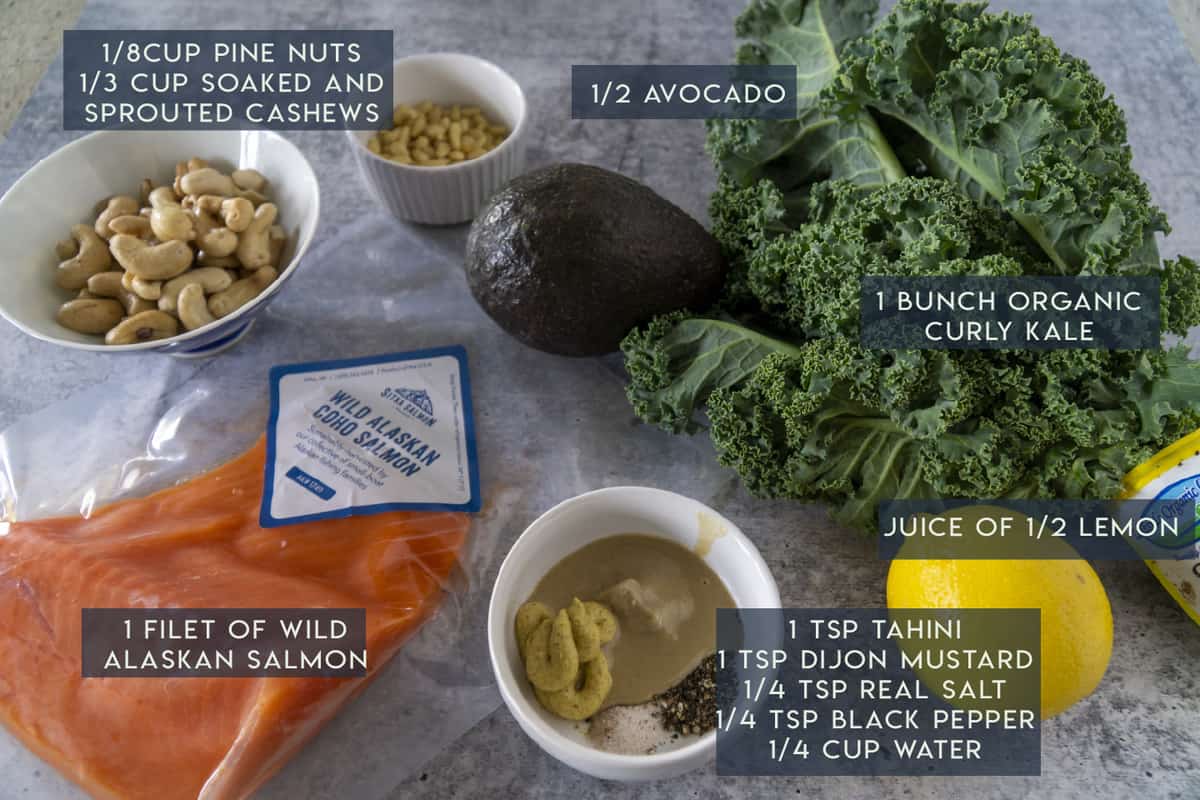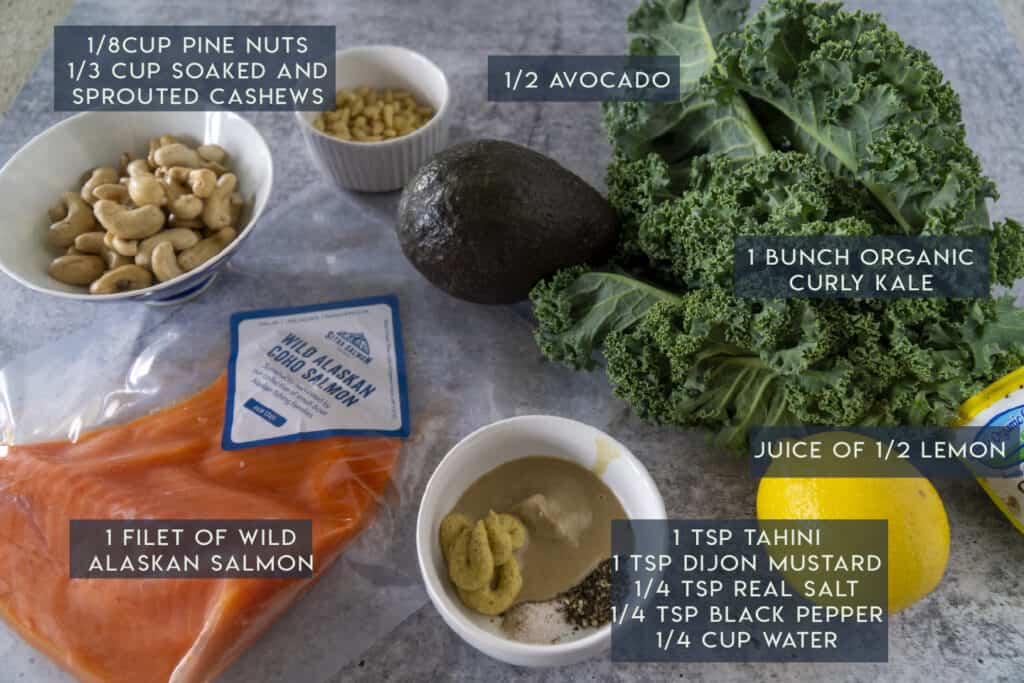 Salmon
Buy Wild Salmon
I always try to purchase wild-caught salmon. This is mainly because farmed fish are not allowed to swim or eat their normal diet which can lead to generally unhealthy fish. And if we eat unhealthy plants and animals, our nutritional gain from them is less and can even be harmful in certain situations.

They are raised so unnaturally, in fact, that the fish farms have to color the salmon pink. You can often tell salmon is farmed by the pale pink color.
Buy Sustainable Fish
It is also important to buy sustainable fish. This post is sponsored by Sitka Salmon who works with local fishermen in Alaska to maintain small-catch and entrepreneurial fishing. It has a smaller impact on the planet and helps to keep these fishermen above the poverty line.

Not only that, the packaging is a mix of recyclable and compostable and they give you a guide on how to properly dispose of it, even without a composter!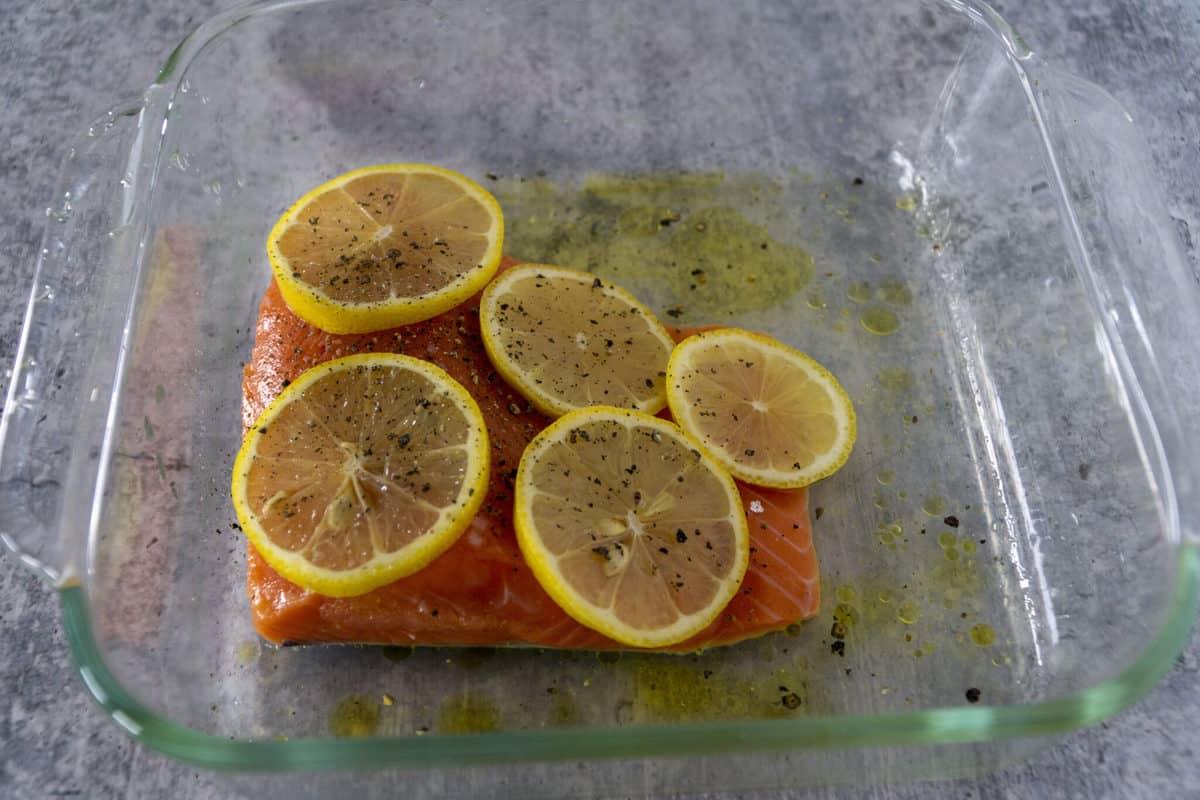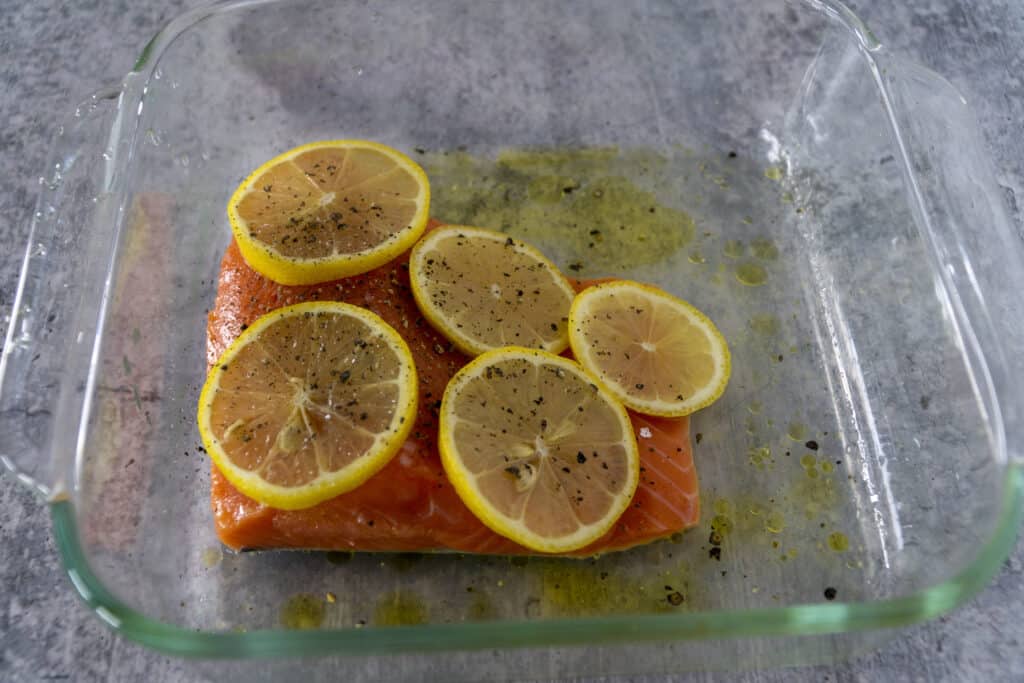 Curly Kale
Kale is on the dirty dozen list this year! That means it is one of the 12 most likely produce items to have been sprayed with pesticides and maintain those pesticide residues into the grocery store and your plate.

It's worth paying a little extra to purchase organic kale.

This recipe also works best with curly kale. Luckily, this is the most common type of kale found in grocery stores across the country. It also grows really well in cold climates if you want to grow your own!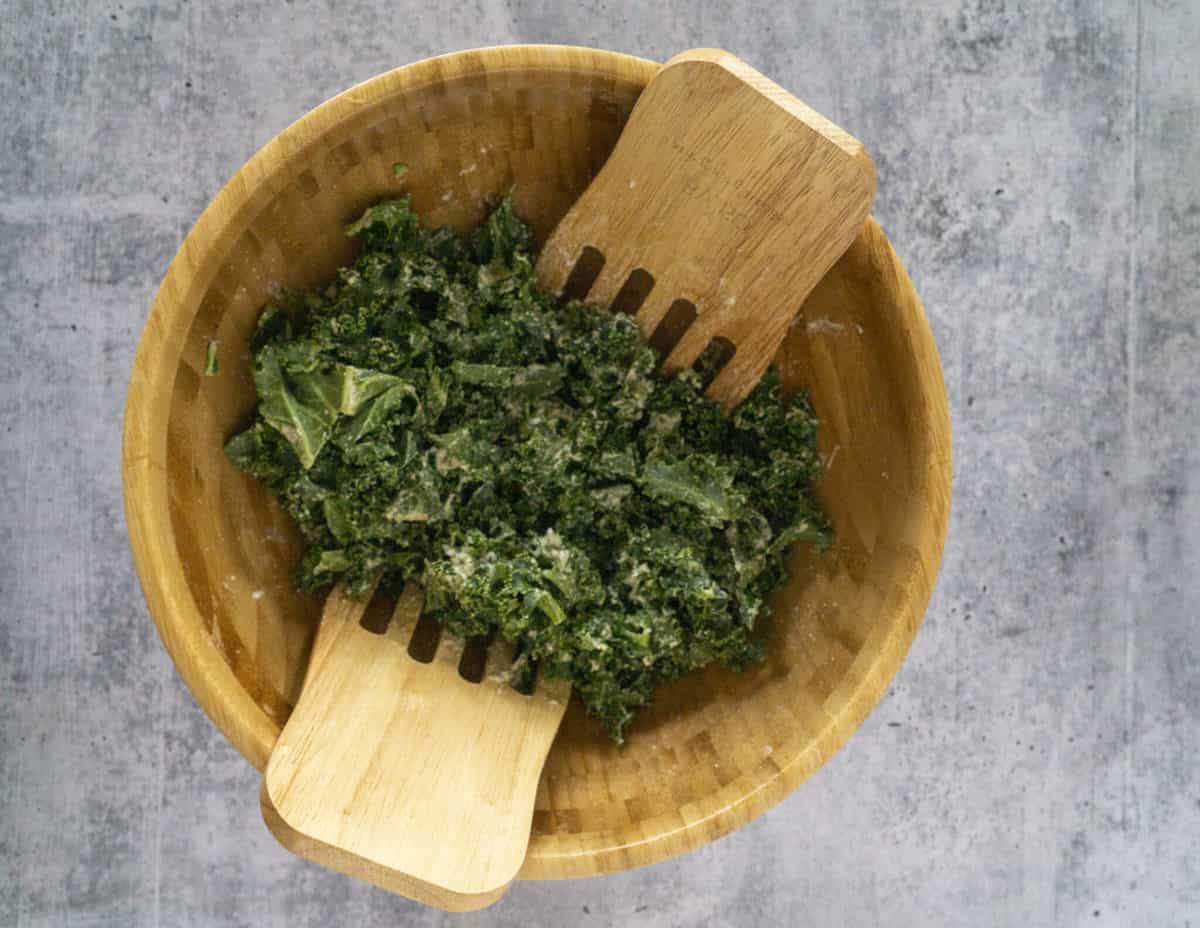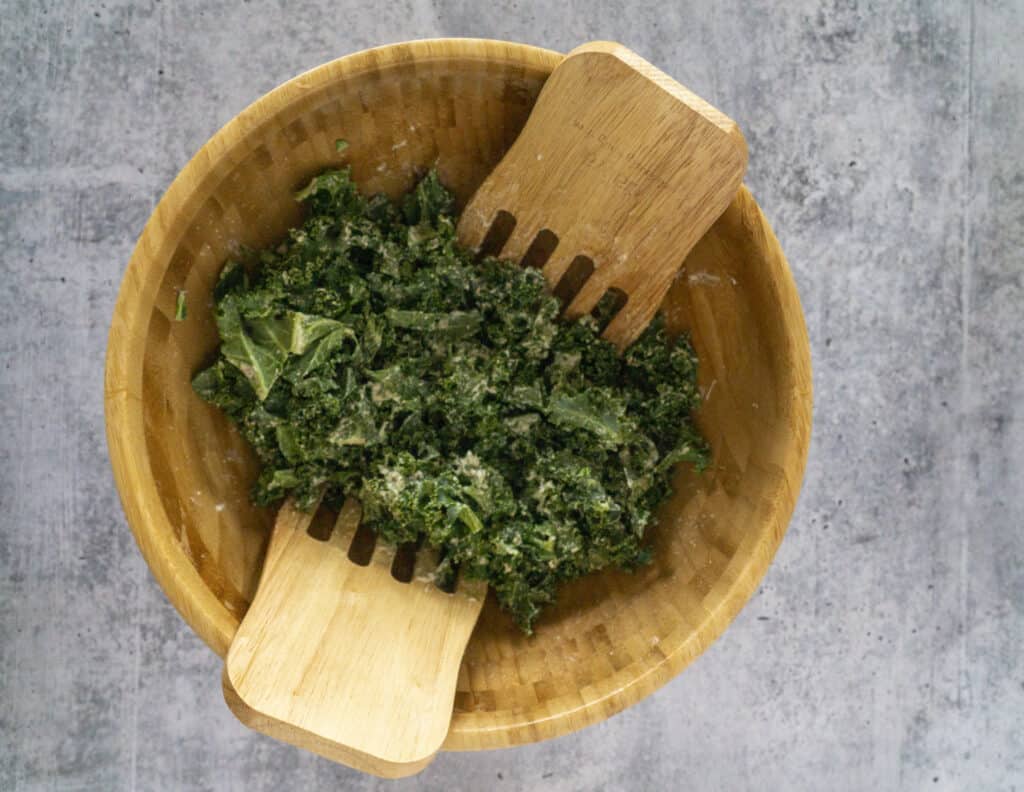 Kale makes it last
Since kale is a sturdy green it won't wilt or get soggy after being dressed. That means that you can make this for dinner tonight and then bring it to work for lunch tomorrow. It will taste just as good, maybe even better!

This is why I love Kale for my perfect lunchtime salad and the superfood caesar.
Making the Baked Salmon Kale Caesar
First things first, preheat the oven and start baking the salmon. Next, de-stem, chop and massage the kale. The dressing is easy and just requires blending all ingredients until smooth. Toss that dressing evenly into the kale before topping with the baked salmon, sliced avocado and pine nuts.
Bake the Salmon
I chose to bake the salmon because it's easier to do all year round and just feels easier than grilling. However, grilled salmon would be excellent on this Kale Caesar as well!

For baking, use an 8x8 baking dish and place the salmon skin-side down. The salmon skin has many gut-healing nutrients like Omega 3 and collagen, so opt for skinned salmon. Once the salmon is in the dish, drizzle a little olive oil on top to keep the salmon from drying out.

The seasoning will be light to let the high-quality salmon flavor shine through. Slice lemons and evenly spread over the top of the salmon filet before adding a few grinds each of salt and pepper.
The Dressing
Classic Caesar dressing has mustard, garlic, and cream. This Caesar has mustard and feels creamy, but it is entirely dairy-free. Soaked and pureed cashews substitute for dairy cream and tahini gives a little tang to better mimic the traditional buttermilk base.

The best part of this dressing is how easy it is! Just toss everything into a blender and pulse until fully combined.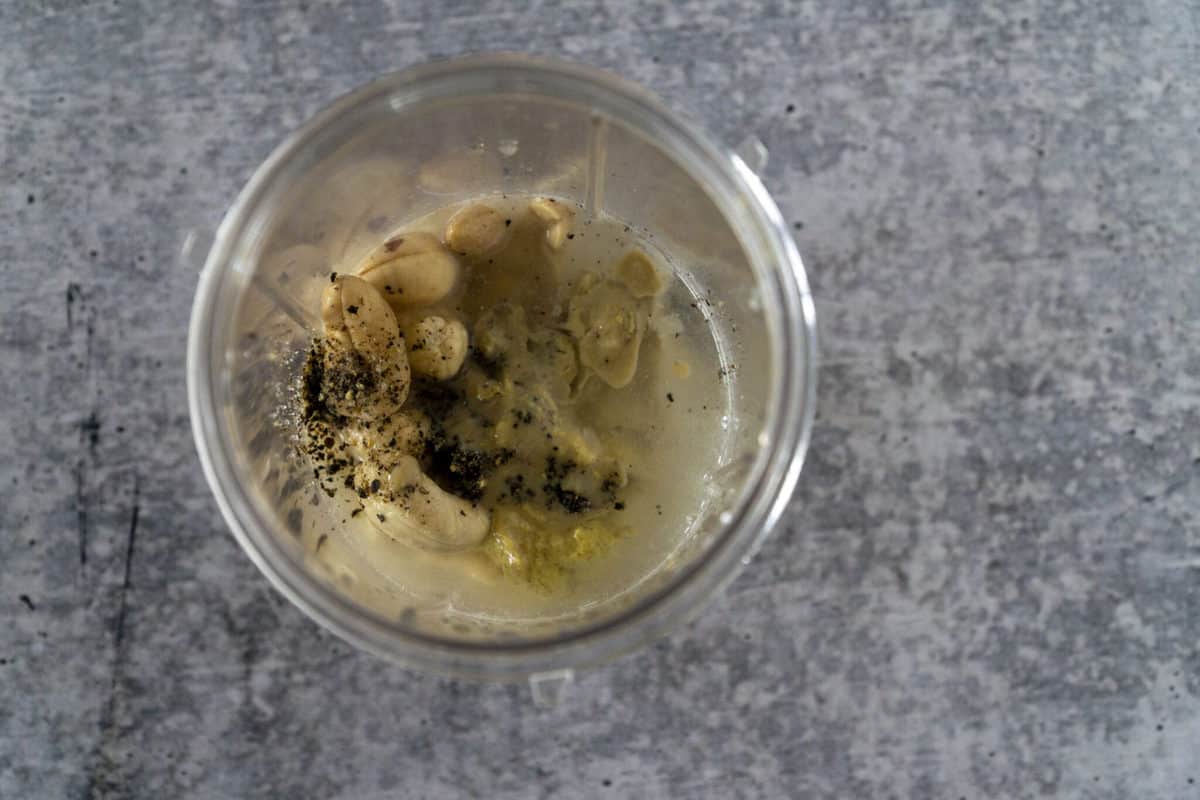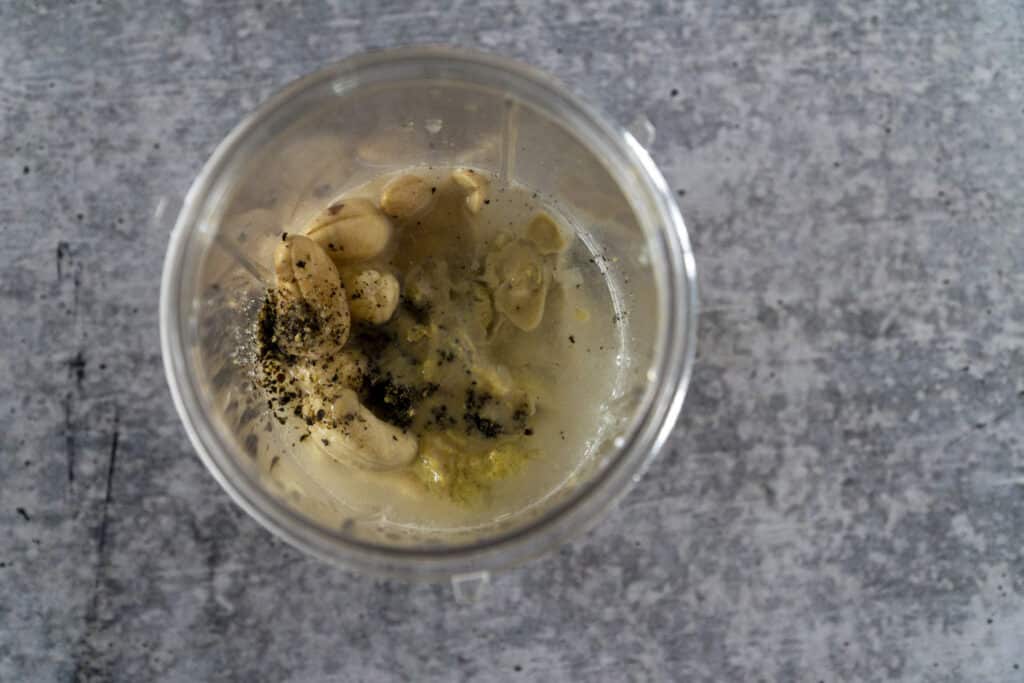 Soaking and Sprouting Cashews
Cashews are a legume, not a nut. Because of this, it is best to soak and sprout them before pureeing them. This process breaks down the nutrients making them easier to digest.

Ideally, soak the cashews for 6-8 hours. This is as simple as it sounds. Just cover them in water and then let them sit!

The next step is to sprout them. In this process, the cashews will form tiny little sprouts, just like they would if you were planting them. This too is simple. Simply drain the cashews and then cover them with a dishcloth. Let them sit for another 6-8 hours.

This is the same method I use for cashew frosting and the Superfood Chicken Caesar!
What if I don't have time to soak and sprout the cashews?
No worries! Another reason to soak the cashews is to make them easier to blend and become smooth. If you can't soak them, you can get the cashews soft by boiling them for about 4 minutes.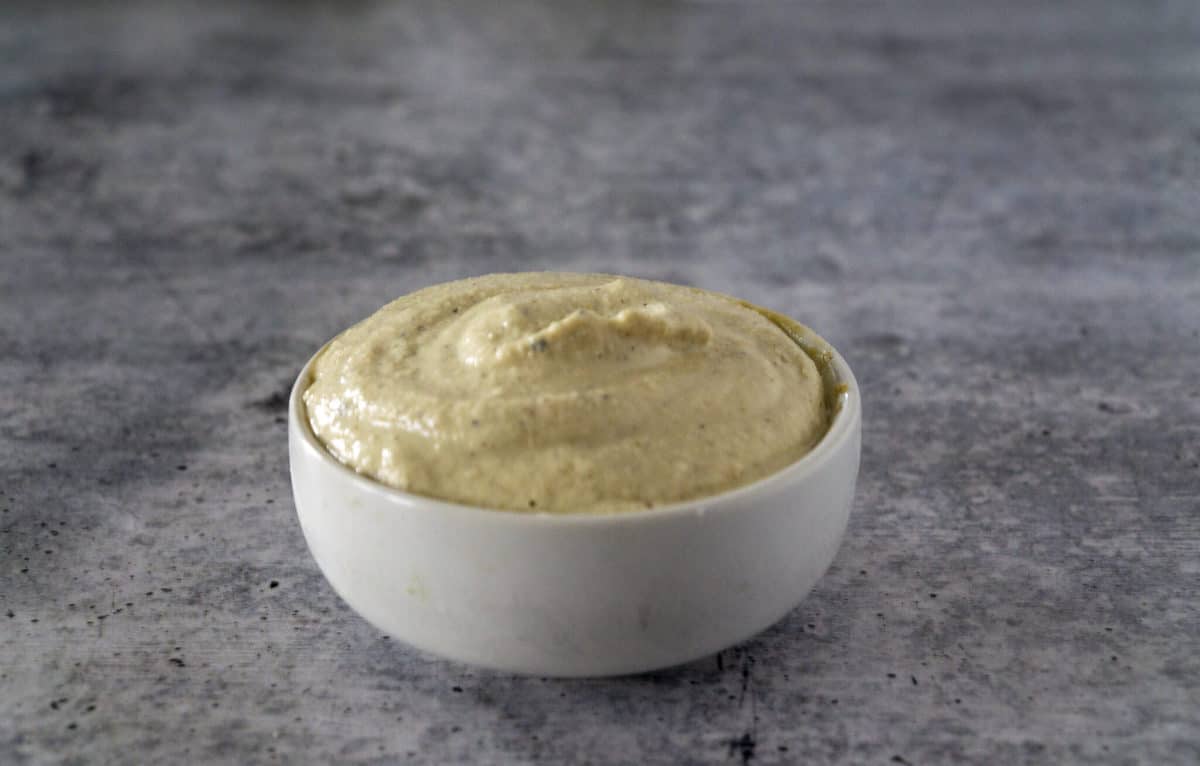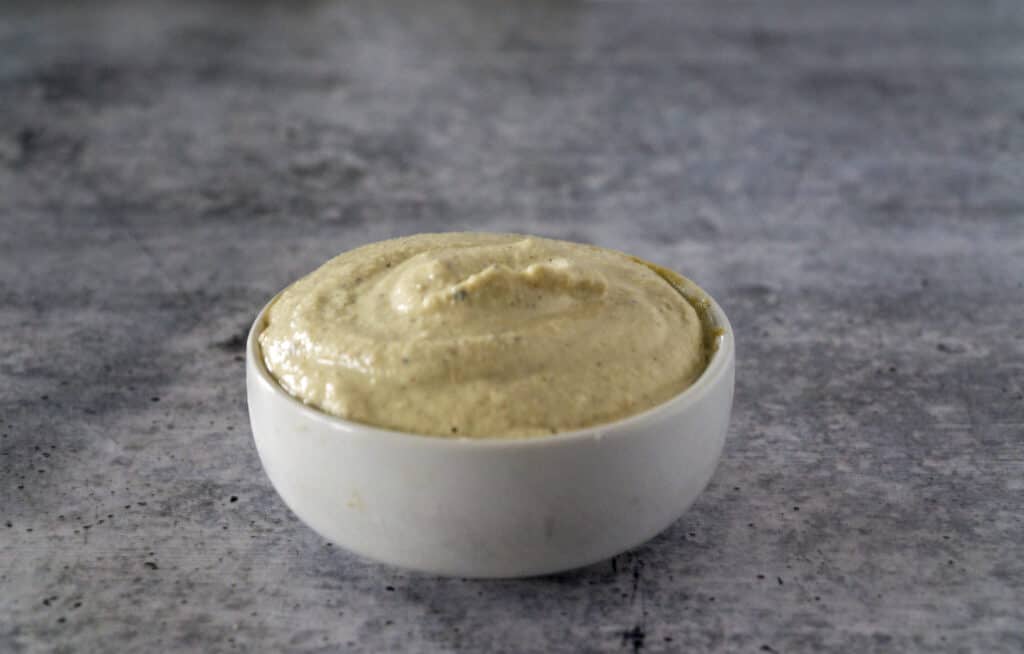 Building the full Salmon Kale Caesar Salad
You're pretty much done now that the Kale is cut, the salmon is baked and the dressing is blended. Here's what to do
Toss the kale in the dressing and distribute amongst bowls
Place half of the salmon on each bowl
Slice 1/2 avocado and split the slices between the two bowls
Garnish with pine nuts and enjoy!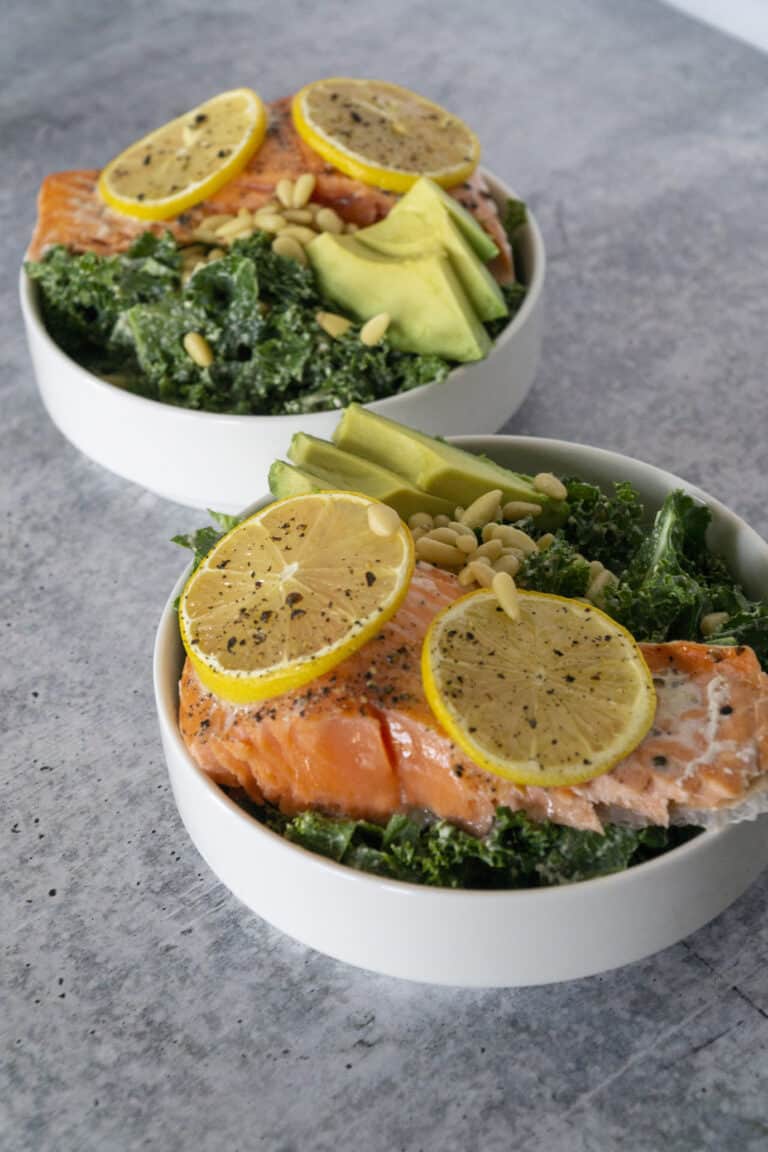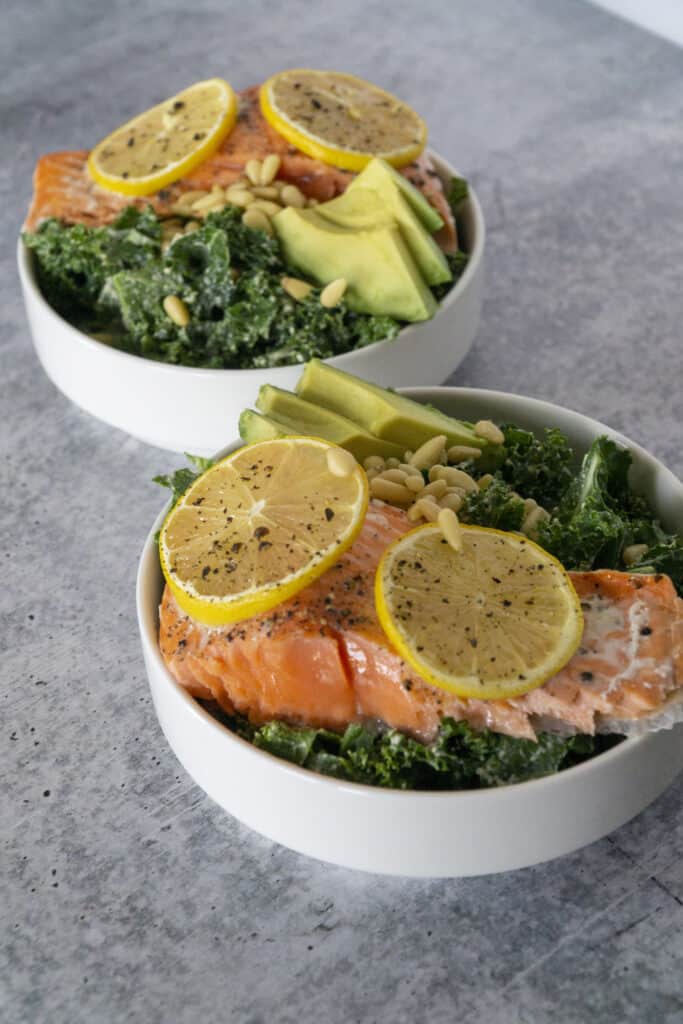 Expert Tips for a Slammin' Salmon Kale Caesar
Massage the Kale before adding the Caesar dressing. It will tenderize the leaves and be easier to chew and tastier.
When baking meat that can dry out easily, like fish or chicken, add a little water to the bottom of the pan. It helps keep it moist and prevents the protein from sticking to the baking dish.
If making ahead of time or storing as leftovers, keep the dressed kale separate from the salmon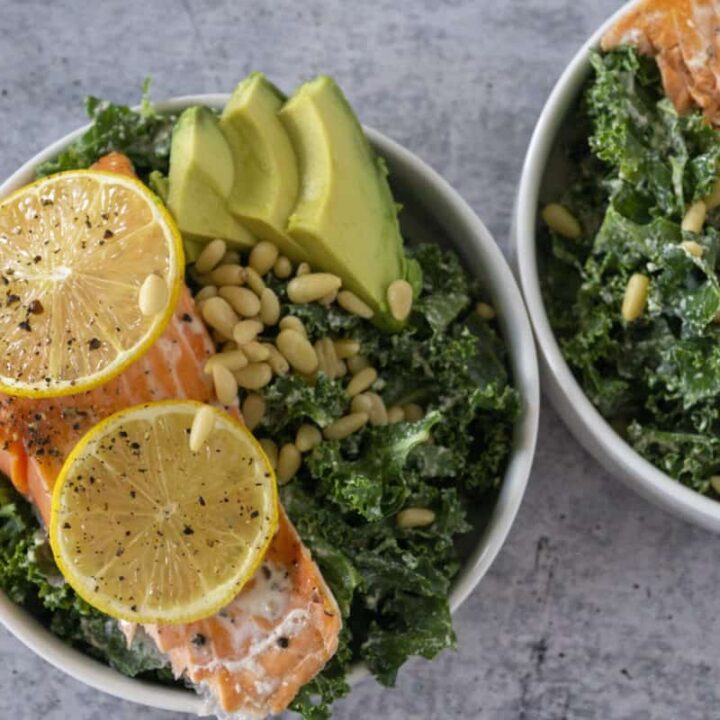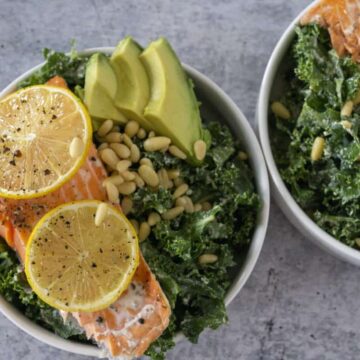 Baked Salmon Kale Caesar
Baked Wild Alaskan Salmon Kale Caesar with avocado and pine nuts uses cashews and Tahini for the dressing-base, making it naturally dairy and gluten free.
Print
Pin
Rate
Equipment
8 x 8 baking dish

Oven

Blender
Ingredients
Baked Salmon
Wild Alaskan Salmon

I used Sitka Salmon Shares

1

tsp

Olive Oil

1

grind Himalayan Salt

1

grind Black Pepper

6

thin lemon slices

~2 tbsp water
Kale Salad
1

bunch organic curly Kale

1/2

Avocado

1/8

cup

Pine Nuts
Cashew Tahini Caesar Dressing
1/3

cup

cashews soaked and sprouted or boiled for 4 minutes and cooled

1

tsp

tahini

1

tsp

Dijon mustard

1/4

tsp

real salt

1/4

tsp

black pepper

1/4

cup

water

juice of 1/2 lemon
Instructions
Preheat oven to 350 degrees

Place Salmon in a baking dish. Drizzle with olive oil and place lemon slices evenly on top before grinding salt and pepper over the salmon. Add the water to the bottom of the pan and then bake for 17-20 minutes or until medium-rare

Destem and chop kale. Massage cut kale to soften

Add all dressing ingredients to a blender and blend until completely smooth, about 2 minutes

Toss Kale with dressing

Remove cooked salmon and cut in half.

Distribute dressed kale evenly into bowls and top with salmon, avocado slices, and pine nuts

Serve and Enjoy
Nutrition
Calories:
585
kcal
|
Carbohydrates:
24
g
|
Protein:
44
g
|
Fat:
38
g
|
Saturated Fat:
5
g
|
Cholesterol:
94
mg
|
Sodium:
448
mg
|
Potassium:
1663
mg
|
Fiber:
6
g
|
Sugar:
4
g
|
Vitamin A:
6635
IU
|
Vitamin C:
117
mg
|
Calcium:
146
mg
|
Iron:
5
mg
This nutrition information does not tell the whole story of food's nutritional value! Make sure to use your gut intuition on what your body needs, eat your veggies and get 30 plants a week for optimal gut health. This nutritional data is calculated based on above values and standard brands. This information may vary.