A foolproof recipe for weeknight dinners or to bring for a meal train, this amaranth and tomatillo chicken bake is loaded with protein, vitamins, and flavor.
In my friend group, we love Meal Train. It's an awesome free app where you can sign up to bring someone food after a birth, surgery or illness.
These days there seems to be a lot of new babies, so we've been doing meal trains for all the new mommas and poppas.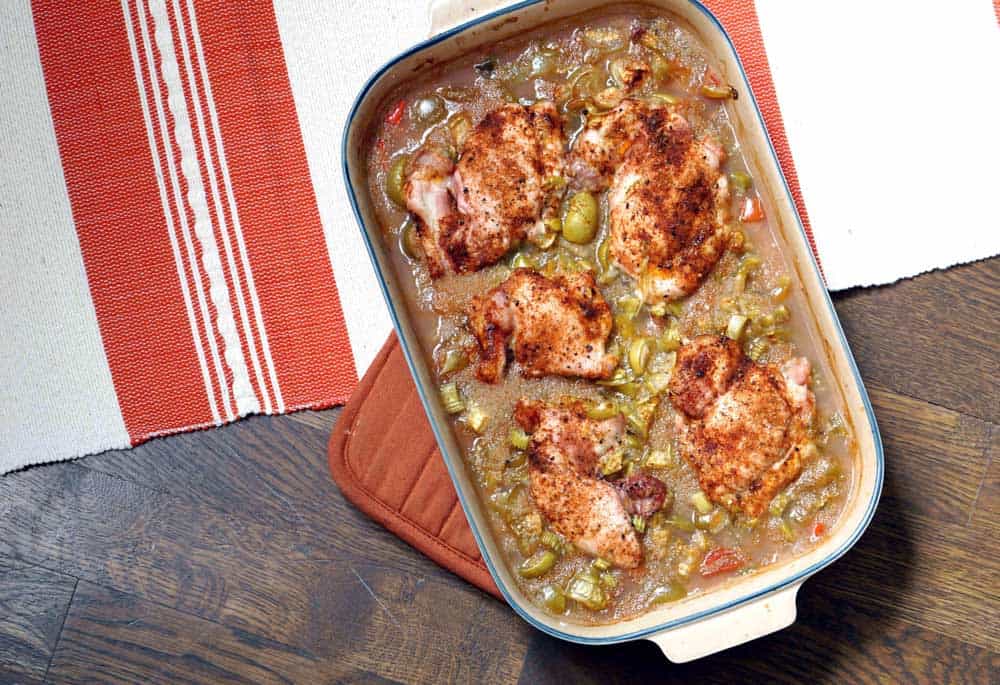 And new mom's need lots of nutrition and energy to heal themselves and nurture their newborns.
Recently, I found myself needing a meal for a dear couple with an adorable newborn. They also eat gluten-free and this idea popped into my head.
Hearty and Comforting meets Healthy and Allergen Friendly
Sometimes you just need a warm and hearty meal.
For me, those sometimes often occur in the dead of winter when there is no sunlight and I'm craving savory starchy foods. And while I don't know personally, I'd imagine that is also something you crave when you have a newborn (read: when you're exhausted).
But there's a healthier way to get there, my friends!
Instead of loading up on nutrient weak noodles, use a healthier ancient grain like amaranth or quinoa. Then load it up with fresh local veggies, hearty black beans, and pasture-raised chicken.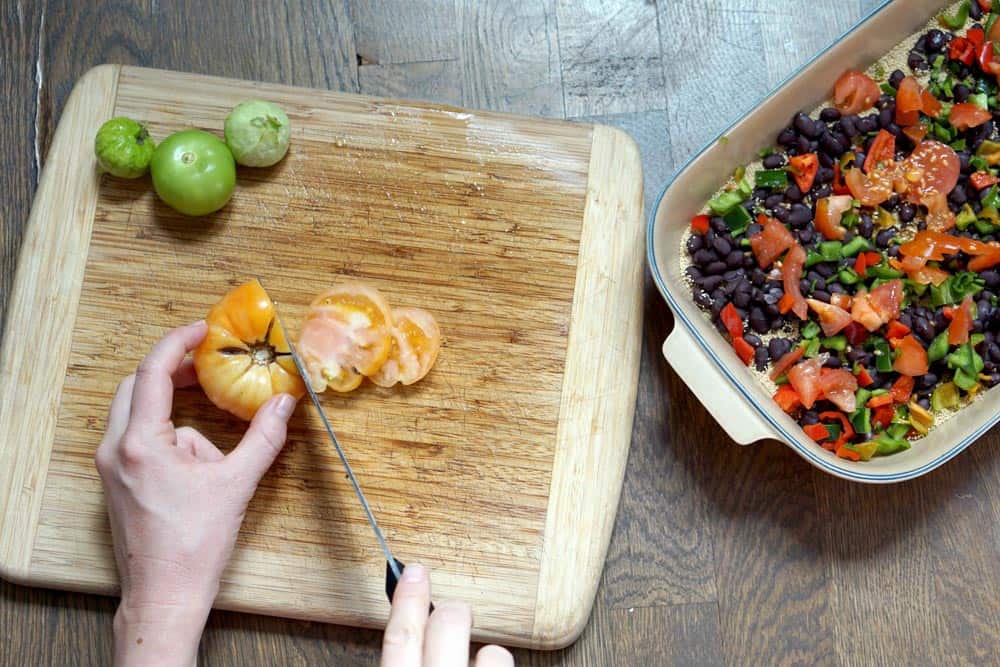 Why Amaranth?
Amaranth is an ancient seed high in protein, calcium, iron, magnesium, and potassium. It is often referred to as a complete protein because it contains the amino acid lysine, which is negligible in most grains.
While it's often misclassified as a grain due to similar preparation methods, it's not a true cereal grain.
The amaranth we eat today is derived from the order Caryophyllales and the family Amaranthaceae, which makes amaranth closely related to carnations, beets, and spinach. Just like carnations, the Amaranth flowers bloom bright for a long time.
Fun Fact: Quinoa is also part of the Amaranthaceae family. Both quinoa and amaranth are pseudo-grains high in protein.
True cereals, like wheat and sorghum, are seeds of grasses. They come from the plant family Poaceae.
Up to 8,000 years ago, ancient indigenous culture, like the Aztecs, relied on amaranth as a food source. It remains an important food source in Central and South America. If you want more history, here's a great write up on the history and benefits of Amaranth.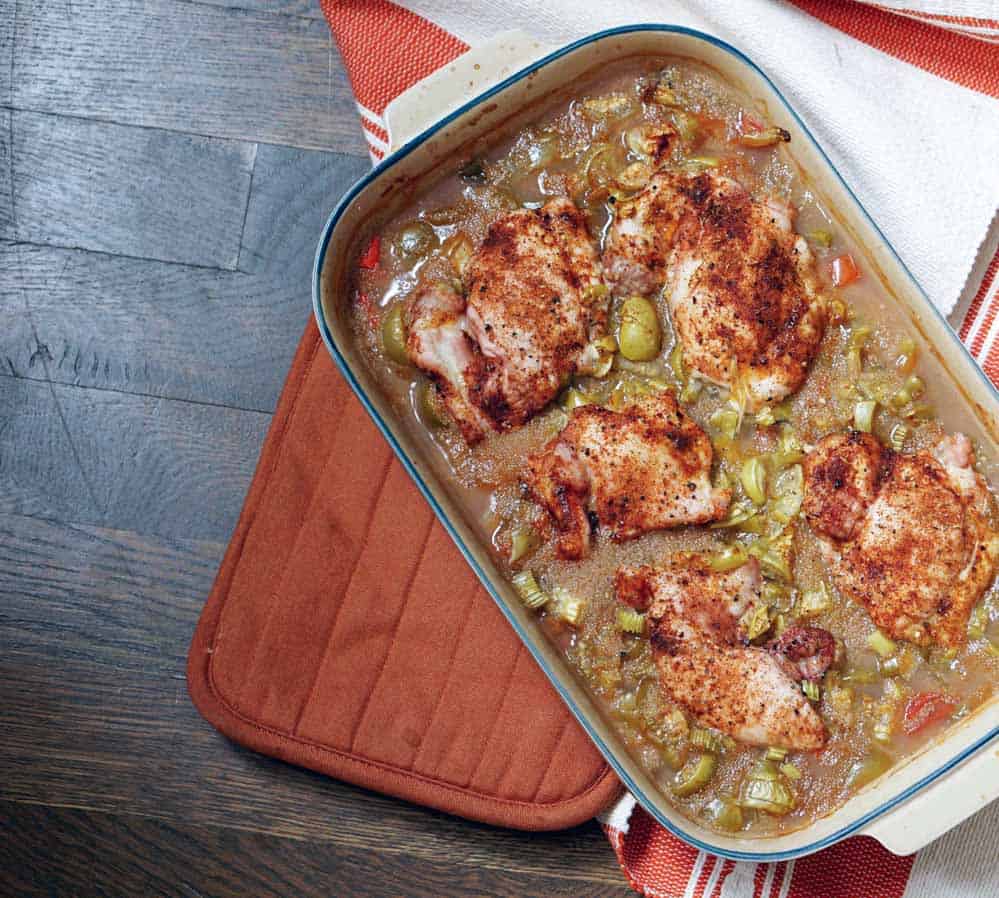 Ideal choice for a friendly tradition: Meal Train
This chicken amaranth bake is a great option, because:
You can reheat it.
It protects against heart disease
Multiple meals can be had from it
It's loaded with protein, fiber, and nutrients
You can eat as much or as little as you want in one serving.
And its gluten free and dairy free! for those paleo-ish moms in your life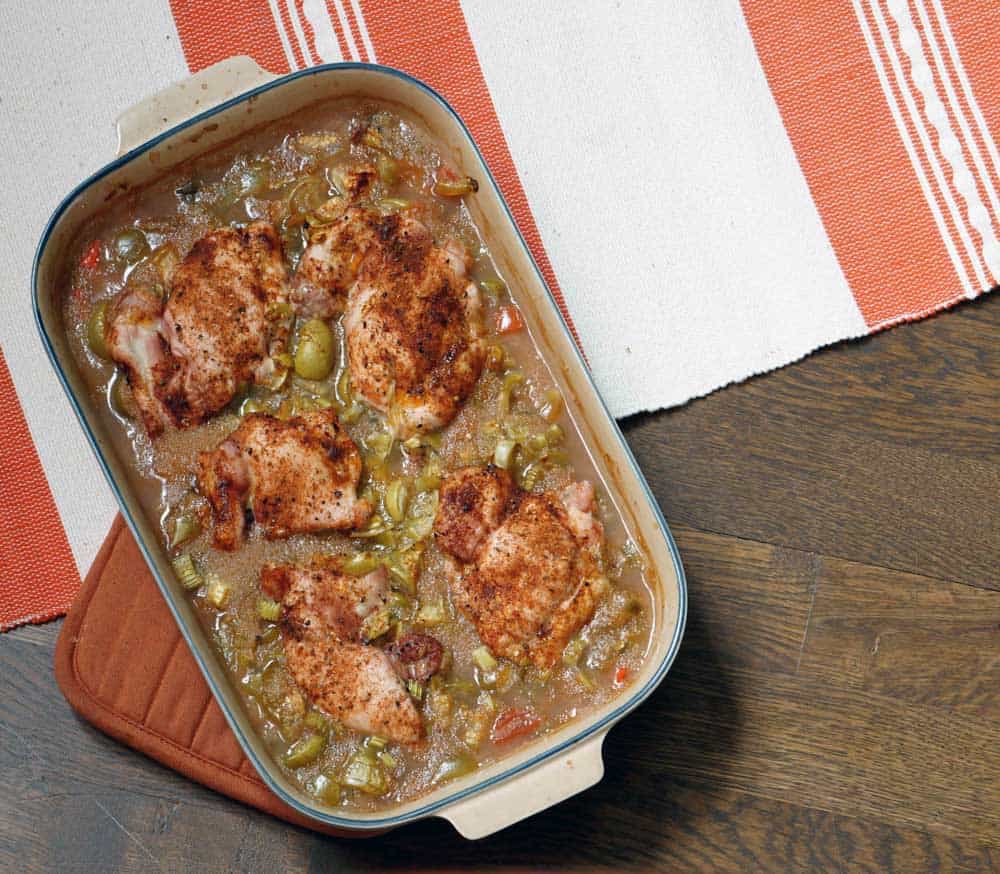 Amaranth and Tomatillo Chicken Bake
The amaranth and chicken bake uses amaranth, black beans, fresh tomatillos, and tomatoes for a complete south of the border taste. The chicken, spices, and amaranth give lots of flavors so you don't miss any cheese you might find in a typical Mexican bake.
The next time you find yourself needing a few days worth of easy dinner plans, or a friend has a new baby and needs a little food love, try this amaranth chicken bake!
Sharing is caring! Pin for Later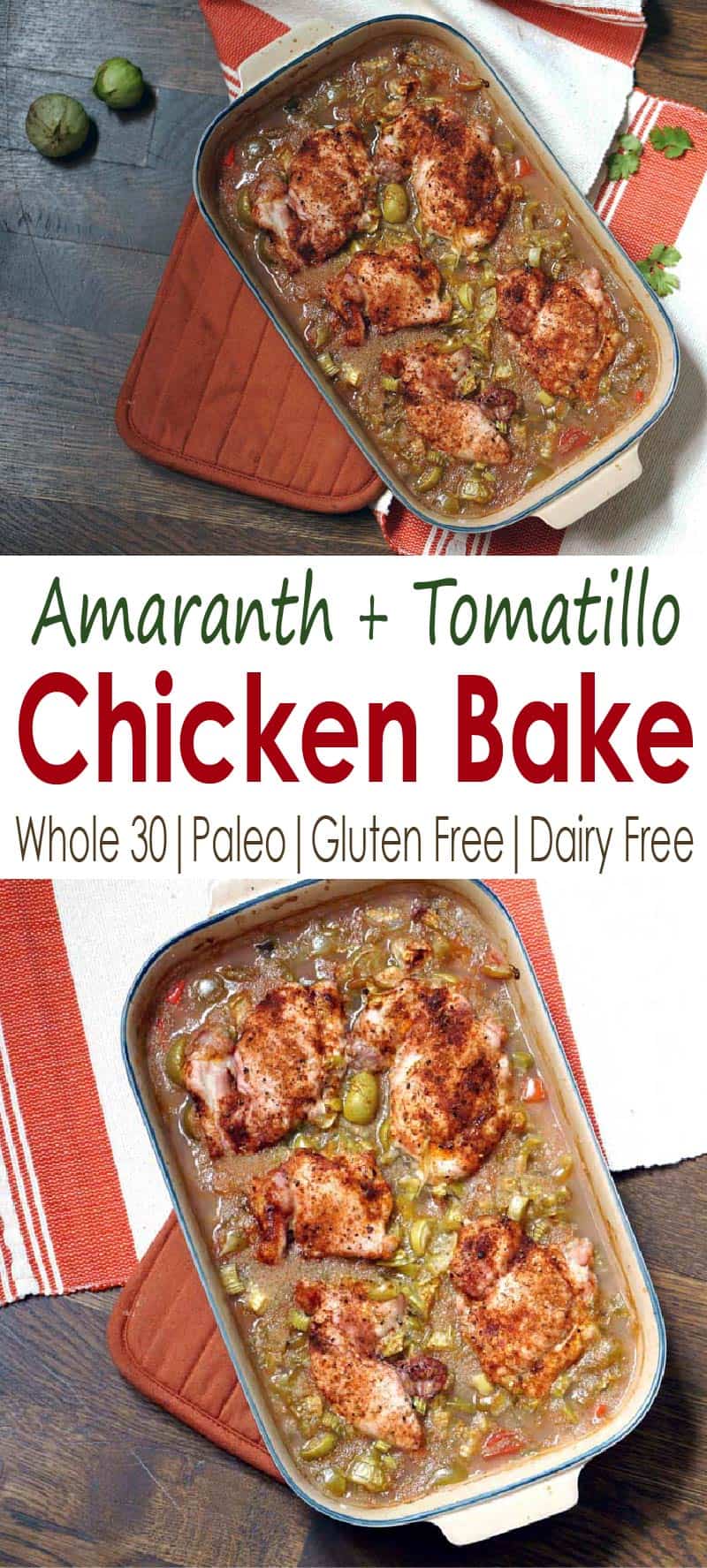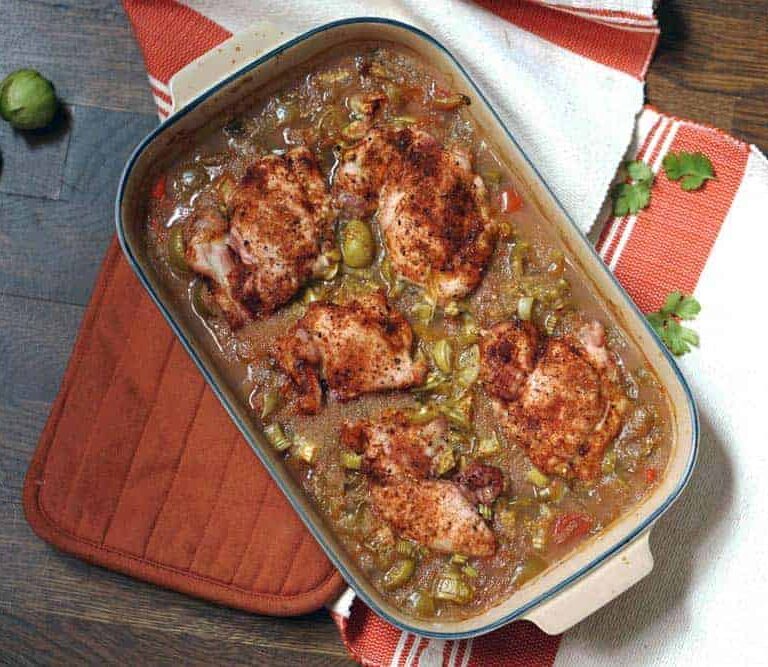 South of the Border Amaranth and Tomatillo Chicken Bake
Description
All the flavors of Central America bundled into one healthy paleo bake: a foolproof recipe for weeknight dinners or to bring to a friend with meal train.
Instructions
Directions:
Spread dry amaranth evenly on the bottom of a 9x13 pan

Spread beans evenly over amaranth

Dice onion, peppers, and celery and spread evenly over amaranth and beans

Coarsely dice tomato and tomatillos and spread evenly on top of peppers,

Pour chicken broth evenly over the top of the mixture.

Add chicken to top. Arrange so the chicken all sits evenly. With larger thighs you may only fit 5. With smaller thighs, you can fit 6.

Season with salt, pepper, and dry rub, sprinkling spices evenly over the top

Bake at 350 for 35-45 minutes, or until amaranth and chicken are golden

Remove from oven and let sit for 10 minutes

Serve and enjoy!
HEALTHY