Steeped with cinnamon and clove, this spiced champagne punch mixes natural fruit flavors and bubbles for a delicious and less sugary punch with reduced potential for hangovers!
I know what you're thinking.
Oh! the sugar!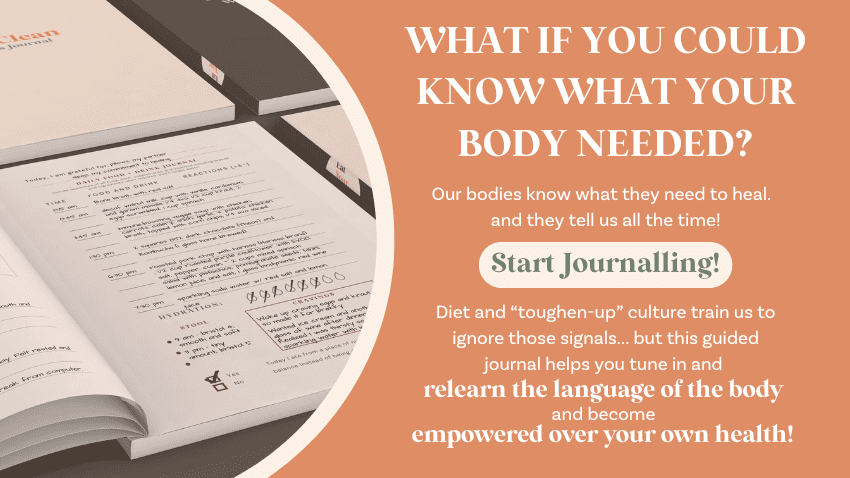 Champagne is already sweet, and you want me to add "punch" items to it? I can practically feel the headache forming.
But not so fast!
This spiced champagne punch is different.
First, we really let the champagne shine through here. By that I mean there is less juice than a typical punch, leaving more room for the good stuff.
Second, spices like cloves and cinnamon add depth and flavor without added sugar. Not only does it taste better, but it cuts down on the potential hangovers!
A flavorful punch with less sugar
Sugar can worsen hangovers when drinking, so I try to reduce the amount of sugar in my cocktails and punches.
I use unsweetened cranberry juice for a less sugary taste. Did you know that unsweetened cranberry juice still has up to 11g of naturally occurring sugar? There's no need for added sugar in addition to that 11 grams. You can find unsweetened cranberry juice at your local health foods store. I found mine at Sprouts.
There's also some pineapple juice and honey to sweeten the punch a little. Afterall, it is a punch.
If you prefer, you can remove the pineapple and honey for an even less sugary punch. It would be more of an herbal cocktail, but I think it would taste quite delicious.
Making the Spiced Champagne Punch
The first step is to boil the cinnamon and cloves in water. This makes a spiced tea that will flavor the punch. It's important to do this ahead of time so the mixture has enough time to cool before mixing with the rest of the punch.
After the cinnamon, clove water cools, mix in the juices and Grand Marnier. You can make the punch ahead of time up to this point.
Just before serving, add the champagne.
A good Punch requires a Good Punch Bowl (which can be surprisingly cheap!)
I absolutely loved finding the punch bowl for this recipe, as I mentioned when I used it for our lumberjack NYE party last year!
There's an amazing thrift store, which is more like a giant estate sale conglomerate here in Denver. If you're from around here and you haven't been… check out the brass armadillo! It has amazing finds, like this adorable crystal punch bowl set with matching spoon and punch glasses.
While you can totally serve punch out of a pitcher, the punch bowl is more fun.
I found a similar one here and here if you can't find one at your local thrift stores.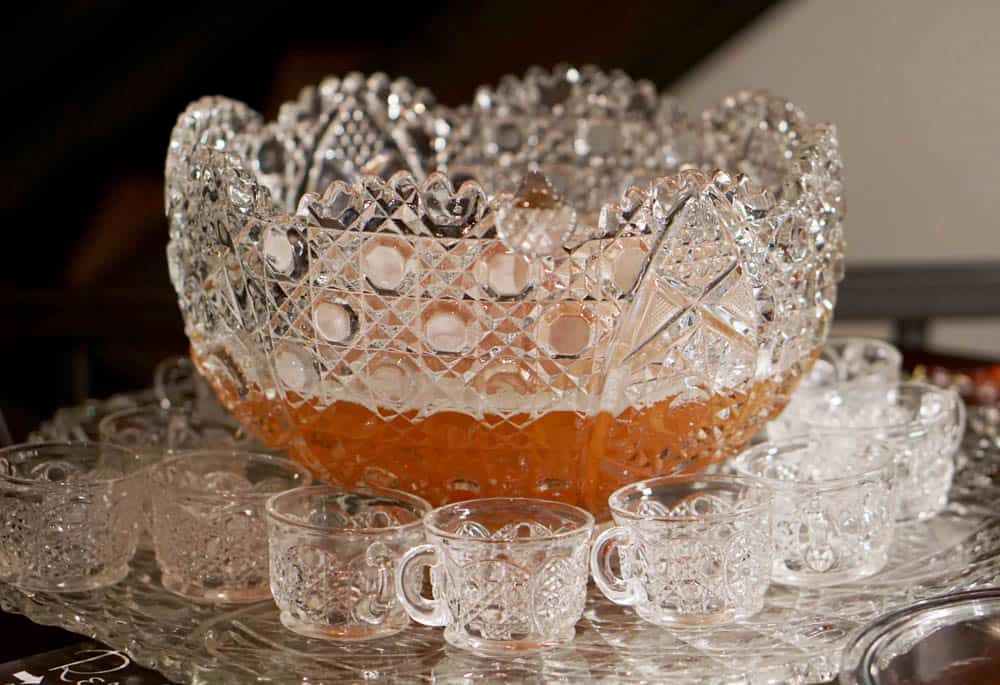 Garnish the spiced punch with fresh berries
To keep it chilled and not watered down, we made an ice ring. This is better than regular ice cubes because the surface area is smaller on one large ice ring than on multiple little ice cubes. That means less water will go from the ice into the punch right away.
It's also really easy to make decorative ice rings by adding a few berries, citrus or herbs to the water before freezing.
To make the ice ring,
Find a freezer safe bowl, vintage jello molds like these work great!
Add a few cranberries, lemon slices, rosemary twigs and or cloves to the bottom of the bowl. Cover with about an inch of water
Freeze the bowl for about an hour. You are setting the fruit and herbs in place with the initial layer of water
Fill the rest of the bowl with water and freeze until firm
While the punch is great by itself, I like to serve it with a few garnishes. Fresh cranberries, blueberries, and pomegranate seeds are great garnishes. Just fill little bowls with each and set near the punch with a serving spoon.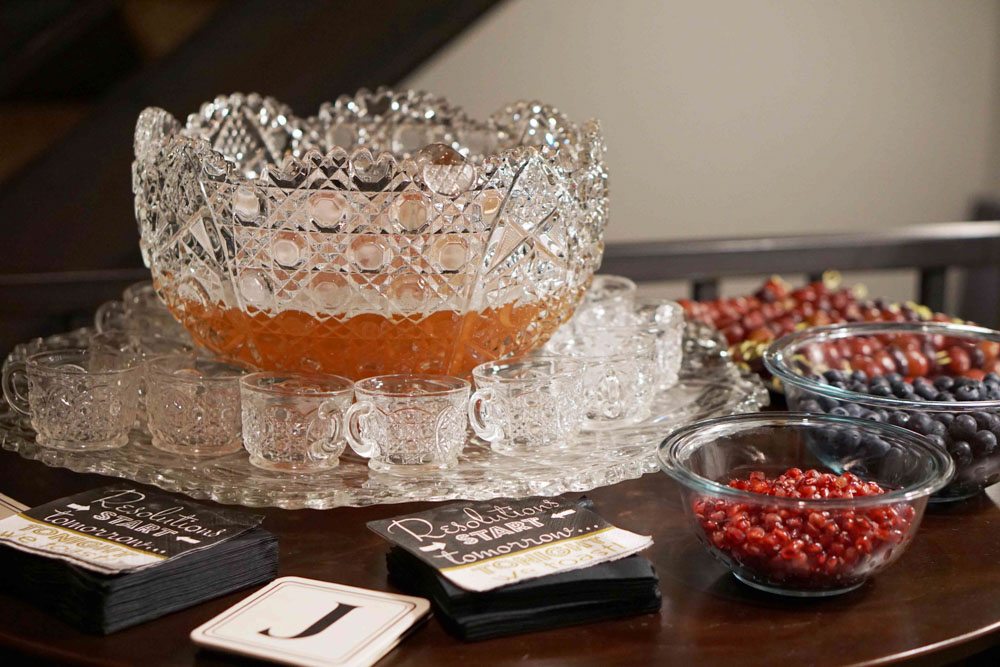 Some of these links might be affiliate links, which means Eat Your Way Clen gets a little grocery money as part of the sale at no extra cost to you. thanks for supporting our recipes!
Sharing is Caring! Pin for Later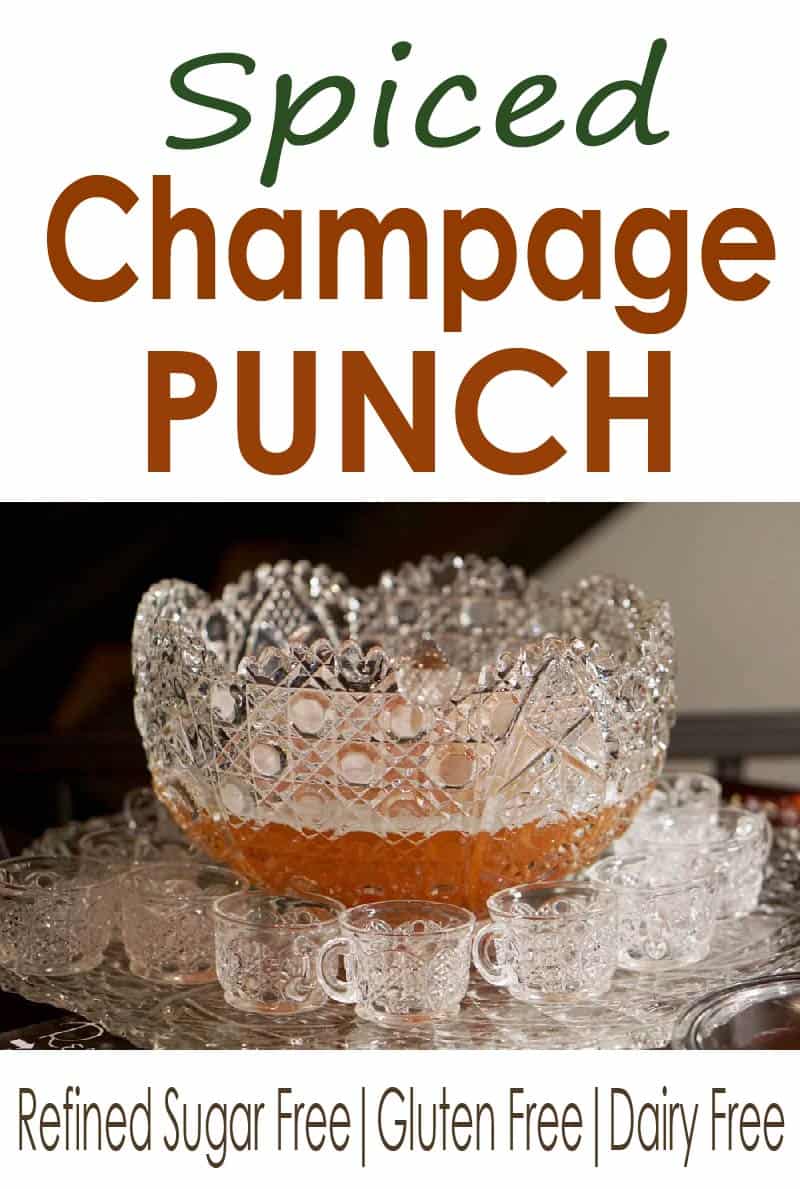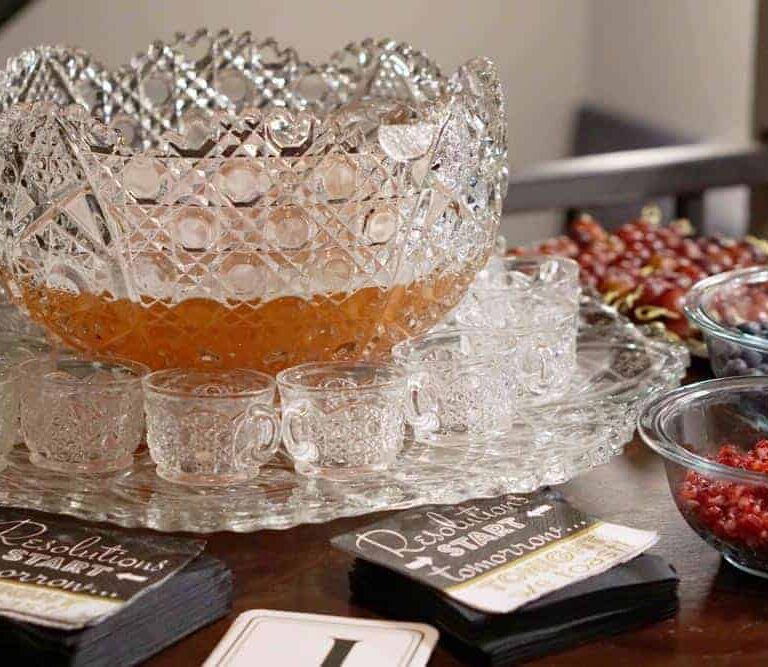 Spiced Champagne Punch
Description
An herbal champagne punch spiced with cinnamon and clove. A less sugary punch with natural fruit flavors and reduced potential for hangovers!
Instructions
Directions:
In a saucepan, bring water, cinnamon sticks and cloves to boil.

Reduce heat and simmer for 5 minutes.

Discard cinnamon and cloves. Stir in honey

Cool to room temperature and pour into a large pitcher.

Add cranberry juice, pineapple juice and Grand Marnier

Chill in fridge until ready to serve.

At serving time, add 1 bottle of chilled champagne
Note
Great served in a punch bowl with an ice ring. Garnish with blueberries, fresh cranberries or pomegranate seeds.