Finally, a cut-out cookie frosting without powdered sugar! With just 2 ingredients, this healthy, paleo and naturally colored blender frosting is ready in minutes.
Going gluten free was relatively easy. Once you learn the different starches and legumes to satisfy that need for complex carbs, daily eating becomes more enjoyable (IMHO) with a little less bread. And nowadays you can get a plethora of GF flour options to make most baking delights. (Gluten free phyllo dough remain an elusive dream to me)
Dairy free was a little harder, but there's not much coconut oil can't solve. Not to mention almond milk, hemp milk, and coconut cream.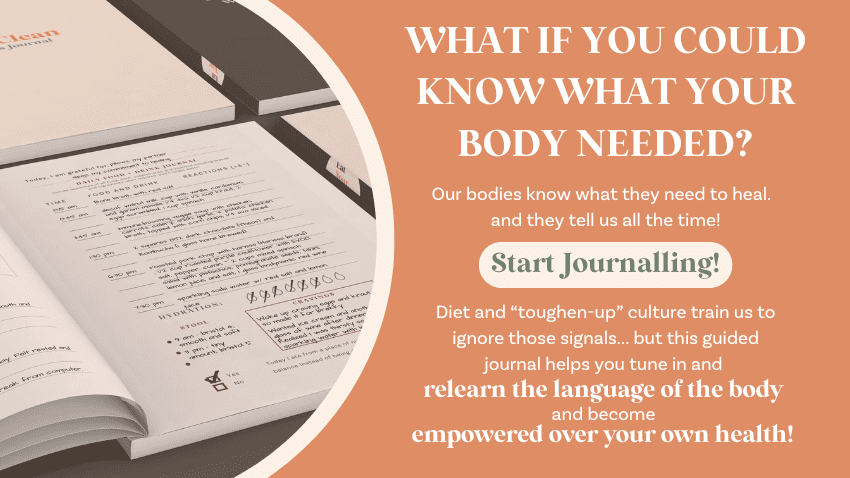 Refined sugar, on the other hand, is challenging when it comes to cookies. Especially when making frosting made mostly from powdered sugar. How do you make a dairy free, refined sugar free version of 1 stick of butter and 4 cups of powdered sugar?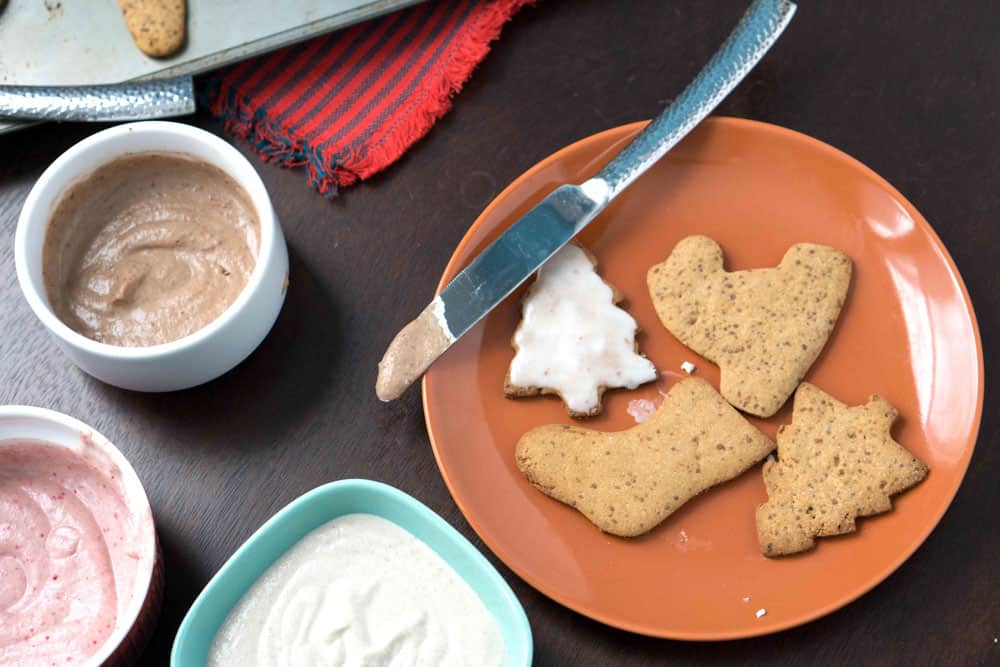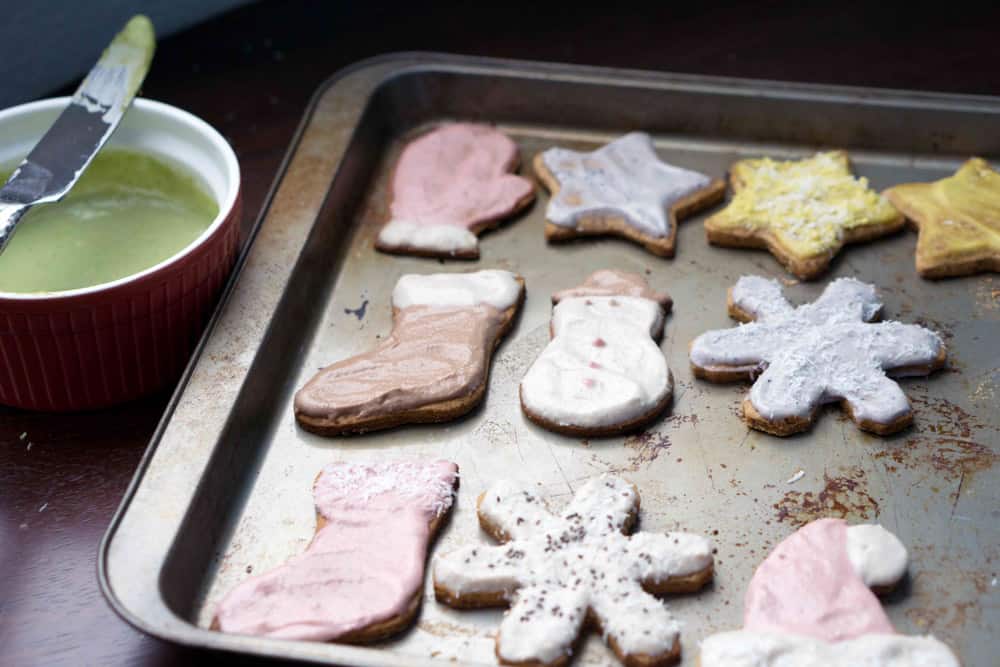 This took me a while.
And to be honest, I just flat out avoided making cut-out cookies for the first year of my dairy free, sugar free lifestyle.
Last year, I caved and ate the normal sugar-filled cookies at Christmas, for nostalgia sake. The gluten free cookies meant I wouldn't get devastatingly ill, but I did feel crappy from all the sugar.
I just can't tolerate large amounts of processed sugar anymore. I'm used to not having it and it doesn't feel good to get back in the cycle of a sugar rush followed by a sugar crash.
So this year, I needed to find a solution.
We tried a few things: coconut butter, powdered honey, coconut cream, pureed walnuts…
Finally, we've got something that is pretty good…
…and the bonus is it's super easy to make!
2 ingredients
boil and then puree
you are done
Can you believe it?!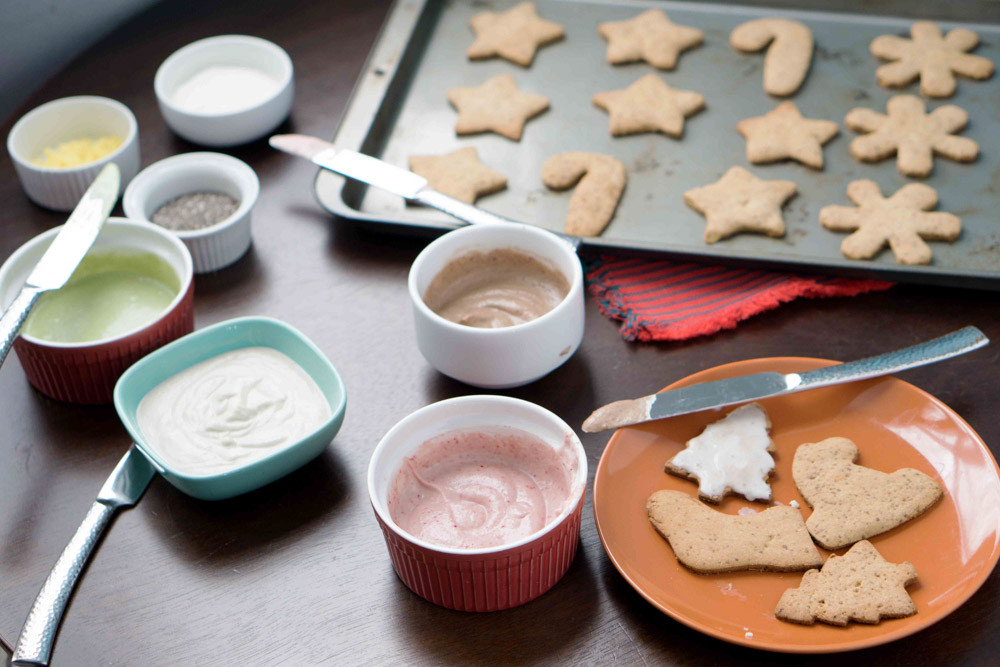 The 2 ingredient blender frosting
The cashews make a creamy base and make the frosting's foundation. If you've made cashew cream before, this is similar. After soaking or boiling, cashews blend into a nice cream that spreads evenly over cookies
I've noticed in testing that cold nuts do not blend as well as warm nuts, so make sure the cashews are slightly warm when you blend them.
When blending, you want to make sure you add just enough water that the blender can puree the nuts and dates. Too much water and the frosting will be runny. When in doubt, use less water because you can always add more. You can't remove it.
I use a magic bullet blender for this because it is great with small quantities. You can find one here.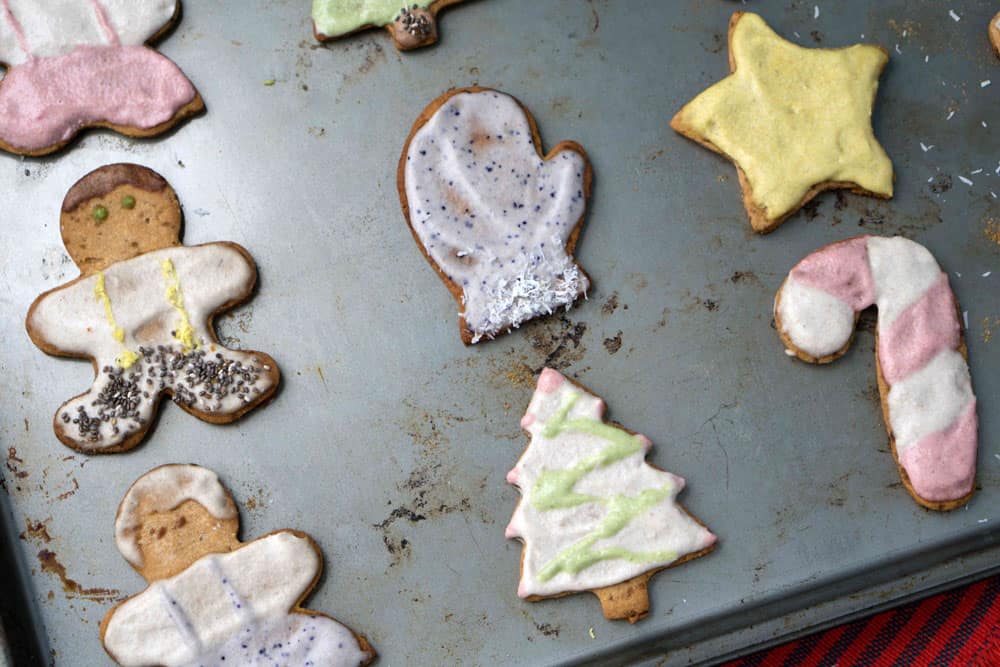 Naturally sweetened
Dates add sweetness, but without the sugar crash because we use the whole date full of all the fiber and nutritional goodness.
Just like the cashews, the dates blend into a creamy paste after soaked.
You can soak the cashews and dates for 24 hours or you can boil them for 4-5 minutes and then let them cool for about 45 minutes. I used the boiling method for these because it is faster and because they blend better when warm.
This recipe makes enough frosting to frost 2 batches of Grandma's Cut Out cookie recipe. If you have fewer cookies, you can easily cut the recipe in half.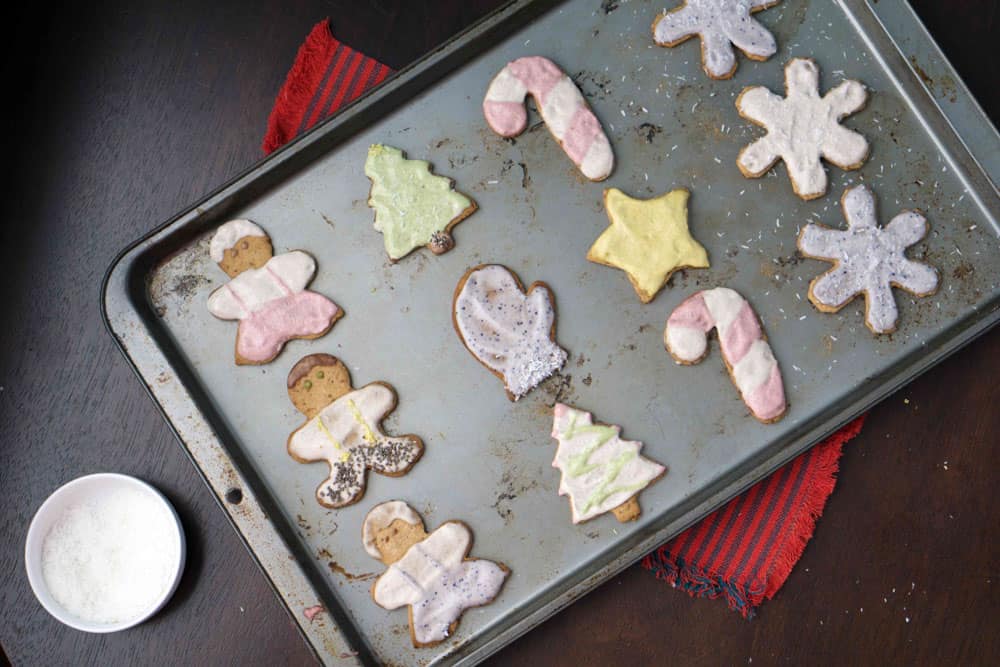 Now add the natural colors!
These food colorings are 100% natural and derived from fruits, vegetable, and spices.
Yellow: Turmeric
Brown: Cocoa powder
Red: Beetroot powder
Green: Frozen spinach
Blue: Frozen blueberries
For the powdered colors, just add the powder to the frosting and mix well. The powders work great because they firm up the frosting a little bit.
You can find beetroot powder at a natural grocer like Sprouts or Whole Foods and online here.
For the blueberries and spinach, add to the blender with a portion of the frosting and mix until evenly combined.
If you notice one of the frostings is runnier after adding the color, add a little arrowroot or tapioca starch to absorb the extra liquid.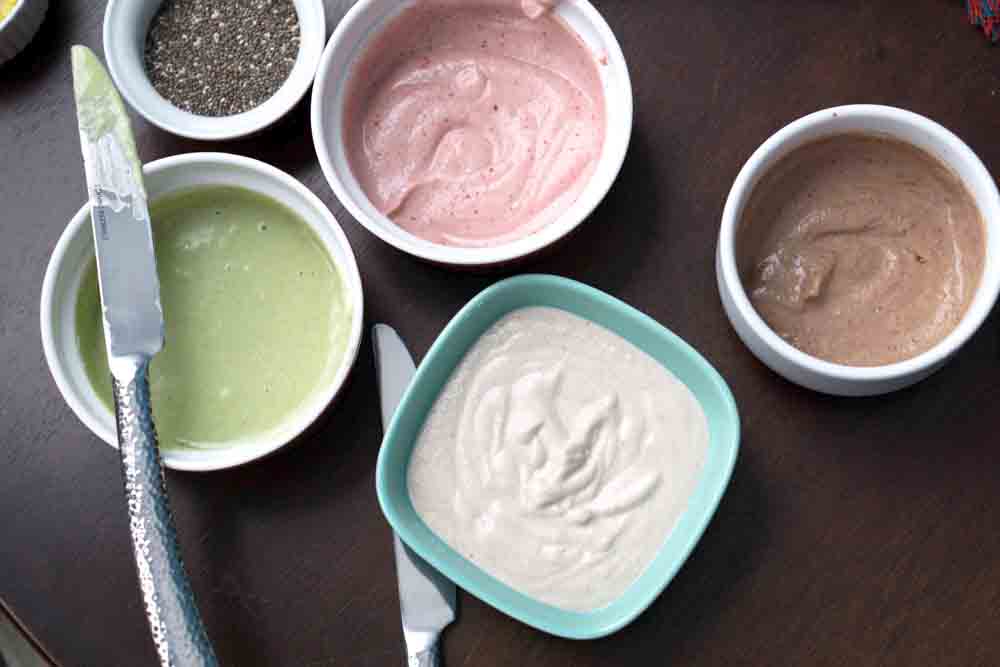 Working with natural colors
The small amounts of food don't add flavor but they add a nice natural color. When coloring these frostings, you are balancing bright colors with mild flavors.
Because of this, I choose slightly muted colors. Plus, I think they look more natural that way.
If you don't want to use spinach for green, mint would be a good option but the frosting will taste like mint, so beware. You can also puree spinach with just a little bit of water and drain it, basically making spinach juice. The liquid will be a great food coloring to add to the frosting.
The colors will also dry a little differently so you'll get a cool vintage looking cookie, which is pretty neat. #naturalcolors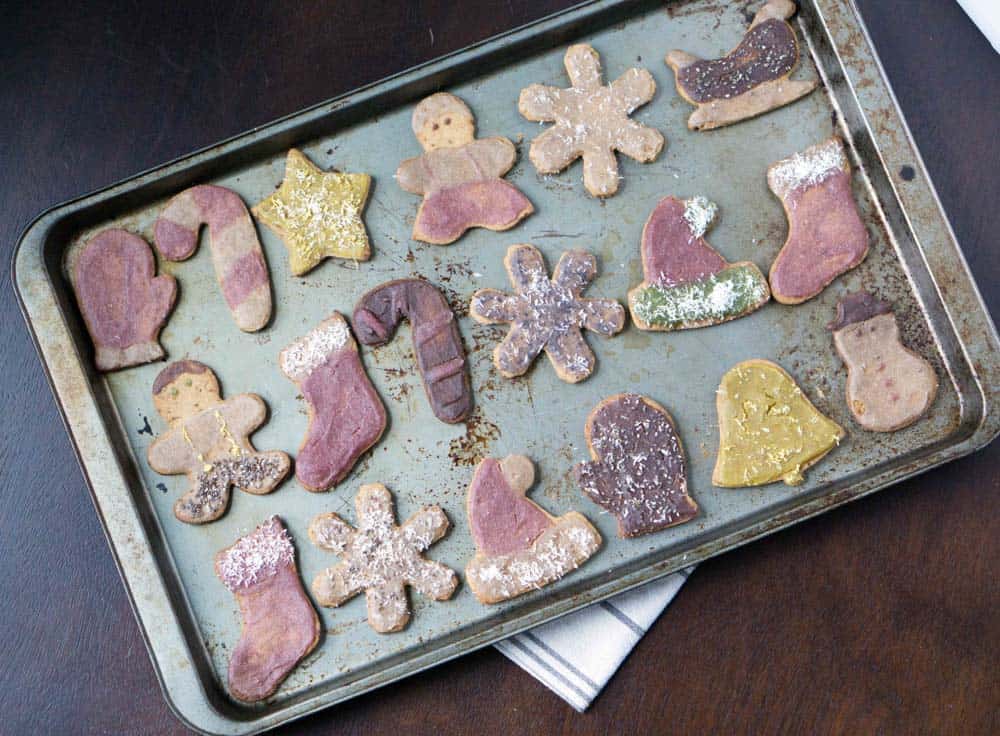 Frosting the Cookies ahead of time
The frosting can absorb into the cookies, so be generous with it.
The cookies will absorb the liquid from the frosting at first, but they will dry back out. I'd plan to frost these at least 24 hours before serving so that they can crisp up again.
The frosting is made with real food, so it won't last as long as the butter and sugar versions. I refrigerate these cookies between parties.
If you are making a big batch to take to several parties throughout the season, I'd recommend freezing them and then just taking them out the night before the party to warm up to room temperature.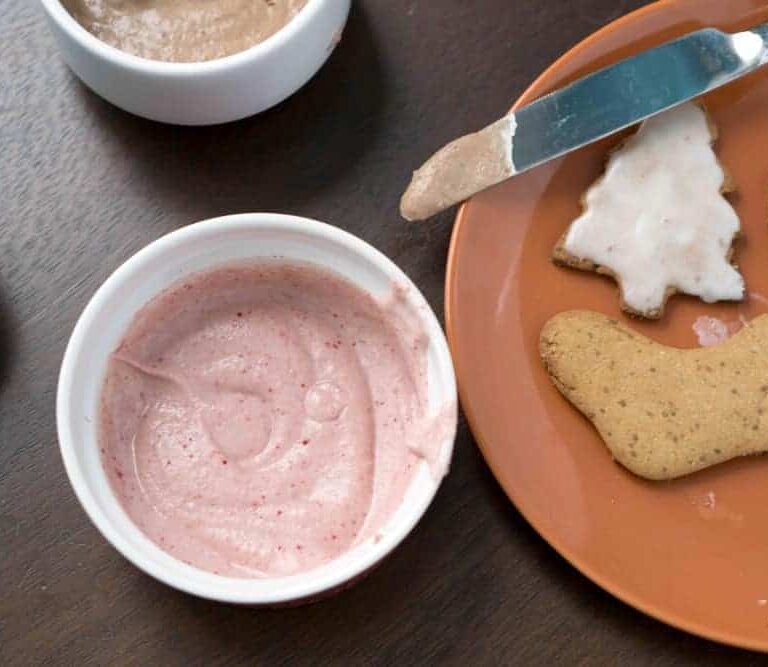 2 Ingredient Blender Frosting for cut out cookies
Description
The healthiest and quickest frosting for cut out sugar cookies, this recipe is made from cashews and dates and naturally colored for great Christmas cookies! gluten free, dairy free, sugar free, paleo and keto.
Frosting Ingredients
Natural Food Coloring (optional)
Instructions
Directions:
In pan, just cover dates and cashews with water and boil for 4-5 minutes

Do not drain, let cool

While lukewarm, add cashews and dates to blender. Add water they were boiled in until the cashews and dates are just covered. Only add enough water to make sure the blender can puree them.

Puree until evenly mixed
For Coloring the Frosting:
Divide the frosting into separate bowls. Add the different powdered ingredients to the bowl to make yellow, red, and brown.

For green and blue, puree the spinach and blueberries in with the cashews and dates
Note
NOTES: 
If all cashews and dates do not fit in your blender, start with the blender full and then add in the other dates and cashews. Once its pureed, it will take up less space in the blender. 
I used a magic bullet blender to make this frosting. You can find one here. 
If the frosting is too runny, add a little arrowroot starch or tapioca starch to thicken it up. 
Mint would also be a good option for green. 
If you don't want to blend the spinach into the frosting, you can puree spinach with just a little bit of water and drain it. The liquid will be a great food coloring. 
With the colors, you are balancing between bright colors and mild flavors of the foods providing that natural color. I prefer a slightly muted color as I think it looks more natural. 
ketogenic