Upgrading a classic to be healthier and still delicious, ensuring you enjoy the holidays and the morning after: gluten free cut out cookie that's now dairy free and refined sugar free.
Growing up, Christmas was the most special time. Not because of Santa Claus or presents or tinsel on the tree…
Nope.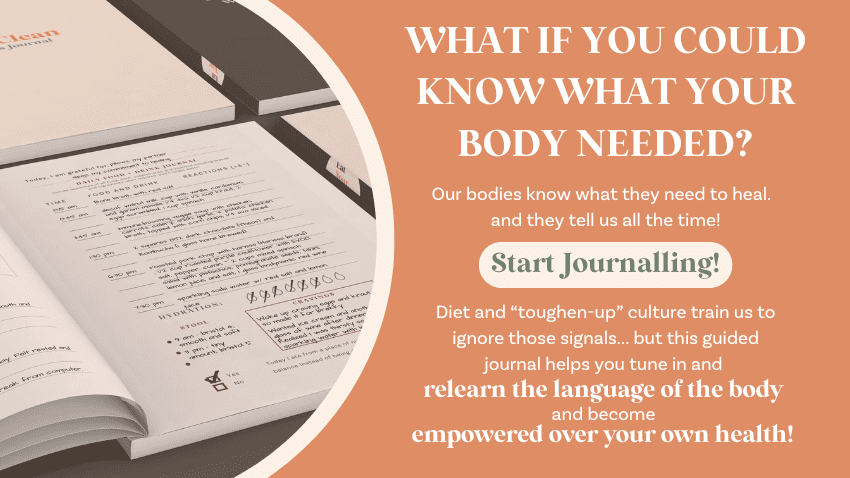 It was because of cookies.
I know. I should have said quality time with the fam. But I was 12 and it was for sure the cookies.
That probably sounds like I just wanted to eat all of the cookies. And while that's 100% true, it goes deeper than that.
Our family Christmas tradition was baking for others. Each year my mom and I made over 30 batches of cookies, all different kinds, to wrap and send to family and friends. These were the traditional recipes full of gluten, butter and loads of sugar.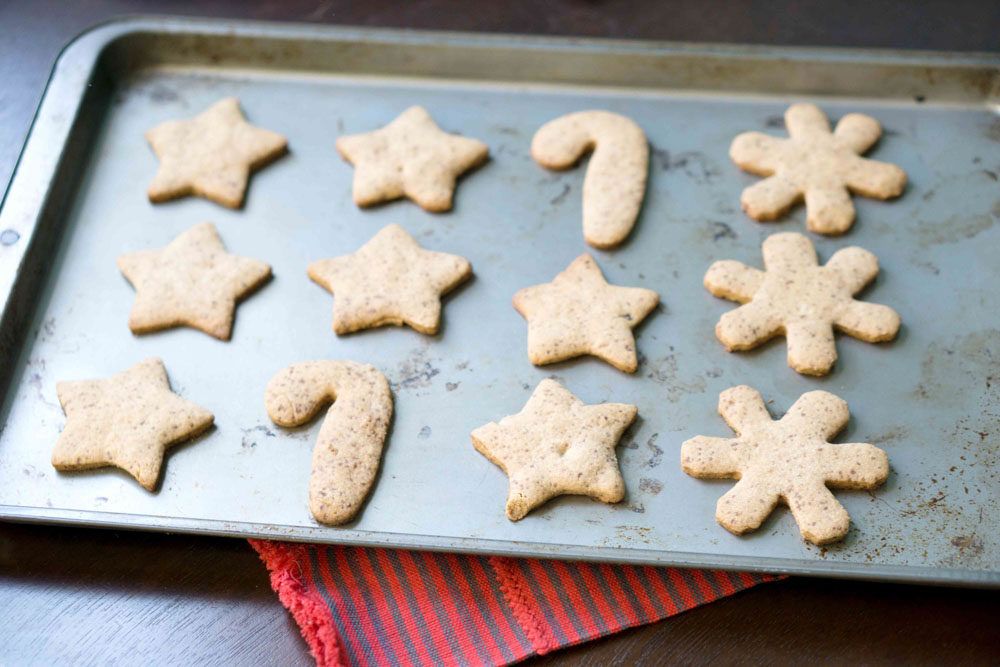 Christmas without gluten
When we both found out we could no longer eat gluten or wheat, it kind of shook our worlds. Yes, eating every day would be an adjustment, but what on earth were we going to get people for Christmas!?
Needless to say, those first couple years were hard. Mind you, this was before thousands of GF bloggers ruled the internet.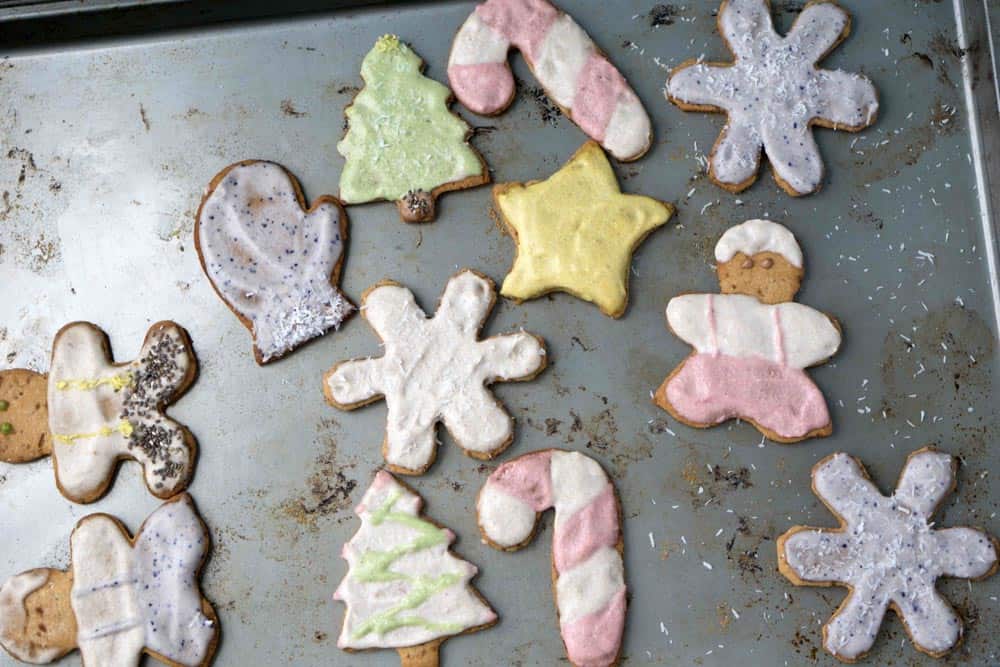 Making better cookies
So we stumbled through and eventually figured out recipes on our own. With my biology background and Mom's baking background, we tackled the problem from both sides: part science experiment and part intuition.
After finally creating delicious GF cookies, we decided to share them through our grain free bakery with delicious gluten free cookies. And as our health journies progressed, we ventured into paleo, gluten free, dairy free, and refined sugar free pastries and treats.
We've made quite a few that I'm proud of over the years. We've also met some amazing bloggers in the health space that have created equally awesome cookies.
But the big kahuna of cookies to make was the cut-out cookie. I mentioned that we made hundreds of cookies each year from old-school traditional recipes. What I didn't tell you is that most of those were Grandma's recipes.
They held extra special meaning for us.
I wanted to get them just right.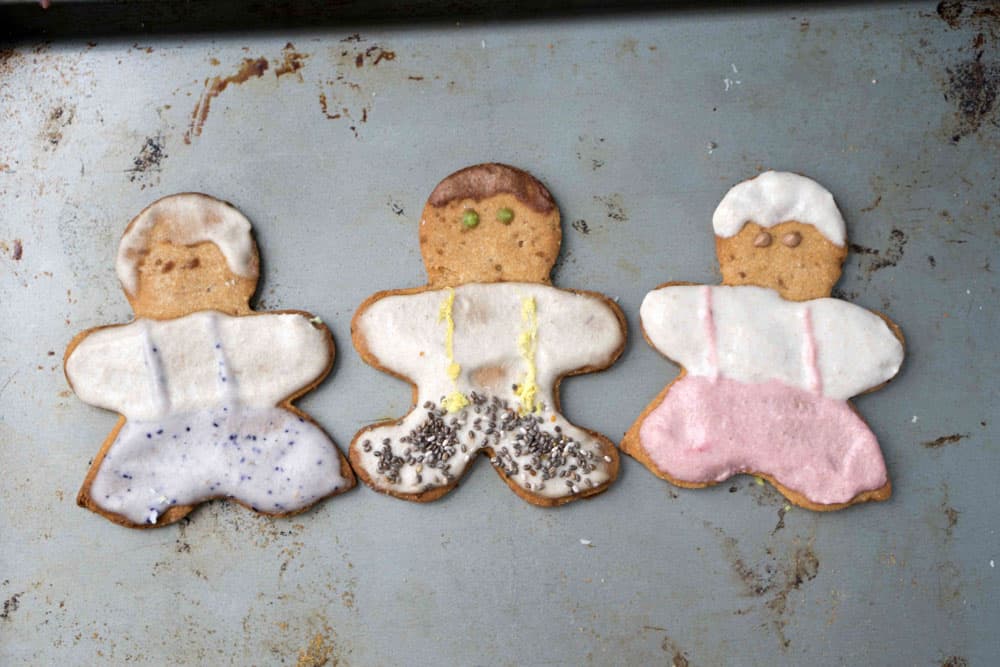 The Gluten Free Cut out Cookie made healthier
In retrospect, making the Grandma's original cut out cookie recipe gluten free was the easy part. There's a plethora of GF flours out there to mix and match until you find the perfect mix.
Dairy free and refined sugar free were a little bit harder.
Luckily, coconut oil and coconut sugar make great substitutes, and the flour we use is naturally sweet and flavorful so we need less sugar overall.
Instead of using just starchy flours like arrowroot, I balanced it with coconut flour and almond flour which gives more nutrition and naturally sweetens the cookie since arrowroot can suck the flavor out of things if overused.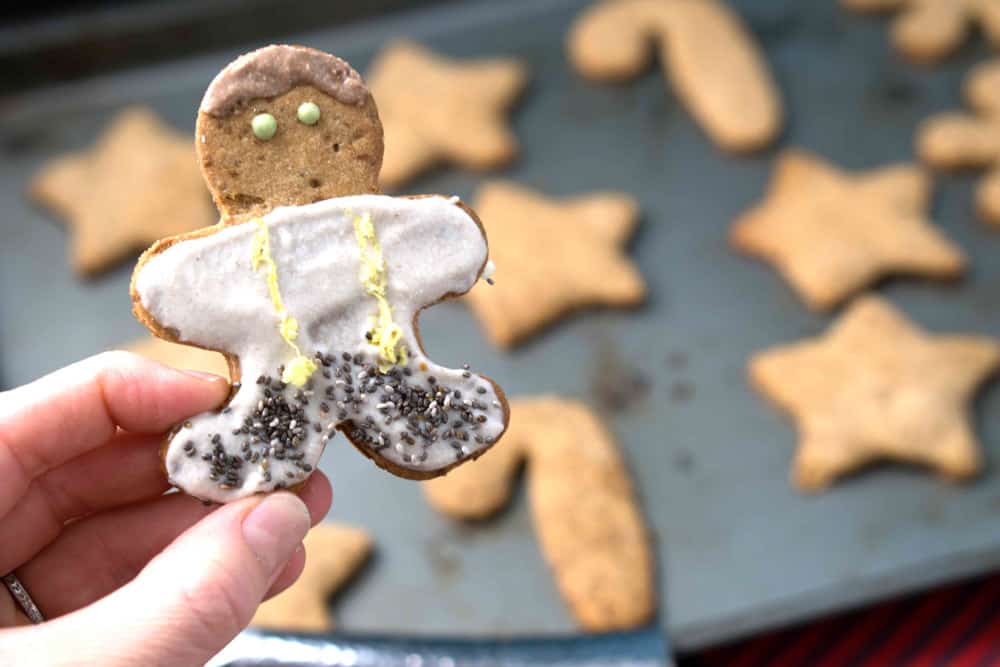 The Refined Sugar Free Frosting
Making a healthy replacement for butter and powdered sugar proved challenging. But I'm really happy with how this turned out. Using just pureed cashews and dates, this creamy frosting is just the right amount of sweetness and full of fiber and protein.
Not many frostings can say that.
Get the full recipe here.
Boil one cup of cashews and 1/2 cup of dates for 4-5 minutes (in just enough water to cover them)
put cashews and dates in a blender and cover with just enough water for the blender to puree
Blend until smooth
Mix/blend in natural food coloring with turmeric, beetroot powder, cocoa, frozen blueberries, and spinach.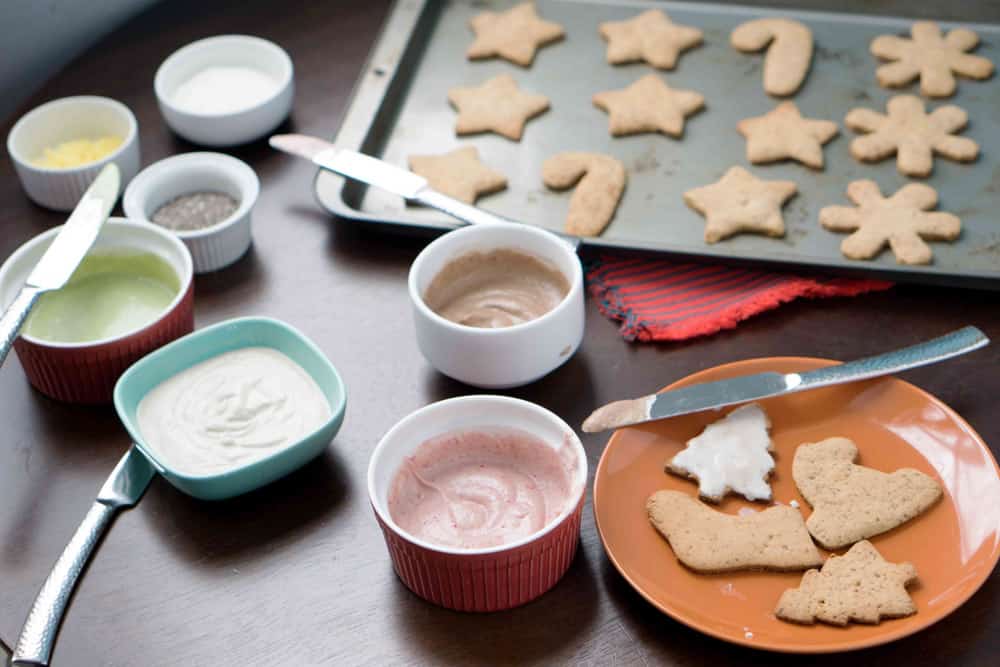 Healthier Sprinkles for your healthier cookie
cut out cookies kind of need sprinkles.
There's no point in making an awesome frosting without powdered sugar if you just top it with old-school corn syrup sprinkles. So I turned to some items I already had in the house to decorate the cookies a little healthier, but still adorable and delicious.
Here's what I used as "sprinkles"
Chia seeds
Lemon zest
Desiccated coconut
Some other great ideas from readers:
Crushed goji berries
Freeze-dried berries
Orange zest
Dark chocolate
Poppy Seeds
Sesame Seeds
Chopped pecans, walnuts or other nuts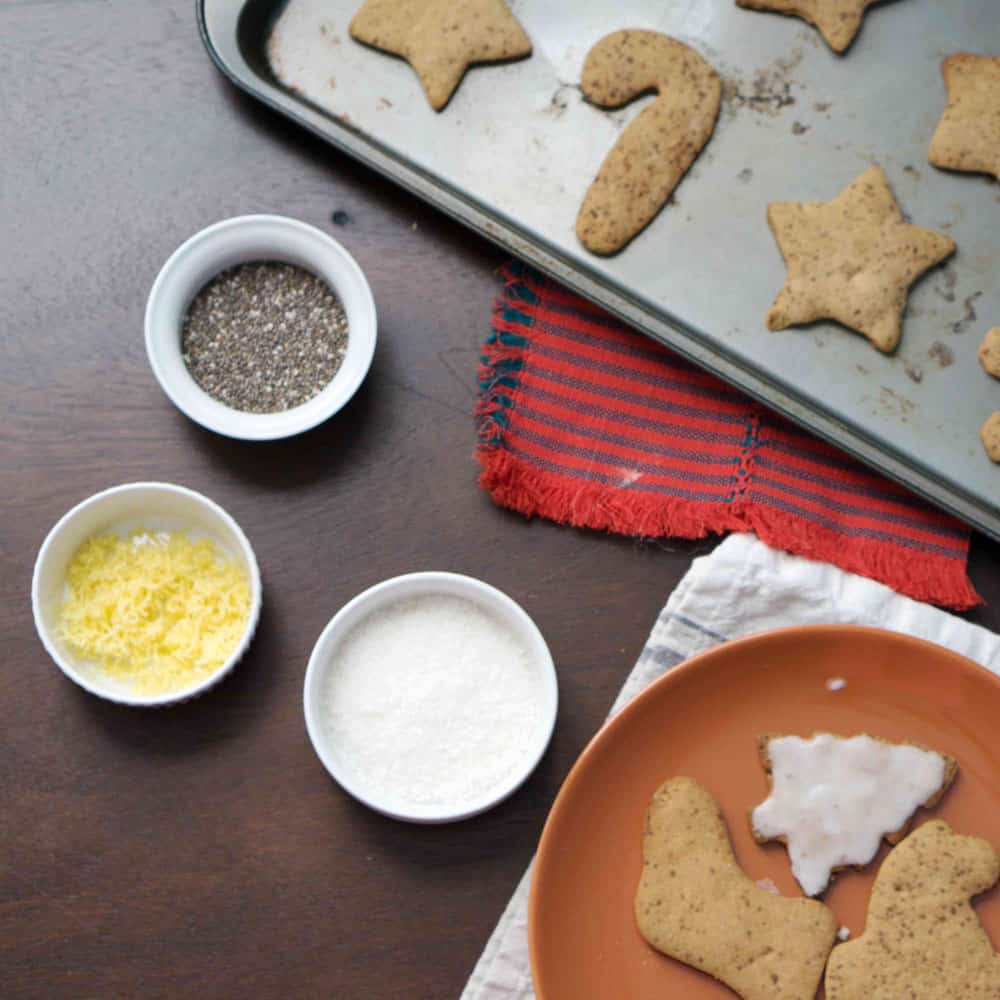 Living healthier doesn't mean going without
Hopefully, you don't have to go without this year like we did back in the beginning of our GF journey.
If you've been recently diagnosed or living with someone who can't partake in traditional recipes for health reasons, give these a go!
Need substitutions? Ask me in the comments!
Pin for Later!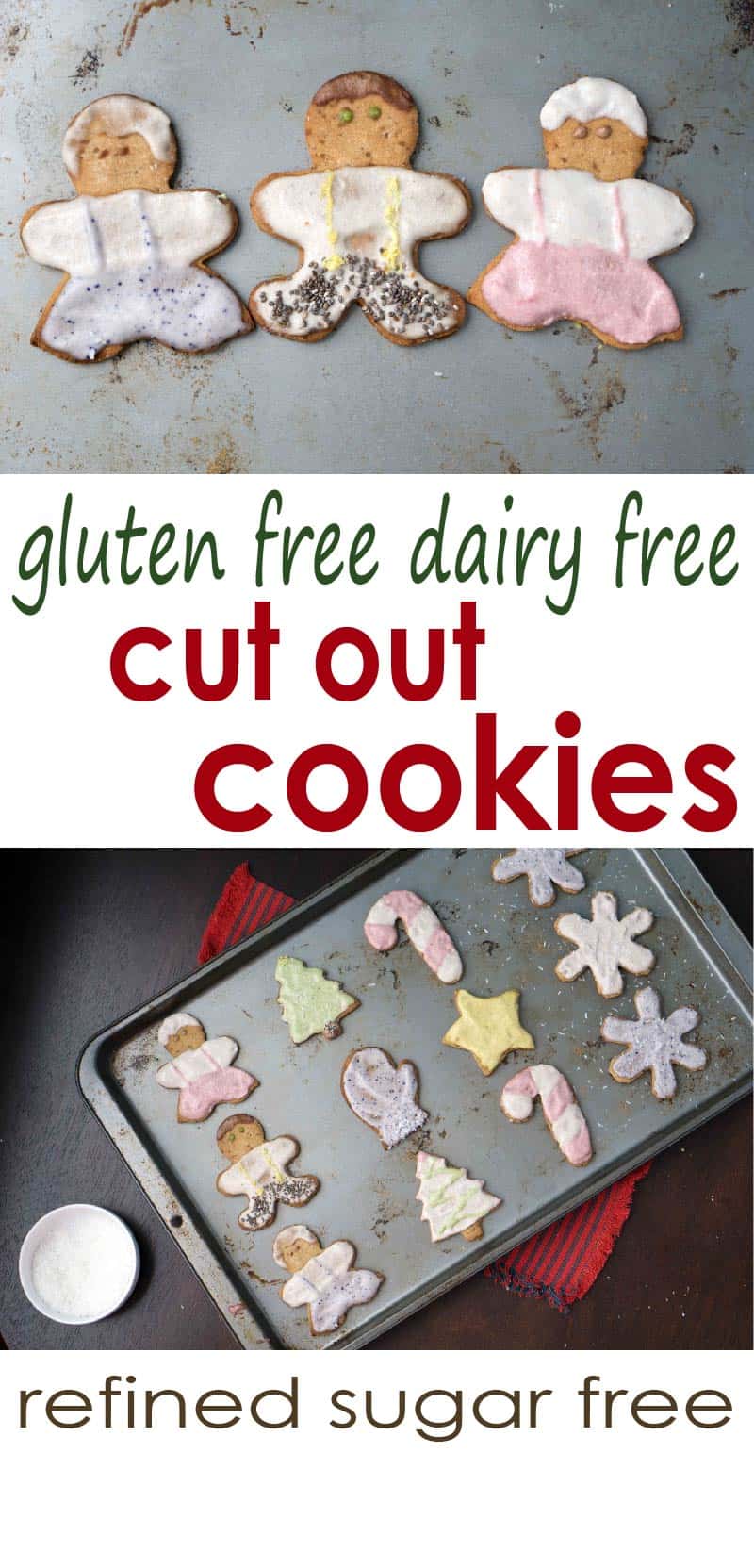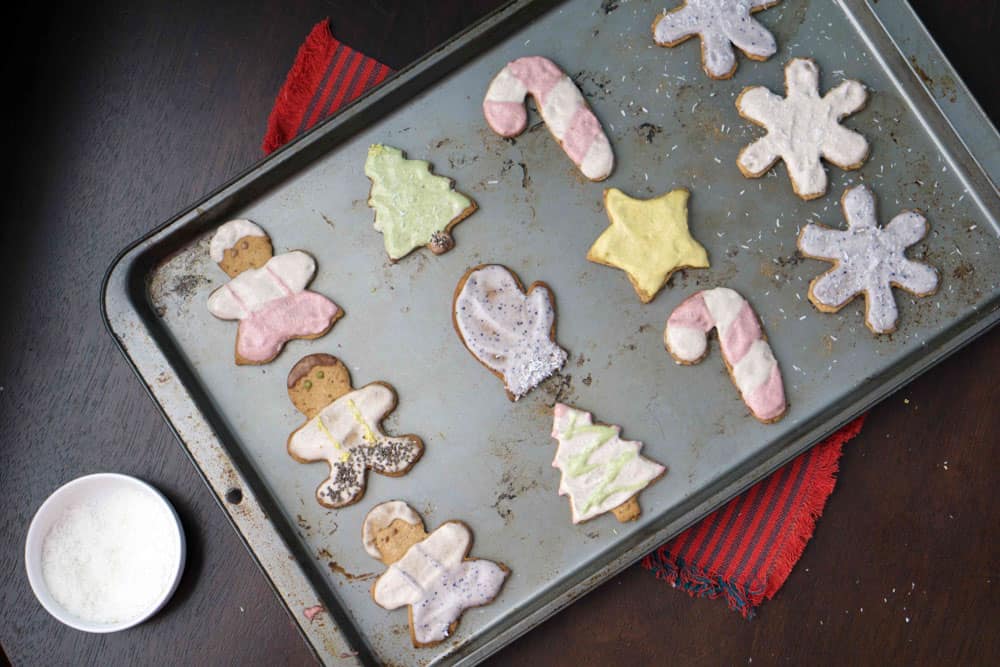 Grandma's gluten free cut out cookie – now dairy and refined sugar free
Description
A healthier, gluten free and refined sugar-free upgrade to a classic, ensuring you enjoy the holidays and the morning after: gluten free cut out cookie
Instructions
Mix coconut oil, egg, coconut sugar, lemon, nutmeg in a bowl until evenly combined

Roll out using a rolling pin and extra flour on both the rolling surface and pin to avoid sticking.

Cut into your favorite shapes

Bake for 7-8 minutes or until golden brown.
---
Amount Per Serving

% Daily Value *

Total Fat 4g

7

%

Saturated Fat 3g

15

%

Cholesterol 5mg

2

%

Sodium 11mg

1

%

Potassium 2mg

1

%

Total Carbohydrate 4g

2

%

Dietary Fiber 1g

4

%

Sugars 2g

Protein 1g

2

%
---
Vitamin A

7

IU

Calcium

3

mg

Iron

1

mg
* This nutrition information does not tell the whole story of food's nutritional value! Make sure to use your gut intuition on what your body needs, eat your veggies and get 30 plants a week for optimal gut health. This nutritional data is calculated based on the above values and standard brands. This information may vary. Percent Daily Values are based on a 2,000-calorie diet. Your daily value may be higher or lower depending on your calorie needs. Tried this Recipe? Tag me Today! Mention @EatYourWayClean or tag #EatYourWayClean!
Note
Each time you roll out the dough and cut out shapes, the tough will acquire flour that you used to prevent sticking. Combat this by mixing in some of the fresh dough to the scraps each time you roll out a new sheet. 
The best flours to use for rolling out the dough are arrowroot, brown rice, white rice, or coconut. 
Frost with Honey Buttercream or a 1/2 batch of 2 ingredients cashew frosting.