Savory meets sweet in this PB&J inspired burger bowl. The whole fig and tahini burger bowl is a delicious summer salad bowl.
Why this recipe works
Fresh green lettuce and tossed in tahini and lime create the base. Japanese sweet potato fries, avocado, pine nuts, and kohlrabi add texture, crunch, and warmth. The piece de resistance is the tahini and fig jam right on top of the grass-fed burger.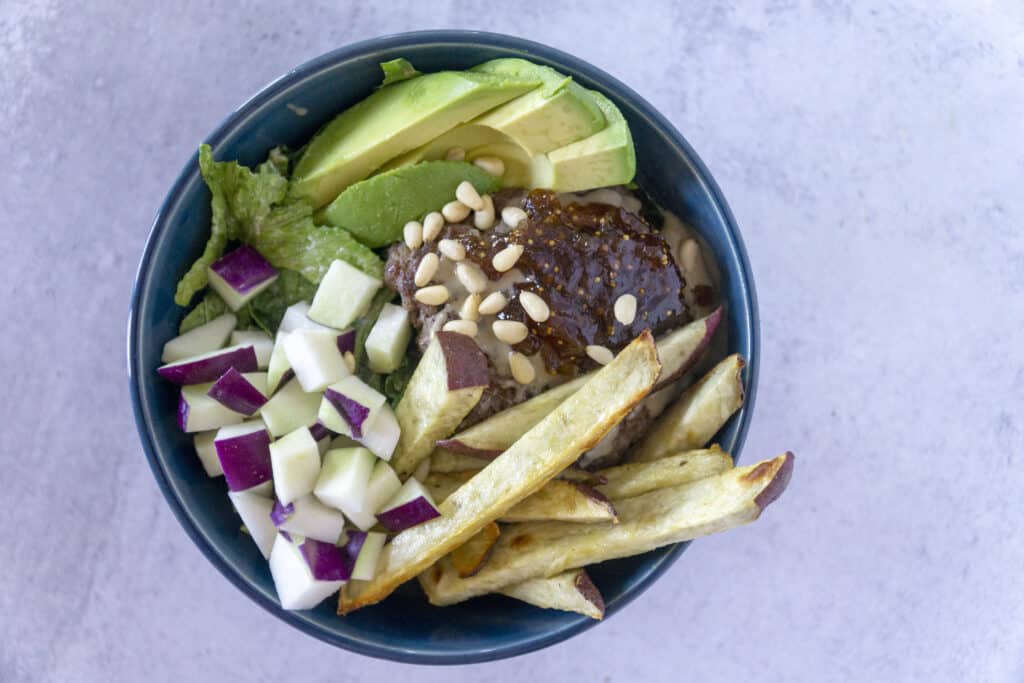 The burger bowl ingredients
Grass-fed beef, Japanese sweet potato fries, kohlrabi, avocado, tahini, and fig make this a plant-forward burger, which is exactly what I like.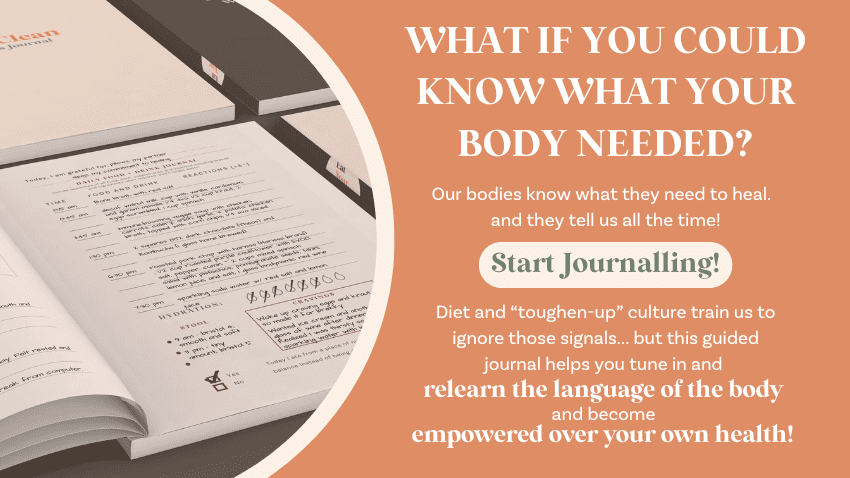 This is a great way to use garden lettuce, but mixed greens or a mix of red lettuce and arugula will work well too.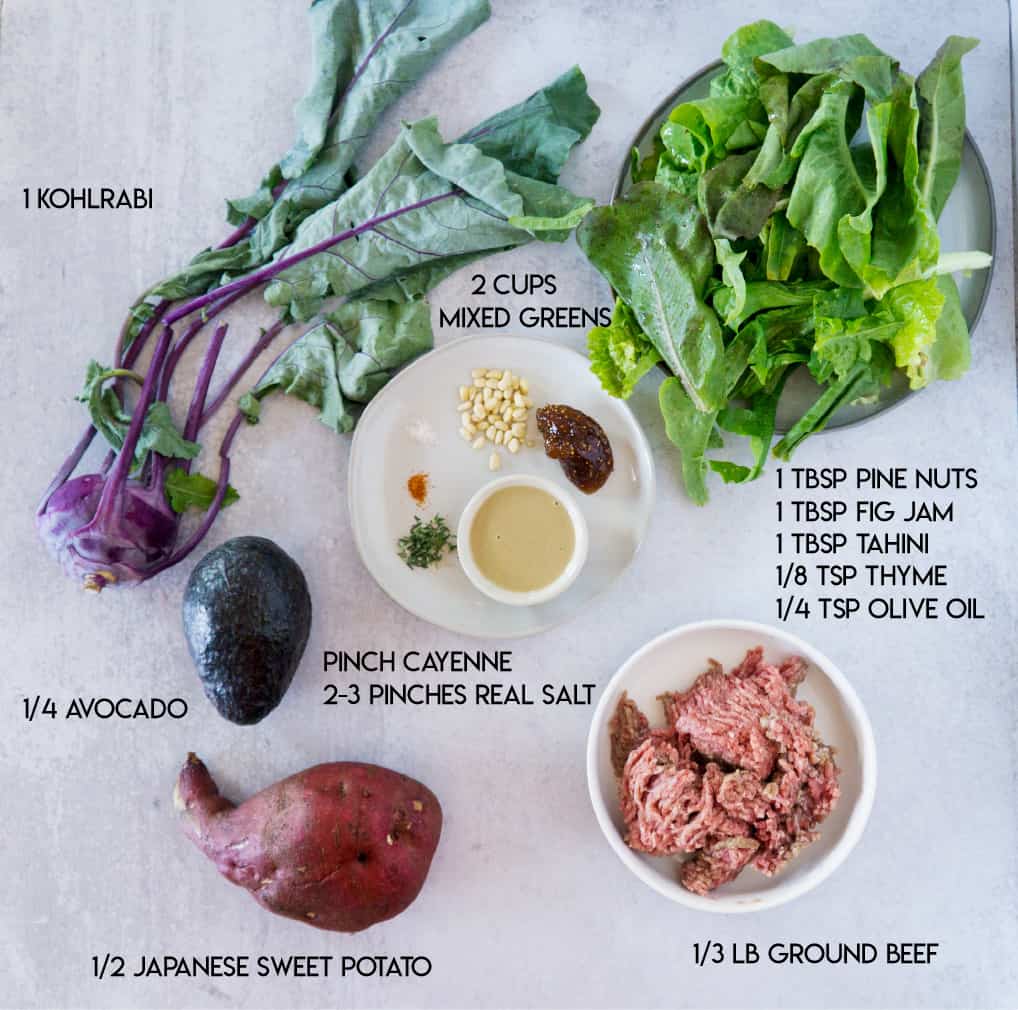 Making the fig and tahini burger bowl
The Fries
Fries take the longest so they are the first step.
Japanese sweet potatoes make the best fries! They are less sweet than regular sweet potato fries but less starchy than russets. They are great!
Simply preheat the oven to 350 degrees before slicing your potatoes into long fry shapes and coating with olive oil and a little salt. Roast until golden brown, about 20 minutes. Flip if needed.
These will go on top of the burger bowl!
The burger patty
First things first, you will want to make the burger patty. This works best as 1/3 lb patties.
Mix the beef with thyme and cayenne. Heat a cast-iron skillet to medium-high and then cook the burger, searing it for 2-3 minutes per side. Salt each side of the patty with a pinch of salt.
Then it's ready to place on the salad and be dressed with tahini and fig jam.
Fun fact on salting burgers
Don't add salt to the burgers while forming the patties. You'll want to form the patties and then only salt on the outside of the formed patties.
This preserves that burger texture we know and love!
Adding salt to the patties themselves creates a chemical reaction that tightens the meat, which gives the texture of meatballs!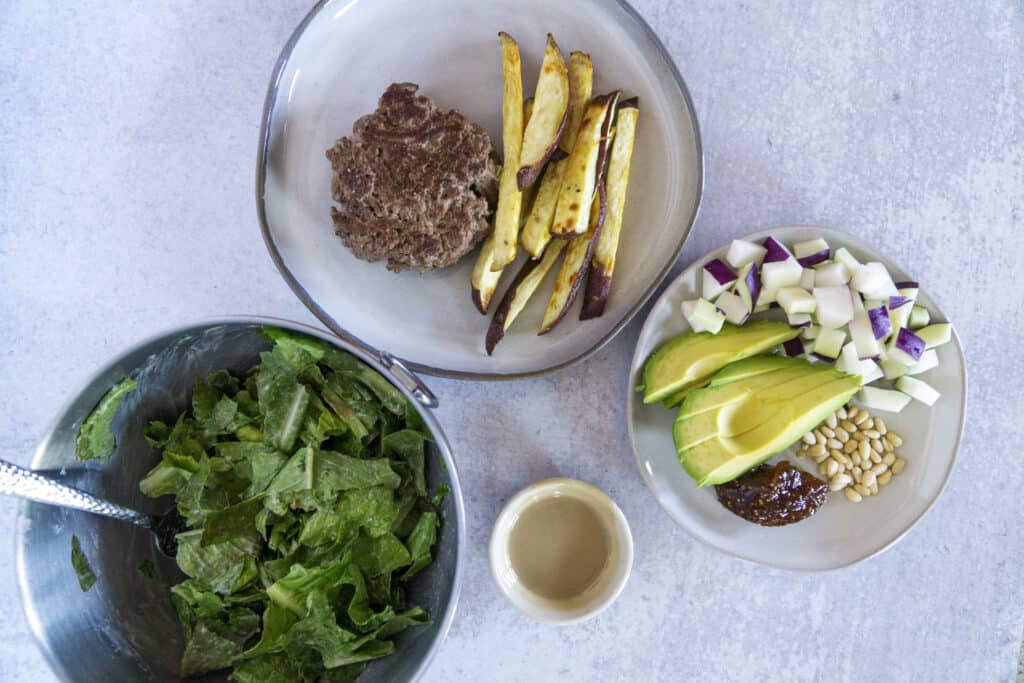 Putting it all together
The salad base
The salad is mixed lettuce greens mixed in tahini and lime juice. The simple dressing is creamy and bright and fantastic. It's a heavy enough base to support the burger but light enough to contrast the burger and fries.
This is similar to some of my favorite salads: strawberry chevre, loaded kale bowl, and kale chicken Ceasar.
The garnishes
Sliced avocado, diced kohlrabi and pine nuts finish off the fig and tahini burger bowl.
Dress the salad and put it in a bowl, top with the burger, fries, kohlrabi, avocado, and pine nuts. Finally, add tahini then fig jam on top of the burger. You are now ready to enjoy!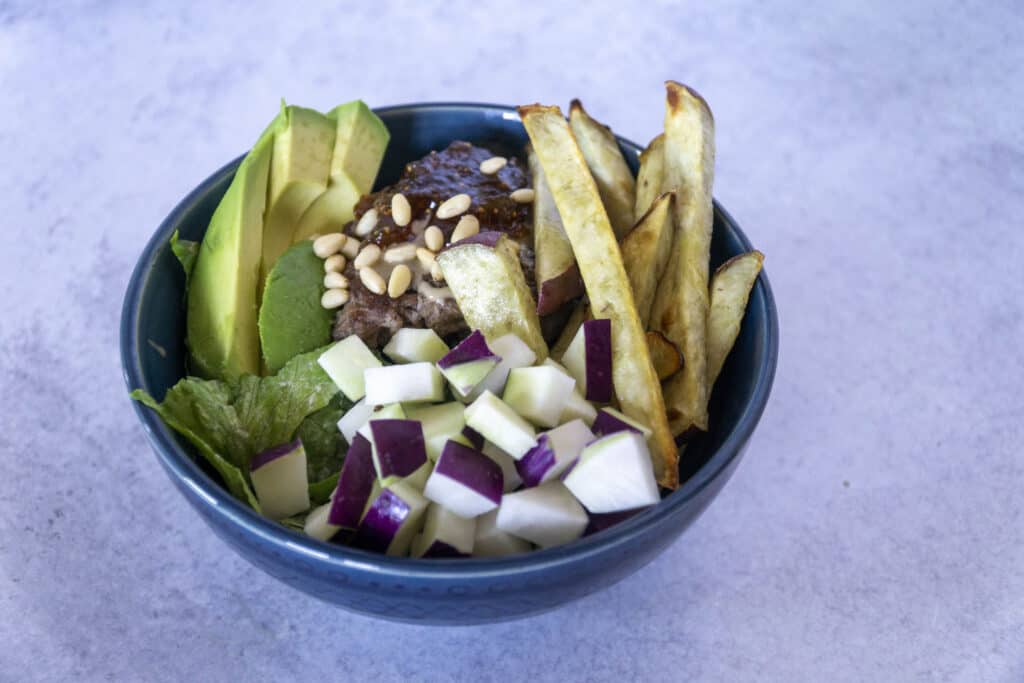 Expert tips
Start by roasting the potatoes then making the burger before dressing the greens. This will make sure this is ready as soon as possible.
If you dig burger bowls, check out these!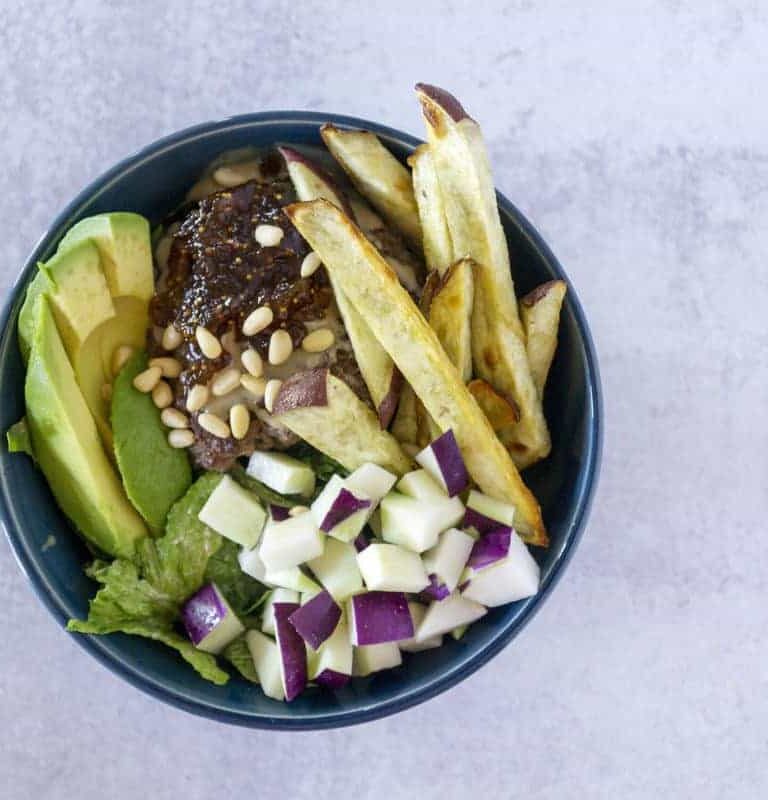 Fig and Tahini Burger Bowl
Description
Savory meets sweet in this delectable plant-forward burger bowl with Japanese sweet potato fries, kohlrabi, avocado, pine nuts, and greens. The fig and tahini burger bowl will make your afternoon and upgrade your burger and salad game.
Instructions
Preheat the oven to 350. Cut the potato into long fries, lightly coat in olive oil and one pinch of sea salt and bake for 20 minutes

Form the burger patty by mixing the beef, thyme, and cayenne.

Cook the patty in a hot cast-iron skillet, 3-5 minutes per side, sprinkling a pinch of salt on each side of the patty

Mix 1/2 tbsp tahini and lime juice and toss in the greens. Plat in a bowl.

Dice the kohlrabi

Place finished burger patty, fries, avocado, diced kohlrabi, and pine nuts on top. spread the tahini on top of the burger patty and then the fig jam on top.
---
Amount Per Serving

% Daily Value *

Total Fat 58g

90

%

Saturated Fat 15g

75

%

Sodium 1348mg

57

%

Potassium 1405mg

41

%

Total Carbohydrate 42g

15

%

Dietary Fiber 10g

40

%

Sugars 8g

Protein 36g

72

%
---
Vitamin A

8998

IU

Vitamin C

83

mg

Calcium

115

mg

Iron

6

mg
* This nutrition information does not tell the whole story of food's nutritional value! Make sure to use your gut intuition on what your body needs, eat your veggies and get 30 plants a week for optimal gut health. This nutritional data is calculated based on the above values and standard brands. This information may vary. Percent Daily Values are based on a 2,000-calorie diet. Your daily value may be higher or lower depending on your calorie needs. Tried this Recipe? Tag me Today! Mention @EatYourWayClean or tag #EatYourWayClean!
Note
The perfect bite forks a little bit of jam, tahini, and the burger with some of the other toppings and greens.
Is also good with a bison or elk burger instead of beef. 
Burger Bowl