Jun is a fermented tea drink rich in probiotics made from green tea and raw honey. It is like Kombucha, but better, because it doesn't use refined sugar and maintains the benefits of local honey. A deliciously refreshing fizzy drink with probiotics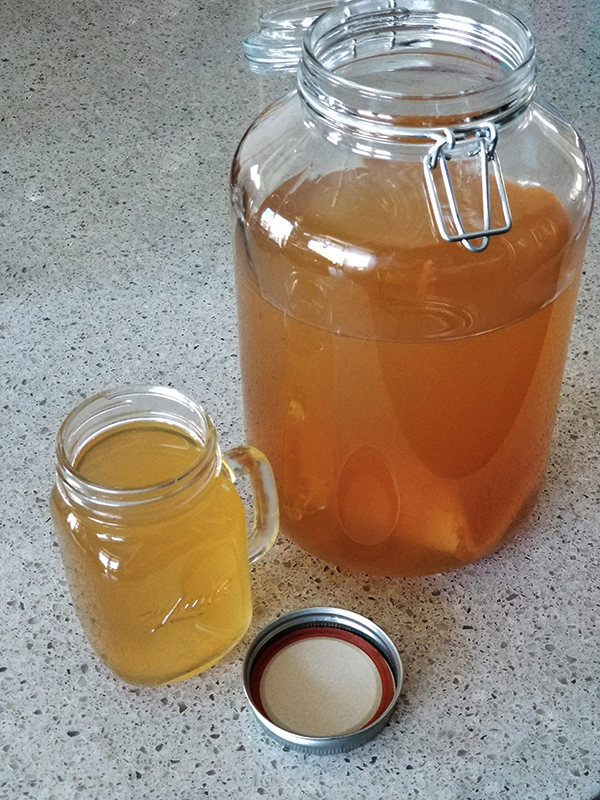 Home Brewed Jun
Description
Jun is a fermented tea drink rich in probiotics made from green tea and raw honey. It is like Kombucha, but better, because it doesn't use refined sugar and maintains the benefits of local honey. A deliciously refreshing fizzy drink with probiotics
Instructions
Bring 1/2 gallon of water to a boil. Remove from heat and add tea bags. Let tea steep until water is just above lukewarm

Mix in honey until fully dissolved and pour sweetened tea into a clean glass mason jar

Fill Mason jar to about 3/4 full with room temperature water

Add SCOBY and starter liquid. The liquid should rise to the top of the widest part of the jar yet not reach the mouth of the jar.

Wrap dish towel tightly over the top of the mason jar and secure with a rubber band.

Let sit in a dark, slightly warm place for 1-2 weeks.

Remove SCOBY and 1 cup starter liquid for the next brew. Pour off Jun into bottling jars, leaving little air in the jars. Make sure to discard the yeasty bits at the bottom of the large Mason Jar brew.

Seal bottling jars and sit for 1-2 weeks in a dark, slightly warm place.

These Jun bottles are ready to be served and enjoyed! You may store in the fridge for 6-8 months.
---
Amount Per Serving

% Daily Value *

Sodium 1mg

1

%

Potassium 6mg

1

%

Total Carbohydrate 9g

3

%

Dietary Fiber 1g

4

%

Sugars 9g

Protein 1g

2

%
---
Vitamin C

1

mg

Calcium

1

mg

Iron

1

mg
* This nutrition information does not tell the whole story of food's nutritional value! Make sure to use your gut intuition on what your body needs, eat your veggies and get 30 plants a week for optimal gut health. This nutritional data is calculated based on the above values and standard brands. This information may vary. Percent Daily Values are based on a 2,000-calorie diet. Your daily value may be higher or lower depending on your calorie needs. Tried this Recipe? Tag me Today! Mention @EatYourWayClean or tag #EatYourWayClean!
healthy drink recipe, how to make jun, jun