Have you ever planned the perfect outdoor barbecue, complete with homemade popsicles anticipating the July heat, only to be greeted by thunderstorms, gray skies and hail?
That was me… yesterday.
Turns out, popsicles are still delicious even if it's not 100 degrees. This week's frozen treat is extra exciting because it's part of #itsglurenfreepassiton's frozen treats theme! I've been digging rhubarb and coconut ice cream treats this month, so I brought the ingredients together in this healthy and refined-sugar-free creamy paleo rhubarb coconut popsicles recipe. Equally satisfying on a rainy or sunny day.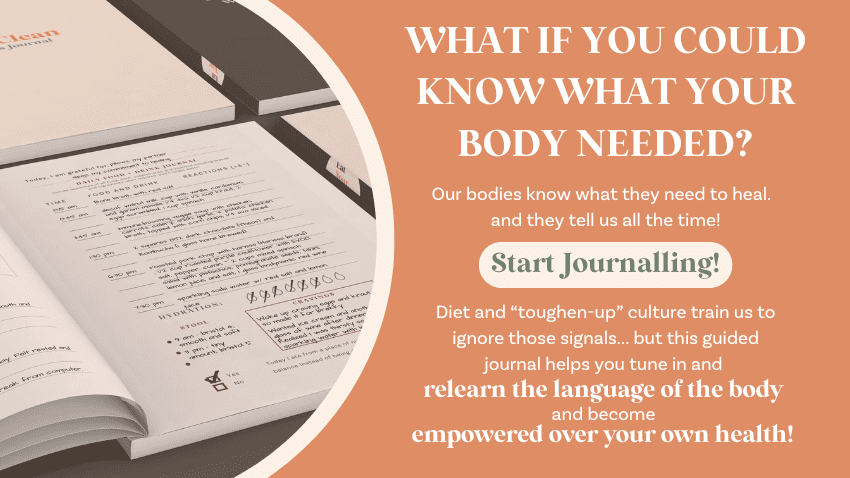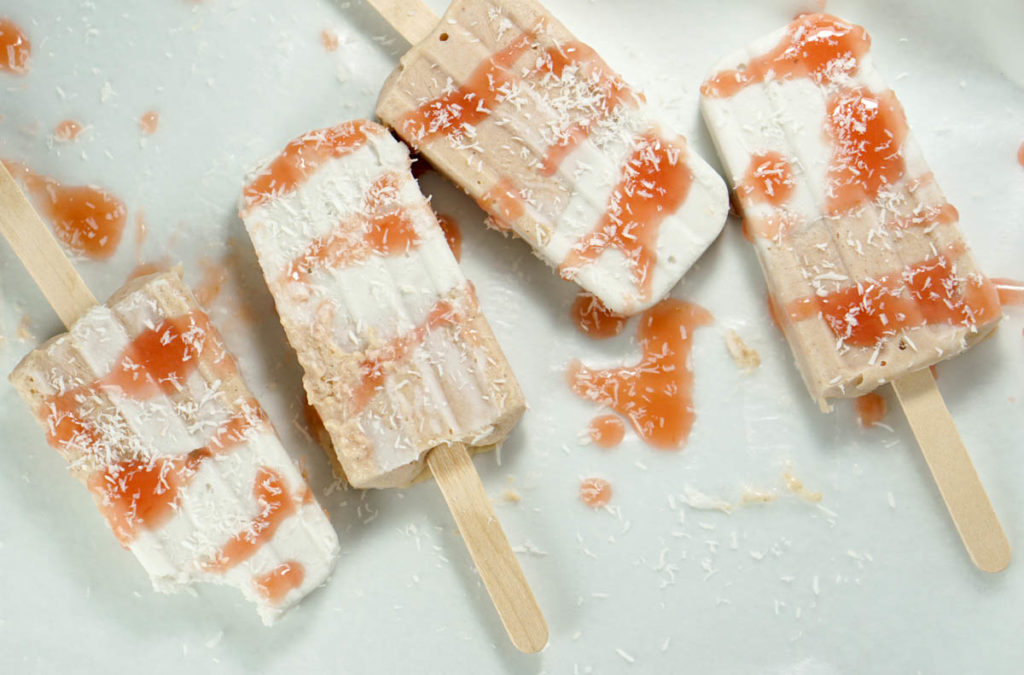 Paleo Rhubarb Coconut Popsicles
These popsicles are simple and plant-based. The only ingredients are rhubarb, apple, dates, vanilla, maple syrup, and coconut cream.
The combination is fruity, creamy, earthy and summery all at once with a hint of natural sweetness. This creamy paleo rhubarb coconut popsicles recipe will be a fun treat for your kids or your next BBQ and you don't even have to worry about sugar crashes, due to the natural sweeteners and overall low sugar count.
They also have plenty of fiber because we used real fruit, not fruit juice. How many popsicles can say that?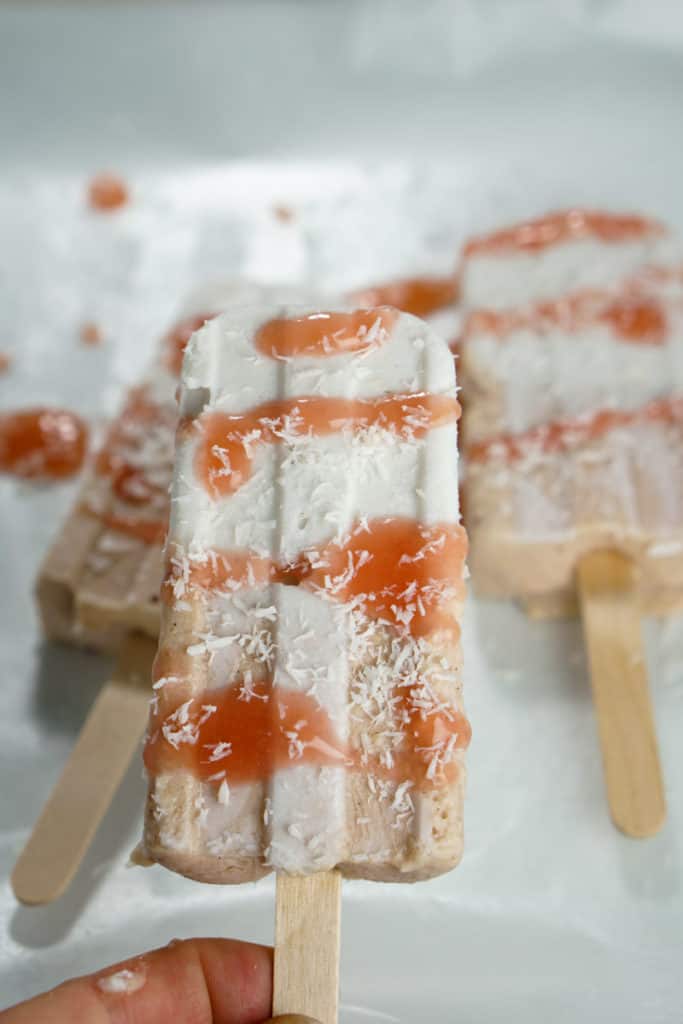 We layered them for more fun, though you could just mix all of the ingredients together to save time. The first layer of coconut cream, coconut water, vanilla and maple syrup is the top white layer. Its followed by the creamy rhubarb layer.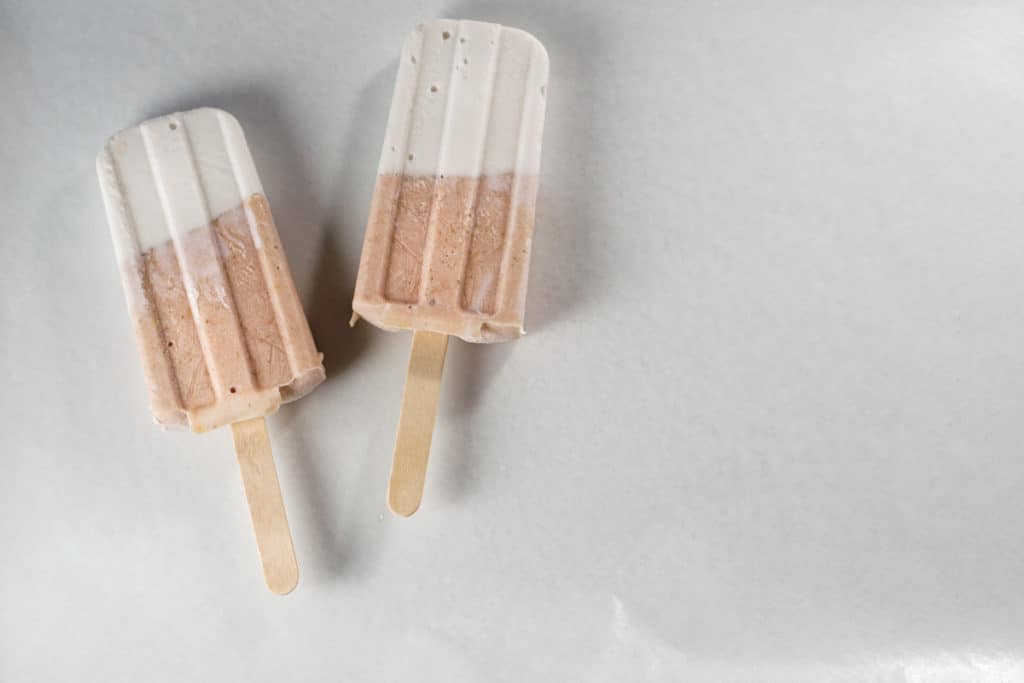 Need more Frozen Dessert Ideas for Summer?
If you're looking for more coconut and rhubarb frozen treats to keep you cool this summer, try the coconut berry sundae with homemade peanut butter chocolate drizzle
or the delicious and elegant rhubarb cashew ice cream cake
And if you missed last month's #itsglutenfreepassiton then look back now. You won't want to miss the great recipes showcasing paleo flours. It's amazing how different recipes can be when you start with one common ingredient. You can see my recipe along with links to all the other paleo flour recipes in this single serving lemon almond cake with coconut cream.
It's Gluten Free, Pass it on! Frozen Treats
Look to the other great recipes from bloggers participating in this months #itsglutenfreepassiton frozen treats.
Enjoy the frozen treats and stay cool! Pin the recipe for later!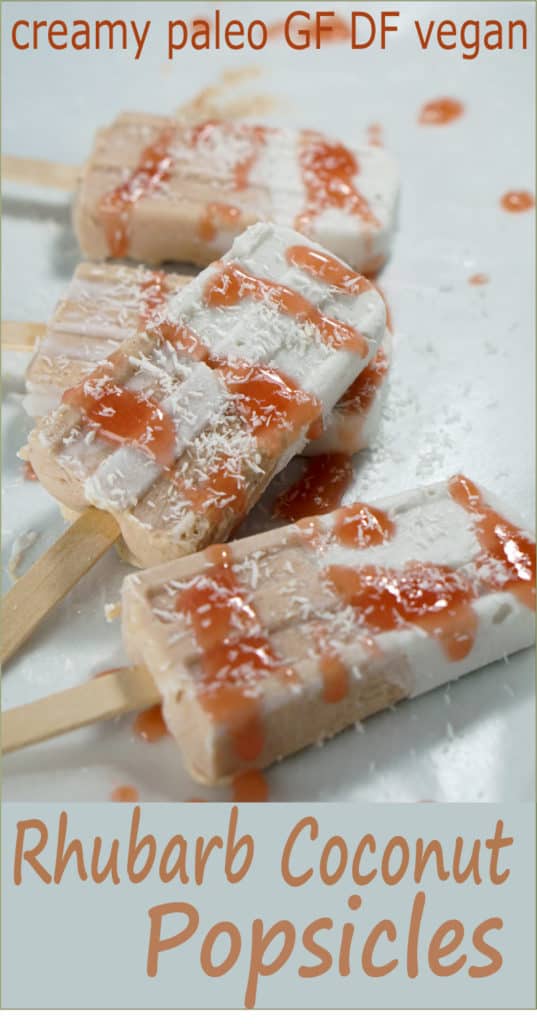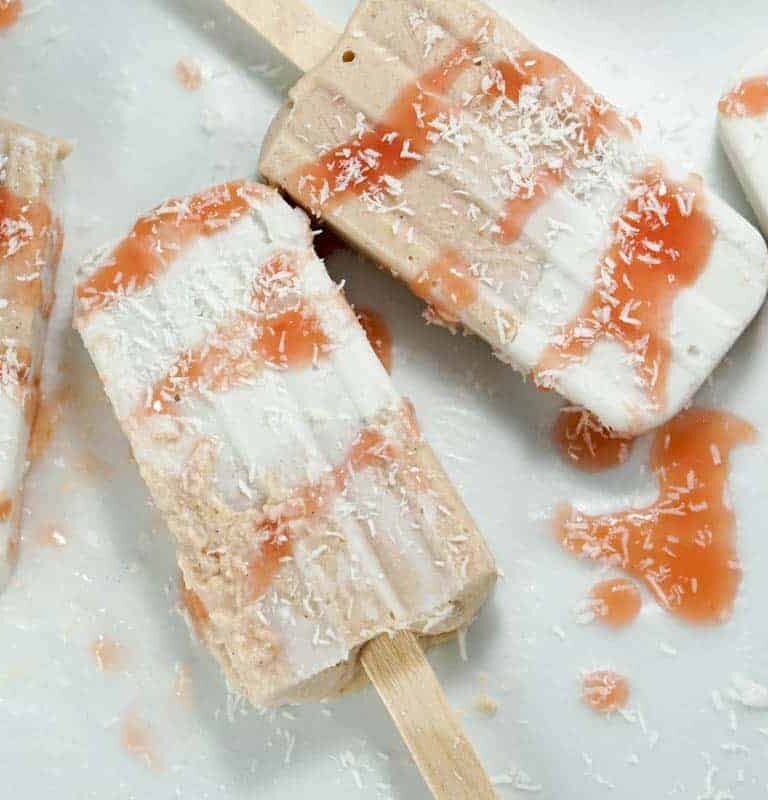 Creamy Paleo Rhubarb Coconut Popsicles
Description
Fresh rhubarb and coconut cream are sweetened with dates and maple syrup for this refined sugar free and dairy free Paleo Rhubarb Coconut Popsicles recipe
Instructions
Directions:
Mix rhubarb, apple and water on a stove top on low heat for 25 minutes, stirring occasionally. Add additional water as needed to make sure the mixture always has liquid and to prevent burning. The end product should have the consistency of apple sauce.

While the rhubarb is cooking, slice open one vanilla pod and use a knife to scrape the vanilla beans into a food processor. (if using vanilla extract, add 1/2 tsp vanilla to the food processor)

Mix the cream from one can of coconut milk (the heavy part that separates to the top), 1/4 cup of the coconut water and the maple syrup with the vanilla in the food processor until well combined.

Using a spoon, equally distribute this coconut vanilla mixture into the bottoms of the popsicle mold. This will be your top layer.

Tamper by lightly tapping the bottom of the popsicle holder onto a counter top to remove air bubbles.

Freeze the first layer for 20 minutes to let set.

In the meantime, strain the rhubarb using a strainer over a bowl. Reserve the liquid for garnish.

Add drained rhubarb and apple mix to the food processor. Blend with the heavy cream from the second can of coconut cream, soaked dates and remaining vanilla until well combined.

Once the first layer has set, use a spoon to fill the popsicle molds with the rhubarb coconut mixture. Tamper again to remove air bubbles.

Add popsicle sticks into the popsicles and freeze to fully set, about 4 hours.

When ready to serve, run warm water over the popsicles to release them from the popsicle mold.

Optionally, use the reserved rhubarb sauce coconut flakes to decorate the popsicles

Serve and enjoy!
Note
Tools: 10 serving popsicle mold
Notes: layers are optional. To save time or create one consistently flavored pospicle, mix all ingredients together in food processor and fill popsicle molds before freezing. 
paleo popsicles, paleta, rhubarb popsicles