If you suffer food allergies, the words "ice cream cake" can be hard to hear. We allergy sufferers are accustomed to missing out on certain community eating situations (birthday cake, pre-dinner cheese plates, the standard hamburger and hot dog barbecue) but nothing really compares to watching all of your friends devour a delicious ice cream cake on a hot summer day. Well, the suffering is over! As long as your willing to do a little work ahead of time, that is. 🙂 This Rhubarb Cashew Ice Cream Cake is a dream for both those with and without food allergies: gluten free, dairy free, soy free, egg free, vegan, delicious and creamy. Plus, this ice cream cake is full of delicious rhubarb, mixed berries, cashews and almonds – Yum!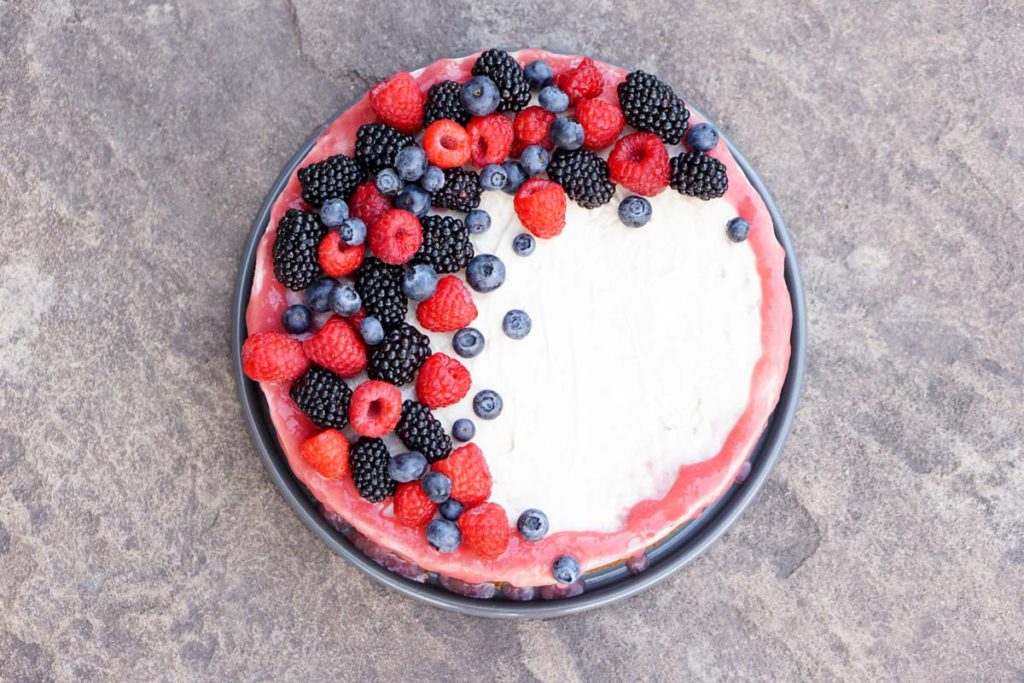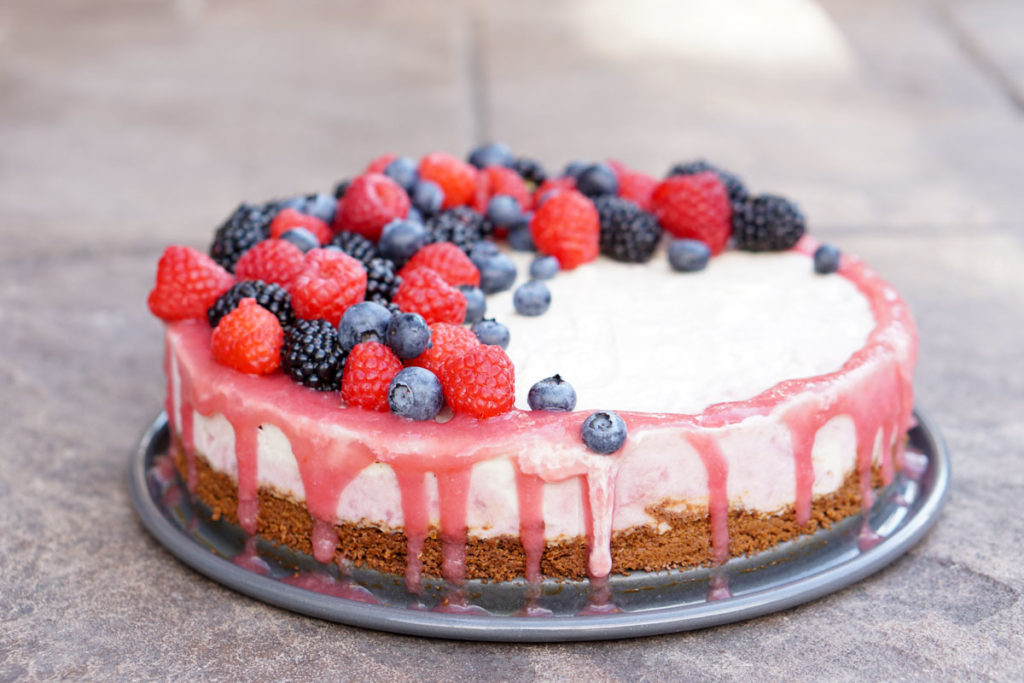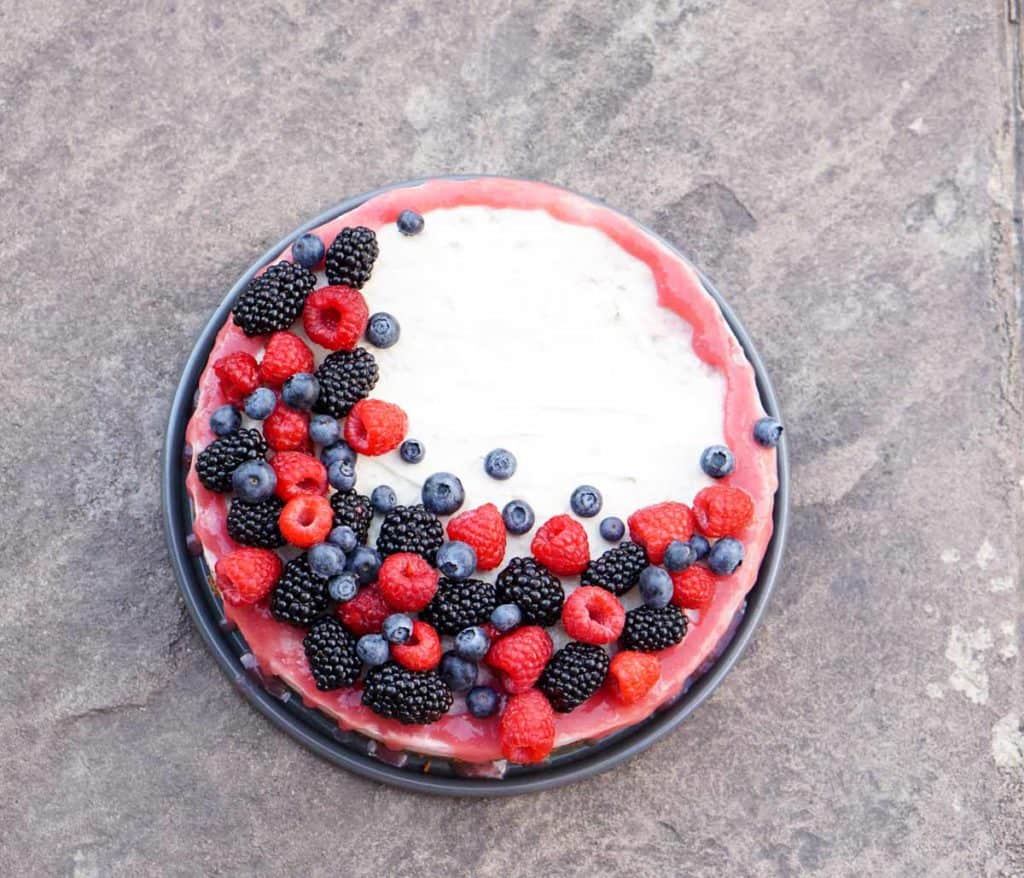 This rhubarb cashew ice cream cake was the perfect end to our summer barbecue. The heat in Denver has been intense lately and has us all craving a little sweet frozen goodness. Plus, who doesn't enjoy a little red, white and blue in July? Am I right? (Happy Birthday, America!) Between the naturally sweetened rhubarb, the no sugar added crust and the mixed berries, it is a guilt-free treat for a barbecue. The only regret is that there weren't any leftovers!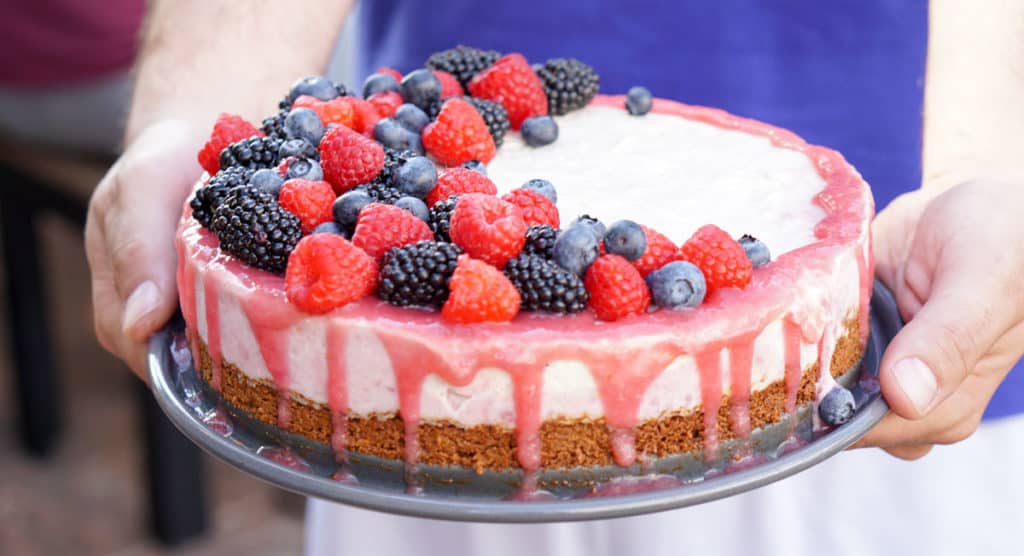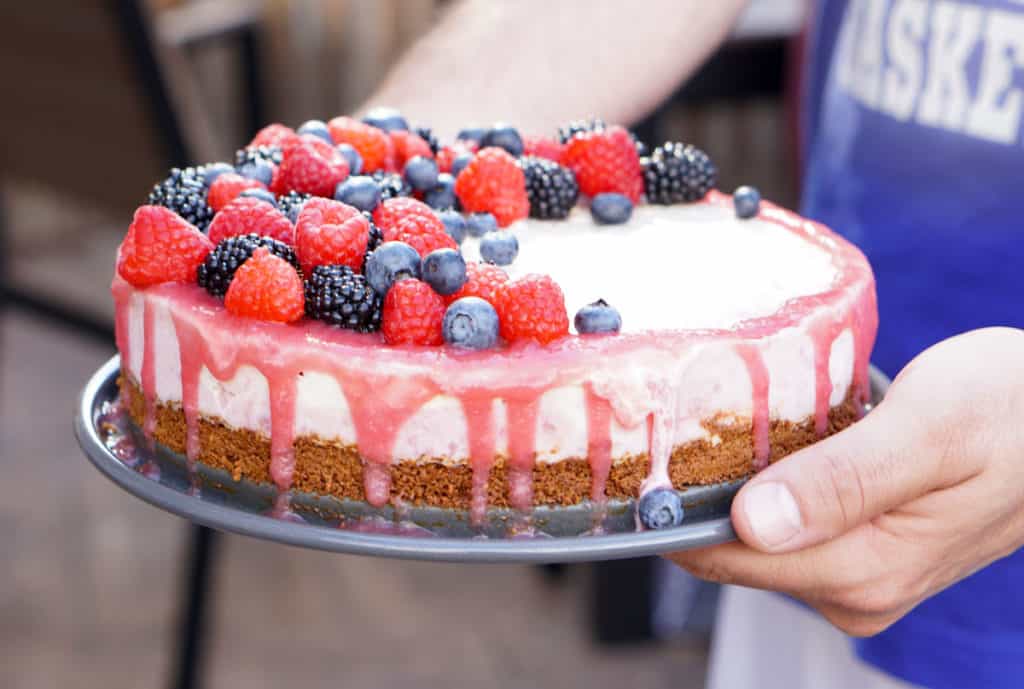 Naturally Sweetened Rhubarb Puree
The star of this cake is the rhubarb mix. Typically recipes including rhubarb also include a large amount of sugar to sweeten the bitter fruit. To reduce refined sugar, I cooked the rhubarb with an apple to naturally sweeten the rhubarb without detracting from the rhubarb flavor. The apple naturally sweetens the rhubarb mix but you don't get a strong apple flavor.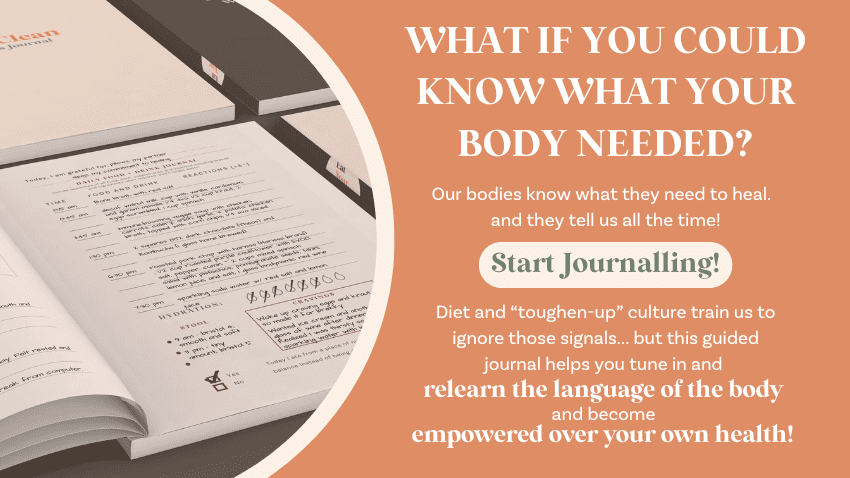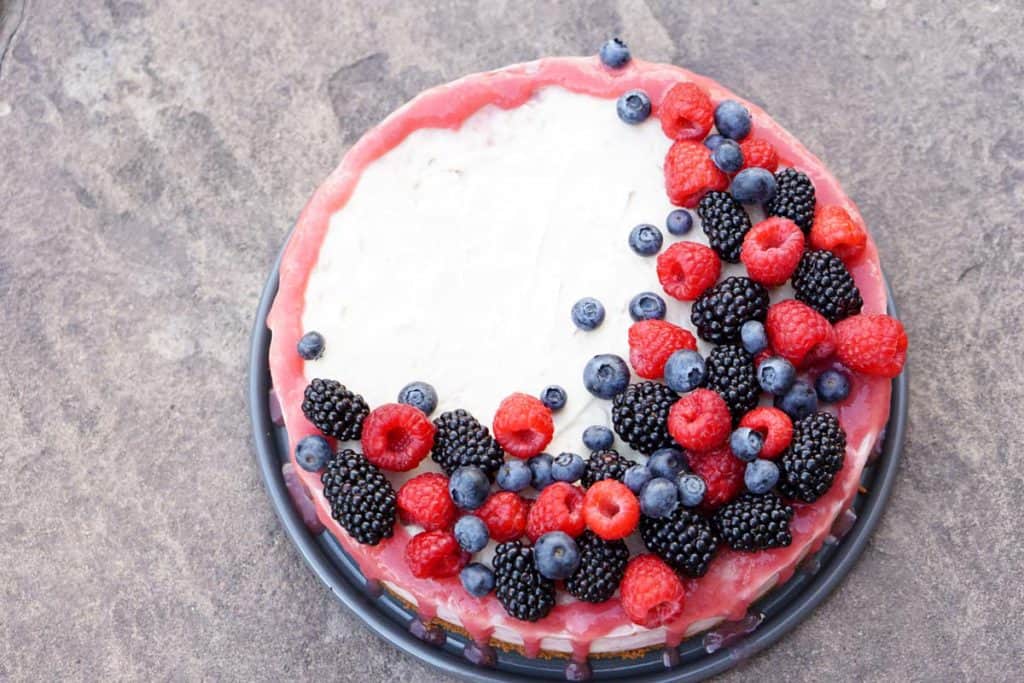 The rhubarb and apple puree also creates a delicious and naturally sweetened rhubarb reduction. The added water helps to create a texture similar to apple sauce and prevents the fruit from scorching. After cooking down the fruit, we drain the fruit creating two parts: the liquid reduction that is drained off and the fruit puree that is added to the first ice cream layer. It's important to reduce the water content of the fruit added into the ice cream. This preserves the creamy texture and reduces ice crystals. The drained juice becomes a natural syrup or reduction and this reduction is then used to garnish the finished rhubarb cashew ice cream cake.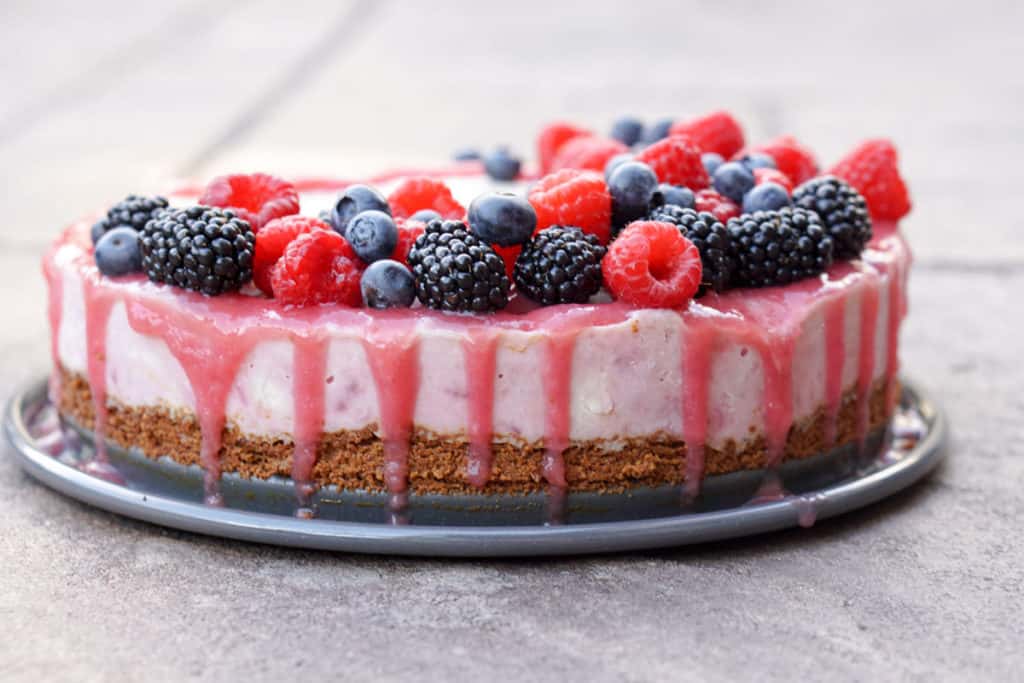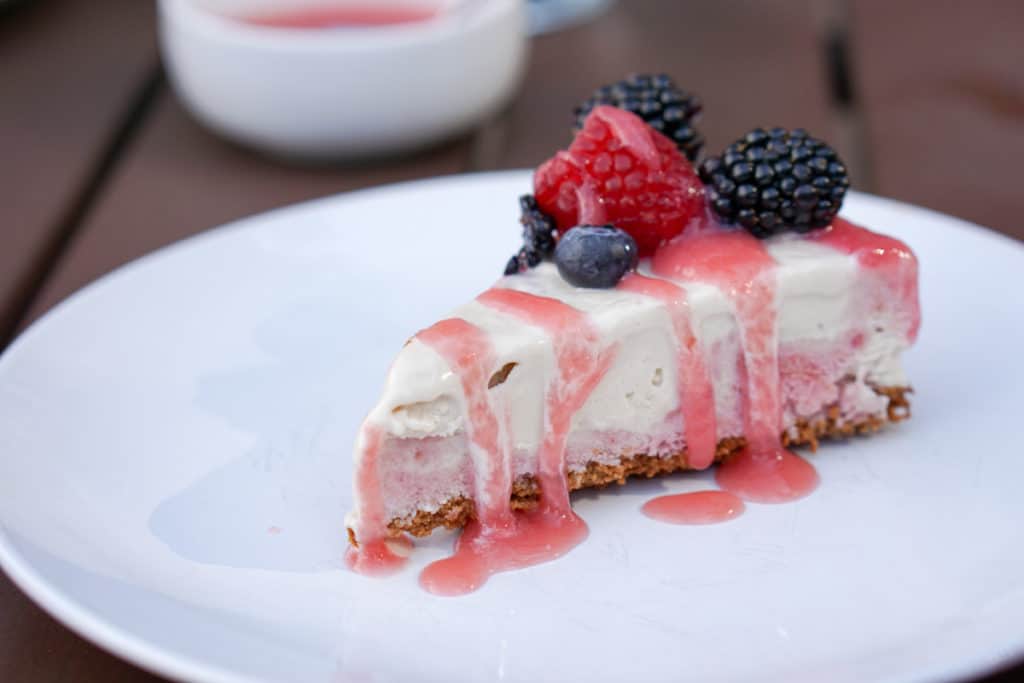 Making a Creamy Rhubarb Layer for the Rhubarb Cashew Ice Cream Cake
If you've made popsicles before, you might know it is easy to get an icy texture when making fruit and plant-based popsicles or ice cream. Part of the reason for this is not having enough fat content. What makes a great creamy ice cream is a combination of fat and protein with plenty of air mixed in. To make a creamy rhubarb layer we first drain excess liquid from the fruit and then add healthy coconut oil. Next we mix that rhubarb with half of the total cashew ice cream, mixing in plenty of air bubbles and evenly mixing the already creamy cashew ice cream with the rhubarb fruit mixture. The combination of drained juice, added coconut oil and mixing to add air lead to a creamy texture for the cake.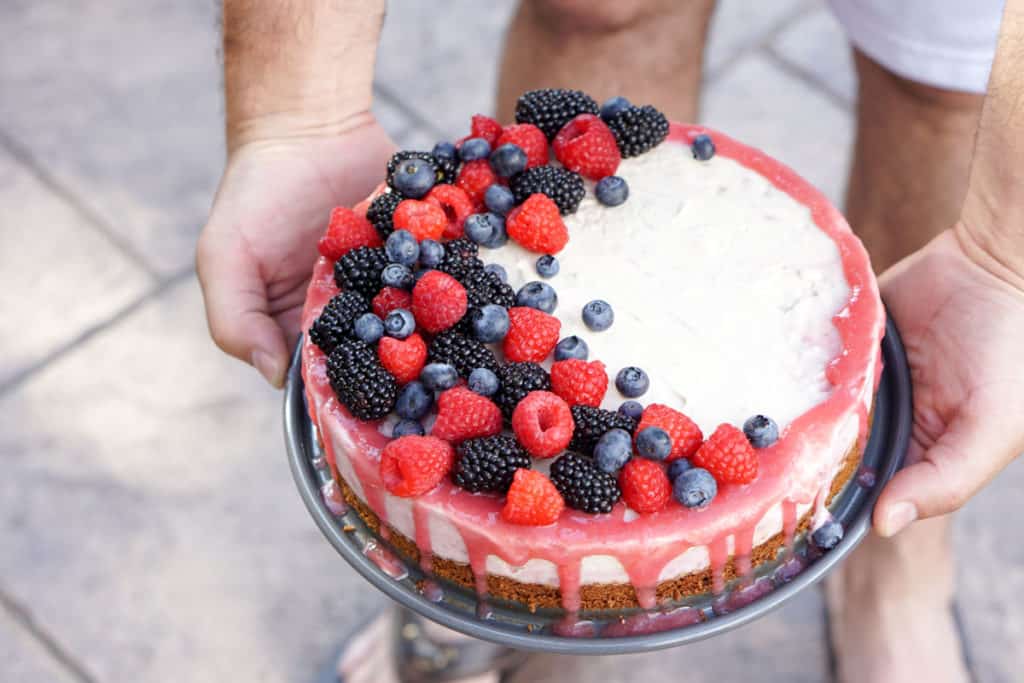 Dairy Free Ice Cream
When making ice cream for an ice cream cake, you need to make sure the ice cream is nice and creamy. That allows you to cut through the cake with ease and gives that texture you expect. Similar to the gluten free industry, there are so many more options today for the dairy free community. It's nice to be able to find these alternatives in the grocery store instead of making your own, especially when you are already preparing for a full barbecue! This Rhubarb Cashew Ice Cream Cake calls for So Delicious Creamy Cashew Cashew Milk Ice Cream. So Delicious has become my go-to ice cream when I don't have time to make a homemade "nice cream" alternative. The cashew flavor nicely accents the rhubarb and almond flavors by increasing the nutty accent. Plus, it's super creamy!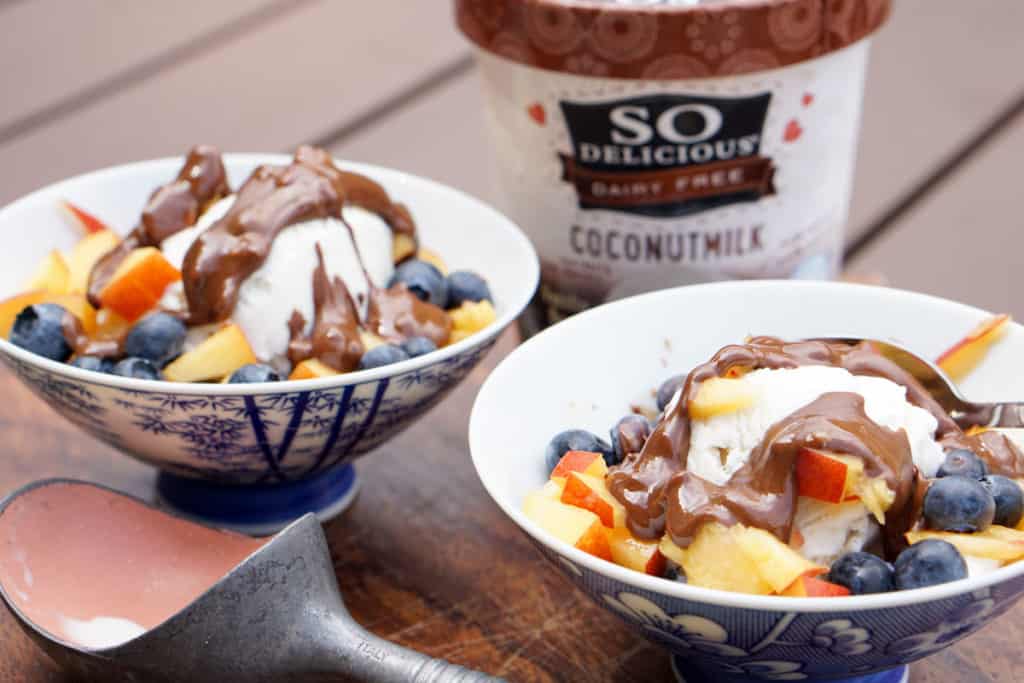 Love So Delicious Ice Cream but looking for something a little quicker than an ice cream cake? Try these delicious coconut berry sundae with homemade chocolate peanut butter sauce, also gluten free, dairy free, and vegan!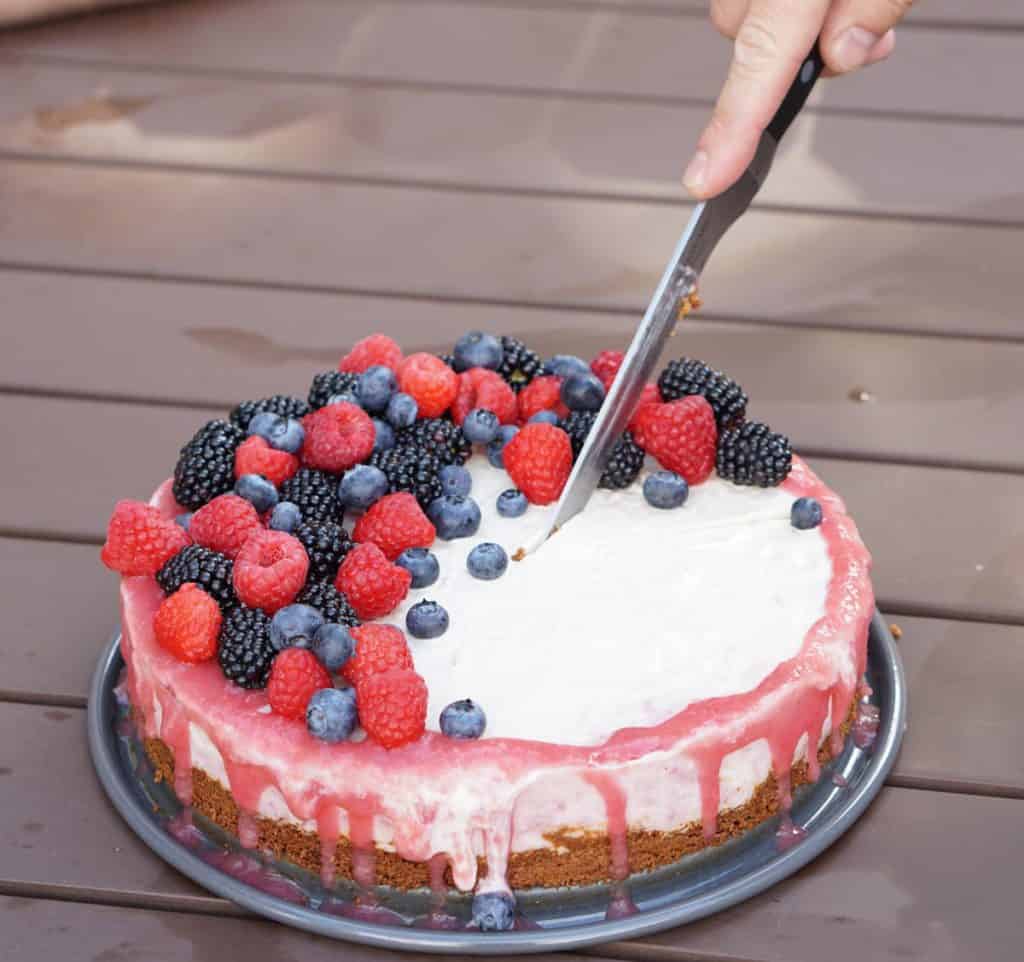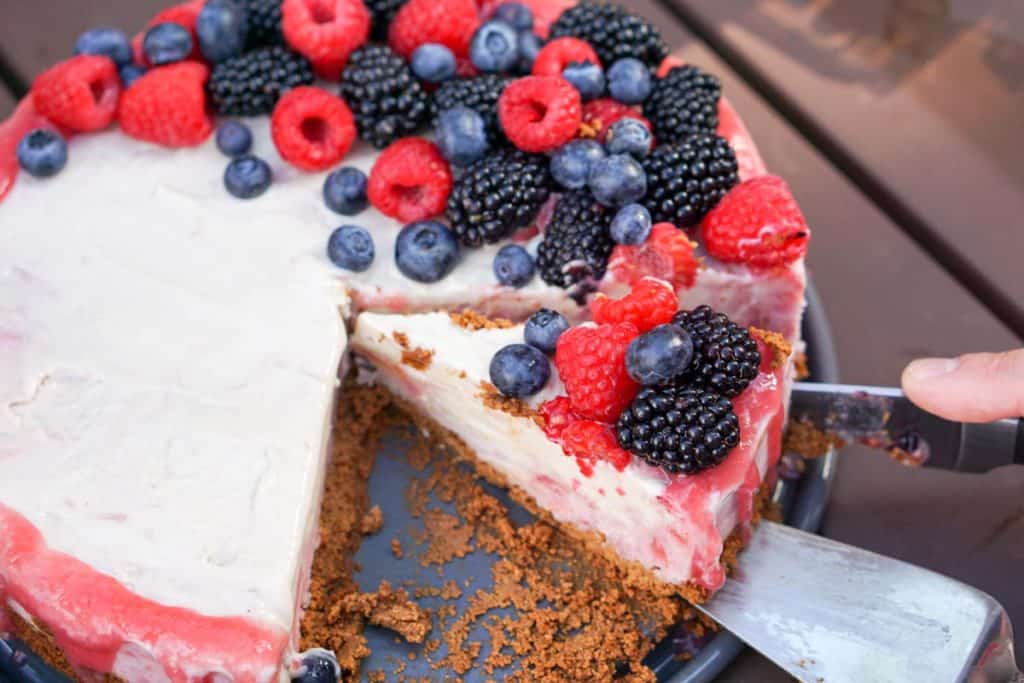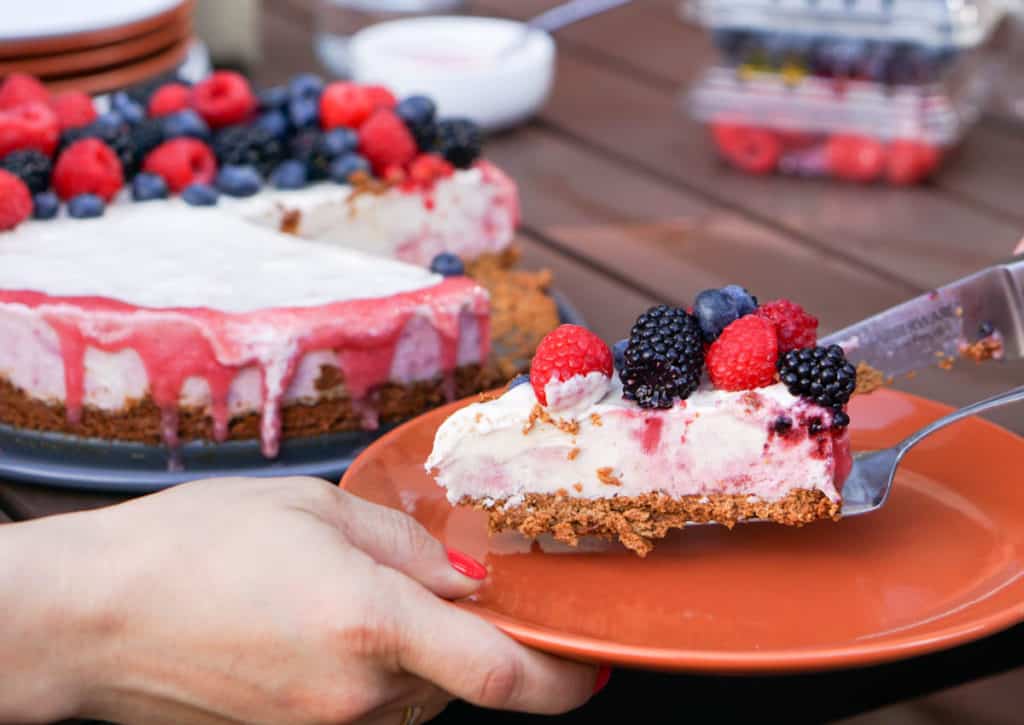 Disclosure: So Delicious provided product for this recipe. All opinions are my own and I only write about products I use.
Finding the Perfect Rhubarb Cashew Ice Cream Cake Crust
The crust is just as important as the ice cream when creating an ice cream cake. The earthy and natural flavors in this almond based crust accent the earthy fruit essence and the cashew flavored ice cream. My favorite thing about this recipe is it is simple. You mix lemon juice, olive oil, almond flour, almond butter and vanilla in a bowl and bake for 9 minutes. The mini cake is fluffy and light with just a hint of natural sweetness. Since the ice cream is already sweet, we don't need a lot of sugar in the cake portion of the rhubarb cashew ice cream cake. The nutty flavor makes a great base for the creamy cashew ice cream and fruit flavors.
If you like this crust, you will love these easy single serving paleo almond lemon cakes, too!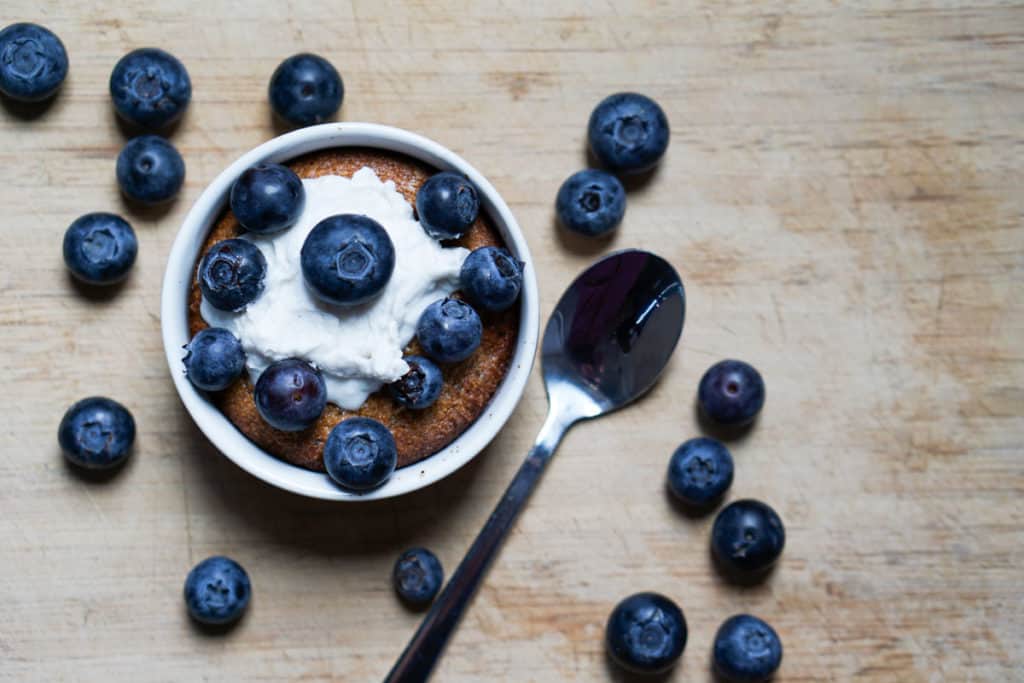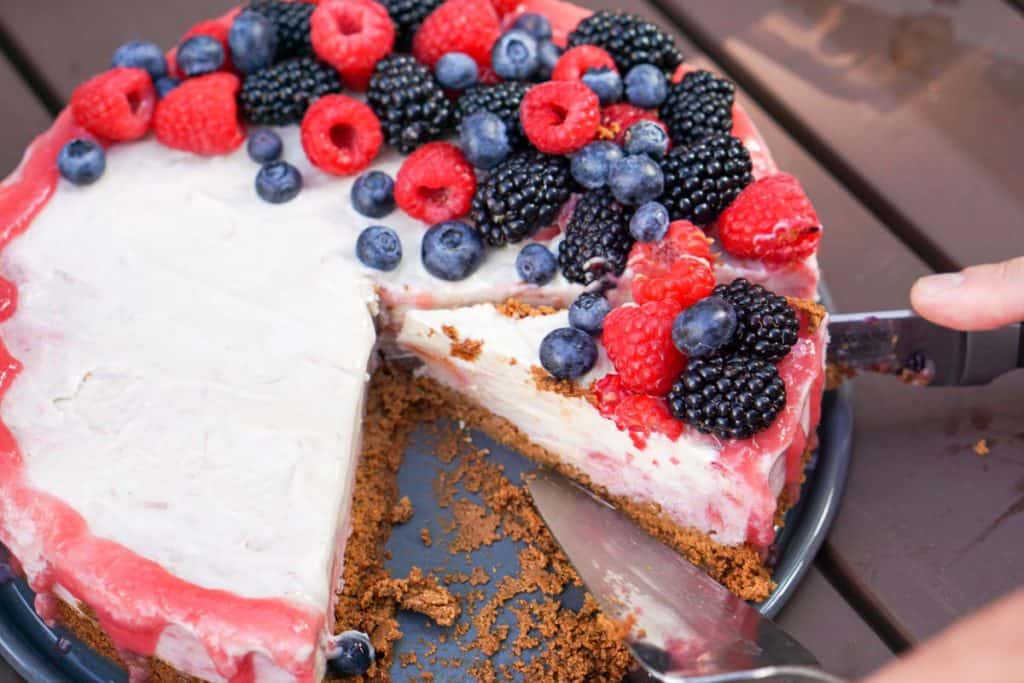 Like the recipe? Pin it for Later!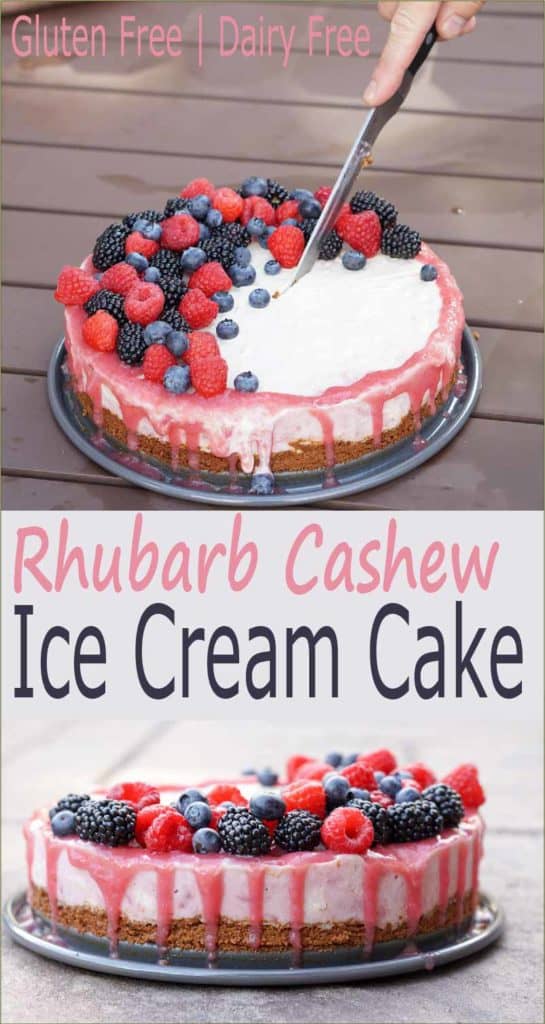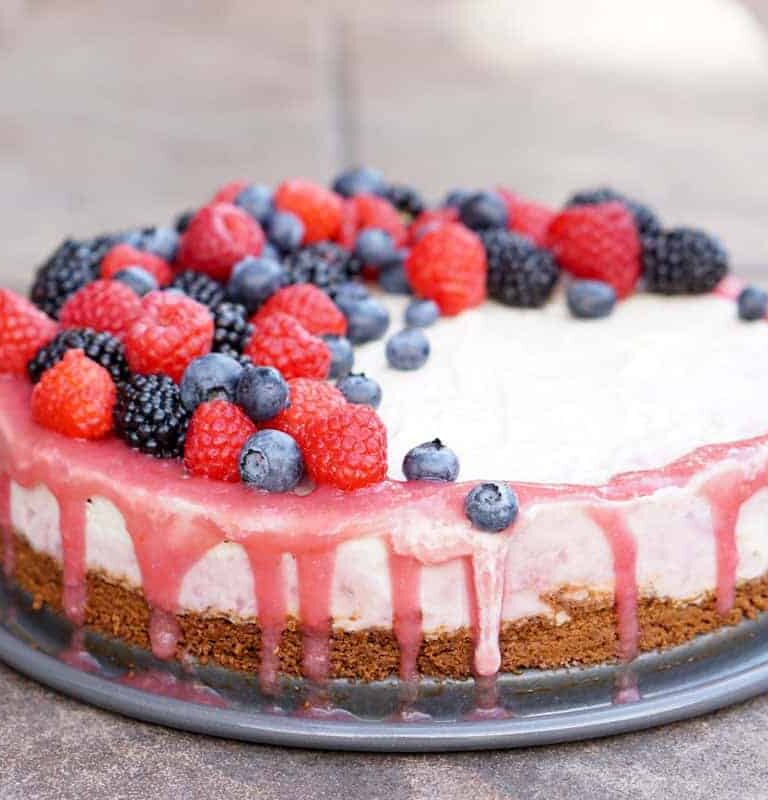 Rhubarb Cashew Ice Cream Cake
Description
Light, fruity and delicious, this lightly nutty and naturally fruit flavored Rhubarb Cashew Ice Cream Cake Recipe is perfect for a barbecue. And it's guilt free, dairy free, gluten free, soy free, egg free and vegan.
Rhubarb Puree
The Ice Cream Cake
The almond cake crust
Instructions
Directions:
Preheat oven to 350 degrees

Set out cashew ice cream to thaw. It is easier to spread onto the cake into layers when softened.
Rhubarb Puree
Coarsely chop the apple and rhubarb.

Add apple, rhubarb and water to a medium sized sauce pan on the stove top on medium for about 3 minutes and then increase heat to medium high. (the point of the added water is to prevent the fruit from burning while it cooks down. If the water evaporates or gets fully absorbed, add a little more water to the mix so that there is always some liquid in the pan)

Cook the rhubarb and apple mixture until reduced, about 9-10 minutes total. The rhubarb and apple should have lost form and look like a puree or thick jam.

Remove the mixture from heat and let cool while covered for about 10-15 minutes. Meanwhile, start the crust
The Almond Cake Crust
Mix all crust ingredients together until fully combined.

Spread cake dough evenly and flat over the bottom of a 9 inch spring form pan

Bake cake dough in a preheated oven at 350 degrees for about 20 minutes or until cooked through and slightly paler in color

Remove from oven and cool completely
Separating the Rhubarb Reduction from Rhubarb Puree
Mash the rhubarb and apple mixture with a fork or potato masher until evenly combined.

Using a strainer over a small serving bowl, drain the rhubarb and apple mixture. You will separate the liquid sauce from the rhubarb pulp. The puree will remain in the strainer and the liquid reduction will be in the serving bowl.

Make sure to drain the rhubarb puree well, extracting as much liquid as possible. Extra water in this mixture will lead to an icy rhubarb layer in your ice cream cake

Reserve the liquid sauce, or rhubarb reduction, for garnishing the cake just before serving.

In a small mixing bowl, mix the rhubarb puree with the coconut oil until evenly combined. Set aside to cool completely
Assembly
Mix one softened pint of So Delicious cashew ice cream into the rhubarb puree. Mix well making sure that the rhubarb is evenly combined and air is circulated into the mixture. This will be your base rhubarb ice cream layer.

Spread this Rhubarb ice cream mix over the cooled crust and place in freezer to set. You will freeze until this layer is semi hardened, about 30-45 minutes.

After the first layer is semi-hardened, empty the second pint of cashew ice cream into a mixing bowl. Mix the softened ice cream so that it is evenly soft, but not melted. This will make it easier to layer onto the ice cream cake.

Spread the softened cashew ice cream on top of the rhubarb flavored ice cream layer. It is ok if this cashew layer mixes a little with the rhubarb layer.

Use a spatula or spoon to even out the top of the ice cream layer, creating a flat surface. Freeze until hardened, about 1-2 hours.

When ready to serve, remove side of spring form pan from ice cream cake.

Drizzle reserved rhubarb sauce around edge of ice cream cake, allowing it to dribble down the sides

Garnish with mixed berries

Serve and enjoy
Note
Tools: 9 inch spring form pan, 2 mixing bowls, sauce pan, stove top, spatula, strainer