The Deconstructed Steak Taco on Curried Cauliflower Steak recipe merges the flavors of street tacos with Asian cuisine and the traditional steak house: Latin fusion that's healthy, gluten-free, grain-free, and dairy free. Cook, Serve and Enjoy!
I always wanted to be on Iron Chef, yet as soon as I saw the overflowing bowls of squash, rows of greens, and a turn table full of spice mixes, my mind went blank. I literally stopped in my tracks. Previously, I was pretty confident that I'd rock at making recipes on the fly in an industrial kitchen with endless ingredients. I was surprised to find that my true reaction was to FREEZE! Everyone around me started piling scallions and zucchinis onto their cookie sheets, ready to cook. But, it took me a while to come up with my recipe, or even grab one single vegetable. And the secret ingredient? Beef. it's what's for dinner 🙂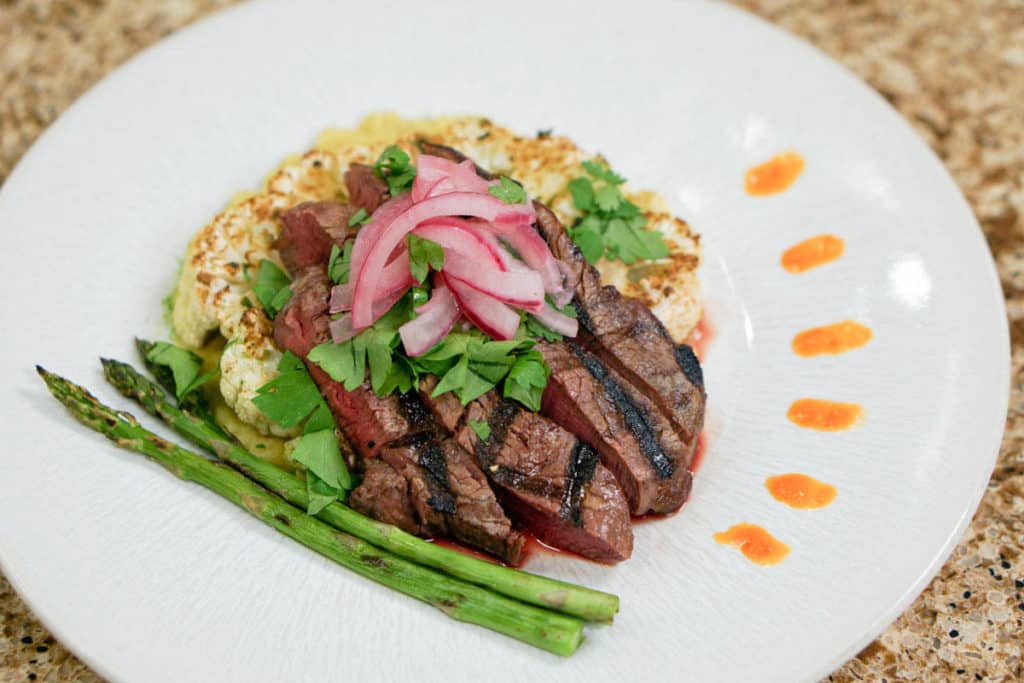 Playing Iron Chef and the Choice Paradox
Usually when cooking on the fly, I'm restricted to the few items I DO have on hand. Then, the challenge is to figure out how to combine them into something tasty. In Iron Chef land, the challenge is to figure out what to exclude! It's like the famous jam conundrum. Choosing is much easier when you only have 6 choices. It's harder when you have 72 narrowly distinct choices in an endless aisle of options.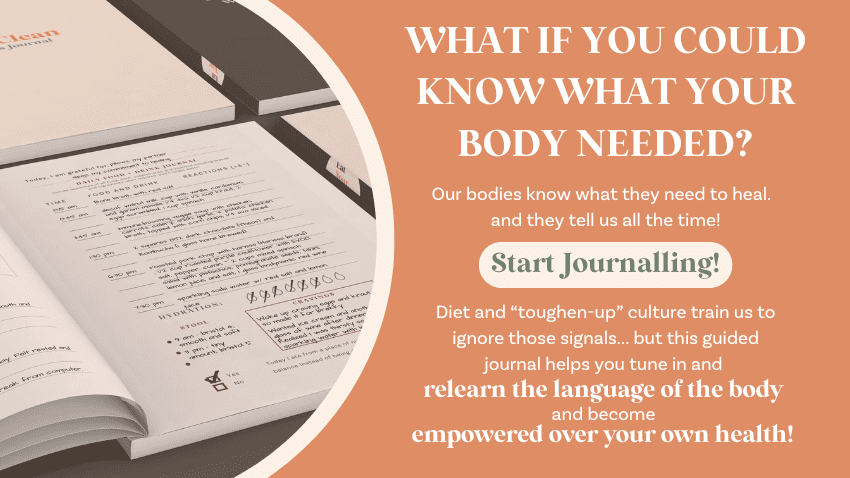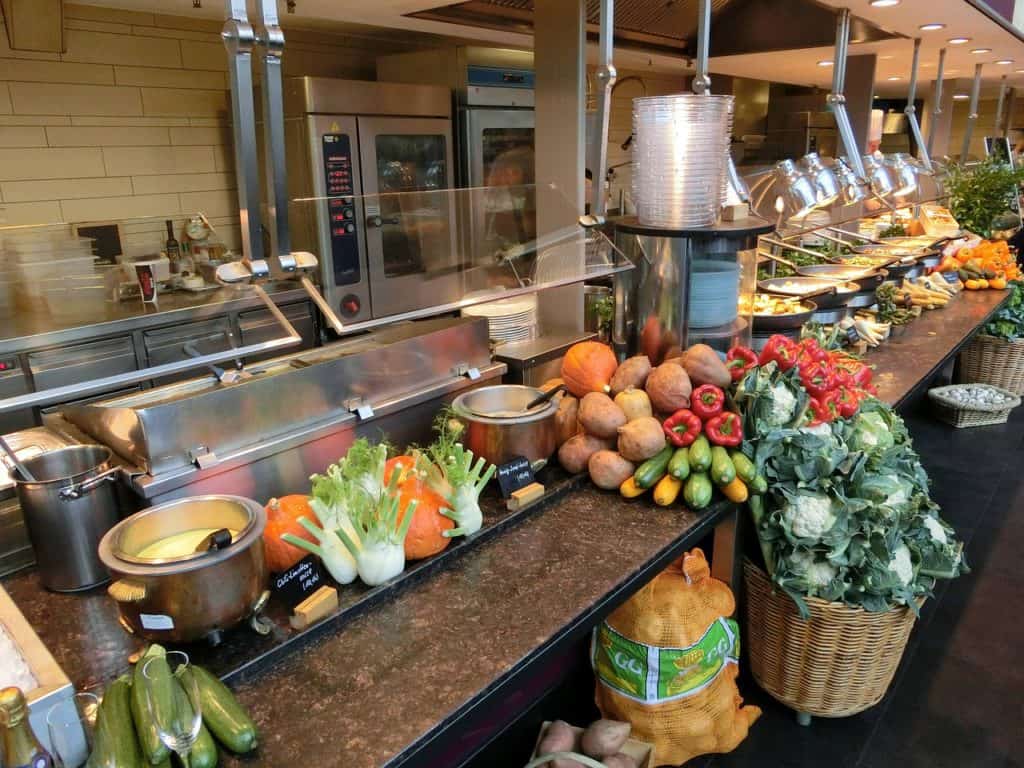 I became the lady in the jam aisle, glass eyed and absolutely confused about whether roasted fig jam, Greek fig preserves, or heritage vanilla fig jam was best for that almond-crusted and fig infused quail recipe on Pinterest. With so many choices, I freaked out and left without buying any jam. And that's exactly how I felt in front of all those veggies and spices: unable to decide on one single recipe.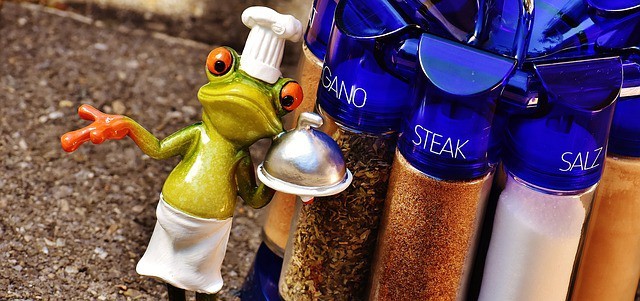 Deconstructed Steak Taco on Curried Cauliflower Steak Recipe
Eventually, I zeroed in on one or two ingredients and slowly started forming a recipe. Cauliflower, pickled onion, cilantro, filet mignon… The ingredients all inspired different cuisines. Pickled onions make me want tacos, but cauliflower makes me want curry and cauli steak. This cook off is happening at the Colorado Beef Council, so the real steak has to be front and center. Finally… boom! A latin-asian fusion recipe was born.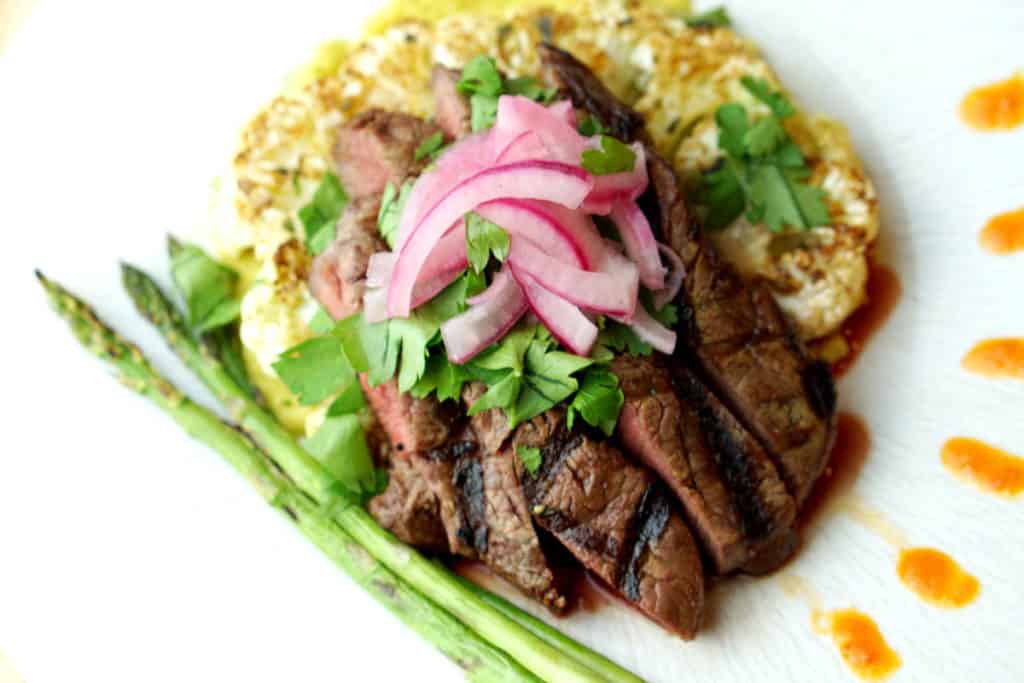 It's a little bit curry, a little bit mexican. Cumin cauliflower steak over a curried cauliflower puree creates a base for latin flavored filet mignon. That's topped with cilantro and pickled onions. It's like a deconstructed taco ON TOP OF a curried cauliflower steak. My stomach growled just thinking about it.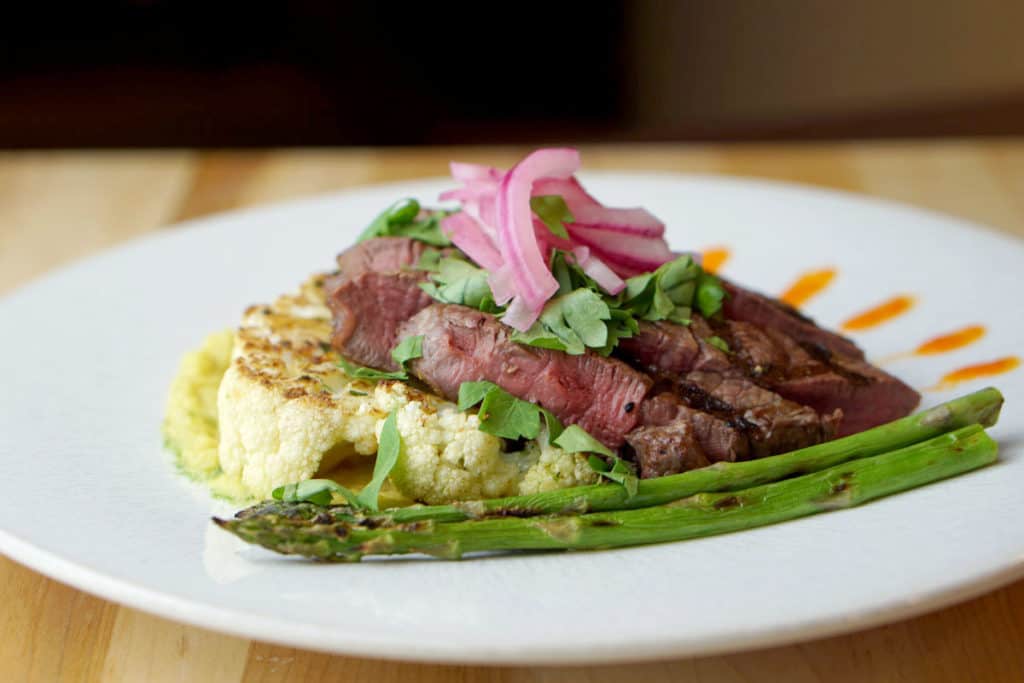 The Colorado Beef Council
This Iron-Chef and choice paradox was all thanks to Sprouts and the CO beef council who sponsored the event and gave us a thorough education on how to cook the perfect steak. You should tune in and watch them on their facebook because they basically get to play iron chef every day, except the mystery ingredient is always beef.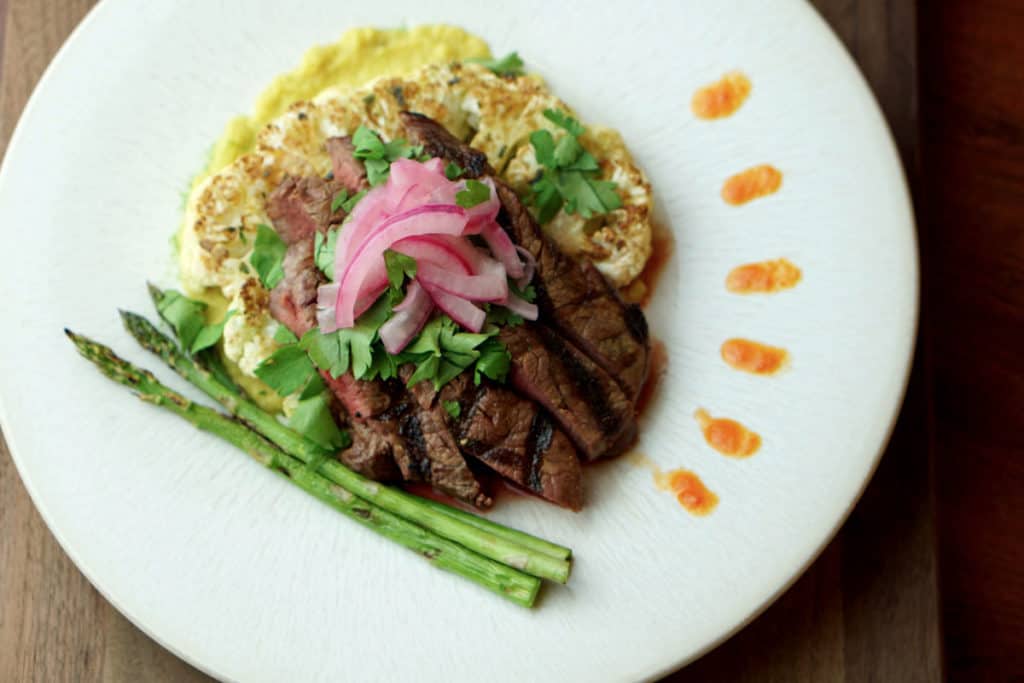 It was helpful to have them there. I usually just use the good ol' "should feel kind of like the flesh on your thumb" trick and cut it to make sure it's pink inside. However, they provide precise and proven cooking recommendations for every cut and style of beef so you can get the perfect level of doneness, every time. #unitedwegrill #perfectly
They also gave us awesome grilled lime mojito mocktails. I love the idea of grilling the fruit for cocktails!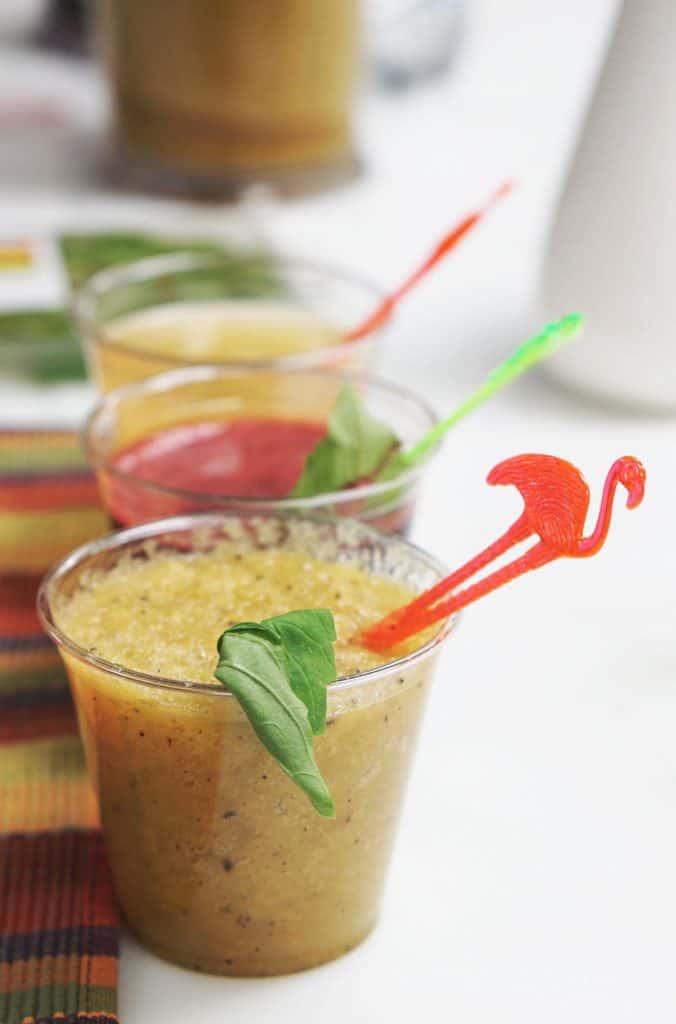 Finding Grass-Fed and Grass-Finished Beef – and why that's important
I was happy to hear the council supports several organic and fully grass-fed lines of beef that are available at Sprouts Farmers Markets. (I also learned that every Sprouts has a butcher so all their meat is cut on site and you can get help with specialty cuts of meat… which is good to know!) For those wondering what the difference is for 100% grass-fed versus just grass-fed, here's the lo-down. Typically, "grass-fed" animals are "grain-finished," which means they spend the last of their days in feed lots, fattening up on GMO corn and wheat. That marbles the meat, but it also fills them with inflammation right before you eat them, which is likely to pass on inflammation and fewer nutritional benefits to the consumer (that's you and me!).
100% grass-fed beef is just that, all grass all the time. The cows stays on the pasture their whole lives, eating their natural food of grass. This leads to a healthier, happier animal which in turn passes along better nutritional value to you and your friends and family. I recommend eating only 100% grass-fed beef whenever possible.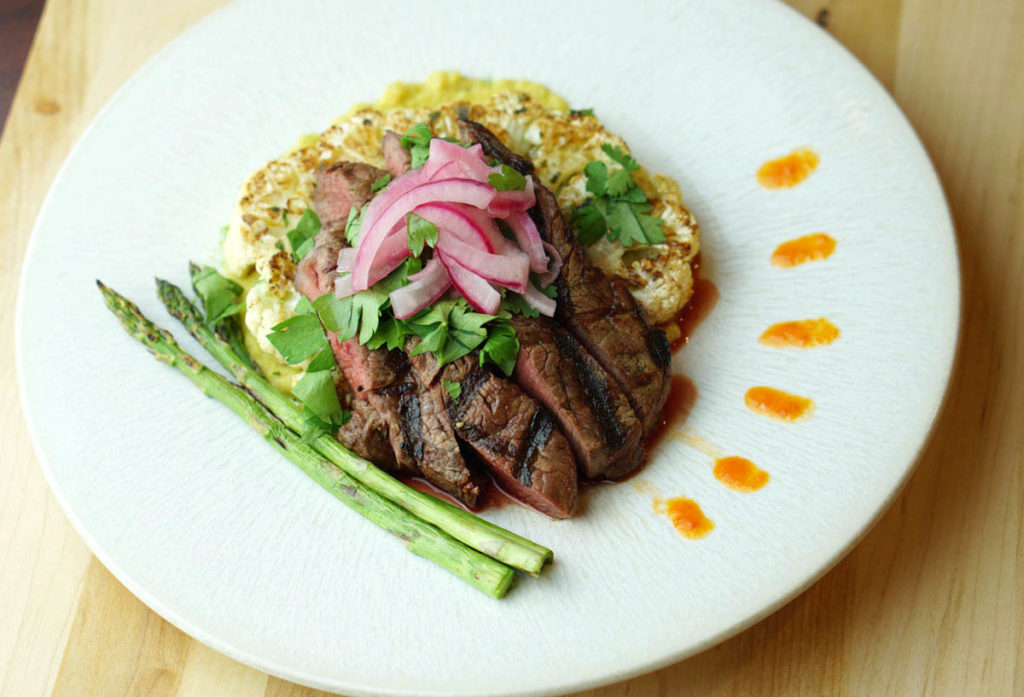 With all of the choices we have with our food these days, it can be hard to choose what to eat. Simplicity and a few high quality ingredients are key to consistently making healthy and delicious meals. The main ingredients here were asparagus, cauliflower and grass-fed steak, highlighted with herbs and spices. So even if I don't find myself in an Iron Chef cook off again, I can still keep the lesson of simplicity the next time I'm in the jam aisle. But… if you ever want to try an Iron Chef like experience, let me know! I think I'll be ready next time 🙂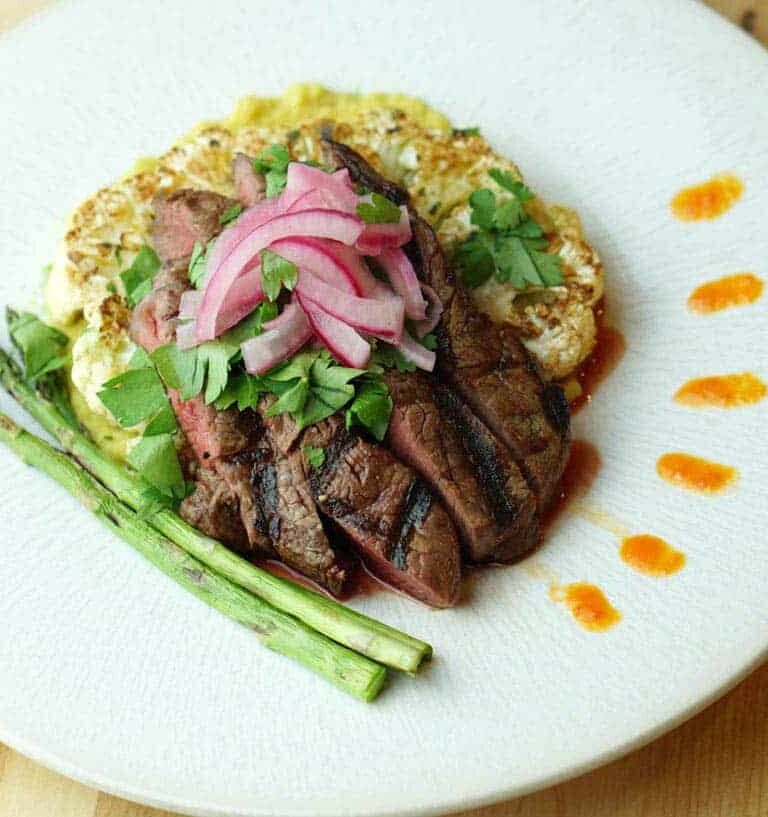 Deconstructed Steak Taco on Curried Cauliflower Steak Recipe
Description
The Deconstructed Steak Taco on Curried Cauliflower Steak recipe merges the flavors of street tacos with Asian cuisine and the traditional steak house: Latin fusion that's healthy, gluten free, grain free and dairy free.
Instructions
Directions:
Preheat oven to 385 and fire up the grill

Season cauliflower steak with a dash salt, pinch cumin, pinch dried parsley and a dash or two of cayenne for color and spice

On cookie sheet, bake cauliflower steak for 25-30 minutes at 385. Then flip and baked another 15 minutes - both sides should be lightly golden brown

Meanwhile, chop shallots and sauté in 1 tbsp oil on stove top on medium high. Cook until translucent.

Add water and cauliflower florets and a dash of salt to the pan with shallots. Cover pan and simmer on high for about 15 minutes or until cauliflower is soft.

Once cauliflower is soft, use blender or food processor to puree mixture, adding curry powder and 1 tsp cumin. Blend until smooth, adding oil if needed to reach the right consistency.

Salt and cumin your filet

Put asparagus and filet mignon on the grill

Cook the filet 4 minutes per side.

Grill the asparagus for 7 minutes, rotating once

Using a large, heaping spoon, dallop the curry cauliflower sauce on one edge of the plate and streak the sauce in an S-like pattern towards the other side. Repeat, on the opposite side, forming a ying-yang like symbol of sauce on 1/2 the plate.

Lay the cooked cauliflower steak on top of the curried cauliflower puree

Slice the filet and plate on a diagonal across the cauliflower steak

Top with pickled onions and cilantro. Garnish with red pepper coulis.

serve and enjoy!
Healthy