Carrot tops are edible and incredibly nutritious. If you happen to grow your own carrots, you end up with a lot of tops. That's why I love finding excellent recipes for them.

In addition to throwing them in smoothies, soups, and stir-fries, they make a great pesto!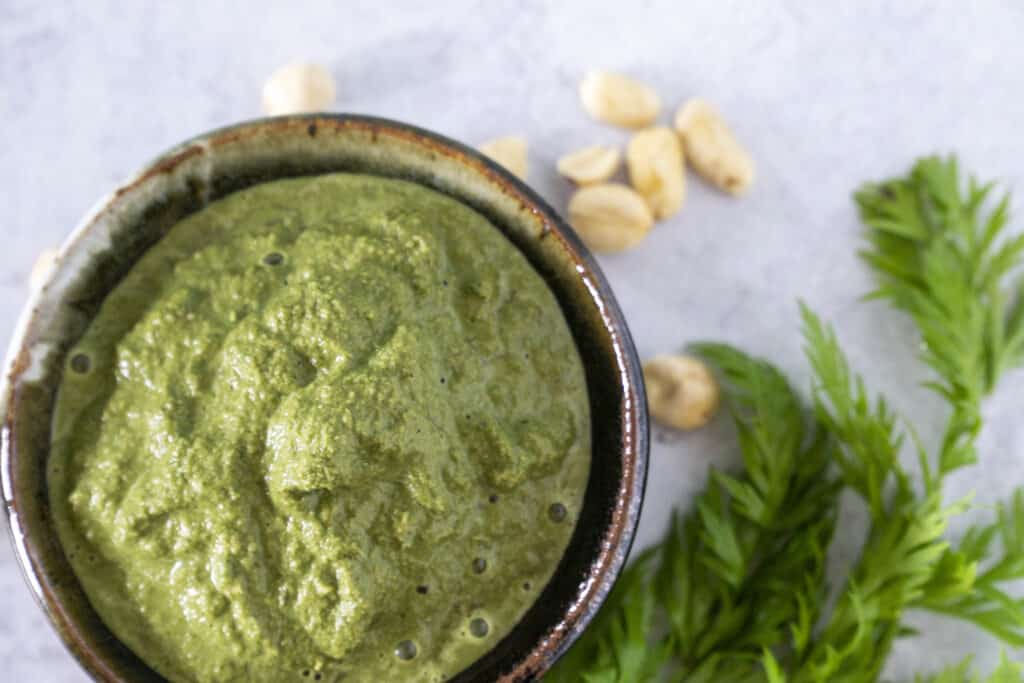 Why does this recipe work?
This creamy carrot top pesto works because it has a kick from ginger, a tinge of sweetness from coconut milk, and rich buttery texture from ground peanuts.

The real salt rounds out the flavors well enough to make it great on many different foods.
The Ingredients
The star of the show is carrot tops. This requires the tops of one bunch of carrots or about 1 packed cup of carrot top greens.

While you can use the entire greens, I prefer to remove the portion of the green that is all stem with no leaves. That part tends to be more bitter and less tender.

You'll also need fresh ginger root, coconut milk, real salt, peanuts, and water.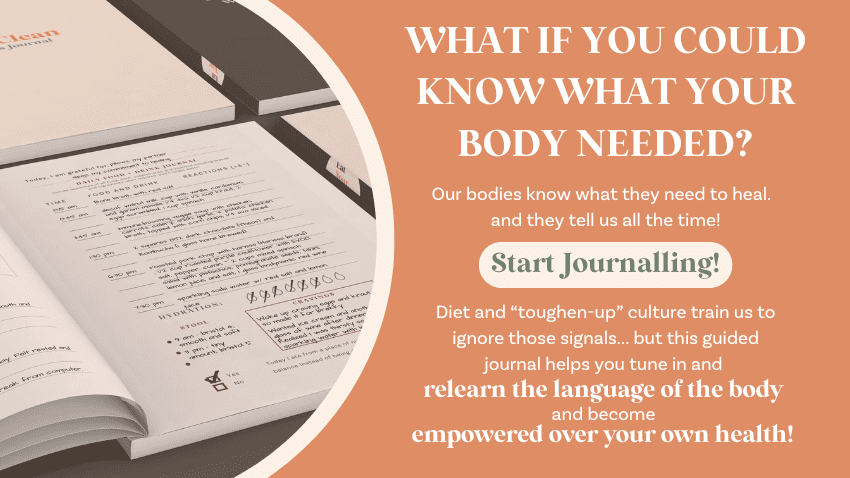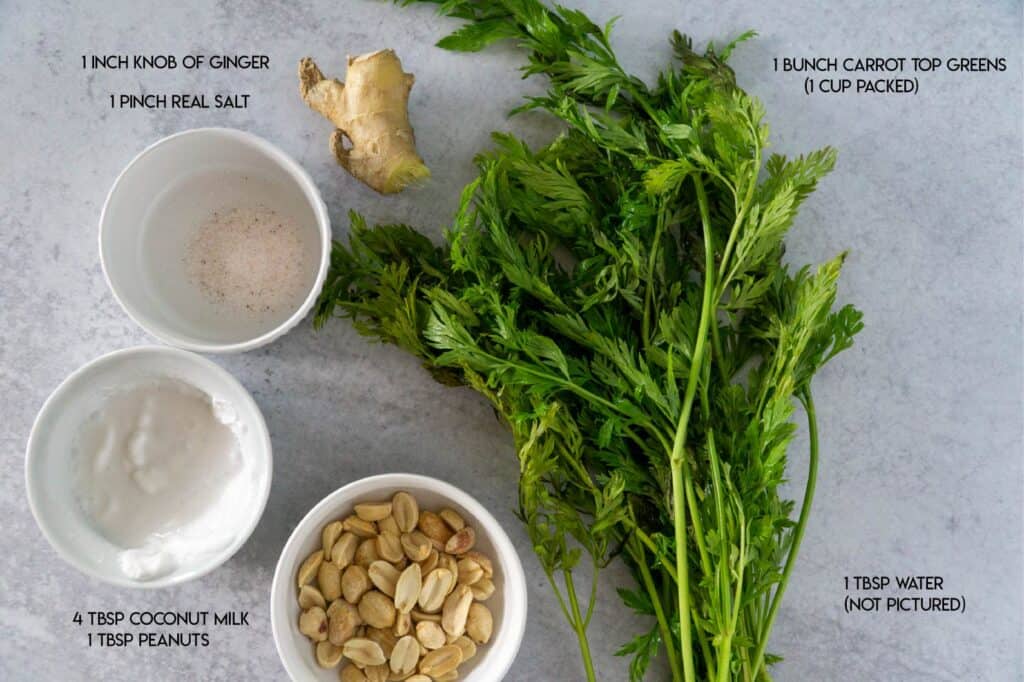 Carrot Greens – what part should you use?
Carrot tops are an excellent source of vitamins and can even aid digestion. Repurposing them is not only tasty and good for you, but it also reduces food waste.

When removing the carrot tops from the carrot, I like to omit the heavily stemmed portion of the greens from the recipe. You can compost those or use them in a vegetable broth.

Take a knife and cut the stems at the line between pure stems and stems with leaves coming off. Discard the pure stems and use just the leafy stems for this recipe.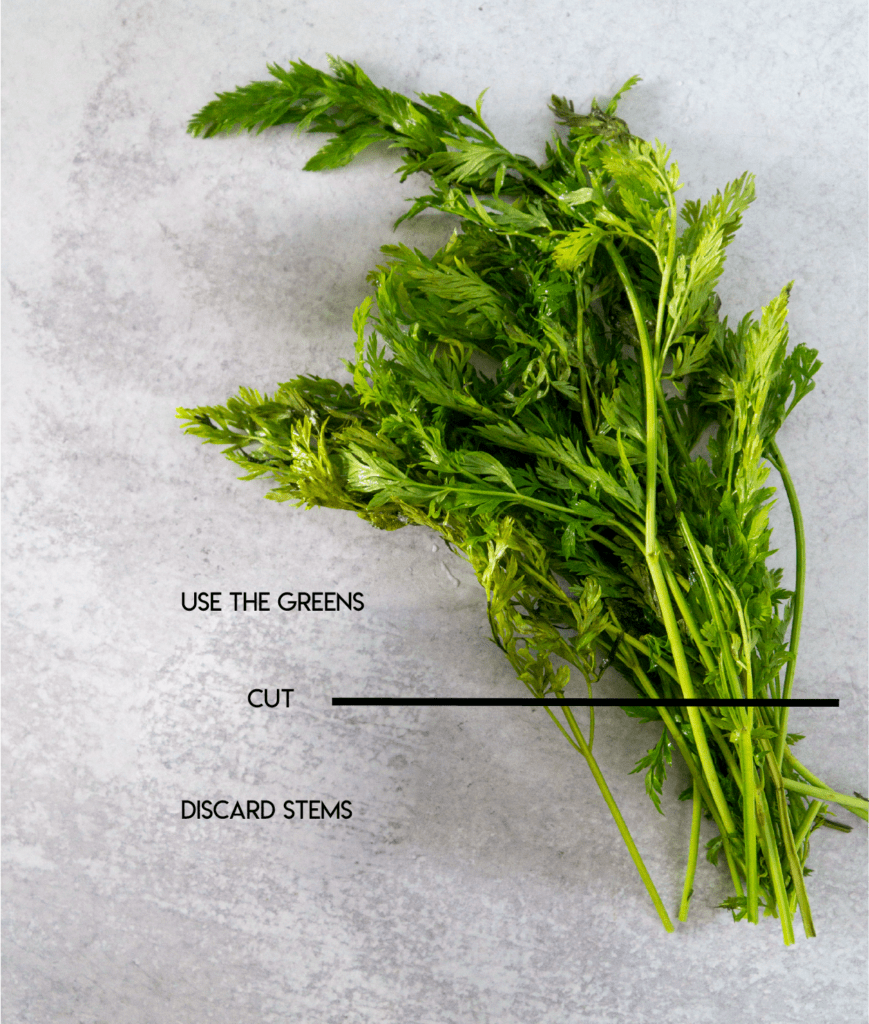 Choosing the right salt
Real salt is not exchangeable for any salt. Naturally formed salt like sea salt or dried sea salt found in caves has uneven lines and ununiform shapes. That means that fewer individual crystals can fall into the same measuring device. In other words, a teaspoon of lab-created iodized salt will pack a much saltier punch than freshly ground Himalayan sea salt or real salt.

Real salt, additionally, contains multiple minerals that are good for your health and biochemical processes including manganese, magnesium, and potassium among others. Get it delivered from Thrive.
Peanuts
You'll want roasted peanuts, but make sure they have no seasoning or flavoring on them.
Flavorings, especially artificial ones, will distort the flavor of the pesto.

Making the Creamy Carrot Top Pesto
In a sentence, you put all the ingredients in a blender and pulse until smooth.

However, there are a few tricks to get the best texture possible.
Getting the best texture for your Carrot Top Pesto
Carrot tops are long and can get caught in the food processor or blender blades. For that reason, I find it best to start by adding about 1/3 of the total carrot tops with the liquid ingredients first. Once those have pureed, it is much easier to add the rest of the carrot tops.

This is also helpful in managing the viscosity of the end product. You don't want the pesto to be watered down, but you need enough liquid to blend the carrot tops at the beginning.
Start with 1/3 of the carrot greens
Start with one-third of the greens along with the ginger, coconut milk, water, and salt. This will help you get the ingredients blending while protecting the end-state texture. It will also ensure that the salt is evenly mixed and the ginger is sufficiently blended.

In this stage, you'll want to fully blend the ginger so the long fibers are macerated evenly.
Mix the rest of the greens.
Add the second third of the greens and pulse until combined. Then add the final third of greens and pulse until combined.
Lastly, the peanuts
The last step is adding the peanuts.

It's best to add the peanuts after the rest of the ingredients are properly mixed. This allows the initial ingredients to be evenly pureed without liquefying the peanuts.

The peanuts are pulsed until just combined, leaving a little chunky texture.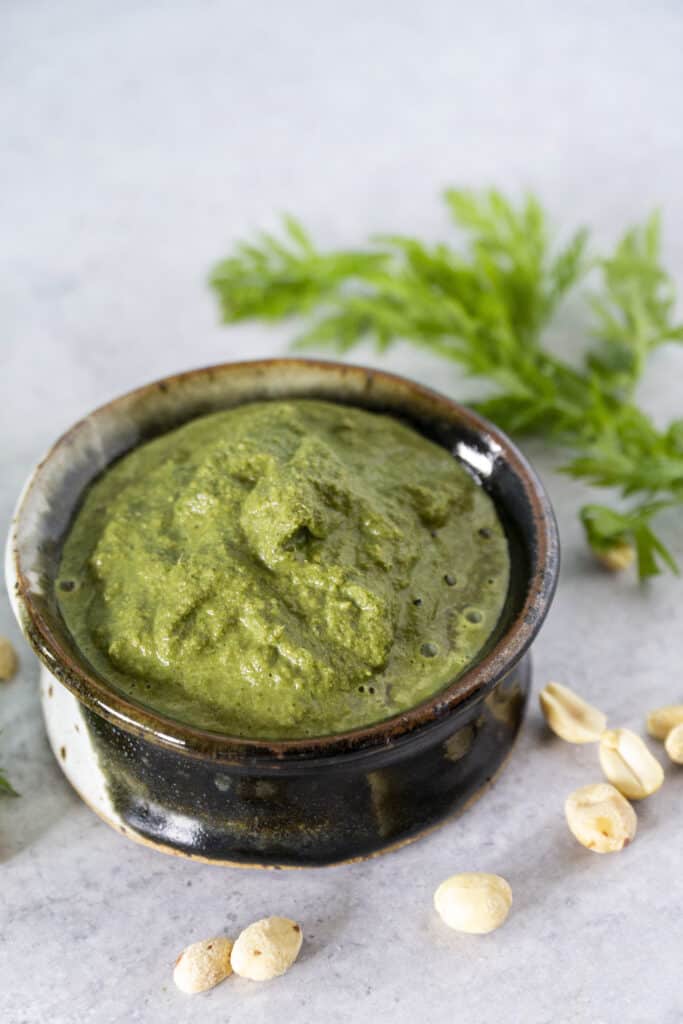 Serving the Carrot Top Pesto
This carrot top pesto goes great with carrots fries or as a substitute for mint chutney on these cantaloupe prosciutto skewers.

It also pairs well with Bison Jicama Meatballs.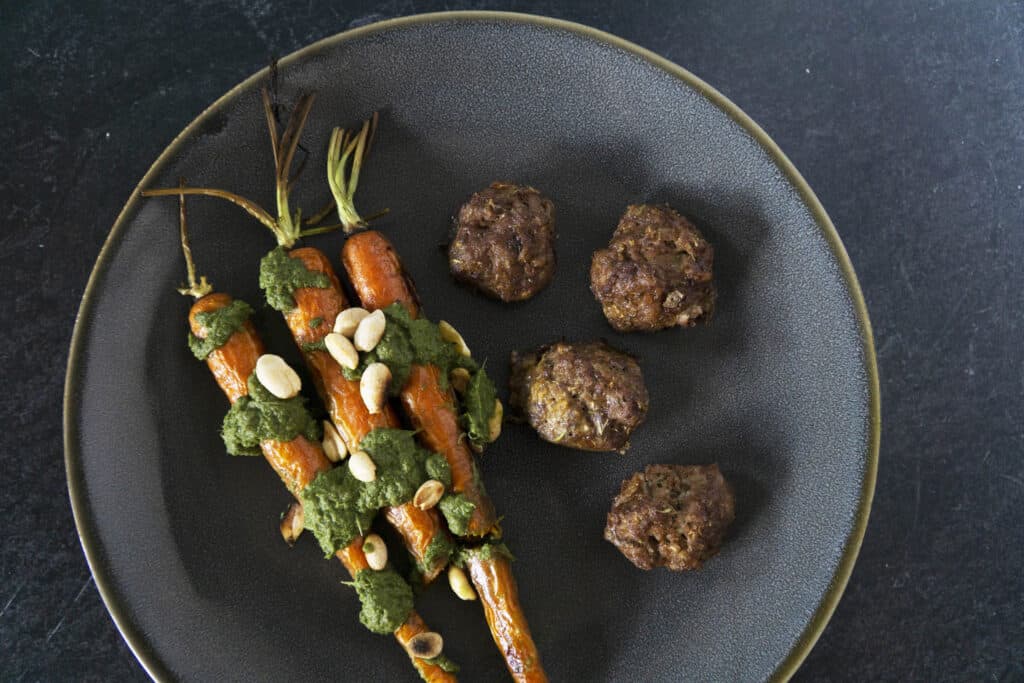 How do I save the carrot top pesto?
It's likely that you will have more carrot tops than you can use in one serving. The good thing is that this pesto freezes excellently.
It works best when you use a silicon mold, the same that you use for chocolates, to freeze individual servings of pesto for later.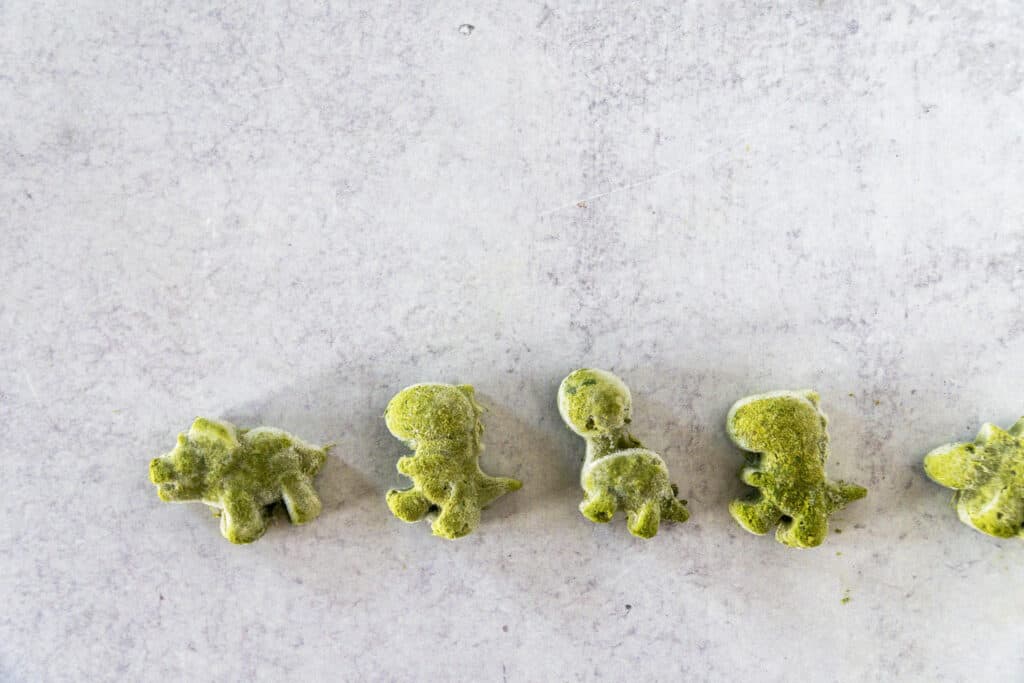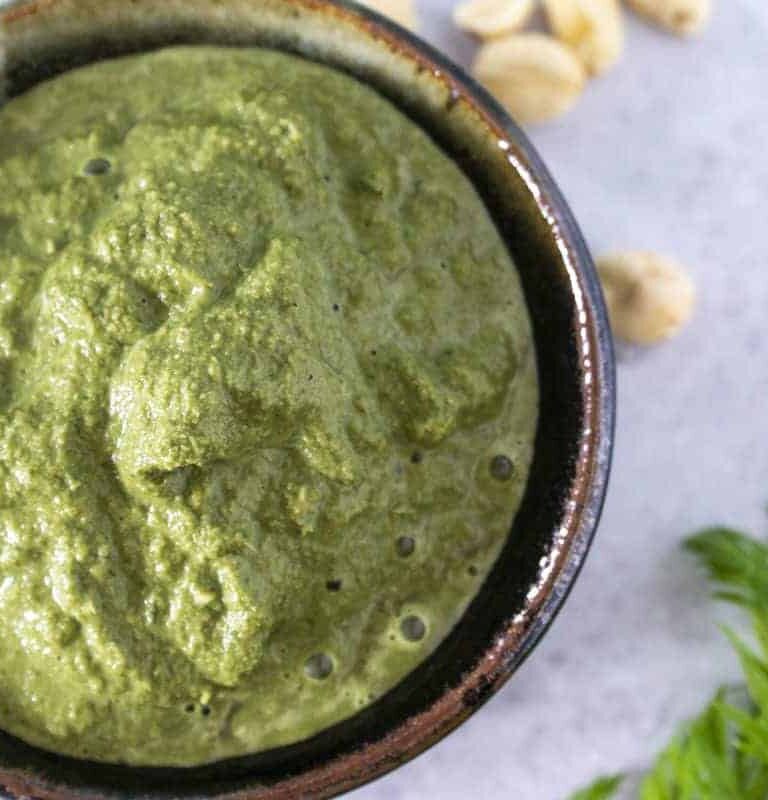 Creamy Peanut Carrot Top Pesto
Description
Repurpose carrot tops into this creamy carrot top pesto with a ginger kick, a hint of sweetness, and a rich buttery texture from ground peanuts.
Instructions
Put 1/3 of the carrot tops into a blender with gingber, coconut milk, salt and water. blend until smooth and evenly combined.

Add half the remainig carrot tops blending until combined and repeat with the remaiing carrot tops.

Add peanuts and pulse until you have the desired texture.
---
Amount Per Serving

% Daily Value *

Total Fat 3g

5

%

Saturated Fat 2g

10

%

Sodium 19mg

1

%

Potassium 33mg

1

%

Total Carbohydrate 1g

1

%

Dietary Fiber 1g

4

%

Sugars 1g

Protein 1g

2

%
---
Calcium

2

mg

Iron

1

mg
* This nutrition information does not tell the whole story of food's nutritional value! Make sure to use your gut intuition on what your body needs, eat your veggies and get 30 plants a week for optimal gut health. This nutritional data is calculated based on the above values and standard brands. This information may vary. Percent Daily Values are based on a 2,000-calorie diet. Your daily value may be higher or lower depending on your calorie needs. Tried this Recipe? Tag me Today! Mention @EatYourWayClean or tag #EatYourWayClean!
Note
While you don't need to destem the entire carrot top, this recipe tastes best if you cut off and remove the stems at the bottom of the greens. That is the stems with no leaves attached. 
This carrot top ginger will have a ginger kick. If you don't like ginger or are sensitive to the flavor, consider cutting the ginger in half or omitting. 


Substitutions: If you don't enjoy or can't eat coconut, substitute the coconut cream with heavy whipping cream. 
healthy, sugar free