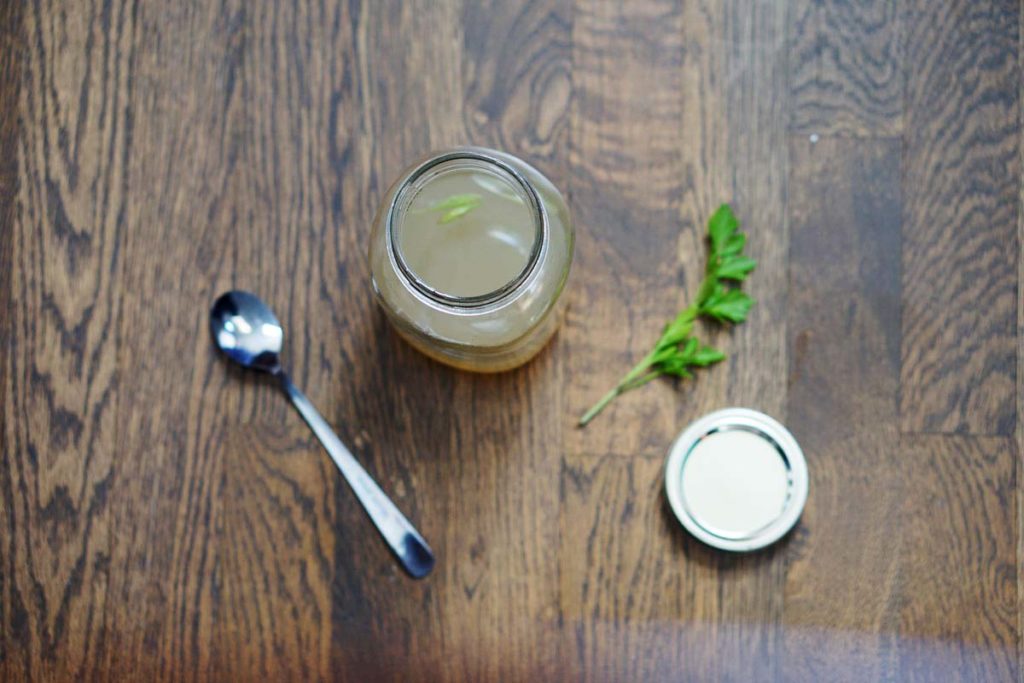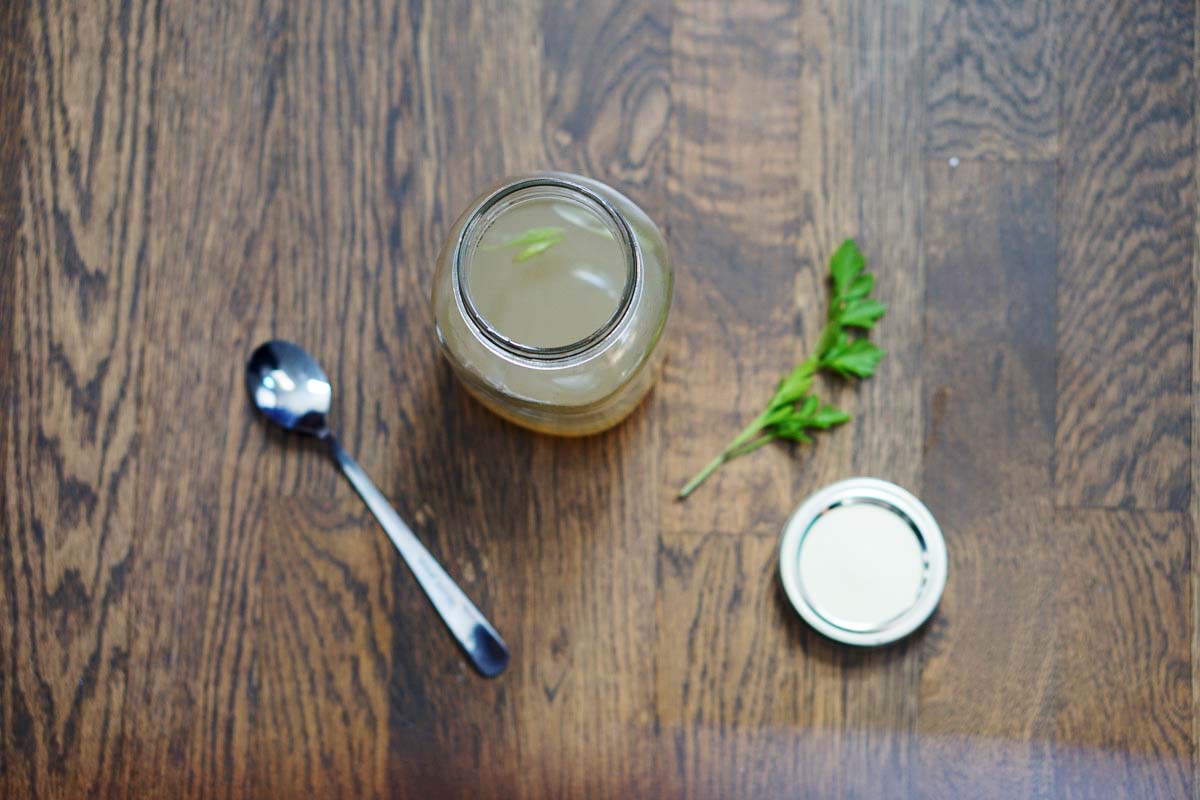 This Bison Keto Bone Broth is a staple, great on its own or to add flavor to soups, sauces, and other dishes. The healing collagen and glutamine and alleviate leaky gut and the sodium, potassium and magnesium help hydrate the body.
Why Bison?
I love to use Bison because it diversifies the diet and it's native to the Colorado area. Bison have roamed the great plains of Colorado for centuries and they have a very symbiotic relationship with the grasslands and plains.
So why not chose to eat what is naturally abundant in our surroundings?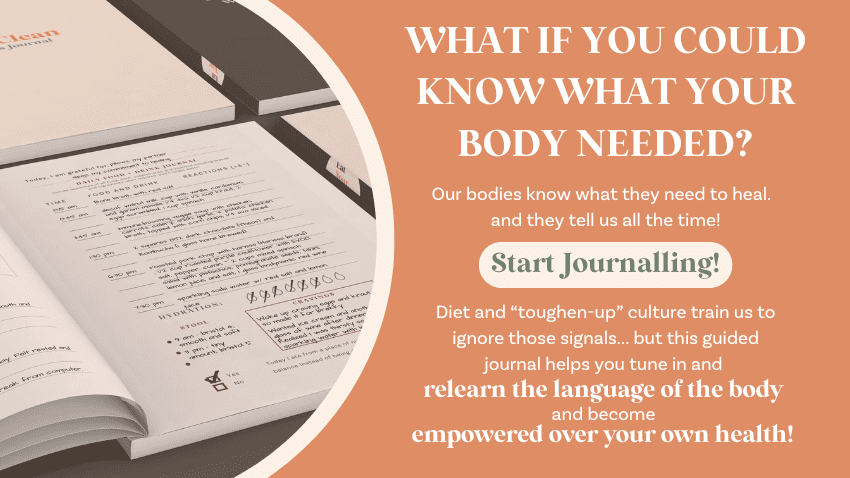 Plus, I go in on Bison with a few friends each year at the stock show. It's a great way to know exactly where your meat comes from and ensure we use the whole animal.
What else goes into the broth?
Salt, vegetables and herbs.
Usually you'll include celery, carrot, onion, garlic, parsley, and cilantro.
If you only have a couple of those vegetables, that's ok. I always try to add at least celery and some herbs.
What if I don't have those vegetables?
Use whatever vegetables and herbs you have on hand!
Seriously, a broth is like a savory tea. If you don't have the vegetables mentioned above, you can omit them and add the herbs and vegetables you do have.
Stick to sturdy veggies like root vegetables and celery. Turnips and parsnips work great. Avoid watery varieties like cucumber and tomato because they will disintegrate into the broth. You can add fresh or dried parsley, cilantro, rosemary, thyme and any herbs.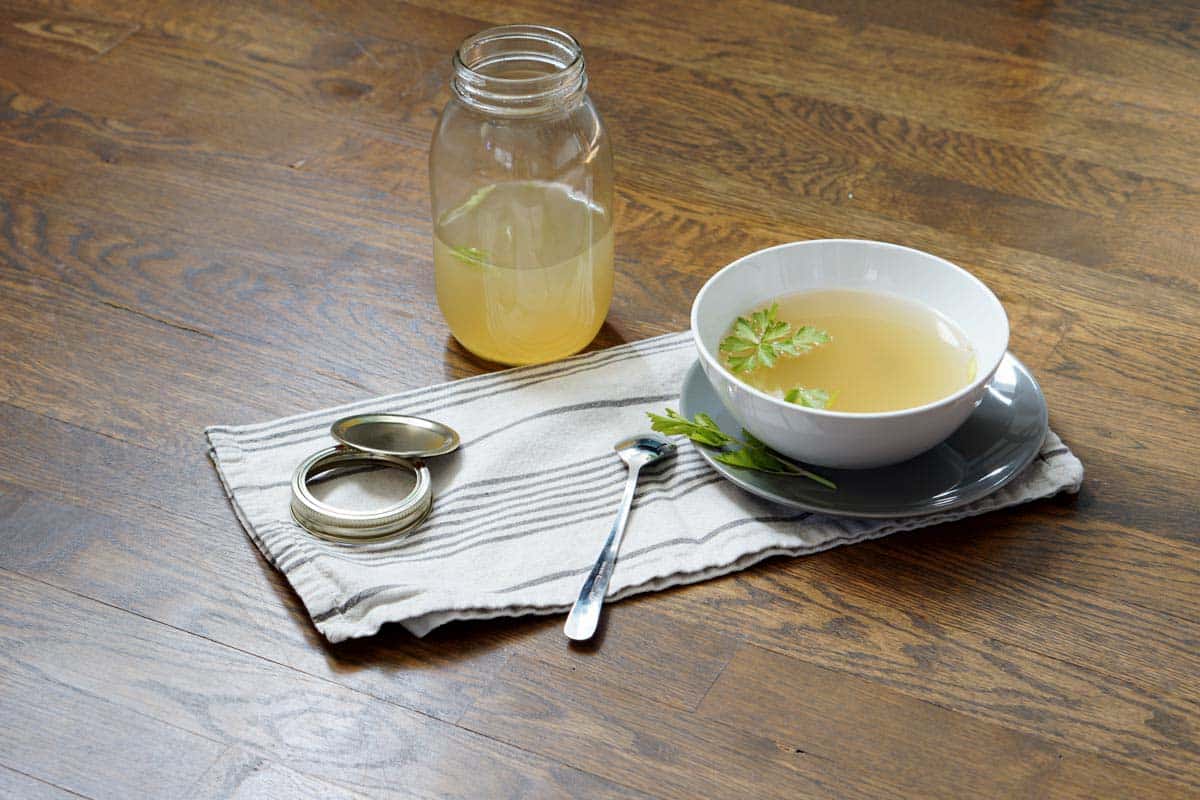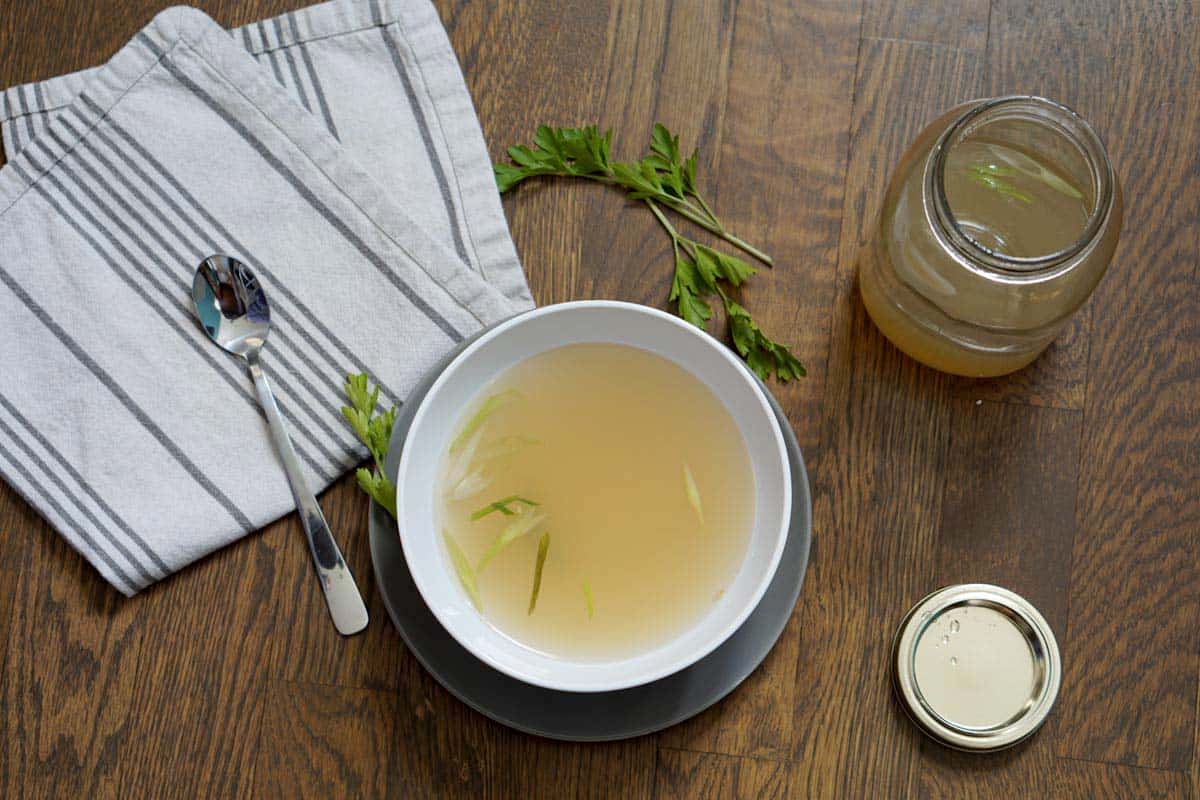 Making the bone broth
Set all the ingredients in a big pot and cover with cool water. The water should go 2 inches above the ingredients in the pot.
Simmer the broth on low heat for up to 16 hours. Anywhere north of 4 hours will give you good broth.
For detailed instructions on how to make bone broth, go here.
The Keto Bison Bone Broth
This recipe is a good addition to the Keto diet and lifestyle. Bone broth is naturally low in carbs and high in fat and protein. An average cup of broth has 0 carbs, 0 sugar, 6 grams of protein, and 2 grams of fat.
The longer and slower it is simmered, the lower the fat content and the higher the protein content via collagen and L-glutamine.
More importantly, there is about 120 mg sodium and 190 grams potassium in bone broth which can help hydrate and nourish the body. Especially if you've severely restricted carb intake.
How to eat Bison Keto Bone Broth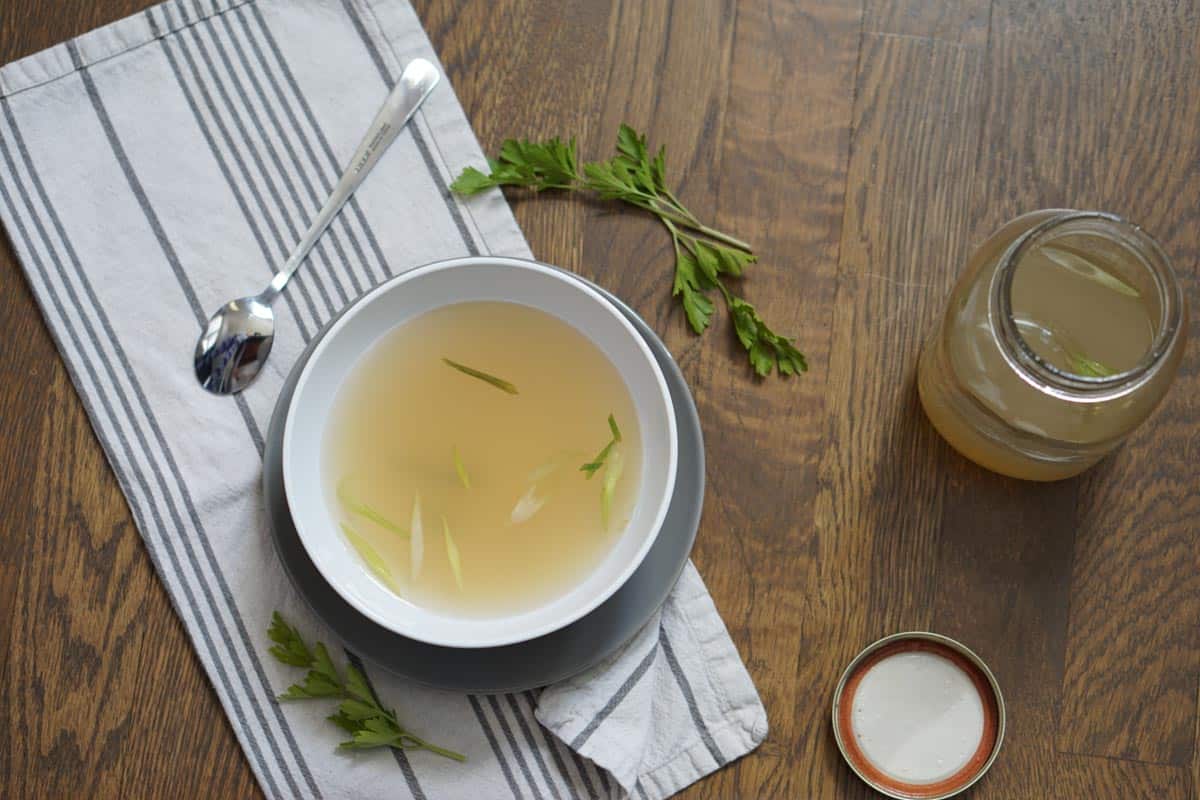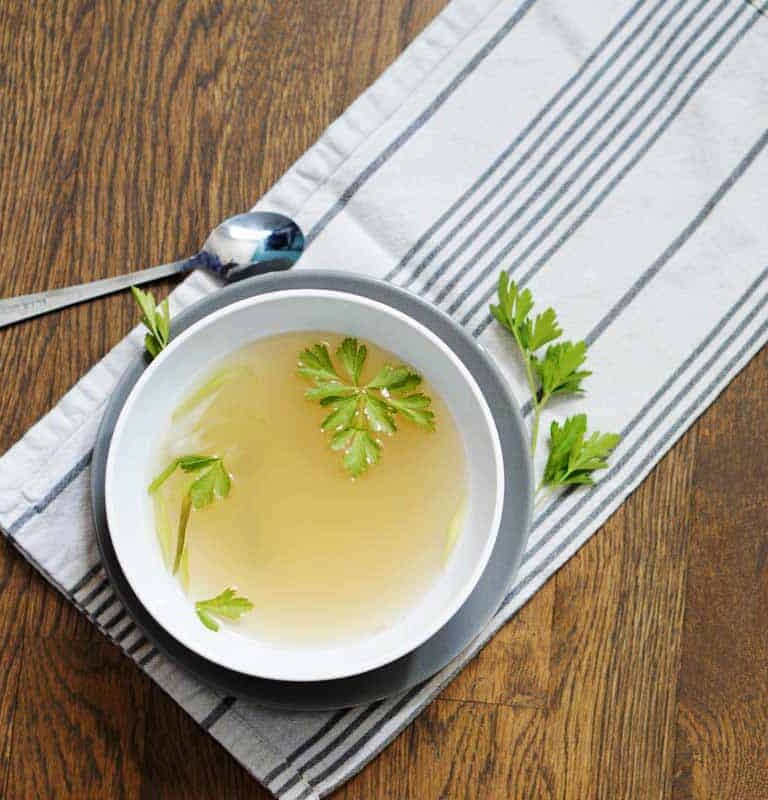 Bison Keto Bone Broth
Description
Bison Keto Bone Broth is a savory addition to soups, sauces and good on its own on cold winter days. The high protein drink hydrates and heals leaky gut.
Instructions
add all ingredients except water to large soup pot

add water and cover. Make sure ingredients are covered and there are about 2 inches of water above the vegetables.

simmer on low for 4-16 hours