A meatball can have a couple of different textures, the two most common are tight and sausage-like or delicate and moist, practically falling apart. This beet green bison meatball recipe falls into the second category, pairing perfectly with light tomato-based dishes.

Plus, it has hidden greens for added nutrition and helping you reduce food waste. Boom!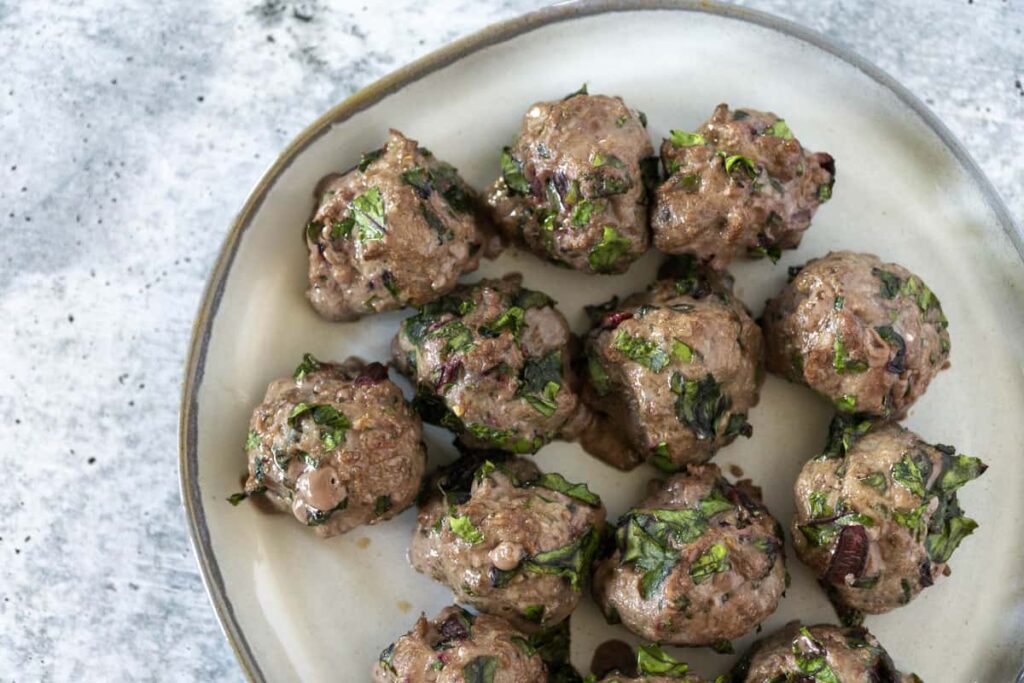 The Meatball Ingredients
These meatballs only require 4 ingredients: ground bison, beet greens, Italian seasoning, and real salt.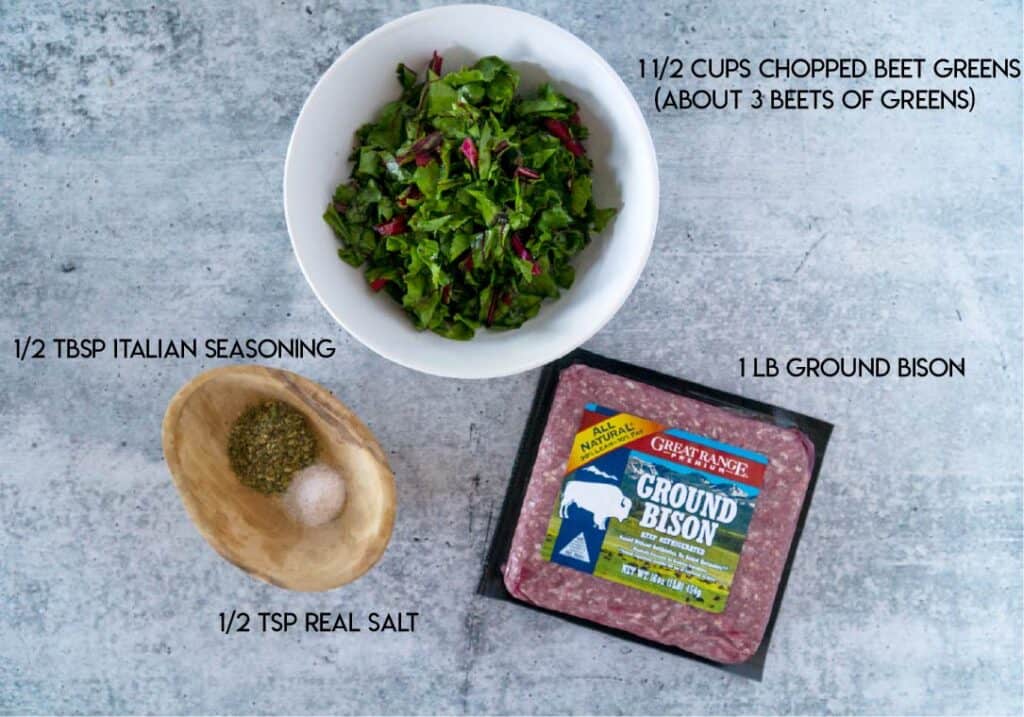 Beet Greens
Similar to the way jicama adds a creamy texture in these bison jicama meatballs, the beet greens add depth of flavor, moisture, and that melt-in-your-mouth but stay together texture.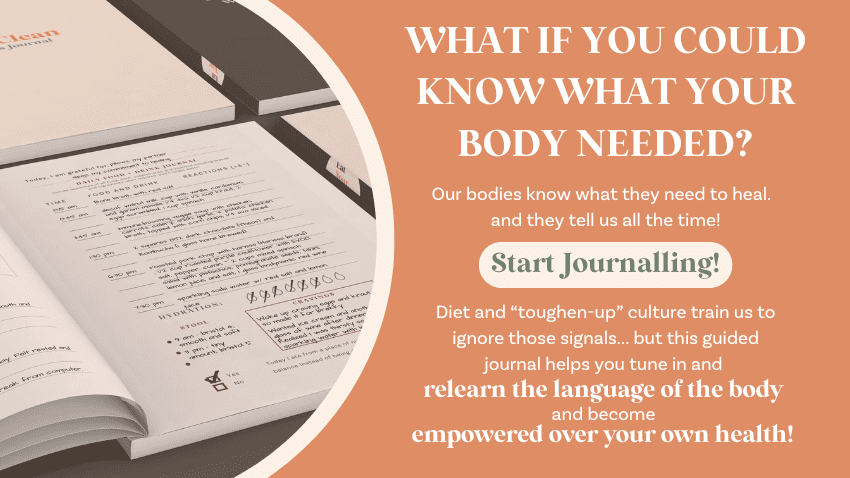 They also add nutrition! Like other leafy greens, eating lots of beet greens is associated with better health. They are particularly full of Vitamins K and A.

Just like when we are using carrot tops, we'll want to discard the bottom stemmy parts of the greens.
Cutting the beet greens
Layout the beets and the washed greens on a cutting surface. Find the point at which the stems start to sprout leaves.

Using a knife, cut at that point and either compost the stems or save them for a vegetable broth.

That leaves the stems with large leafy greens attached for us to use in the dish.
Making the Meatballs
It's as easy as 1, 2, 3!
Step 1) Mix the ingredients
Step 2) Form 1.5 inch balls and lay out evenly on a baking sheet
Step 3) Bake at 425 for just 10 minutes.
It's OK to have large loose pieces of beet greens sticking out. Try to keep them tucked in, but a few will sneak out.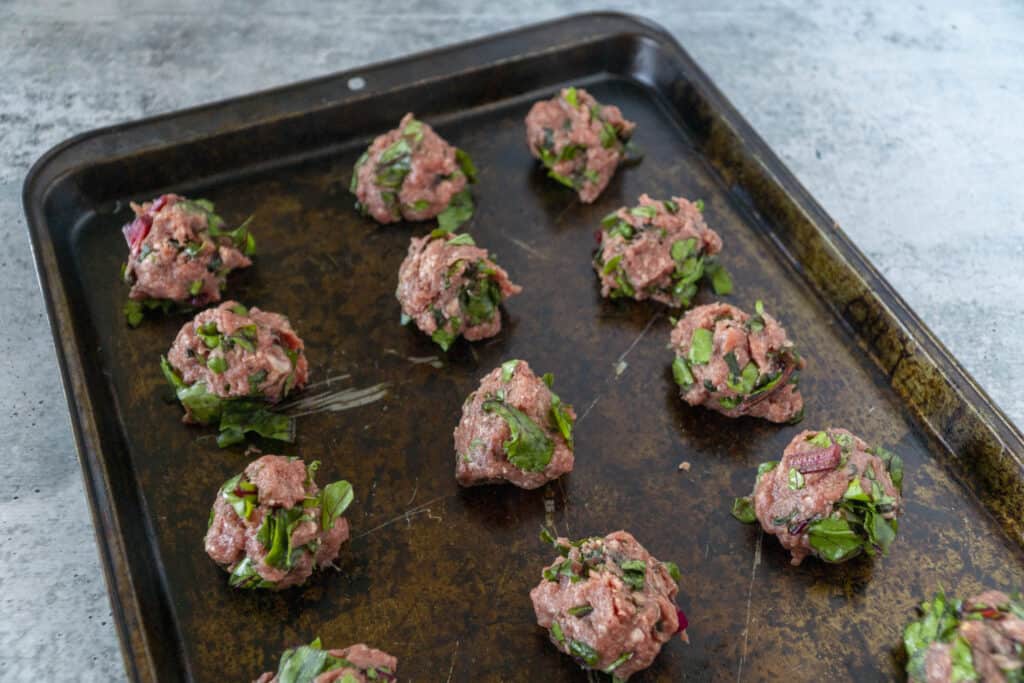 How to serve these Beet Green Bison Meatballs?
The bison and beet meatballs go excellently with a marinara or spaghetti and meatballs dish.

However, my favorite pairing is with the cucumber ratatouille.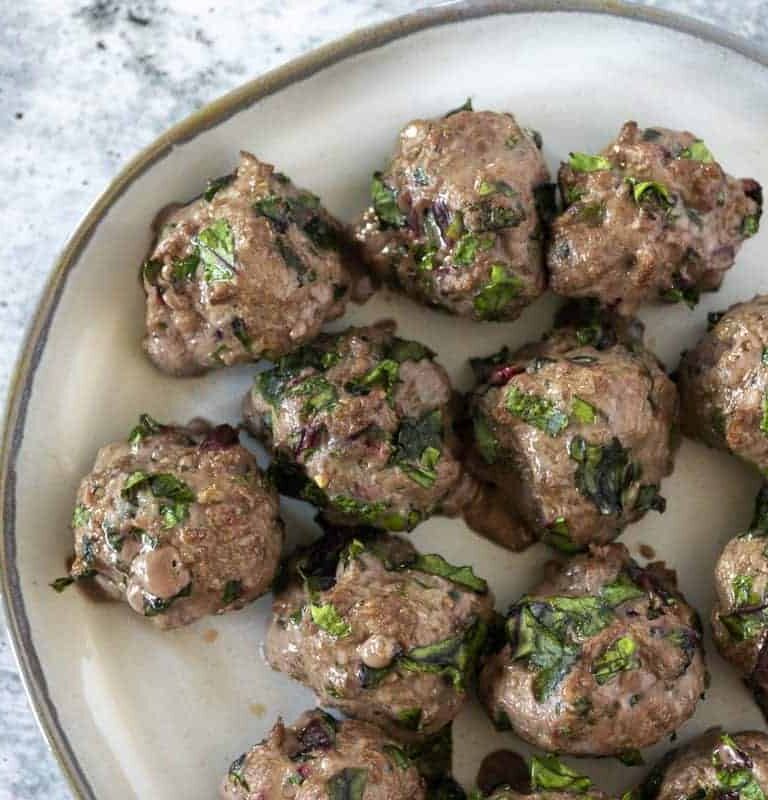 Beet Green Bison Meatballs
Description
Quick meatballs that are ready in under 20 minutes and packed with leafy greens! These tasty treats are perfect for weeknight dinner!
Instructions
Preheat the oven to 425

Mix greens, bison, and seasonings until well combined in a bowl

Form 1.5 inch balls and spread them evenly on a baking sheet

Bake for 10 minutes or until cooked through
---
Amount Per Serving

% Daily Value *

Total Fat 14g

22

%

Saturated Fat 6g

30

%

Sodium 318mg

14

%

Potassium 365mg

11

%

Total Carbohydrate 1g

1

%

Dietary Fiber 1g

4

%

Sugars 1g

Protein 17g

34

%
---
Vitamin A

721

IU

Vitamin C

3

mg

Calcium

31

mg

Iron

3

mg
* This nutrition information does not tell the whole story of food's nutritional value! Make sure to use your gut intuition on what your body needs, eat your veggies and get 30 plants a week for optimal gut health. This nutritional data is calculated based on the above values and standard brands. This information may vary. Percent Daily Values are based on a 2,000-calorie diet. Your daily value may be higher or lower depending on your calorie needs. Tried this Recipe? Tag me Today! Mention @EatYourWayClean or tag #EatYourWayClean!
Note
Discard the part of the beet greens that are just stems. Use the portion of stems that are attached to greens. 
Pairs excellently with tomato sauces and spaghetti or ratatouille.