Some background on how we got to a cheese-less, gluten-free pizza: I love pizza! We aren't talking a slice of cheese and pepperoni here. We are talking all the toppings, loaded with broccoli, everything on it, pizza masterpieces. It's one thing to find those amazing delicacies when you just take out the gluten, but taking out the dairy was a whole new level. And I think other health conscious people out there can relate! Especially those suffering from food allergies and intolerances.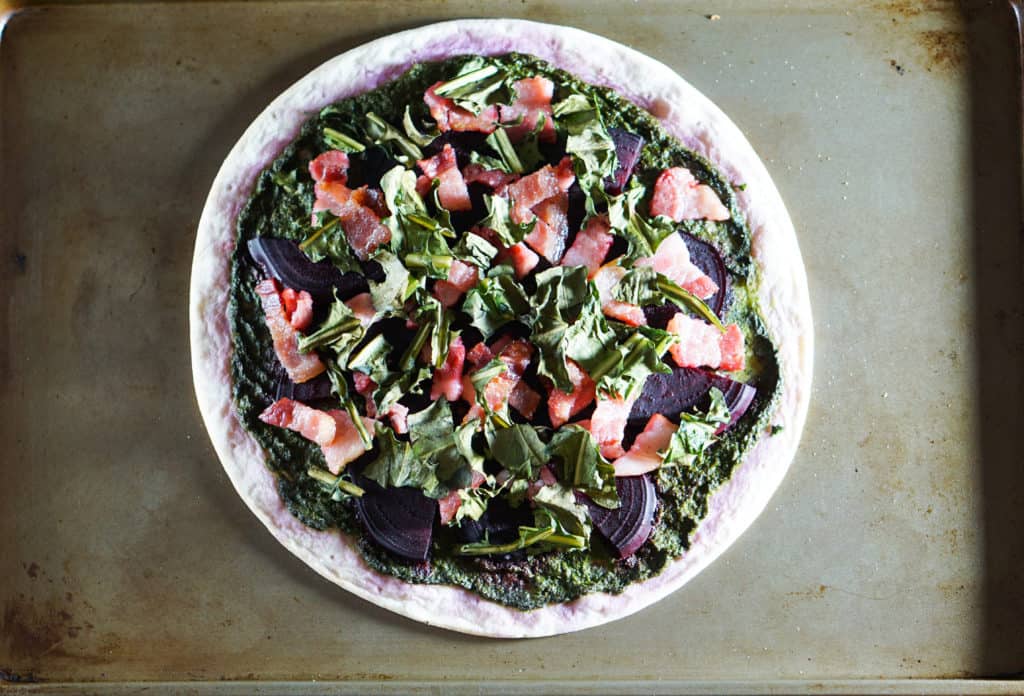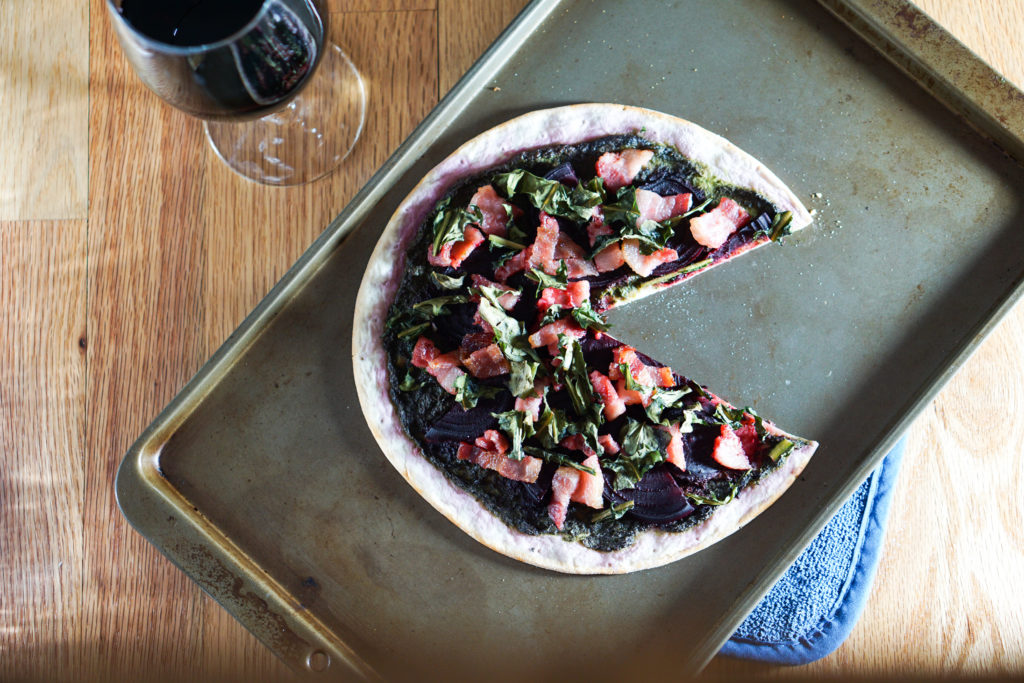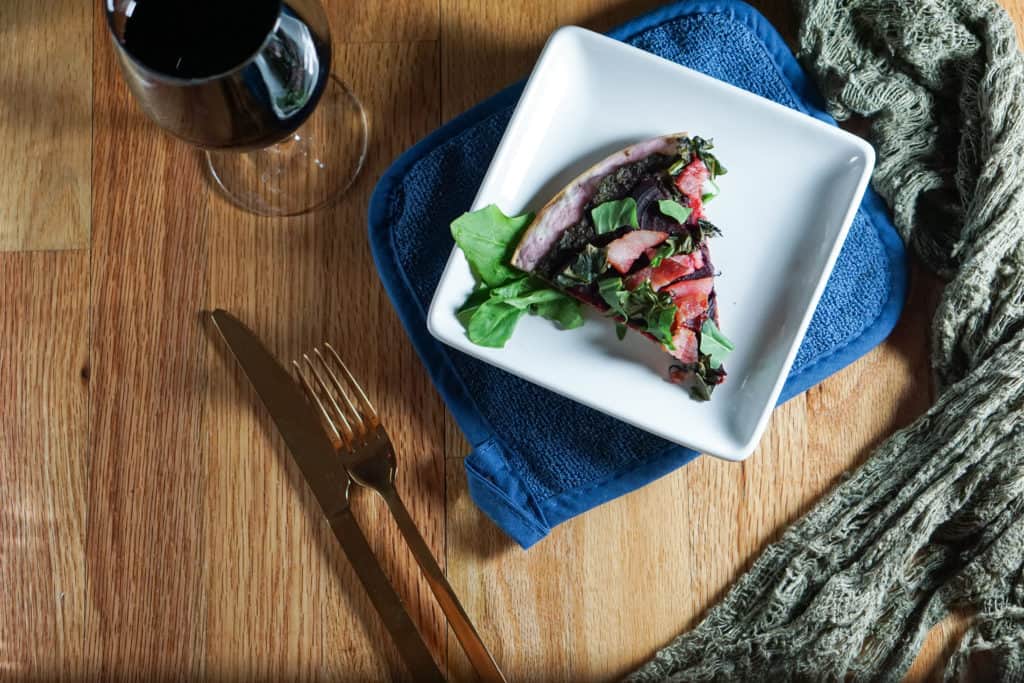 It doesn't matter that I don't eat gluten or cheese at all, I still want to eat some pizza, er… flatbread. So why not make a pizza without the gluten or cheese and instead add all sorts of healthy veggies like kale, beets and dandelion greens? And while we are getting crazy, let's just make the base sauce out of kale?!?! Maybe we won't call it pizza in this cheese-less form, but we can call it flatbread, right? Perfect, we will call this a Beet and Dandelion Flatbread.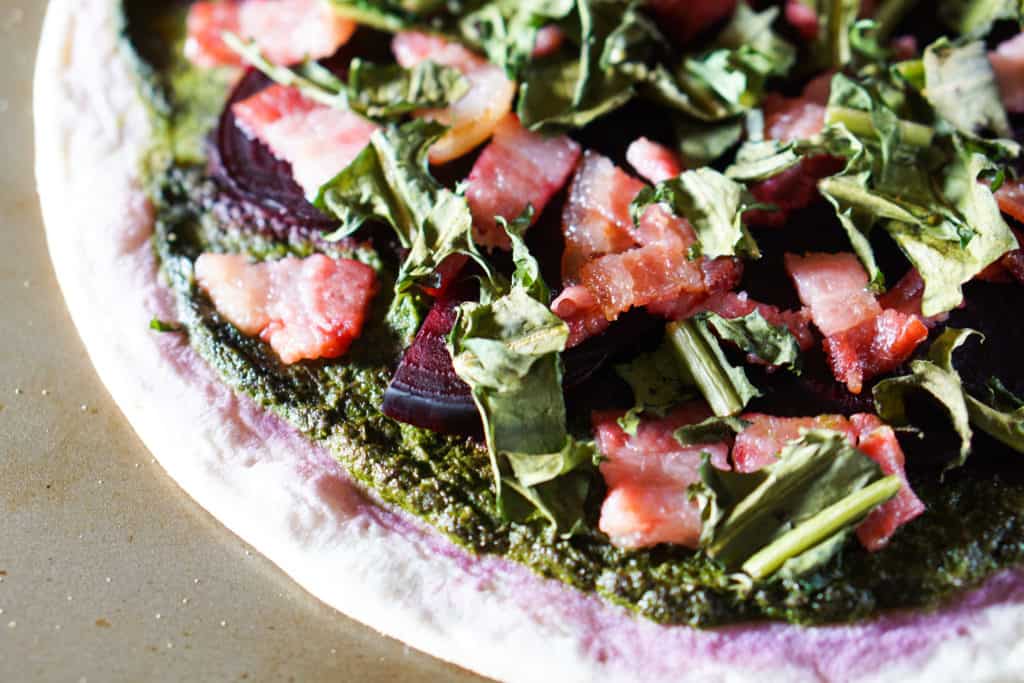 Give me the pizza… but keep your cheese and gluten!
To kick this up a notch and get my health back in gear for spring and summer, I wanted to get some dandelion greens in here. Dandelion greens are amazing for you and cheap. That's the best kind of super food. They are also tart, which makes them pair perfectly with the sweet beets! If you have extra dandelion greens, throw them in smoothies or stir fries, or try this roasted beets and wilted greens side dish. (Or just make another Beet and Dandelion Flatbread… you'll want more than one! 😉 )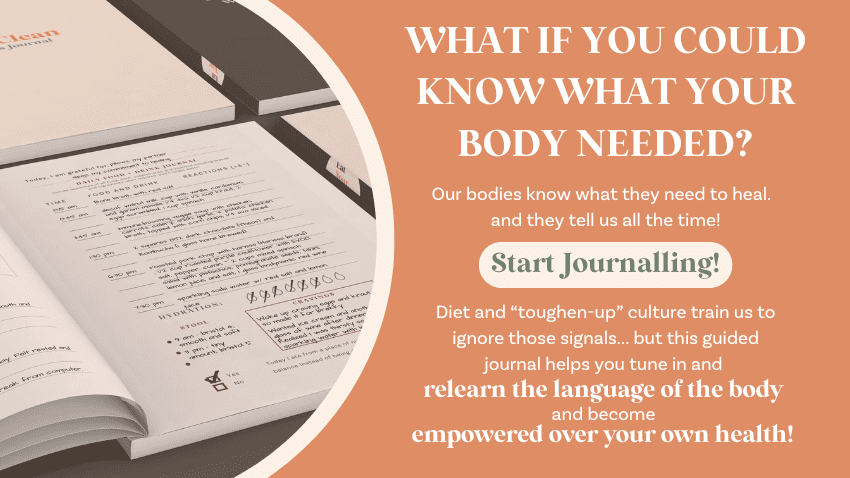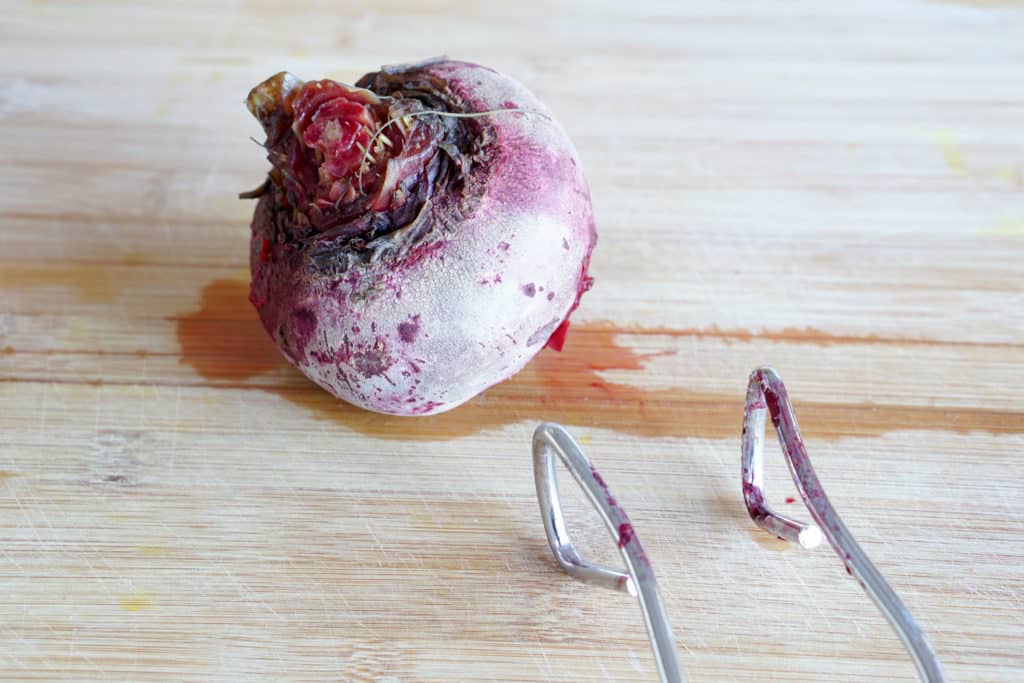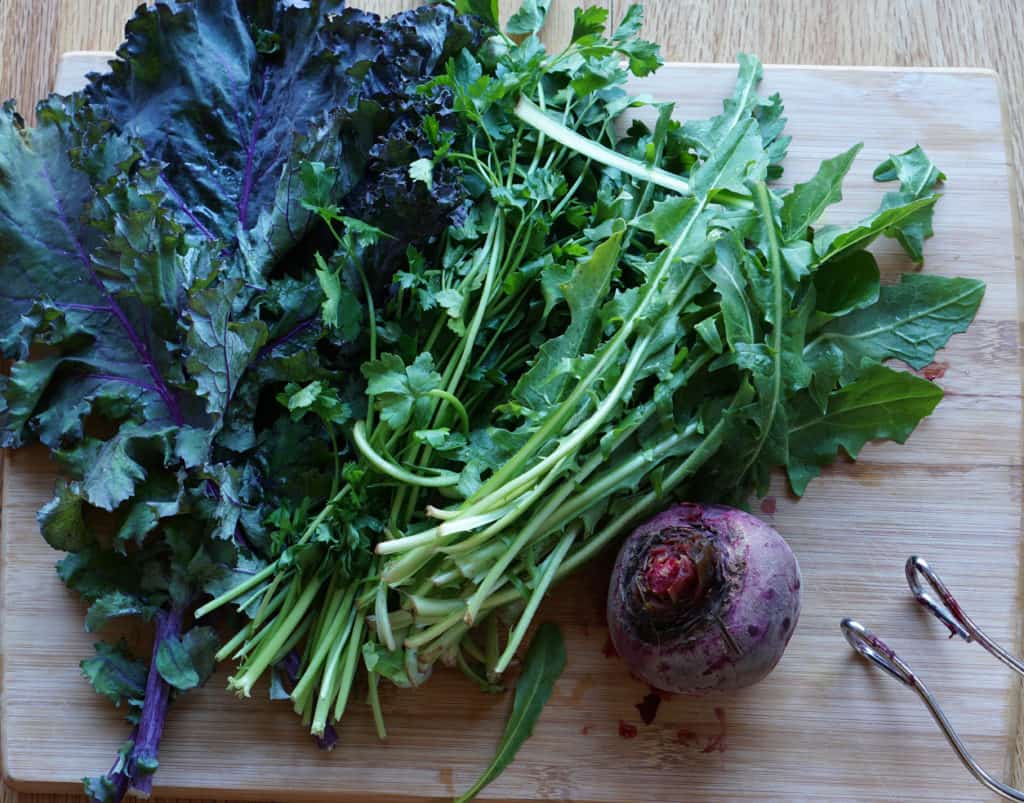 Looking for recipes for the extra beets you might have? Besides making beet juice, you could use the beets for natural food dye like with these naturally dyed Easter eggs, or for beet and dandelion stuffed acorn squash 🙂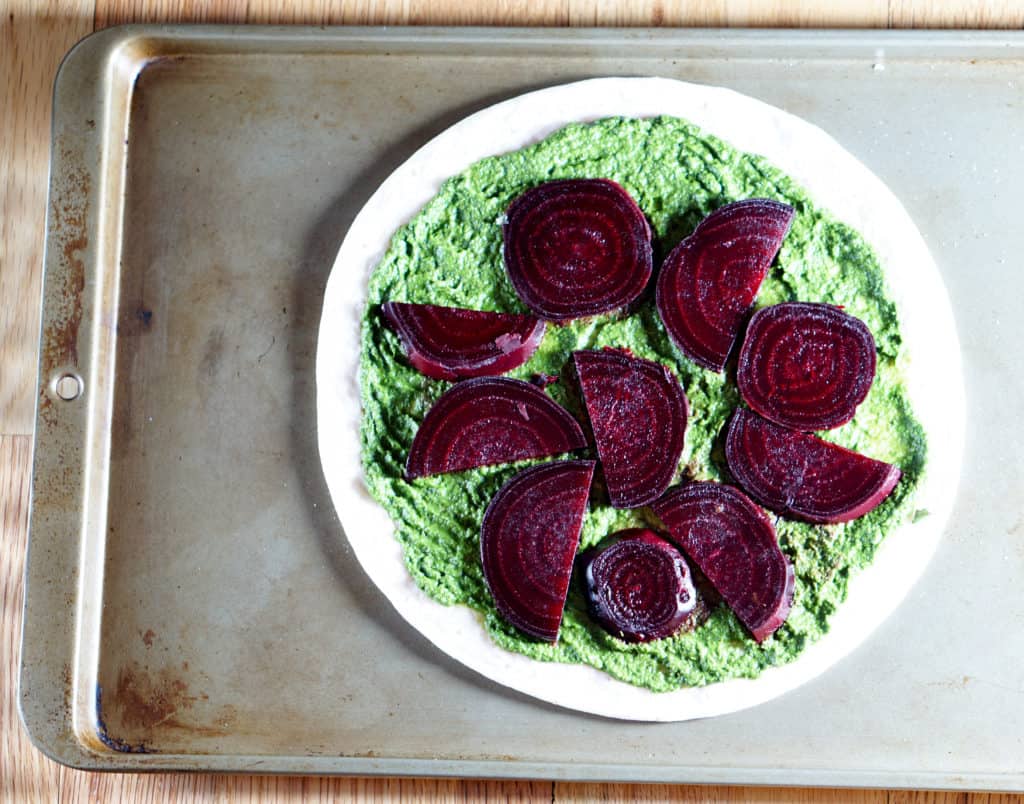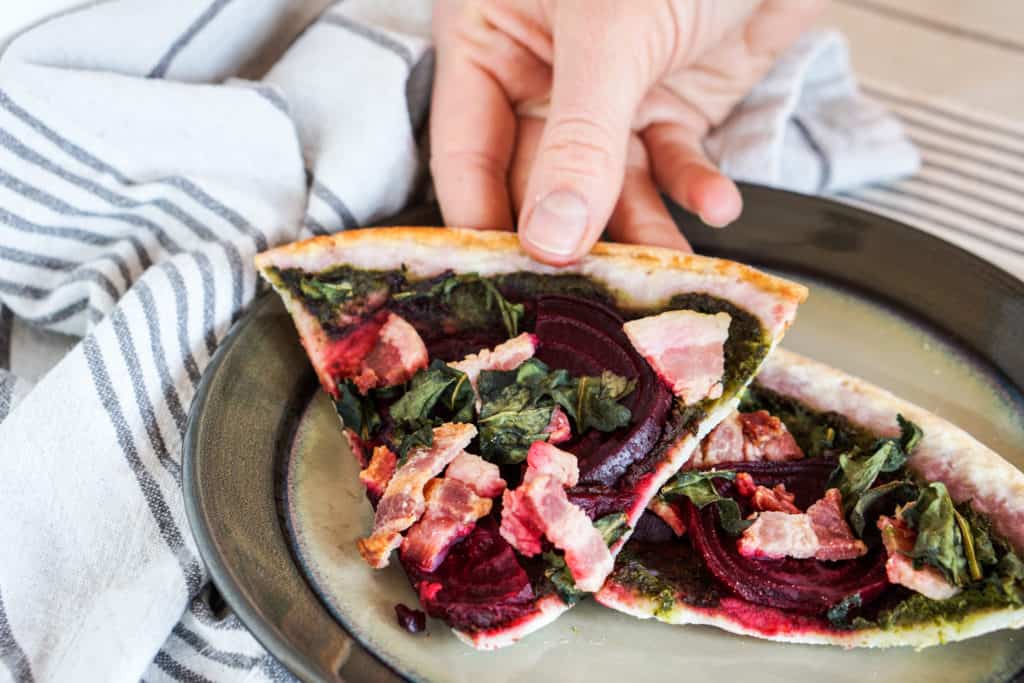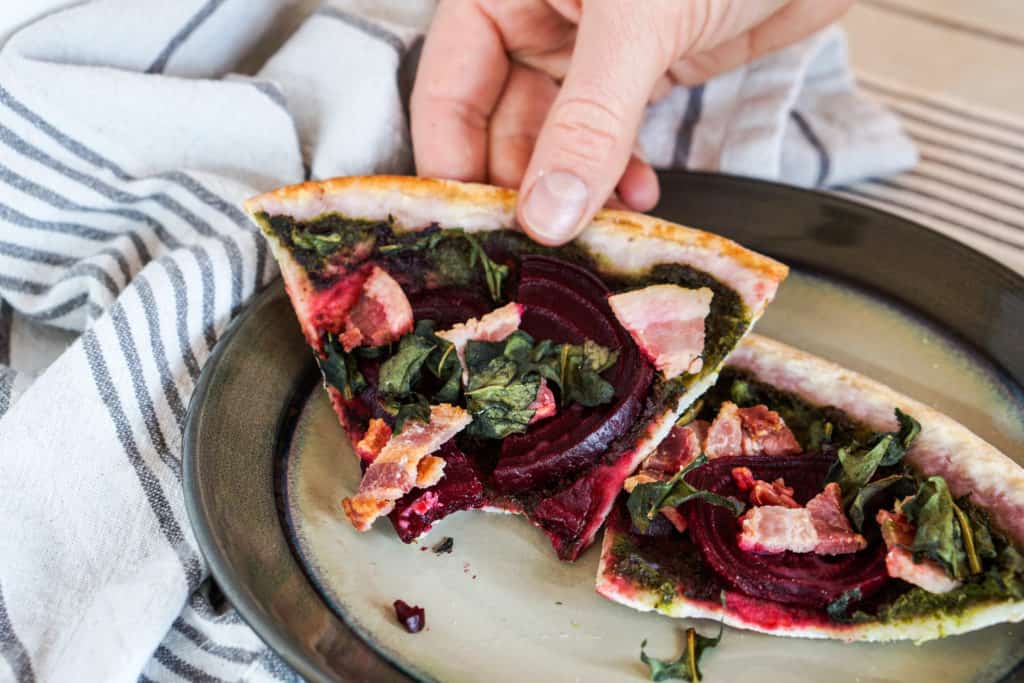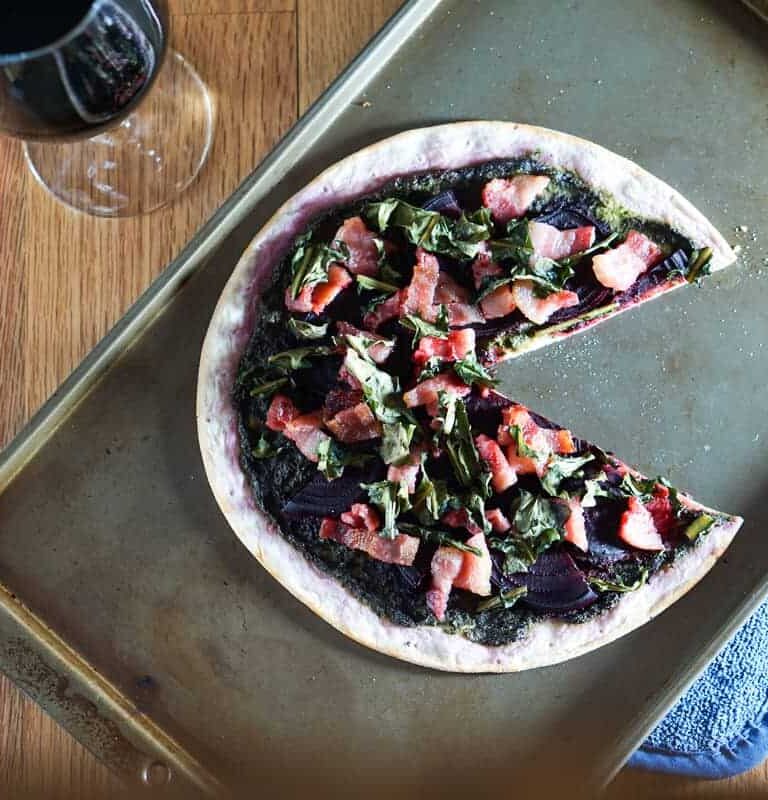 Beet and Dandelion Flatbread 
Instructions
Set out frozen crust to bring to room temperature and preheat oven to 375 degrees.

Boil 1 beet for about 30 minutes on high, completely submerged under water. It should be soft when it is done.

After fully cooked, run the beet under cool water to release the peel. Rub the peel under the cool running water and the skin will rub off with the change in temperature. The easiest way to peel a beet 🙂

Once peeled, slice the beet evenly to create 1/4 inch slices

Lay the 2 pieces of bacon in a frying pan on low heat and cook for about 5 minutes, or until the bacon is slightly cooked and just starting to change colors but not fully cooked. (if using oyster mushrooms instead, lightly fry over a drizzle of olive oil until slightly browned).

Spread 1/3 of the awesome Kale Green sauce over the top of the crust, until it is in a thin even layer. Reserve the rest for salads, zoodles, or future pizzas! (freezes well).

Spread cooked beet slices evenly on top of the flatbread.

Cut or slice bacon (or oyster mushrooms) into thin strips and sprinkle evenly on top of the flatbread.

Coarsely chop dandelion greens and spreads them over the top.

Bake at 375 for 10-12 minutes, or until greens are dried but not crisped and crust is golden brown.
Note
Perfect with Cab Sav
Would be awesome with oyster mushrooms instead of bacon for a vegan option
some of the links in this post are affiliate links, which means if you purchase through these links, I'll get a small percentage, at no extra cost to you! Which I very much appreciated!
MEAL TYPE, RECIPE, SEASONAL RECIPES, SPECIAL DIET, SPRING RECIPES, VEGAN OPTION