A spinoff on classic red chili with ground beef, this pumpkin chili has loads of hidden vegetables. Cauliflower compliments the 100% grass-fed ground beef in a tomato, pepper, and pumpkin soup base.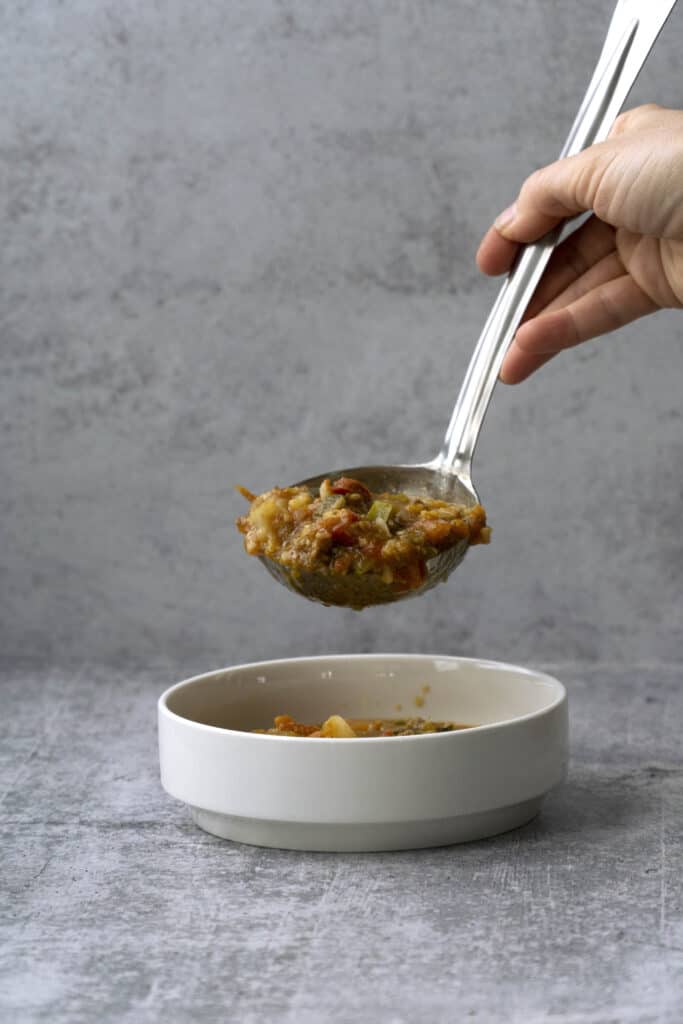 Classic Red Chili Flavor, with Hidden Vegetables of all Kinds
Typical chili already has loads of tomatoes to form the red sauce base and chilis to give the heat. Some even have the carrots and celery to add to the flavor profile of the saice base.
This pumpkin chili amps it up a notch, and it could be better for you!
In addition to fresh tomatoes cooked down to make the red sauce, celery, onion, and carrots add a depth of flavor to the base.

The spice comes from a variety of peppers: serrano, Anaheim, jalapeno, and poblano. Not only does this pepper diversity increase the flavor profile, but it could also be better for you. According to The American Gut Project's research, eating over 30 types of plants each week is associated with higher gut microbiome diversity which is correlated with better health outcomes.

This meal alone will get you 17 individual plant species, that's over halfway there!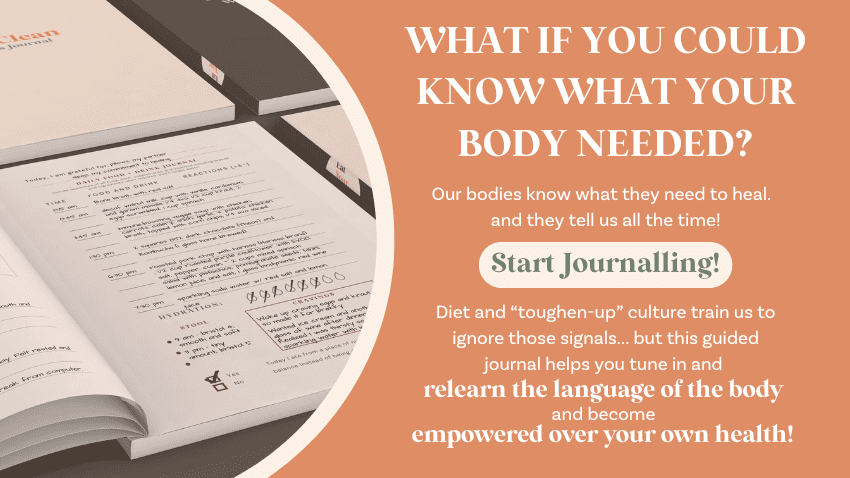 You might also like: White Green Chicken Chili
There are two additional vegetables not commonly found in chili: cauliflower and pumpkin.
Most red chili relies heavily on the meat. in this case, half of the ground beef was replaced by browned cauliflower. If the cauliflower is cut correctly and browned before being added in, it can taste similar to the meat itself.

The true test was my father. He's a no-beans no-veggies type of red chili lover. And he loved this so much he asked for the recipe! I think that's a wine for all your meat-loving friends out there.

The pumpkin puree mixes seamlessly into the sauce to add some additional diversity and a little richness of flavor.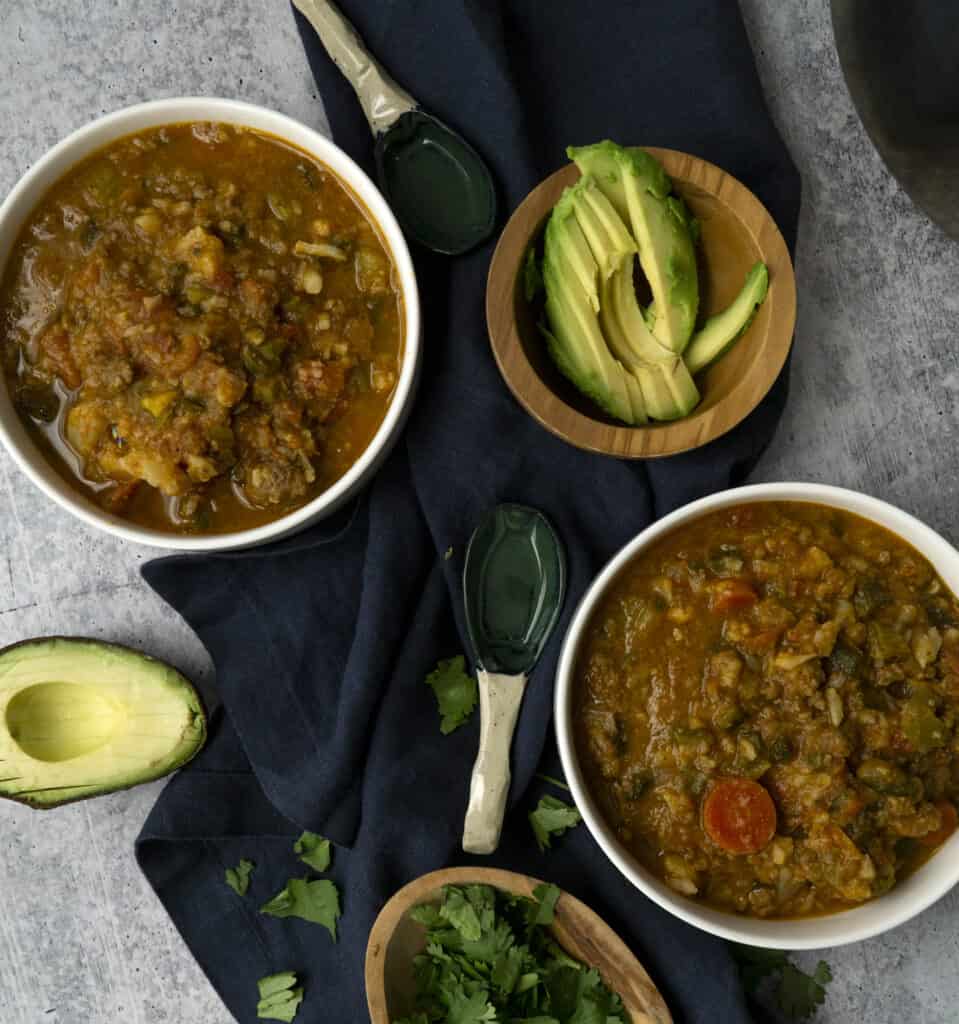 Making the Red Pumpkin Chili
On the Stove or in the Crock-Pot
I prefer soups and chilis on the stove. It allows you to sautee and brown each ingredient at the right sequence for the right amount of time. I've tried this on the InstaPot and while it works, I just don't think it works as well!

That said, this recipe totally works in the crockpot or Instapot for situations where you want to throw everything in, set and forget until dinner time. If you have a sautee setting, go ahead and use it for the onions.

A note about the crock-pot method. This chili can make the cauliflower masquerade as extra ground beef. However, this requires that the cauliflower is browned and sauteed to make it a little crispier before adding it to the soup. You have two options with the crock-pot method:
add the cauliflower in at the beginning and understand it won't really have the same texture as ground beef
crockpot the full chili except for the cauliflower. Brown it and add it to the pot later in the process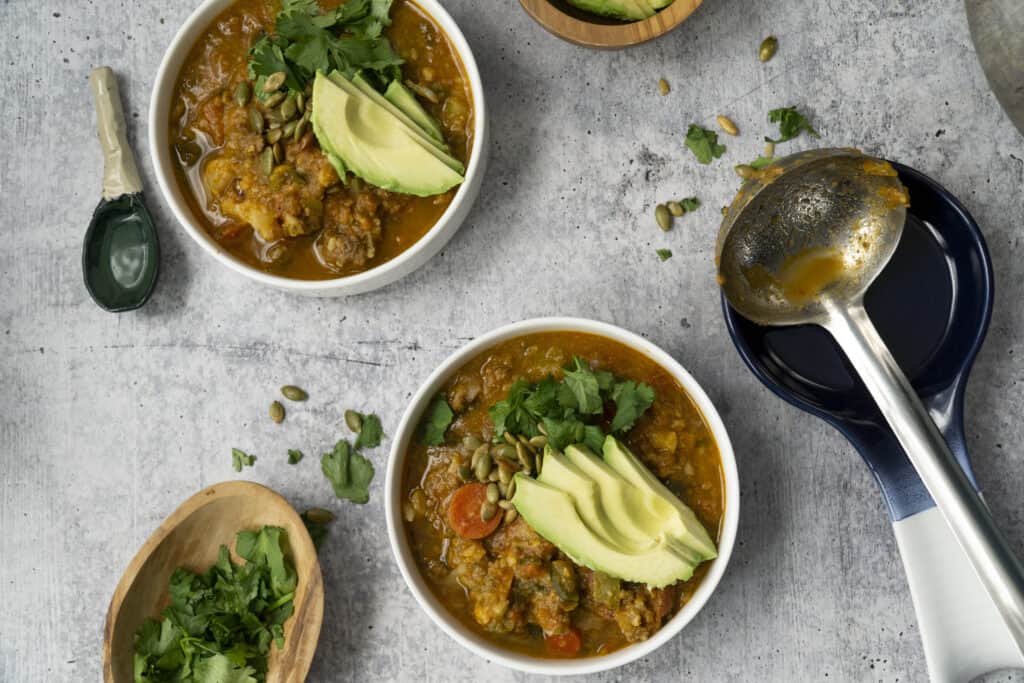 Fresh Tomatoes versus Canned
This pumpkin chili recipe calls for 10 fresh tomatoes instead of canned tomatoes. The first time I heard about cutting actual tomatoes to make the sauce instead of buying a can I had two thoughts
That will take so many tomatoes
That will take so much time!
I no longer think either is true.

10 tomatoes aren't really that many. And they don't take long to cut. The cool thing about turning them into a sauce, curry or stew (like this chili) is that the tomatoes basically disintegrate into the sauce very quickly. The only thing you have to worry about when cutting the tomatoes is to not have too large of pieces of tomato skin.

In other words, you can chop the tomatoes very coarsely and they will break down all on their own.
Why are fresh tomatoes better?
First, fresh tomatoes are fresher. Second, you can more easily use leftovers that you may have or an excess garden harvest. Most importantly, you are avoiding the processing that goes into the tomatoes when canned and the preservatives and potential contaminants of the can.

Specifically, people who ate canned goods showed an increase between 24-229% of BPA contaminants in their body within 24 hours. And this was just for 1-2 canned goods. Read this study to learn more!
Choosing the Right Meat
While this pumpkin red chili is loaded with vegetables, it still has ground beef. Conventional beef is fed grains, which ruminants aren't designed to eat. This can lead to inflammation in the cows which can then lead to inflammation in the humans that eat them.

I always purchase 100% grass-fed and grass-finished beef. Not only is it healthier, according to this study it can actually sequester carbon. This is mostly because grazed cattle improves the quality of the soil and the wild grasses of the grasslands. That same organization Quantis also did a third-party study finding the plant-based impossible burger to be a net carbon emitter but still a lower carbon emitter than conventional beef. Be careful to note that in the study they broadly say beef but they do qualify this only compares to conventional beef (feed-lot and grain-fed).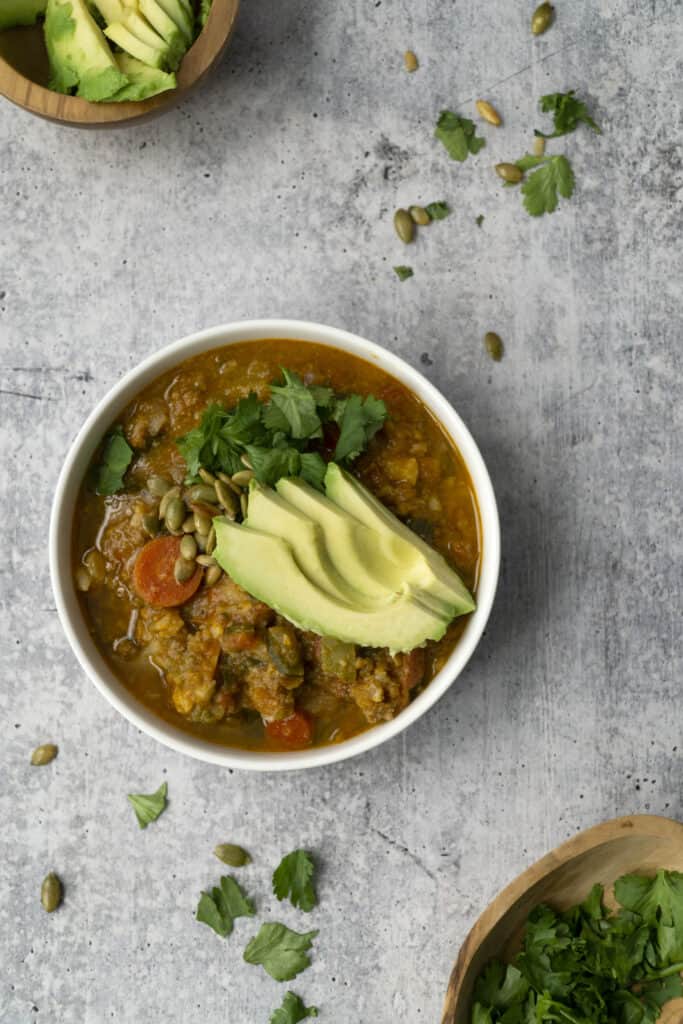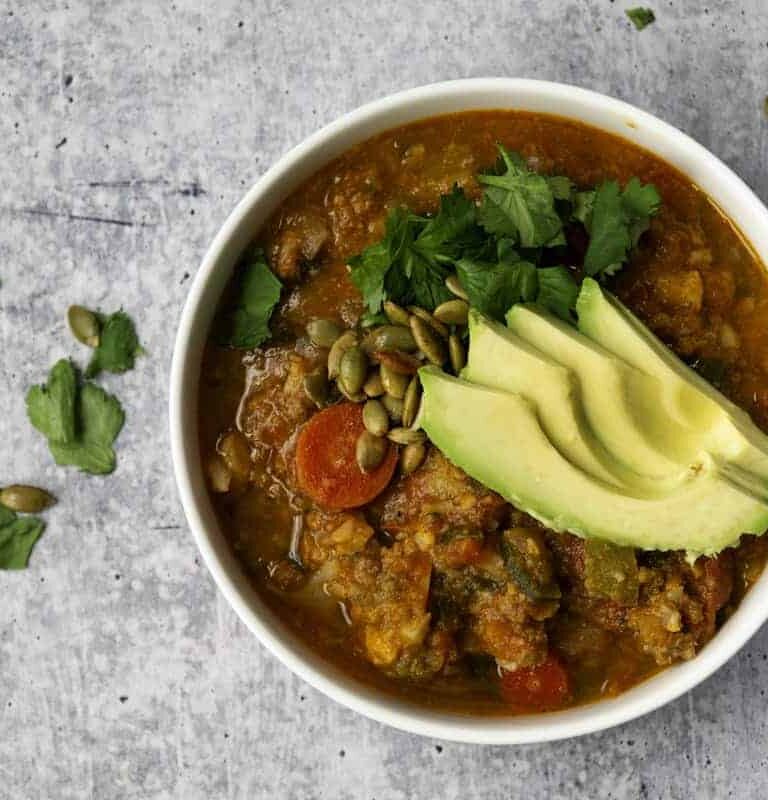 Pumpkin Red Chili
Description
A twist on the classic red chili, this pumpkin chili loaded with vegetables and deep flavor. Great for a party or fall evenings.
Instructions
Dice the onion and saute in a large soup pot on medium-high heat in olive oil

Add the ground beef and stir until the ground beef is relatively broken up

Dice all peppers and add to the soup

Finely dice the cauliflower and add to the soup.

Coarsely dice tomatoes and add to the soup. From this point on, keep the soup covered to maintain the tomato liquid in the soup.

Mix in spices, carrots, celery, pumpkin puree, and broth

Simmer for a few hours. optionally garnish with fresh cilantro leaves, avocado slices, and toasted pumpkin seeds.
Note
Alterations:
For a thicker broth, add more pumpkin puree or simmer with the lid off to reduce the liquid. 
For a brothier chili, add more bone broth
You can add additional meat if you prefer a meat-heavy chili. 
Cooking options:
This would work great in a crock pot or instapot. Ideally you would brown the onions and beef before simmering. You can do this in a skillet and then transfer over to the crock pot or use the sautee function on the instapot. 
You can simmer for longer if you have time. As long as you keep the lid on, this chili could simmer for up to 48 hours to further meld the flavors.