A classic treat with a little holiday twist. Dark chocolate and peppermint extract make these stovetop dark chocolate peppermint no-bake cookies an exciting and stress-free addition to your holiday potlucks.

Or just something to whip up for a chocolate craving at 7 pm. Not speaking from experience.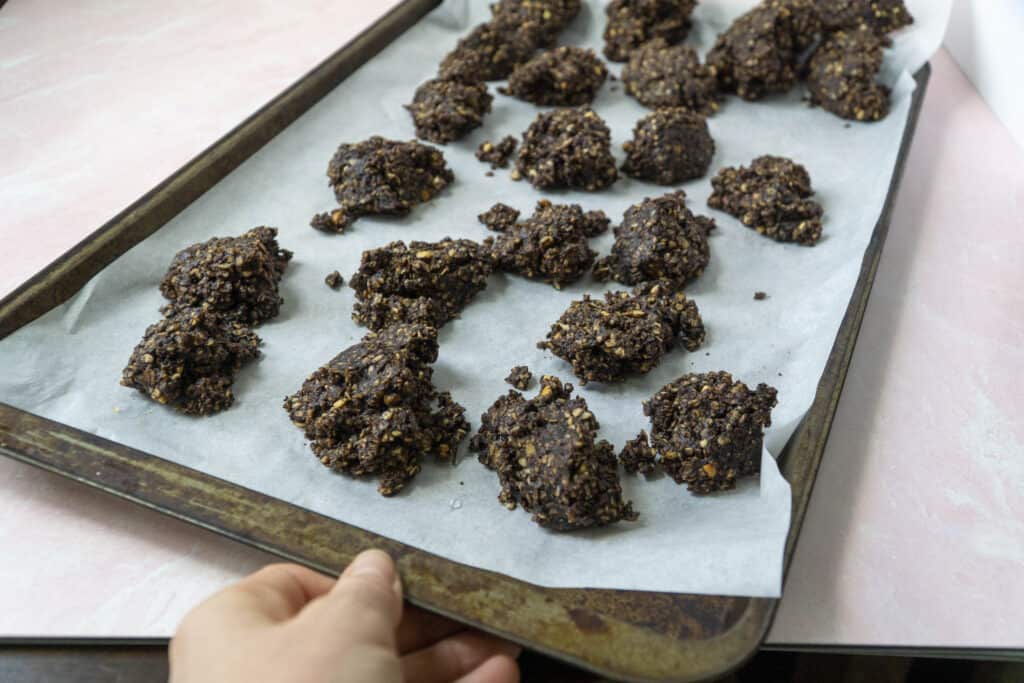 A Peppermint Twist on Classic No Bake Drop Cookie.
The classic no-bake cookies calls for cocoa, butter, milk, peanut butter, oats, vanilla and heaps of sugar. This healthier version uses dark cocoa, coconut oil, walnut milk, peanut butter, oats, vanilla, peppermint extract, and unrefined sugar.

The dark cocoa gives a richer flavor and a deep beautiful color. The peppermint extract makes these cookies reminiscent of peppermint bark.
A Dairy-free and Refined sugar-free dark chocolate peppermint no bake drop cookie
As I mentioned above, the cookie uses coconut oil instead of butter. You could also use pasture-raised and grass-fed butter but avoid conventional butter as it increases exposure risk to antibiotics and growth hormones.

It also uses homemade walnut milk. Any nut milk will do! If you choose to use dairy milk, opt for organic!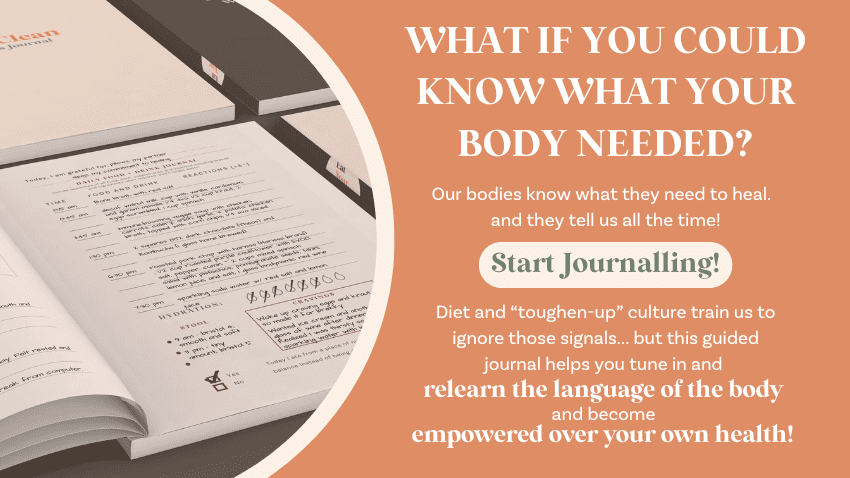 Speed Matters for the Right Texture
Have you ever made a batch of no-bake cookies that just didn't come together? They either never harden or are too crumbly.
That can be related to the heat.
Make sure you are boiling the chocolate mixture for at least three minutes. This thickens the sauce so it will bind the cookies. It also allows it to get to a high enough temperature to cook the oats.

An important note about altitude, liquids boil at lower temperatures in high altitudes because of the low pressure. In higher altitudes, you may need to boil the sauce for an additional minute or two.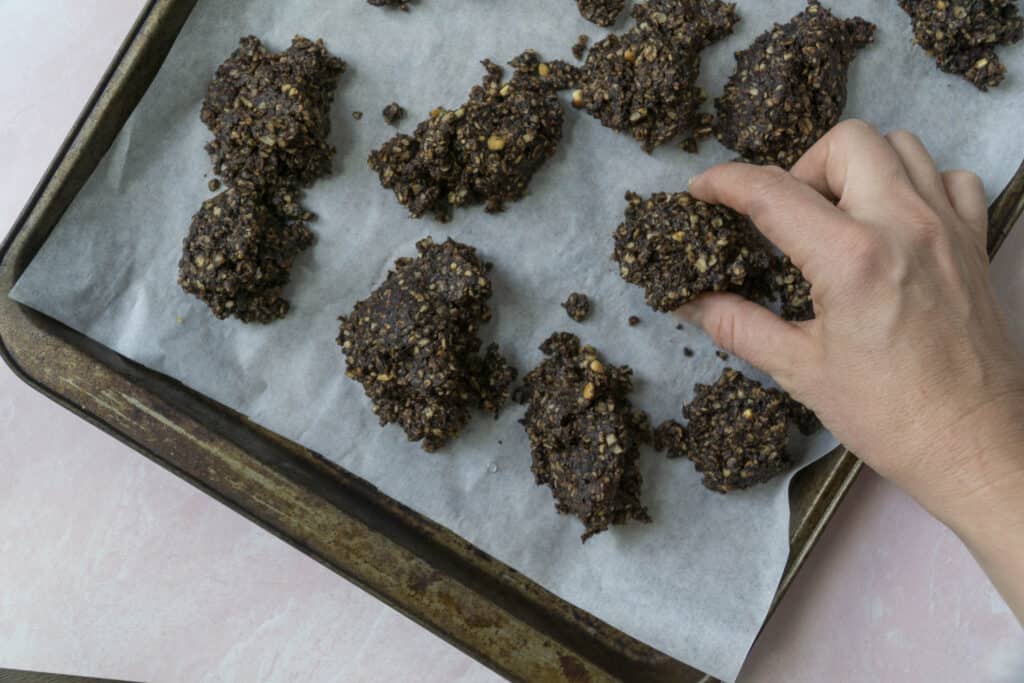 Work Quickly to Maintain the Heat
If you wait until the cocoa mixture cooks to measure out the remaining ingredients, the cocoa sauce will lose its heat before you can add all of the oats. If the cocoa cools before you add the oats, they won't cook and you'll end up with a less than ideal texture.

To avoid that, simply measure out the oats, peanut butter, and extracts ahead of time.

Put the oats in a bowl, top with the peanut butter, and then the vanilla and peppermint extract. Once the cocoa mixture has boiled for three minutes, dump all of the ingredients into the cocoa and stir until fully combined.

Once you've mixed everything, you will again have to work quickly. Using a wooden spoon, scoop spoonfuls of the batter onto a parchment sheet. The Dark chocolate peppermint no bake cookies will cool and harden into the cookies you know and love, with a peppermint twist.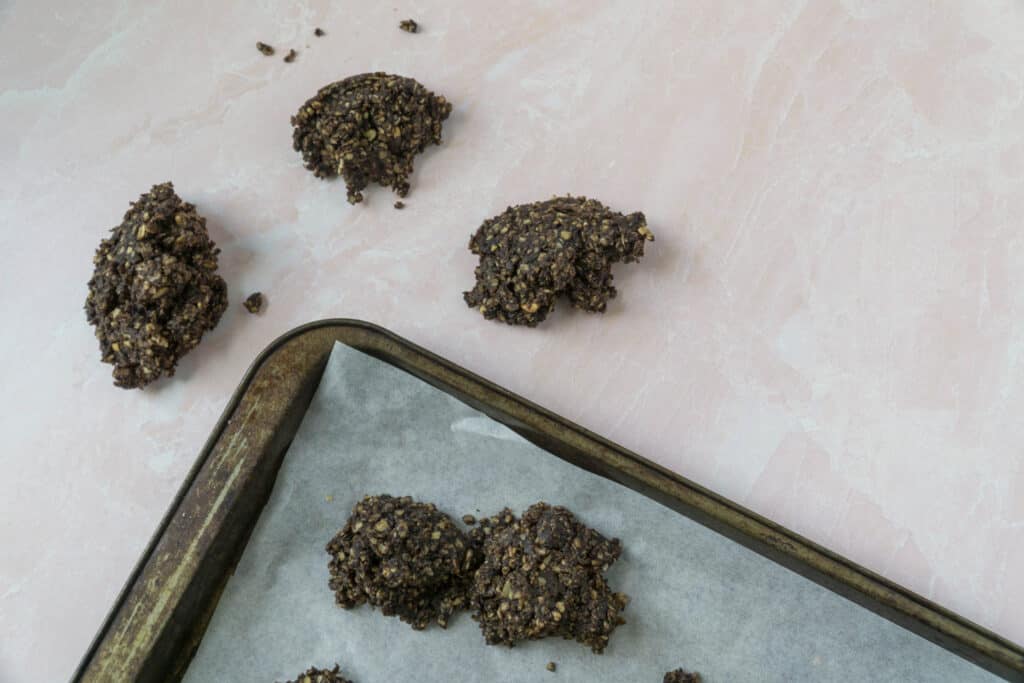 You might also like: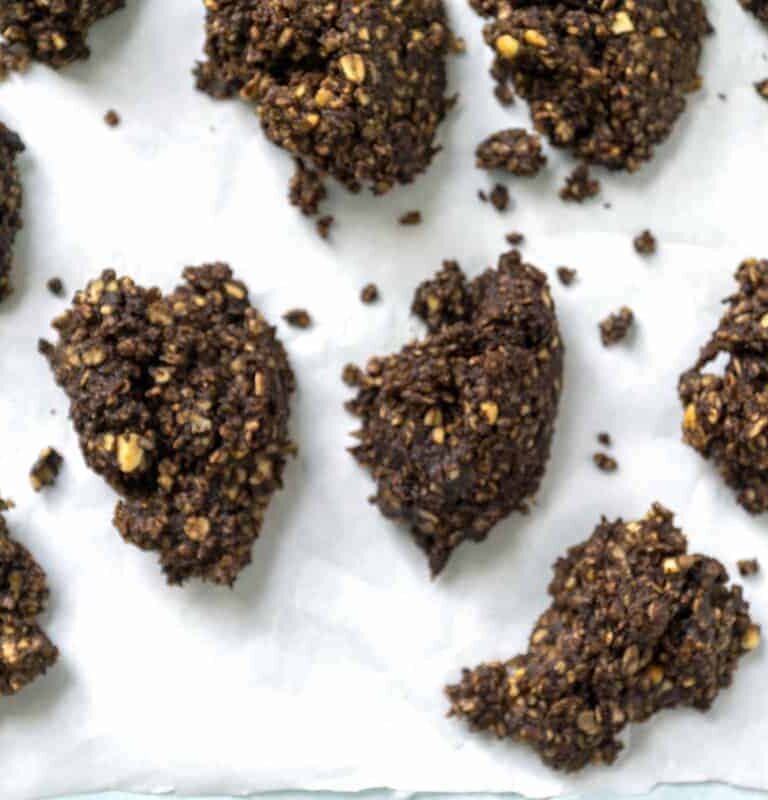 Dark Chocolate Peppermint No Bake Cookies
Description
Classic recipe with a holiday twist, these easy to make cookies are perfect for those days you crave chocolate after dinner or forget about the potluck holiday party.
Instructions
Heat coconut oil, cocoa, milk, and honey in a medium saucepan over medium-high heat.

Once all ingredients have melted, bring to a boil. Boil for at least 3 minutes at a roaring boil, whisking a couple of times.

Meanwhile, measure oats into a bowl and scoop peanut butter on top. Cover with vanilla and peppermint extract

Remove the chocolate sauce from the heat and quickly mix in the pre-measured oats, peanut butter and extracts. Mix until totally combined.

Working quickly, drop the batter into spoon-sized mounds on a silicone baking mat or piece of parchment paper.

Let sit for 30 minutes until hardened. Make sure to let them cool all the way! They are way better that way.