If you've been following along, you probably know that breakfast is one of my favorite things. It has the power to make or break my day, and I prefer it to end up on the MAKE side :). It seems like there is no combination of eggs and sweet potatoes that I tire of.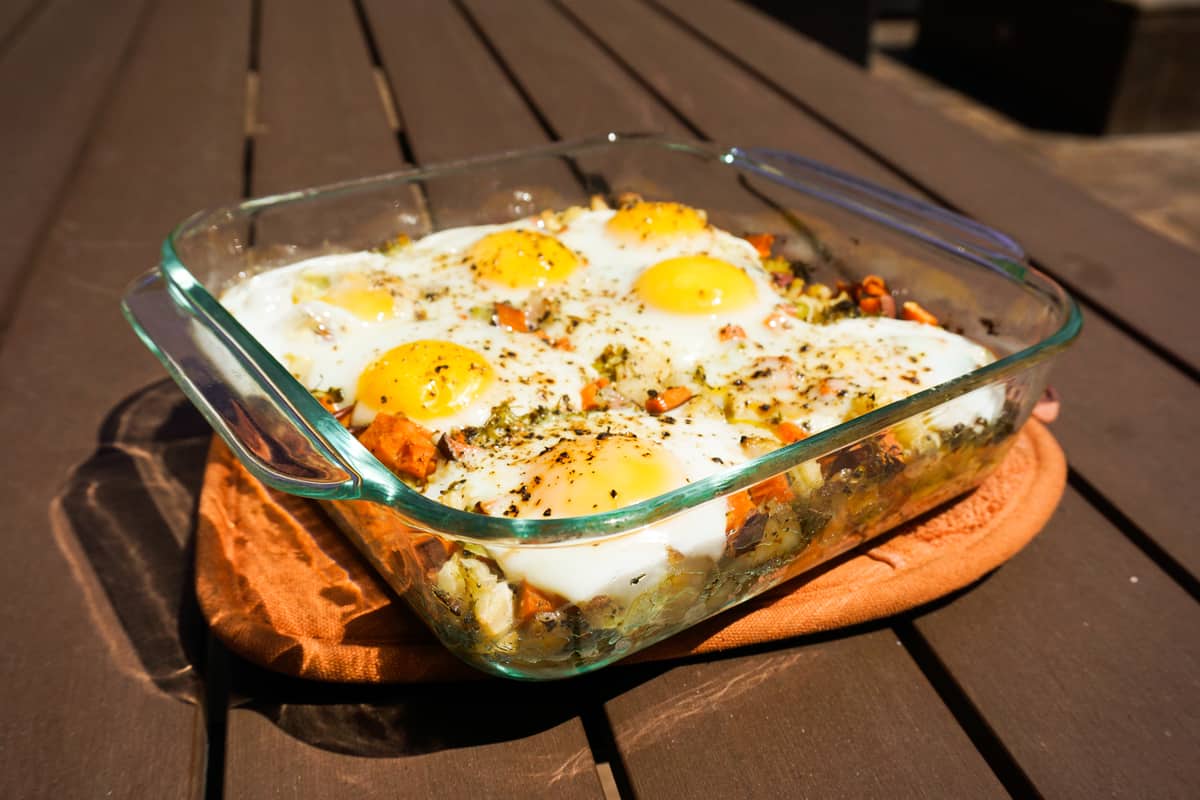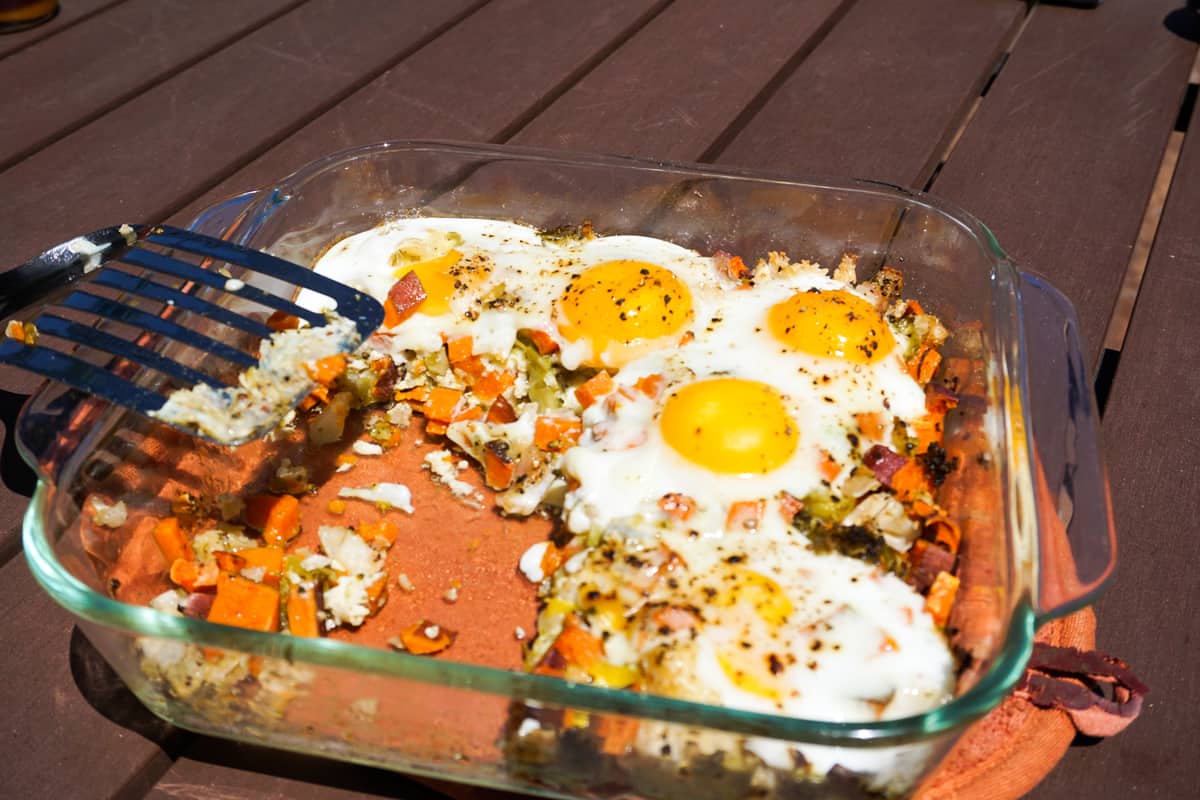 And… some friends of ours just had their first little baby boy!!! It's the first little one nearby in this group of friends so everyone is super excited and eager to chip in. A group of us girls decided to do this Meal Train to help them out in the first months of newborndom. If you haven't heard of Meal Train, it is a website where you can schedule to bring meals to someone in need (new birth, death in the family, illness etc) It's an age old housewife tradition reincarnated into the digital era 😉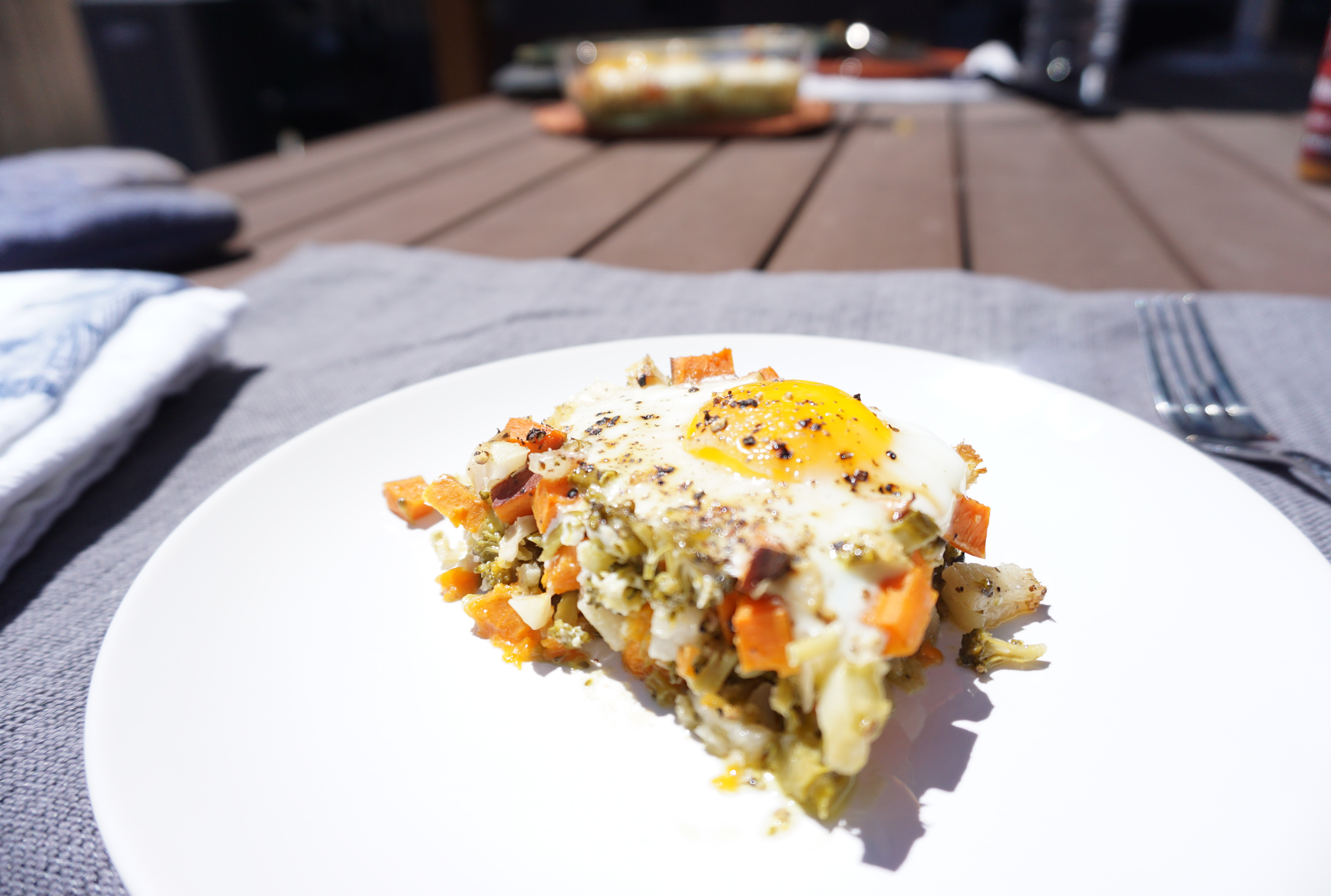 Anyways – I got to thinking what I would want if i was tired and excited and hungry all at the same time. The answer was very clearly Breakfast: Eggs, sweet potatoes and little to no effort. So, I attempted this perfectly baked hash that could be prepped ahead of time and easily heat up when you're ready to eat it. I've been seeing skillets with eggs all over my pinterest feed and have been absolutely digging these baked eggs lately, so I thought it would be fun to just put the baked eggs on the baked hash. And that's how hash baked was born. 🙂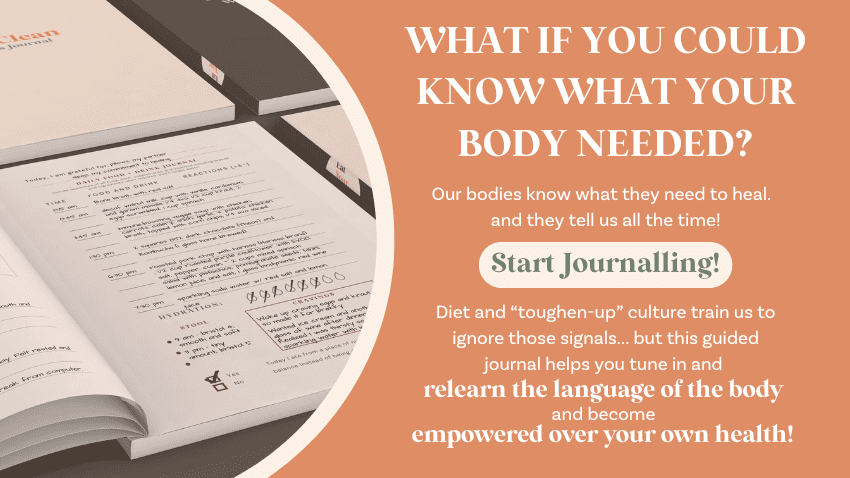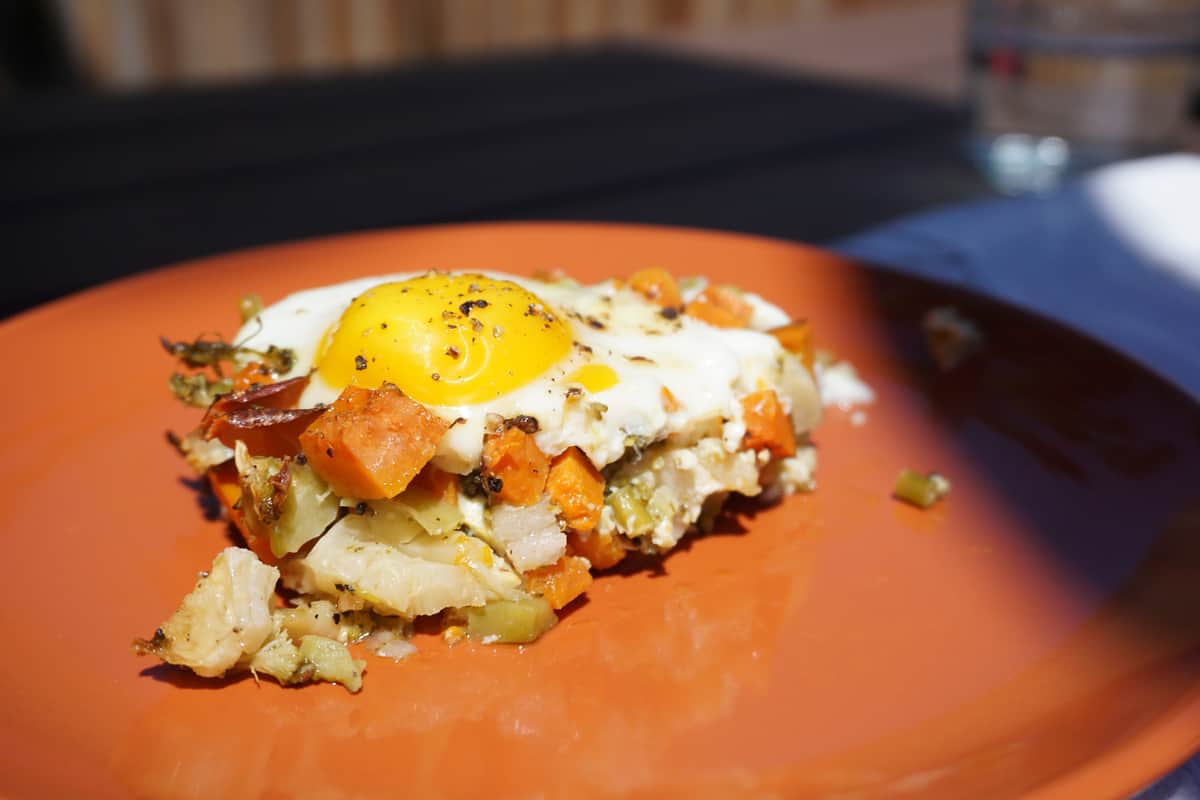 The cool thing about this is that you can do almost everything ahead of time. When you are ready to serve you just crack some eggs and pop it in the oven to finish it off. And it is flexible. You can bake it for 45 minutes at 350 or you can bake it for 2 hours at 250 -> Which was great this morning when I wanted to go to Yoga, but also wanted to eat beautifully baked hash. I popped it in the oven, sweat it all out in hot yoga ,and then came home to baked hash ready for me to #putaneggonit.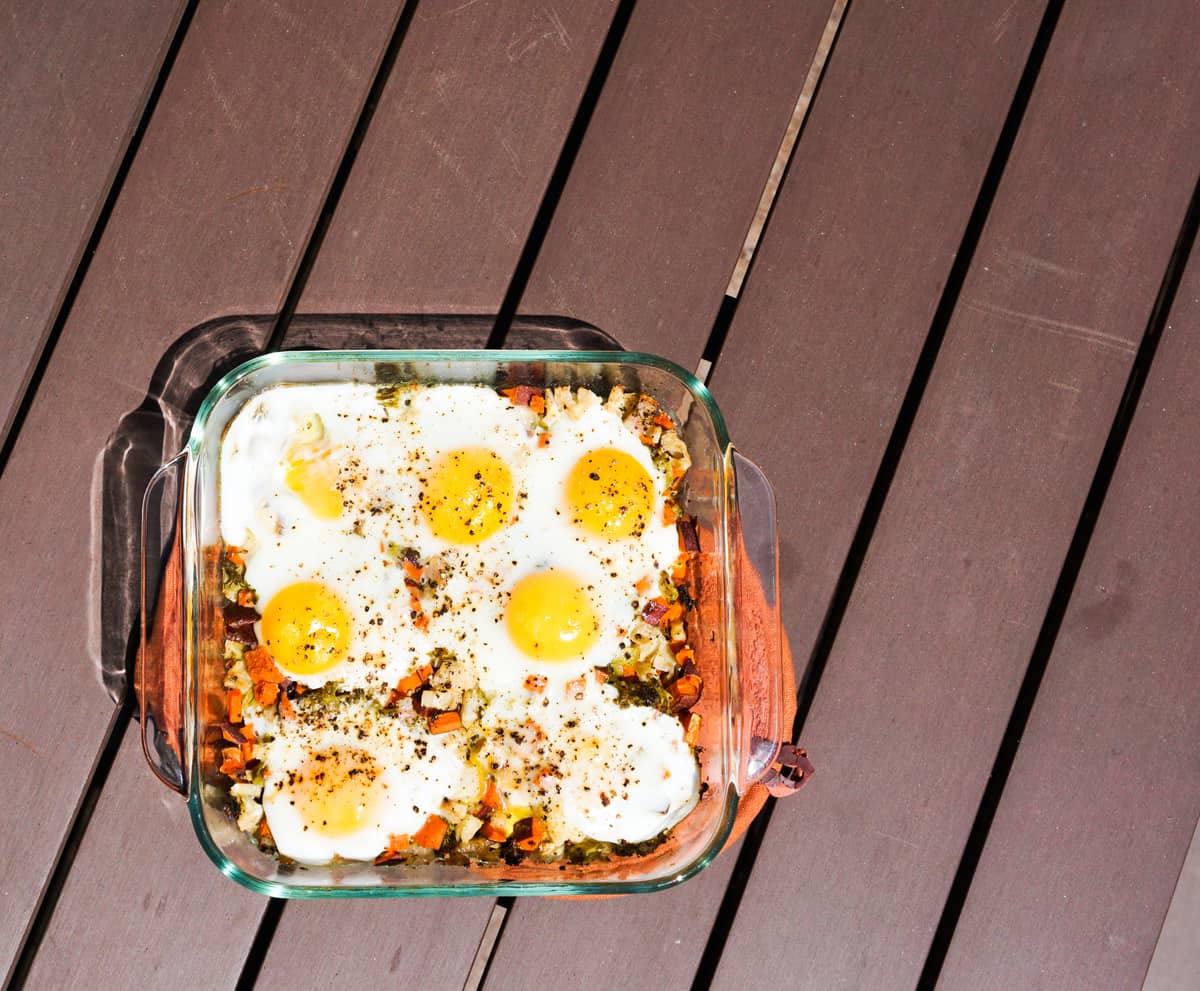 What about you? What do you crave when your hungry, excited and tired? Do you have a favorite prep-ahead breakfast dish? I'd love to hear about it in the comments 🙂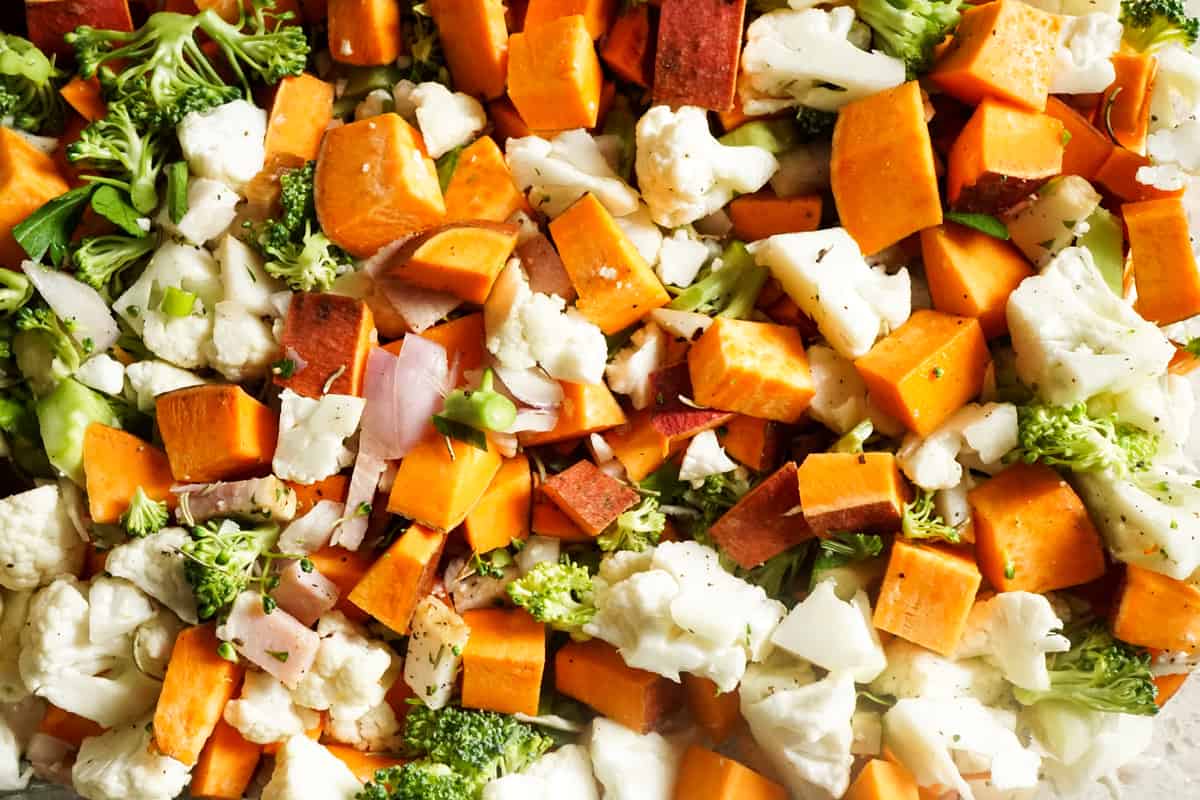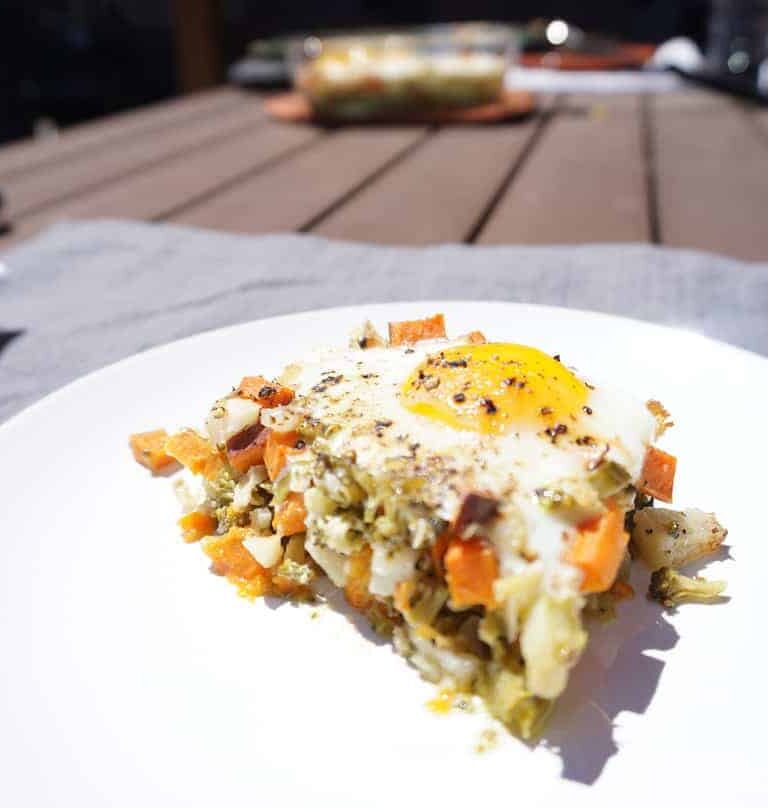 Hash Baked
Instructions
Finely dice all of the veggies and put them into your baking dish.

Cut the bacon into thin strips and add to the baking dish.

Add spices, water, and oil. Mix together and spreads evenly throughout the baking dish.

Cover and bake the hash at 350 for 45-55 minutes, or until potatoes are soft. (option, if you have people to see and places to be, you can also bake this at 250 for 2 hours).

Uncover the hash. Crack 6 eggs on top evenly dispersed along the top of the hash.

Bake uncovered at 350 for 20 minutes or until the egg whites are fully cooked and the yolks are firm, but not hard.
Note
You can prep this ahead of time in different stages. You can prep just the chopped veggies before baking. You can bake it and wait to put the eggs on it. You can crack the eggs and stick them in the fridge to just pop in the oven. You could even par-bake the eggs so they just need a few minutes of heating up before serving. The possibilities are endless!
If you love Hash - make sure to check out my CSA Hash too!
MEAL TYPE, RECIPE, SPECIAL DIET