The holidays are filled with pies, cakes, and cookies. Most of those are laden with cream, refined sugar, and artificial flavor. But it doesn't have to be that way. These chocolate covered pumpkin pie bites are rich and creamy, densely packed with health-promoting spices and real pumpkin, stuffed with coconut butter, and doused in chocolate.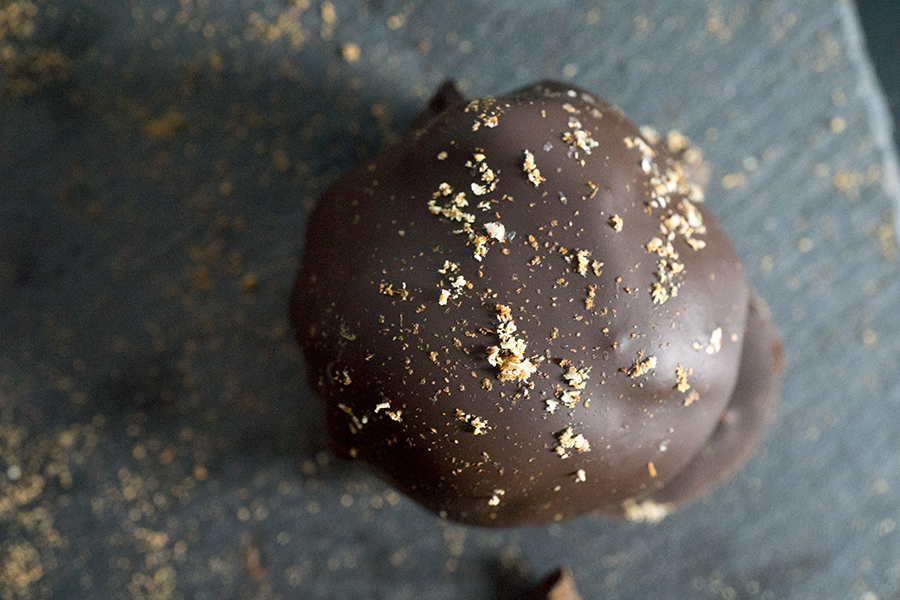 They are a dreamy bite-sized dessert to bring to Friendsgiving, Thanksgiving, or any holiday shindig. Plus, you won't need to mess with cutting slices of pie and passing them out, everyone can just help themselves to a bite.
I started this recipe in an attempt to make a healthier version of pumpkin truffles, and they technically are truffles, but they turned out to taste like little pumpkin pie bites and they were bomb. So I called them chocolate covered pumpkin pie bites instead. Dreamy and creamy without any cream or refined sugar, they're amazeballs. Pun intended. 😉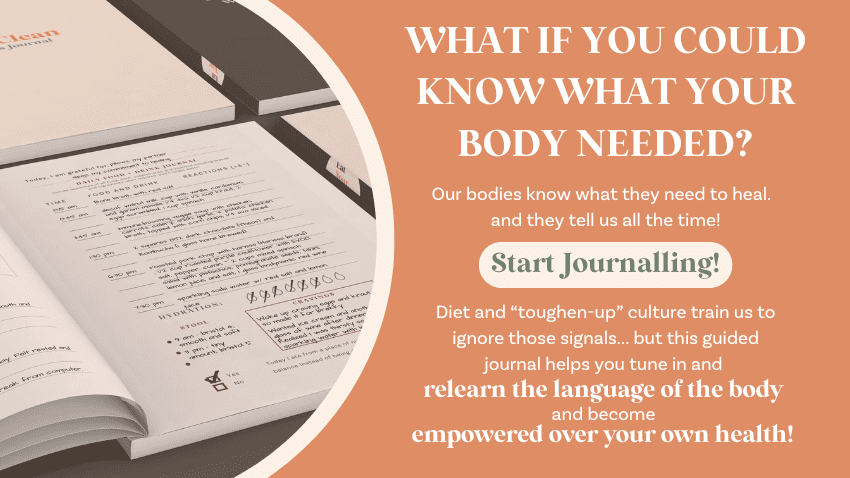 You might also enjoy: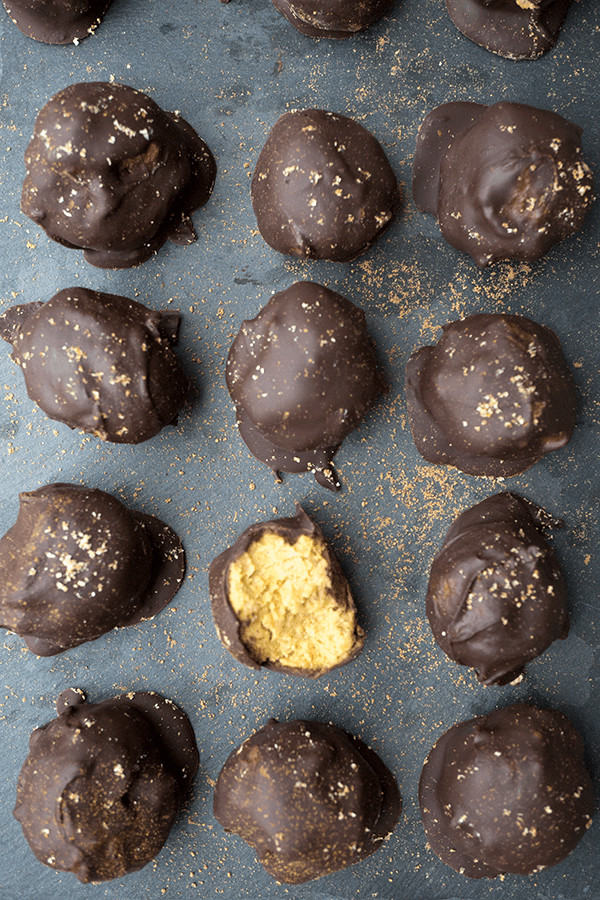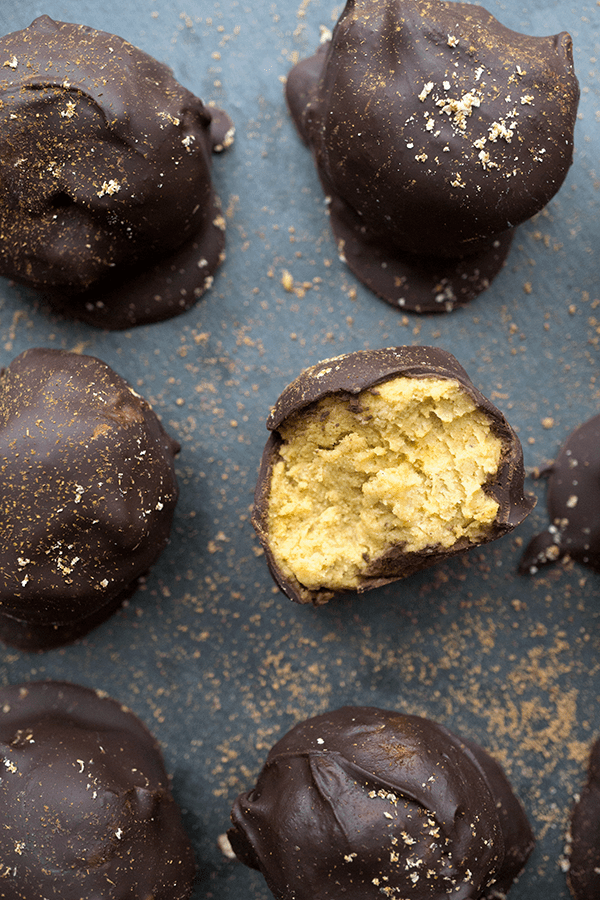 Choosing your chocolate
I use dark chocolate bars with either 80% or 85% cocoa. These can be a little intense if you aren't used to it so choose whichever type of chocolate you like best. I always try to get organic chocolate without dairy or soy lecithin. Some good brands are Theo and Endangered Species which are both available on Amazon.
Pumpkin Puree
You can use pre-made pumpkin puree but I typically make my own so that I can make enough pumpkin puree to freeze for later in the year and other delicious pumpkin recipes like curry or pasta.
To roast a pumpkin, cut the pumpkin in half, remove the seeds, rub oil over the exposed pumpkin flesh, and fork the outside skin to prevent steaming. Then place pumpkin halves face down on a baking sheet and roast for about an hour at 350 degrees, or until the pumpkin skin darkens and begins to wrinkle. Let the pumpkin cool and peel off the skin.
To make puree, blend the pumpkin meat until creamy and at an even consistency.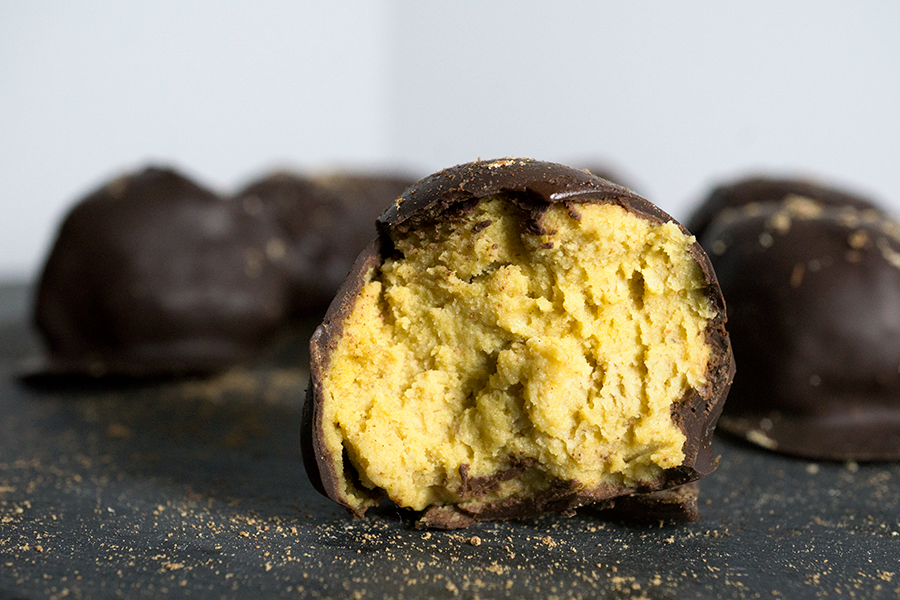 Making the chocolate covered pumpkin pie bites
This recipe works great with freshly made pumpkin puree. If you are using pre-made or store-bought pumpkin puree then heat the pumpkin puree in a soup pot on the stove until warm. You want it warm so that it can melt the coconut butter. Then you will mix the filling ingredients together and cover in chocolate before dusting in nutmeg and cinnamon.
The filling
Set the chocolate aside for melting and then measure all other ingredients (except the pumpkin and chocolate) into a medium bowl. Add warmed pumpkin puree and mix into the other ingredients.
The goal is for the pumpkin puree to melt the coconut butter for easier mixing. With a spoon, stir until everything is well combined and then spread the mixture evenly along the bowl edges, kind of like you are lining or frosting the inside of the bowl with the pumpkin filling. This will allow it to chill quicker.
Put the coconut pumpkin mixture into the freezer for about 15 minutes to harden.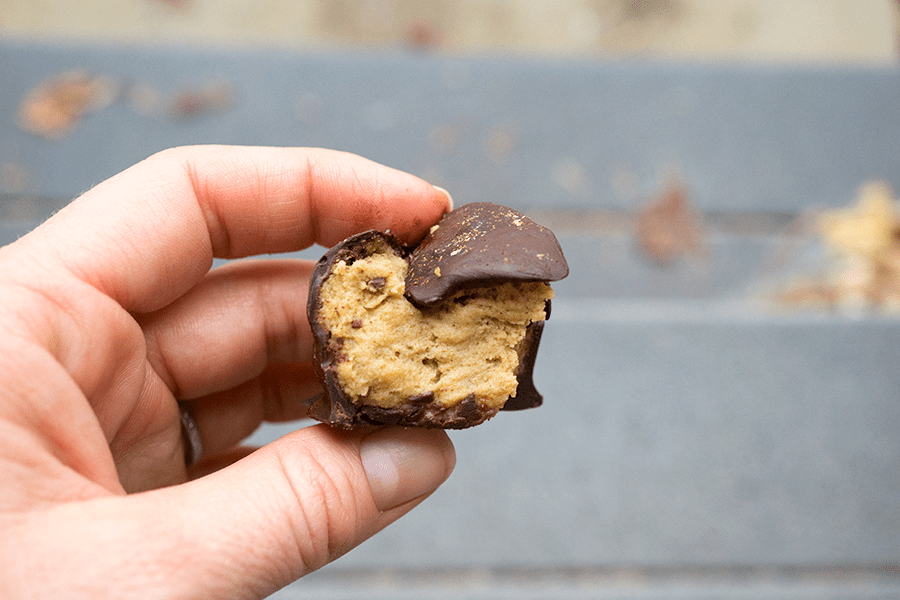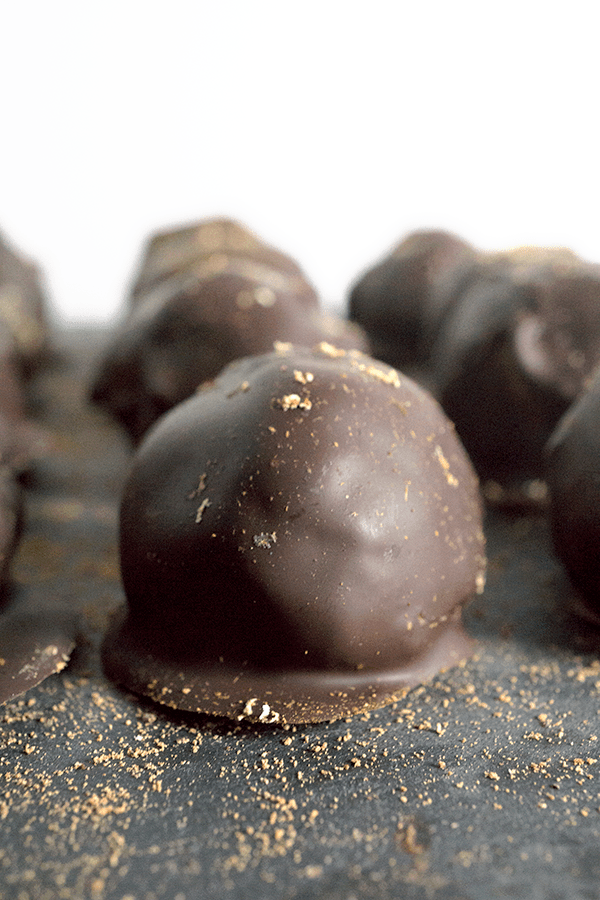 The chocolate coating
The coating is just melted chocolate. Just before removing the pumpkin from the freezer, begin melting the chocolate.
Melt chocolate in a medium bowl. I do this by breaking up the chocolate into squares and microwaving in 20-30 second increments, stirring between each time. This prevents the chocolate from scorching. You can also use a double broiler. Melting chocolate is one of the only times I use a microwave because it is so much quicker than a double broiler and involves little cleanup.
If someone has a trick for easy double broiling, tell me in the comments!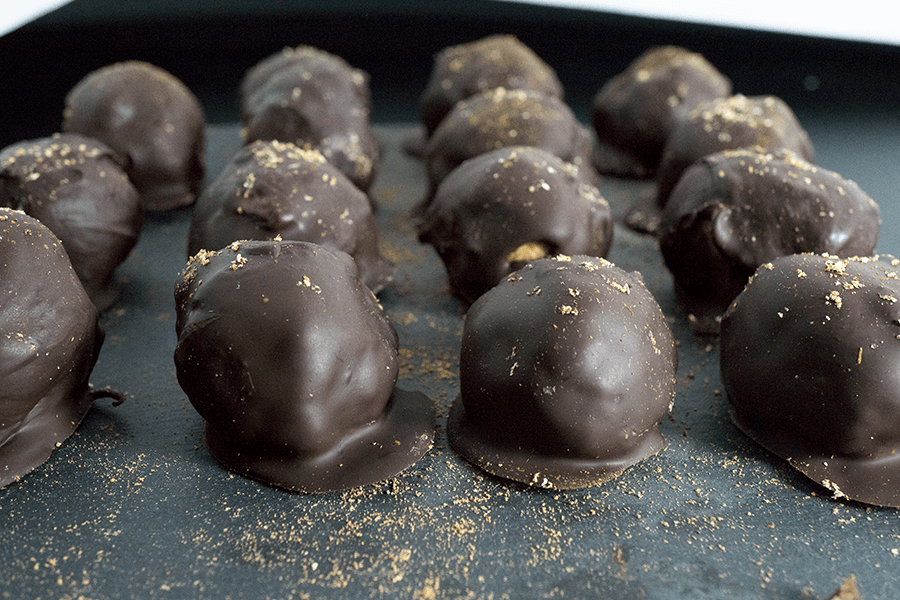 Forming the balls and coating them with chocolate
Remove the pumpkin pie mixture from the freezer and form into small balls in the palm of your hand. Drop each ball one by one into the melted chocolate and using a spoon, flip the ball over in the chocolate to evenly coat and remove, placing on a parchment-lined baking sheet. Try to remove as much chocolate as possible while also moving quickly so that the chocolate doesn't cool.
The cooler the chocolate mixture is, the thicker it will be around your pumpkin pie bites. I find these are best with a thin layer of chocolate which requires warm chocolate.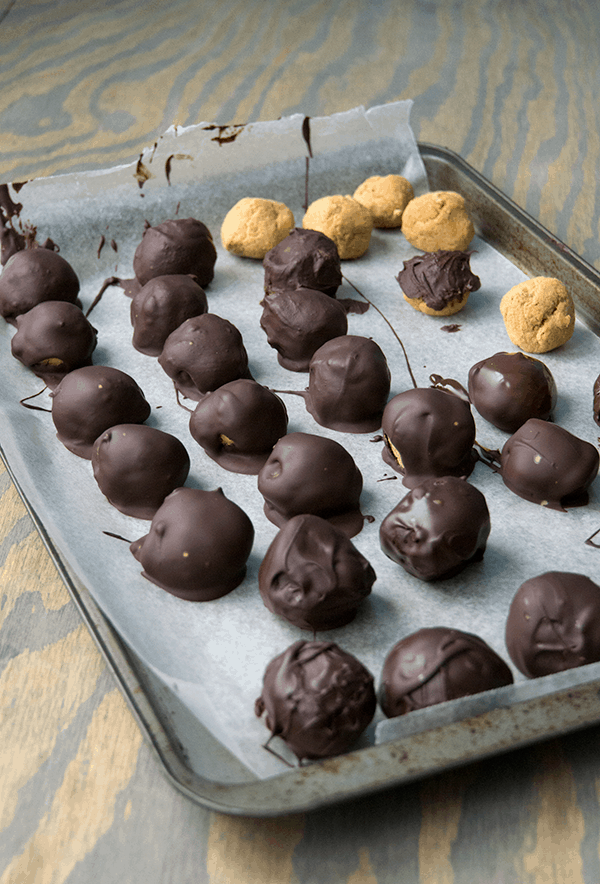 While the chocolate is still warm, dust the pumpkin pie bites with freshly ground nutmeg and cinnamon. Doing this right away allows the spices to set with the chocolate and stick to the tops of the pumpkin pie bites.
Put the chocolate covered pumpkin bites in the fridge to set and store for up to a week. Set out and allow to come to room temperature before serving.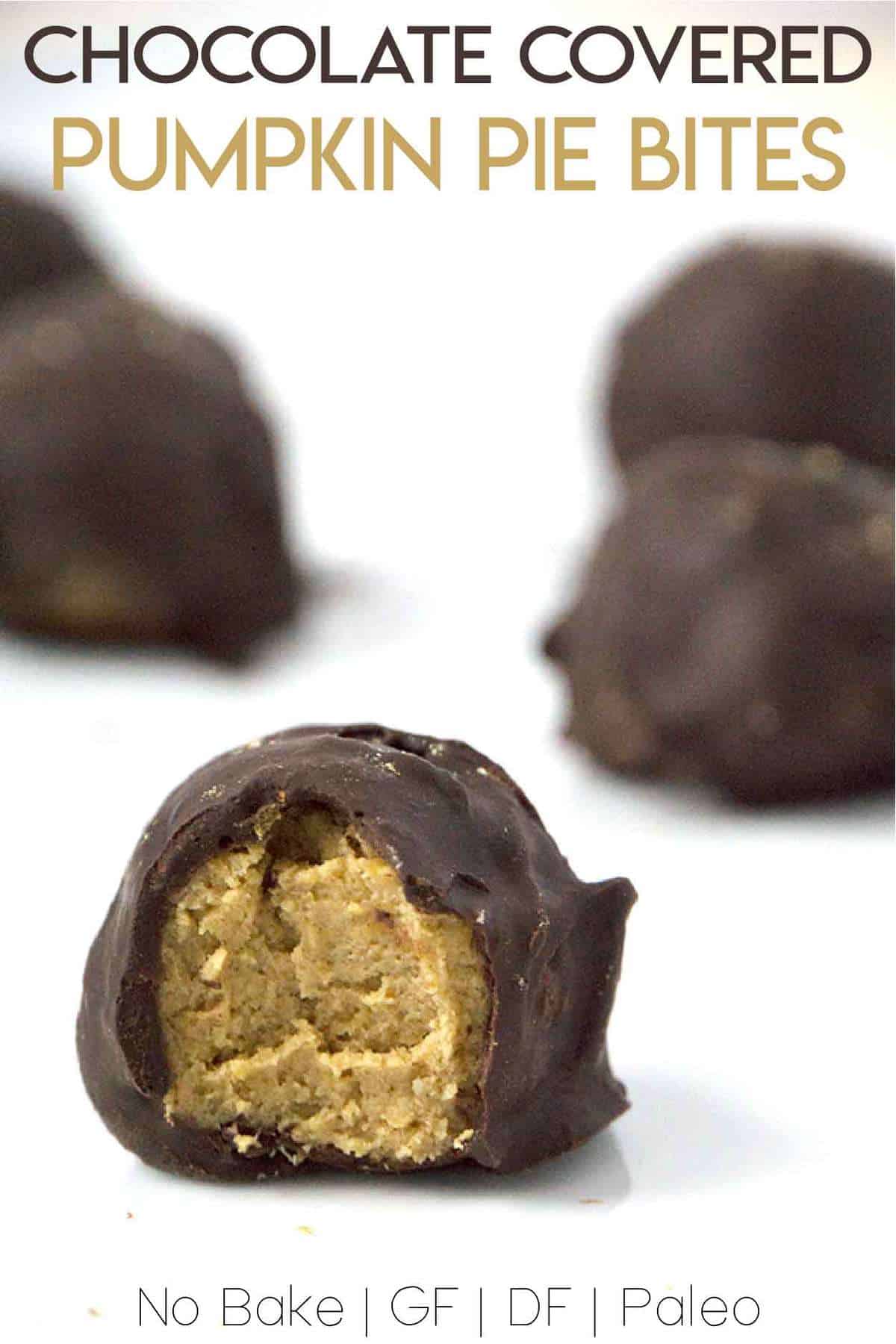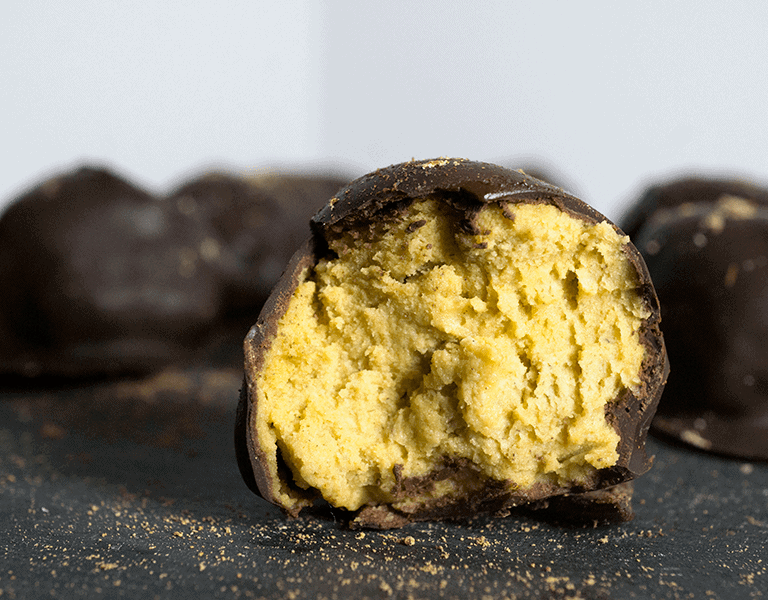 Chocolate Covered Pumpkin Pie Bites
Description
Rich, creamy, spiced, and delicious pumpkin pie filling coated in chocolate, these chocolate covered pumpkin pie bites make a delicious holiday treat. And they are full of good nutrients and free of dairy, gluten, and refined sugar.
Filling
Chocolate Coating
Instructions
Warm pumpkin puree, then mix all items together until they are well blended

Freeze the pumpkin mixture until it is cool and easy to roll into balls or about 20 minutes. I like to spread it up against the edges of the bowl so it sets more quickly.

Melt chocolate

Lay parchment paper onto a cookie sheet

Remove pumpkin mix from the freezer and form small bite size balls out of the pumpkin coconut butter mix with your hands and set aside.

Using a spoon, dip the pumpkin balls into the bowl of melted chocolate making sure it is evenly coated before spooning the pumpkin pie bite onto parchment.

Once all bites are covered in chocolate, place in the fridge to set for about 20 minutes.

Serve and enjoy!
Note
These can be made ahead of time up to 5 days stored in the fridge. Bring to room temperature before serving.