I bought a pumpkin with full intentions of creating pumpkin bars, pumpkin muffins, or homemade pumpkin coffee creamer. But, then I got hungry for some real food and totally changed gears with this savory 10 minute pumpkin soup with coconut milk and tahini.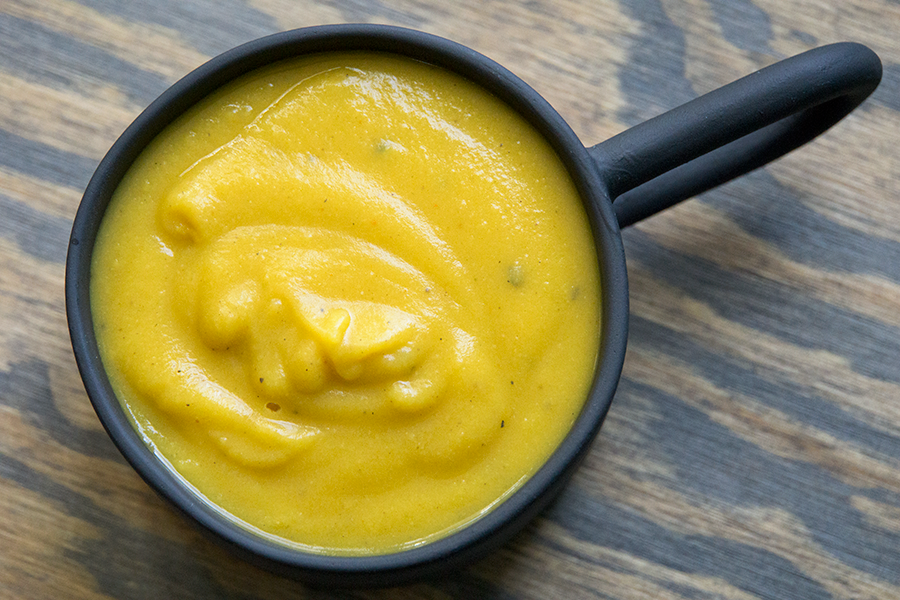 Getting dinner on the table fast
When hunger hits, it can be hard to wait 30-45 minutes to cook a meal. And that is why most of my go-to dinner ideas are meant to be on the table in less than 15 minutes. This particular one might even break into the single digits, depending on how quickly you can get out your blender and pour.
The core ingredients go into a blender. While those blend, you multitask and add the spices and tahini to a pot. Transfer the blended puree to the pot, mix in the spices, and simmer until warm.
Boom.
You've got dinner and you probably had time to clean the blender before you served. That is a great weekday meal in my eyes. It personally took me about 7 minutes and I had time to reorganize my mason jar shelf and clean the blender.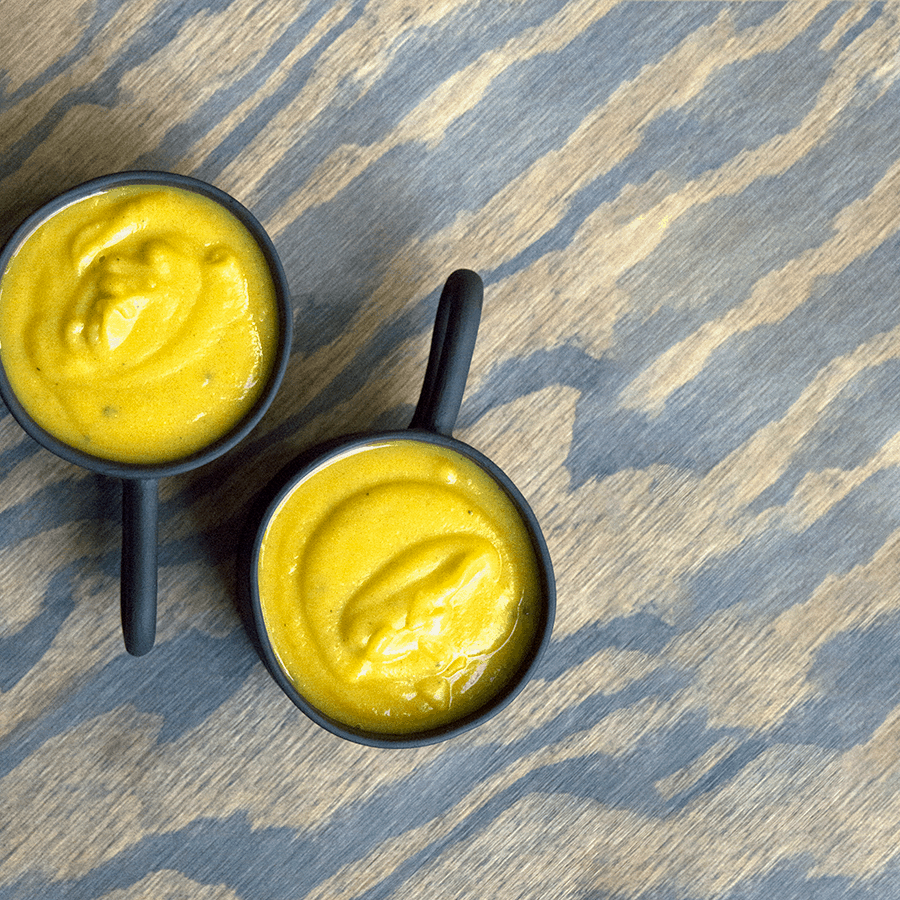 A Healthy 10-minute pumpkin soup
No artificial foods, preservatives or fillers found here. Just real food, fast. Plus, it's super filling, satisfying and healthy.
Pumpkin provides vitamins and minerals to nourish your body and is also low carb and full of micronutrients. The broth packs collagen, glutamine, and tons of flavor. To make a vegan version, simply sub vegetable broth for bone broth. If you want to make your own broth, look here: how to make bone broth and here for how to make your own veggie broth.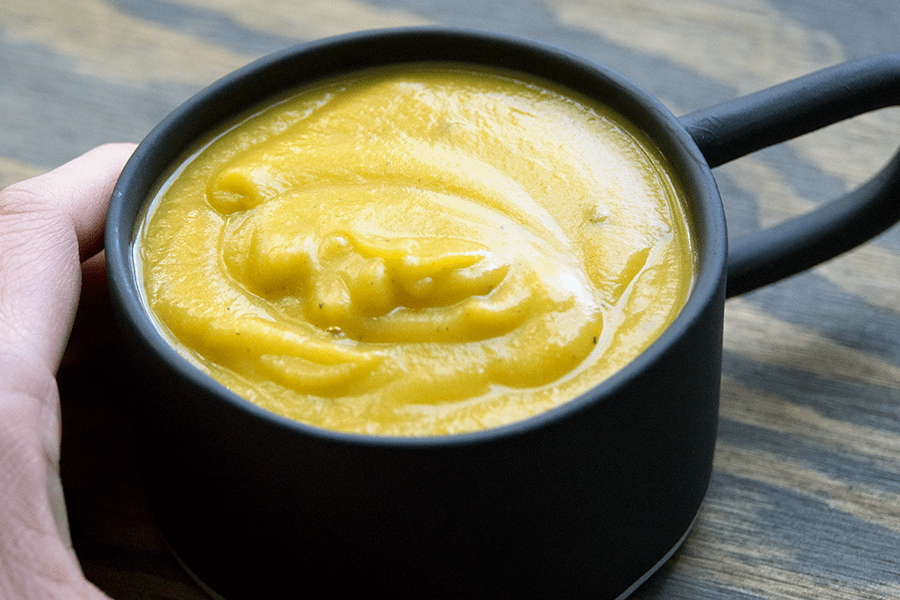 Finally, the coconut milk provides some fat to leave you full as well as a little natural sweetness to round out the antioxidant-rich spices.
So, what I'm saying is this 10-minute soup is basically a warm, orange green-smoothie 🙂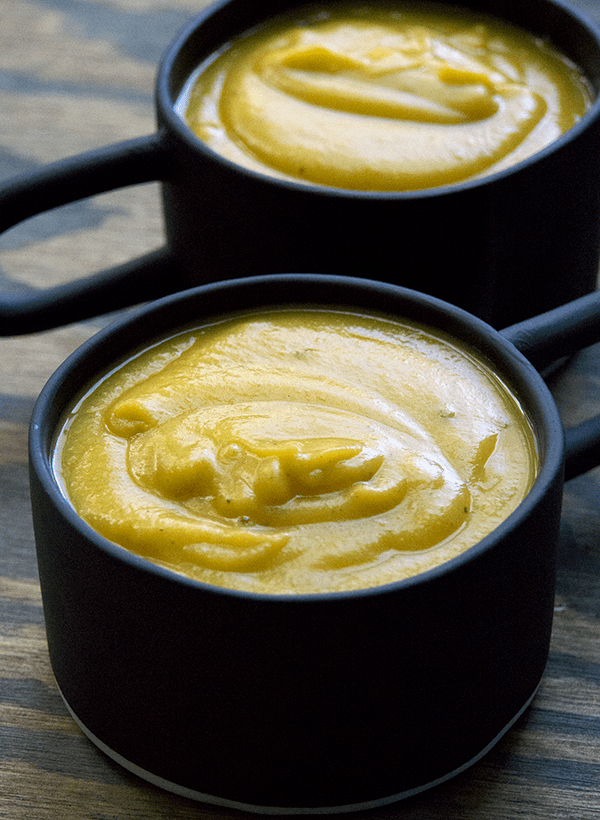 Making the 10-minute pumpkin soup efficiently
I blended just the coconut milk, broth, onion, and pumpkin together and then mixed in the spices separately. However, you could put everything into the blender at once.
The reason I did it this way is so that while the pumpkin is blending, I can measure out all of the other ingredients. It saves time overall because I multitask pulling out and measuring spices while the blender does its thang. If I put all of the ingredients in the blender before mixing, I would just have to wait while the blender blended.
It's all about efficiency.
Additionally, I love the depth of flavor that tahini gives to this otherwise very simple soup. Peanut butter or almond butter would work as substitutes if you don't have tahini. Tahini is the name for sesame seed butter.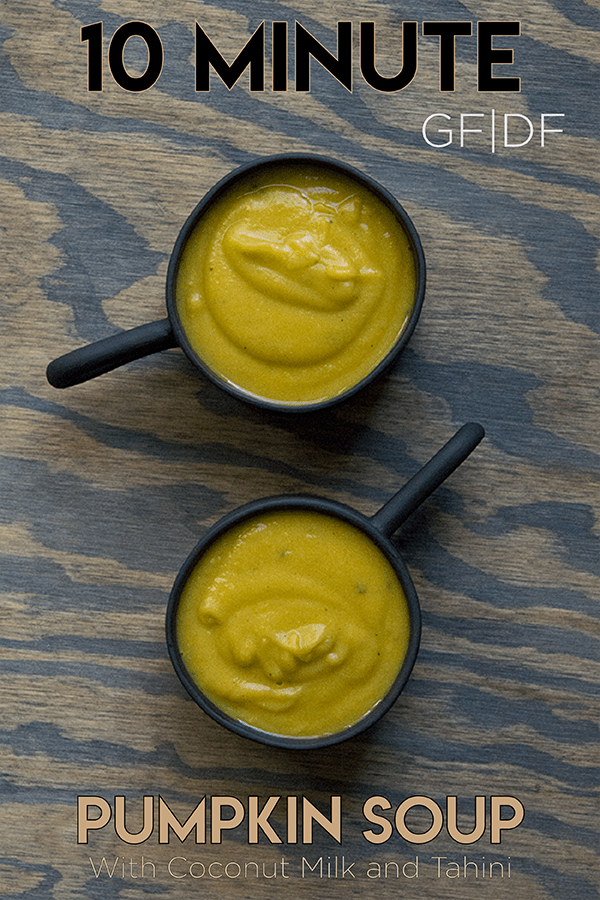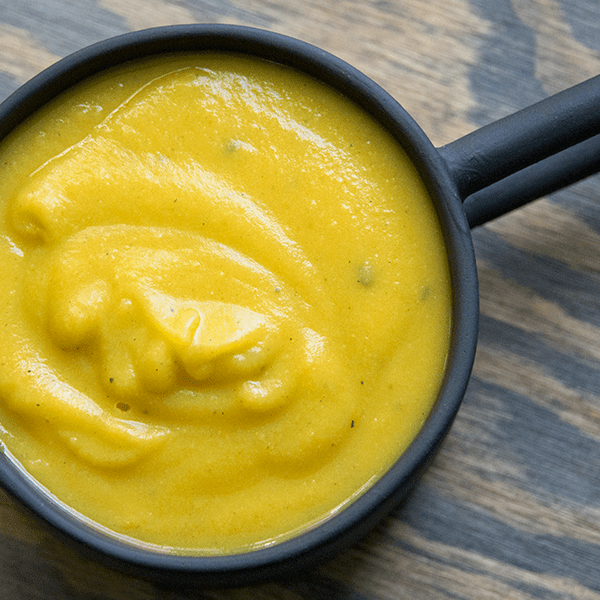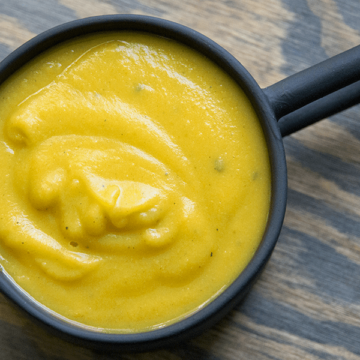 10 minute Pumpkin Soup with coconut milk and tahini
No artificial foods, preservatives or fillers found here. Just real food, fast. Plus, it's super filling, satisfying and healthy.
Print
Pin
Rate
Ingredients
3

cups

roasted pumpkin puree

about 1 3-4 lb pie pumpkin

1/4

white onion

1/2

can coconut milk

1

cup

chicken bone broth

1 1/2

tbsp

tahini

1

tsp

salt

1-2

grinds fresh black pepper

1/2

tsp

cayenne pepper

1/4

teaspoon

cinnamon

1/4

teaspoon

nutmeg
Instructions
Put onion, coconut milk, and broth into the blender with roasted pumpkin. Puree until smooth. (If you have a ninja chef, use soup mode, which takes about a minute and a half)

Meanwhile, add tahini, salt, pepper, cayenne, cinnamon, and nutmeg into a small pot on the stove.

Pour in blended pumpkin and stir in spices

Simmer on low until evenly heated. This is a great time to wash the blender.

Serve and enjoy!
Notes
You can use freshly roasted pie pumpkin or pumpkin puree.
This nutrition information does not tell the whole story of food's nutritional value! Make sure to use your gut intuition on what your body needs, eat your veggies and get 30 plants a week for optimal gut health. This nutritional data is calculated based on above values and standard brands. This information may vary.