Taking tacos to the next level with purple cabbage shells and heritage raised chorizo. These chorizo cabbage tacos are creamy, savory, and fresh with just the right amount of spice. Who said tacos couldn't be clean?
Tacos are probably the best food group, second to soup.
But in most taco recipes, there's room for improvement in the health category.

Two of the easiest ways to clean up a taco recipe are to:
Replace the tortilla shell with a veggie &
Use clean, well-sourced ingredients for the filling
TaDaaaa: a Clean + Healthy Chorizo Cabbage taco!!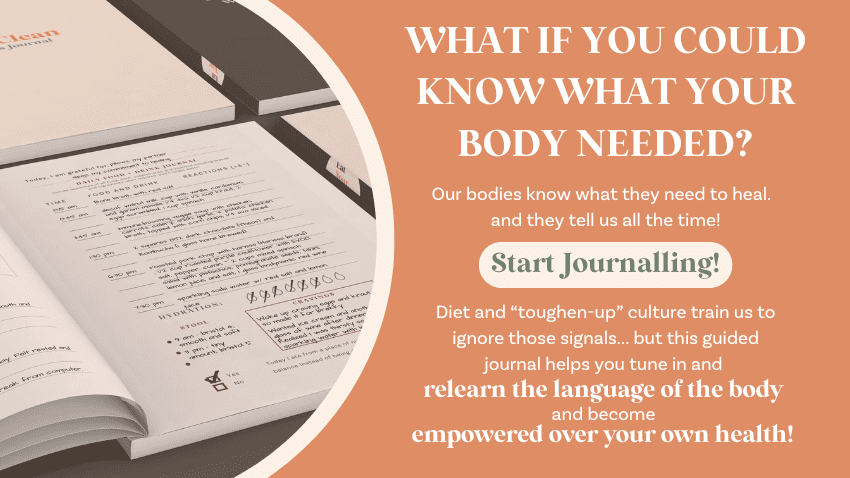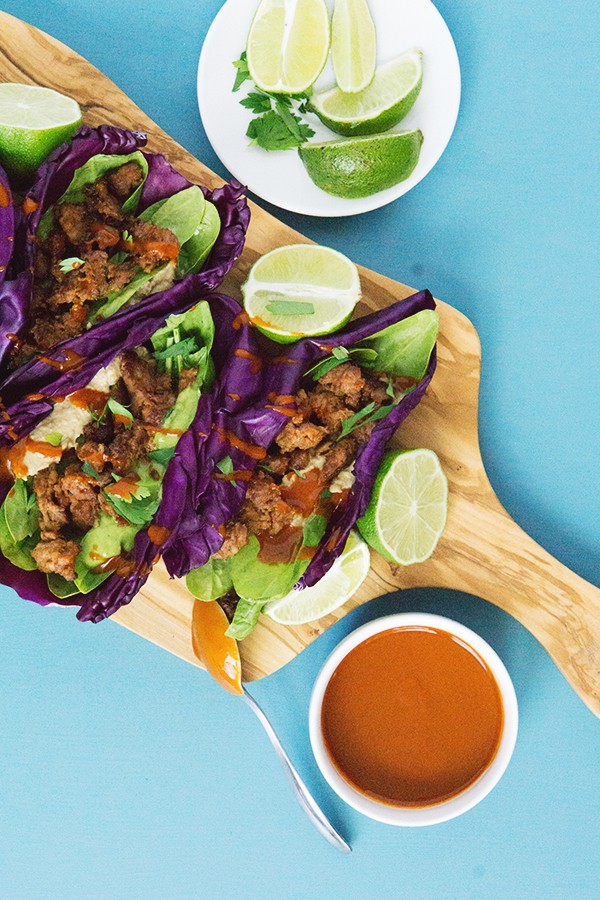 Purple Cabbage Taco Shells
These tacos are unique in that they use cabbage leaves in place of the taco shells. It's important to get the right kind of cabbage (napa will not do!)

Purple cabbage taco shells give a beautiful color and crunch to these tacos. Plus, cabbage has some great health benefits.

I prefer the taste of red cabbage (it's probably mental) and the color looks fantastic, but green cabbage will work as well.

Cabbage taco shells are made by simply peeling whole cabbage leaves off of a head of cabbage.
How to make cabbage shells for the tacos?
Take a full head of cabbage and rinse the outside. Then cut off the bottom, discarding. From the bottom of the cabbage, peel the cabbage leaves carefully off of the head of cabbage.

Be careful not to pull them too quickly or they will rip in the middle. Sometimes it helps to separate the cabbage leaf edges at the top and then pull them away from the cabbage from the bottom. As you get closer to the center, the leaves tend to intertwine a little bit, so use caution and patience.

Once you've pulled off the cabbage leaves, you can set them aside for later use as shells.

If you dig things wrapped in cabbage, check out these amazing German Cabbage rolls. They are basically like warm german tacos. Yum.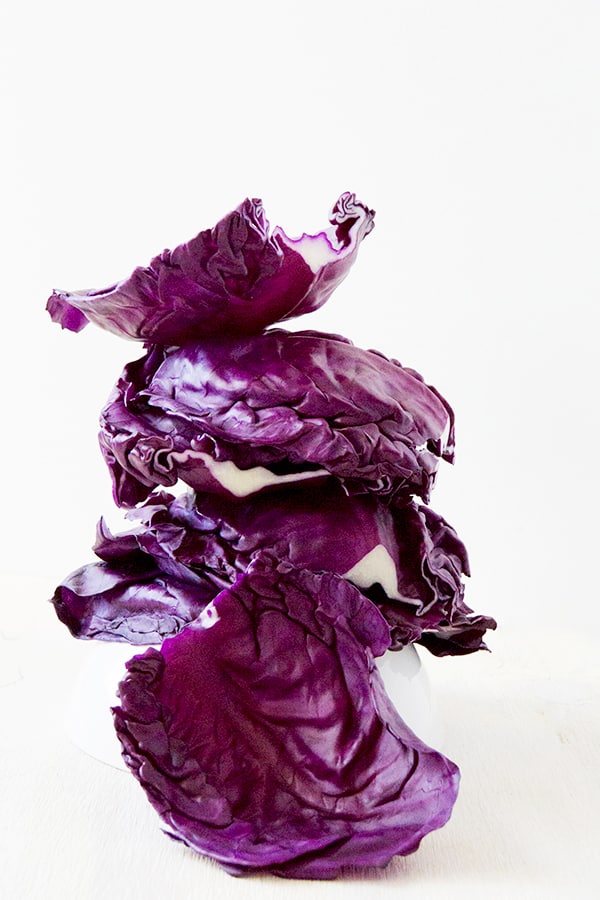 The 4 elements of a Good Taco:
There is a certain formula for making a good taco. You can't just throw ground beef and salsa in a tortilla and call it a success. You need creaminess, sauciness, savoriness, and spice. These Cabbage Chorizo tacos have all 4, plus a lot of the secret sauce: fresh vegetables and herbs.
Creaminess
This taco is a cheese-free zone.

I can already hear you say it…But Why?

Because – dare I say – cheese can be overrated. And it doesn't make me feel the best. When we miss cheese, we often are missing the sodium and creamy texture that cheese provides. Enter: hummus.

Hummus is a great addition to tacos, dips, or soups to add a non-dairy yet creamy texture. I always try to use a hummus made with olive oil instead of canola oil. In this case, I used a Hope brand back garlic hummus, but any kind will do.
Sauciness:
Creamy cilantro avocado sauce.

While avocado and tacos go together like dark chocolate and red wine, Avocado chunks are hard to eat on tacos. They seem to slide out of the taco, which is a bummer because every bite is a little bit better with some avocado in it.

This is exactly why I prefer to turn my avocado into a sauce and drizzle (read: pour) it evenly onto the taco so that avo goodness is happily present in every bite.
The avocado sauce is super easy to make:
put half an avocado, 1/4 cup coconut cream (or another dairy-free milk), 1/4 cup cilantro, 1/4 cup water, and some lemon or lime juice into a blender
pulse until creamy
use it on these tacos and everything else you make this week. (see hash, turmeric cauliflower, etc..)
Savoriness
Enter the mainstay: Chorizo!

Now, you can make your tacos with any kind of protein, but I'm partial to a good spicy chorizo. There is so much flavor packed into this type of sausage, you rarely have to add additional seasoning. Plus it's spicy and authentico.

For my veg friends, try chopped oyster or shitake mushrooms cooked with chorizo spices.

The meat and herbs give us all the flavor we need. Sometimes it's hard to find a sausage that is just sausage, but I encourage you to look for one. Those hidden sugars and preservatives add up and can negatively impact our health.

I've been loving the Mulay's chorizo sausage because I can trust what's in it. They are heritage farmed and have no fillers! So many sausages have added grains, sugars, and artificial flavorings. There's no need for that. I found them at a recent gluten-free expo here in Colorado and am so glad to have another local source for high quality and sustainable meat.

I discovered Mulay's sausage at a recent GF expo and fell in love after sampling and immediately bought some. Mulay's provided the chorizo for this recipe, but I've used it on my own and I highly recommend their sausage.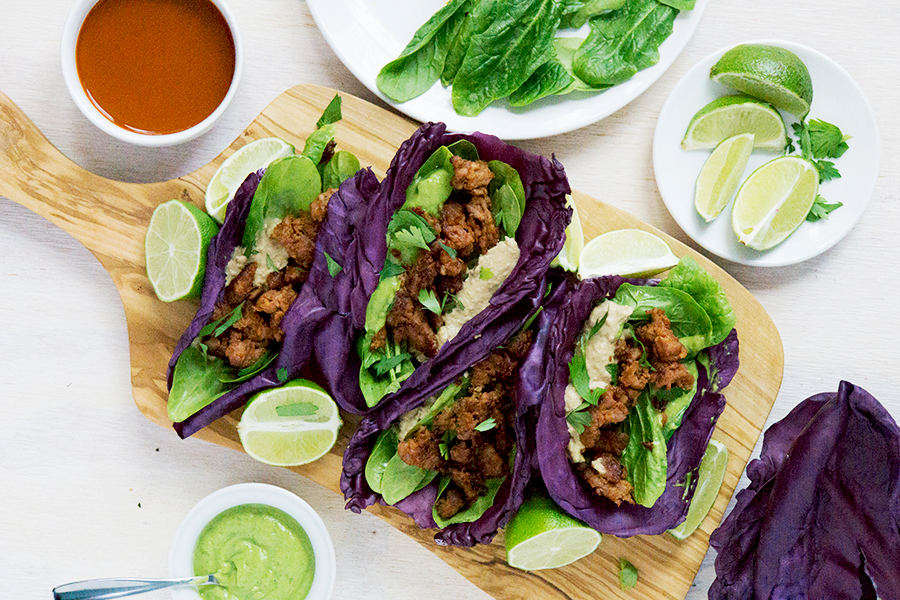 Spice
There are two kinds of spice in my (food) life: flavor + heat. I added a little bit of both to these guys with some fresh cilantro garnish, lime, and sriracha hot sauce.

Now there's already a kick to the chorizo, so take a bite before drowning the tacos in hot sauce.

Be careful when picking sriracha sauces as many have added sugars, in addition to lots of unnecessary ingredients. I think these tacos do better with sriracha or traditional Mexican hot sauce that is vinegar-based.

Avoid the smoky and green hot sauces as they may not complement the other ingredients as well.
The secret ingredient: Freshness
Fresh raw cabbage, newly sliced limes, freshly blended avocado cilantro sauce, and good quality meat are important in making every flavor pop a little more.

Nothing beats fresh ingredients!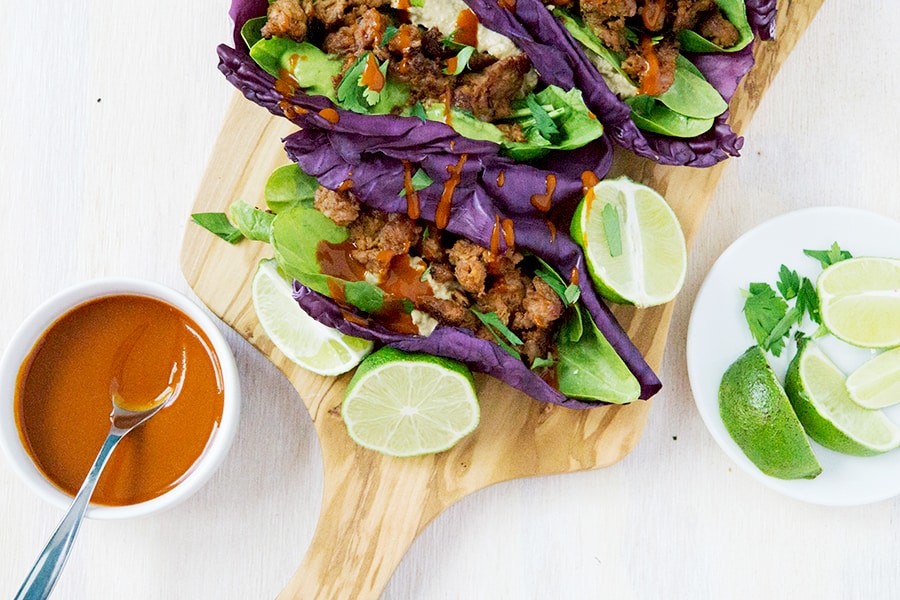 Assembling the Chorizo Cabbage Taco:
Now that we have all the elements defined, the easy part is putting them together.
Cooking is always quicker and thereby easier to fit into your day when you learn how to order the different steps for maximum efficiency. That means you are cooking the meat while you are cutting the cabbage, instead of prepping everything ahead of time and then having dead space.
Multi-task the prep
I start the sausage first, on medium-low heat in a skillet. You'll need to break the meat apart a bit using a wooden spoon. Grounds sausage cooks better and ends up with a better texture when you break it apart before cooking unless you intend to serve it in patties.
While the sausage is cooking, cut the cabbage and make your taco shells. Take a break now and then to stir the sausage and make sure it is evenly cooking and breaking apart nicely.
You should also have time to coarsely chop some cilantro and make the avocado cilantro sauce while the sausage is on the stove.
Assembly
Once the sausage is cooked and there is no more visible pink, remove from pan to a plate or a plate with a paper towel to drain some of the excess grease.
Lay out the cabbage shells and add a base of spinach leaves then top it with chorizo.
Spoon Hummus in a line on one side of the chorizo +
Spoon the creamy avocado cilantro sauce on the other side of the chorizo.
Garnish with cilantro and hot sauce +
Dig in!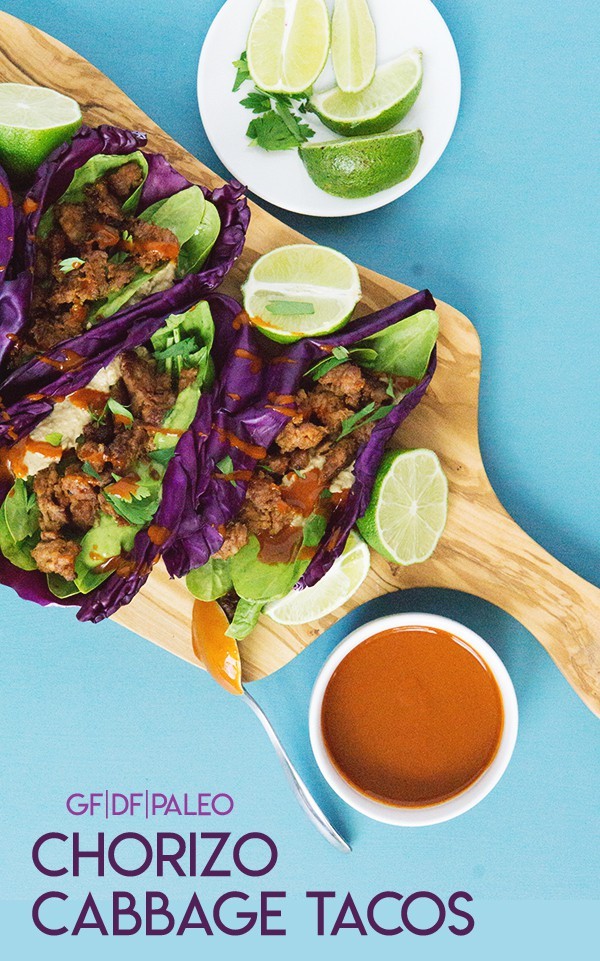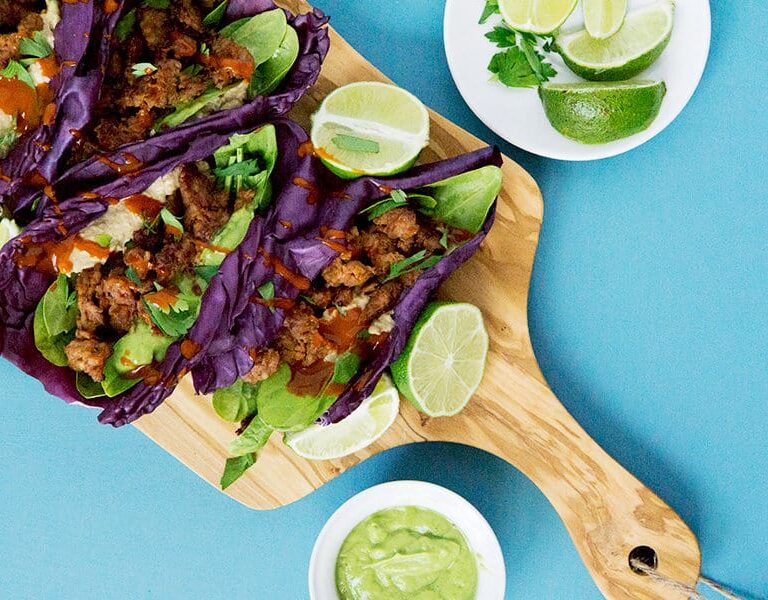 Chorizo Cabbage Tacos
Description
Taking tacos to the next level with purple cabbage shells and heritage raised chorizo. These tacos are creamy, savory, and fresh with just the right amount of spice. Who said tacos couldn't be clean?
Cabbage Chorizo Tacos
Creamy Avocado Cilantro Sauce
Instructions
Add chorizo to skillet on the stove top on medium-low heat. Using a wooden spoon, break apart into pieces about 1" big. Keep an eye on this while you do the next three steps, stirring occasionally so the sausage is evenly cooked. The sausage will cook for 10-15 minutes or until there is no visible pink.

Meanwhile, slice the bottom off of a head of cabbage. Then carefully remove each leaf and set aside. These will be your taco shells

Mix all ingredients for creamy avocado cilantro cream sauce in blender and pulse until smooth. Add additional water if you prefer a thinner consistency

Slice lime into quarters and coarsely chop cilantro for garnish

Remove sausage from pan onto the plate. Make sure there is no more visible pink in the meat.

Assemble the tacos by laying out all cabbage leaves. Spread spinach leaves evenly between tacos. Top with Chorizo. Spoon hummus to one side of chorizo in line, then creamy avocado cilantro sauce on the other side.

Garnish with lime wedges, fresh cilantro, and hot sauce if desired.
Note
I call for one full head of cabbage, even though you won't use the entire head of cabbage because this will not work with a head of cabbage that has already been sliced in half or quartered. 
I assume two hearty tacos per person in this recipe. You can easily create more for the number of people you intend to serve.  
These tacos also store well, since the cabbage does not get soggy. Throw leftovers in a tupperware and take them to the office for lunch the next day,