This delicious and light snap pea and kohlrabi green curry is an excellent way to turn your garden harvest or farmers' market scores into a full-on comfort food meal.
Using a green curry sauce makes this dish ready in 30 minutes but adding fresh spices like grated ginger, lime zest and basil makes it taste like this green curry was made from scratch. And it is great for leftovers as the flavors continue to simmer and meld together each time you reheat it.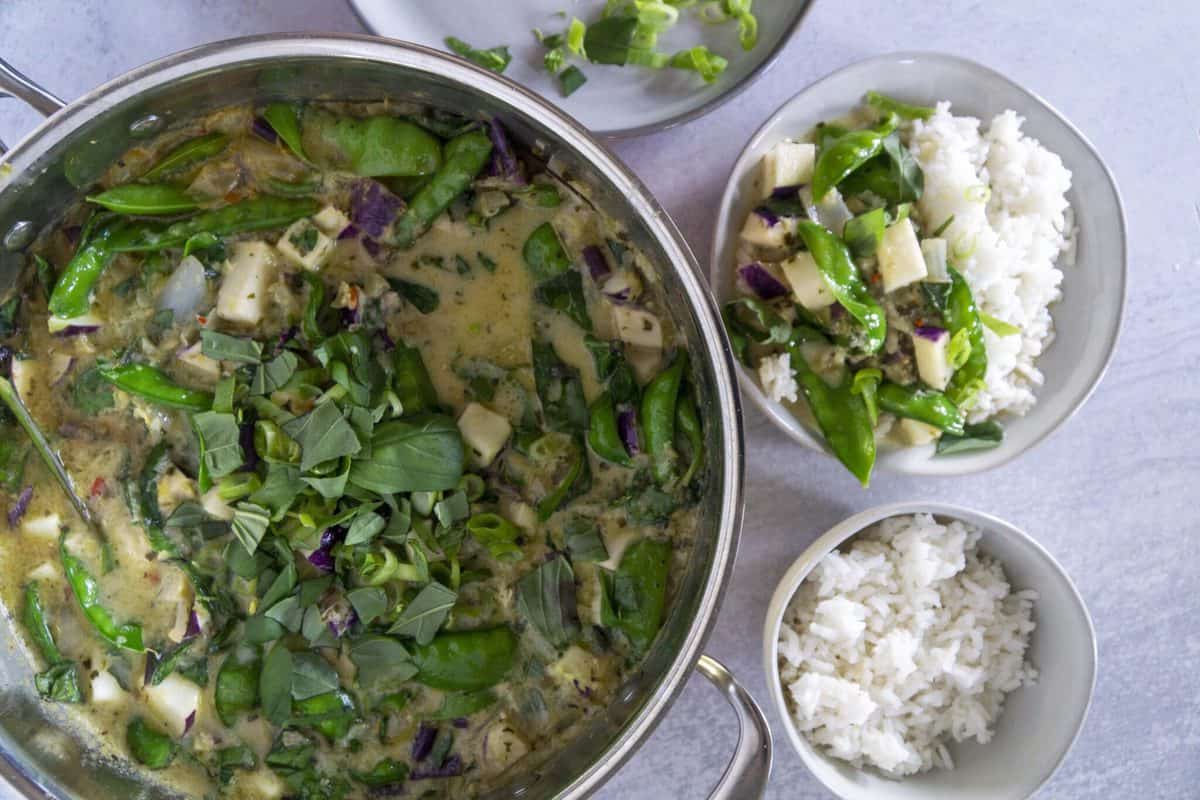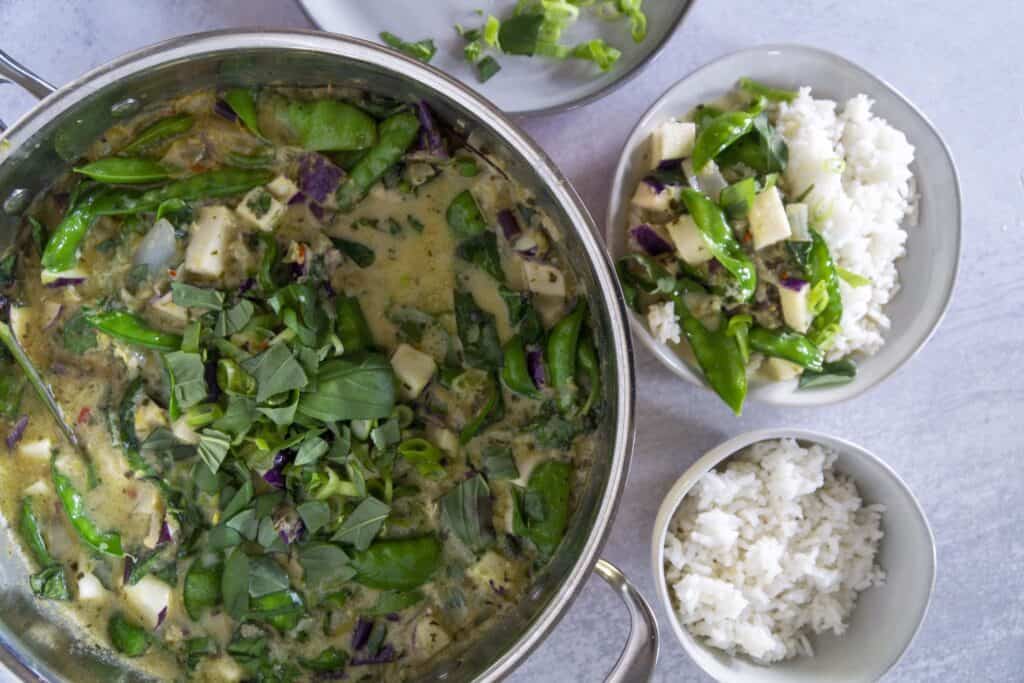 The Curry Ingredients
This curry highlights snap peas and kohlrabi, but it also has tons of herbs that add a richness to every saucy bite. Ginger, lemongrass, and lime zest simmer right into the sauce while green onions and basil infiltrate the dish and add color as a garnish at the end.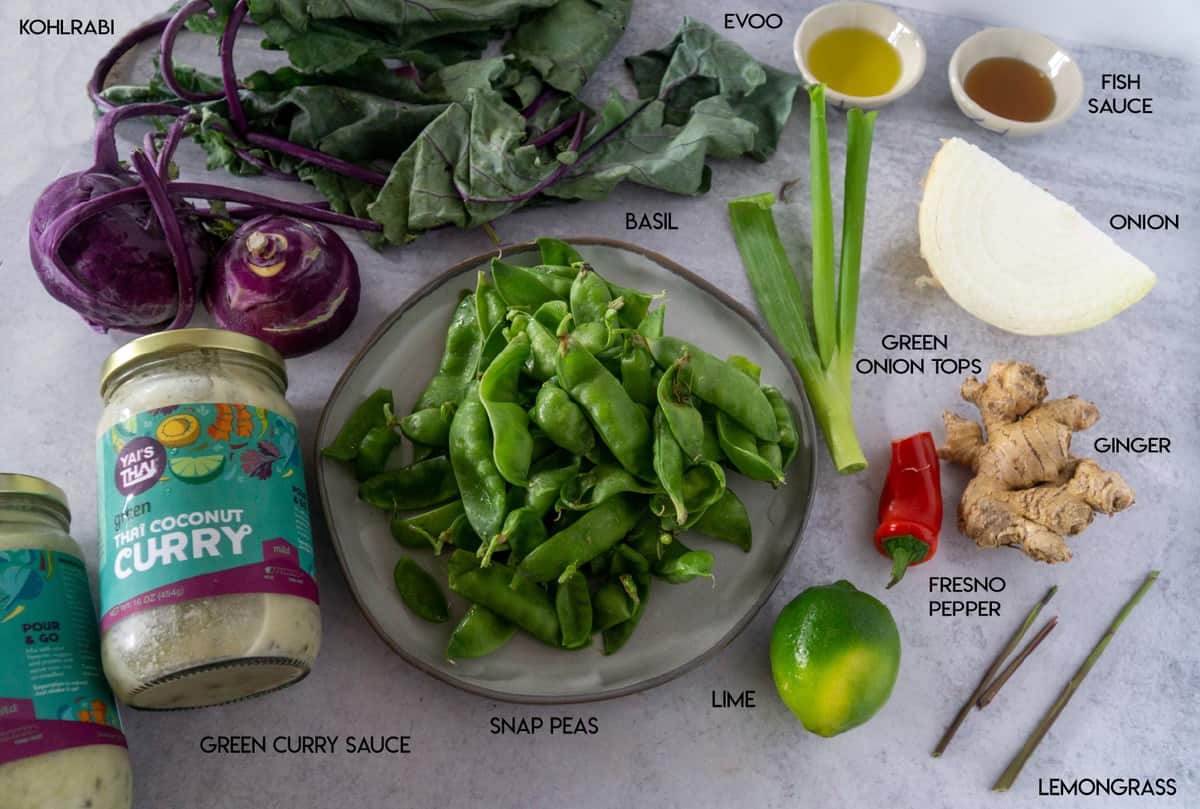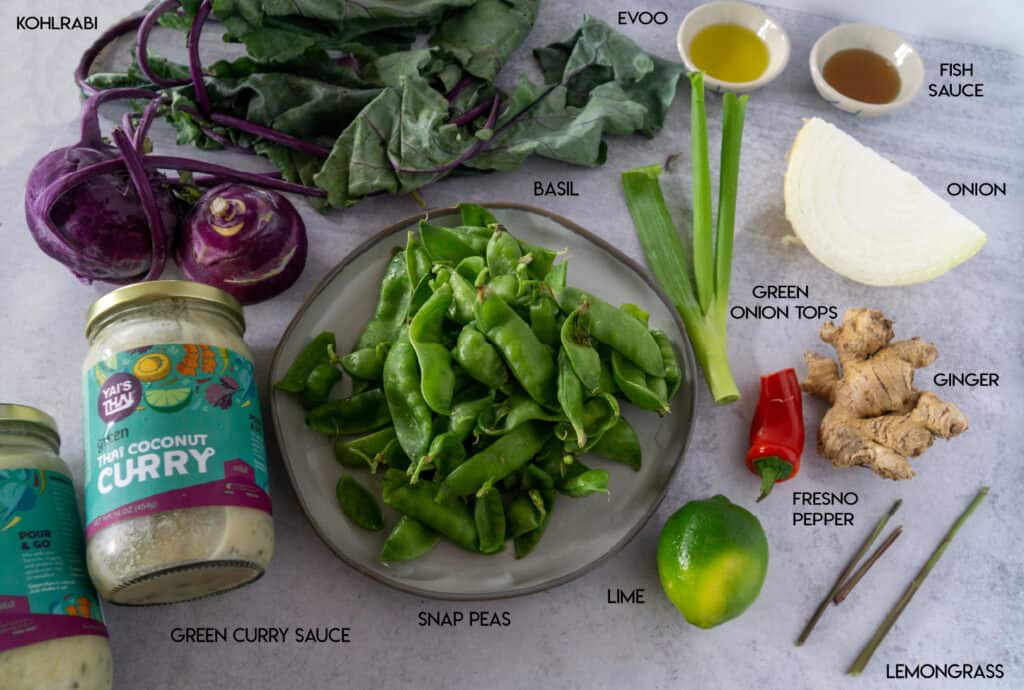 Kohlrabi
Purple kohlrabi adds a beautiful twist of color in this dish, but most kohlrabi is green and that will work just as well!
If you haven't had kohlrabi, it is a fantastic root vegetable commonly grown in the midwest. It has a texture somewhere between a cucumber and a potato and is kind of like a more cabbage oriented jicama.
It's absolutely delicious on its own and offers a lower carb alternative to potatoes in this recipe!
Kohlrabi also pairs excellently with hummus, especially this beet hummus!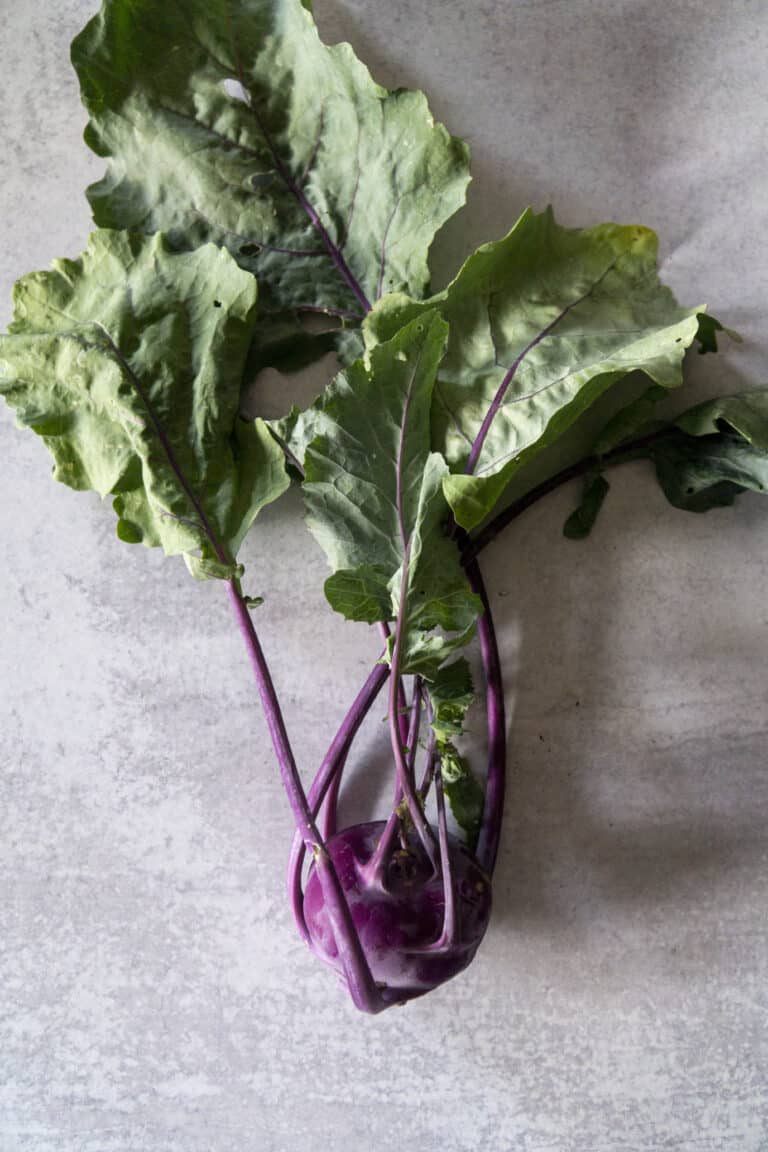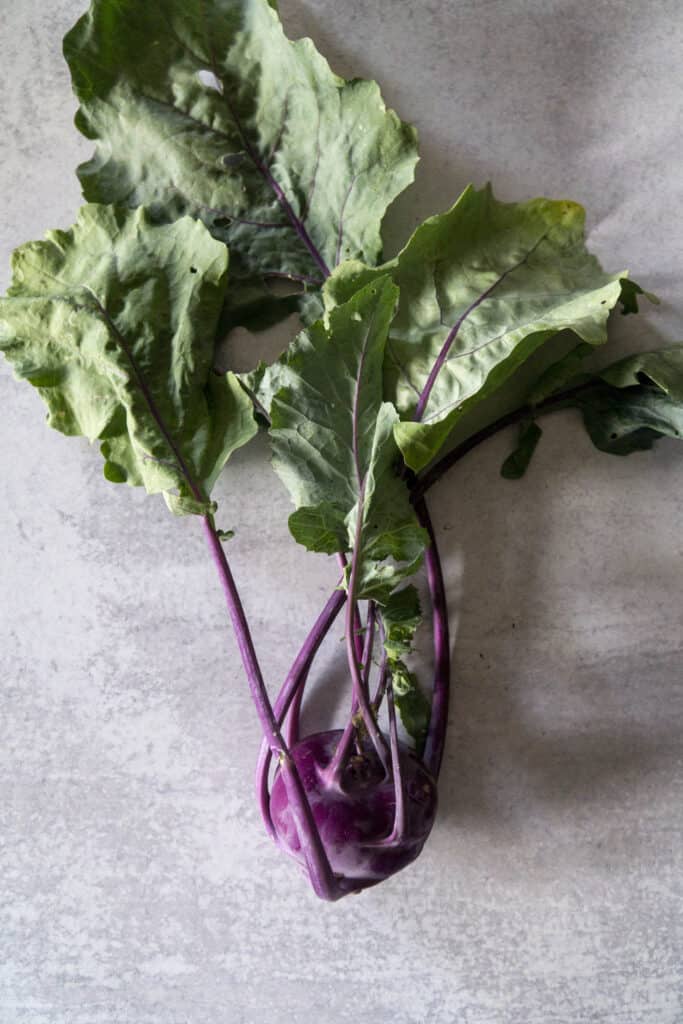 Snap peas
A classic summer harvest, snap peas are fresh, crispy, and reminiscent of long summer days. In this dish, they add a crisp crunch the healthy way and a bright green flare in the finished dish.
The only prep for these peas is to remove the stems at the end where the blossom might still remain.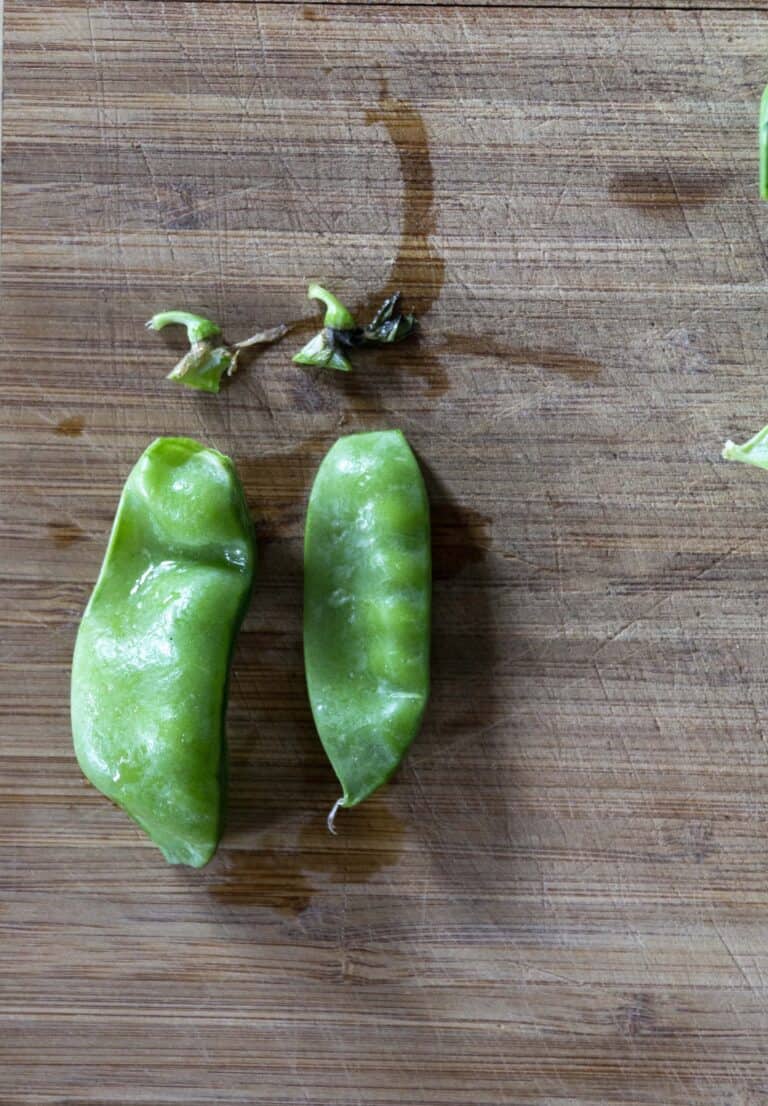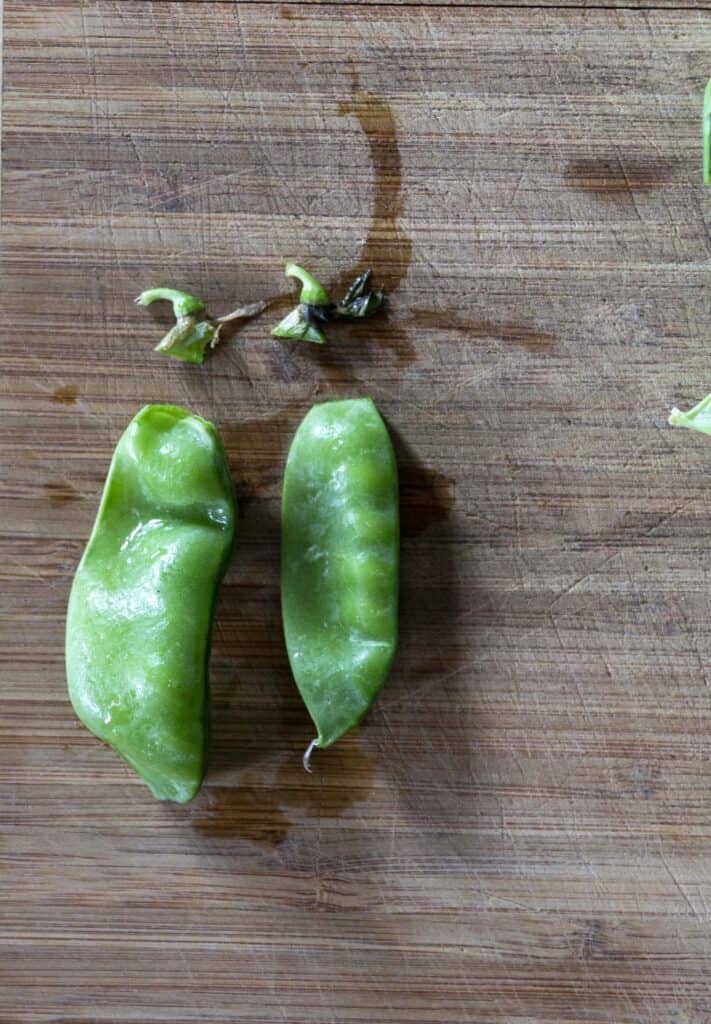 Green Curry Sauce
This recipe calls for full green curry sauce, not paste. The difference is the sauce has coconut milk and lime juice already mixed in. That means that you don't need to add coconut milk yourself. If you have curry paste, check out this pumpkin curry, Chicken curry, or pumpkin curry soup.
In this recipe, I used 2 jars of Yai Thai's green curry sauce. It has a well-blended and fresh flavor for a pre-made sauce.
Adding the extra herbs brightens the flavors and pulls forward the favorite flavors from the pre-made sauce.
Making the Snap Pea and Kohlrabi Green Curry
Get the most out of your herbs and spices
The key to any curry is to bring forward the amazing flavors and aromas of the herbs that flavor your sauce.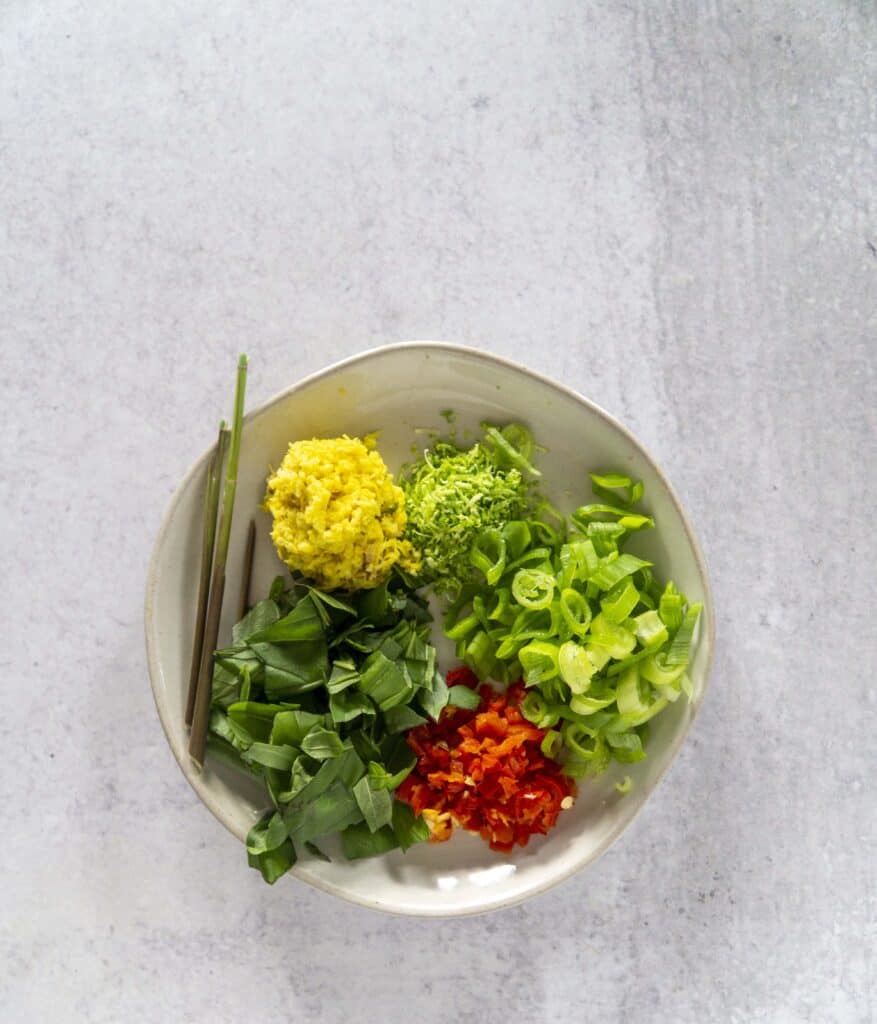 Saute herbs and spices in olive oil and fish sauce
This is best done by sauteeing those herbs or your curry paste in umami filled fish sauce or tamari until aromatic. Since we are using a pre-made sauce, we will saute our additional herbs in the pan before adding the vegetables.
Basically, you will heat up the olive oil and fish sauce together, saute the onions fro about 30 seconds and then add the grated ginger, lime zest, minced pepper, and lemon grass stalks.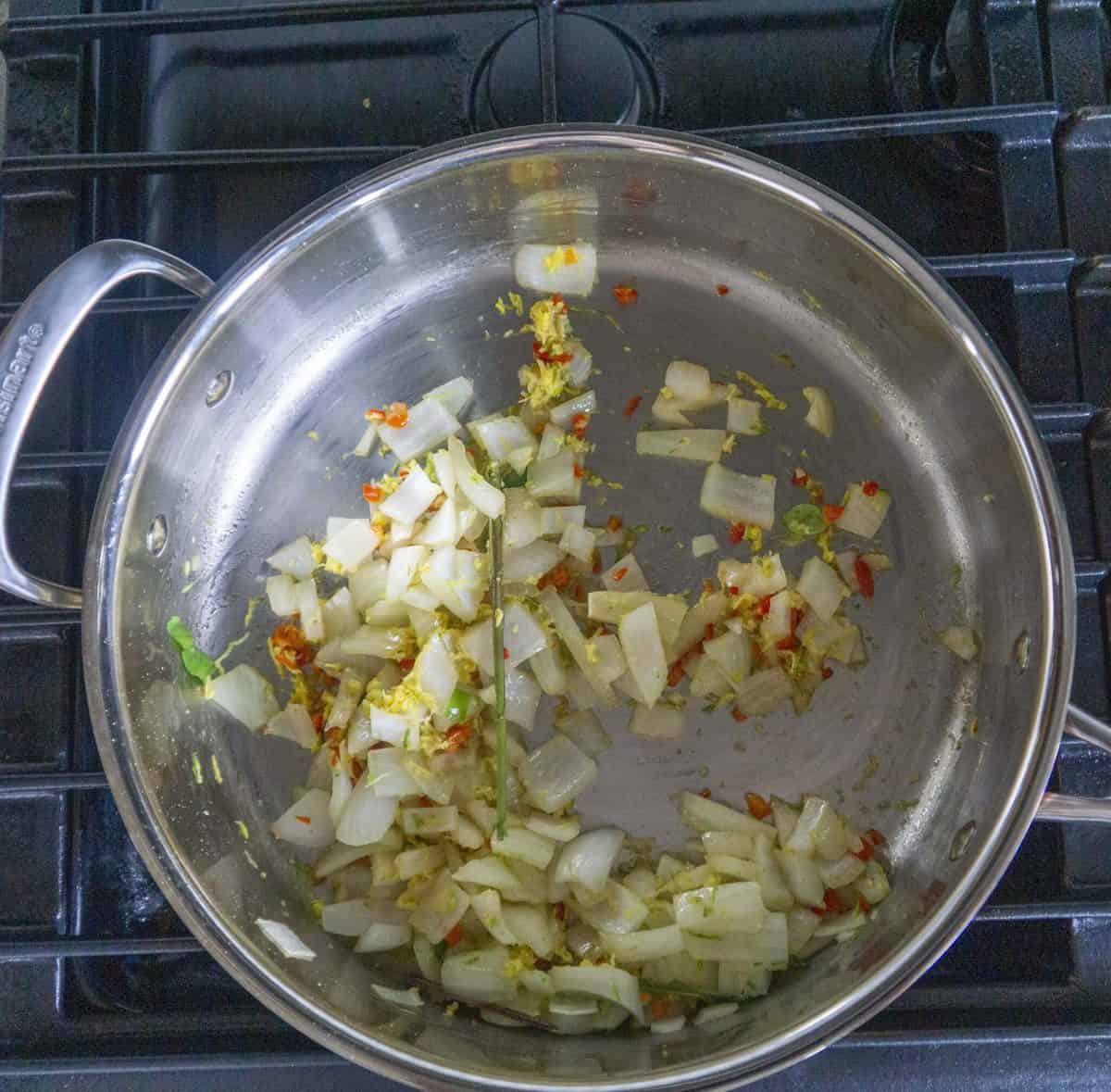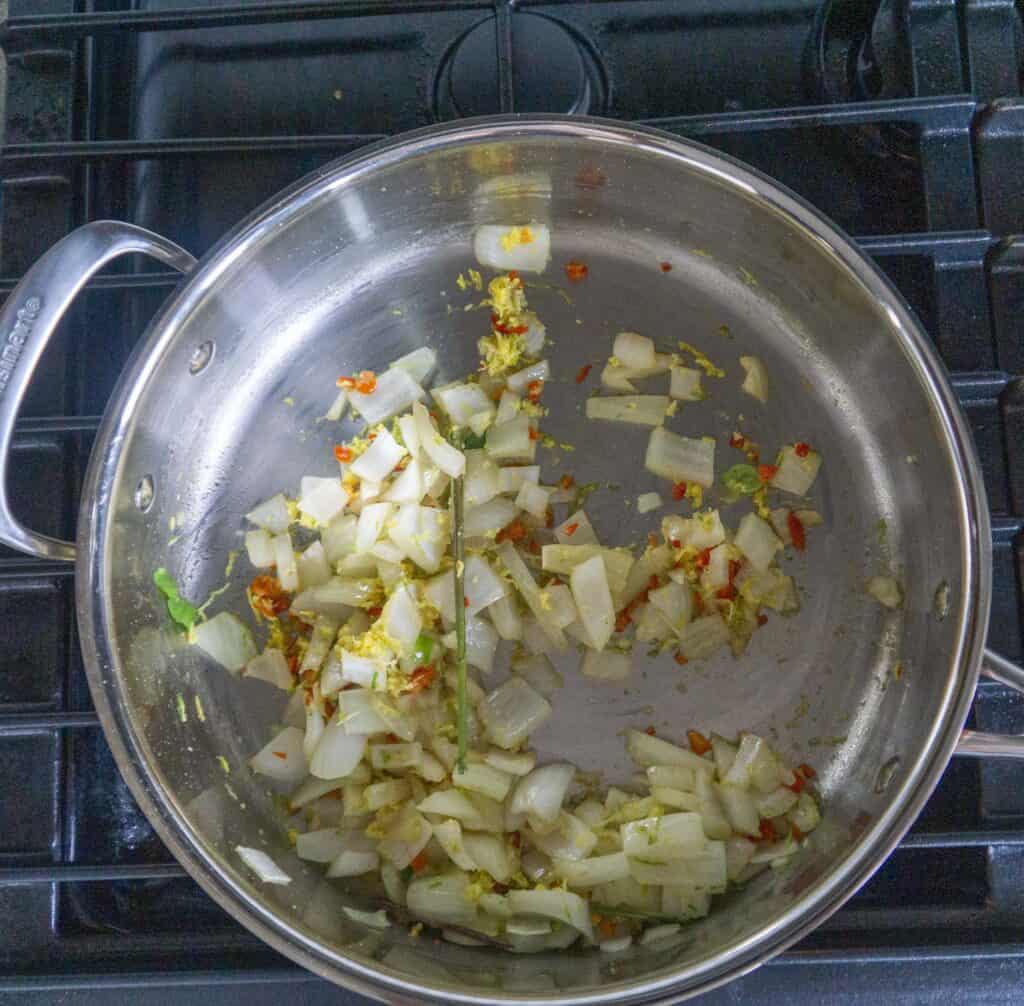 Keep all of the flavors and avoid burning.
If the herbs or onions get stuck on the bottom, add a splash of water to the hot pan and stir to release them from the bottom of the pan.
Fun fact, these little burnt bits are called fond!
Add the veggies and sauce and simmer!
After the herbs saute, you'll add the peas, Kholrabi and kholrabi greens along with the green curry sauce. Mix everything together and let it simmer.
After about 5 minutes, add the green onions and basil and allow those to cook into the sauce for the remaining time.
Reserve a little bit of basil and green onions to garnish the finished dish.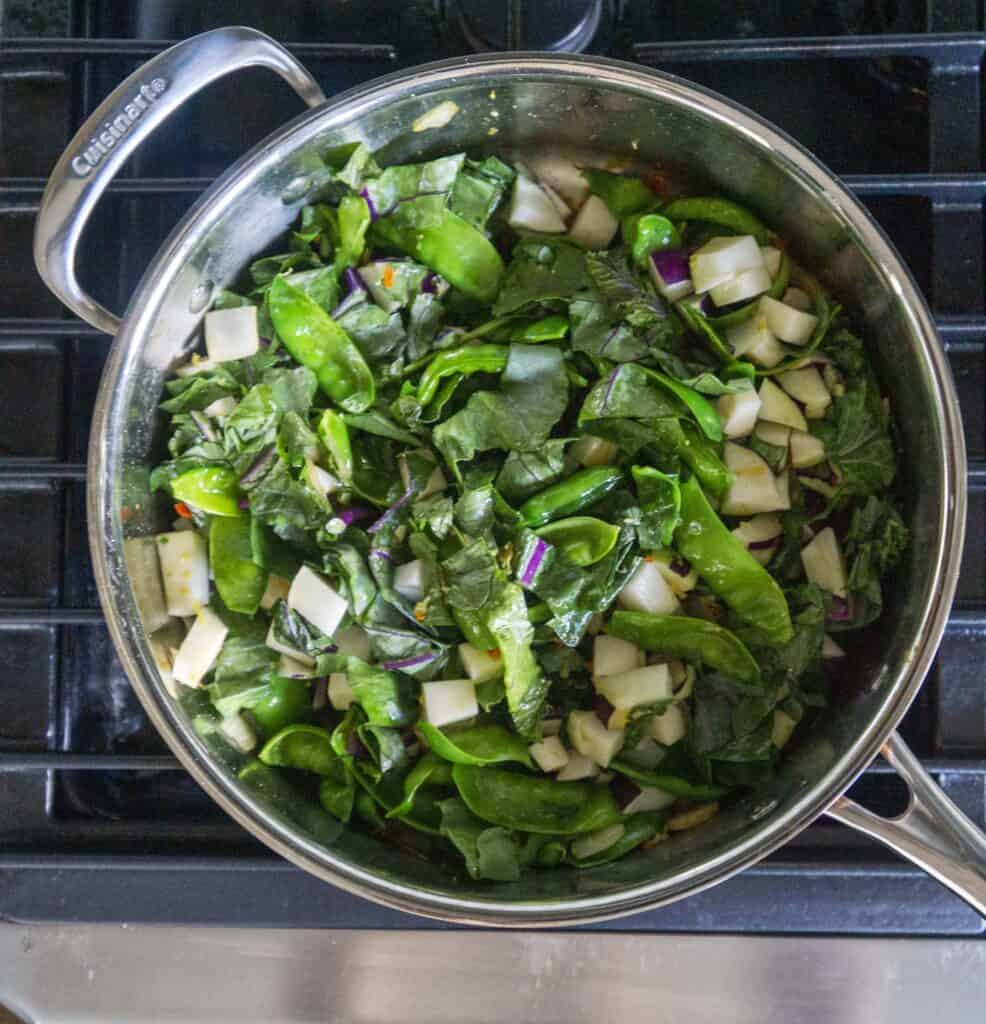 Then add the premade curry sauce into the pan!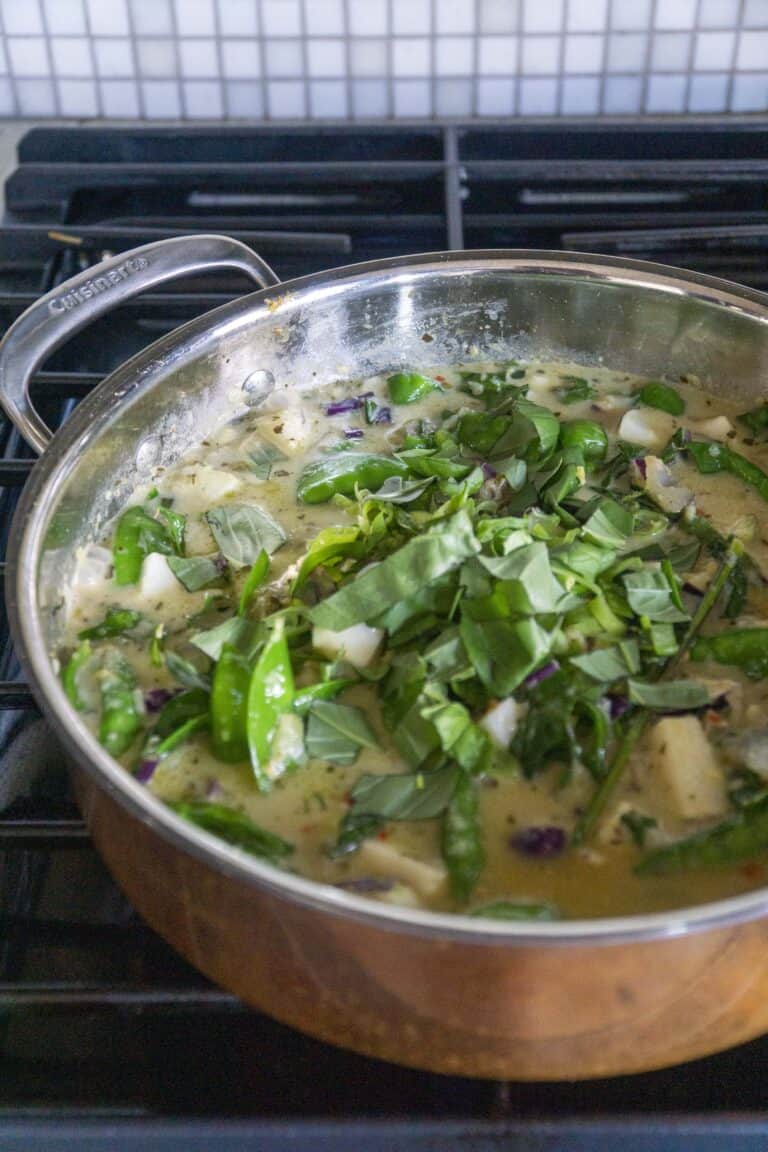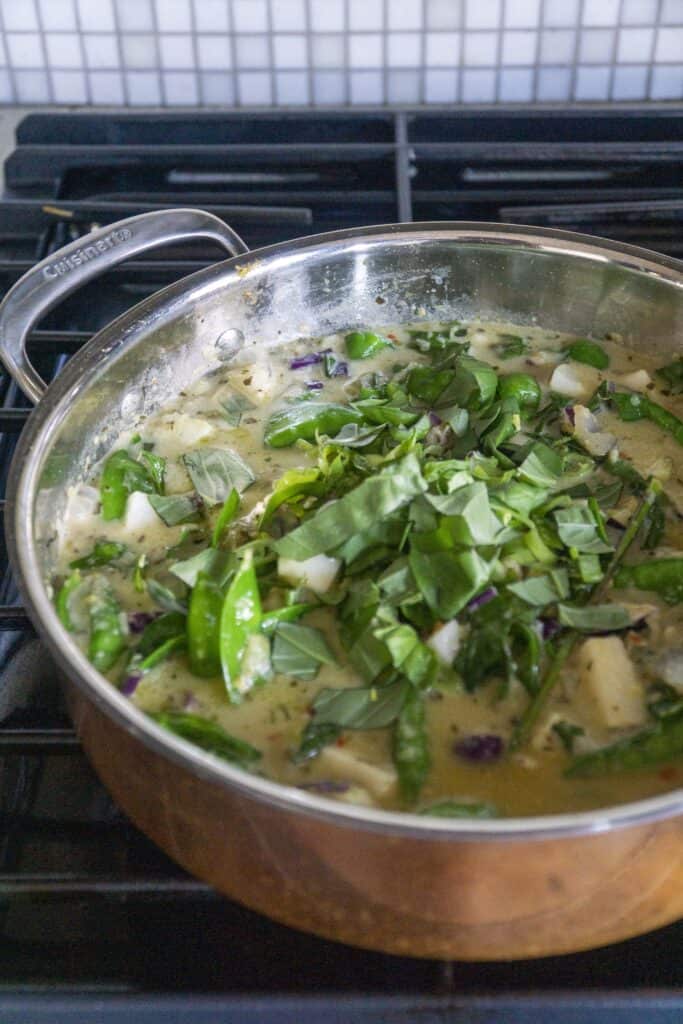 Ready in 5 but can simmer for hours
You'll want to simmer this sauce for anywhere from 5-50 minutes.
It will taste excellent with just 5 extra minutes with the basil and green onion, however, if you have time you can let it go for longer and it will just get more and more flavorful.
Serving the Snap Pea and Kohlrabi Green Curry
This snap pea and kohlrabi curry pairs best with basmati rice and pan-seared chicken thighs. You can also use a lower-carb alternative like cucumber noodles or cauliflower rice.
Garnish with reserved or additional basil and green onions.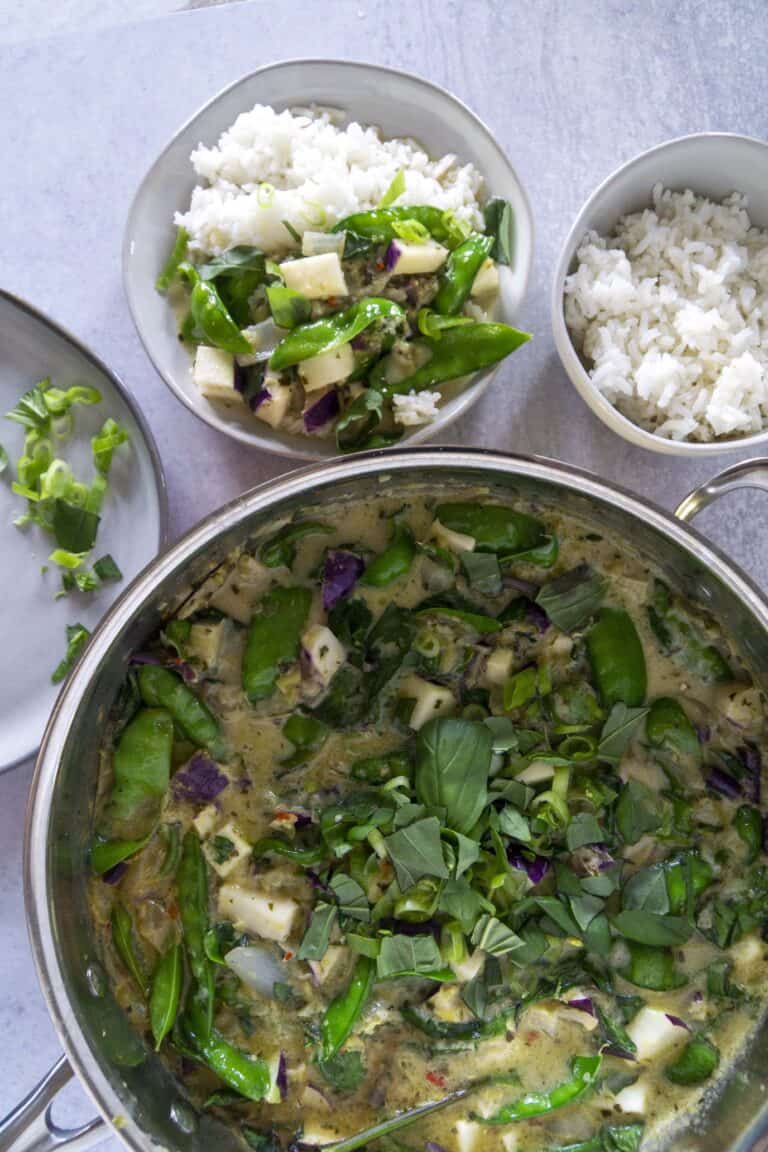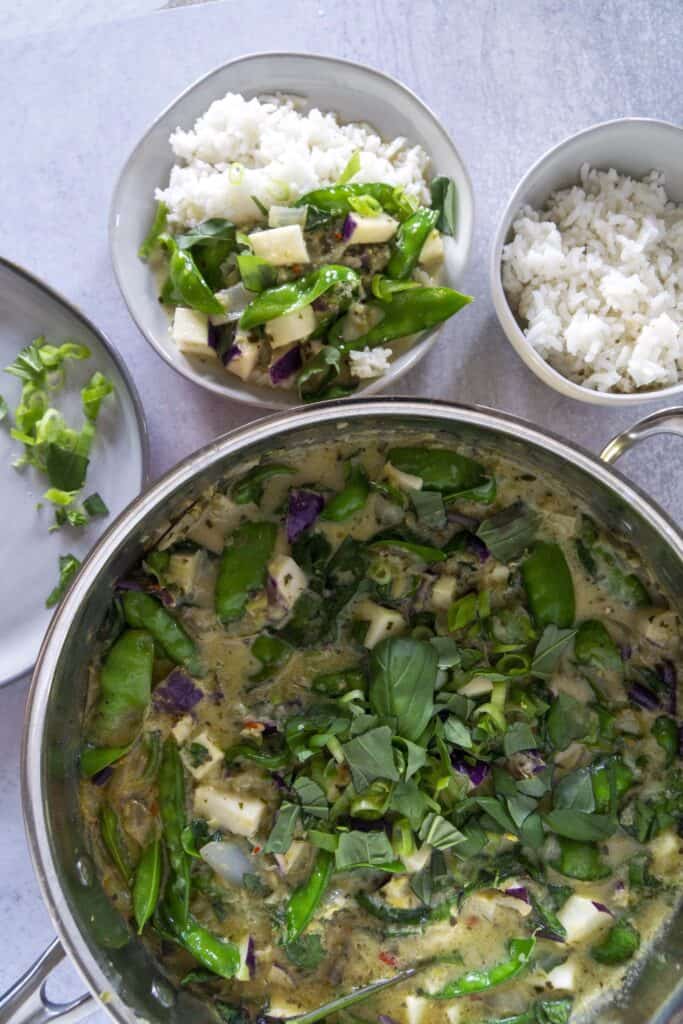 Making the perfect rice to pair with this snap pea and kohlrabi green curry
When making rice to pair with curry, I like to add a little flavor that nods to the main dish. In this case, lemongrass and basil are great flavor-adds to the rice to make it a more full accompaniment tot he saucy curry.
To do this, simply add a few lemongrass leaves and basil leaves to the rice while it cooks. Those flavors will infuse into the water and the rice.
A few drops of olive oil and a splash or two of broth also adds more flavor to the dish.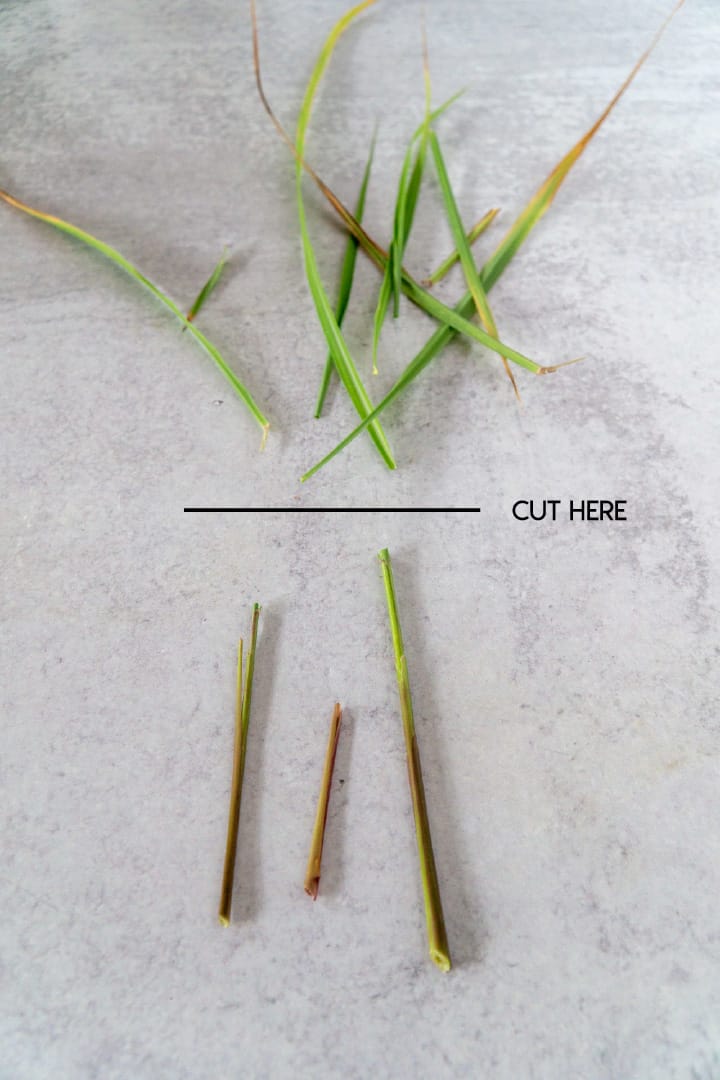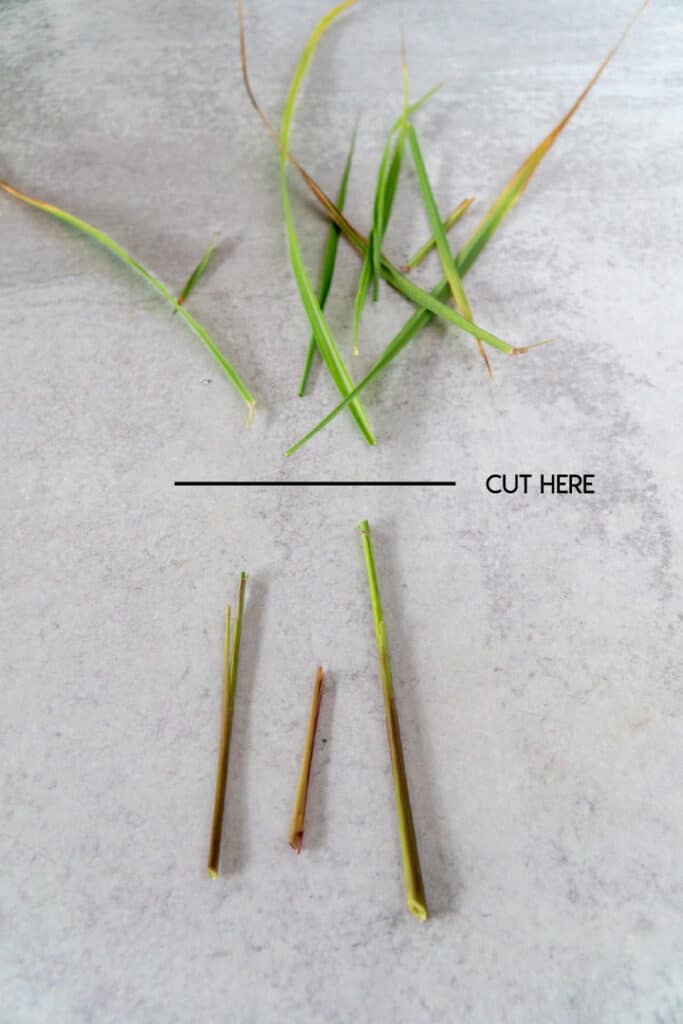 Making it Vegan
The only animal product in this recipe is fish sauce, which is traditionally used in most Thai recipes. It adds salty umami flavors and depth. Fish sauce is like a very strong and condensed fish broth.
Vegan substitutes
However, it is easily substituted with other salty sauces. The two best alternatives are:
Tamari
Coconut aminos
Use tamari as a gluten free soy sauce. If you are avoiding soy and grains, use coconut aminos which have a similar taste. The flavor is more muted in coconut aminos so double the quantity if you choose to use coconut aminos instead of fish sauce or tamari.
If you have no issues with gluten, you can also use regular soy sauce.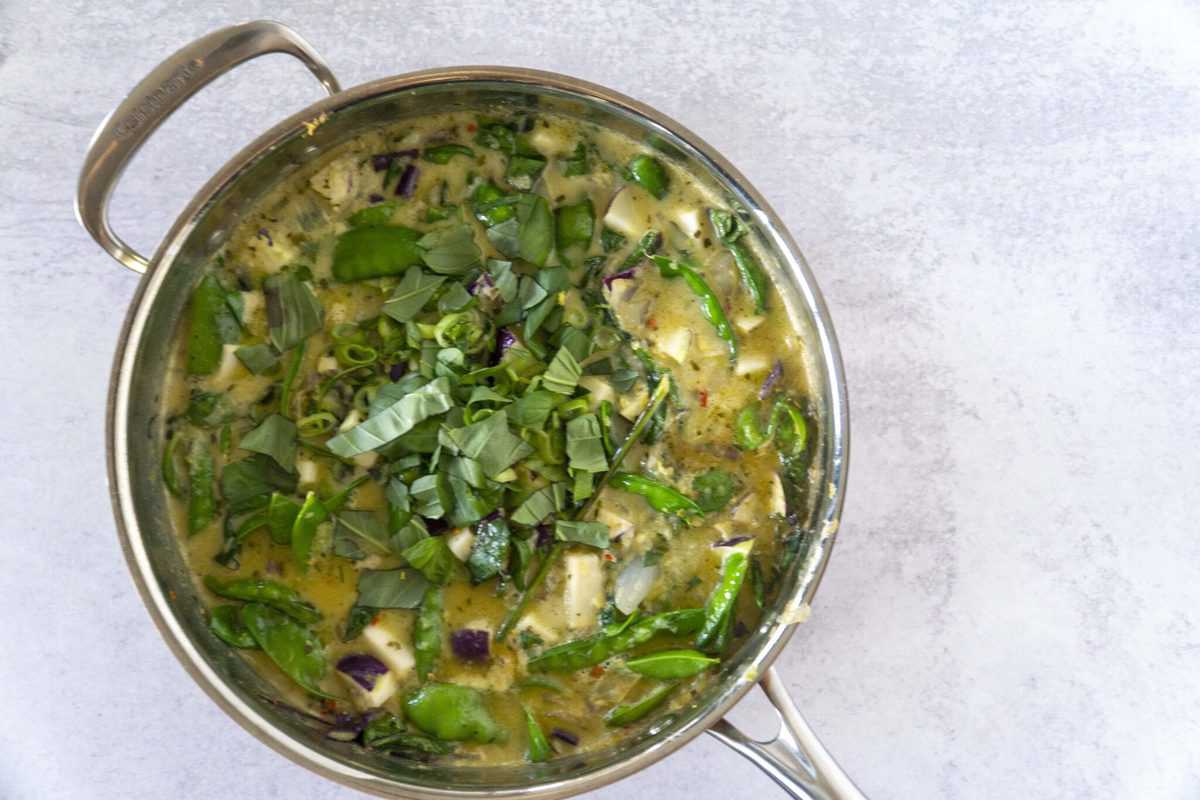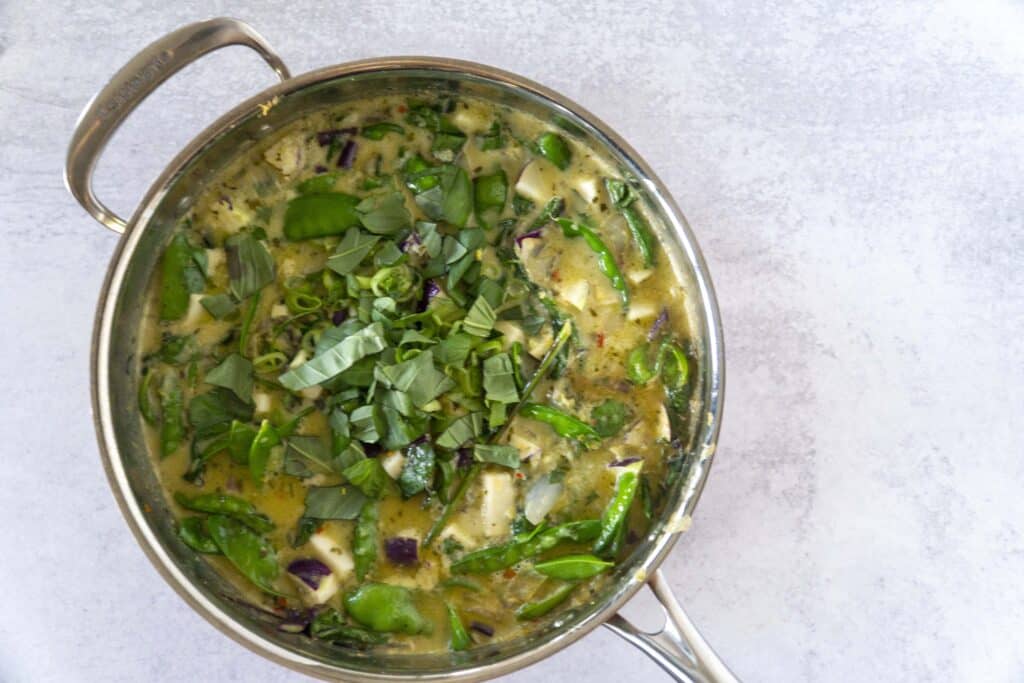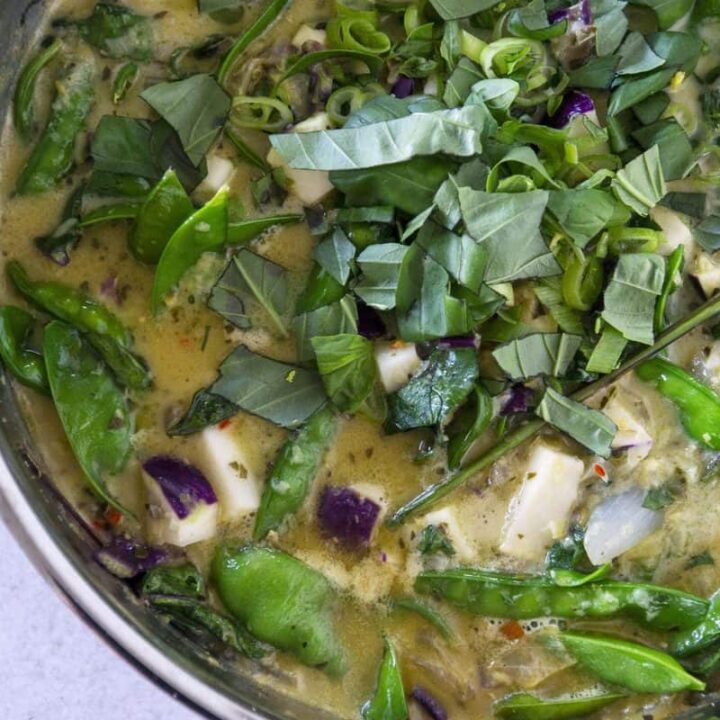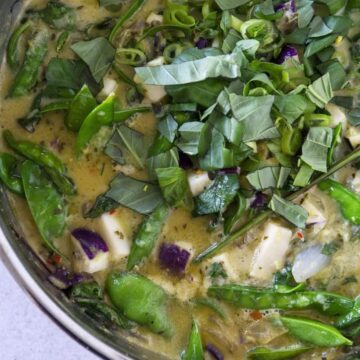 Snap Pea and Kohlrabi Green Curry
This delicious and light veggie curry can be ready in 30 minutes and takes healthy comfort food to the next level. A great way to use your farmer's market haul!
Print
Pin
Rate
Ingredients
2

tsp

Extra virgin olive oil

2

tsp

Fish sauce

1/4

yellow onion

chopped

2 1/2

cups

Snap Peas

2

Kohlrabi with greens attached

include stems

2/3

Fresno pepper

minced

1

tbsp

ginger

grated

2-3

stalks

lemongrass

small

1/2

lime

just the zest

1

green onion

just the tops

2

16 oz jars

Yai Thais green curry sauce

5-10

basil leaves
Instructions
Heat oil and fish sauce in a pan on medium-high heat. Add diced onions and saute for 30 seconds.

Mix in grated ginger, grated lime zest, minced pepper, lemongrass and saute on medium-high for 3 minutes.

Add a splash of water to clear any burnt bits (fond) from the bottom

Remove ends from peas, dice kohlrabi bulbs and stems, coarsely chop Kohlrabi greens

Stir in peas, kohlrabi, and kohlrabi greens and cook down until greens decrease in size by half, about 5 minutes.

Add Curry sauces, basil, and green onions, reserving some basil and green onions for garnish.

Simmer for 5-50 minutes and then serve over lemongrass basmati, cucumber noodles, or cauliflower rice.
Notes
You can make this dish more efficient by chopping and washing as you go. I would dice the onions and grate the ginger and lemon zest before getting started. The rest can be chopped as things cook.
Substitute tamari or coconut aminos instead of fish sauce for a vegan version
Nutrition
Calories:
121
kcal
|
Carbohydrates:
10
g
|
Protein:
3
g
|
Fat:
8
g
|
Saturated Fat:
5
g
|
Sodium:
195
mg
|
Potassium:
272
mg
|
Fiber:
3
g
|
Sugar:
4
g
|
Vitamin A:
387
IU
|
Vitamin C:
45
mg
|
Calcium:
39
mg
|
Iron:
1
mg
This nutrition information does not tell the whole story of food's nutritional value! Make sure to use your gut intuition on what your body needs, eat your veggies and get 30 plants a week for optimal gut health. This nutritional data is calculated based on above values and standard brands. This information may vary.