What to do with a chuck roast? That was the question that started this journey. The only recipe I'd previously used chuck roasts for is pot roasts, which are less than exciting in my book. I'm hoping that you can find joy in this way tastier version of a chuck roast, my oven-roasted slow-cooked pulled beef.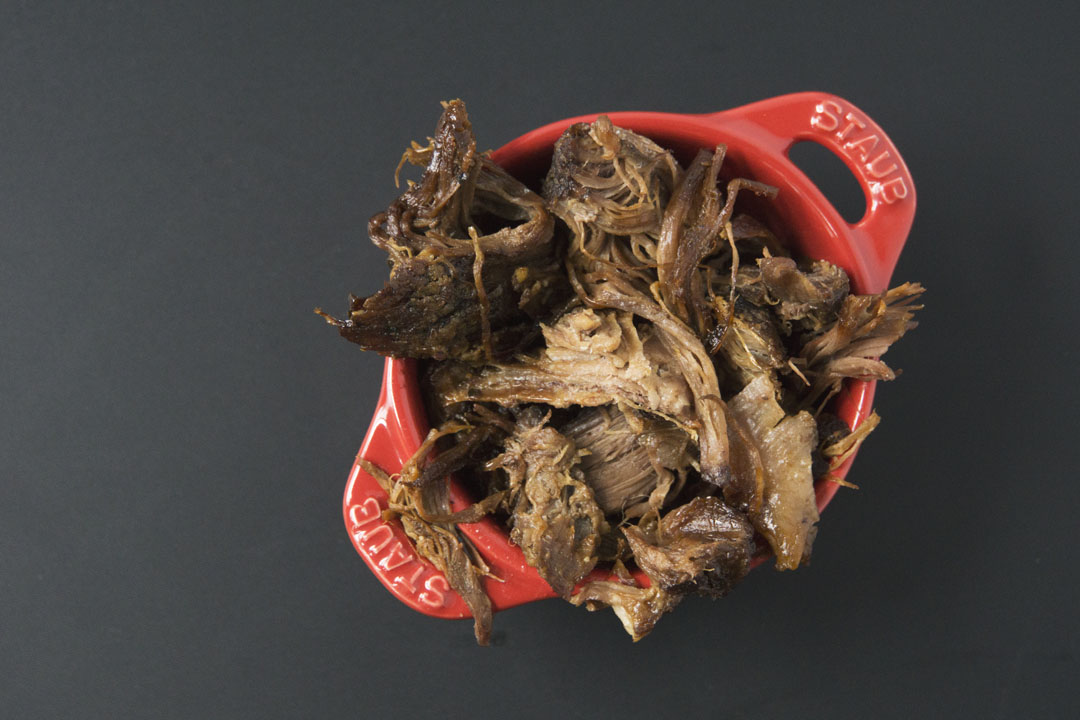 A Better Purpose for Chuck Roast
As you may know, I try to buy my meat in bulk from local, trustworthy farms. These farms treat their animals humanely and value sustainability.
Part of that sustainability is using the whole animal. This means I often end up with certain cuts of meat that I'm not used to using when buying in bulk. Which is why I had 3 chuck roasts in my freezer and no idea what to do with them!
I really didn't want to make a pot roast!
After a quick Pinterest search, I realized that I had accidentally been saving the best for last! Because you can totally use a chuck roast (or any big honkin roast) to make pulled beef! So I went ahead and used that chuck roast to make slow cooked pulled beef in the oven and it was amazing!
I can't believe I had been sitting on this magical cut for so long.
Pulled Beef Inspiration
This roast turned pulled beef recipe that I'm sharing with you today was inspired by my pulled pork recipe and the talented Danielle Walker's beef short ribs from her cookbook Celebrations.
It ended up being a super simple recipe only using ingredients I had on hand. And I can't stop making it!
A Simple Recipe - This Pulled Beef will turn into a Classic
This recipe has become a staple because it is so easy to make. It is very flexible and forgiving, and I usually have all of the ingredients on hand. Also, it makes quite a large portion so it is great for entertaining or meal prep. Any extra freezes excellently.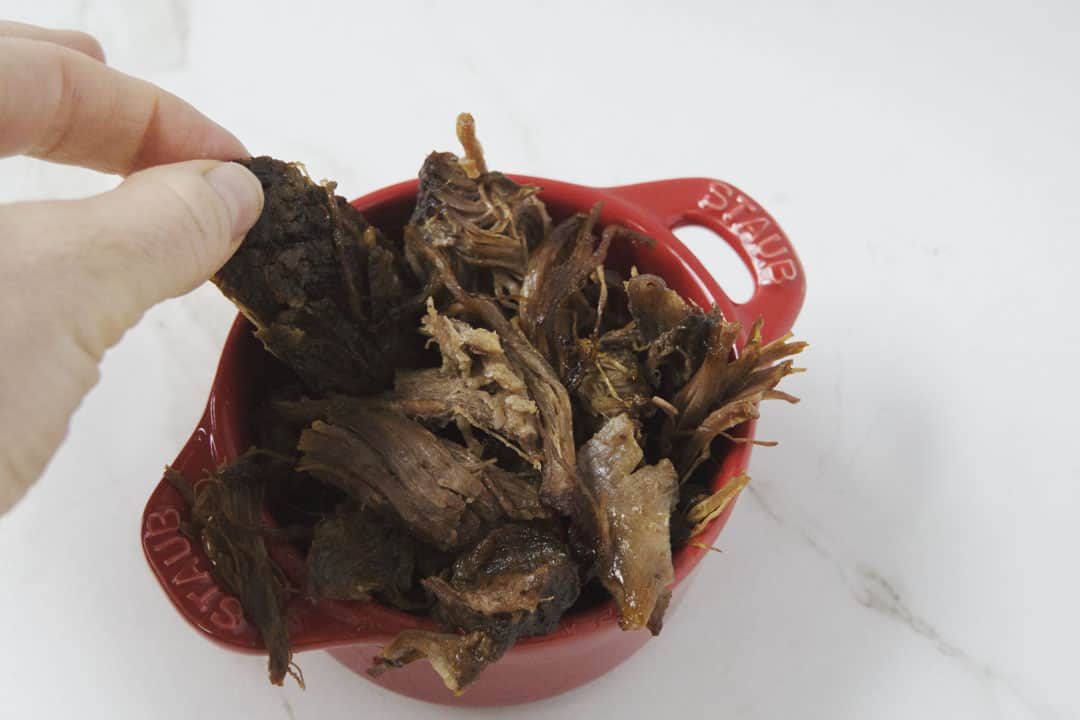 It might even turn into a good excuse to open some wine because you'll need the leftovers for this main dish.
This slow cooked pulled beef pairs well with anything you'd expect pulled beef to go well with:
mashed potatoes
tacos
pureed parsnips
a hearty breakfast scramble
pumpkin curry
did I mention tacos?
or just on its own at a BBQ.
Making the Pulled Beef in the Oven
This recipe brings summer indoors all year long. It also makes a great second choice to a smoker. No need for grills, warm weather, or early mornings with the smoker with this recipe.
But the oven doesn't get all the glory.
This adventure starts on the stove. You'll want to use a dutch oven so you can sear the meat on the stove top and then transfer the pan to the oven to continue slow cooking.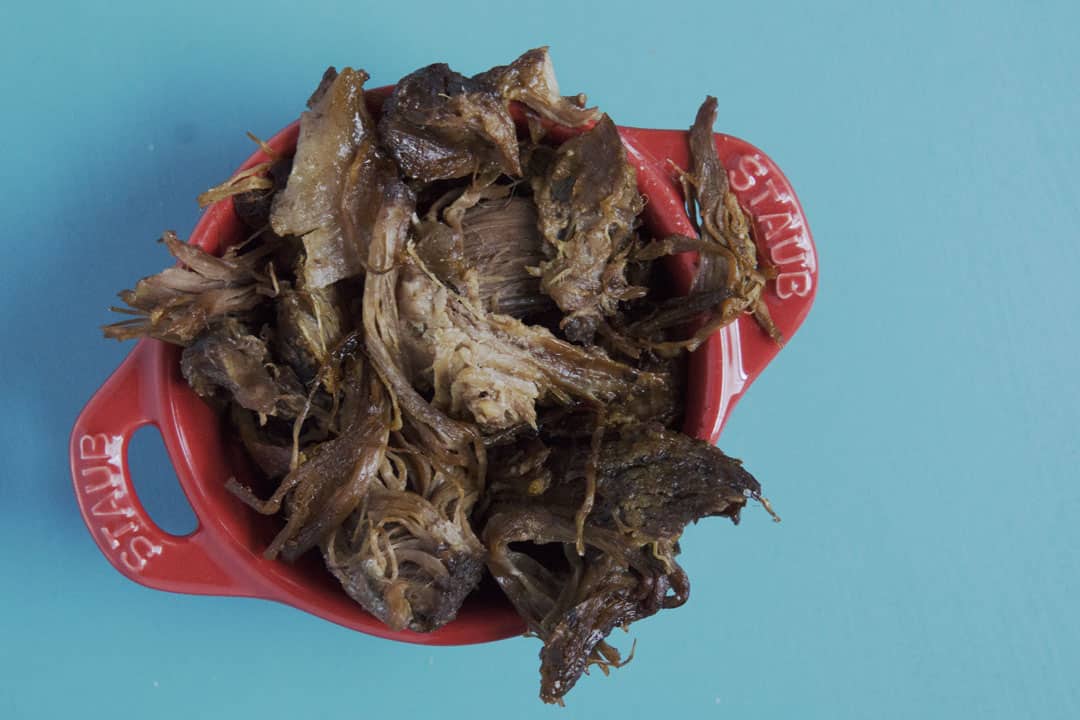 Browning the Meat
You'll start by pre-heating the oven to 200 degrees F and putting your dutch oven on the stove top on medium heat.
Next, add your Ghee or fat replacement (lard or coconut oil would work equally well) to the dutch oven so it can melt. Once melted, add your room temperature chuck roast.
At this point, you will begin browning the meat. Each side will take turns browning. That means each side will be on the surface of the dutch oven for 1-3 minutes before you flip the roast to brown on another side. While one side is searing, salt and pepper the other side.
The process looks like this:
Add meat to the dutch oven with hot ghee
Salt and pepper
Use tongs to rotate roast to the next side
Salt and pepper top facing side of roast
Continue until all 6 sides are browned, salted, and peppered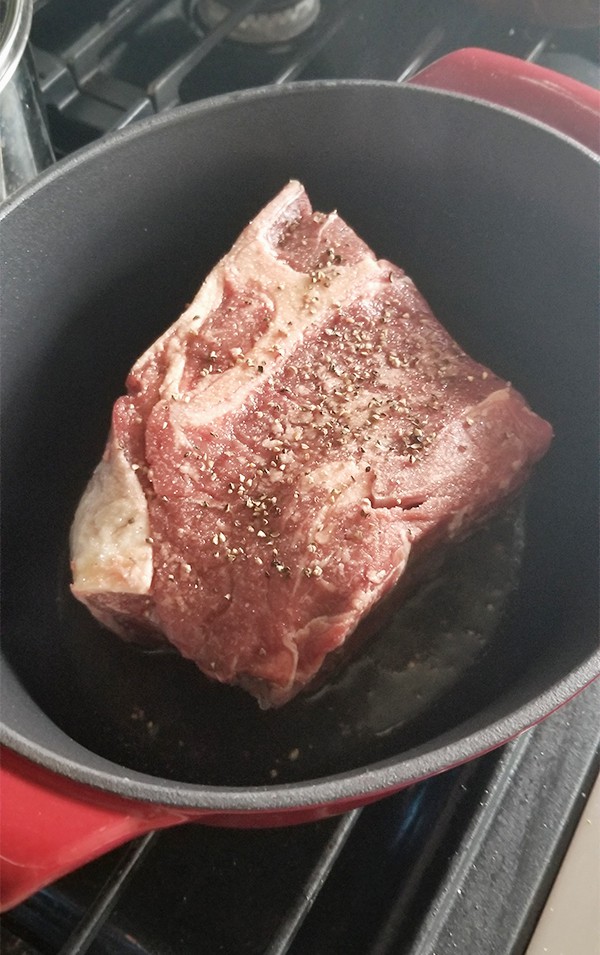 Adding the Sauce and Seasonings
You will need to add the sauce after the meat is browned, salted, and peppered.
First, add the onions and garlic (or whatever other vegetables you have on hand that you decide to sub in). This allows those vegetables to brown for a minute while you get ready for the next step. This is the point where you would add any additional vegetables to your pot.
Next is the wine. Pour the red wine over the meat making sure it gets to the bottom of the pan. This will help saute the vegetables and release the flavor from the bottom of the pan.
Last is the broth. Pour the broth evenly over the other ingredients. This will provide additional nutrition and moisture to keep the pulled beef tender.
Slow Cook in the Oven
This step is very hands off. You can place the covered dutch oven in the preheated oven and let it sit for about 6 hours. Cooking with the oven on ensures that the moisture stays inside the dutch oven thereby locking that moisture into your super tender beef.
The final step is to cook the beef in the oven with the cover removed. This browns the top of the beef, giving you the sought after burnt ends. It can also help reduce the sauce.
Once it's done, remove the pulled beef from the oven and let it cool for 5-10 minutes. Then use a fork to shred the beef apart into delicious and beautiful slow cooked pulled beef.
Slow Cooked Pulled Beef Ingredients
The ingredients are simple and I usually already have them at the house. On top of that, this recipe is quite flexible. If you don't have garlic or onion but you do have celery and carrot, that will be totally cool!
Don't worry, you can't mess up this slow cooked pulled beef!
The Ingredients:
The key ingredients for slow cooked pulled beef are ghee, chuck roast, red wine, bone broth, and seasonings. The seasonings I used are garlic, onion, salt, and pepper. However, those are very flexible.
Veggies and Seasoning
Feel free to substitute shallots or scallions. Use red, white or yellow onions. Skip both garlic and onion using celery and carrot instead. Fennel bulb, parsley, cilantro or rosemary would also be great additions.
Use salt and pepper when browning the meat. For this recipe, I recommend Himalayan sea salt and fresh cracked black pepper.
Dry Red Wine
The wine can be any red wine, however dry red pairs best. Make sure to use a higher quality wine that you would actually drink. If you replace it with a super sweet or low-quality wine you will see that reflected in the flavor profile of the finished dish. Nobody wants jammy slow cooked pulled beef.
The wine gives flavor, so you don't want to use a wine that has gone off or a bad wine. I used a Woodbridge cab sav for this recipe but any dry red will do!
Bone Broth
Following the theme of flexibility, you can also use any broth for this recipe. Since it is a beef dish, ideally you would also use beef broth. However, chicken, bison, or other poultry broth will work just as well.
I usually take a jar of homemade broth out of the freezer for this. Making your own broth is super easy! Just add vegetables, bones and cold water to a soup pot and let the mixture simmer for 6-32 hours. Go here for the full guide on how to make your own bone broth.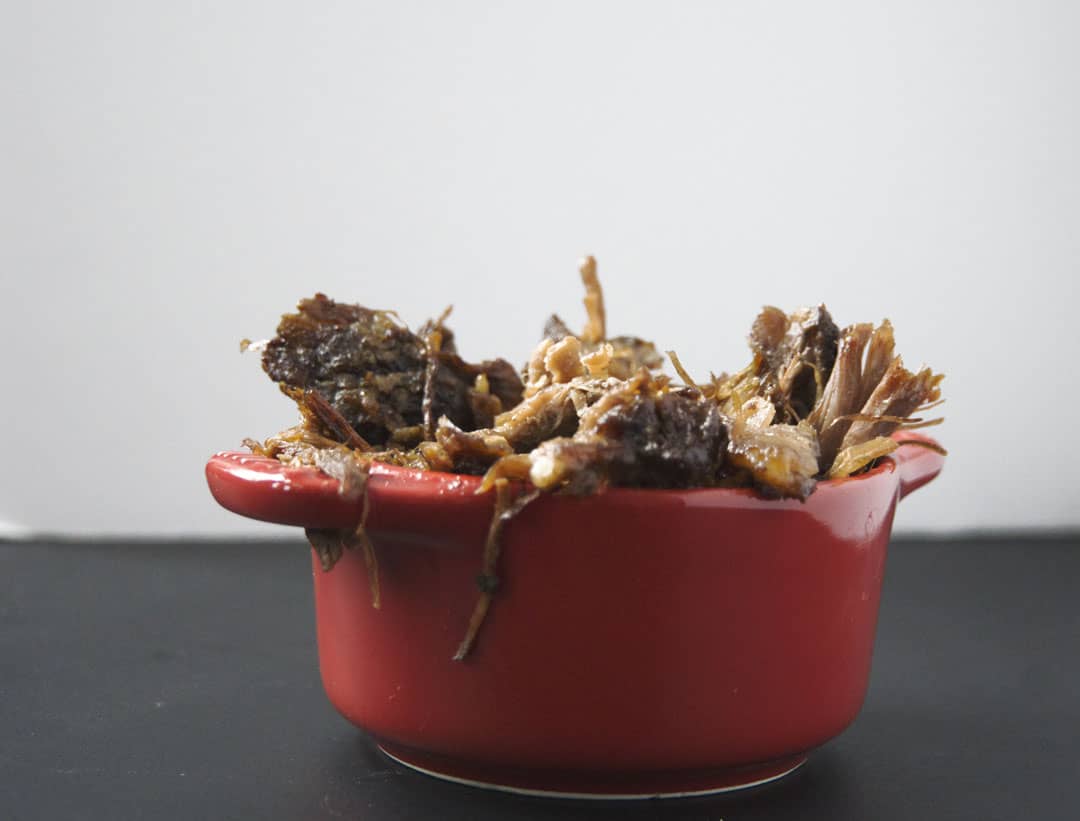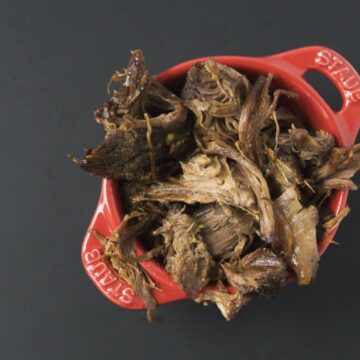 Slow Cooked Pulled Beef
Pulled beef seared and slow cooked in a dutch oven with wine and broth, perfect for curries, tacos, or just on its own.
Print
Pin
Rate
Ingredients
2

lb

chuck roast

2-3

tbsp

ghee

1

clove

garlic

1/4

cup

diced white onions

1/2

bottle of red wine

good stuff that you would actually drink

1 1/2

cups

bone broth

1

tsp

Himalayan sea salt

1/2

tsp

pepper
Instructions
Bring chuck roast to room temperature and preheat the oven to 200 F.

Put a dutch oven on the stove on medium-high heat. Add ghee, making sure the melted ghee fully coats the bottom of the dutch oven.

Place chuck roast in dutch oven to brown for about 1 minute. Flip and brown each side for 1 minute or until the edge is light brown.

salt and pepper the chuck roast on each side as you flip and brown

Add garlic and onion to Dutch oven. Add wine and let simmer for 1 minute.

Add bone broth to Dutch oven.

Cover the Dutch oven and place the entire chuck roast in the preheated oven. Bake for 6 hours.

Remove the lid and continue cooking the beef for an additional 45 minutes.


Remove from oven and let sit for 10 minutes.

Remove beef from the sauce. Using a fork, pull beef apart into pulled beef.
Notes
Cooking time varies depending on the weight and shape of your cut. A smaller or thinner cut will cook faster than a more round cut or a heavier and larger cut. Adjust accordingly.
This recipe freezes well and can be used in tacos, pumpkin curry, pumpkin pasta, risotto, and basically anything else you think pulled pork would be great in.
It's a great way to use the full animal and reduce waste.
Nutrition
Calories:
191
kcal
|
Carbohydrates:
1
g
|
Protein:
16
g
|
Fat:
11
g
|
Saturated Fat:
5
g
|
Cholesterol:
59
mg
|
Sodium:
268
mg
|
Potassium:
296
mg
|
Fiber:
1
g
|
Sugar:
1
g
|
Vitamin A:
10
IU
|
Vitamin C:
1
mg
|
Calcium:
15
mg
|
Iron:
2
mg
This nutrition information does not tell the whole story of food's nutritional value! Make sure to use your gut intuition on what your body needs, eat your veggies and get 30 plants a week for optimal gut health. This nutritional data is calculated based on above values and standard brands. This information may vary.