Is it possible that this adorable little dessert has parsnips and a green vegetable more nutritious than Kale? You've got to be kidding, right?

NOPE!

These little nuggets are to-die-for and loaded with nutritional value, plus just the right amount of sweetness and tang. As usual, they are free of gluten, refined sugar and artificial flavors or coloring of any kind. They are excellent themed desserts for St. Patrick's Day, Earth Day, and any other day you might want to celebrate the color green!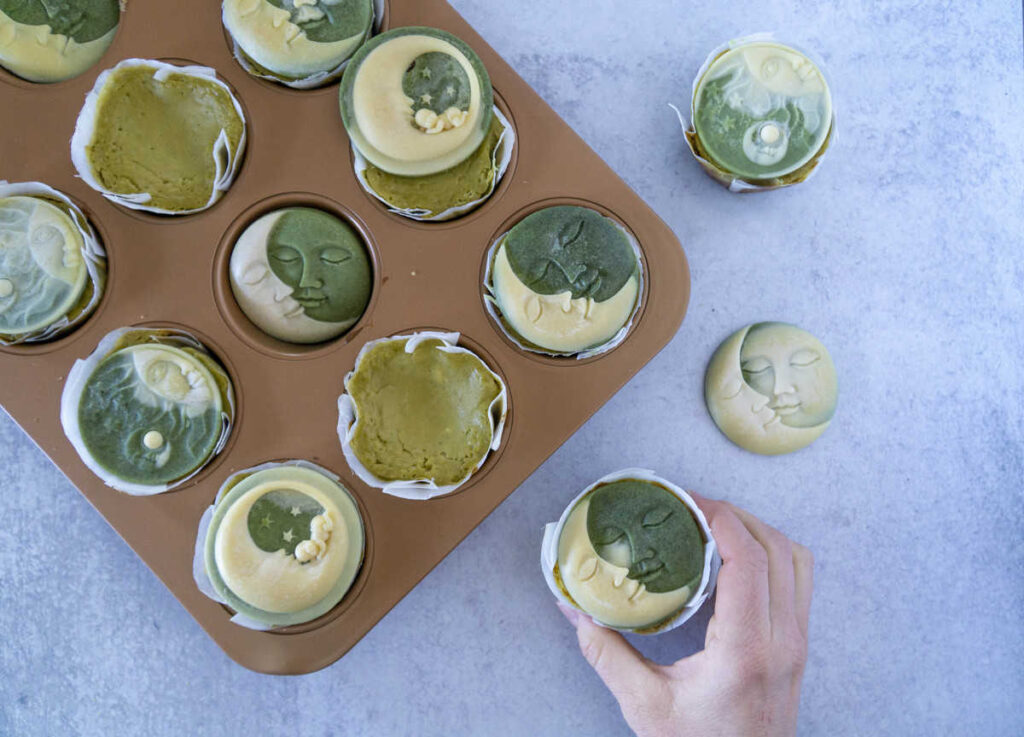 Why this Recipe Works
The goat cheese gives the slightest tang to these miniature cheesecakes which deepens the flavor into something irresistible. Paired with the homemade white and green chocolate moon-disks, these individual treats are a perfect mix of tangy-sweet, cream, and crunch.

Besides the moringa and parsnips, the crust is made primarily from nutritionally-rounded nuts with a touch of sweetness from unrefined maple syrup.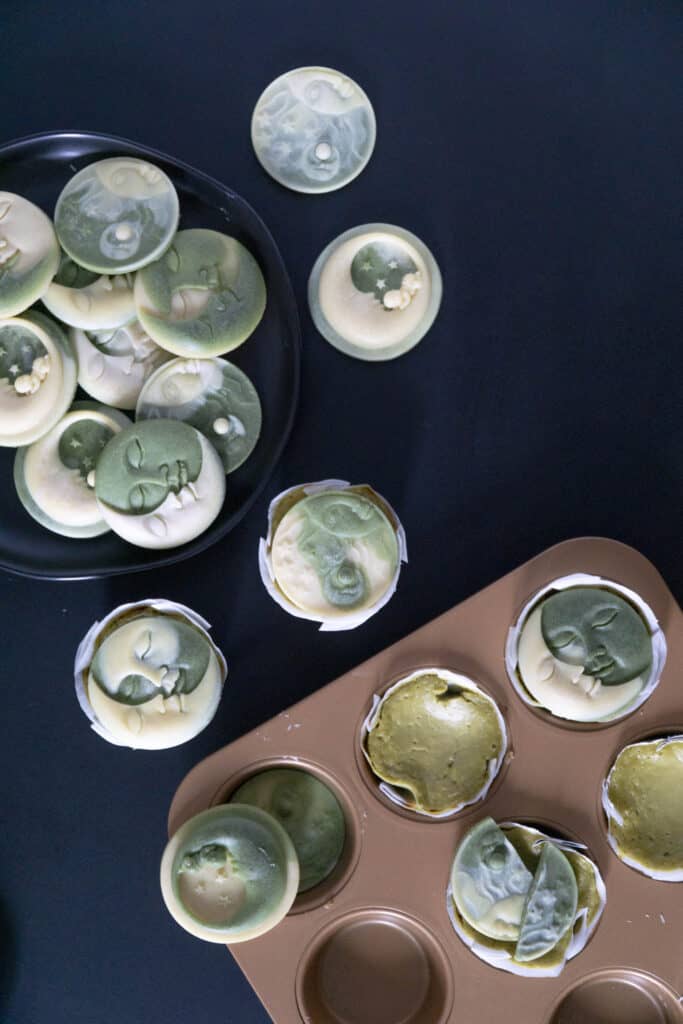 Making the White and Green Chocolate Moons
Homemade White Chocolate ingredients
White chocolate you find in the store is typically loaded with fillers and sugar, but the core ingredient that makes it white chocolate is actually healthy.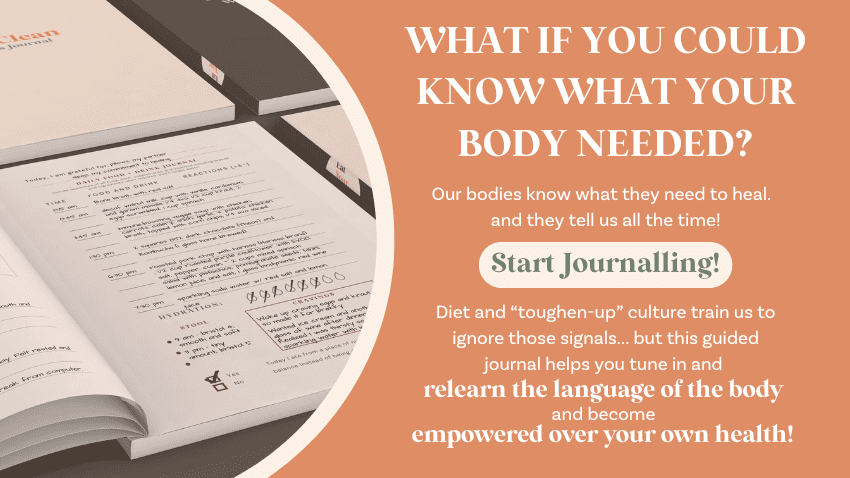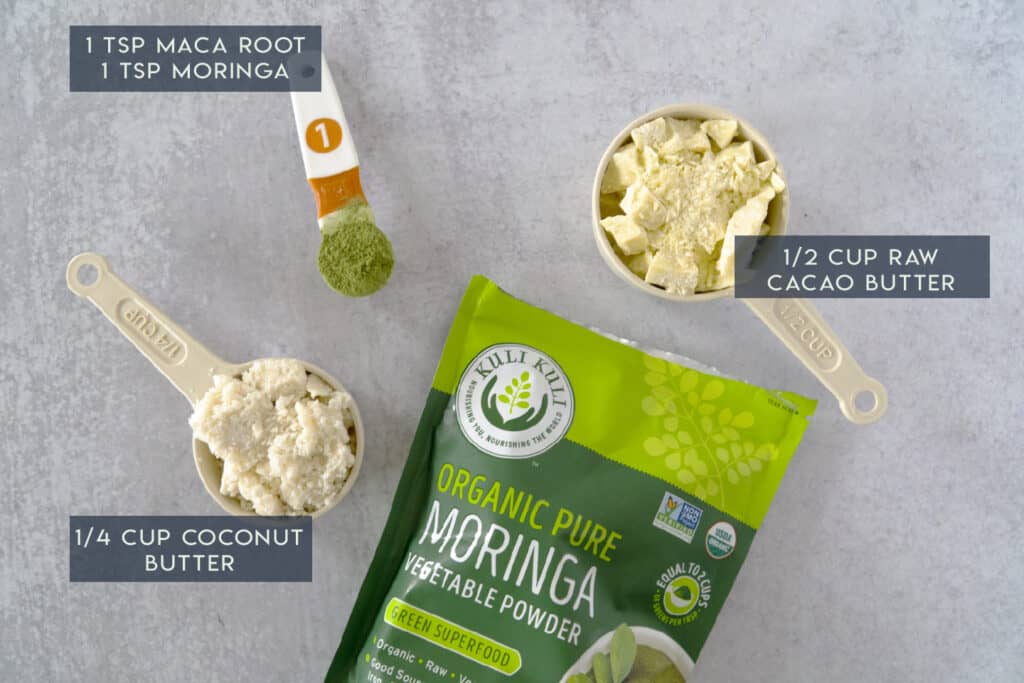 Raw Cacao Butter
Raw Cacao Butter is the defining ingredient of white chocolate. Dark chocolate is a mix of cacao butter and cacao liquor or the entire cacao nib. White chocolate simply uses just the fatty cacao butter.
Moringa – a clean green
Moringa leaves are harvested from large tropical trees. They are typically harvested in Africa and sold in powder form. The powdered moringa has a similar smell to matcha, but a nutritional profile stronger than Kale.

I used which I got a conference. The company is working hard to improve the lives of its farmers and use sustainable and organic practices. I was excited to find some creative ways to use Moringa outside of adding it to smoothies.
Cleaner White Chocolate
This white chocolate lets the raw cacao butter shine as the main ingredient. Coconut butter and maca root add stability while also adding nutritional value.

You'll notice what this white chocolate doesn't have: sugar, milk, or fillers and stabilizers. This white chocolate recipe is free of added sugars and naturally gluten-free and dairy-free.
Making the White Chocolate
You can reduce this recipe into two steps
Melt ingredients
Pour ingredients into the molds and wait
The most important part is to keep an eye on the chocolate ingredients so they don't burn on the stove. They only need light heat and a gentle whisk to fully melt together.
Take turns between the white and green chocolate
First, make and pour the white chocolate into the molds. Place the chocolate into the fridge until the chocolate hardens.

Then melt the green chocolate ingredients on the stove and gently pour on top of the white chocolate in the molds. Again, move to the fridge until the chocolates harden.

Gently remove from the molds and serve on top of the cheesecakes or by themselves!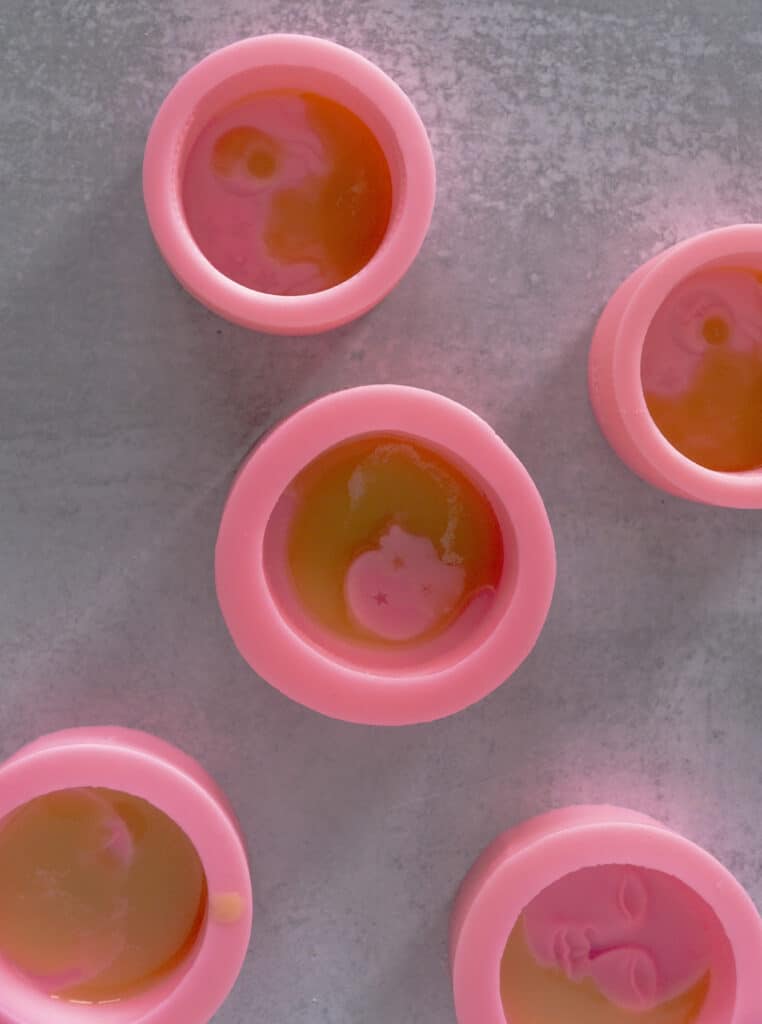 The Most Beautiful Sun and Moon Molds
Making gorgeous chocolates is all about the molds and these molds are a dream! I've been using them non-stop since I saw them on Will Frolic For Food's Feed.

I saw these silicone moon molds and had to have all the varieties. They are so adorable.

Who doesn't want chocolate suns and moons?

I couldn't just stop at the beautiful moons, I had to have a combination. For these, I used a combination of all three of these molds: sun and moon, a baby sitting on the moon, and the sun and stars together.
Expert tips for making your own white chocolate
The key is to avoid burning. It happens fast and ruins the chocolate. If the mixture turns the slightest hint of golden brown, you've overheated the mixture and need to start over.

When pouring the chocolate into the molds, make sure it isn't too hot. This should be pretty easy if you keep the mixture on low heat, whisking frequently, and remove from heat as soon as the individual ingredients are melted.
The Moringa Goat Cheesecakes
The Cheesecake Ingredients
I don't usually use dairy in my recipes, but this recipe is a lot better with the real stuff.

The Goat cheese is organic and local, reducing exposure to unnecessary chemicals like growth hormone and antibiotics and thereby reducing the negative sinus symptoms I often get from dairy.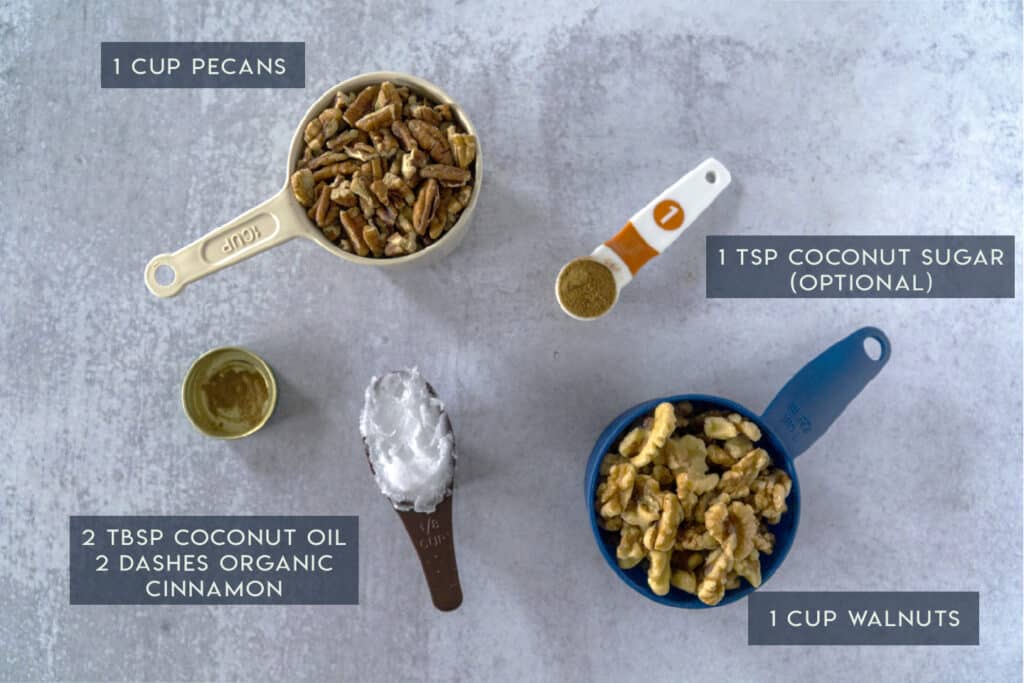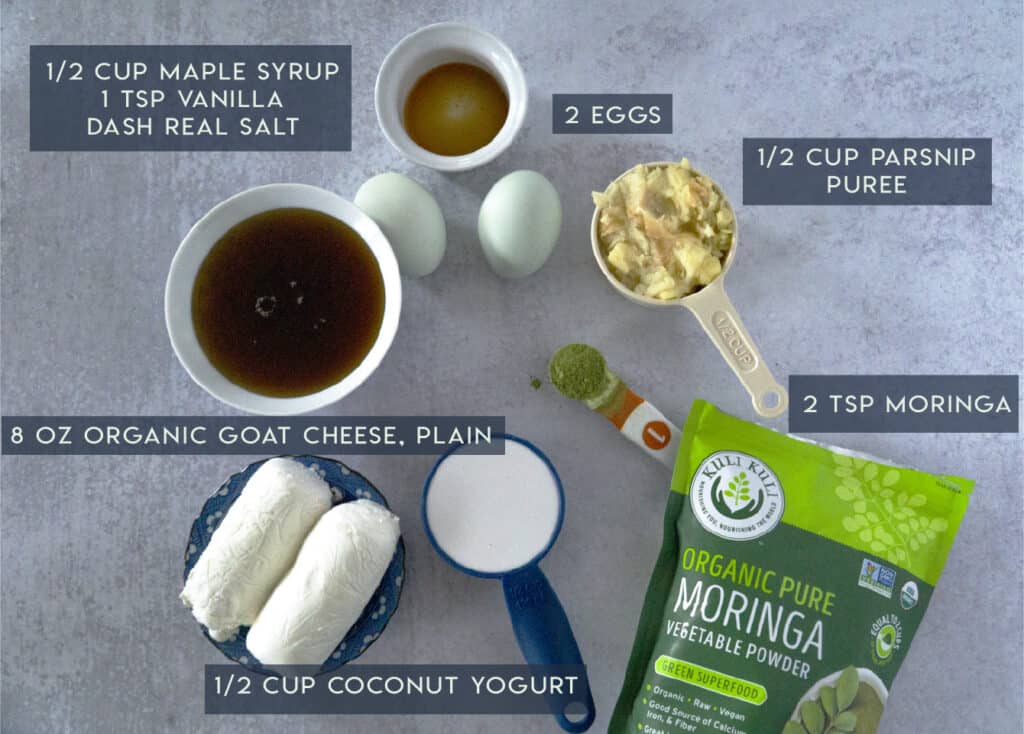 Gluten-Free Cinnamon Nut Crust
Nut crusts are the simplest to make. It's as easy as crushing up cookies yet it tastes much better and is a lot healthier.

All you have to do is grind the nuts in a blender and then hand-mix the oil, sugar, and spices.

The crust is great without the sugar, too. If you are looking to cut down even further on sugars you can easily make this recipe without the coconut sugar called for in the crust.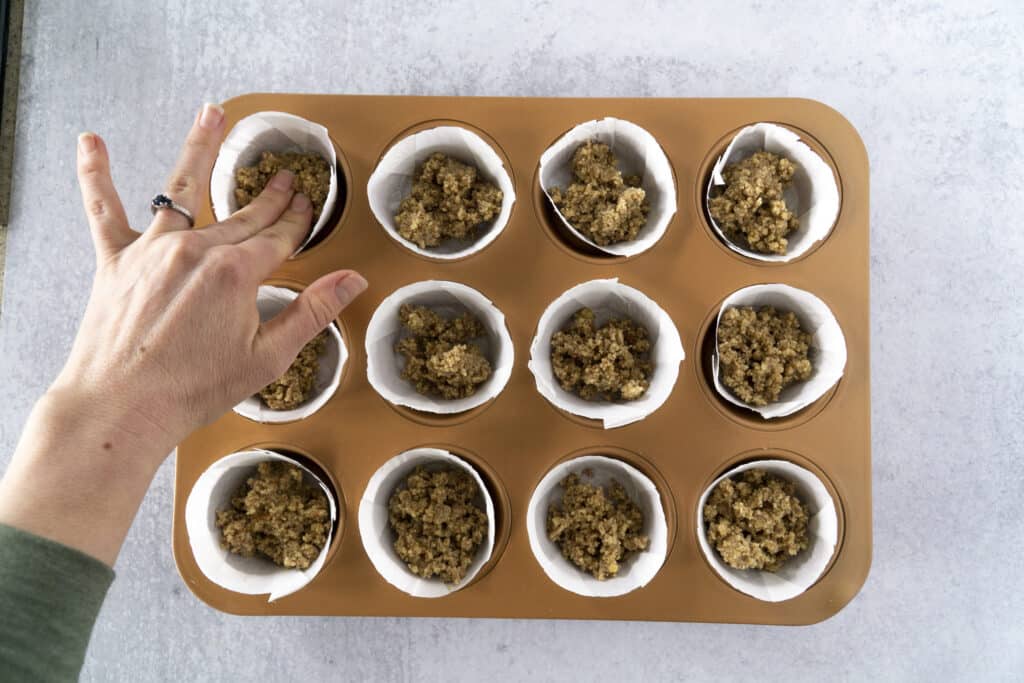 Creamy Moringa Goat Cheese Filling
Again, the filling couldn't be simpler. Just blend the ingredients together until smooth and creamy.

This works best in a blender with puree mode.
Baking the completed mini cheesecakes
There are four steps to this recipe
Blend the nuts and mix in other ingredients
Push the nuts mixture evenly into muffin tin
Blend filling ingredients
Pour into muffin tins and bake
When filling the muffin tins with the crust, distribute the nut mixture evenly amongst all muffin wells first. This helps to evenly distribute the mixture amongst all of the future cheesecakes.

After the crust is evenly distributed, use your fingers to lightly push the ground nuts into the bottom of each muffin well.

Pour the blended filling on top of the nut mixture, again distributing it evenly in each cup. You can fill the mixture to the top of the muffin wells because they will not rise during baking.

Bake until they are no longer jiggly. That means they are done!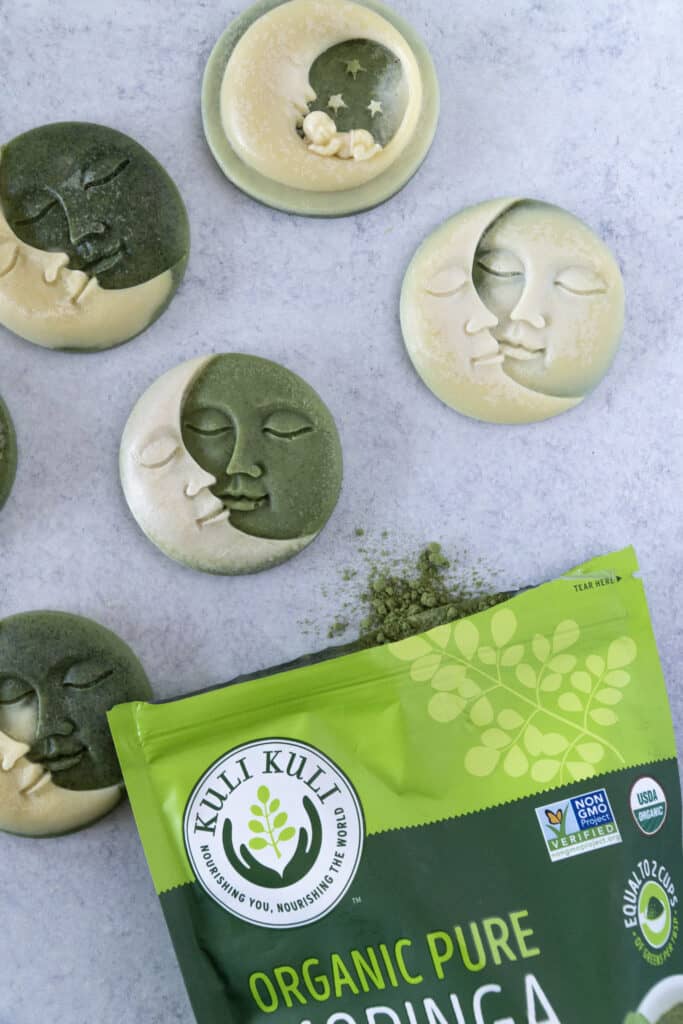 Expert Tips to make Mini Moringa Cheesecakes
Pour a thin layer of white chocolate first so that some of each mold is empty. This allows the green chocolate to appear.
Keep the chocolate on low and watch it closely to prevent burning
Don't over-pulse the nuts, they need to stay crumbly. Over blending will turn them to nut butter and ruin the texture.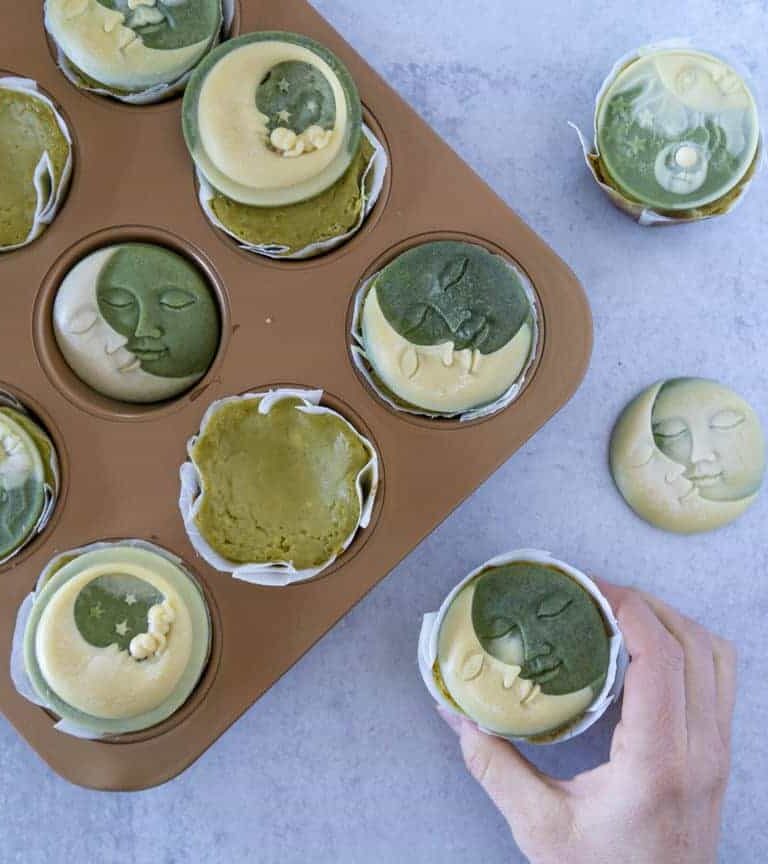 Mini Moringa Cheesecakes with White Chocolate Moons
Description
A slight tang from the goat cheese, just the right amount of sweetness, and natural green color accompanied by tons of protein, potassium, and vitamins A, B, and C from Moringa. These miniature cheesecakes are absolutely delicious and loaded with hidden vegetables.
Crust
Moringa Goat Cheesecake Filling
White and Green Chocolate Moons
Instructions
Preheat oven to 350 degrees
Crust
Pulse nuts in a blender on the pulse setting until finely ground, being sure not to let the nuts turn into nut butter. You can use the salsa setting on the ninja blender making sure to stop and wipe down the sides.

Remove from the blender and mix in coconut oil, cinnamon, and coconut sugar until well combined.

Divide evenly into a lined muffin tray and push down into the bottom of the muffin cups, making a firm lining of the nut mixture.
Moringa Goat Cheesecake Filling
Blend all ingredients in a blender until well combined

Pour evenly into the muffin tins on top of the nut crust
Mini Moringa Goat Cheesecakes
Bake for 25-27 minutes or until a knife comes out clean. Let it cool and then serve and enjoy!
White and Green Chocolate Moons
Melt 1/2 cup of cacao butter and 1/4 cup of the coconut butter on very low heat in a pot on the stove. Whisk in maca root until all ingredients are melted and combined

Pour lukewarm white chocolate mixture into molds, transfer to refrigerator and let cool for 15-25 minutes or until firm

Melt the remaining cacao butter and coconut butter in another soup pot on the stove on very low heat. Whisk in moringa until combined.

Pour lukewarm green chocolate mixture into molds on top of the white chocolate. Transfer to the refrigerator and let cool for 15-25 minutes or until firm
---
Amount Per Serving

% Daily Value *

Total Fat 29g

45

%

Saturated Fat 9g

45

%

Cholesterol 37mg

13

%

Sodium 102mg

5

%

Potassium 179mg

6

%

Total Carbohydrate 19g

7

%

Sugars 10.99g

Protein 9g

18

%
---
Vitamin A

690

IU

Calcium

101

mg

Iron

2

mg
* This nutrition information does not tell the whole story of food's nutritional value! Make sure to use your gut intuition on what your body needs, eat your veggies and get 30 plants a week for optimal gut health. This nutritional data is calculated based on the above values and standard brands. This information may vary. Percent Daily Values are based on a 2,000-calorie diet. Your daily value may be higher or lower depending on your calorie needs. Tried this Recipe? Tag me Today! Mention @EatYourWayClean or tag #EatYourWayClean!
Note
Pour a thin layer of white chocolate first so that some of the molds is empty. This allows the green chocolate to appear. 
Keep the chocolate on low and watch it closely to prevent burning
Don't over-pulse the nuts, they need to stay crumbly. Over-blending will turn them into nut butter and ruin the texture.
Find the molds here. 
And the Moringa here. 
Inspired by Will Frolic For Food's Pumpkin Cheesecakes.
BREAKFAST, MEAL TYPE, PALEO, RECIPE, SPECIAL DIET