Fall is like my new years, or maybe I should say my January. I get super motivated around this time of year to just kill it. This fall I started a new job and three workout challenges along with at least 3 self-improvement goals, including but not limited to learning all of wordpress and creating a table out of a cottonwood tree with a hand sander. Oh yeah… all while trying to maintain 8 hours of sleep nightly and a peaceful zen state about my life. Yayyyyy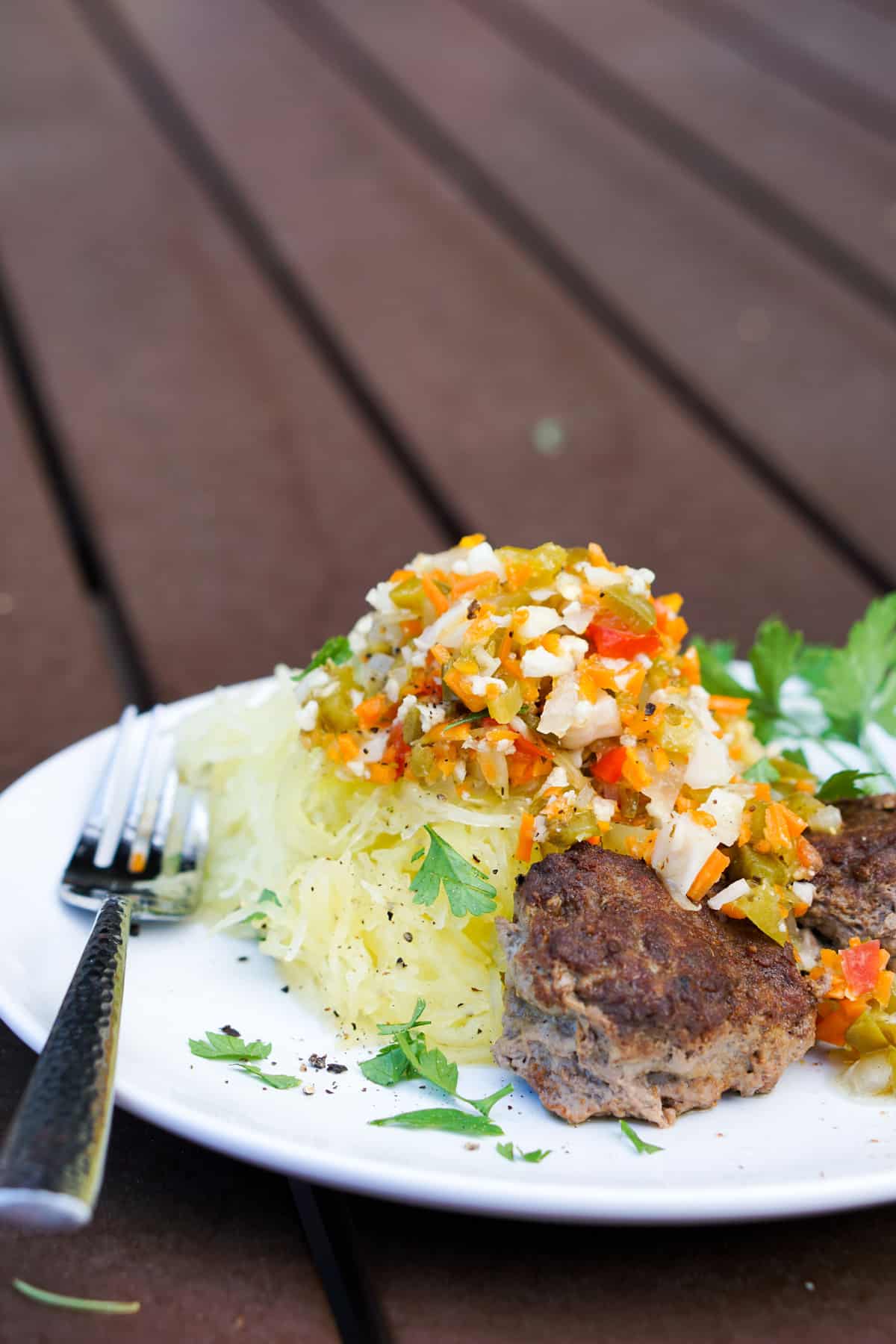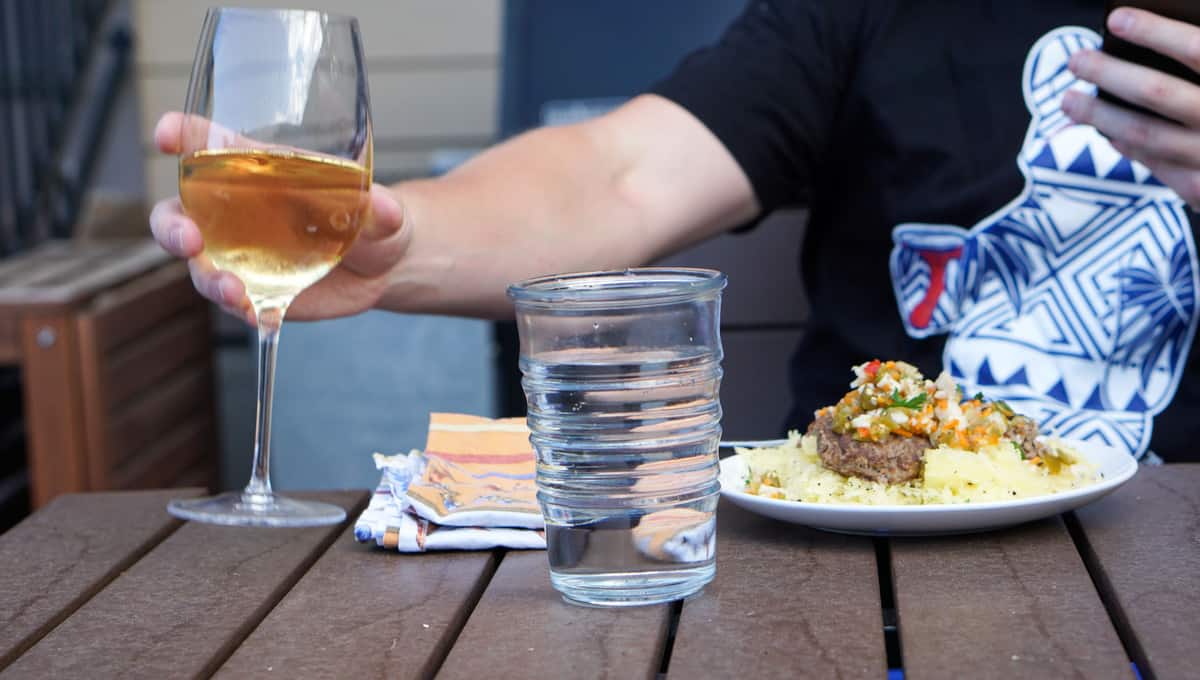 Sometimes that ends up with less than exciting things happening in the kitchen. Like tonight, when all I had in my little hotel kitchenette was some bone broth from whole foods and a mealy apple. That's dinner I guess. It's not like I'm starving; I had a big lunch. I'm just missing that time in the kitchen and the deliciousness that comes from it. If you're anything like me, you need a few recipes that really make it easy. What I try to reduce the most in cooking is active time. I don't mind if a recipe takes 60 minutes to bake because I can do something valuable in that time: read the daily headlines, crush an ab challenge mini-workout, finish up some emails, plan a trip to Cuba, get lost in the internet rabbit hole of acquiring Cuban tourist visa cards (yes… I did those last two today!). Anyways… I digress. The point is, you don't want to be actively in the kitchen working on stuff because you have other things to work on – whether that's getting the kids to school, ramping up for a new project or simply giving yourself some serious me time.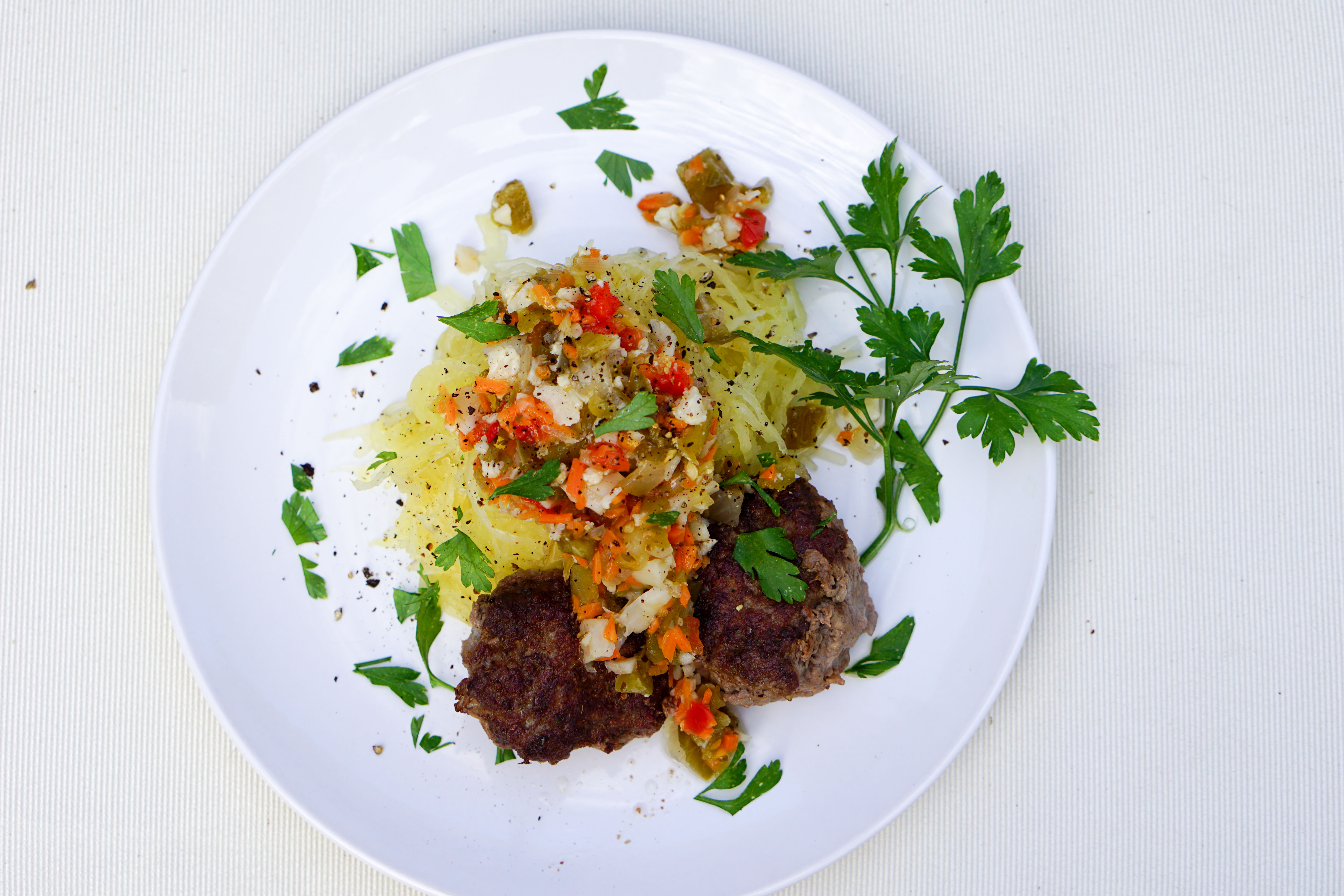 So for days like that, I'll leave you with this little recipe for Italian Meatballs and Giardiniera on Spaghetti Squash that is super easy and packed with deliciousness. You also won't feel bad about eating it as its packed with vegetables and lean, naturally sourced meats. Hopefully you will enjoy it just as much as I did!
Now if you have a little extra time and you want to step up you game, you can always make your own giardiniera. I, however, was looking for a simple and quick dinner recipe. I used the Chicago-style Mile High Giardiniera in Medium spice. They sell it at our local farmers market and I approve of the ingredients list. Plus – once you have one taste you won't want anything else. I love how the veggies are finely diced so there is an even flavor in every bite. Careful – certain bites still pack a kick! Midwesterners beware – you might want to go with mild. Although, my Michagander could handle the medium, so you can probably handle it, too 🙂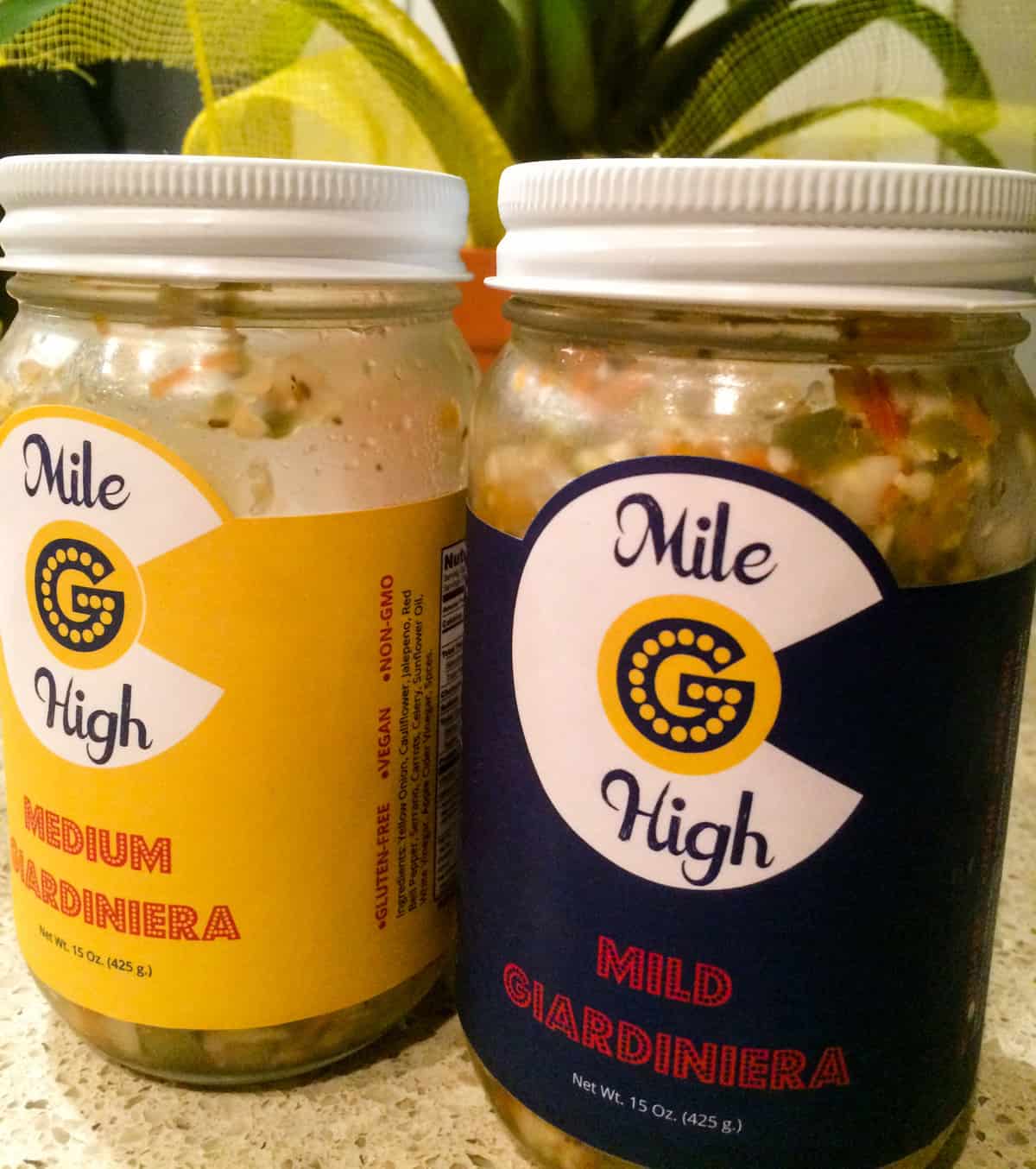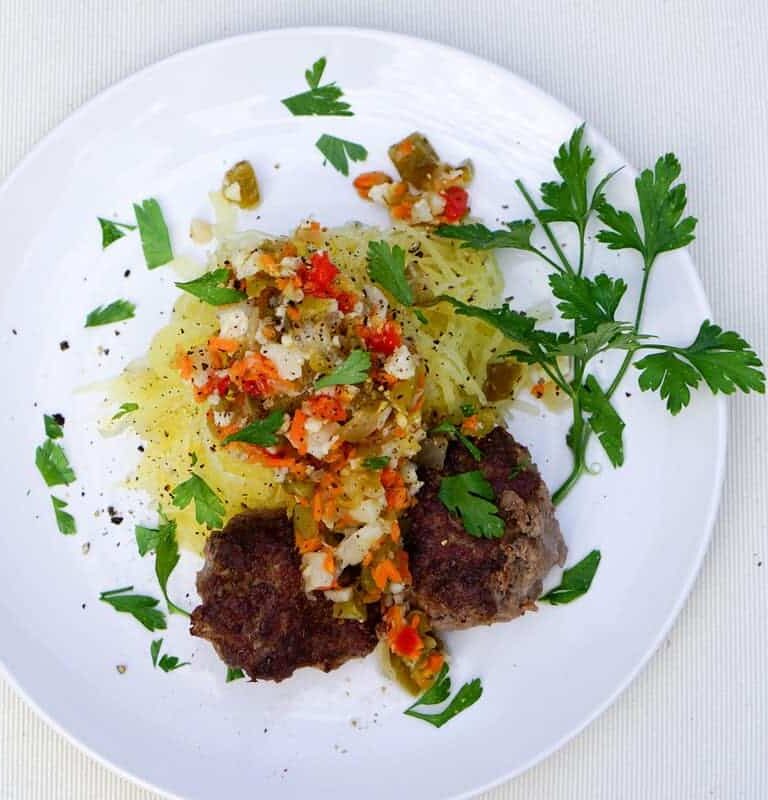 Super Simple Italian Meatballs and Giardiniera on Spaghetti Squash
Instructions
Slice spaghetti squash in half and de-seed. Coat squash evenly with EVO oil and dust with salt and pepper to taste.

Bake squash upside down on a baking sheet for 45-50 minutes or until soft.

Heat coconut oil in a frying pan on the stove until water sizzles.

Meanwhile, mix beef, Italian seasoning, garlic, and salt and pepper together in a bowl. Form into 4 even balls and lightly place in hot oil. Cook for 8-10 minutes on each side or until cooked throughout. Remove from oil with a slotted spoon.

Fork half of the spaghetti squash onto each plate. Top each plate with 2 meatballs and 1/2 cup of giardiniera.

Salt and pepper to taste. Garnish with parsley.
RECIPE, 4TH OF JULY RECIPES, KETOGENIC, MEAL TYPE, PALEO, SPECIAL DIET, SPECIAL EVENT RECIPES