When I moved to Colorado at the ripe old age of 4, our neighborhood was in the southernmost part of Denver. Literally, buffalo ranged in open fields just a mile south of our house. As I grew, so did our city. That free range pasture morphed and transformed into a larger suburbanopolis. I'll never forget the bright yellow 3 story building that stood in our view for what seemed like years. The yellow walls stood out like a sore thumb for months while we guessed what that building would become. Apparently, they used yellow insulation in this mall and it was eventually covered with the standard tan brick seen in most American malls. I had guessed it would be the movie theater – mostly because it seemed so large and daunting. It ended up being a Dillards.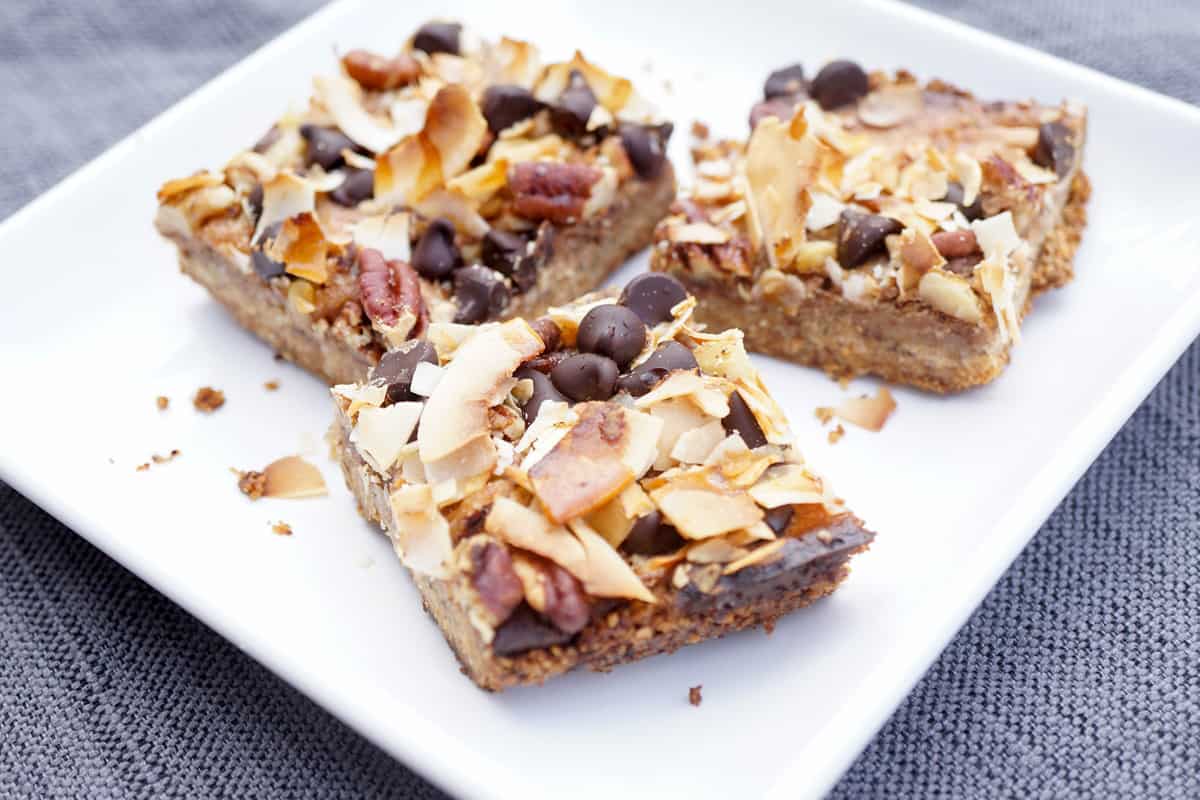 But that mall also had a Nordstroms which had its own Nordstroms coffee shop. It seemed so fancy! I used to love going to that coffee shop with my mom, mostly for the magic bars. And yes… I had a coffee problem at a very young age. I started sneaking it in elementary school – but at that time it was more cream and sugar than coffee. 🙂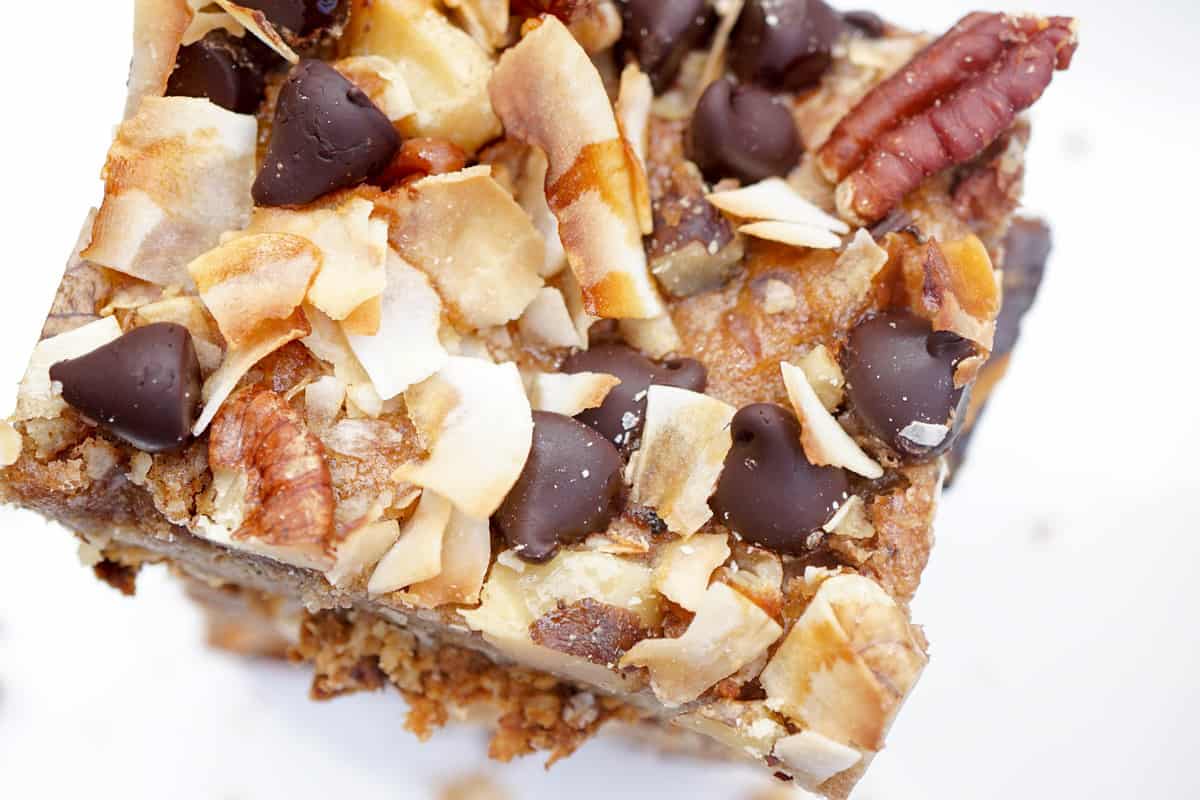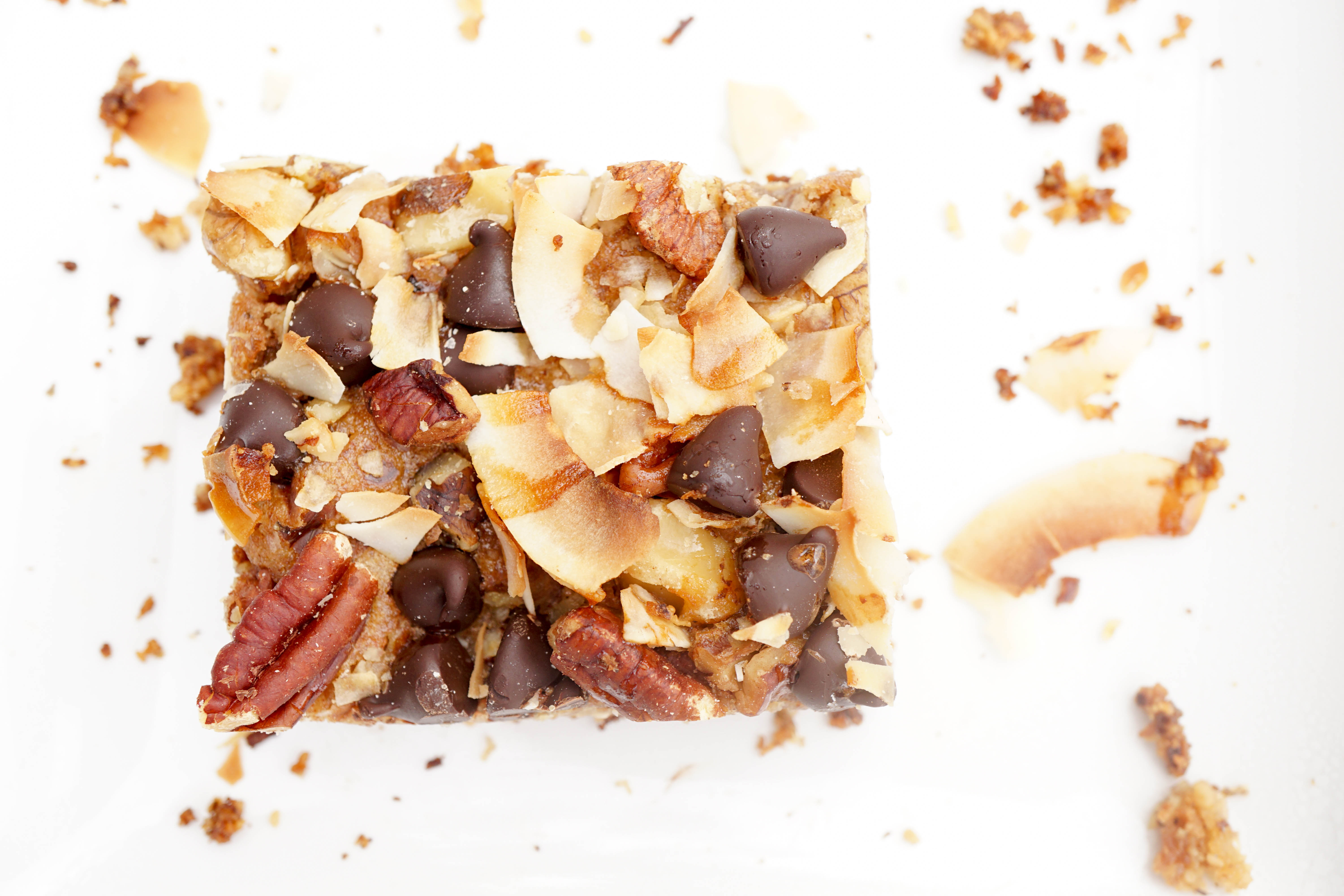 What are magic bars you ask? Well, for starters – they are the most appropriately named baked good I've ever heard of. Biting into the chocolaty, coconuty, gooey caramely goodness feels like magic. But in all seriousness, they are cookie bars topped with coconut, butterscotch, chocolate, caramel and all sorts of sweet, sweet magic.
Now in my adult life, far away from the simultaneous excitement and disappointment of a new mall, my modified version of these bars (I don't think you can make a refined-sugar-free, dairy-free butterscotch chip – but if you can, let me know! That truly would be magical) make a perfect travel companion! And I've been needing lots of healthy travel companions this year. This has been the year of weddings and bachelorette parties. And let me tell you – it is oh so hard to stay on track with clean eating at those events. Borderline super-hero level impossible. That's why I like these. They are a little indulgent, but not totally off-track. I still feel good after eating them because they have real food and no refined sugar. But I also feel like I got to partake and enjoy a treat! That's my favorite kind of combo.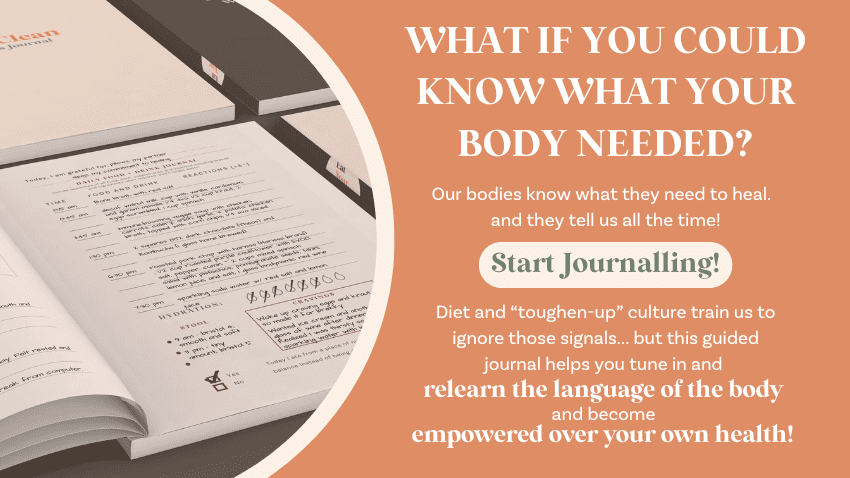 Now excuse me while I go eat 5 more of these guys. 🙂 Yummmmmm!!!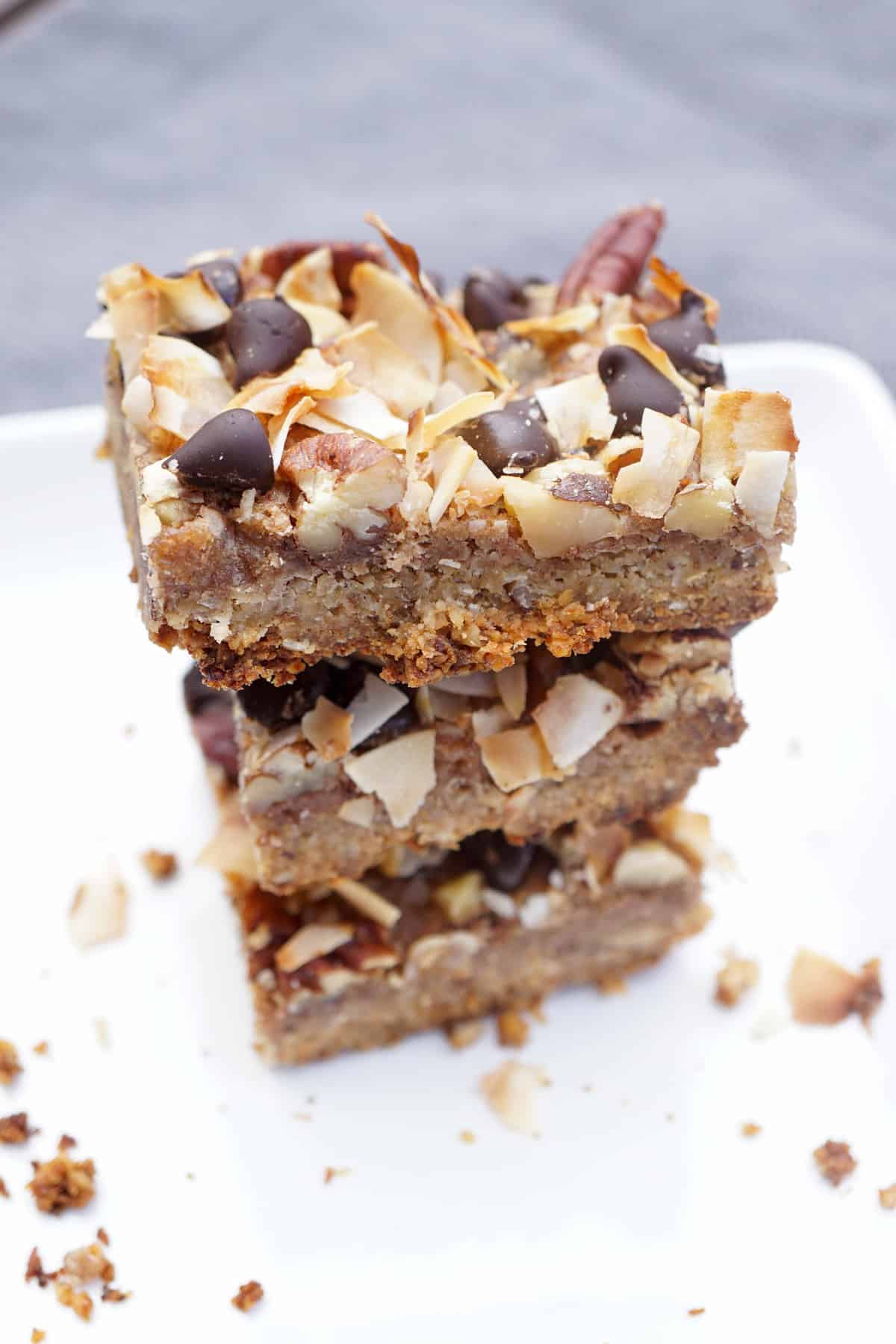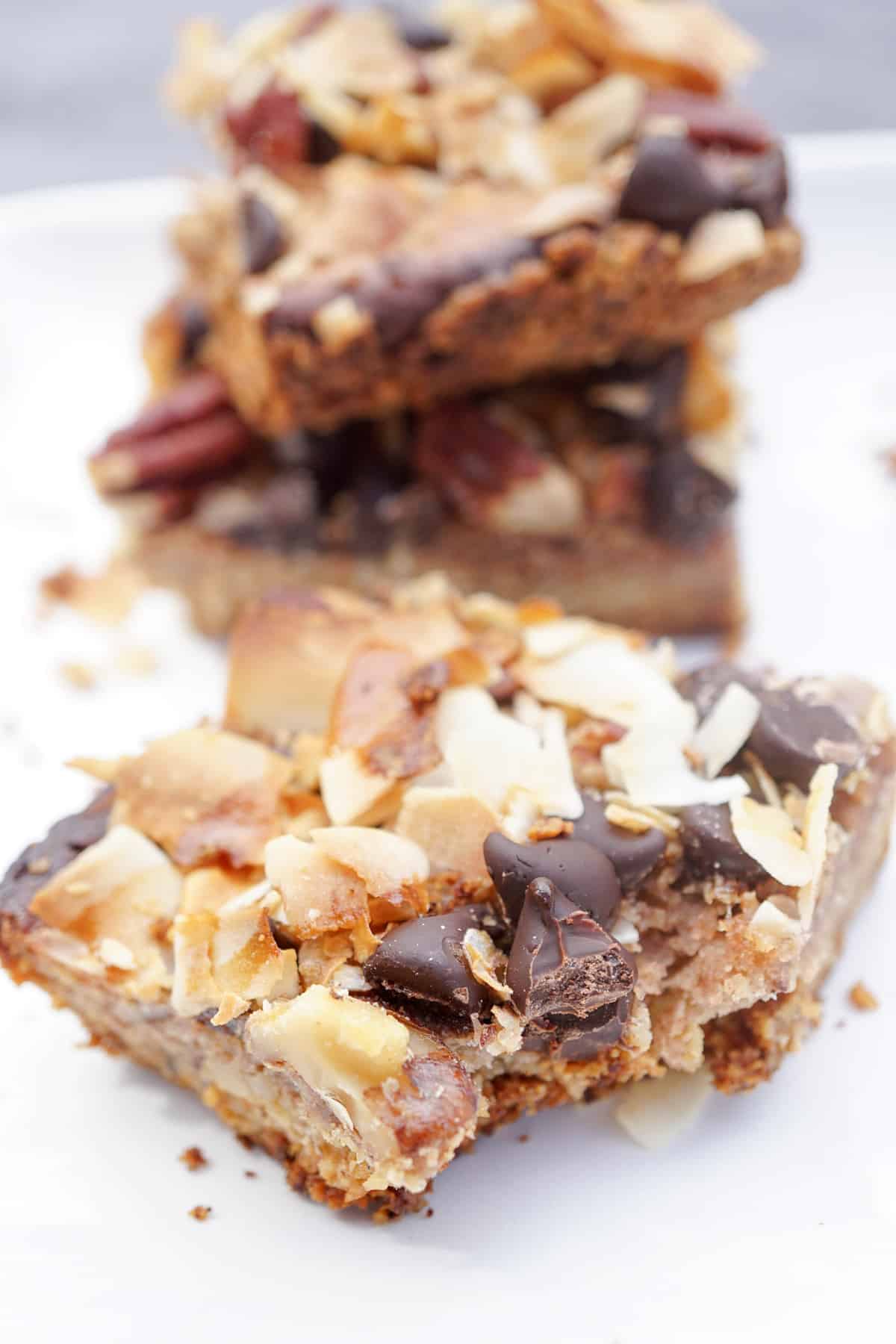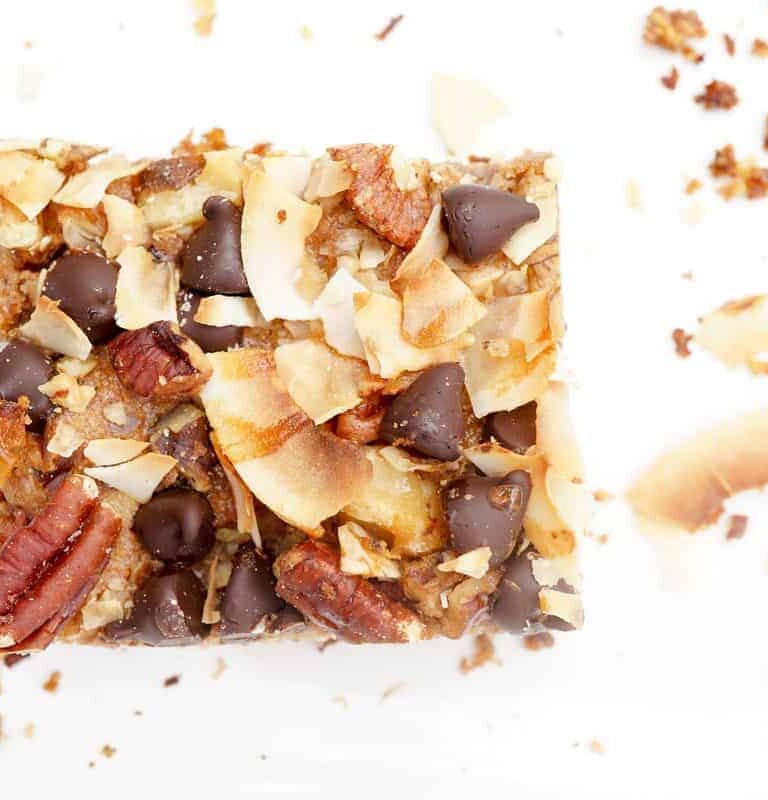 Chocolatey Coconuty Magic Bars
Nut crust
"Caramel" topping:
Toppers:
Instructions
Nut Crust
Preheat oven to 350 degrees. pulse coconut and walnuts in the food processor until finely chopped, making sure it doesn't turn to walnut butter. Mix in flour and cardamom.

Combine honey and soft coconut oil (you may have to heat the oil a tad). You want the honey and coconut oil to be evenly mixed so that they mix evenly into the rest of the crust.

Mix all crust ingredients together until evenly combined.

Press evenly into the bottom of 9x13.

Bake at 350 for 15 minutes.

Set aside to cool. Leave oven on.
"Caramel" topping
Blend dates, date water, and tahini together in a food processor until creamy.

Spread evenly over baked crust.
Putting it all together:
Spread the toppers evenly over the date "caramel"

Bake in the oven at 350 degrees for 18-20 minutes or until the coconut is lightly browned. Careful - keep an eye on this. Perfectly browned turns to unfortunately burnt real quick.
Note
These store well in the fridge!
You can mix and match the nuts. If you don;t have walnuts, go all pecan or vice versa. Almond flour is a great substitute for hazelnut flour
If you're wanting a little extra sweet, drizzle some honey on top of the toppers before baking.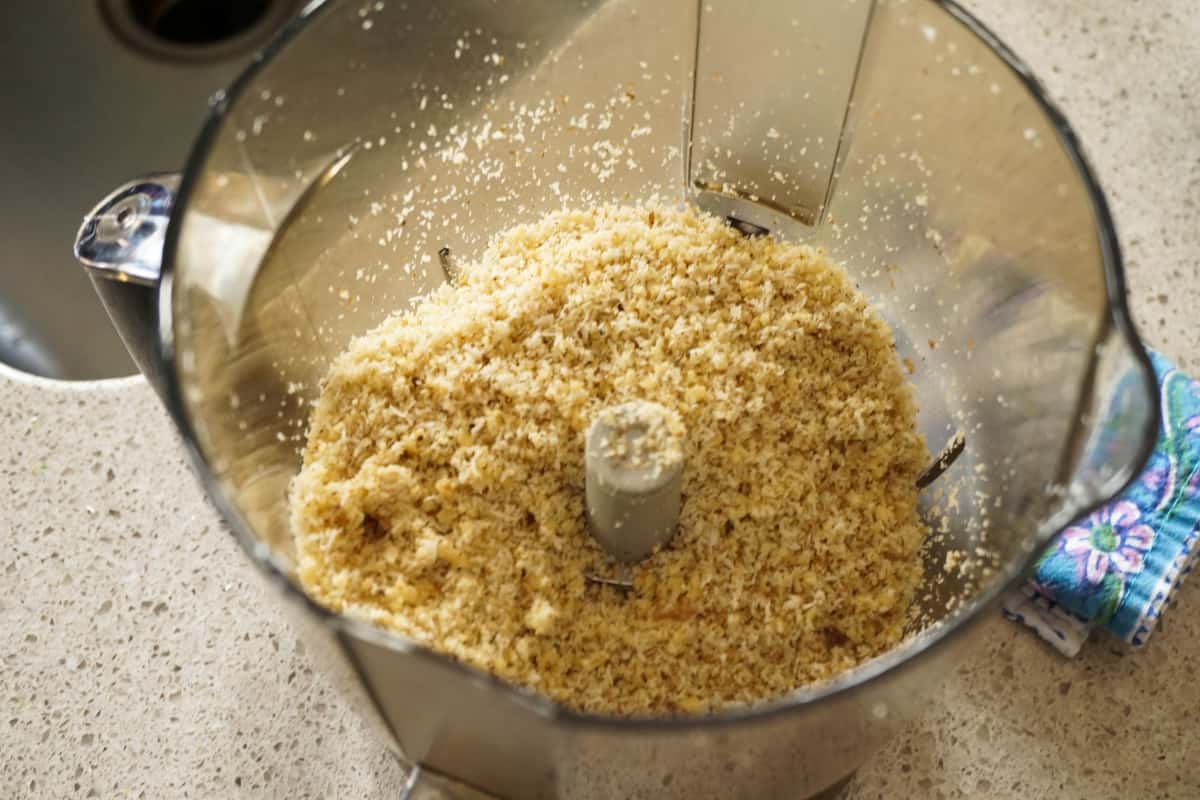 ** Some links are affiliate links, meaning if you buy them, you will support future recipes. All opinions are my own and I use these products regardless!**
4TH OF JULY RECIPES, CHRISTMAS RECIPES, FALL RECIPES, KETOGENIC, MEAL TYPE, NEW YEAR'S, PALEO, RECIPE, SEASONAL RECIPES, SPECIAL DIET, SPECIAL EVENT RECIPES, SPRING RECIPES, SUMMER RECIPES, THANKSGIVING, VALENTINE'S DAY, RECIPES, VEGETARIAN, WINTER RECIPES