Hearty, savory and aromatic, this purple potato halibut curry eases the transition to winter. Warm Indian spices compliment the fresh halibut and the beautiful colors of yellow turmeric, purple potatoes, and red saffron. Naturally free of gluten, dairy, and refined sugars, it freezes well and is great for Sunday dinner and meal prep.
Halibut's journey through my kitchen
This particular recipe has origins tracing back to Homer, Alaska where I caught over 60 lbs of Halibut deep-sea fishing. I was pretty proud of myself because I caught more fish than any of the boys, and though it was close, I never let the super fancy fishing pole fly off into the ocean.
Halibut is HARD to pull up! They come up flat against the water, so there is a lot of resistance.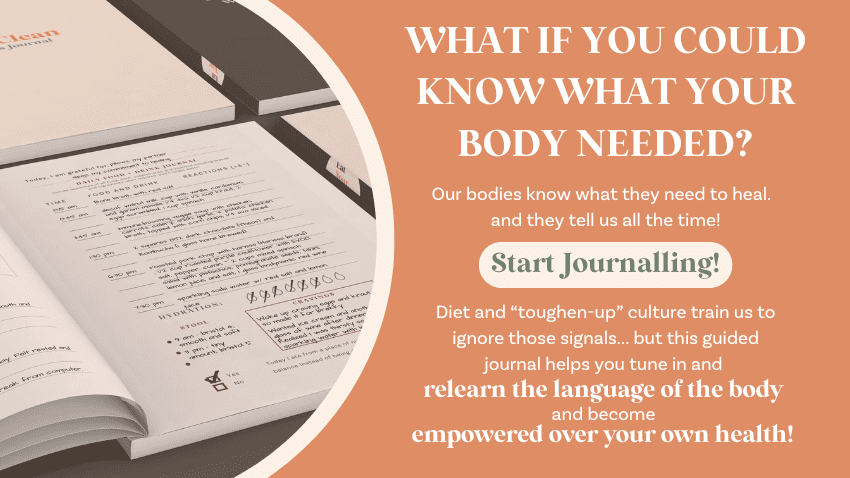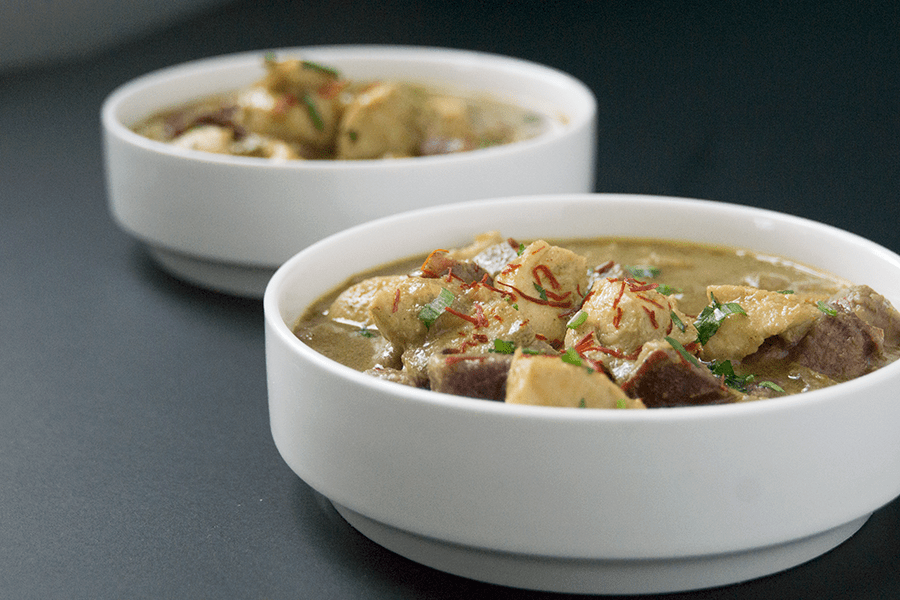 That 60 lbs of halibut was a lot. Like… a LOT a lot. It filled my freezer, my friends' freezers, and even the freezer at work! For months, I cooked halibut nearly every night.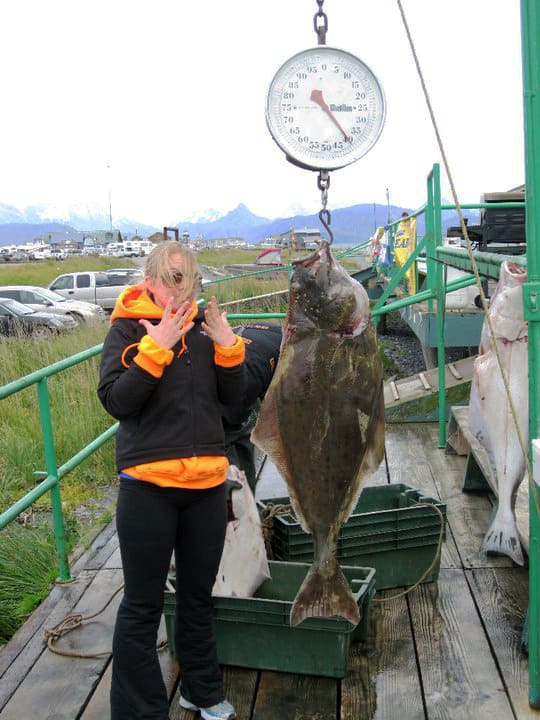 There was so much halibut in my life back then, that I had to take a Halibut breather for a few years. But, we've finally had enough distance and I'm ready to start dipping my toe back into the world of Halibut.
Fast forward to our wedding when we received the most amazing gift of all sorts of fresh caught Alaskan seafood, including halibut! It was only natural to pull back up the old Seward recipe and get modifying to match my changed eating habits.
Adapting a Halibut Curry recipe from my time in Alaska
I used to have a client in Alaska so I'd spend about 1 weekend a month getting into trouble in downtown Anchorage, the Alyeska ski resort and various fishing villages across the coast. The original curry recipe came from a friend in Alaska and was handy for that 60 lb catch of mine.
However, the original is full of dairy: yogurt and cream. It also doesn't have any veggies and is a little light on the seasonings for my taste.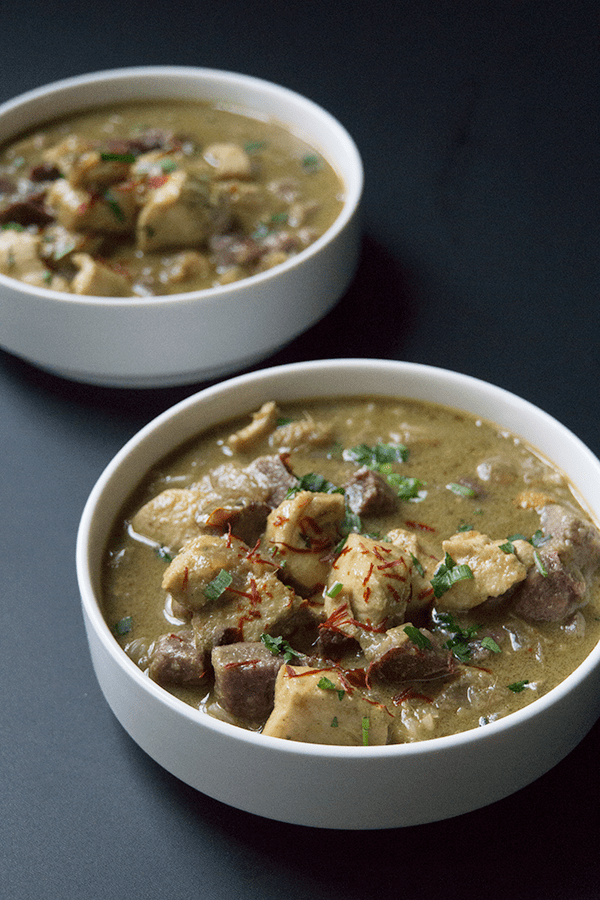 This version, the purple potato halibut curry, uses fresh turmeric root instead of powdered, adds in some color and additional nutrients with purple potatoes, and bumps up the flavor just a bit. This isn't a spicy curry, but it is a filling and savory curry, perfect to get ready for the cold winter.
Making the Purple Potato Halibut Curry your way
This curry makes 4 hearty portions and freezes well, making it great for meal prep or just tomorrow's lunch.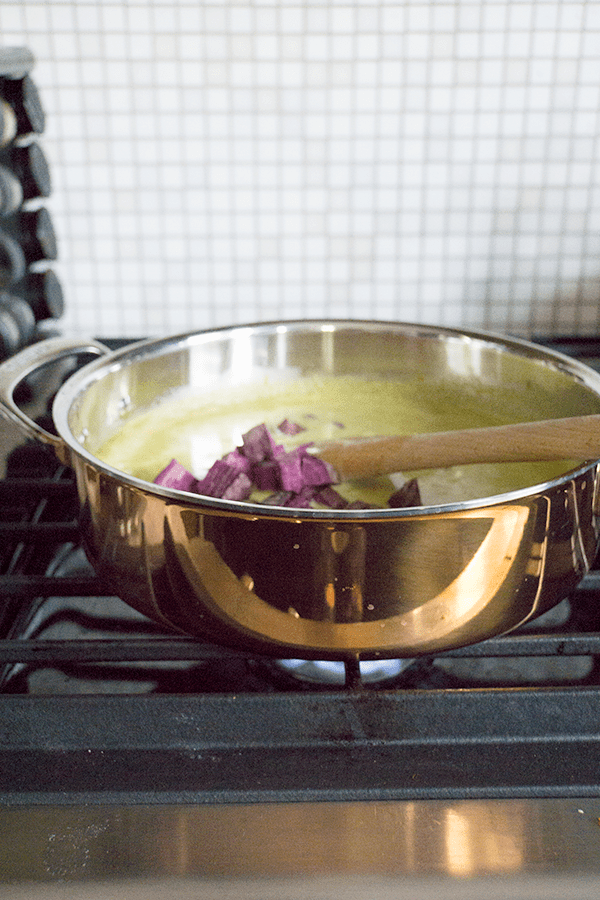 Potatoes – in our out?
I like to cook my potatoes in the curry so that they can absorb all of the curry flavors.
However, you can also cook them separately in salted water and then add them later. That method allows more control over the potatoes and preserves some of the bright yellow turmeric colors of the curry. While the method described below in the purple potato halibut curry recipe saves dishes and adds extra flavor to the taters.
Spice – heat or sweet?
This is not a spicy curry. The purple potato halibut curry recipe is designed to focus on the sweeter notes of garam masala, cardamom, and cream and therefore is purposefully very light on heat.
That doesn't mean you can't spice it up if you prefer by doubling or tripling the cayenne pepper quantities!
So if you like it hot, add more cayenne.
Looking for other curries?
Try this Chicken, turnip and radish curry or this red coconut pumpkin curry.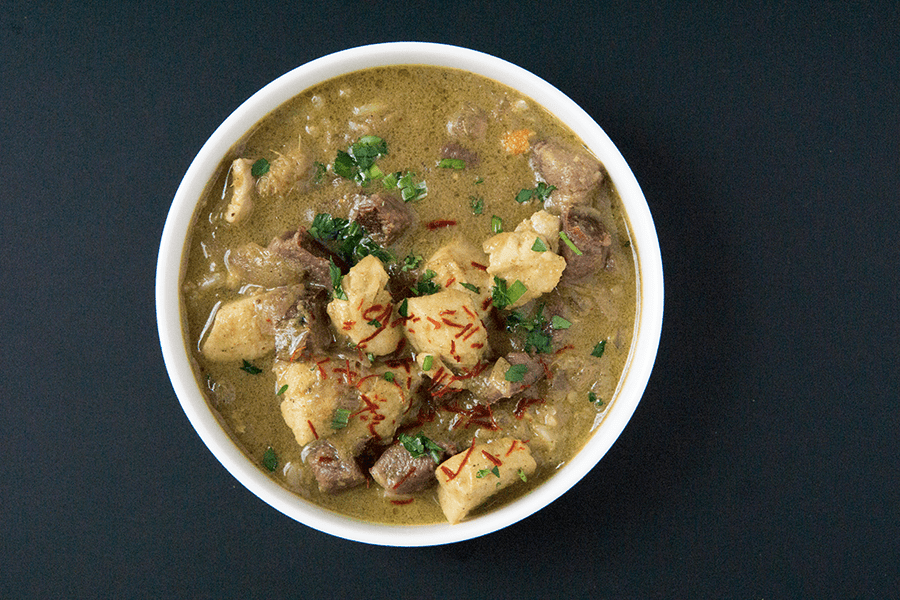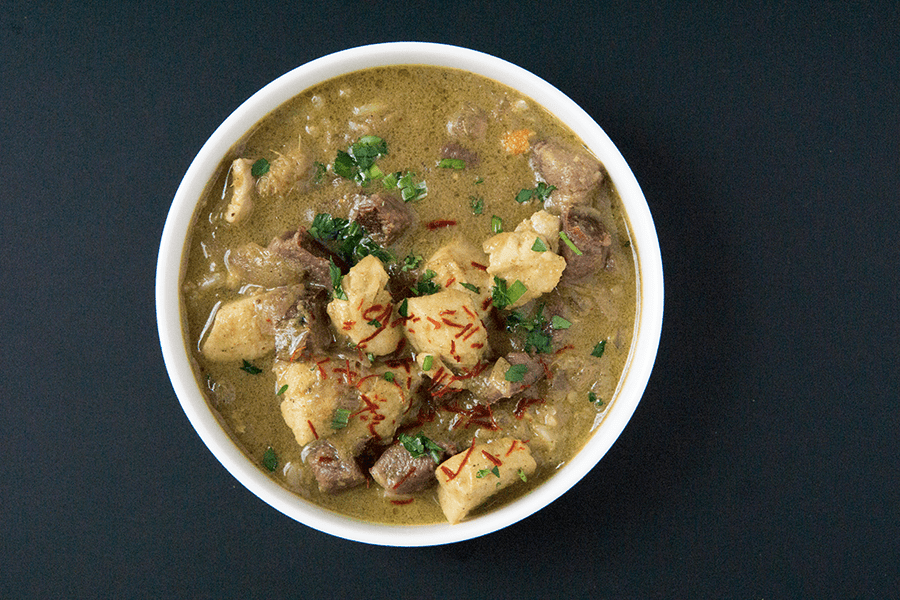 Warming Purple Potato Halibut Curry with Cardamom Basmati
Description
Hearty, savory, and aromatic curry is perfect for that transition to winter. Warm Indian spices complement the fresh halibut and the beautiful colors of yellow turmeric, purple potatoes, and red saffron. Naturally free of gluten, dairy, and refined sugars, freezes well and is great for Sunday dinner, and meal prep.
Purple Potato Halibut Curry
Cardamom Basmati Rice
Instructions
Peel garlic, fresh ginger, and turmeric root and coarsely chop into pieces small enough to fit into your blender.

Place ginger, garlic, turmeric and a little bit of water in a small blender (I used a magic bullet) and blend until pureed into a paste. The water is just to get the roots and garlic to puree and the amount needed will vary by your blender. Add small amounts until the ingredients start to puree.

Chop one whole white onion

Heat oil in large sauce skillet on medium heat, add onion, stir and saute over medium heat

Add the turmeric, ginger, and garlic puree to the skillet

Add ground cayenne, ground cardamon, and salt. Stir to coat the chopped ingredients with the spices. Sautee for 3-5 minutes

Add 2 cans coconut milk and stir

Dice potatoes and add to pan. Mix in broth

Simmer on low for 30 minutes or until potatoes are soft.

If serving with rice, start cooking it about 15-20 minutes into the curry simmer. Mix rice, cardamom pods, broth and water in a saucepan over medium-high heat until it comes to a boil. Turn to low and cover for 15 minutes or until water is absorbed and rice is soft. Let sit with the lid on until ready to serve.

Chop halibut into bite-size chunks and then add to the curry. Simmer for another 15-20 minutes until halibut is cooked through.

Serve curry over cooked basmati rice. Garnish with chopped parsley or chives and saffron threads.
Note
This is not designed to be a spicy curry so there is just a little bit of cayenne. If you prefer spicy foods, consider doubling the cayenne pepper. 
Healthy