Sometimes you need just a little added flavor for a dish… like when you have leftover Indian food or are making falafel bowls. Other times, you need to figure out what to do with that leftover mint you bought for some recipe off the internet… like this peach tomato mint stacker.

In any case, this easy blender mint chutney is delicious and fits the bill for both! It only requires 7 ingredients and about 5 minutes.
Why this recipe works
First, it's relatively easy. After plucking the mint leaves from the stems and sauteing garlic, simply put the remaining ingredients in the blender and pulse until smooth.
The fresh minty flavor perfectly compliments the sweet cantaloupe and the savory salty prosciutto.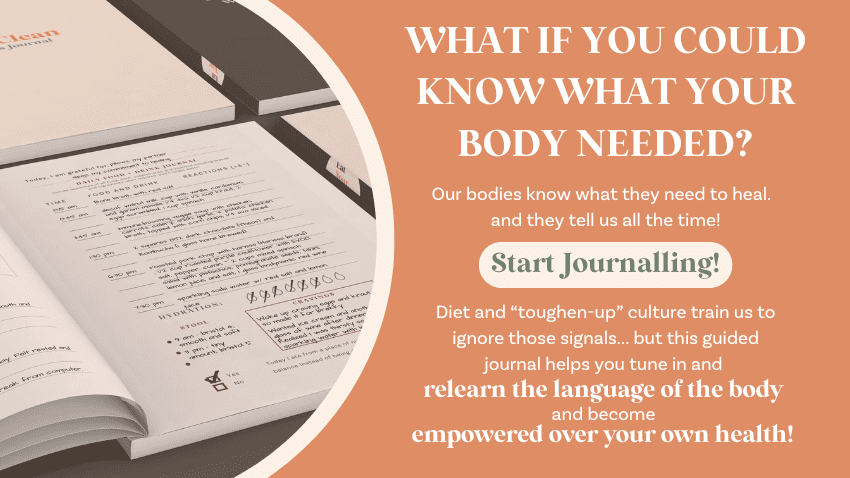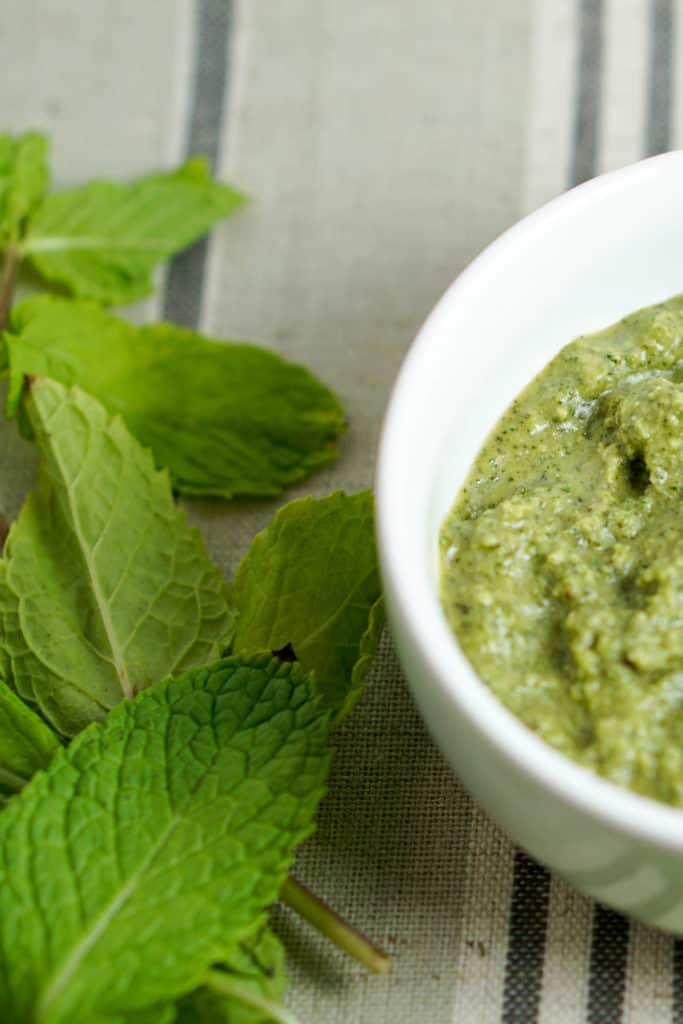 You can also save the Mint Chutney for Later
I like to freeze the Mint Chutney in individual servings sizes to pull out and use later. Try it on falafel bowls and roasted chicken.

This works best by pouring the chutney into silicone ice cube trays until frozen. You can then take the frozen cubes and store them in a reusable bag like a stasher bag in the freezer until you're ready to use it.

Do you love to put Mint Chutney on something else? Let me know in the comments!!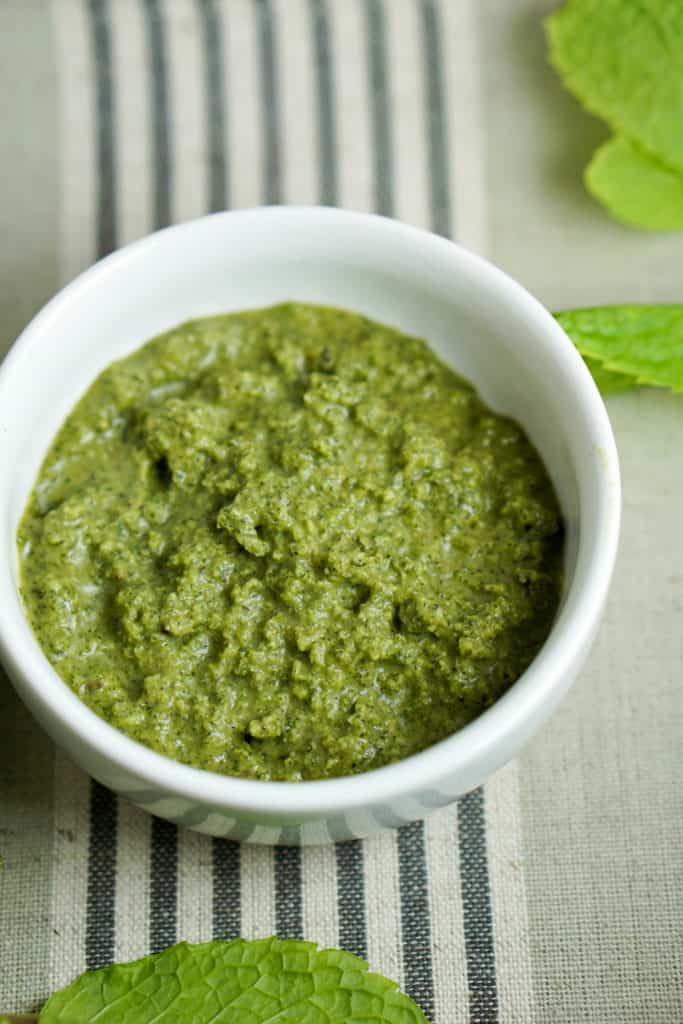 Mint Chutney Ingredients
The key ingredient is clearly mint, but this recipe is mellowed out with parsley. Sauteed garlic adds depth without bite and lemon juice adds freshness.

I add coconut milk for a slightly creamier texture. If you don't like coconut, you can easily swap this for water, though it will have a slightly less creamy texture and taste and will be a different color.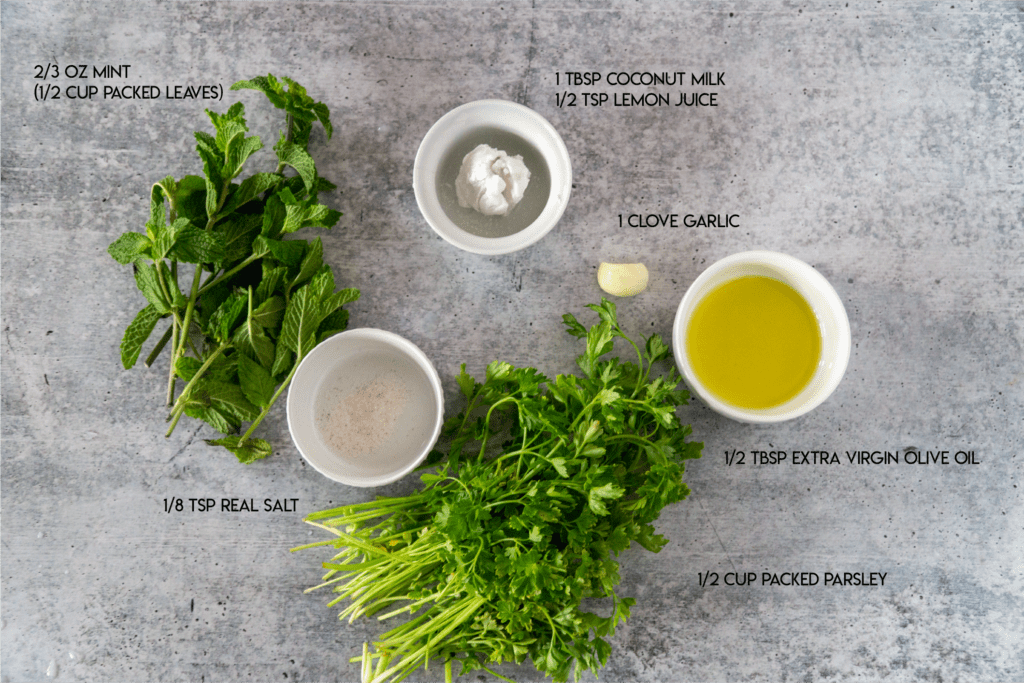 Making the Chutney
Saute Garlic in Olive Oil
We'll do things in the quickest and most efficient order. Start by sauteeing the garlic in extra virgin olive oil on medium-high heat until golden brown. This should take about 1 minute.
Destem the Mint
Mint stems are very thick so you do not want to include them in the sauce. Pull all of the leaves off of the mint stem and then discard the stems.

If you're measuring the mint by weight, measure with the stems on. This is the equivalent of the standard size packages of mint on the produce section.

If you're measuring the min with a measuring cup, you'll measure the mint leaves without the stems.

In summary, 2/3 oz whole mint or 1/2 cup mint leaves
You can use some of the Parsley Stems
Parsley stems are significantly less dense and woody than mint stems. Therefore, you don;t have to spend the time to completely destem parsley. Additionally, parsley stems have decent flavor that works well in sauces.

I like to remove the fully stemmy bits at the end. This looks like chopping off the bottom 1-3 inches of stems and discarding those. Then you can use the rest of the stems that have parsley leaves on them.
Blend until Smooth
Next, add the ingredients to a blender and bend until smooth. The water is meant to create the right consistency so start by adding the first tbsp of water to blend and then adding the rest of the water if needed.
What should I pair with this sauce?
Mint chutney is a classic recipe used in lots of Indian cuisines and is a great side for many dishes. You can find it on traditional curries as well as omelets, salads, shish kabobs, and just as a side for grilled meat and veggies.

I personally enjoy it on potatoes and these Cantaloupe Prosciutto Skewers.
Looking for other recipes to use mint? Try these: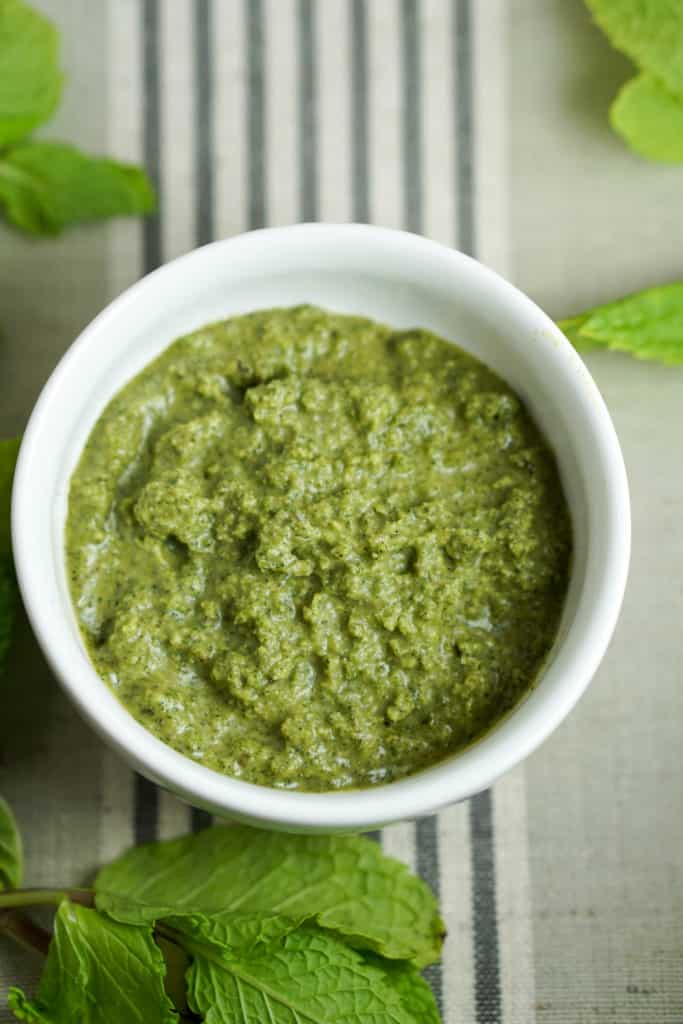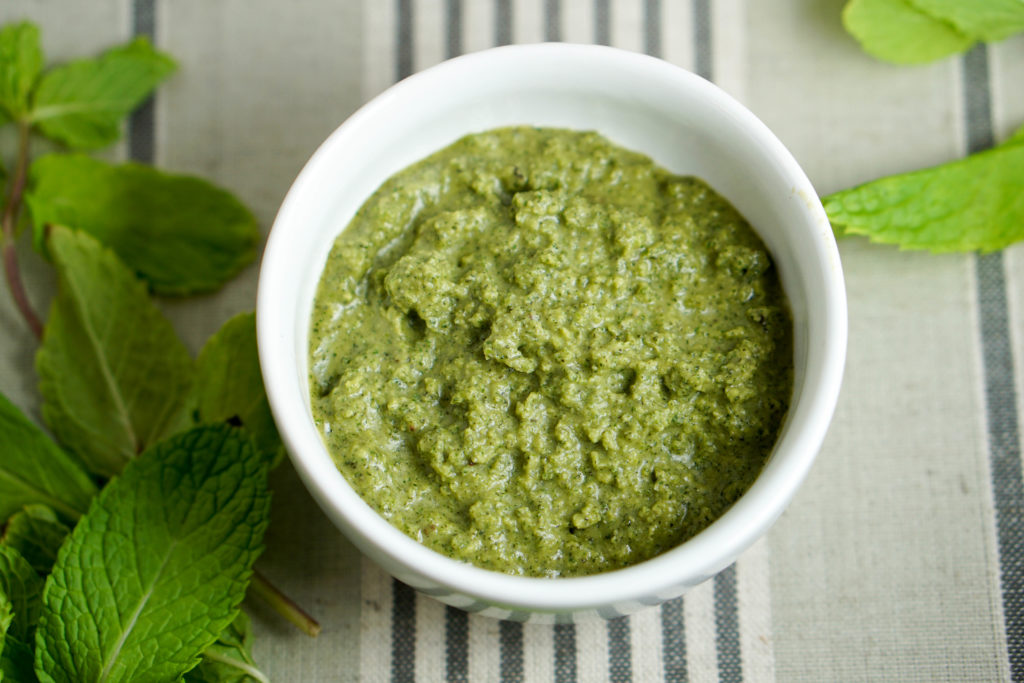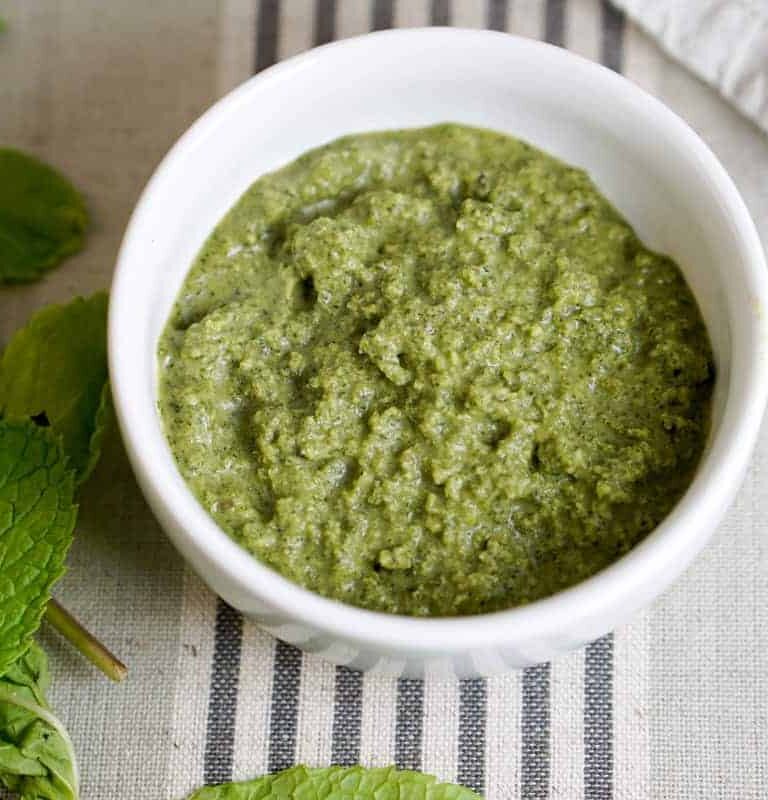 Blender Mint Chutney
Description
Easy blender mint chutney made rich and creamy with sauteed garlic and coconut milk and light and refreshing with fresh mint, parsley and lemon juice.
Instructions
Sautee the garlic in extra virgin olive oil on medium-high heat for about a minute until golden brown. Remove from heat.

Remove mint leaves from stems, discard stems

Remove bottom 1-2 inches of parsley stems and discard. Measure 1/2 cup compacted remaining parsley.

Combine all ingredients in the blender and blend until evenly combined.

Serve and enjoy!
---
Amount Per Serving

% Daily Value *

Total Fat 1g

2

%

Saturated Fat 1g

5

%

Sodium 32mg

2

%

Potassium 27mg

1

%

Total Carbohydrate 1g

1

%

Dietary Fiber 1g

4

%

Sugars 1g

Protein 1g

2

%
---
Vitamin A

333

IU

Vitamin C

5

mg

Calcium

9

mg

Iron

1

mg
* This nutrition information does not tell the whole story of food's nutritional value! Make sure to use your gut intuition on what your body needs, eat your veggies and get 30 plants a week for optimal gut health. This nutritional data is calculated based on the above values and standard brands. This information may vary. Percent Daily Values are based on a 2,000-calorie diet. Your daily value may be higher or lower depending on your calorie needs. Tried this Recipe? Tag me Today! Mention @EatYourWayClean or tag #EatYourWayClean!
Note
The water is added to get the correct consistency. Start by adding 1 tbsp and add extra water as needed to get to the perfect consistency
The mint is packed into the 1/2 cup. Make sure to follow the video to get the right amount of mint.
For the parsley, discard the bottom stems. You can leave the stems that are integrated with the leaves.
I use real salt which has high mineral content. If you do not have real salt, use Himalayan sea salt or kosher salt at half the quantity.