This past weekend was absolutely gorgeous. We are talking walk in the park, sundress, and bar-b-q beautiful. And to top it off we had the perfect summer-friendly festivities to help us celebrate.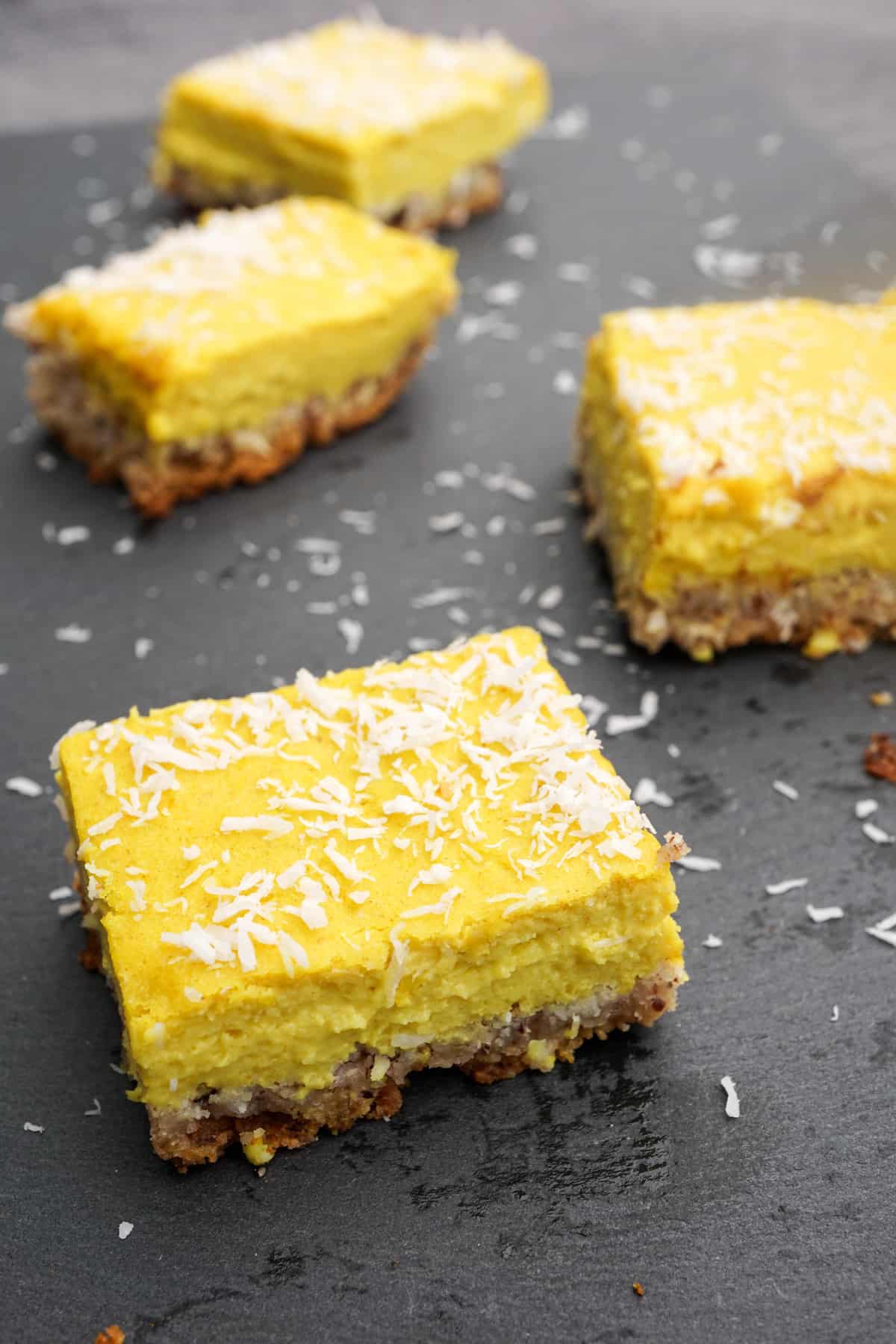 A dear friend of ours graduated law school (Congrats!!!) and another friend celebrated his birthday. Naturally, both of them threw a bar-b-q to celebrate, because… why not?
Anyways, the warm weather and the barbecues put me in the mood for something sweet, light and refreshing. I saw TexanErin's recipe for Paleo Lemon Squares on Pinterest and got inspired to take a stab at them. This was my first go at lemon bars… Ever… and I think they turned out quite nicely! I love Erin's idea to use desiccated coconut instead of powdered sugar on top! I updated the recipe a bit to exclude all eggs. I used honey and dates instead of maple syrup, and a mixture of cashews, coconut cream and turmeric instead of egg. The turmeric gives a nice yellow color and doesn't distort the flavor. It is also super good for you! Double Win.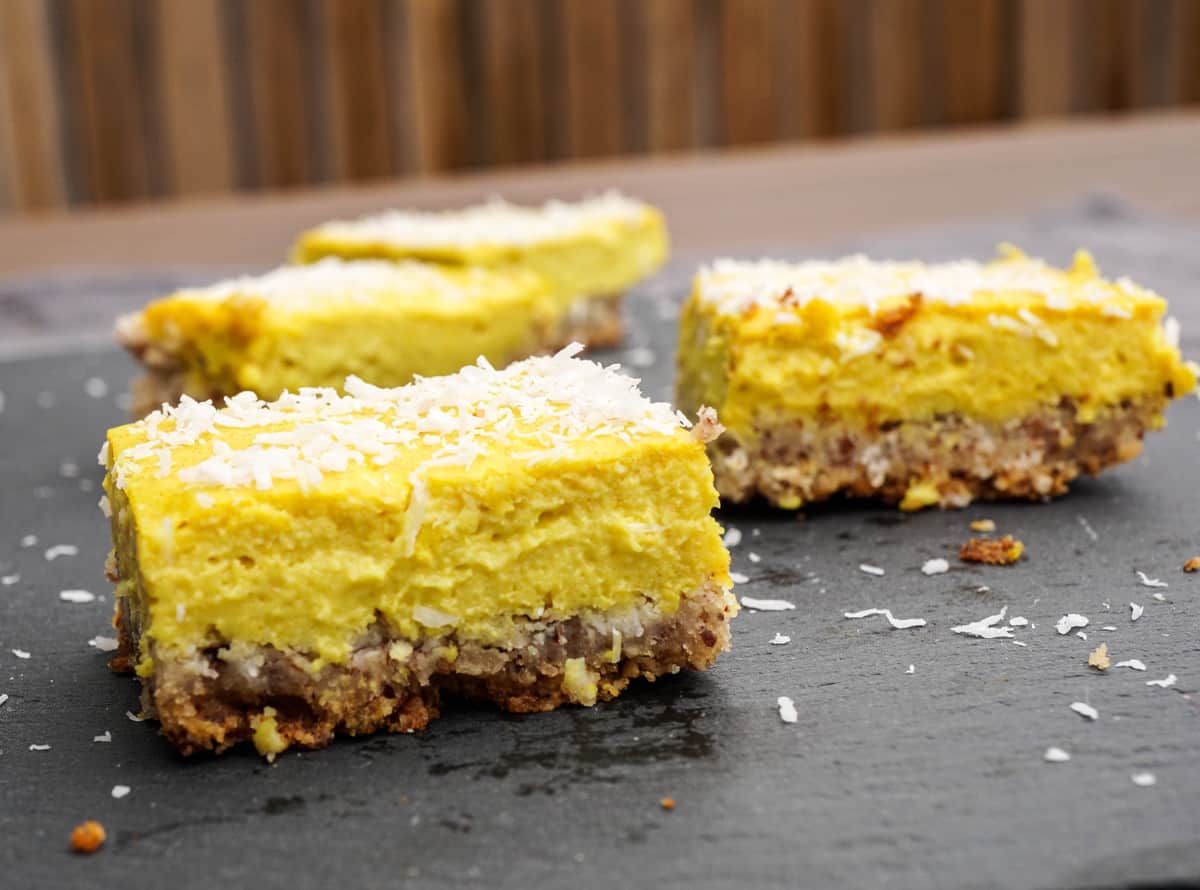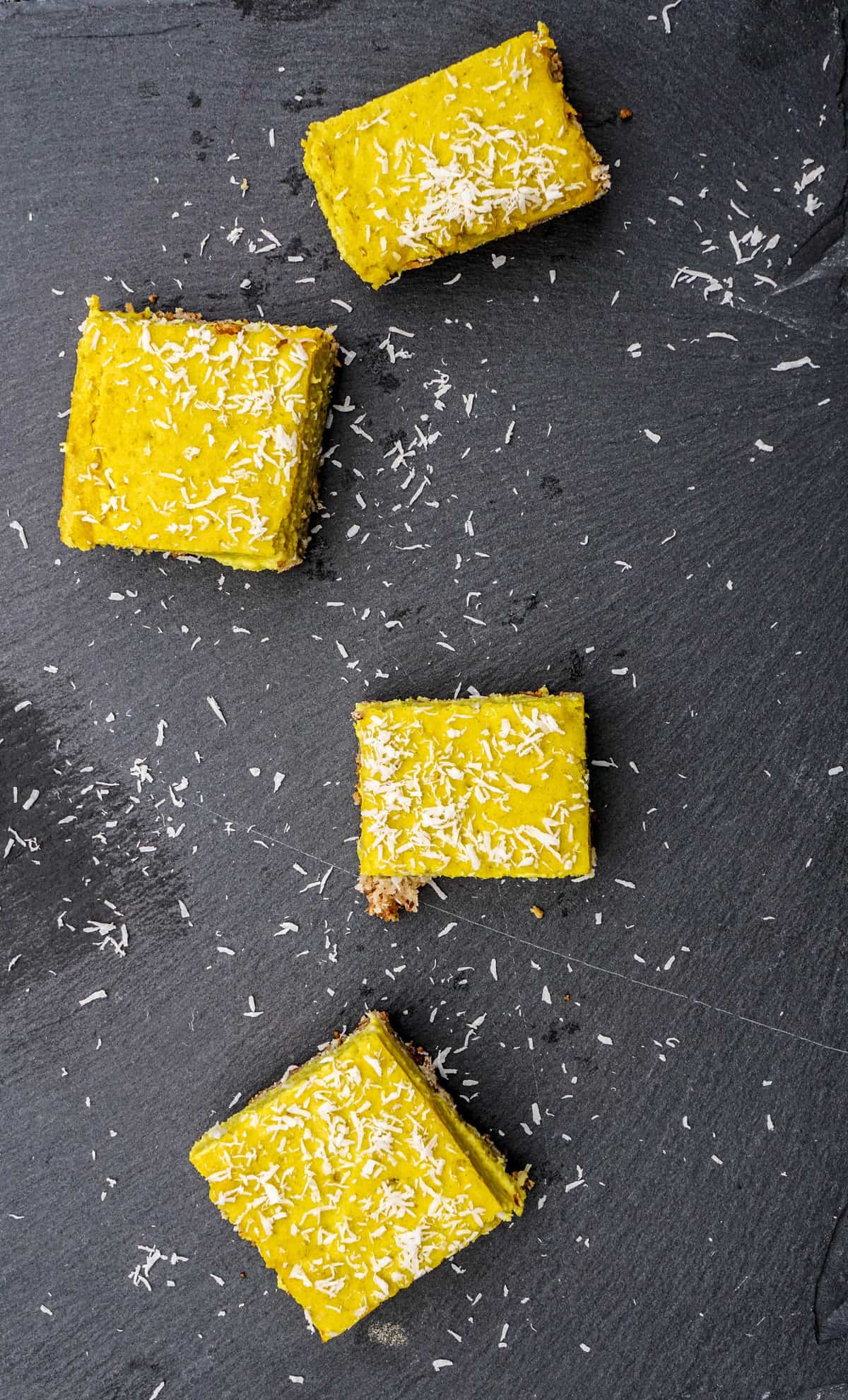 So these become a vegan, dairy free, grain fee, refined sugar free version of the classical dessert. The cashews in the filling make them taste somewhat like little mini-lemon cheesecakes. Yum!!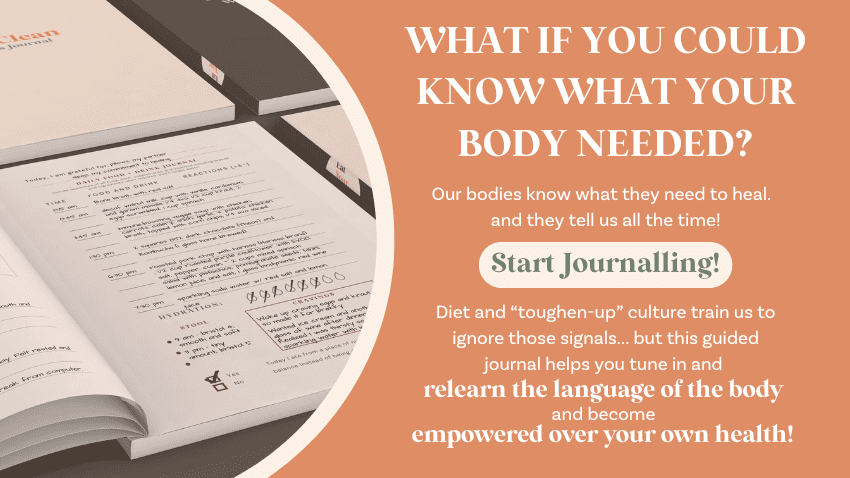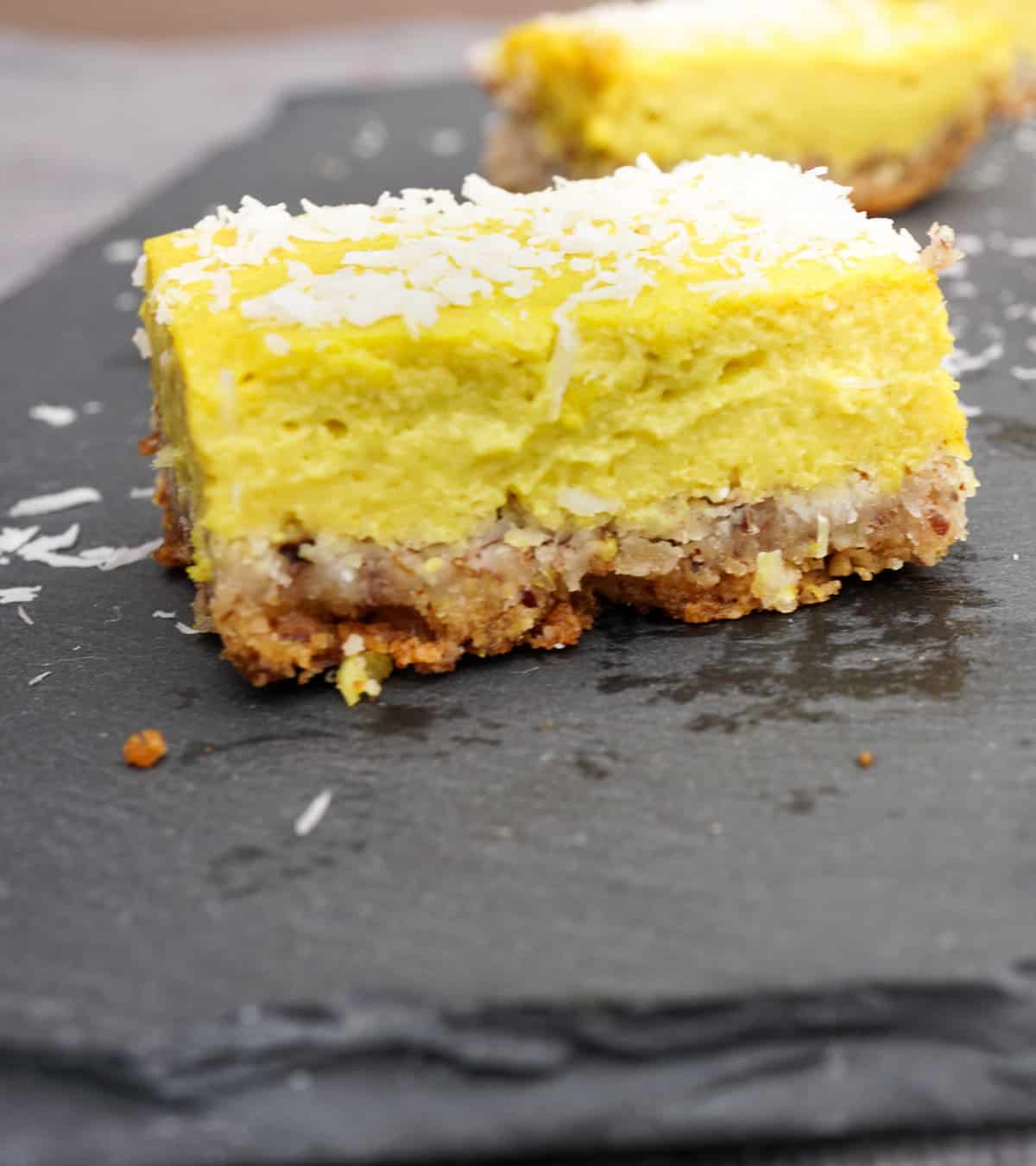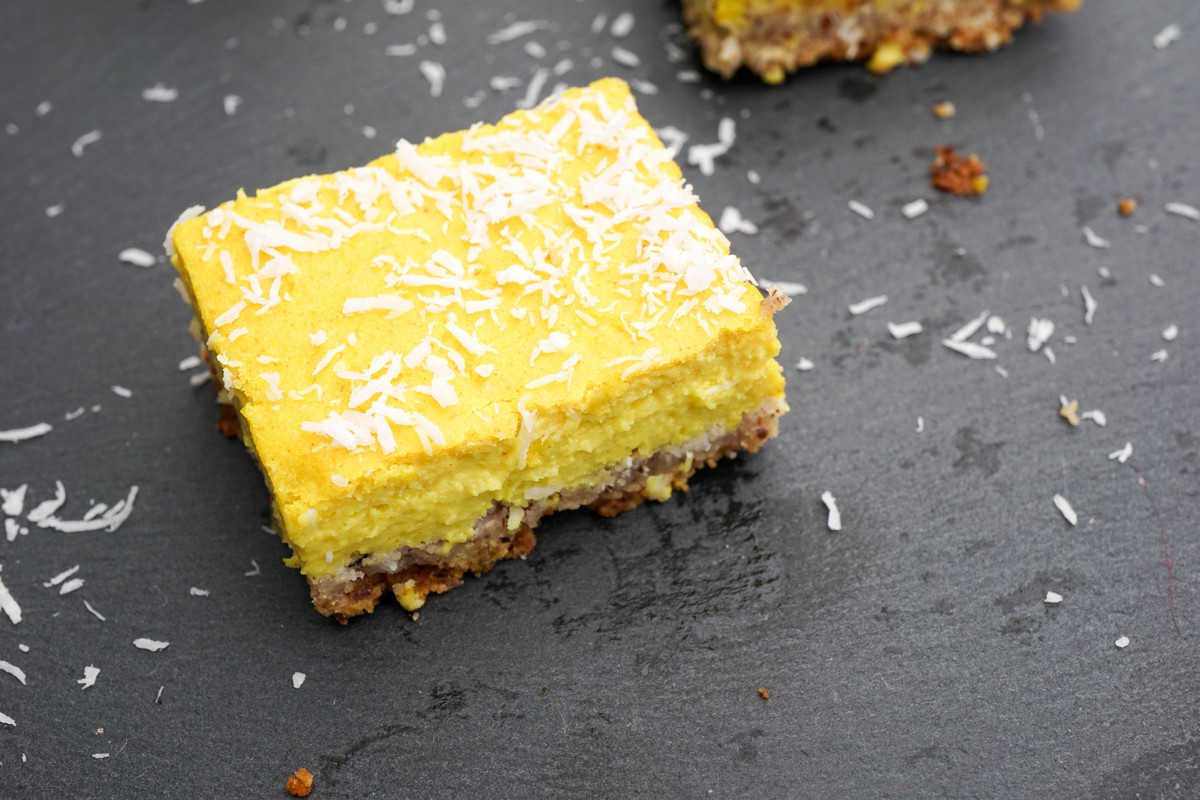 They were a hit at the party so I hope you like them, too! I think they will be a perfect accompaniment to the upcoming Memorial day festivities!
How about you? What desserts do you like to make to bring to a bar-b-q? And what are you excited about making for this Memorial Day weekend?
Enjoy and Happy Summer!!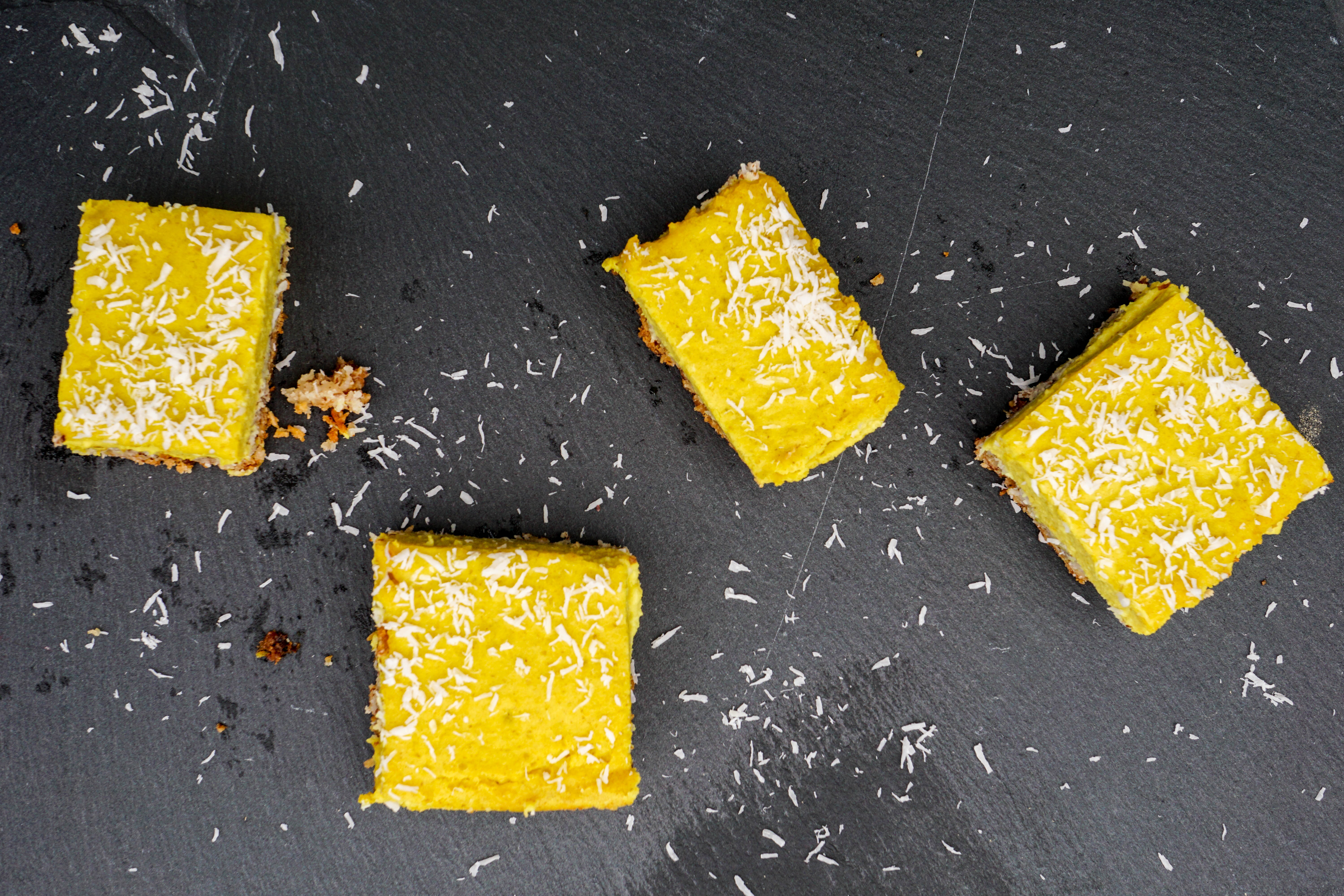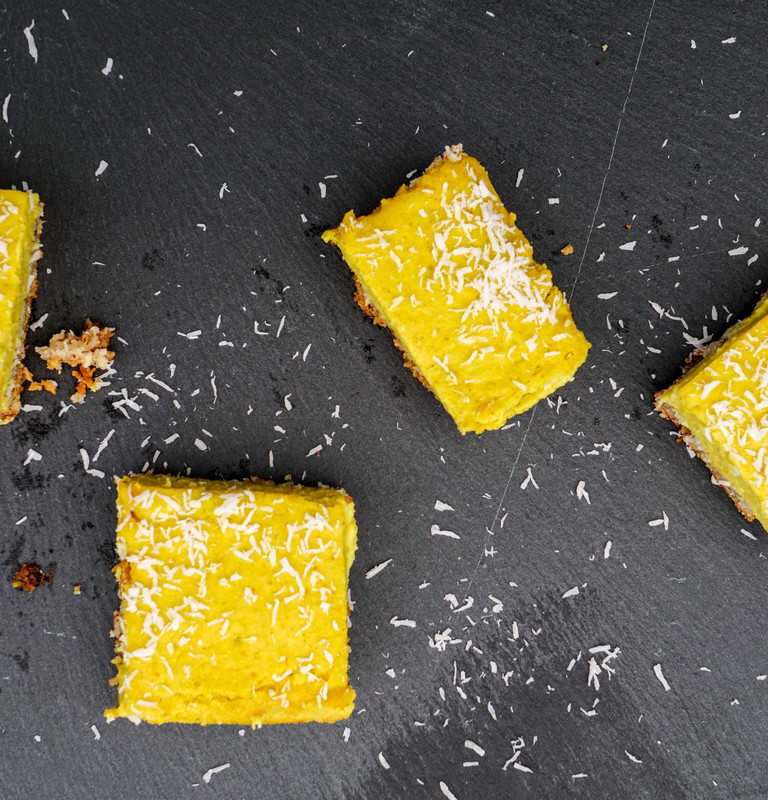 Healthy Paleo Lemon Bars
Instructions
Crust
Mix all dry ingredients together.

Blend the softened coconut oil and the honey together until well combined. make sure not to melt the coconut oil. (picture below).

Blend all ingredients together and press evenly into a 9x13 pan. Bake at 350 for 10 minutes. Then remove from oven and set aside.
Filling:
De-seed the Meyer lemons and quarter.

Mix all ingredients (including the 2 full Meyer lemons, skin, and all)  in the food processor until combined. Blend until there is a smooth creamy consistency, about 5-7 minutes in my food processor.
Put it all together:
Pour the filling onto the pre-baked crust and spread evenly.

Bake at 350 for 25-27 minutes or until set in the middle.

Remove and cool completely.

Lightly sprinkle the desiccated coconut on top and place in the fridge until ready to enjoy.

Slice into squares.

This is the desired consistency of the coconut oil after you mix in the honey. It should blend well but not be melted
Note
The coconut cream is the top part of the can after a can separates. It is thick and creamy and perfect for these types of desserts.
Turmeric is super good for you and super yellow! If you want a milder color, just tone down the amount of turmeric. I think you would be fine adding 1/2 the amount I used here
The cashews and dates should be pre-soaked. The cashews take about 4 hours and the dates about 2 hours. Both can soak overnight as well. Just put the desired amount in water and set out. This makes both ingredients creamier when you throw them in the food processor
I used primarily Meyer lemons for the juice but mixed in regular lemons as well. You could use any type of lemon as long as it is fresh juice 🙂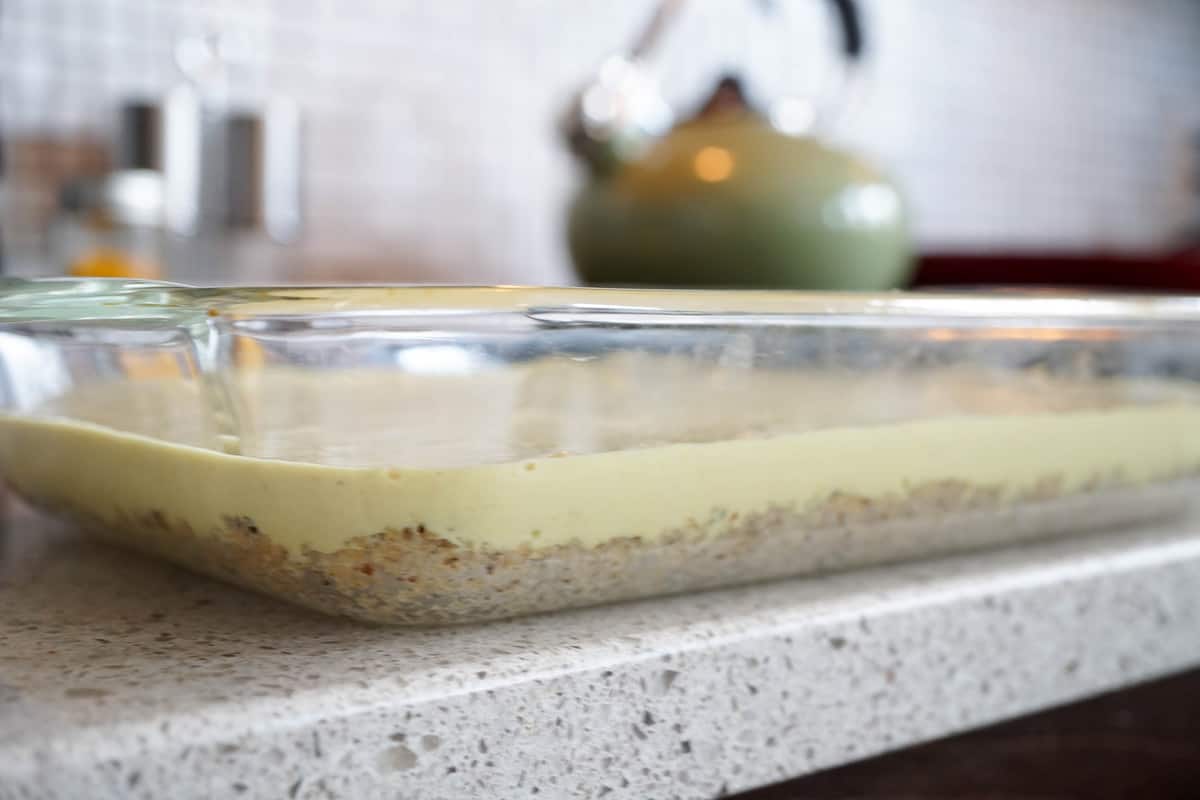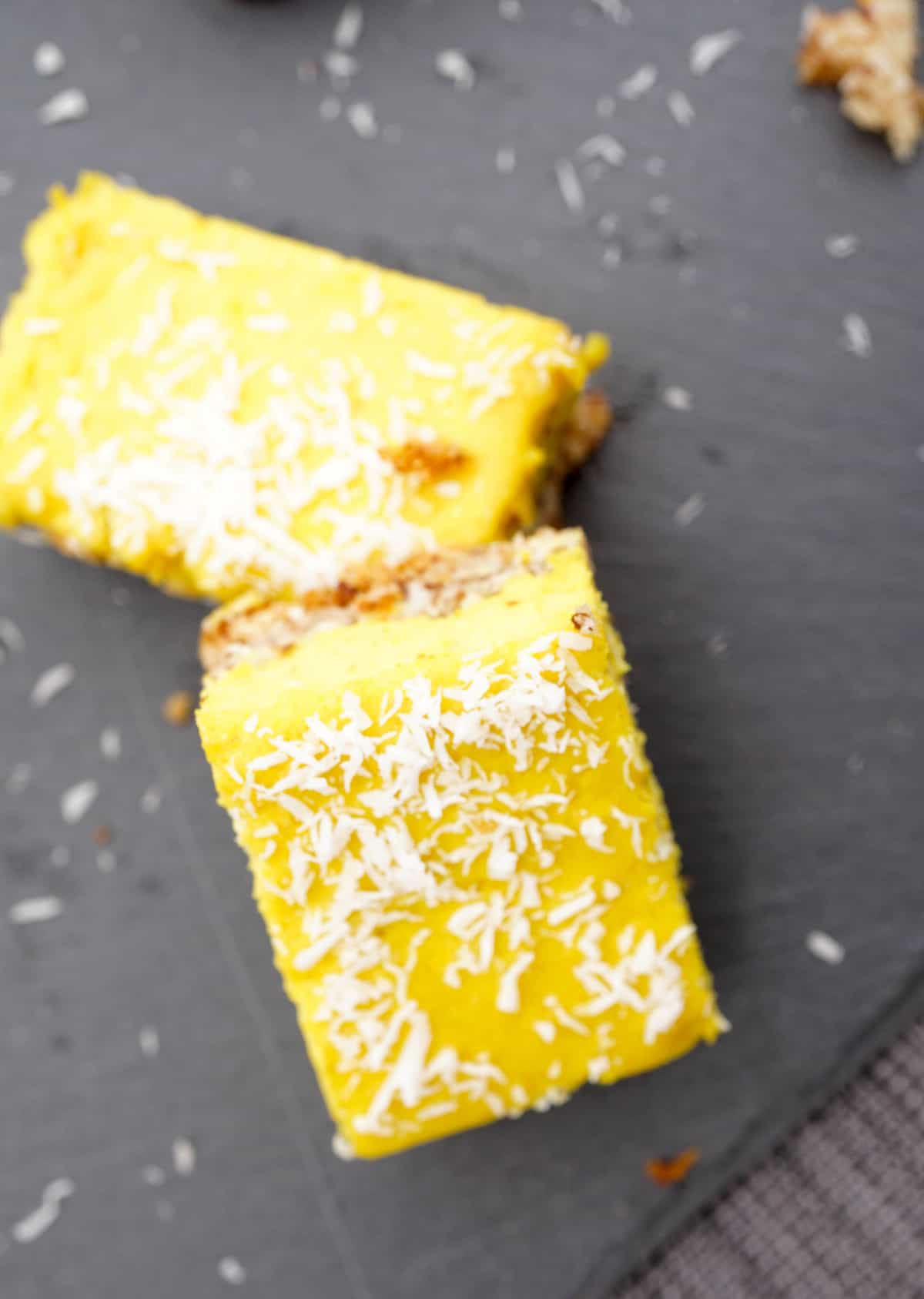 4TH OF JULY RECIPES, MEAL TYPE, RECIPE, SEASONAL RECIPES, SPECIAL DIET, SPECIAL EVENT RECIPES, SUMMER RECIPES, VEGETARIAN