Have you ever glanced at a picture of food and instantly needed to eat that food? I'm not talking about thinking "hey, that would be nice to eat someday." More like, "I need that Right Now! Nothing else will do." Well, I have and that's the story behind this gluten-free chocolate chai bundt cake.
I woke up, scrolled past an Instagram shot of a chocolate Chai bundt cake, and had to make it.
3 hours later, with an Amazon primed bundt pan en route and a new bundt cake Pinterest board, I was at it.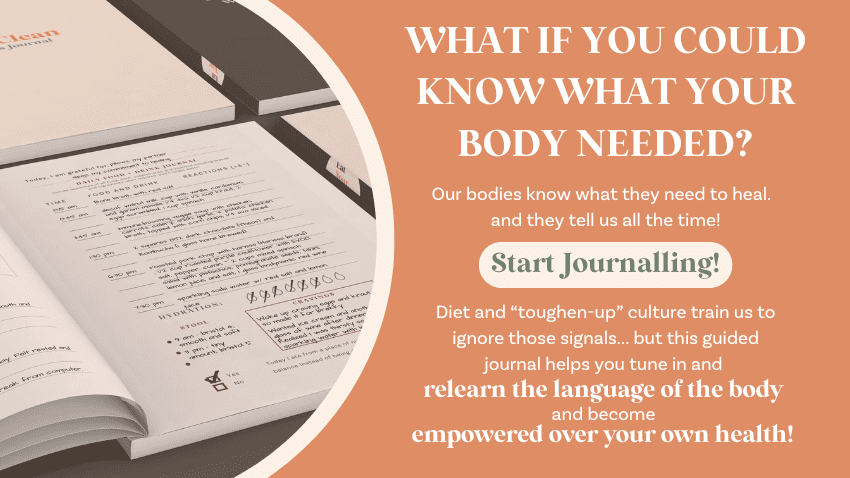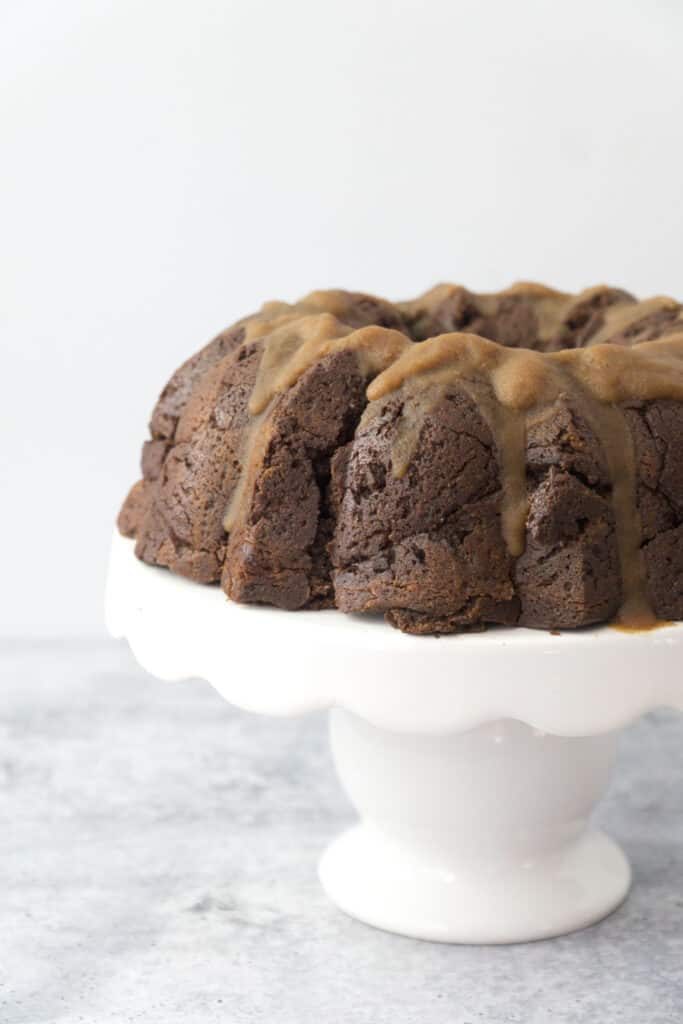 The Making of the Recipe
My Paleo Bundt Cake recipe was heavily modified from this lady'soriginal piece. Her photography is excellent so if you're not averse to gluten, dairy, and sugar, check her out.
I knew I wanted a Chocolate Chai bundt cake so I looked for recipes in Pinterest. I found 27th and Olive's gorgeous one and knew this was at least going to be the starting point. The only issue is, I couldn't eat half of the ingredients.
This is where the recipe creation magic starts.
You see, we don't always create from scratch. Even when we think we create from scratch, we are using some foundation. That foundation might just be something we've known for so long we don't remember the source and can't separate it from our creative self.
In this recipe, my foundation was the gluten-filled original. I looked at it and started making the modifications. I scratched out notes for a brand new recipe onto paper: changing flours, liquids, and sugars and adjusting mixing methods and bake times to compensate for those changes.
Now, typically, this is a trial and error situation for baked goods. I rarely get it perfect on the first try. But this was awesome! on the very first rendition. And I didn't even have to go to the store.
Who knew I would have everything on hand to make this cake? Except for the Bundt Pan… but for the next time, I'll have everything!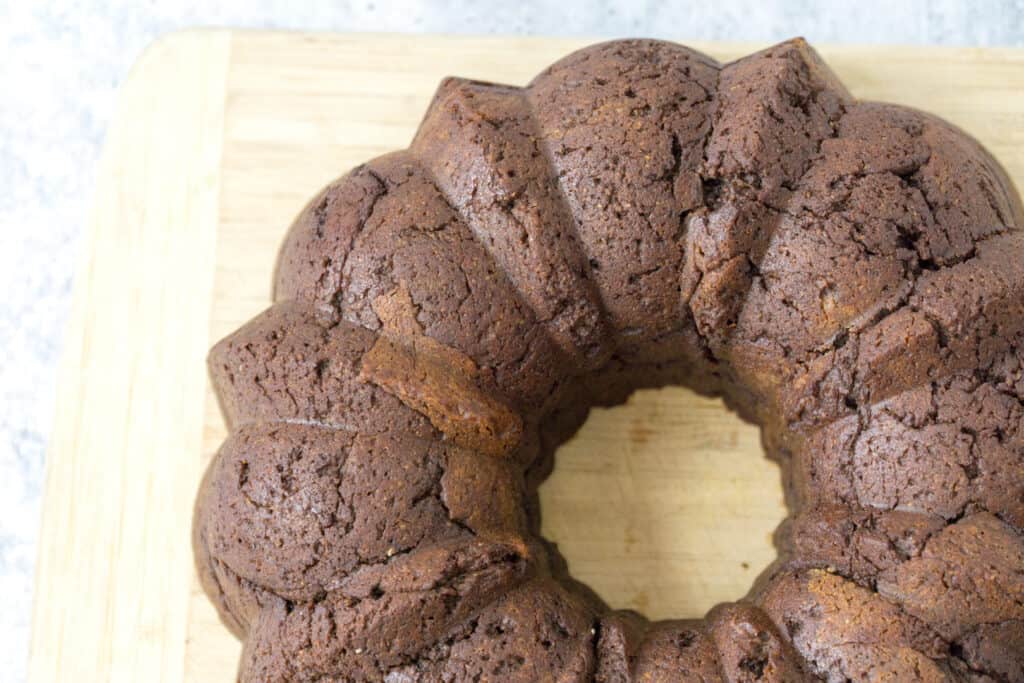 Did I mention what this cake is without?
Gluten, Dairy, Refined Sugar, Added Caffeine
This is a healthier version, or at least allergy-friendly version, of a traditional chocolate bundt cake. But it was still incredibly tasty.
I used Sweet potato, chia seed, almond and arrowroot starch instead of all-purpose flour, making it gluten and grain free. The sweet potato flour was Zocolo Heritage Comote Flour. Both the almond and arrowroot starch are from Bob's Red Mill.
Coconut milk and olive oil replace butter and cream, making this GF cake dairy free as well.
I used coconut sugar and maple syrup instead of refined brown sugar. Assuming your chocolate does not use refined white sugar, this entire recipe will be refined sugar free.
And instead of regular chai tea which includes caffeinated black tea leaves, I used Organic Rooibos Chai which is naturally caffeine free. There is a little bit of caffeine naturally present in chocolate so this recipe isn't 100% caffeine free. However, it has significantly less caffeine that if I were to have used black tea.
All ingredients are Paleo friendly.
Making the Bundt Cake
Preparation
The first thing you'll need to do is make sure you have all of the required ingredients and tools (listed below).
Then you can preheat the oven to 300.
The Dough
liquids
The first step is brewing the chai tea in coconut cream. Because gluten free cakes often become dry, this recipe has more liquid than some bundt cakes.
Make sure to use a spoon to press the tea bags as tea does not steep in cream as well as it does in water. For a stronger tea flavor, you can blanch the tea bags in hot water first. Then add the blanched tea and a little water into the hot cream. Be careful not to use too much water. Note, this recipe reflects steeping the tea bags directly in the cream.
Once cooled, add lemon juice to the coconut cream and set aside.
Because gluten-free cakes tend to be denser, I whipped the remaining liquid ingredients together before mixing in the dry ingredients. This will make them lighter and fluffier, and also the finished cake.
The alternative is to separate the eggs, whip the whites reserving for later, and then fold the whipped whites lightly into the batter after all other tasks are completed. This requires more bowls and more time, so I whipped the full eggs together in this step.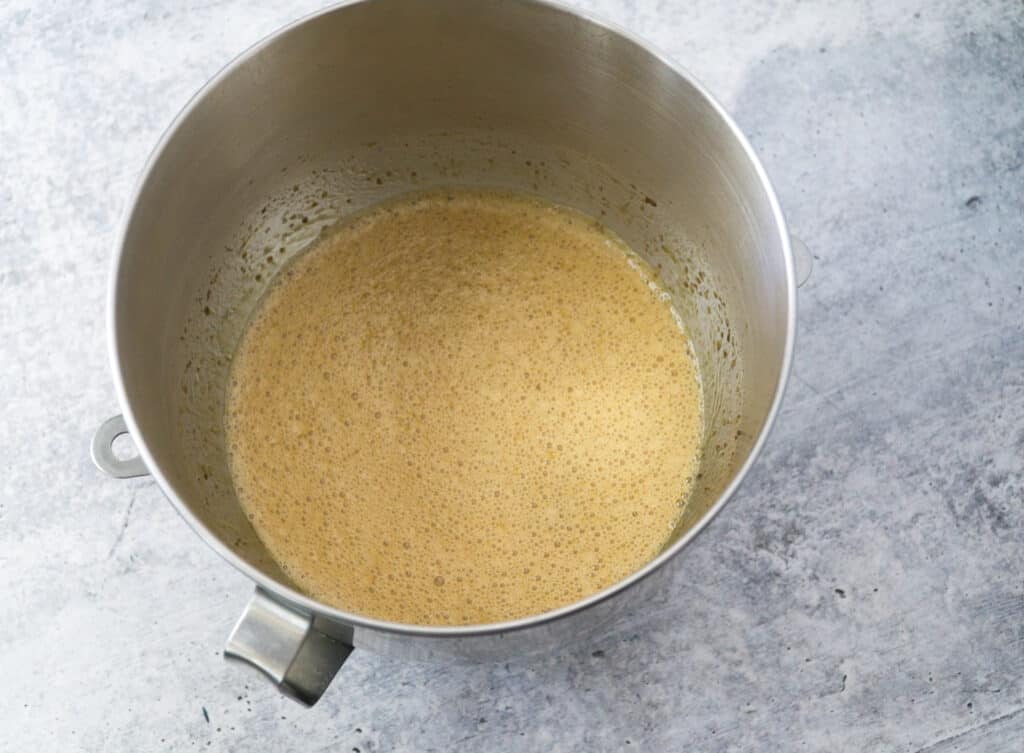 flours
All of dry ingredients including all the gluten free flours, except the chia seed and chocolate, can be mixed together at once. This includes all of the spices. You can modify the flavor by adding or subtracting any spices you want more or less of.
Chia seed on its own can become gelatinous when mixed with water, almost like eggs.
Grinding the chia seeds ahead of time negates some of this effect and allows for lighter cakes while still helping to bind the dough. Ground chia seeds also make an appearance in my favorite cake of all time, the lightest fluffiest pumpkin spice cake. Yum!
Mixing
At this point, you have 4 bowls: whipped liquids, brewed chai coconut cream with lemon, flour, and melted chocolate.
Alternate adding a little bit of flour and a little bit of coconut cream, mixing between each addition. Continue until all three are completely combined. This works best in a stand mixer with the mixing attachment but you can also use a bowl with hand beaters.
Finally, delicately fold in the melted chocolate until completely combined. Pour into a greased bundt pan and bake for about an hour or until a toothpick or knife comes out clean.
Glaze
Typically glaze is made purely from sugar and cream, so this recipe is a total reimagination of glaze.
Coconut butter adds thickness. Coconut oil allows it to heat up and be liquidy enough to pour. The date paste adds sweetness and color. Cardamom is my favorite spice in the chai family and it adds some multi-dimensional and sweet flavor. You can always add more cardamom if you, too, love the flavor!
Mix all of the dairy free glaze ingredients on low heat until just combined. Drizzle finished glaze over the cooled bundt cake.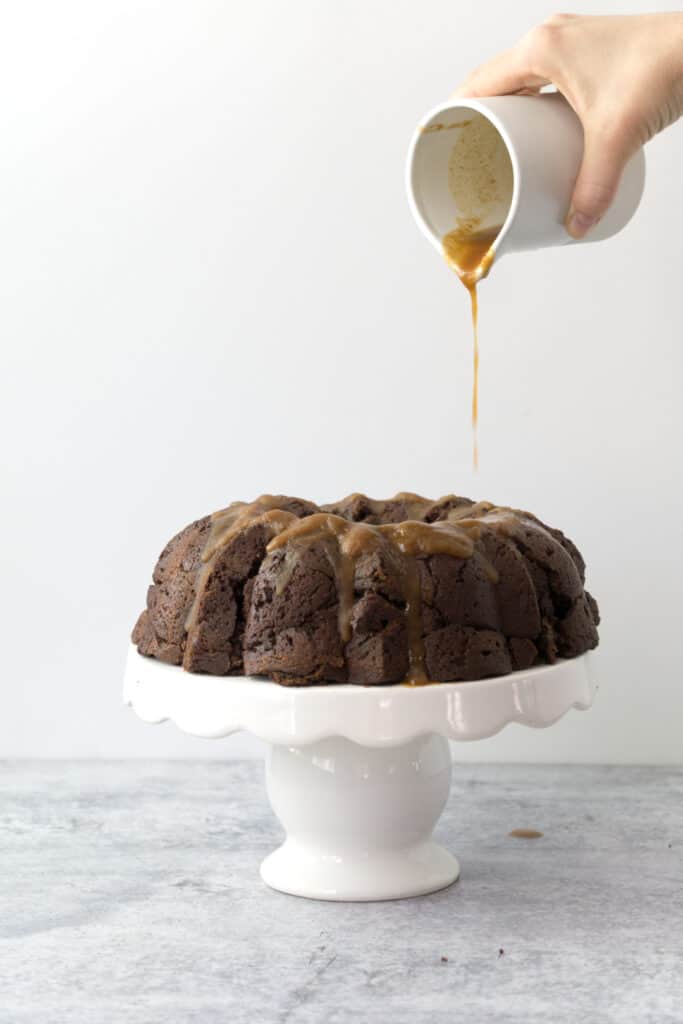 What will you need to make this Chocolate Chai Bundt Cake?
A food processor, blender or coffee grinder to grind the chia seeds. I used a Magic Bullet.
A Bundt Cake pan. I used this one. Thanks, Amazon Prime! 🙂
A mixer with whisk and mixer attachment or a hand-held beater. I used this one.
Notes about the Chocolate Chai Bundt Cake Recipe
This cake can be made ahead of time and freezes well. Slice into individual pieces before freezing so that you can have cake one piece at a time.
The cake becomes denser and fudgy after freezing.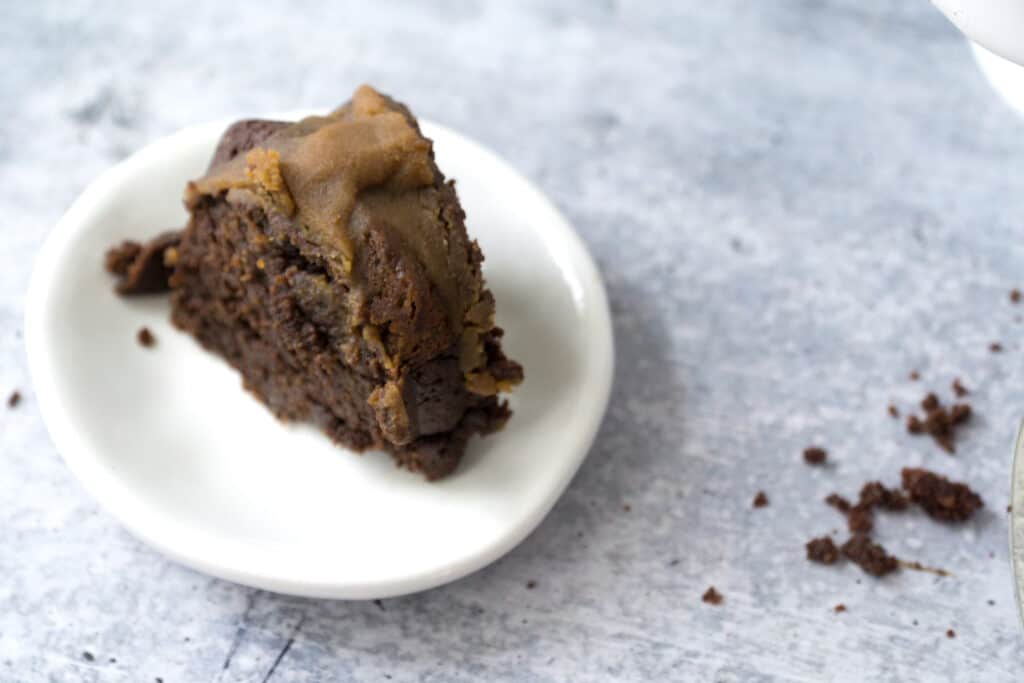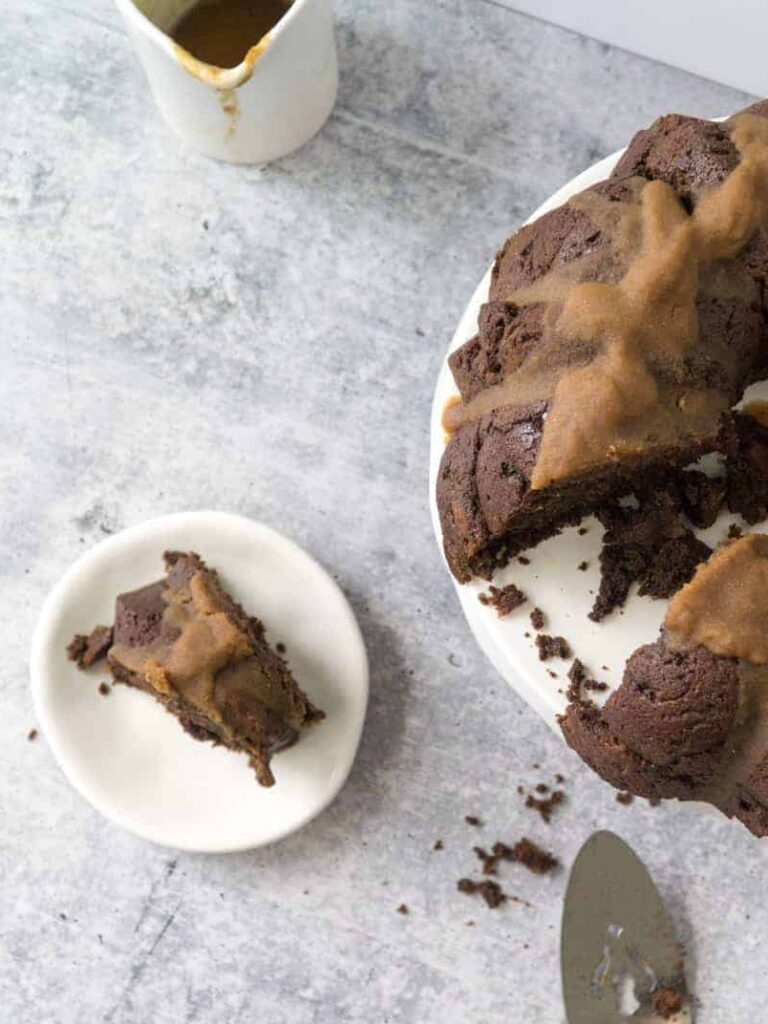 Gluten Free Chocolate Chai Bundt Cake
Description
A rich and moist chocolate chai bundt cake exploding with chai flavor. It's so moist and light that you'd never guess it was paleo and free of gluten, grain, dairy, and refined sugar! It also uses rooibos instead of black tea so it's safe to eat closer to bed without compromising sleep.
Flour Mixture
Spices
Glaze
Instructions
Baking the Bundt Cake
Heat coconut milk on medium low on the stove, bringing to a simmer. Submerge tea bags, turn off the heat, and let rooibos chai steep into milk.

Add oil, eggs, coconut sugar, maple syrup, and vanilla to a mixer with a whisk attachment. Whisk until fully combined and frothy, about 1 minute

Grind the chia seeds into a flour using a coffee grinder, food processor, or high-powered blender. I used a magic bullet blender.

Measure all remaining flour and spices into a bowl with ground chia seeds and stir until combined

Remove tea bags from coconut milk, stir in lemon juice

Switch to a mixer attachment on your mixer and alternate adding the coconut milk and flour on medium-low speed until evenly combined. Do not over stir.

Melt chocolate and add to mixer, stirring until just combined. The batter will be thick and stick to itself instead of the bowl or mixer.

Pour batter into a greased bundt pan and pat down so the batter is level.

Bake at 300 for 60-65 minutes or until a clean toothpick emerges from the cake

Let cool for 10 minutes. Then flip the bundt cake pan over and slightly pat the bottom of the pan to release the cake. Let cool completely.
The Glaze
While the cake is cooking, melt coconut butter, coconut oil, date paste, and cardamom on the stove on very low heat until evenly combined. Careful not to burn the coconut butter.

Drizzle over the top of the bundt cake and enjoy!
Note
I used 2 3.5 oz bars of Endangered Species 85% chocolate and one 3 oz bar of Theos 70% chocolate.  You can use pureed dates instead of date paste for the glaze. 
bundt cake, gluten free bundt cake, paleo bundt cake