A healthy twist on a classic dessert: this gluten free apple crisp is made from nutritious real foods and nationally sweetened, perfect for health-conscience, dairy free, sugar free or vegan friends!
It's fall and that means one thing: apples.
Ok. It also means pumpkins, turkeys, and short days… but right now I'm only thinking about cinnamon spiced apples.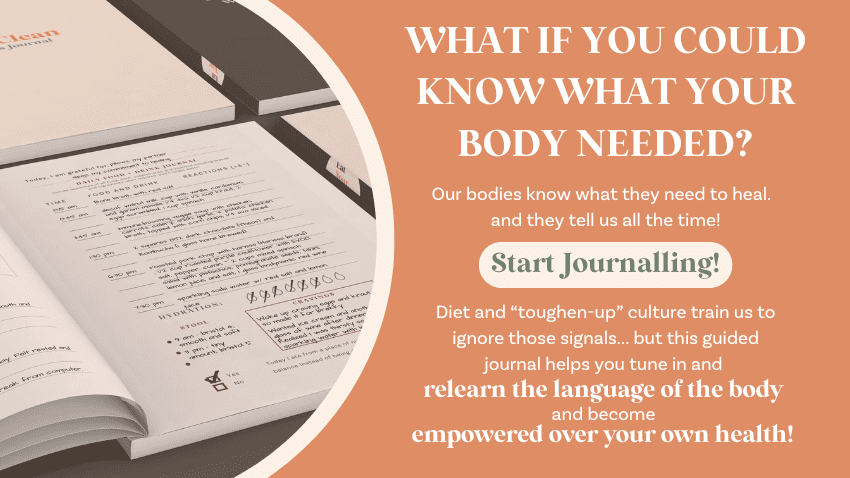 I recently got a request for a cleaner "real-food" version of an apple crisp, so here it is! Hopefully it's in time for Thanksgiving 🙂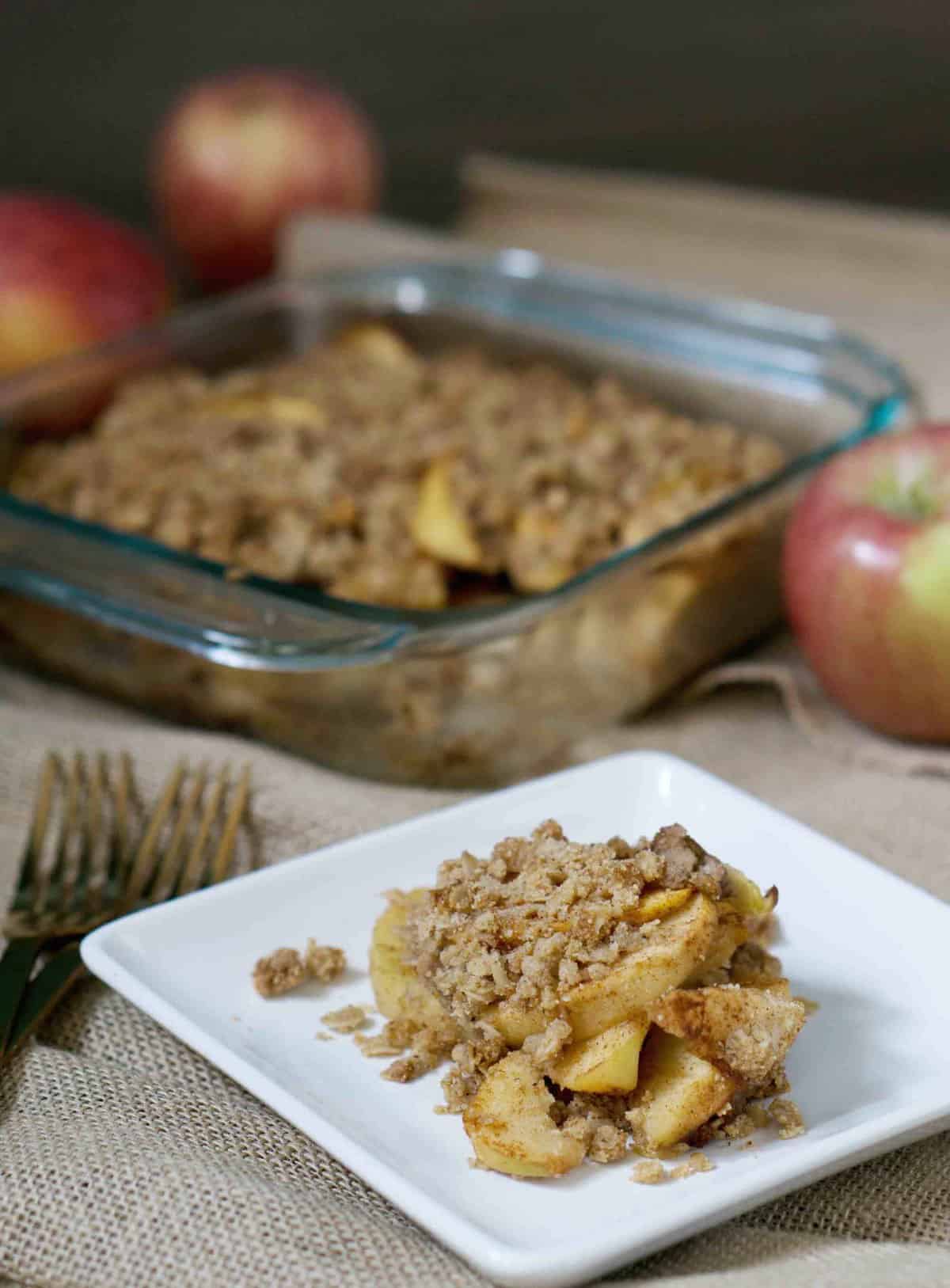 If not, it'll be right here waiting for you at 4th of July because apparently apples are a big part of all the US milestone holidays. That is… holidays celebrating US historical milestones. Is that a thing? It's not national holidays because that would mean all holidays we celebrate even the religious ones. I just googled it and am not any clearer, so if you know the answer, let me know in the comments!
Anyways… I clearly need an apple crisp break.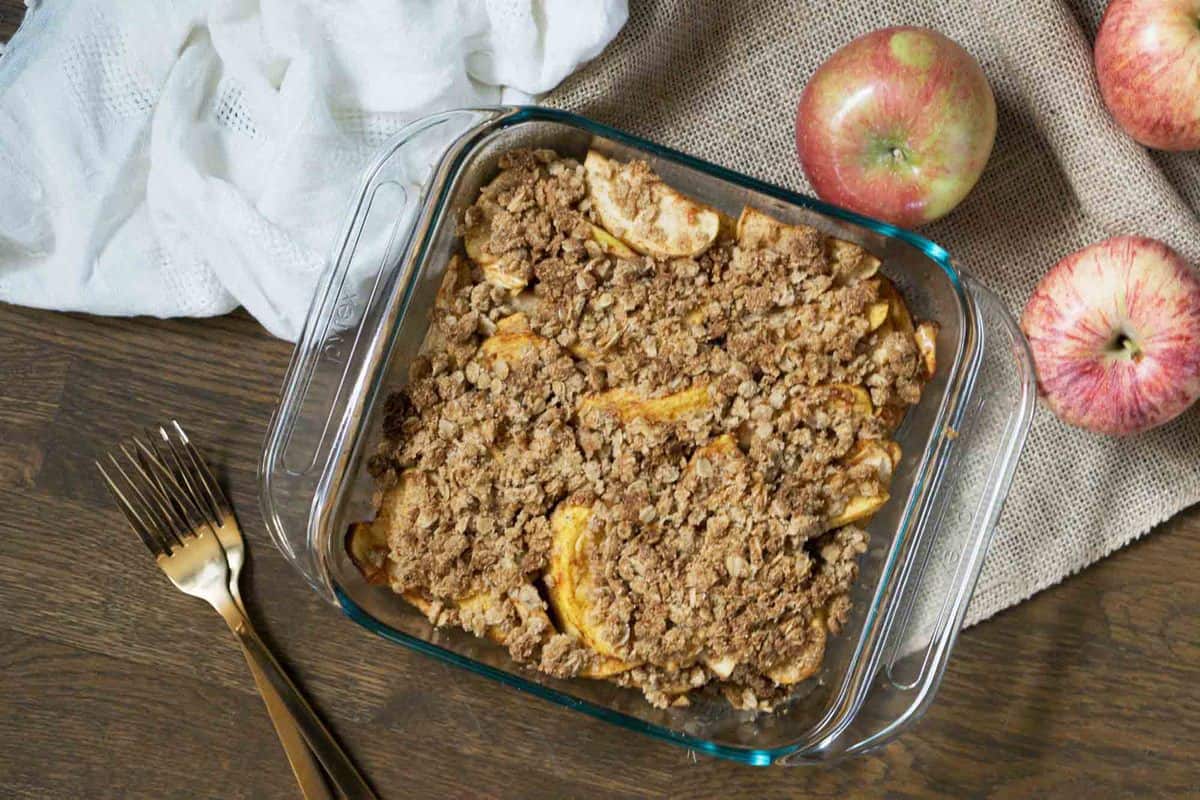 Making a classic treat healthy
I used inspiration from 2 of my mom's favorite apple crisp recipes, combining them into one and changing it to be gluten free, dairy free and sugar free.
The crisp is the best part so I made sure to add extra amounts of that. In this case, a mix of gluten free oats, almond flour and coconut flour replace regular flour.
Coconut oil works very well in the crumble. Make sure to melt the coconut oil before mixing to help it mix in more easily with the other ingredients.
I also added a little extra oil to the apples to help them moisten in the oven. We wouldn't want dry apples in our crisp!
Naturally Sweetened and Spiced Gluten Free Apple Crisp
Apples are usually baked with cinnamon deliciousness and topped with pie crust or crumble. And this recipe is no different. What is different is I used the natural sugars of the apple along with maple syrup to sweeten the dish instead of refined sugars.
Similar recipes from a quick google search typically have about 1 cup of sugar in just the apples themselves, not to mention the sugar added into the crumble.
I might sound like a broken record, but high quality ingredients like almonds, coconut and apples already have plenty of natural sweetness and don't really need all that added sugar.
It may take a while to adjust your taste buds, but once you do, you'll feel a lot better and not taste much else than sweet in those high-sugar recipes.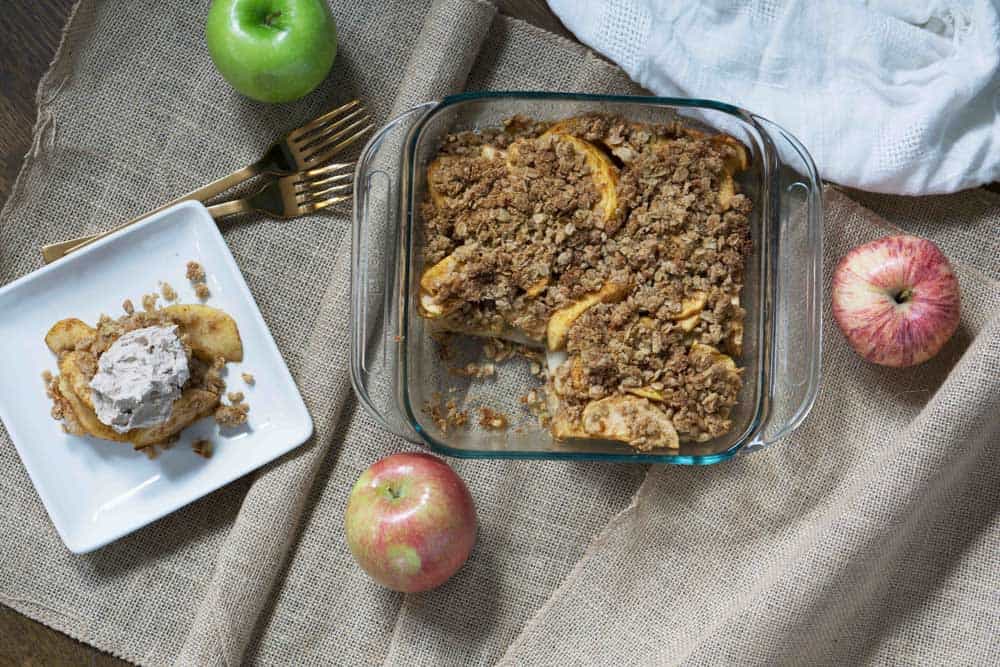 Serving the Apple Crisp
Hopefully, this will be a nice addition to your holiday party. You should get all of the flavor and none of the food coma. You can leave that responsibility up to the turkey and mashed potatoes this year 😉
This gluten free apple goodness is good served warm or cold, but I prefer it warm with a scoop of coconut whip cream. It's also good a la mode with a little dairy free coconut ice cream.
Either way, enjoy!
Sharing is Caring! Pin for later or for a friend to find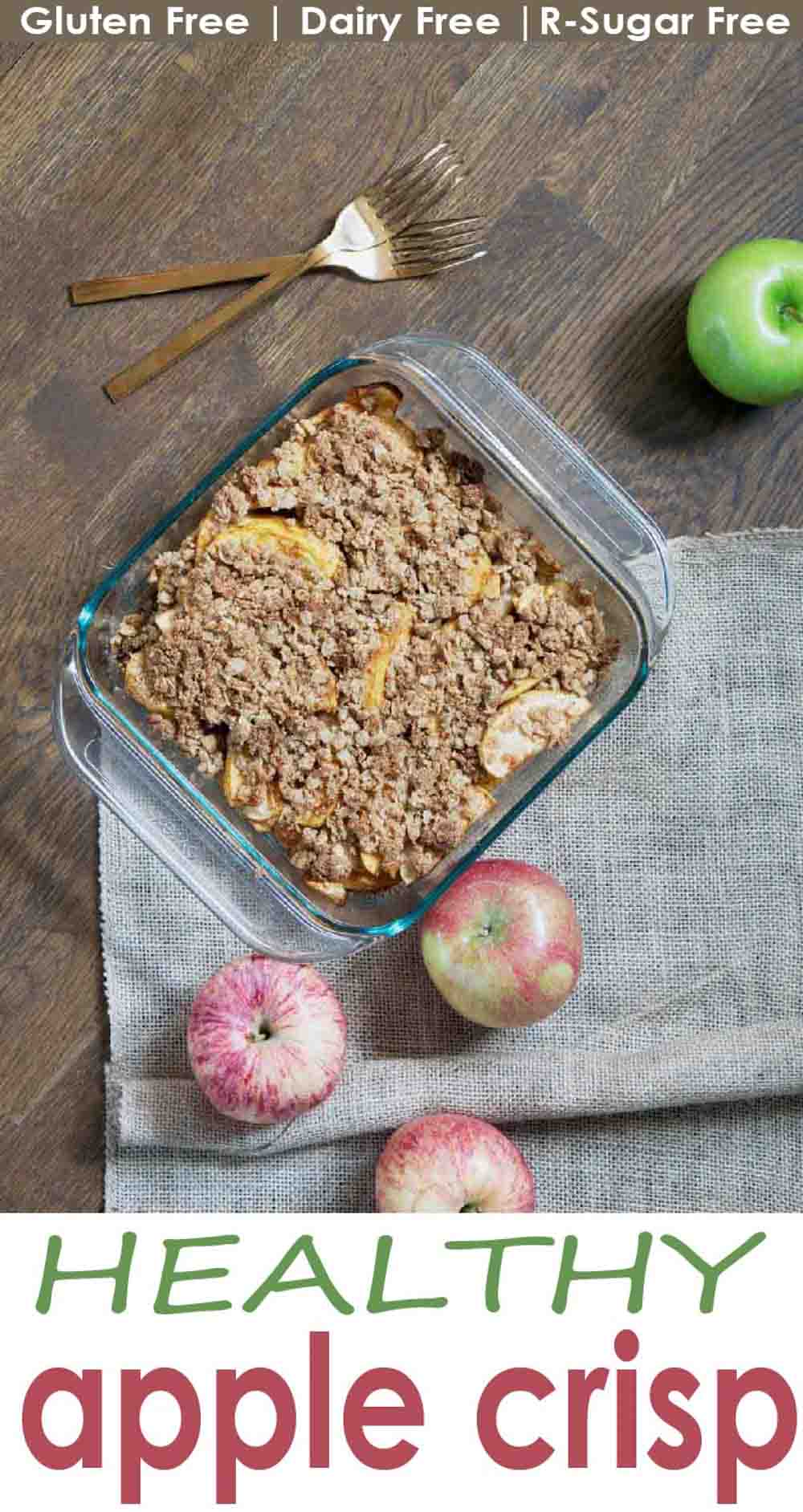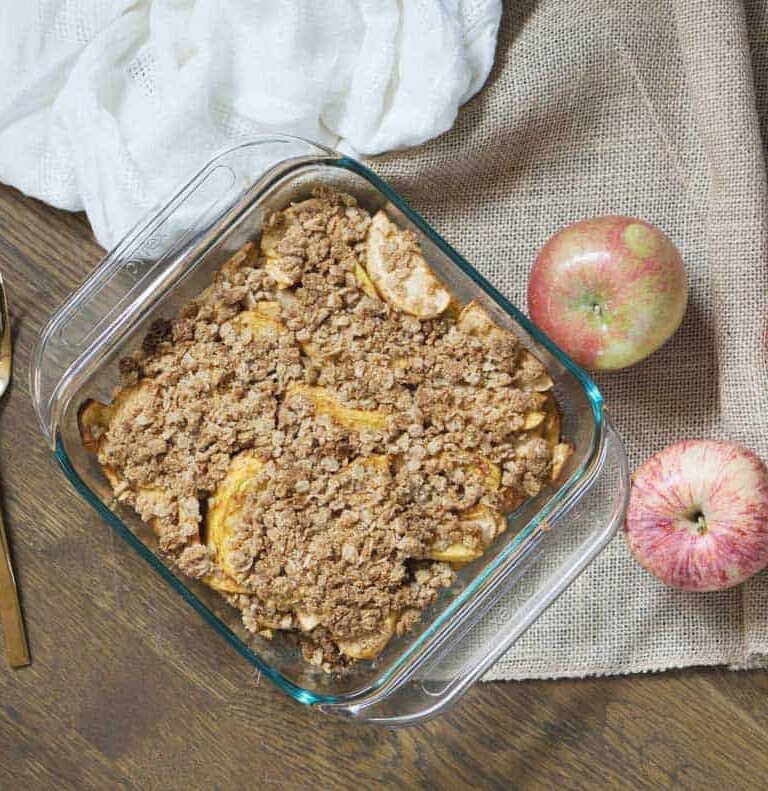 Gluten Free Apple Crisp with cinnamon + clove
Description
A healthy twist on a classic dessert: this apple crisp is made from nutritious real foods and nationally sweetened, perfect for gluten free, dairy free, sugar free or vegan friends!
The crisp
The apple filling
Instructions
Directions
Mix maple, cinnamon and melted coconut oil in large mixing bowl.

Peel and slice apples. Add to bowl and toss in maple-cinnamon mixture until well coated.

Set apples aside for about 30 minutes, letting the cinnamon and maple soak into the apples

Mix all crust ingredients in a small bowl until well combined.

Spread half of the crumb mixture evenly across the bottom of an 8x8 pan

Top with the rest of the crumble mixture.

Bake at 350 for 50-55 minutes or until slightly golden brown.

Serve warm or cold with coconut whip cream or ice cream
Note
Apples: I use a mixture of sweet and tart apples since there is limited added sugar in this recipe. You don't need to use 2 Braeburn and 1 gala, but I recommend 3 sweeter red apples mixed with 1 tart granny smith apple.