The Key Ingredient: Roasted Pumpkin and Puree
There are two parts of pumpkin that mix into this meal: roasted pumpkin cubes and pumpkin puree. I find the best way to get both is to roast a small to medium pie pumpkin.
You can use part of the pumpkin to cut into squares and mix in at the last minute and add as garnish. You can use the other part of the pumpkin to make the pumpkin puree.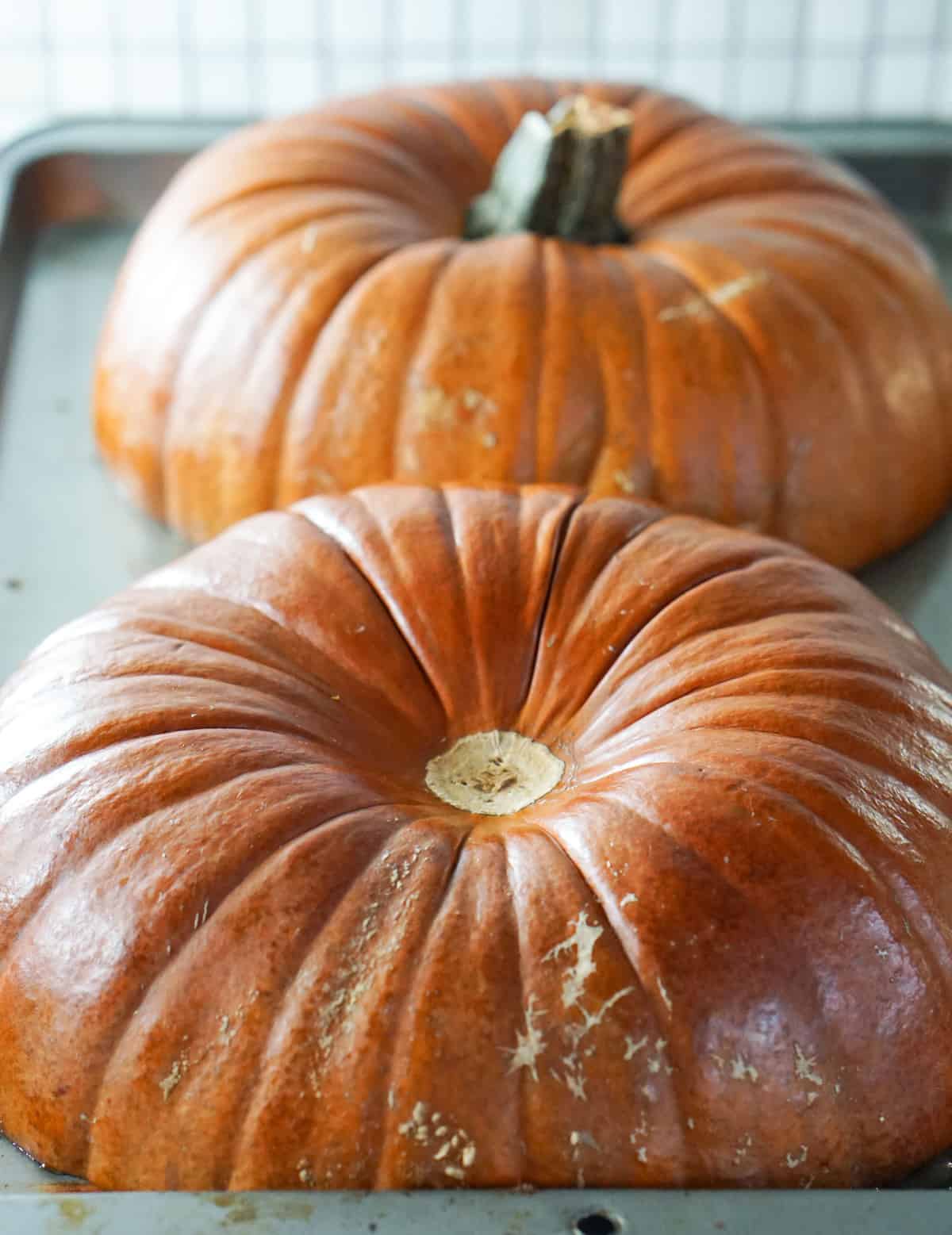 To make pumpkin puree from scratch, simply:
Pumpkin puree is one of the easiest things to make. All you have to do is roast pumpkin and then spoon the pumpkin meat into a blender. The full instructions are
here
. The quick version of it is below.
Cut a small to medium pie pumpkin in half and remove the seeds
Coat the exposed flesh with coconut or olive oil
Roast for 60-70 minutes at 350
Spoon the pulp into a blender and puree until smooth


Protein: Chicken and Broth
There are two ways to go about this recipe, you can make the chicken bone broth in the process of cooking the chicken, or you can just cook the chicken and use prepared broth.
Making the Bone Broth with the Chicken
Making the broth is relatively easy and takes minimal active time. You can find more details about making bone broth from scratch
here
, but for this recipe simply:
cover the chicken drumsticks in cold water and add salt
simmer for 4-8 hours. This will allow you to cook the chicken while making excellent homemade bone broth!
If you go this route, you can cook the chicken and make the broth ahead of time. Just refrigerate until you are ready to cook the risotto. This can save time when you actually want to prepare the risotto.
For example, if you want to make this pumpkin black rice risotto for dinner for Halloween on Thursday night, you can make the chicken, broth and pumpkin the night before on Wednesday so they are ready for Thursday night.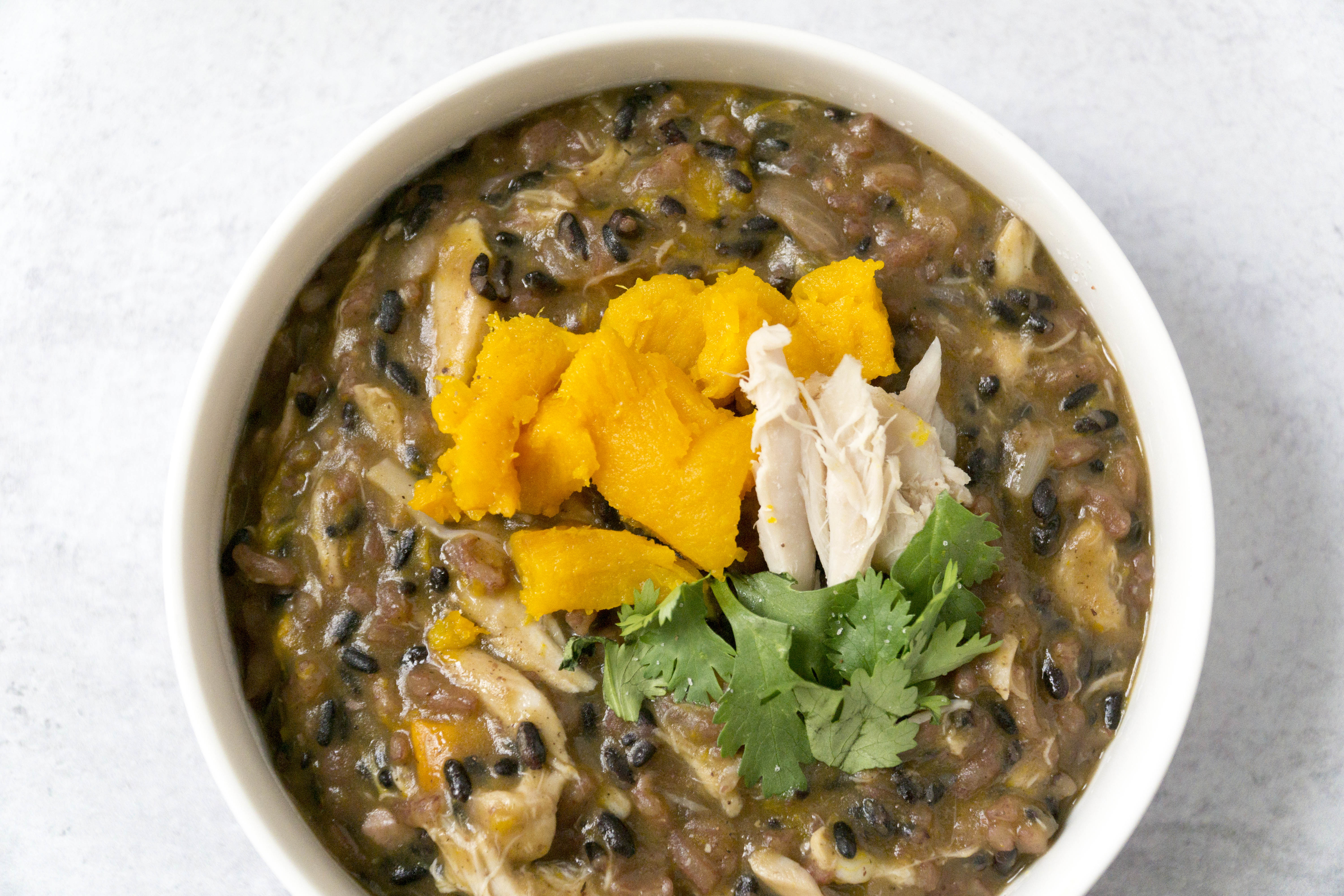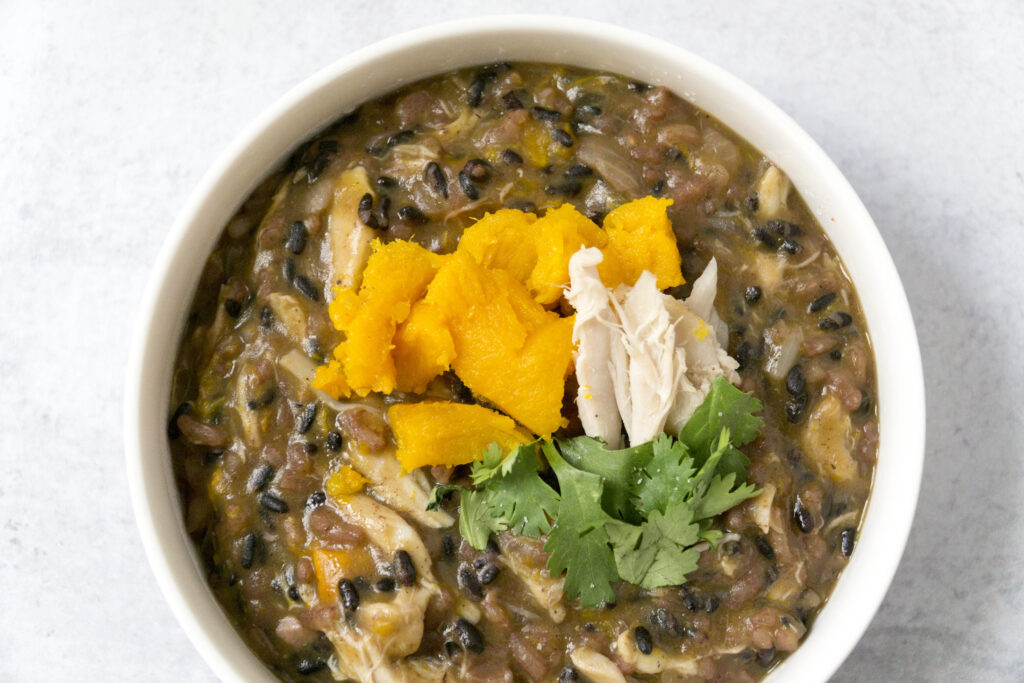 But you don't have to make the bone broth from scratch
If you prefer to save the time from making bone broth, you can use prepared chicken broth. In this case, I still recommend boiling the chicken to get a rich and tender texture that will melt in with the risotto.
Cover the chicken in water and salt before you start the risotto. Then let the chicken cook at a low boil while you cook the risotto.
Use Warm Broth with the Risotto
Regardless of your method, make sure that you heat the broth before adding to the risotto. A warm broth will absorb better into the rice and improve the texture of the end product.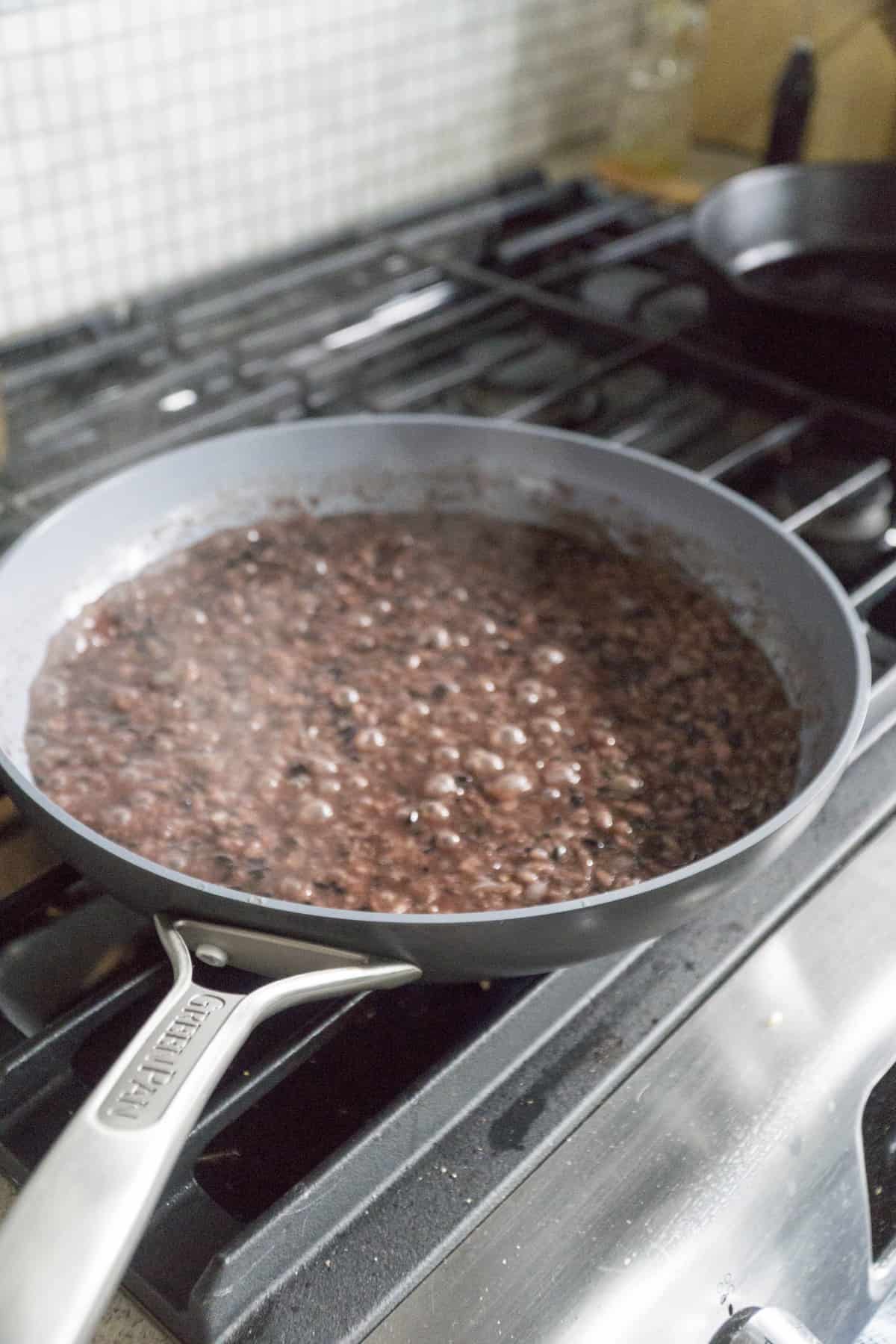 Making the Pumpkin Black Rice Risotto
The risotto itself is made by slowly adding liquids to the rice and letting the starches and liquids simmer together to make a rich and creamy sauce. Many people add cheese, but it is not really necessary in a risotto. The rice has enough starch to make a creamy sauce on its own.
This risotto calls for black rice instead of the typical arborio used in most risottos. The black rice is to make a festive Halloween meal: orange and black. However, this
lotus foods
black forbidden rice is also awesome because it is made using sustainable farming practices and helps to raise rice farmers out of poverty across the globe.
For Halloween, the black rice risotto pairs excellently with a nice cab, like the festive All Hallows Eve from California's Ghost Winery Flora Springs.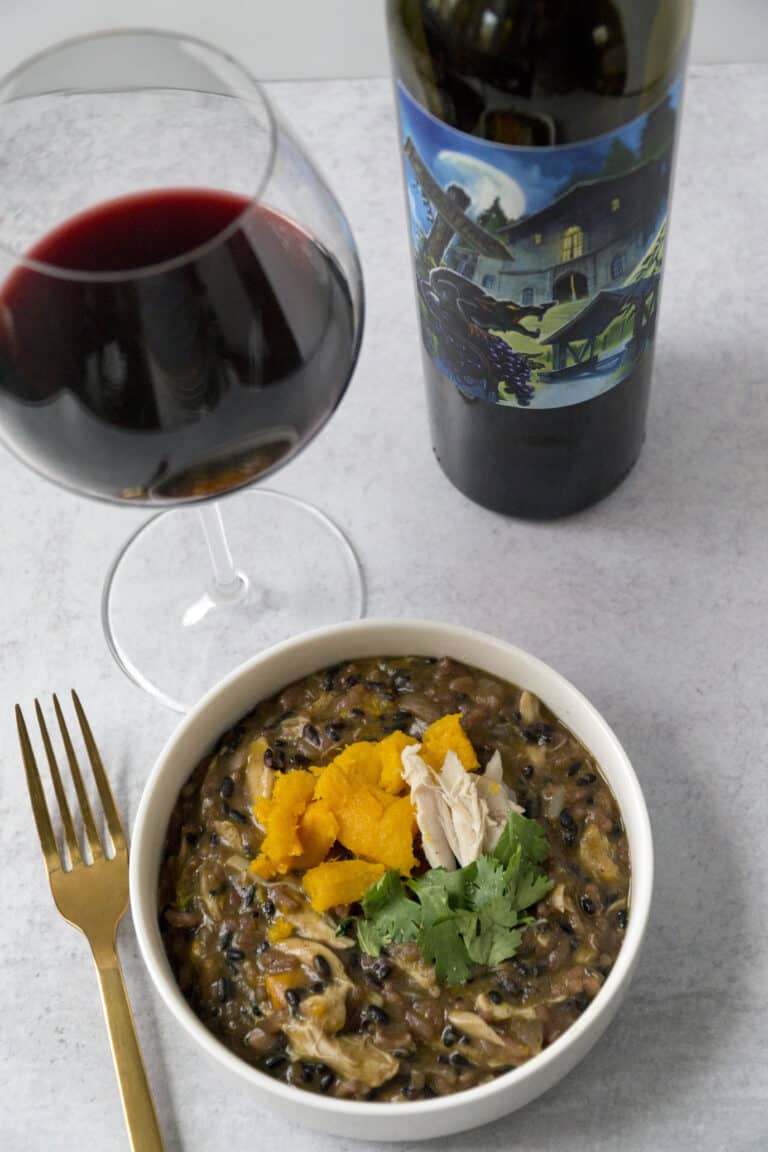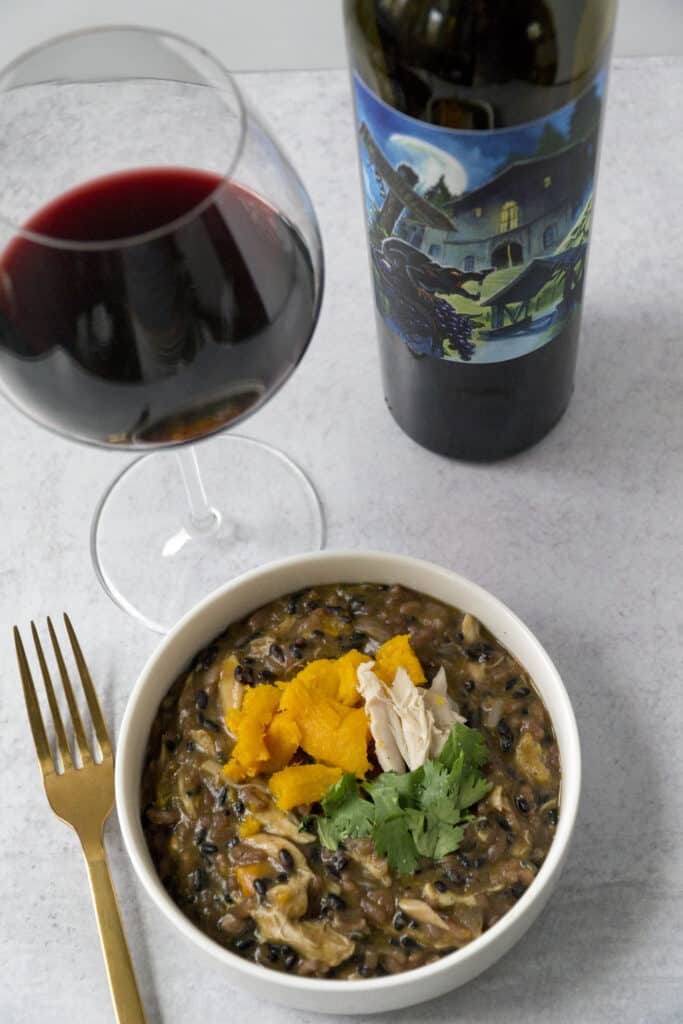 One Cup at a Time
In risotto, it will be important not to add all of the liquid at one time. In other words, add it slowly bit by bit. Just as a cookie recipe calls for adding flour a little bit at a time, in risotto you add warm broth cup by cup.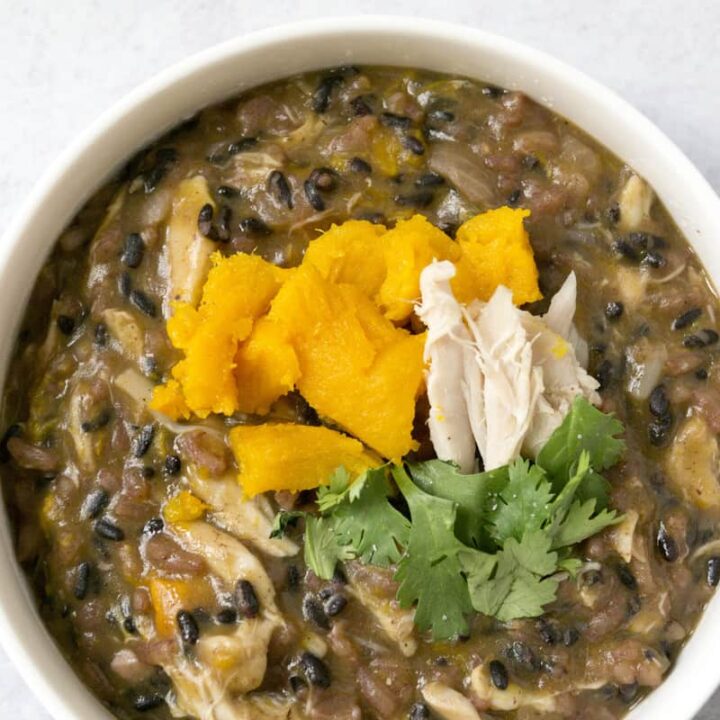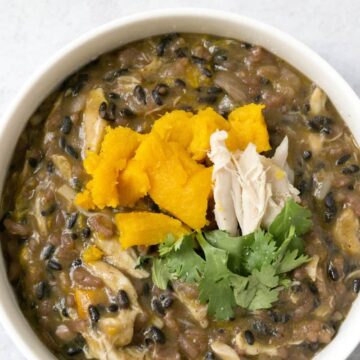 Pumpkin Black Rice Risotto
This orange pumpkin and black forbidden rice risotto make an excellent fall meal and a rocking orange and black Halloween dinner. Festive in a natural way, this pumpkin black rice risotto is full of healthy real food and flavor, sans sugar.
Print
Pin
Rate
Ingredients
Ingredients

3

chicken drums sticks

1

tsp

real salt

divided

1/2

tbsp

extra virgin olive oil

¼

cup

diced onion

2

cubes garlic

1

cup

black rice

I used lotus foods forbidden rice

½

cup

dry white wine

I use chardonnay

5

cups

chicken broth

1

tsp

nutmeg

1

tsp

sage

½

tsp

real salt

3-4

grinds of fresh black pepper

1

cup

pumpkin puree

1 ½

cup

roasted pumpkin cubes

divided

¼

cup

fresh parsley leaves for garnish

optional
Instructions
The Chicken and Homemade Chicken broth (optional)
Cover chicken drumsticks in cold water with 1/2 tsp real salt on stove top in medium soup pan

If you are making the broth, simmer on low heat for 4-8 hours and remove broth, reserving the chicken for the risotto and keeping the broth warm for the risotto. Alternatively, boil for 20 minutes until cooked through.
Pumpkin Black Rice Risotto
Warm broth at a medium simmer

Heat olive oil in a large skillet on medium high. Add onion followed by garlic.

Add black rice and stir to coat

Add wine and stir often until the wine cooks off

Mix in 1 cup of broth and reduce the heat to a low simmer

Mix in nutmeg, sage, salt and pepper. Let rice mixture cook until most of the liquid has been absorbed or cooked off.

Add the remaining broth, one cup at a time, until the rice is soft but firm. With each additional cup, wait for the liquid to absorb before adding the next cup

Shred cooked chicken drumsticks and sauté in separate skillet for about 5 minutes on medium high heat to crisp the edges

Mix chicken (saving a little bit for garnish), pumpkin puree, and half of the cubed pumpkin into the risotto

Spoon into bowls and garnish with remaining cubed pumpkin, a little chicken and parsley
This nutrition information does not tell the whole story of food's nutritional value! Make sure to use your gut intuition on what your body needs, eat your veggies and get 30 plants a week for optimal gut health. This nutritional data is calculated based on above values and standard brands. This information may vary.