June was busy... busy, busy, busy. I lead into the month with a Memorial Day wedding, followed by a relatively calm first week. Then I dove right in with a 10 day trip to Prague and Dubrovnik (which was amazing!!! more to come on that soon :)) before rocking it for my friend's last single Hoorah at her Charleston Bachelorette party. The last weekend blended into July with a 30th Birthday in OshKosh, WI and a wild 4th of July filled with yoga, bike rides, a concert at Red Rocks, BarBQs and fireworks so close little firework pieces fell onto my shoulder. All that in between work trips to California.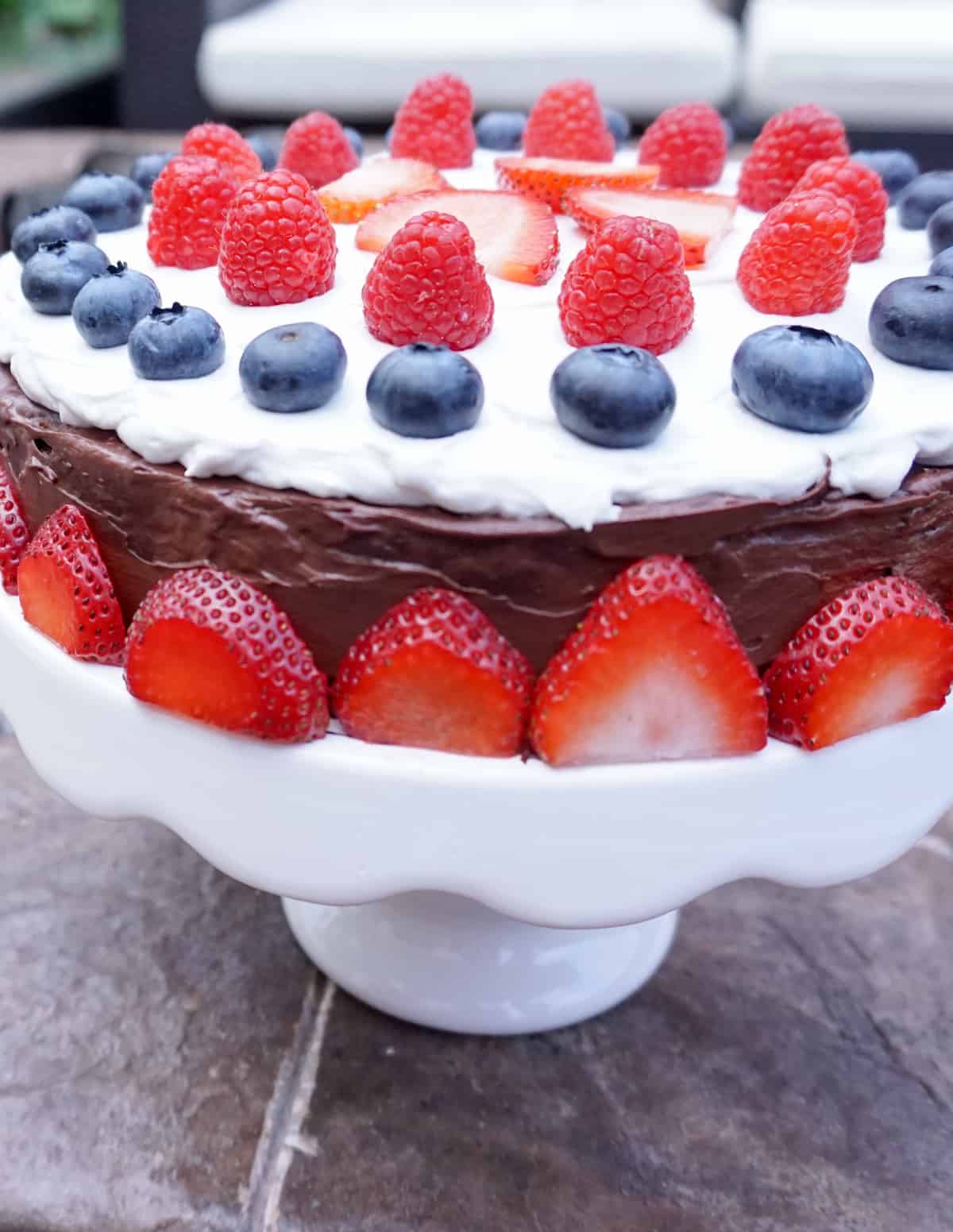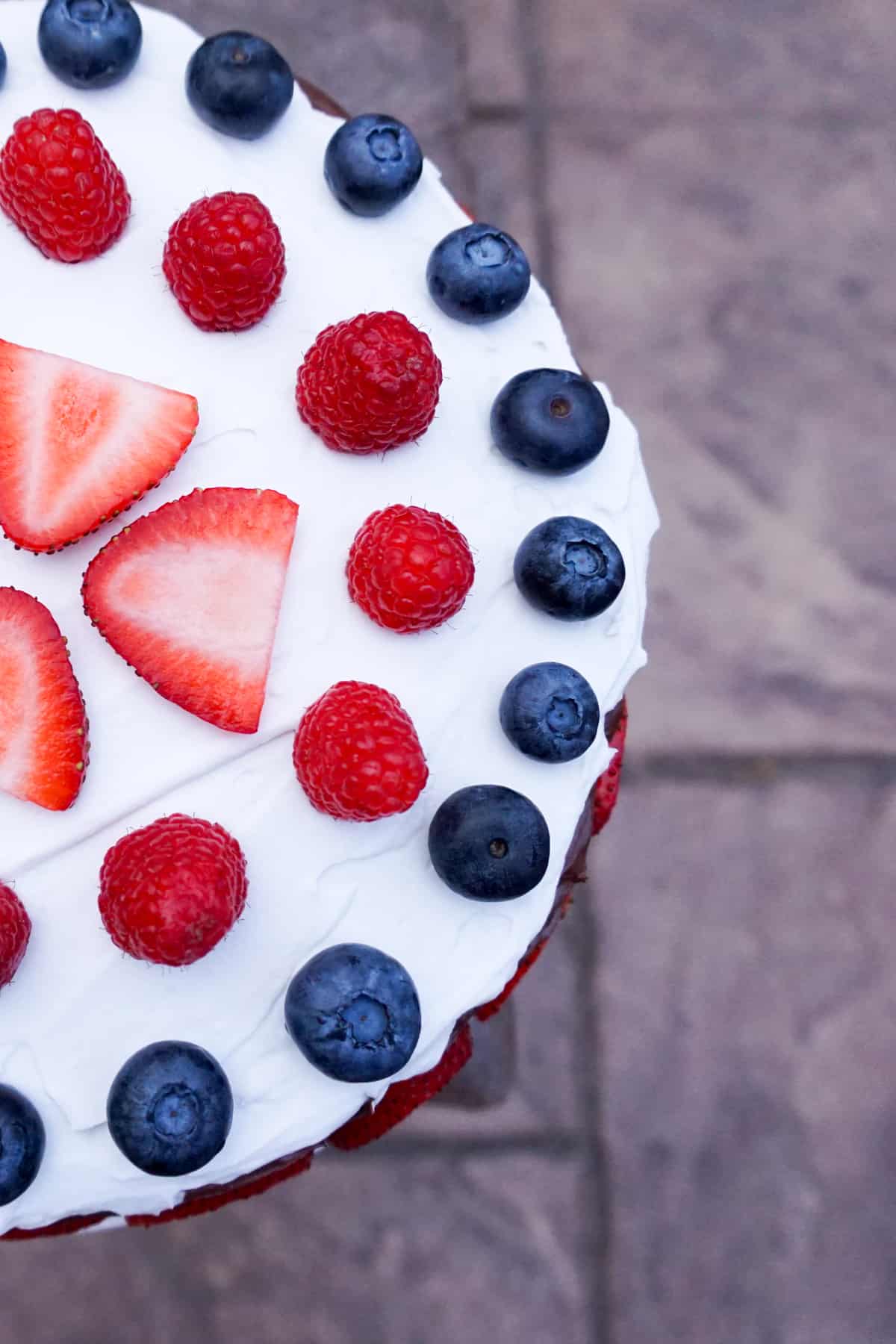 So it was very nice to have some time to relax and bake a cake during this first weekend of July. I'm hoping for a calmer month, full of lazy back-yard barBQs and hopefully some more cakes 🙂
I made this cake two ways: one for my vegan friends and one for my nut-free friends. Next time I'll have to get even more creative and make one nut-free & vegan version. This one I'm sharing today is vegan but does include almond flour.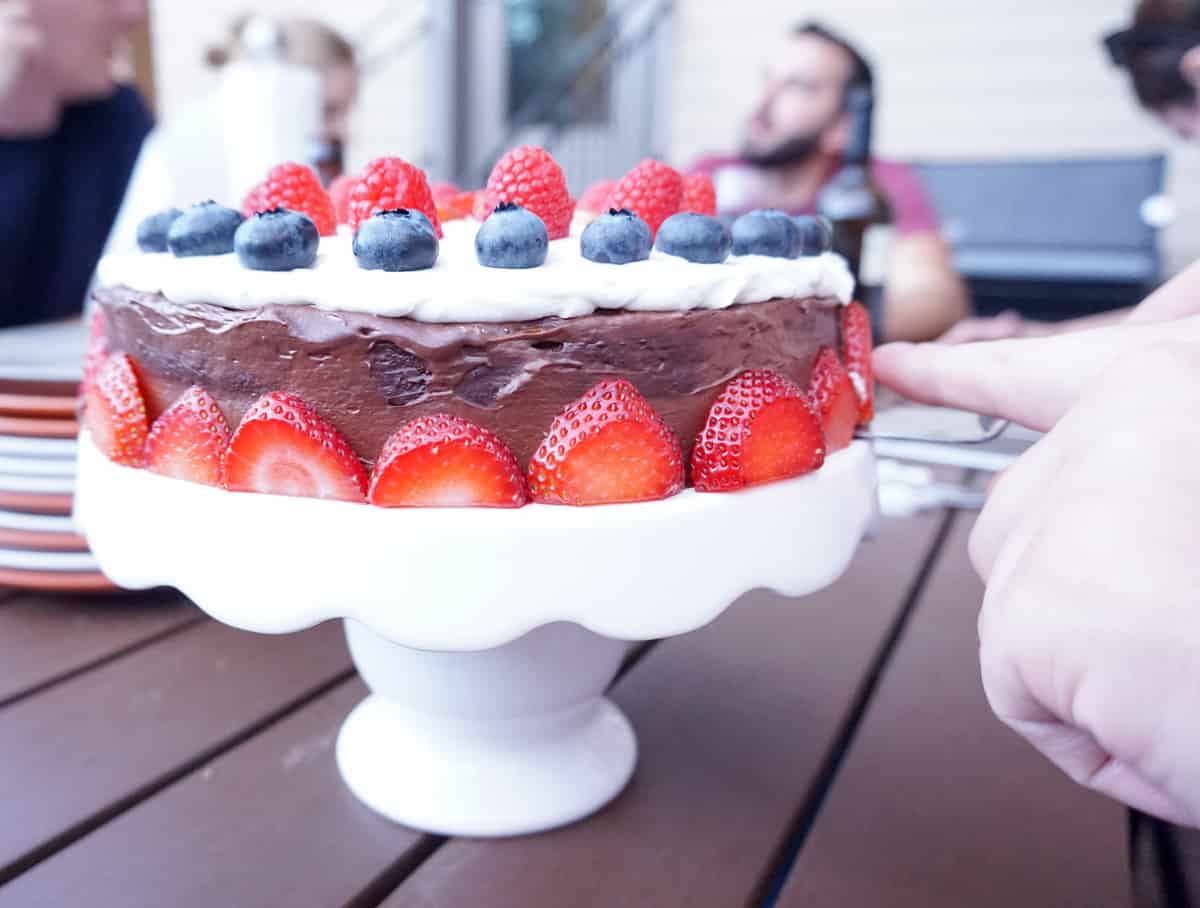 I decided to make this super simple, since I know everyone else is also super busy at this time of year, and make this a blender cake. That's right - you just throw the ingredients in a blender or food processor and you've got yourself some cake batter.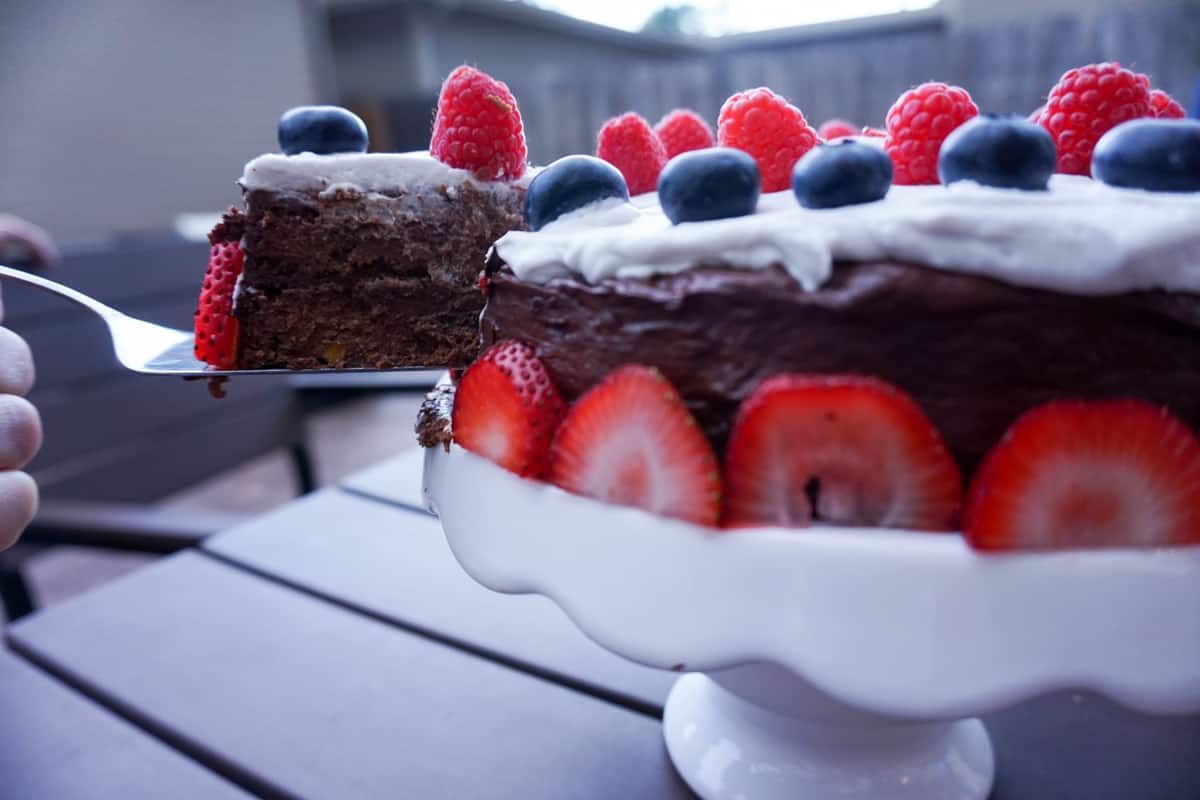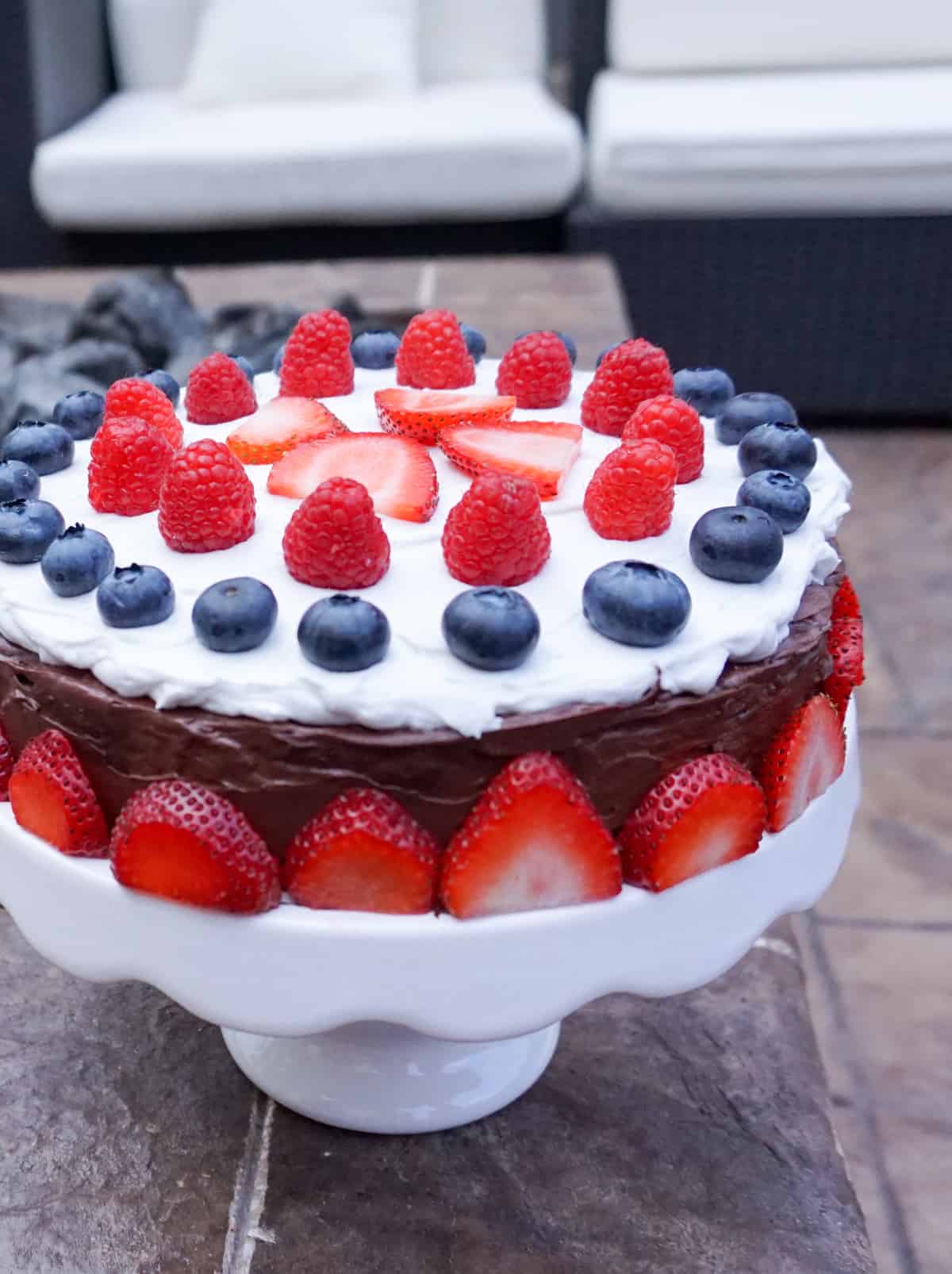 If your June was as crazy as mine, I hope you had a nice relaxing break over the holiday and got to enjoy some cake of your own! Did you have a healthy version of freedom cake as well? Tell me how you celebrated below in the comments!
Ingredients:
Cake:
dates, 1/2 cup
sweet potatoes, 2 small, coarsely cubed
bananas, 4 large
navel oranges, 1
coconut oil, 1/2 cup
cocoa powder, 1/2 cup
cinnamon, 2 tsp
nutmeg, 1 tsp
almond flour, 1 cup
sparkling water, 1/2 cup
Ganache:
coconut oil, 1/2 cup
dark chocolate, 2 oz
honey, 1 tbsp
cocoa powder, 1 cup
coconut milk, 3/4 cup, liquid part from bottom of the can- reserve cream for whipped cream.
Coconut Whip Cream:
can coconut milk, 2, chilled in fridge for 1 day
Garnish
blueberries
raspberries
strawberries, sliced
Tools:
zester or grater
blender or food processor
2 9" round pans
egg beaters or kitchen aid with whisk attachment
whisk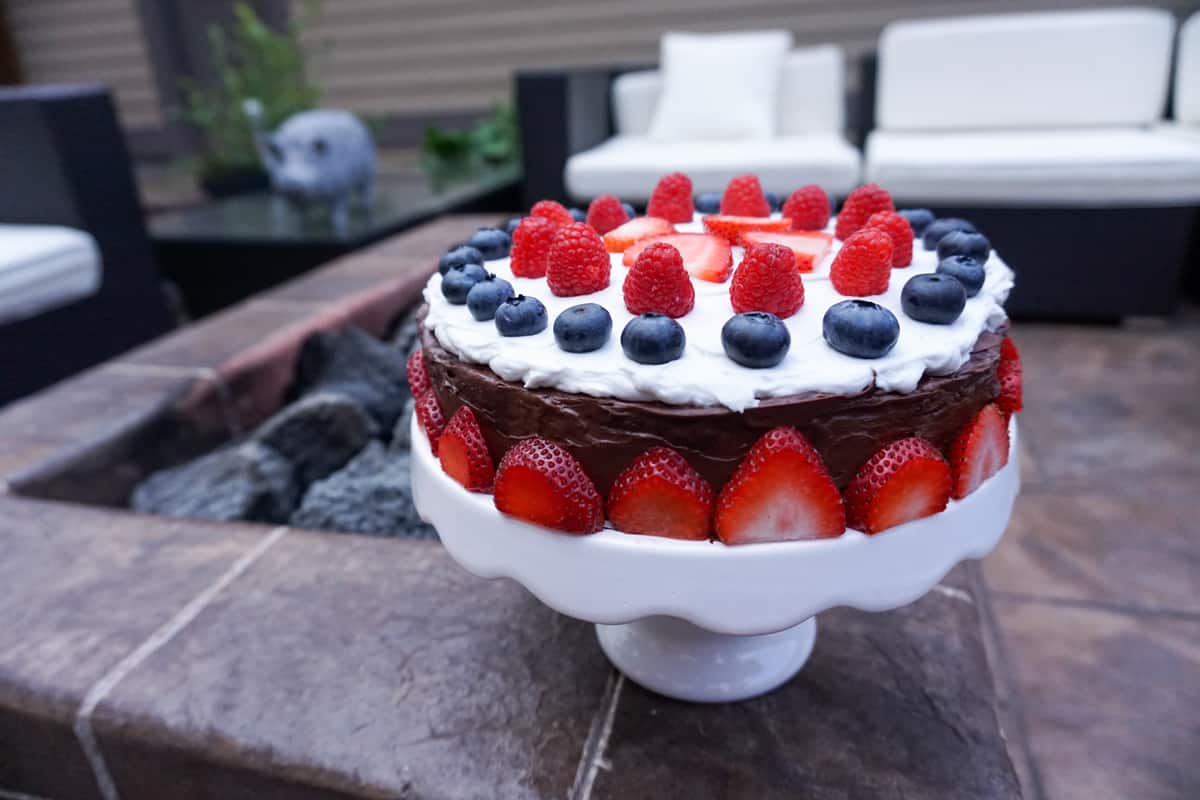 Directions:
Cake:
in a measuring cup, cover dates with water up to the 1/2 cup mark. Soak for 1 hour.
if you have a really strong blender or food processor you can leave the sweet potatoes raw. Otherwise, par-bake the potatoes about 7 min at 350 so the food processor can grind them up
zest orange and set aside
add dates, date water, sweet potatoes, bananas, juice of the orange and coconut oil in a blender until well combined.
add cocoa, cinnamon and nutmeg to mixture and blend until well combined.
fold in almond flour and orange zest until well blended.
fold in sparkling water until well blended.
grease both pans with coconut oil and dust with coconut flour (can use any GF flour -prevents the cake from sticking to the pan)
pour evenly into 2 round 9" baking pans.
bake in preheated 350 oven for 40-45 minutes or until toothpick comes out clean
let cool completely on cooling rack
Ganache:
heat the coconut oil on the stove top on medium low until melted
slowly stir in chocolate until melted.
stir in honey
slowly stir in cocoa powder, 1/3 cup at a time until well blended
remove from heat and slowly stir in coconut milk. The texture will change when you stir in the milk so just keep slowly stirring. Add more or less milk to get the desired frosting-like consistency.
Coconut whip cream:
spoon out the cream from 2 cans coconut, reserving the liquid for the ganache and for other projects (curry, tomorrow's coffee)
using the beaters or whisk attachment, whip the coconut cream until it appears like whipped cream. If it is too thick, add a little bit more of the liquid part
whip in 1 tbsp honey
Assembly
remove one cooled cake from its pan and place on your serving plate
spread a layer of ganache on the top of that cake
remove the other cooled cake from its pan and place on top of the ganache
spread the remaining ganache over the cake and frost the sides of the cake
on top of the cooled ganache, frost a layer of the coconut whip cream
garnish with a circle of blueberries around the perimeter, followed by an inner circle of raspberries. Place 4 slices of strawberries at the center to create a circle
use sliced strawberries to line the outer rim of the cake, creating an edge around the bottom