For my birthday dinner, I chose to make Salmon Risotto, using smoked Wild Salmon straight from Alaska. This is only my second attempt at making risotto and it came out much better than the first. It was the perfect companion to my Malbec. 🙂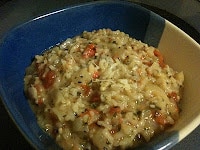 Wild Alaskan Salmon Risotto
Instructions
In a small saucepan, heat the chicken broth on a low simmer

In a larger saucepan, heat the oil. Add the onions and cook until translucent, about 3 min. Add the shallots garlic and tomatoes. Cook for about 3 minutes. Add the rice, stirring to completely coat, and cook another 2 minutes.

Add 1 cup of broth and pour in 1-2 tbsp of wine. Cook with lid off until liquid is mostly absorbed, about 5-7 minutes. Add the remaining broth a cup at a time for the liquid to be absorbed each time. With every addition of broth, add a tbsp of wine. Stir often throughout the process. The whole process should take about 25 minutes.

When the risotto is finished, remove from heat and stir in butter. Mix in all spices, pine nuts, cheese, and salmon. Stir until evenly mixed. Pour into bowls and garnish with some extra shredded Romano. ENJOY!!
MEAL TYPE, RECIPE