What happens when you get 13 people staying in one house for a weekend? A lot of dishes. We've been known to host 11 additional people in our house at once! It can get kind of tight and a lot of air mattresses are involved, but it is AWESOME! The best thing to have on hand for those weekends is a pre-made breakfast: fewer dishes, fewer cooks, more smiles. It's especially helpful after an evening catching up over a few beers or glasses of wine (and by a few, I secretly mean a lot :)). There's nothing better than waking up to a houseful of hungry, friendly faces AND a delicious and ready to eat grain free bacon spinach quiche! All you have to do is pour a cup of coffee and enjoy the company. Heaven.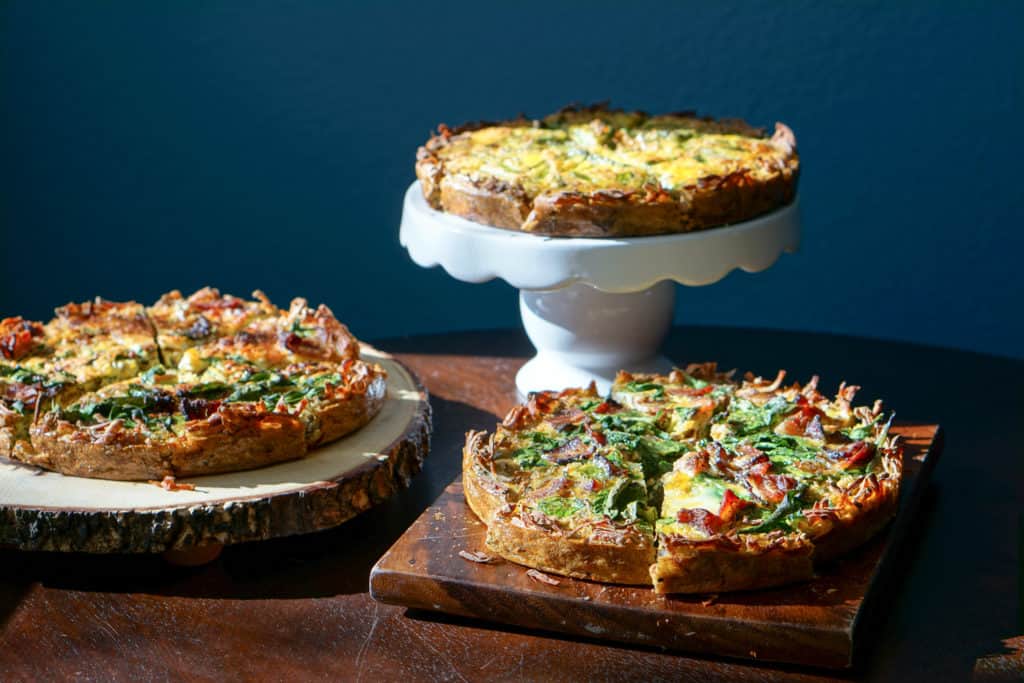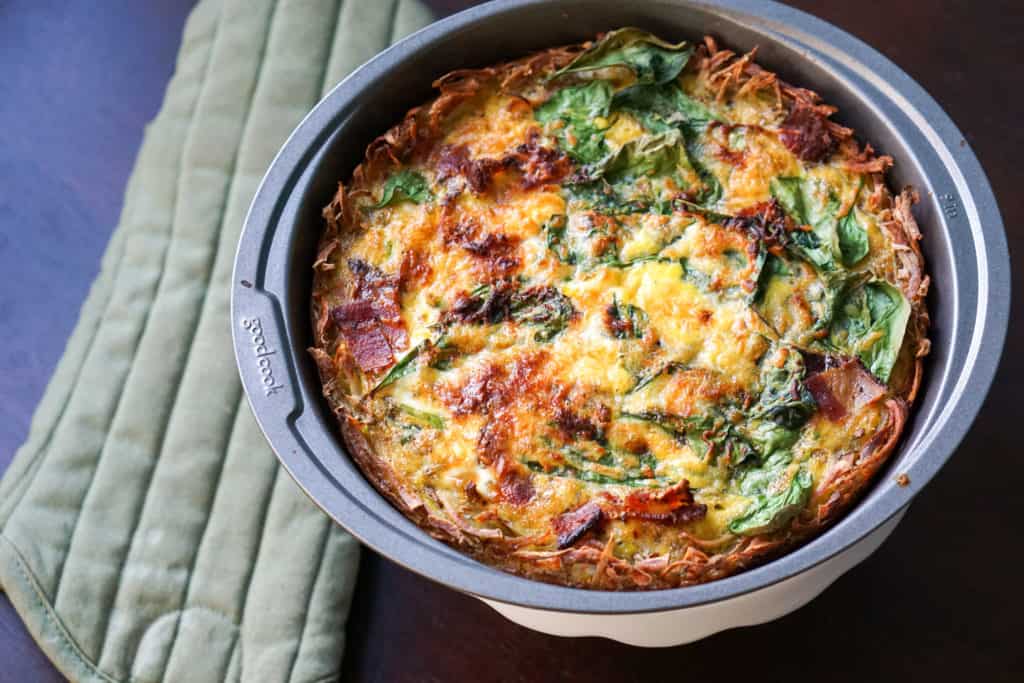 But you don't need to stuff your house to the brim to make this quiche. 🙂 When we visit family in Michigan we sometimes have an amazing quiche waiting for us in the morning. It's a delicious and welcome surprise in the morning. You can come downstairs and know no one has to cook or fuss in the kitchen. Everyone can just sit down and enjoy a nice meal together. That's why you visit family, right?! Plus… it is just so delicious. Those family trips to Michigan are actually where I learned about the hashbrown crust for the quiche… and it is an amazing idea. I've made crustless quiches before, but the potato really holds it together and gives it the feel of a full quiche. And then you add crisp bacon. What more can I say? I think they got me addicted to grain free bacon spinach quiche. Haha 🙂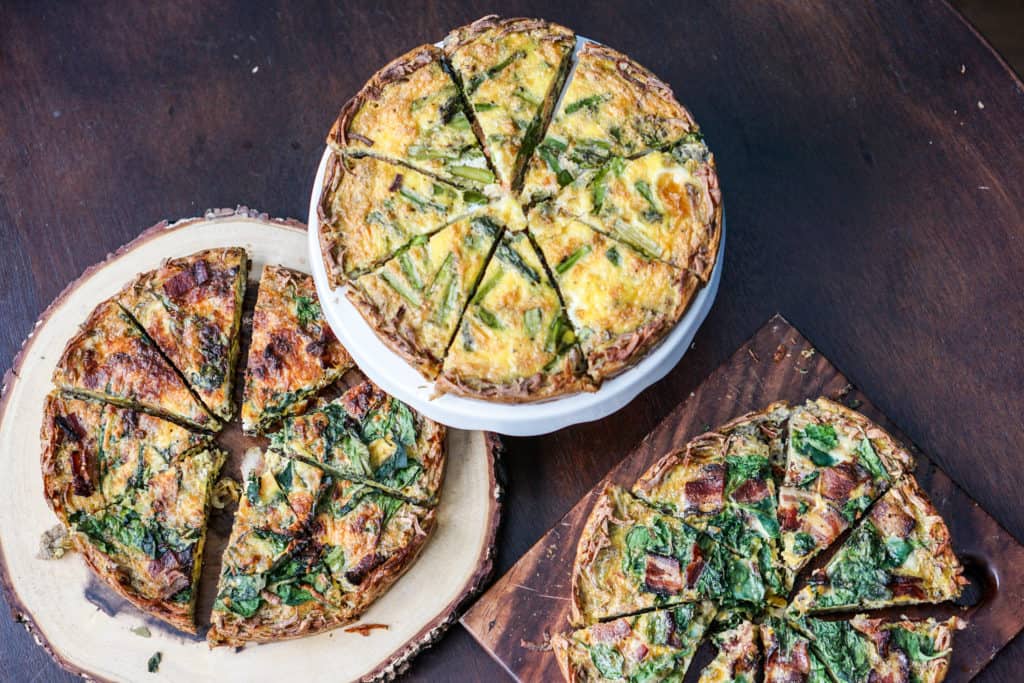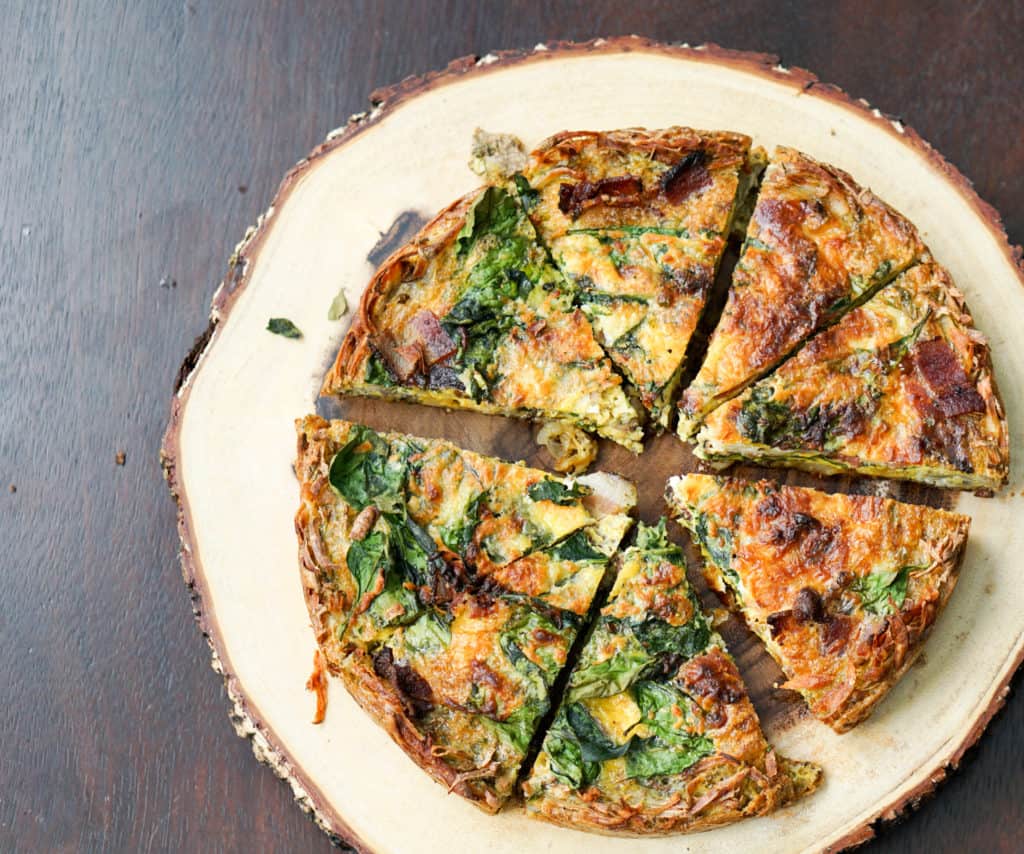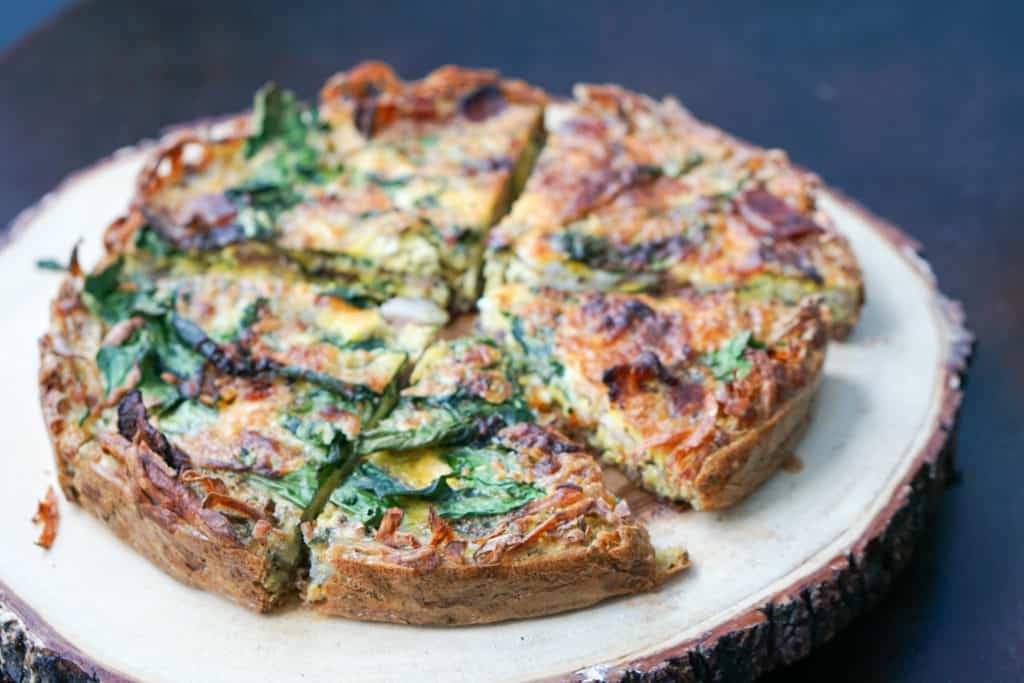 Excuse me, I just started daydreaming of quiche. Back to reality, quiche is really great for any kind of event you are hosting. They are versatile and work equally well for formal and informal events. Everything can be prepared in advance so you only have to heat it up before serving. Alternatively, you could just prep all of the ingredients ahead of time and assemble and bake just before serving. Bonus: day of you won't have many dirty dishes, you can easily make different flavor combinations or substitutions for specific diets or allergies, and clean up is super simple. That, my friends, is everything I need for those mornings after.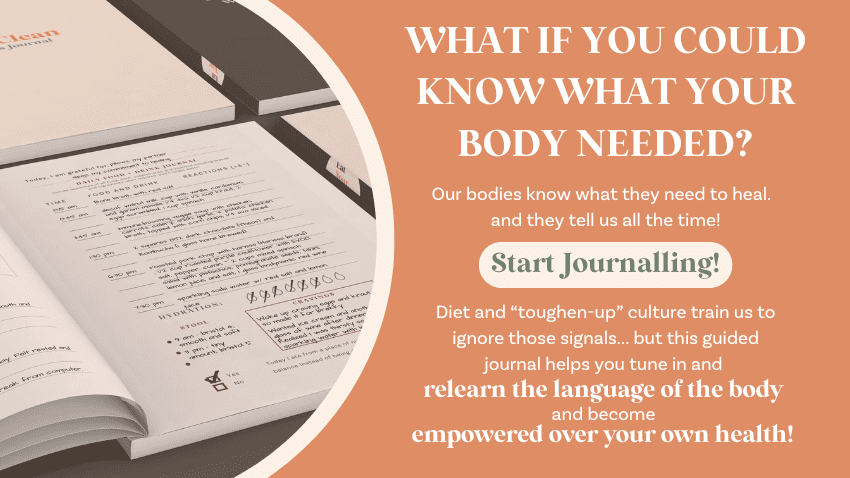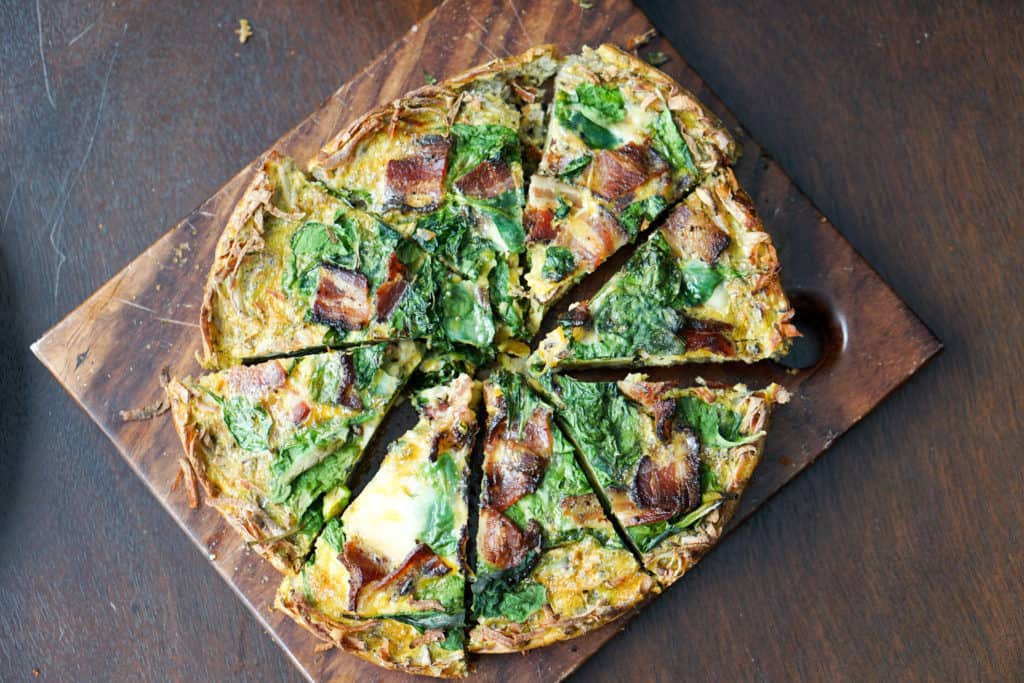 Here's one of my favorite quiche recipes, and it is a crowd pleaser for sure! For large groups, make a few varieties and serve this grain free bacon spinach quiche alongside my salmon asparagus quiche or go a little wild with the tamale quiche. You can even go vegan with a garbanzo bean tamale quiche! Maybe whip up a little creamy avocado cilantro sauce to serve with it.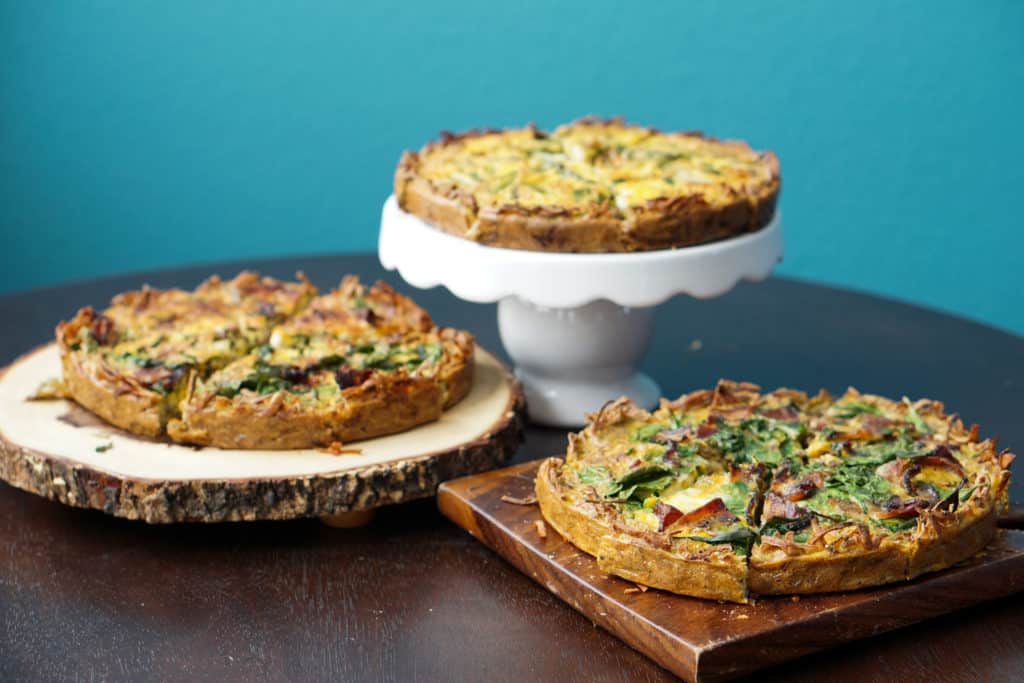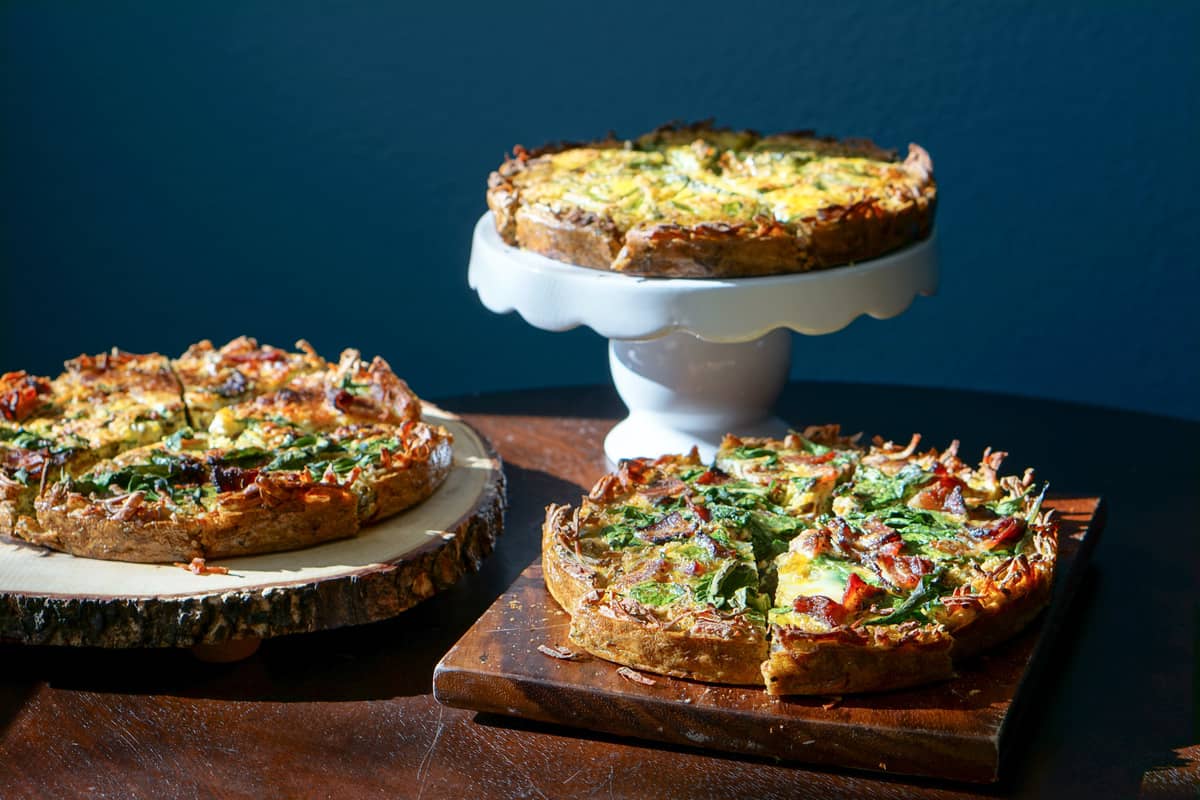 Grain Free Bacon Spinach Quiche
Instructions
Shred the potato using a grater. Rinse and pat dry.

Press potatoes into a pie dish to form a crust. You'll have to press the potatoes up against the edge to mimic the look of a traditional crust.

Par-bake crust for 35 minutes. Set aside when done and turn the oven down to 350. (Can prepare ahead of time up to here)

Meanwhile, on the skillet, cook bacon on medium until just underdone, about 7 minutes. Make sure to flip it regularly (every 45-60 seconds) so that it cooks evenly.  It should be a little soft since it will continue to bake in the quiche (Can prepare ahead of time up to here)

Set par-cooked bacon on a paper towel to drain the grease

In mixing bowl mix eggs, salt, chives, pepper, and water. Whisk until evenly combined.

Remove crust and set aside to cool.

Chop cooled bacon into 1/2 inch strips.

Sprinkle bacon and spinach evenly inside par baked potato crust.

Bake at 350 for 35-40 minutes or until eggs are firm and slightly raised.