The condiment to end all condiments, this creamy avocado cilantro sauce is good on everything, and is made in 3 minutes with a blender.
Everyone knows the struggle of finding a perfectly ripe avocado. Eat them too soon and they are hard as rock and devoid of flavor. Eat them too late and they are lack-luster and covered in questionably ok-to-eat brown spots.
When you get that perfect avocado, there is nothing better than sprinkling it with a little salt and pepper and eating it straight out of the skin with a spoon. 🙂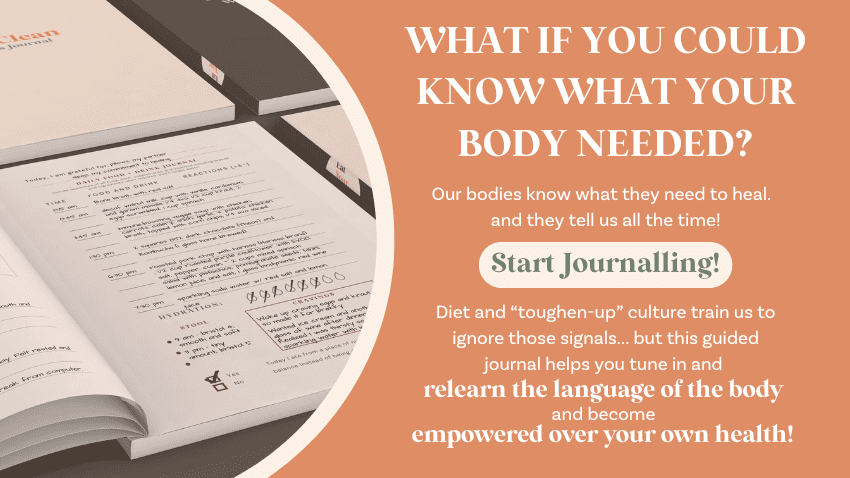 This recipe, however, is not for that perfect avocado.
No, no!
You should eat that plain in all of its perfection. This recipe is for the "almost there" or the "oops, just a day too late" avocados of the world.
They aren't ripe for the main stage, but that doesn't mean their creamy, fatty glory has to go to waste. If the avocados are just under or just over ripe, they will be perfect for this deliciously creamy avocado cilantro sauce.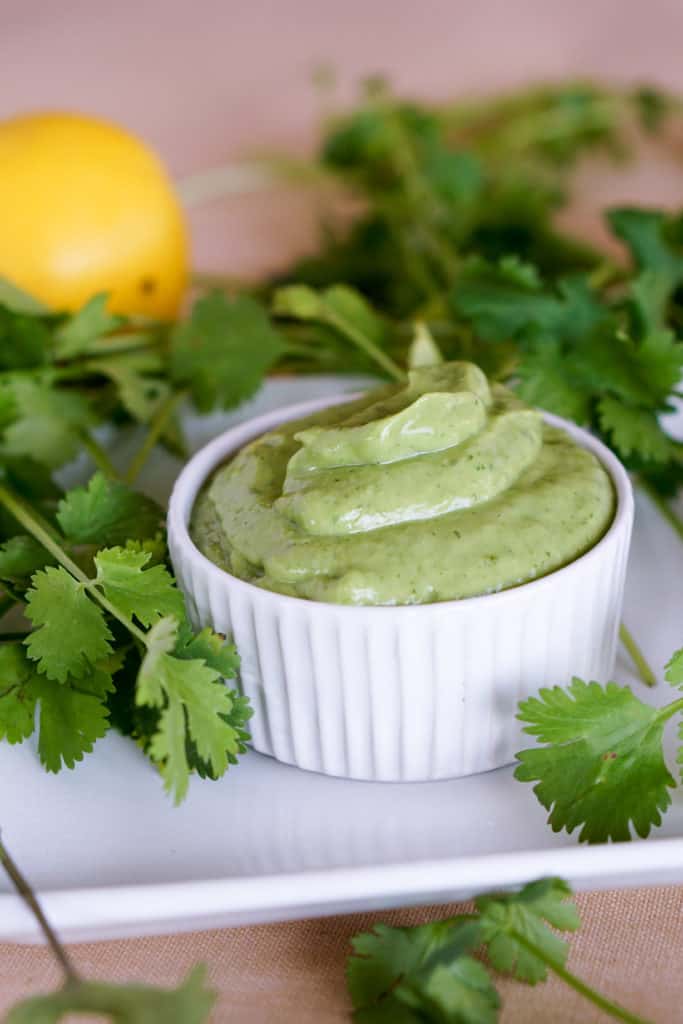 Right now I am in California for work, and that means the avocados are On Point! Seriously, they have the best avocados here (no offense to Florida and Mexico).
Apparently my 30's mean trading up from eating Ben and Jerry's out of the pint to eating avocado right out of the shell. #spoonplease #allgrownup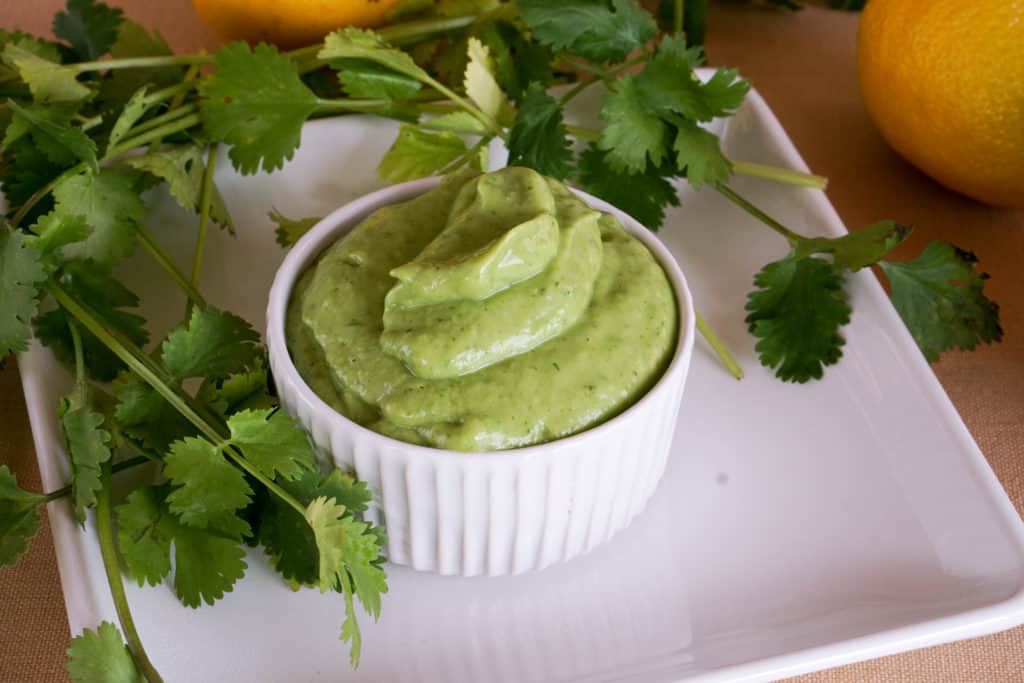 But when I can put the spoon aside for a hot second, those avocados become this awesome creamy sauce that makes everything just a little bit better. 🙂
I love it on salads, on eggs, on quiche, and on my AIP cauliflower cabbage bake.
The creamy avocado cilantro sauce also makes an awesome salad dressing: better than sour cream, better than aoli, better than straight avocado. This would also be good mixed with spaghetti squash or gluten free gnocchi for a simple weekday meal.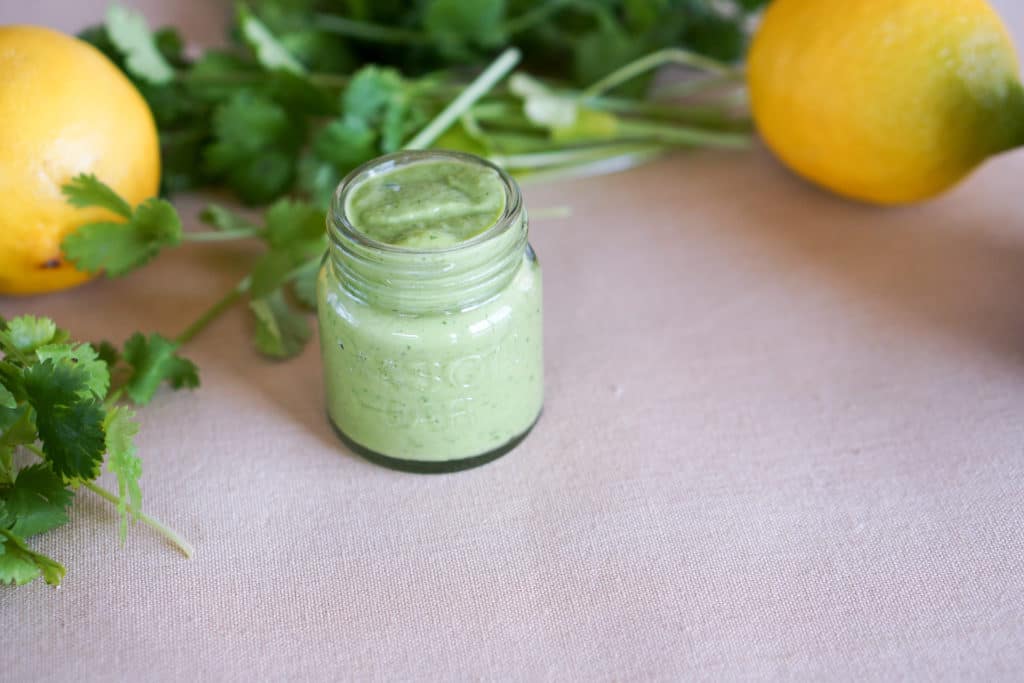 Here are some of my favorite suggestions for how to use this Creamy Avocado Cilantro Sauce.
Drizzle the sauce on hash like this baked hash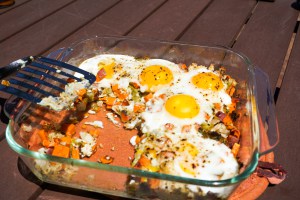 Dunk a slice of pizza in the sauce. My fave: this cauliflower, cabbage flatbread
Drizzle over quiche or omelettes. I'm dreaming of a caramelized onion and hummus omelette
Served over this roasted turmeric AIP cabbage bake
Tools: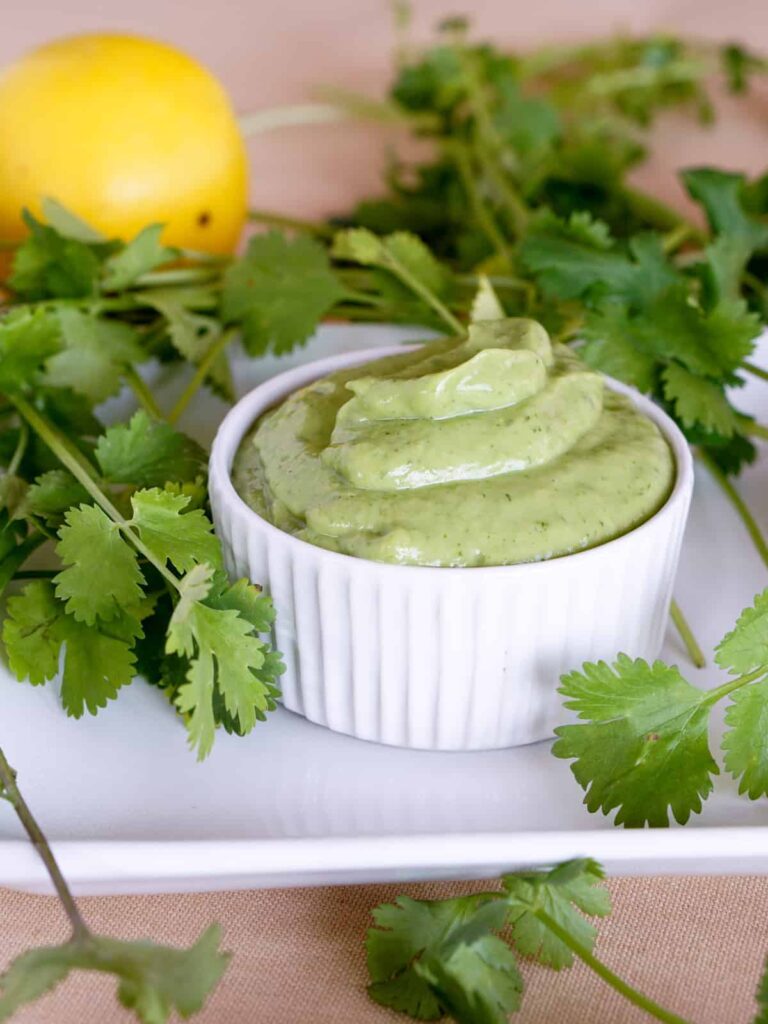 Creamy Avocado Cilantro Sauce Recipe
Description
Simple 5 ingredient Creamy Avocado Cilantro Sauce Recipe makes a great Paleo or Whole 30 salad dressing or side sauce that's gluten free and dairy free. Just toss the ingredients into a blender, pulse until smooth, and spread over everything!
Instructions
Directions:
Place all ingredients in a food processor.

Blend until smooth, about 1-3 minutes.

Drizzle over all of your favorite meals.
---
Amount Per Serving
---