These meatballs are going to remind you of bread-crumb and Parmesan laden Italian meatballs, but they have the rich taste of bison and use healthier jicama instead of bread and cheese to get their texture.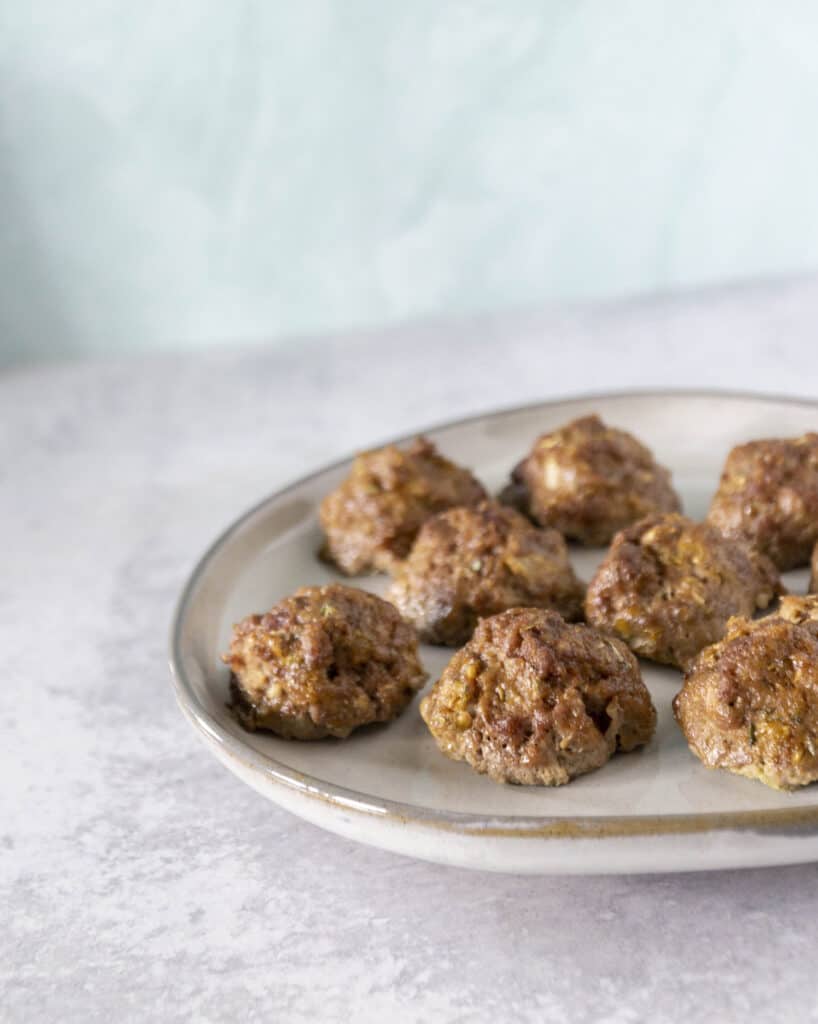 The ingredients
This meatball recipe uses bison, spices, and egg for the binder. But the star of the show is jicama. The jicama not only adds extra vegetables to the dish, but it also adds texture and moisture for the perfect soft and creamy meatball.

In addition to grass-fed bison and jicama, you'll need rosemary, marjoram,
thyme, salt, and eggs.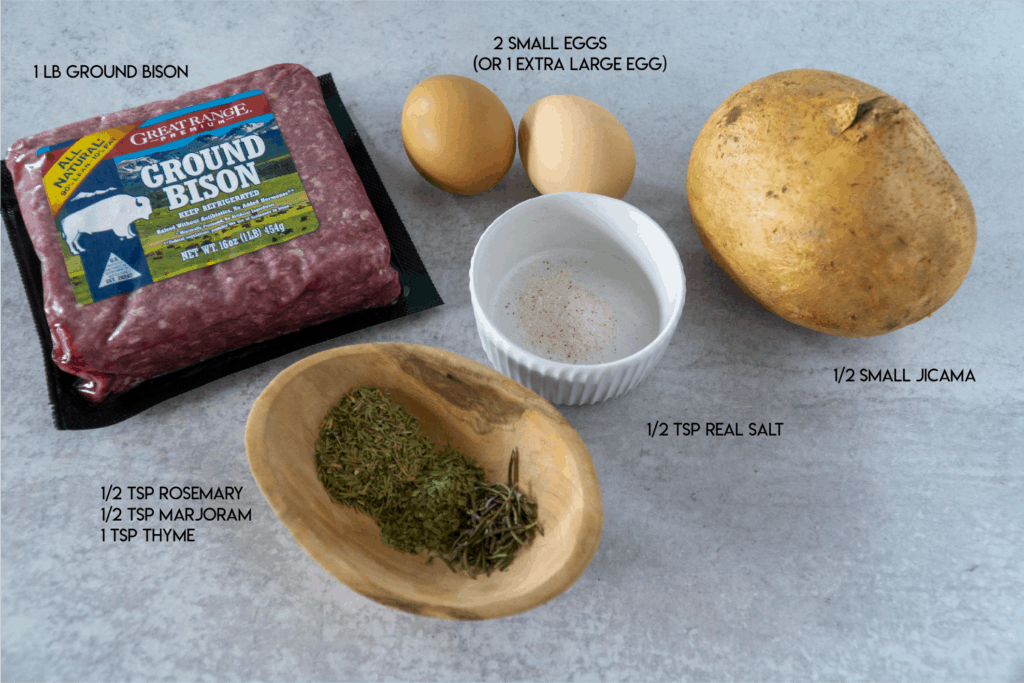 A little more about choosing Bison
As I look more and more to find natural and sustainable sources of meat, I've become an even more avid fan of bison. Not only is bison native to our country and my specific space in Colorado in particular, but it is also being reared in traditional methods that benefit the animals and the earth.

Bison tends to be reared in large pastures and rotated from pasture to pasture. This benefits the grasslands, whose roots can grow 30 feet deep and sequester carbon. It also gives the bison a more natural life, wandering the plains and eating its typical wild grasses. This lifestyle makes the bison healthier which in turn makes that meat healthier for us to eat.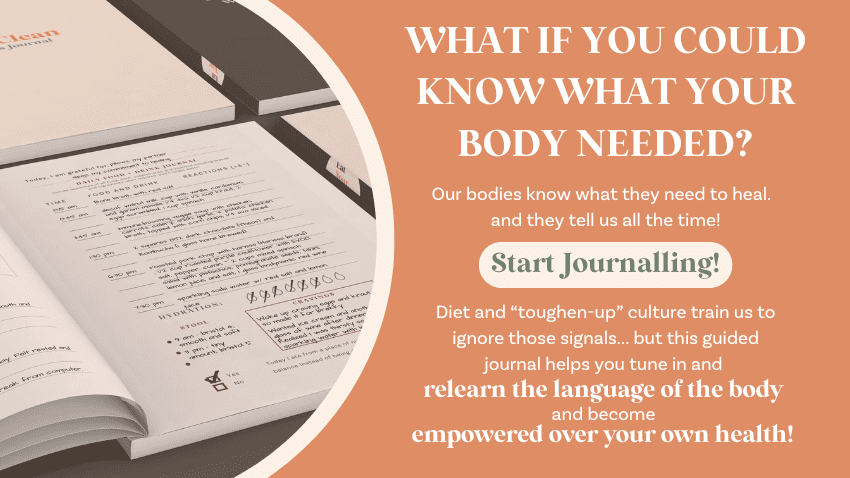 Know your farmer
Now, this isn't true for all bison, so it's still important to know your farmer. However, it tends to be easier to see properly raised bison than cows or chicken. Plus, it tastes really good!

A great way to find bison, outside of your local grocer, is through live auctions or bison shares. You can typically find people that are purchasing an entire bison and rationing out the shares to multiple people.

So, what do you do when you have 5 lbs of delicious and responsibly raised ground bison? You make meatballs! You. make. meatballs.
Jicama? In Meatballs?
What is Jicama
Jicama is a root vegetable also known as Mexican turnip. It has high water content with a crunchy texture. It's starchy with a slightly sweet and almost nutty flavor and makes an excellent substitute for chips when serving dips like guacamole.
And why is it in meatballs?
Jicama makes these meatballs taste like the creamiest and cheesiest meatballs ever. I couldn't believe there was no cheese in them when I tried it.

And this soft moisture mimics that of traditional Italian breaded meatballs.

Making the Jicama Bison Meatballs
Pulse the Jicama and spices in a food processor
First, you have to turn the jicama into a rice-like texture. You can do this by grating, but I prefer to pulse the coarsely chopped jicama in a food processor.

The Spices go in with the jicama to make sure they are well blended. Rosemary can be quite strong if you have too much at once and pulse the rosemary with the jicama ensures the spice is not only broken up into small pieces but also evenly distributed throughout your finished meatballs.
Combine all ingredients and bake
After pulsing the jicama and spices to a rice-like texture, mix into the eggs and ground bison until evenly combined.

Form into little round balls and bake at 350 for 22-25 minutes or until just cooked through.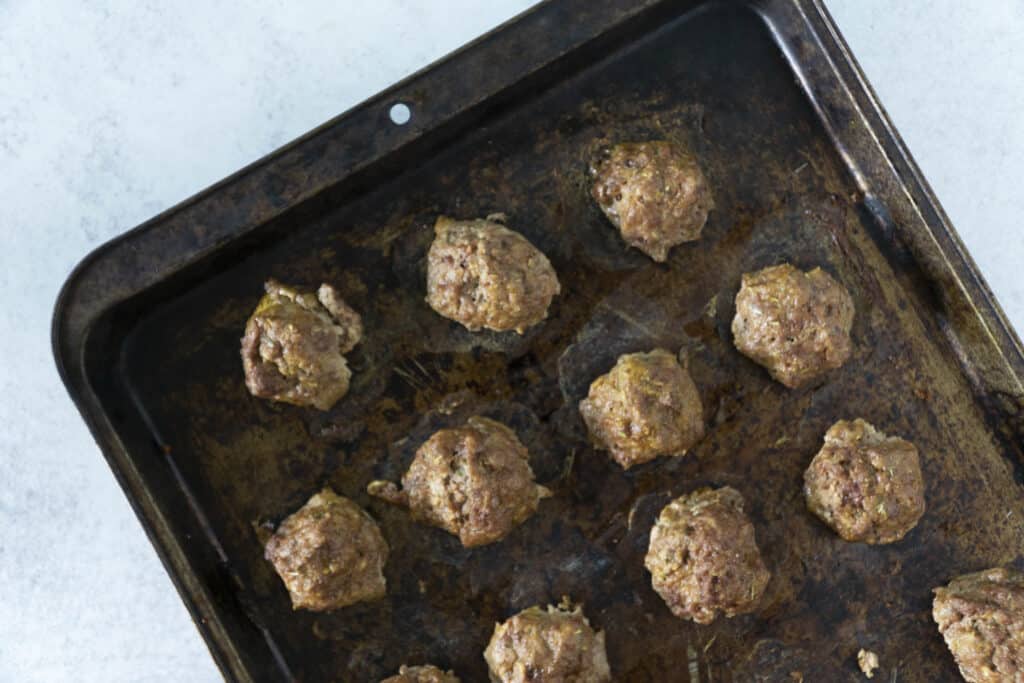 How to serve Jicama Meatballs?
These meatballs are great on their own or over a bed of greens with some aioli dipping sauce and baked purple potatoes.

They are also excellent as an addition to Kale Cannelini Soup or plated with carrots done 2 ways with Carrot Top Pesto.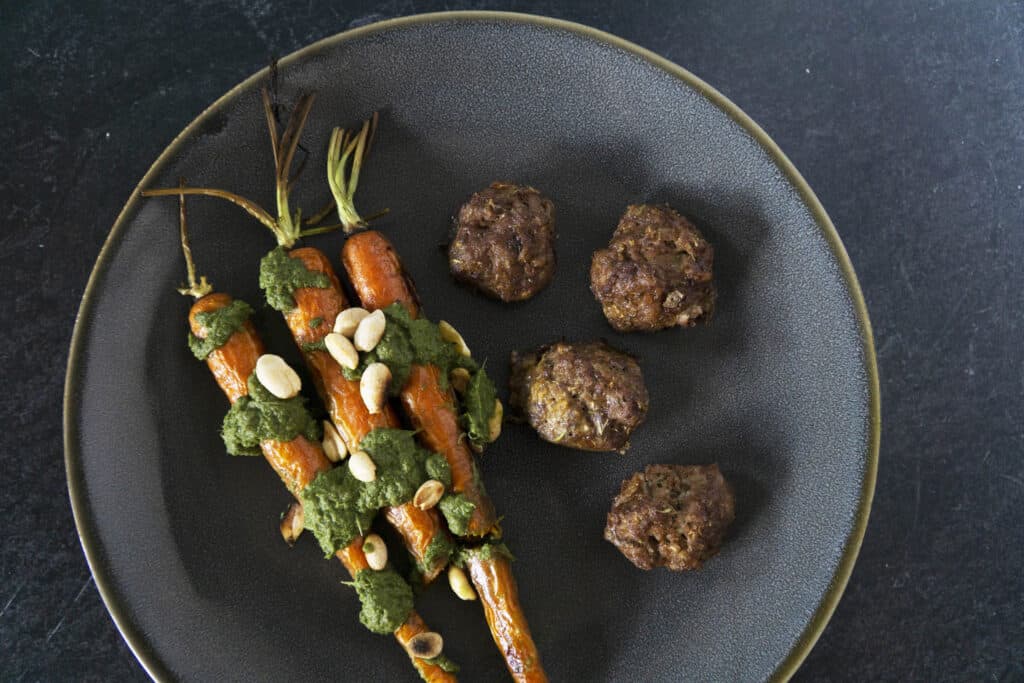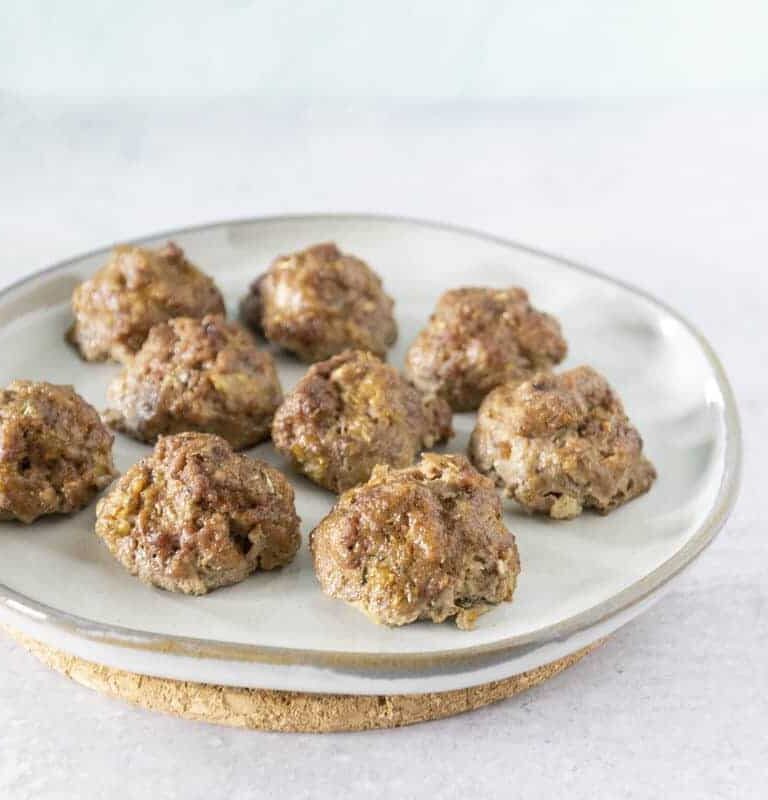 Bison Jicama Meatballs
Description
These baked meatballs are going to remind you of bread-crumb and Parmesan laden Italian meatballs. The rich flavor of bison combined with healthier jicama creates the perfect texture.
Instructions
Preheat oven to 350

Peel and coarsely dice jicama. Add to a food processor with rosemary, marjoram, thyme, and salt. Pulse until the jicama is in small rice-shaped pieces (about 1 min).

Mix the spiced jicama rice with eggs and ground bison in a bowl until well combined.

Roll the meat mixture into 1.5" diameter balls and distribute evenly on a baking sheet.

Bake for 22-24 minutes or until cooked through.

Serve and enjoy!
---
Amount Per Serving

% Daily Value *

Total Fat 5g

8

%

Saturated Fat 2g

10

%

Cholesterol 43mg

15

%

Sodium 107mg

5

%

Potassium 134mg

4

%

Total Carbohydrate 2g

1

%

Dietary Fiber 1g

4

%

Sugars 1g

Protein 7g

15

%
---
Vitamin A

43

IU

Vitamin C

5

mg

Calcium

9

mg

Iron

1

mg
* This nutrition information does not tell the whole story of food's nutritional value! Make sure to use your gut intuition on what your body needs, eat your veggies and get 30 plants a week for optimal gut health. This nutritional data is calculated based on the above values and standard brands. This information may vary. Percent Daily Values are based on a 2,000-calorie diet. Your daily value may be higher or lower depending on your calorie needs. Tried this Recipe? Tag me Today! Mention @EatYourWayClean or tag #EatYourWayClean!
Note
Some of the fat will drip out with the excess moisture from the jicama, leaving a little tutu or halo around each meatball. This will easily scrape away leaving the finished meatballs.