What happens when you grill a banana? Even better.. what happens when you stuff a banana with peanut butter and chocolate and THEN grill it? The answer is amazingness. Pure awesome. A great alternative to my formerly favorite fire-friendly dessert: s'mores. What I'm talking about are grilled banana boats.
These were so delicious they seemed to disappear right before our eyes!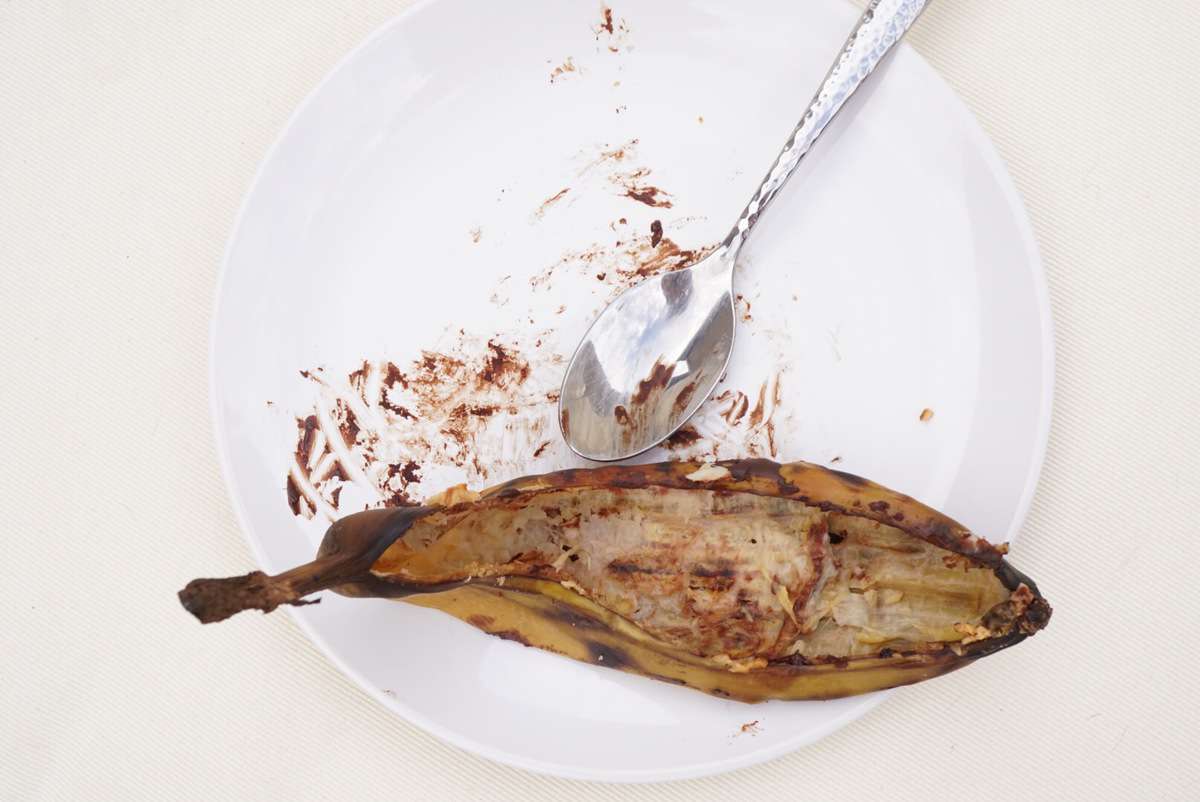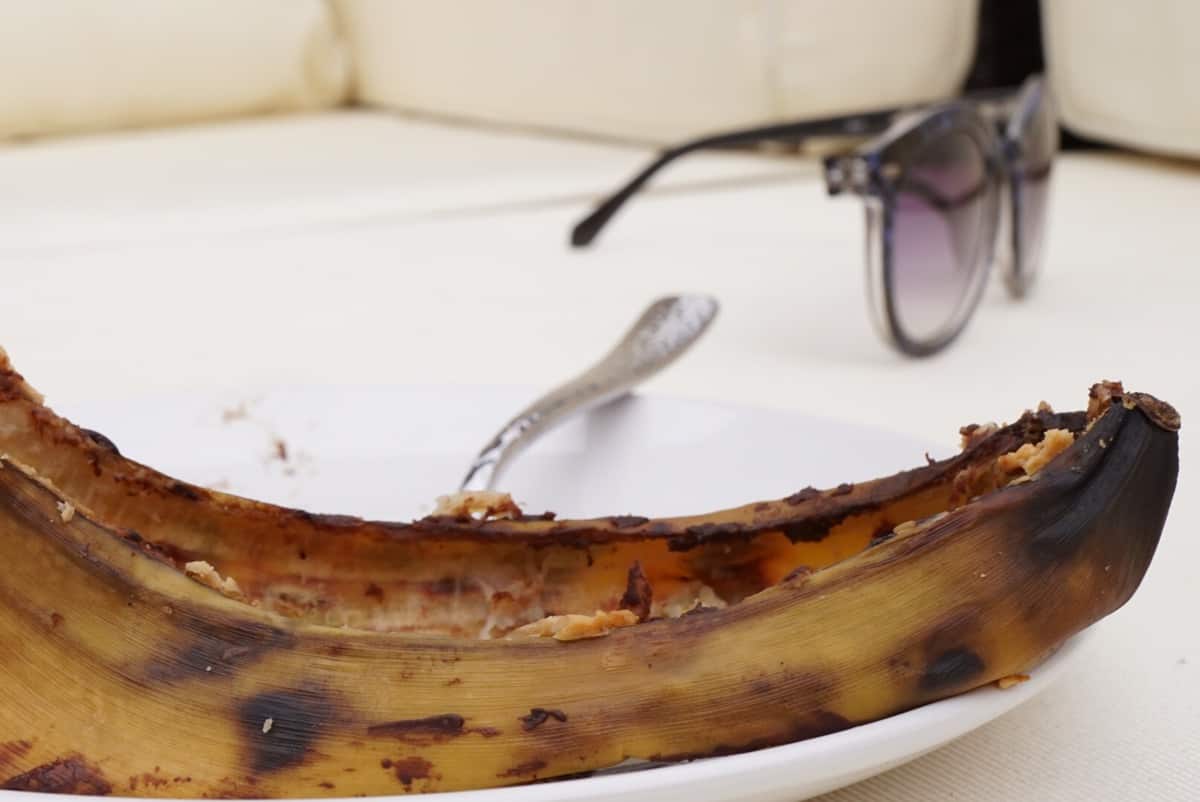 Banana Boats are a super-easy way to have a sweet treat after a bar-b-q or a day in the sun without spoiling your diet or health. It takes about 3 minutes of prep and 15 minutes of waiting while it grills. And by waiting I mean hanging out with your friends by the fire while the grill works its magic on the banana, peanut butter, and chocolate combination.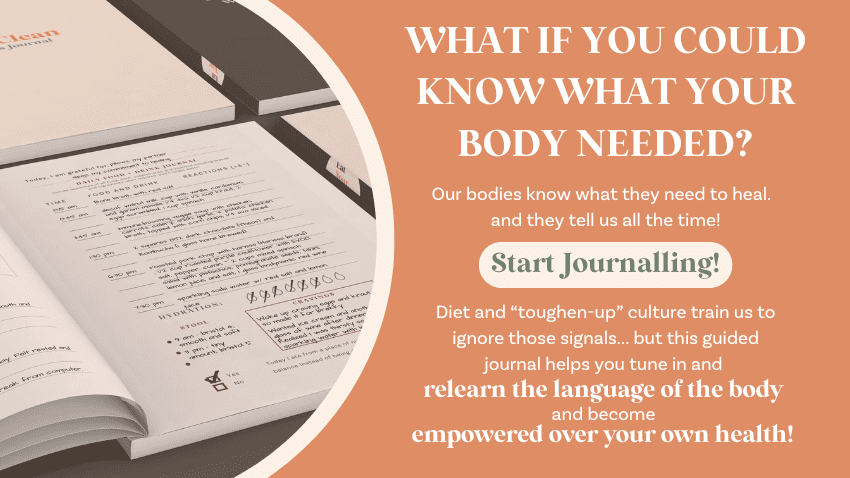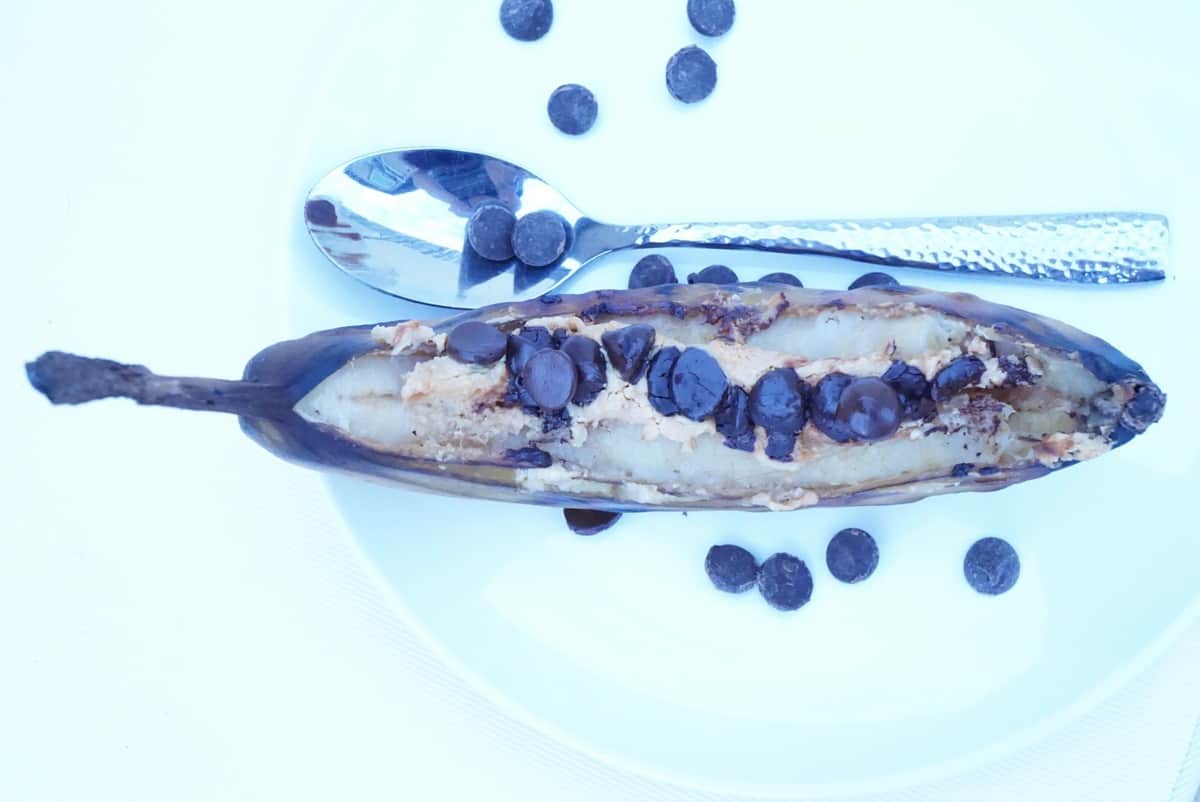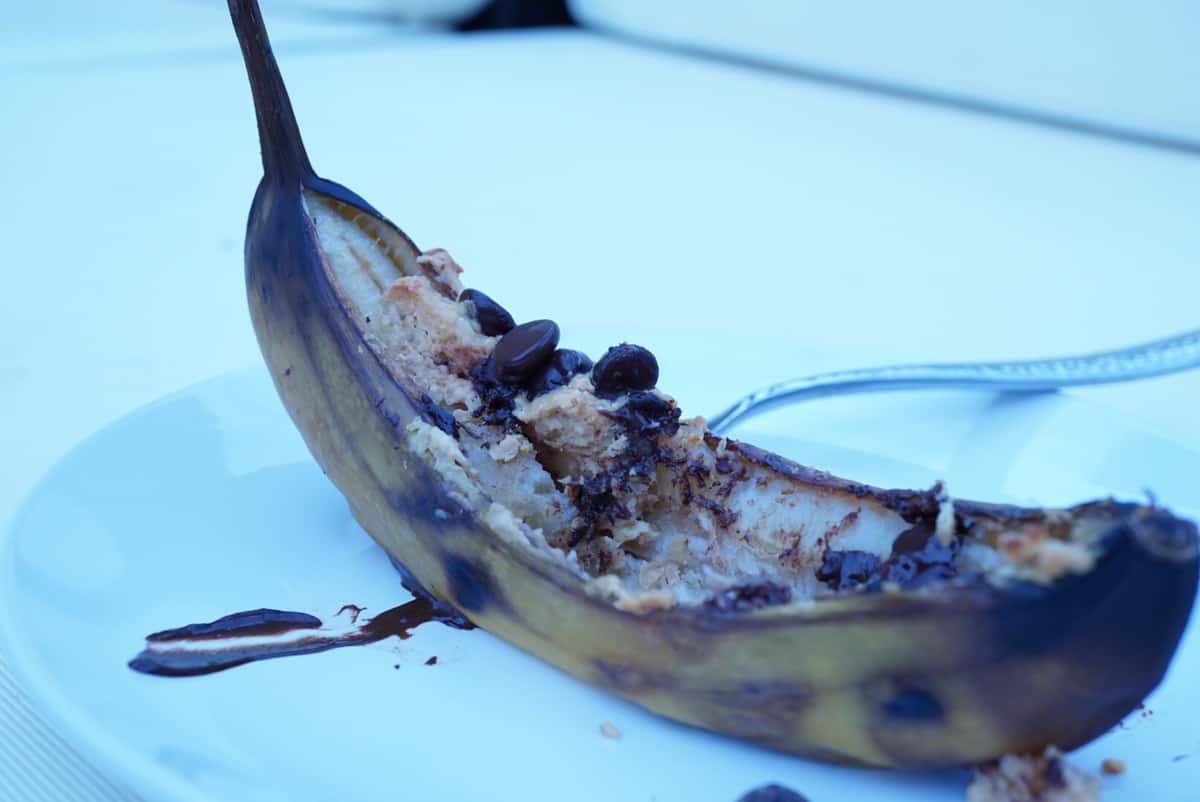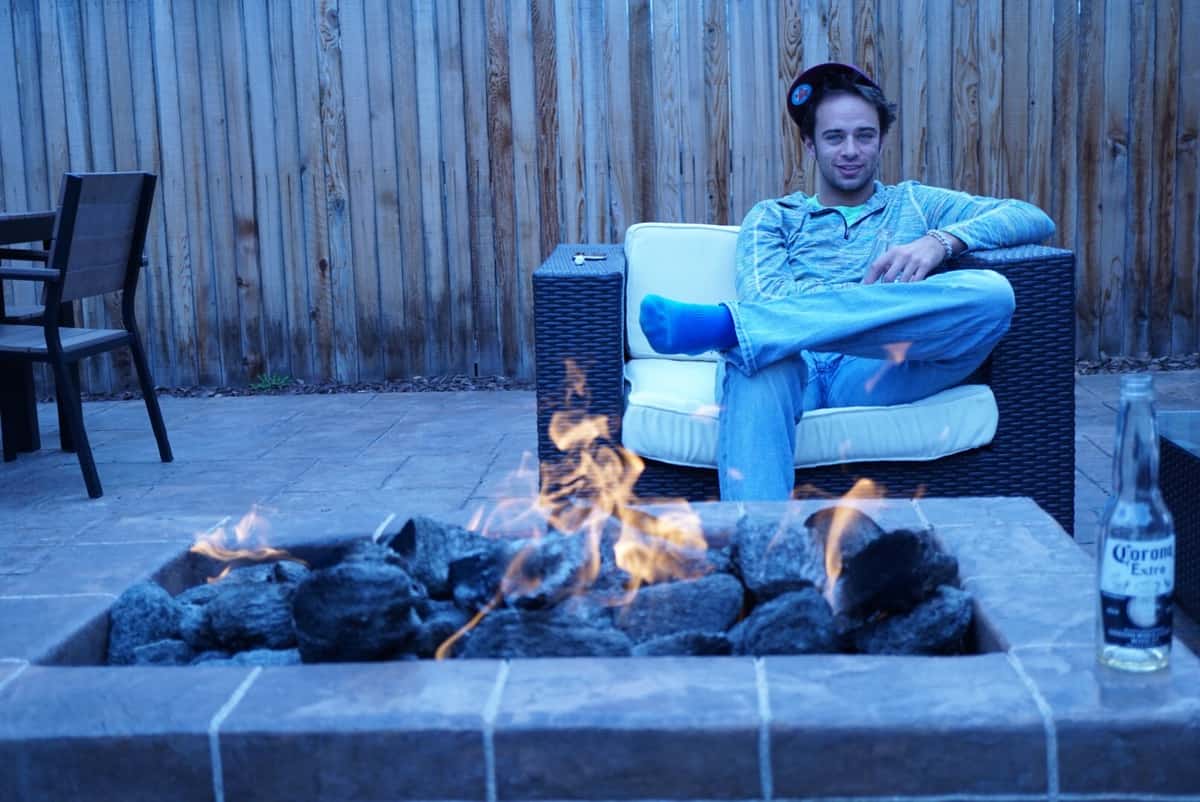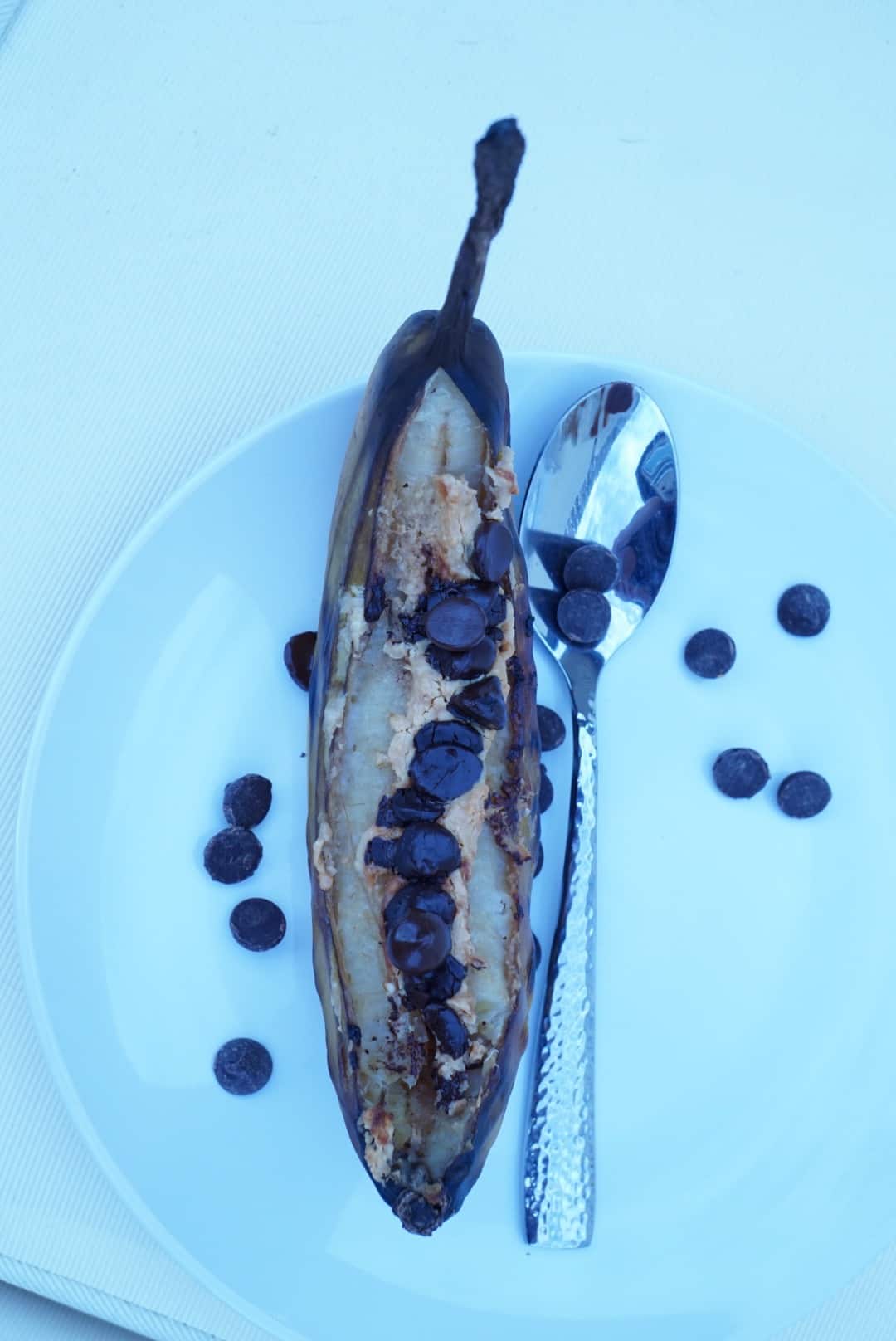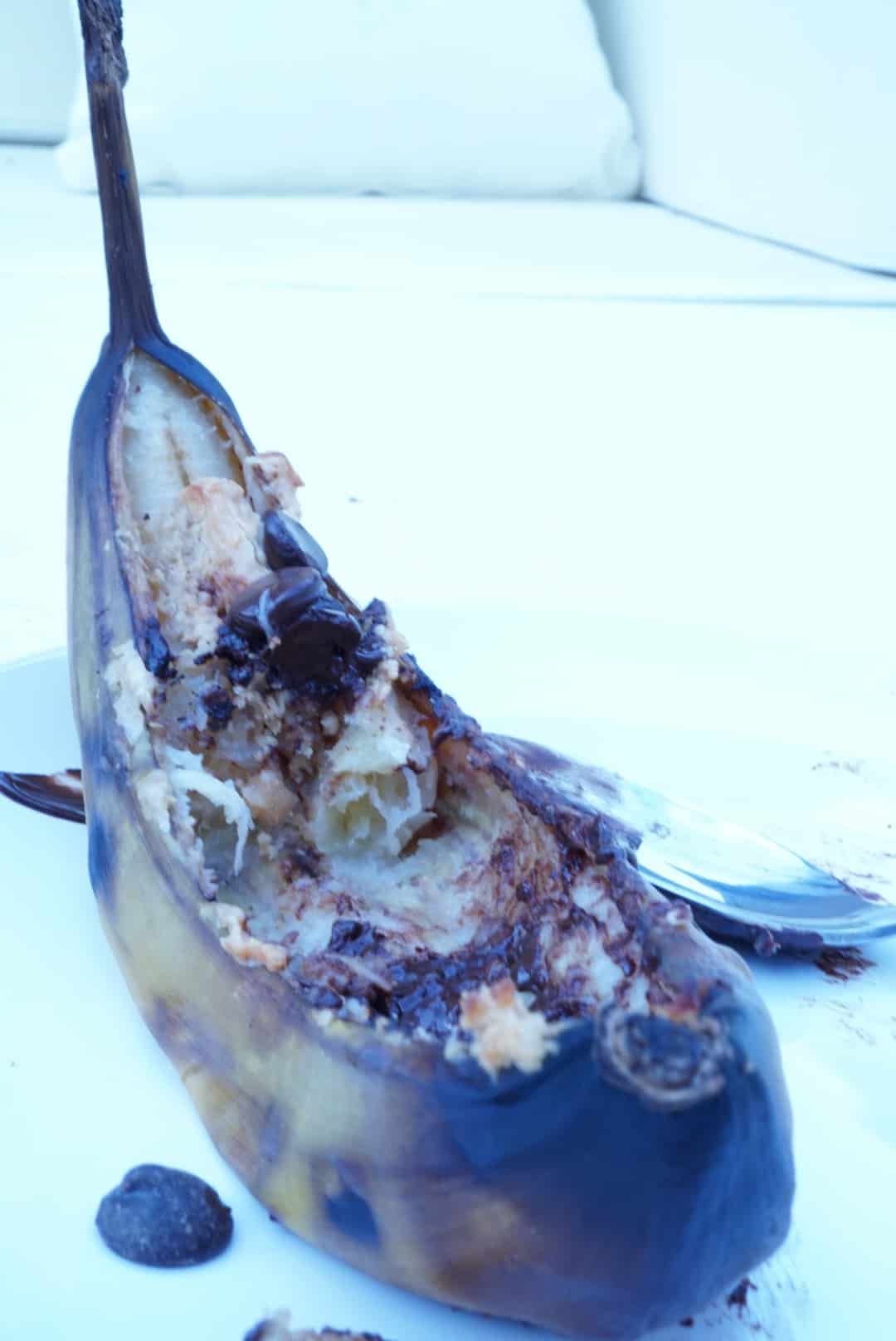 Choose your bananas wisely: the riper the banana is, the sweeter the boat will be post grilling. I prefer a less ripened banana. The final product is less sweet and has a cake-like texture from the extra starch in the banana. Make sure to cook the bananas until the skins are blackened to get the best effect. That allows enough time for the sugars in the banana to caramelize.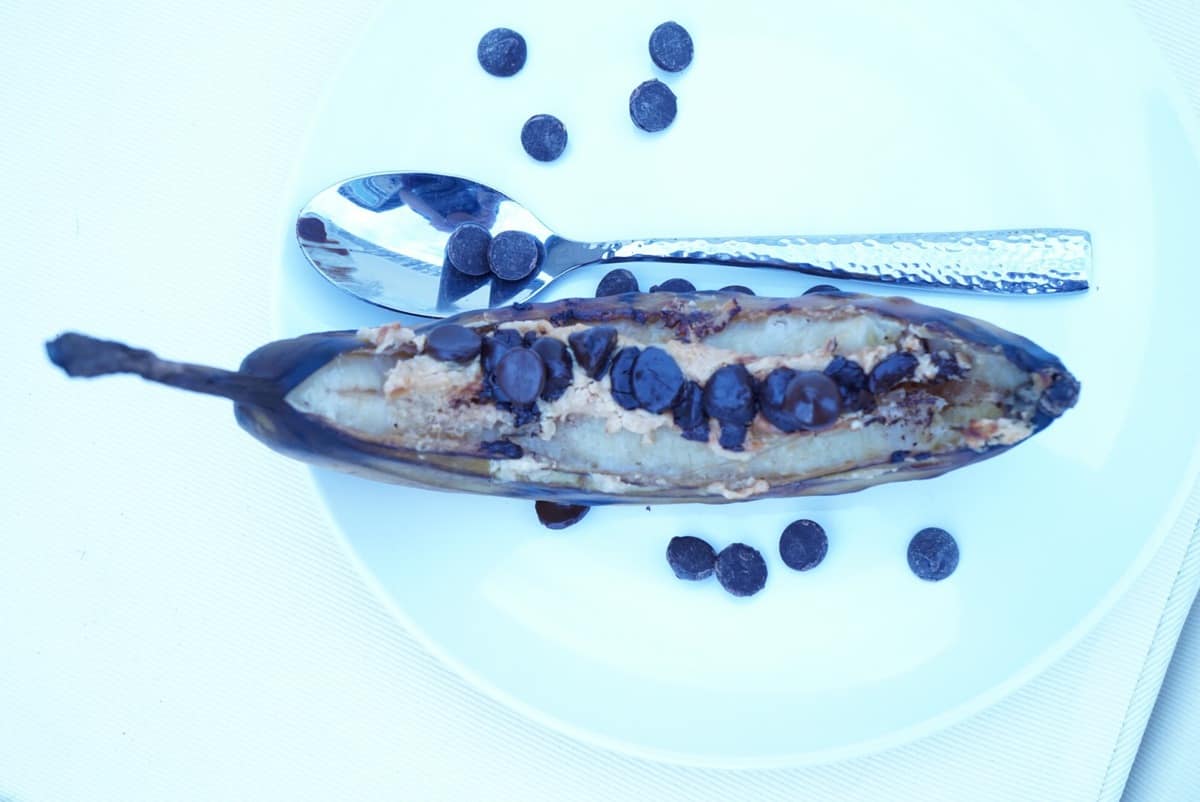 Grilled Banana Boat Modifications
The boys added some coconut ice cream to theirs. Banana Boat a-la-mode, if you will. Also delicious, so they tell me. 🙂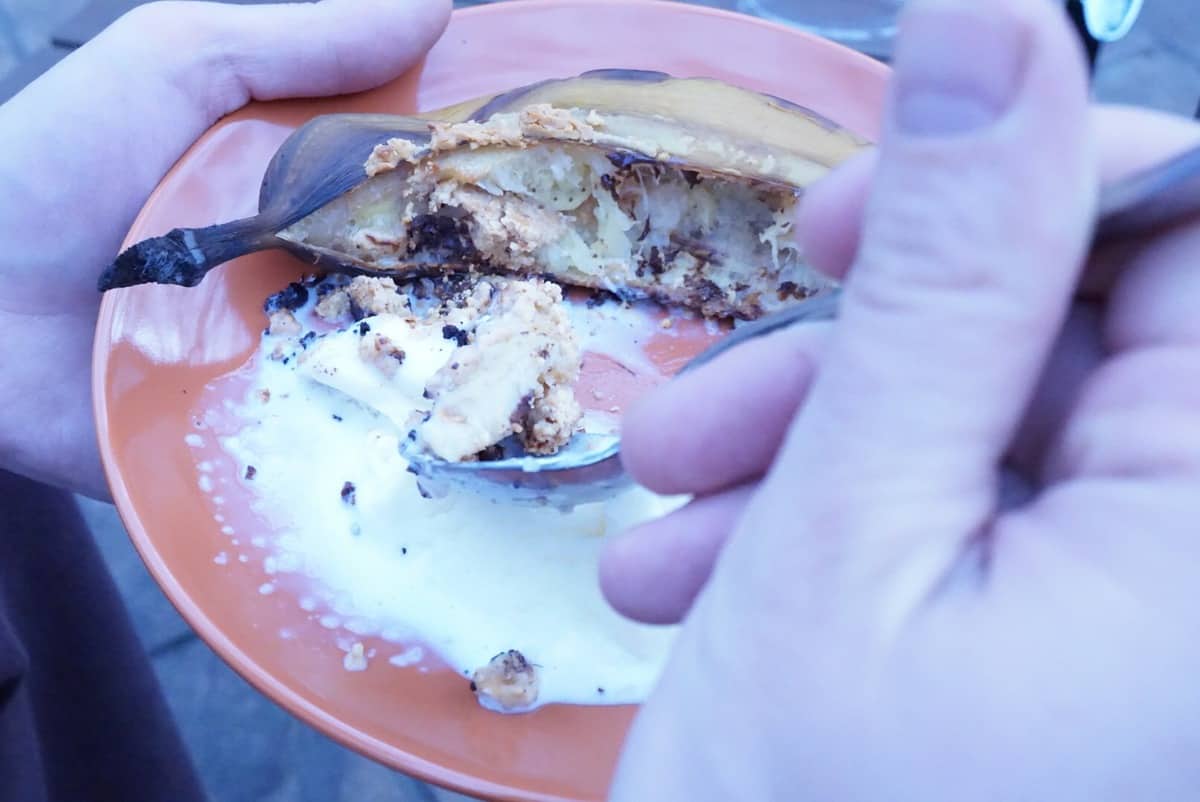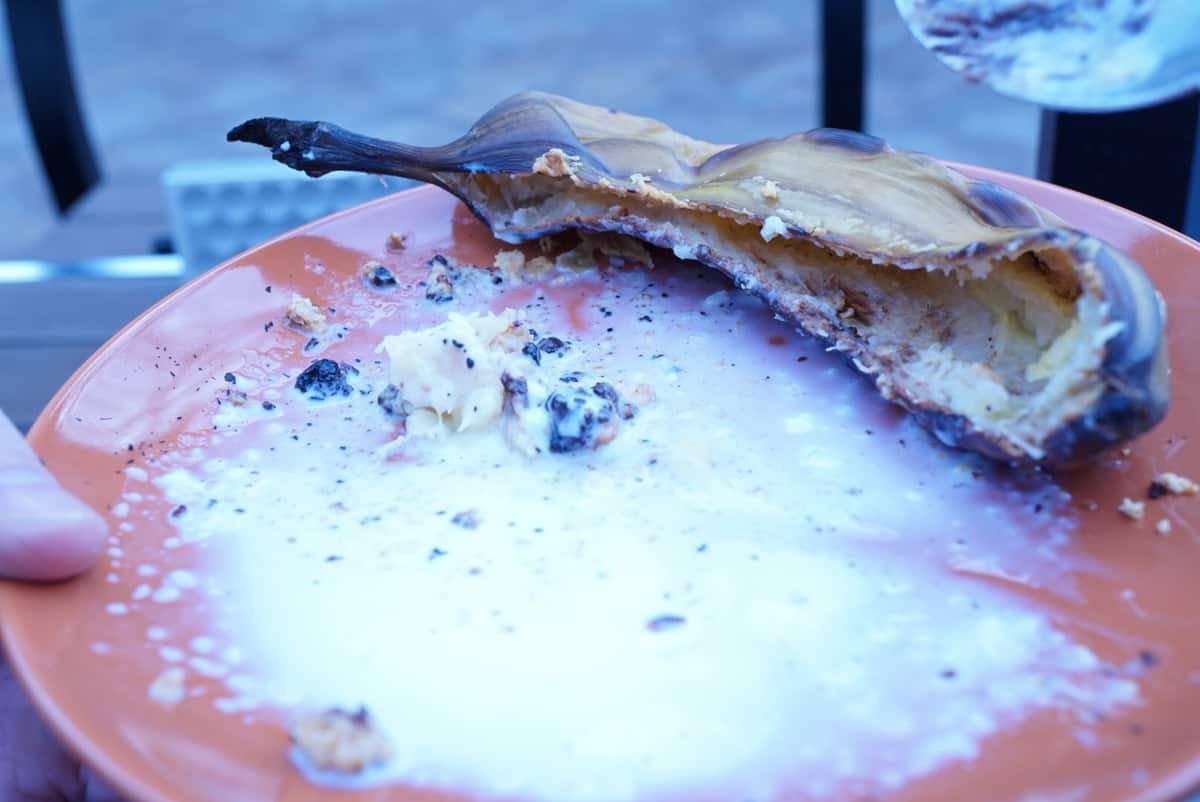 Here's the Banana pre-grill.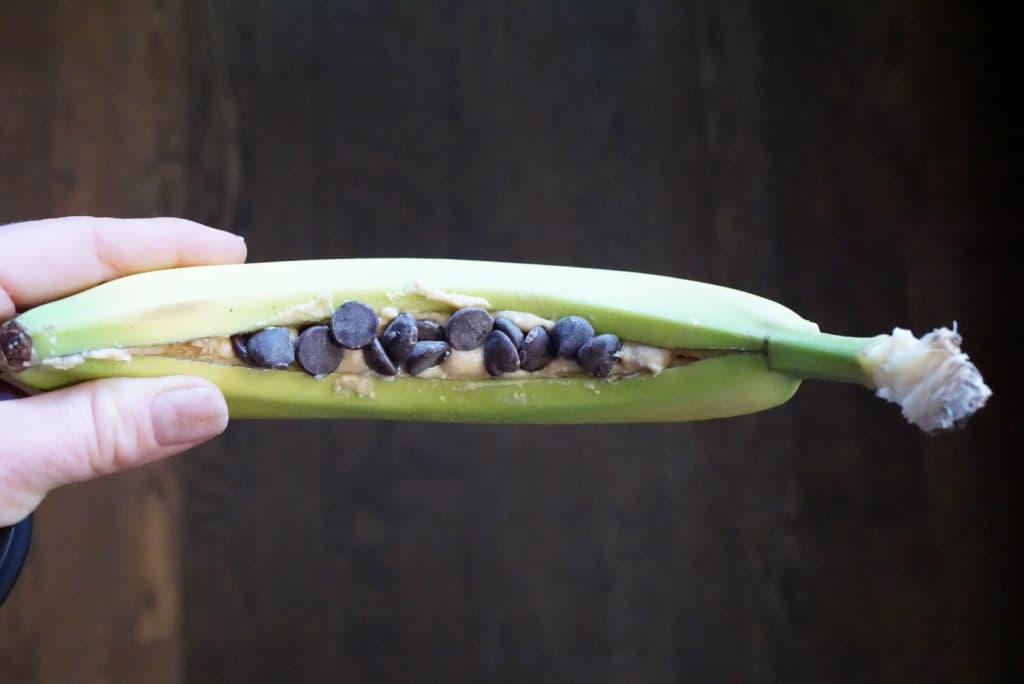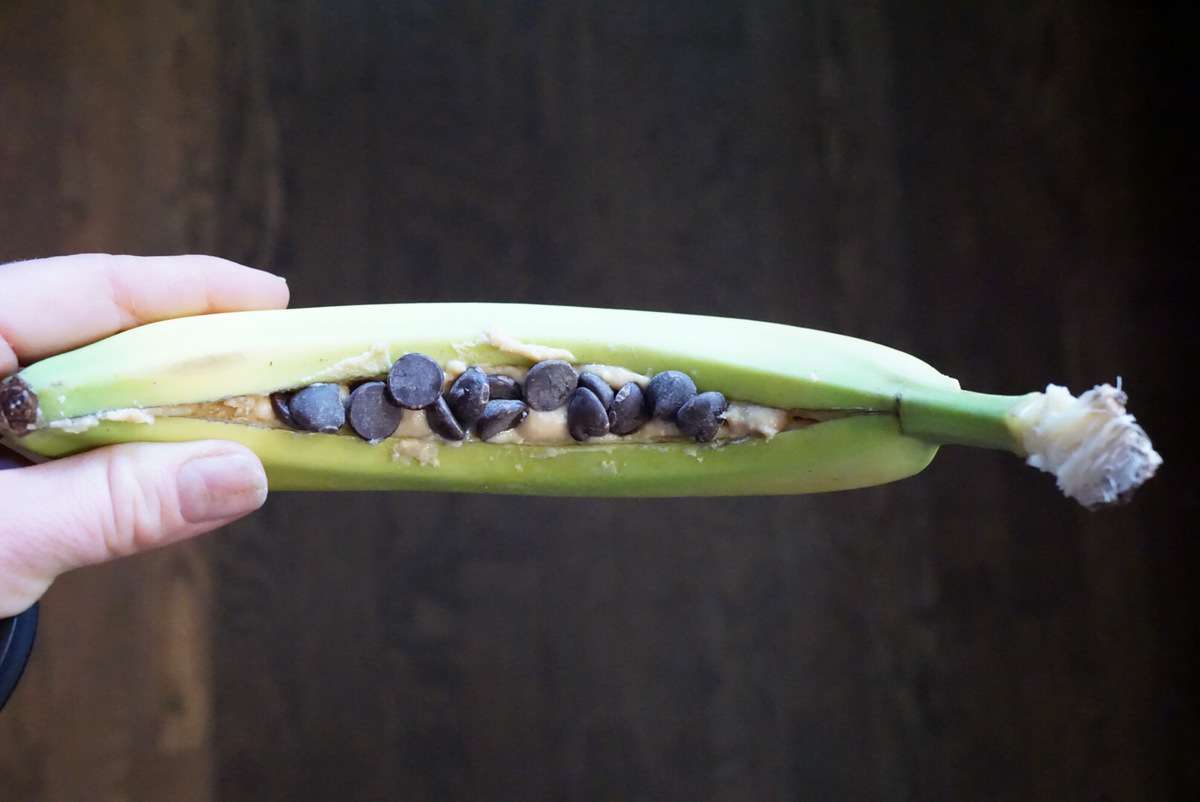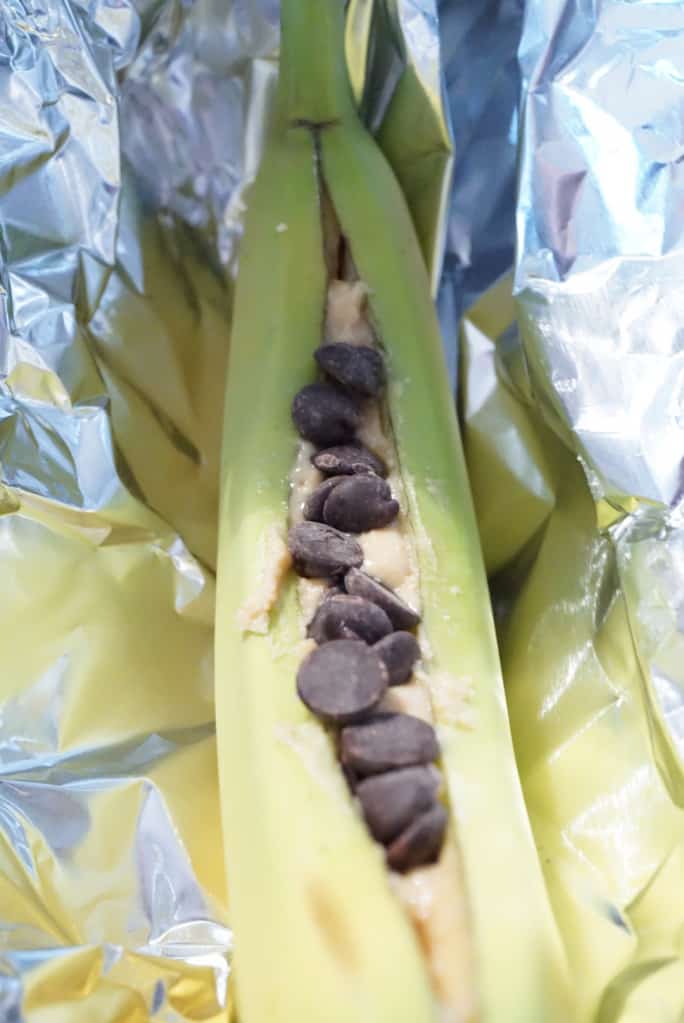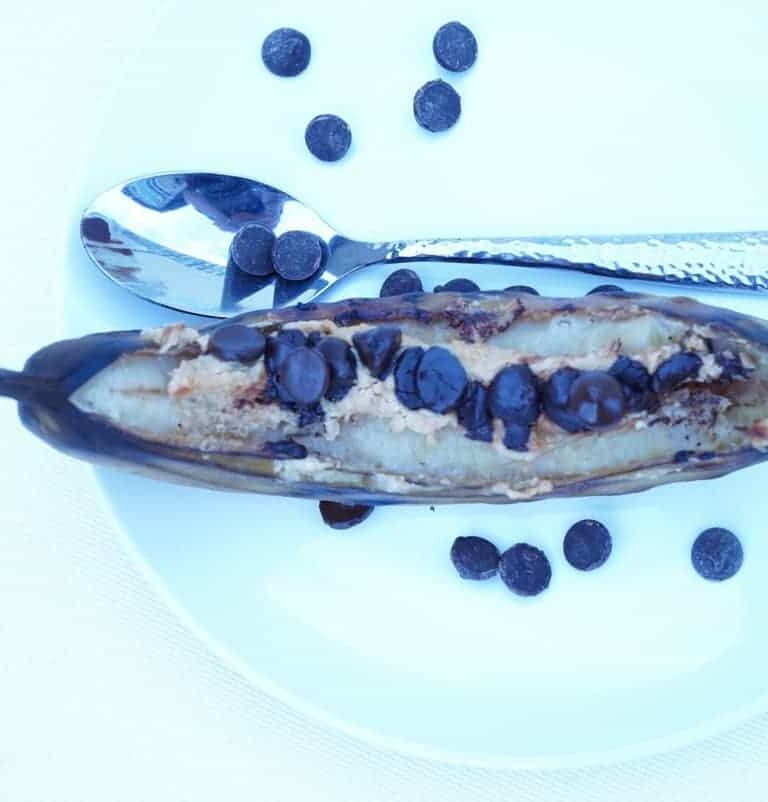 Banana Boats – Grilled Banana Heaven
Instructions
Heat grill to ~400 degrees

Split the banana down the middle of the concave side with a knife. Use your hands to spread the banana apart leaving a canyon inside the peel.

Spreads the peanut butter into the split in the middle of the banana

Top with chocolate chips (optional)

Wrap in foil and throw on the grill. Close the lid.

Grill until banana skins are blackened and chips are melted ~15 minutes.
Note
If you don't like peanut butter, you can substitute with almond butter or any other nut butter
If you don't like chocolate chips, you can simply forego them or replace them with carob chips, nuts, or seeds for some crunch.
The bananas would probably be really good just on their own without any toppings, too!
4TH OF JULY RECIPES, FALL RECIPES, MEAL TYPE, RECIPE, SEASONAL RECIPES, SPECIAL DIET, SPECIAL EVENT RECIPES, SPRING RECIPES, SUMMER RECIPES, VALENTINE'S DAY RECIPES, VEGETARIAN